Age Islam News Bureau
3 Dec 2012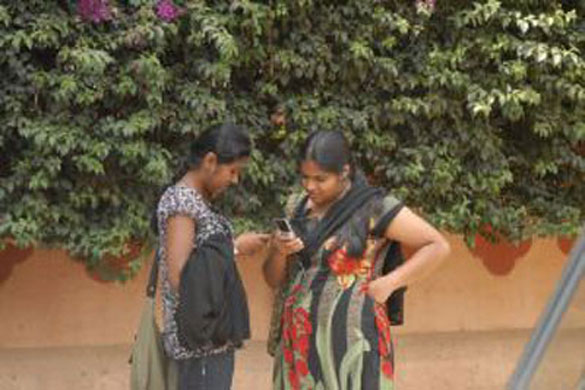 • Jirga Decision: 6,500 Tribal Women Get Back Their Right to Vote
• Women Set Up Volunteer Civil Defence Team in Madina
• Acid Attacks: Turning a Blind Eye to Laws to Curb Violence against Women
• Kim Kardashian Brings Out Fans, Islamists and Police in Bahrain
• DNA Testing Reveals Child Sex Offender in Maldives
• Abusive Mom 'Should Be Heavily Punished'
• Violence against Afghan Women "More Extreme"
• Women Panches Protest J&K C M's 'Make-Up Kit' Remark
• Bahrain Police Deploy Teargas at Anti-Kim Kardashian Protest
• Pakistan: After Threats, Victim's Widow Seeks SC's Attention
• Israeli Nurses Launch Strike amid Stalled Labour Talks
• Swedish Woman Shot In Lahore
• Pakistan Joins Global Campaign to End Women's Plight
• OIC's Jakarta Meet to Focus on Women's Role
Compiled by New Age Islam News Bureau
Photo: A Muslim Dominated Village in India Bans Women from Using Mobiles
URL: https://www.newageislam.com/islam,-women-and-feminism/new-age-islam-news-bureau/a-muslim-dominated-village-in-india-bans-women-from-using-mobiles/d/9516
------------
A Muslim dominated Village in India Bans Women from Using Mobiles
Dec 3, 2012
PATNA: A village panchayat in Bihar has prohibited women from using mobile phones and imposed heavy fines on them if they violated the diktat, an official said Monday.
The self-styled social reformers of Sunderbadi village panchayat in Kochadham block of Kishanganj district Sunday issued the orders banning women from using mobiles, a district official said.
"The villagers have issued an order to impose a fine of Rs.10, 000 if a girl is found using a mobile phone, while a married woman will have to pay a fine of Rs.2, 000 if found talking on a mobile outside her house," the official said.
A senior police official at the police headquarters here said it was the first such diktat issued by a village panchayat in Bihar. "There is no precedent to such an order issued by a Bihar village panchayat," the official said.
The Sunderbadi panchayat has also ordered women not to bathe on roadside.
"The decision was taken in a meeting attended by panchayat members and village elders," Mohammad Manzoor Alam, who presided over the meeting, told IANS by telephone Monday.
Alam said the villagers, mostly elders, favoured imposing the ban.
"Mobile phone is the cause of all evils in our society, including increasing love affairs and the incidents of elopement," he claimed.
Kishanganj is a Muslim-dominated district, and among the most backward districts in Bihar with 60 percent of the population living below the poverty line.
http://timesofindia.indiatimes.com/city/patna/Patna-village-bans-women-from-using-mobiles/articleshow/17462030.cms
------------
Jirga decision: 6,500 tribal women get back their right to vote
December 3, 2012
KALABAGH: It took 6,500 disenfranchised women of Paaikhel tribe 46 years to get back their right to vote – thanks to a tribal jirga.
The jirga was convened by Ayla Malik, daughter of Nawab Malik Allah Yar Khan, the Nawab of Kalabagh, and central leader of Pakistan Tehreek-e-Insaf (PTI), at the residence of Razaul Mustafa Paaikhel in Kalabagh area of Mianwali district on Sunday.
Interestingly, a tribal jirga, presided over by Razaul Mustafa's father Attaulllah Khan Paaikhel had disenfranchised their women in 1956. And no woman from the tribe had ever voted in elections since.
unday's jirga unanimously decided to return to women the legal and constitutional right to vote.
"Today, we have corrected a wrong of the history," Ayla Malik told Paaikhel women after the jirga. She called it "a historic achievement".
"Women are more than half of the country's population. Today, Pakistan Tehreek-e-Insaf has served the women with retrieval of their basic right even prior to coming to power," said Ayla.
It's the duty of the government and state institutions to ensure the women get their basic human rights which they have failed to do, Ayla added. "Now the Paaikhel women would be able to cast their vote which is their basic human right."
http://tribune.com.pk/story/474332/jirga-decision-6500-tribal-women-get-back-their-right-to-vote/
------------
Women Set Up Volunteer Civil Defence Team in Madina
3 December 2012
Twenty-eight women of different ages and qualifications in Maidah have formed the first women Civil Defence volunteer team to educate women about safety measures.
A local newspaper reported that the team members, who now only educate women about safety, said they aspired to actually participate and back up Civil Defence men in rescue and evacuation operations when accidents — physical breakdowns, explosions or fires — occur at facilities exclusively used by women such as schools and universities.
Manal Salem, head of the Rabee bint Muawath Volunteer Group, said members hold diplomas, bachelor's degrees and even PhDs. "The group started four years ago with 12 volunteer girls who participated in Red Crescent operations. Members have been trained and have the sufficient knowledge of first aid services, which they had provided to pilgrims and visitors to the Prophet Mosque," she said.
Members also participate in the World Civil Defence Day by explaining safety measures to women and organizing women in participating in the event. "The variety of members' qualifications and specialties and the fact they speak English has eased tasks for them." She said members are currently learning sign language to include those with special needs in their programs.
Before they were supervised by the Civil Defence, the team had several courses, but after they approached the department, the latter gave them specialized and intensive courses in security and safety, evacuation and use of fire extinguishers.
Under the department's supervision, the team has given courses and implemented awareness programs at girls' schools and women's sections at hospitals. "Our goal is to increase awareness to prevent accidents and educate women about how to deal with them if they occur."
Salem said the effect of her and her colleagues' volunteer work on their family life was positive. "It became a motivation for being more active (at home and elsewhere)," she said. She wished to work in the field and have sufficient training to be ready to participate in any emergency including floods and earthquakes.
Col. Mansour Al-Taiyar, director of the planning and training division at the Civil Defence department in Madinah, said the Civil Defence seeks to increase awareness of prevention in citizens and expatriates, and since most accidents that result in deaths and injuries happen at homes, housewives should be educated about and trained on how to act properly when an emergency occurs.
Al-Taiyar said a survey among housewives on safety at home by Masad Al-Otaibi showed there is a tangible negligence when it comes to identifying the sources of danger and dealing with hazardous materials. About 46 percent of respondents did not own any safety means at home, 34 percent did not know what to do in times of accidents and most of them, 71 percent, showed a strong interest to be trained on safety measures by the Civil Defence.
http://www.arabnews.com/saudi-arabia/women-set-volunteer-civil-defense-team
------------
Acid Attacks: Turning a Blind Eye To Laws To Curb Violence Against Women
By Sumera Khan
December 3, 2012
ISLAMABAD: It takes an easily available bottle of tezaab (acid) worth Rs50, a very angry man and a woman whose life is about to change forever within minutes.
Acid-throwing does not only disfigure a face or cause injuries that burn and cause excruciating pain; the victim's life changes forever. If she survives, she neither lives nor dies. Yet, acid attacks are spreading quantitatively and geographically in Pakistan. In 2009, 43 cases were reported to the Acid Survivors Foundation (ASF), Pakistan's notification unit.
Fifty-five cases were reported in 2010, 150 in 2011, and 93 this year. Many victims remain silent. The conviction rate for acid violence remains as low as 6%, according to the ASF.
An unsaved face
Consequently, stories like that of Nusrat Parveen surface every day. Nusrat, 30, hails from the village of Shehr Sultan in Muzaffargarh, South Punjab. A little over three years ago, as she prepared to go to her mother's house, her husband, with the help of his family, subjected Nusrat to a horrific acid attack.
This was an act of revenge. Nusrat's brother had refused an attempted forced marriage to Nusrat's sister-in-law and her husband's family reacted very angrily. Nusrat had never foreseen this.
When her face began to burn in searing pain and her burnt clothes began to peel away. Nusrat fled the room screaming, as she realised what had happened. Her husband's family told the crowd gathering outside her home that she had burnt herself with acid. For over an hour, Nusrat tried to ease the pain by splashing cold water on the burnt areas. When this did not help, her neighbours took her to Victoria Hospital in Bahawalpur. From there she was referred to Nishtar Hospital, Multan, where she stayed for two months.
Despite their best efforts, the doctors couldn't heal her excessive burns, leaving her lonely, ostracised and afraid.
She was forced to flee without her three children to Islamabad where she found refuge with the ASF, six months after the incident. Irum, the resident physiologist at ASF said, "When Nusrat arrived at the ASF, she had very frequent episodes of crying and sobbing. She would withdraw from everyone around her and repeatedly ask for her family."
As part of the rehabilitation process, the ASF provides the victims with vocational training so that they can become self-sufficient. An eager and fast learner, Nusrat has shown great aptitude for sewing.
Calling for laws against acid throwing
To mark the 16 days of activism against Violence against Women and Girls (VAWG), this issue is being brought up once again. Over the last seven months, the ASF has been pushing provincial assemblies to pass the 'Comprehensive Acid and Burn Crime Bill' to strengthen pro-women legislation to curb violence against them. Although the comprehensive Acid and Burn Crime Bill is currently being processed in Khyber-Pakhtunkhwa, Punjab and Islamabad Capital Territory, no provincial assembly had tabled this comprehensive acid and burn legislation yet.
In December 2011, the ASF-Pakistan, with support from the UK's Department for International Development, led a campaign, which resulted in the unanimous passage of the Criminal Law Amendment Act 2011.
Will laws be implemented?
The Criminal Law Amendment Act 2011 made acid and burn violence a crime against the state and imposed a fine of one million Pakistani rupees, along with a punishment of minimum seven years to lifetime imprisonment, for the crime of acid throwing.
The legal milestone was widely welcomed but campaigners say it does not go far enough to eradicate acid violence, arguing that legislation needs to go further to include the trial and rehabilitation process. There is also concern that a lack of monitoring mechanisms will jeopardise effective implementation of the law.
Nusrat and other acid attack victims are currently campaigning with the ASF for the introduction of an Acid and Burn Crime Bill. For this, the civil society, international community and the Government of Pakistan must come together on a single platform.
"I am supporting the cause because I want everyone to be safe. I don't want anyone to experience what I have gone through."
Stats and facts
Ninety per cent of the victims of acid attacks have faced a pre-existing form of violence that led to the acid attack.
Between 2007 and 2012, the ASF recorded 786 incidents out of which 62 victims have been provided legal aid thanks in part to UK aid. Since 2008, DFID has provided support to the ASF in Pakistan through the Gender Justice Protection challenge fund.
UK's support to the ASF has enabled wider lobbying efforts which have helped achieve advocacy and awareness raising, victims' support and legal aid as well as supporting the first of a three-step legislation (Criminal Law Amendment, comprehensive Acid and Burn Crime Bill, Acid Control Bill).
http://tribune.com.pk/story/474343/acid-attacks-turning-a-blind-eye-to-laws-to-curb-violence-against-women/
------------
Kim Kardashian brings out fans, Islamists and police in Bahrain
December 03, 2012
By Hamad Mohammed
MANAMA: U.S. television celebrity Kim Kardashian brought out screaming fans, angry Muslim hardliners and police throwing stun grenades on Saturday when she visited Bahrain to launch a milkshake franchise, witnesses said.
About 100 Sunni Salafists demonstrated with banners outside The Walk Bahrain, an upmarket mall in the capital Manama, after some MPs tried to block the visit over what they called her "bad reputation", according to a local newspaper.
Full report at:
http://www.dailystar.com.lb/Entertainment/Celebrities/2012/Dec-03/196984-kim-
------------
DNA Testing Reveals Child Sex Offender in Maldives
By Ahmed Naish | December 2nd, 2012
DNA testing has revealed that a 37 year-old man impregnated a 11 year-old girl in the Feydhoo ward of Addu City, police have said, after concluding investigation of a case that prompted shock and public outrage last month.
The 11 year-old victim in Seenu Feydhoo gave birth two months prematurely on November 1 after being taken to hospital complaining of stomach pains.
The infant died in the early hours of the following morning (November 2).
On November 4, police confirmed that a 37 year-old male suspect had been taken into custody in connection to the case.
Full report at:
http://minivannews.com/society/dna-testing-reveals-child-sex-offender-48213
------------
Abusive Mom 'Should Be Heavily Punished'
December 03 2012
The National Commission for Child Protection said that, if proven guilty, Nurlena, 26, a mother who allegedly tortured her 4-year-old stepdaughter to death, deserved harsh punishment for her crime.
The commission also noted that the number of cases of violence against children in the Greater Jakarta area is expected to increase this year.
Commission chair Arist Merdeka Sirait said on Sunday that the fact that Nurlena was six-months pregnant would be taken into consideration.
Full report at:
http://www.thejakartapost.com/news/2012/12/03/abusive-mom-should-be-heavily-punished.html
------------
Violence against Afghan Women "More Extreme"
December 2, 2012
By Mina Habib
Following a spate of particularly brutal murders, Afghanistan's minister for women has said attacks on women are becoming more extreme in nature.
This week, two men were arrested in the northern Kunduz province for beheading a 14-year-old girl, apparently because one of them had his marriage proposal turned down. The case came a month after the beheading of a 25-year-old woman in the western Herat province, and the mutilation and murder of a 30-year-old in the same province earlier in October.
Speaking on November 25, at an event to mark International Day for the Elimination of Violence Against Women, Afghan women's affairs minister Husn Banu Ghazanfar said a higher incidence of "extreme or brutal violence" had been recorded in recent months.
Full report at:
http://www.eurasiareview.com/02122012-violence-against-afghan-women-more-extreme/
------------
Women Panches Protest J&K C M's 'Make-Up Kit' Remark
Dec 03 2012
Srinagar : Chief Minister Omar Abdullah's 'make-up kit' remark on Saturday has been criticised by women panchs and sarpanchs of the state.
"He (Omar) is the CM. He should not have said something like this. We have come to participate in the process of welfare of the people, not for make-up kits. It (Omar's remark) is derogatory. We would still come to vote," said Ayesha Begum, panch of Juhama in Langate, on the eve of election to four panchayat quota seats in the legislative council.
Full report at:
http://www.indianexpress.com/news/women-panchs-protest-omar-s--makeup-kit--remark/1039598/
------------
Bahrain police deploy teargas at anti-Kim Kardashian protest
Hardline Islamic demonstrators clash with police as reality TV star visits Middle East kingdom and tweets its praises
1 December 2012
Just hours after the reality TV star Kim Kardashian gushed about her impressions of Bahrain, riot police fired teargas to disperse more than 50 hardline Islamic protesters who were denouncing her presence in the Gulf kingdom.
The clashes took place just before Kardashian opened the Bahrain branch of her Millions of Milkshakes shop.
An Associated Press journalist saw protesters chanting "God is Great" near the shopping complex in Riffa, about 20km (12 miles) south of the capital, Manama. The demonstrators were cleared before Kardashian appeared late Saturday.
Earlier, Kardashian posted glowing remarks about Bahrain on her Twitter account, calling it "the prettiest place on earth". The remark was re-Tweeted by Bahrain's foreign minister.
Kardashian was in Kuwait earlier this week, to open another branch of the shop.
http://www.guardian.co.uk/lifeandstyle/2012/dec/01/kim-kardashian-bahrain-protest-teargas
------------
Pakistan: After Threats, Victim's Widow Seeks SC's Attention
By Umer Nangiana
December 2, 2012
ISLAMABAD: The police tortured her husband to death two months ago. Now Sumera Bibi, mother of four, is accusing officials from the same police station of threatening her with "grave consequences".
"They (the police) want me to forgive the people who killed my husband. They ruined my family and now they want to get off scot free. I want justice," said Bibi, a resident of Daska in Sialkot District. She has sought Supreme Court's intervention in the arrest of the police officers suspected of killing her husband, 42-year-old Saadat Ali, a carpenter by profession.
She has filed an application with the Supreme Court asking the top judge to help her get justice.
Full report at:
http://tribune.com.pk/story/473797/police-torture-case-after-threats-victims-widow-seeks-scs-attention/
------------
Israeli Nurses Launch Strike amid Stalled Labour Talks
By JUDY SIEGEL-ITZKOVICH
12/03/2012
After the Finance Ministry failed to launch wage contract negotiations to which it had committed itself a few months ago, the Israel Nurses Union at all public hospitals and most health fund clinics launched a reduced Shabbat schedule at affected facilities.
The strike, which began on Monday morning, will cause serious disruptions in the health system, as doctors cannot function without nurses. The Maccabi and Leumit Health Funds' nurses are not unionized through the Histadrut labour federation, and will therefore not apply sanctions.
Full report at:
http://www.jpost.com/Health/Article.aspx?id=294359
------------
Swedish woman shot in Lahore
December 3, 2012
LAHORE: A 55-year-old Swedish national was shot in the neck in Model Town, Lahore, Express News reported on Monday.
The lady has reportedly been living in Pakistan for the last 35 years and is a social worker who trains nurses.
The foreigner was severely injured and shifted to a local hospital. She was earlier said to be in critical condition, however, doctors said she is recovering now.
According to initial details, the foreigner was sitting in her car when two unidentified armed men – riding a bike – fired at her.
http://tribune.com.pk/story/474477/swedish-woman-shot-in-lahore/
------------
Pakistan joins global campaign to end women's plight
December 3, 2012
KARACHI: Activist Eve Ensler's global protest movement, One Billion Rising, to end violence against women reached Pakistan on Sunday with the launch of the campaign by NGO Aurat Foundation in Karachi at the Arts Council.
Apart from a seminar, a number of women and human rights organisations set up their stalls at the event to share information through their booklets and posters for promotion of justice and gender equality for women.
Full report at:
http://tribune.com.pk/story/474239/pakistan-joins-global-campaign-to-end-womens-plight/
------------
OIC's Jakarta meet to focus on women's role
DECEMBER 02, 2012
Muscat: The Sultanate of Oman, represented by the Social Development Ministry, will take part in the ministerial conference on enhancing women's participation and their role in economic development in member states of the Organisation of Islamic Cooperation (OIC).
The meet is due to begin next Tuesday in the Indonesian capital, Jakarta. The three-day conference will elect the Chairman and members of the office, and approve the conference's deliberations and programmes.
http://www.timesofoman.com/News/Article-2789.aspx
------------
URL: https://www.newageislam.com/islam,-women-and-feminism/new-age-islam-news-bureau/a-muslim-dominated-village-in-india-bans-women-from-using-mobiles/d/9516