New Age Islam News Bureau
6 Feb 2020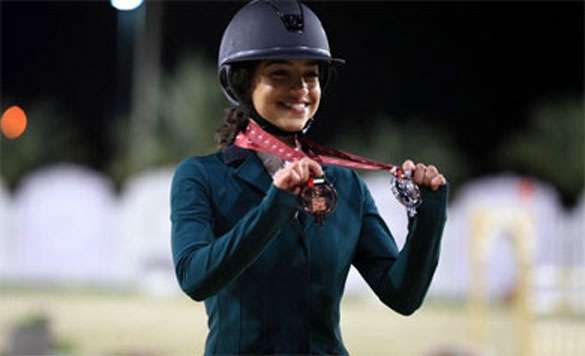 The Saudi team was represented by princess Anoud Bint Abdullah, Lama Alajmi, Ghalia Almousa and Fonoun Alhumaydan.
-----
• Malaysian Ex-PM's Wife Appears On Day One of 'Historic Trial'
• Riding High — Saudi Equestrians Win Medals At Arab Women Sports Tournament
• 'There Is No Going Back': Women Lead Shaheen Bagh-Style Protest in UP's Deoband
• More Women Than Men Get Cancer In Pakistan: Experts
• Pakistani Women To Continue Supporting Kashmiri Sisters
Compiled By New Age Islam News Bureau
URL: https://www.newageislam.com/islam-women-feminism/a-mentally-ill-indonesian-woman/d/120996
--------
A Mentally Ill Indonesian Woman Spared Jail for Taking Dog into a Mosque
5 February 2020
A mentally ill woman has been spared jail in Indonesia for blasphemy after carrying a dog into a mosque.
A video of Suzethe Margaret entering a mosque wearing shoes before letting her dog run around went viral in July.
It sparked anger in the Muslim-majority country where many consider dogs to be impure.
A panel of judges in Bogor, a town near Jakarta, found her guilty of blasphemy on Wednesday but said she could not be held responsible for her actions.
Margaret has paranoid schizophrenia, according to psychiatric examinations in 2013.
Prosecutors had demanded she be sentenced to eight months of imprisonment.
What happens in the video?
The visibly distressed woman enters the mosque in Bogor stating she is Catholic and saying her husband is due to be married in the mosque later that day.
She accuses the mosque of converting him to Islam as the dog runs around. People from the mosque say they have no knowledge of the wedding.
The woman then kicks a guard when told to leave.
The dog reportedly later died after being hit by a vehicle.
https://www.bbc.com/news/world-asia-51384665
--------
Malaysian Ex-PM's Wife Appears On Day One of 'Historic Trial'
February 05, 2020
KUALA LUMPUR: She has been compared to the Philippines' Imelda Marcos for her expensive taste in Birkin bags, but it was Rosmah Mansor's "overbearing and bossy" attitude which prosecutors say could set the tone for the length of the trial.
After a 48-hour delay due to ill health, 69-year-old Mansor, wife of former Malaysian Prime Minister Najib Razak, arrived in court on Wednesday for day one of a graft case in which she stands accused of pocketing millions of dollars involving a solar hybrid project in Sarawak.
Mansor pleaded not guilty to all three counts of corruption.
Clad in a floral, all-green assemble, she arrived from hospital to high court accompanied by her lawyers and with an ambulance in tow. Razak joined her later and was seated behind her in court.
During the trial, Mansor was accused by lead prosecutor Gopal Sri Ram of acting "bossy" and controlling her husband for government dealings.
"She placed herself in a position where she was able to influence decisions in the public sector," Sri Ram said while reading his opening statement in front of the packed high court.
Despite holding no official position in the government, Mansor was accused by Sri Ram of wielding "considerable influence (in the government) by reason of her overbearing nature."
The first charge involved a bribery from Jepak Holdings' managing director Saidi Abang Samsudin through her former aide in exchange for a government project to install solar hybrid systems for 369 rural schools in Sarawak.
Mansor allegedly solicited $46 million as a reward for direct negotiations with the Malaysian Education Ministry on the solar hybrid project that was worth $303 million.
Her second and third charges were accepting bribes worth $40,000 and $ 1.21 million, which she allegedly received from Abang Samsudin through her former aide, as a payment for assisting Jepak Holdings to secure the same project.
Several witnesses were called in to stand trial alongside Mansor before Kuala Lumpur High Court judge Mohamed Zaini Mazlan.
One of the witnesses, former human resource deputy director at the prime minister's office, Huzairi Zainal Abidin, told the court that Mansor had a special division called the First Lady of Malaysia division in Putrajaya.
He alleged that she was afforded a special officer to facilitate programs for her in her capacity as the wife of the prime minister.
"The trial is historic as this is the first time a prime minister's wife is being charged in Malaysia," professor James Chin, Malaysian political analyst at Tasmania University's Asia Institute, told Arab News.
He added that Mansor had become a hated figure in Malaysia and that the trial would have dire implications for the husband and wife duo.
"It confirmed rumours that Mansor could decide on government contracts despite not holding any positions in the government," Chin said, adding: "It shows she was misusing her husband's position to enrich herself."
Chin said that: "The fact that Razak allows her to do it says a lot about their relationship," adding that the trial will set a precedent for future cases.
Meanwhile, Razak is facing multiple graft charges related to the Malaysian development fund 1MDB scandal.
The billion-dollar political scandal has had a global impact and was the biggest kleptocracy case in the US.
https://www.arabnews.com/node/1623481/world
--------
Riding High — Saudi Equestrians Win Medals At Arab Women Sports Tournament
February 5, 2020
By Anas Alyusuf
JEDDAH — The Saudi female equestrian team won the silver medal while their Emirati counterparts clinched gold at the Arab Women Sports Tournament (AWST 2020), organized by Sharjah Women's Sports.
The Saudi team was represented by princess Anoud Bint Abdullah, Lama Alajmi, Ghalia Almousa and Fonoun Alhumaydan.
Princess Jawaher Bint Abdulaziz won the bronze medal for 100 cm (individual) and Fonoun Alhumaydan got the silver medal for 120 cm (individual).
The Saudi equestrians earned applause for winning the medals.
Praising the performance of the team, coach Badr Alfayez said that the preparations for the tournament began early this season by participation in the Saudi equestrian federation competition and Diriyah equestrian festival.
Alfayez said that teams are also preparing for next tournament being organized by the federation. He also said that the female teams are expected to participate in an international tournament, which will be held in Riyadh next April.
Twelve Saudi women sports clubs began their campaign at the AWST 2020 in Sharjah as they joined the second largest sport delegation in the tournament, the largest in the history of Saudi clubs' participations abroad.
Seventy Saudi athletes are competing in eight out of nine available events at the tournament where sport clubs from 17 different Arab states are participating.
The tournament, which began on Monday (Feb. 3) will run for 10 days, ending on Feb 12.
http://saudigazette.com.sa/article/588340/SAUDI-ARABIA/Riding-high-mdash-Saudi-equestrians-win-medals-at-Arab-Women-Sports-Tournament
--------
'There Is No Going Back': Women Lead Shaheen Bagh-Style Protest in UP's Deoband
Sukanya Shantha
February 6, 2020
Deoband (Saharanpur, Uttar Pradesh): When the women of Shaheen Bagh began to organise themselves in mid December, another group of women over 160 km away – in the renowned Islamic seminary of Deoband in Uttar Pradesh's Saharanpur district – had begun to feel restless.
They were looking up to their political representatives, religious heads, the Darul Uloom and even men in their community to take the lead and respond to the growing unrest against the newly passed Citizenship (Amendment) Act (CAA), and two other imminent countrywide exercises, the National Register of Citizens (NRC) and the National Population Register (NPR). When no one was ready to lead, the women decided to take things into their own hands.
Beginning with only four people, in a matter of just 11 days the sit-in protest at Idgah ground has grown multifold and over a thousand women from the town have joined in. Several others keep pouring in each day to express their solidarity. Women, wrapped in thick layers of jackets and scarfs, are huddled under a blue tent. This January has been particularly a cold and harsh one, with surprise rainfall on some days during the protest.
A young, burkha-clad Fozia Usmani was among the first ones to have ignited the fire of resistance among the women of Deoband. "Resistance was building across the country. People who have always remained on the periphery were leading the movement against the Centre's decision to pass these inhuman laws. I wanted to be a part of this historical human resistance, but did not quite know how to go about it," Fozia, a political sciences student, told The Wire. But when Fozia reached out to other women in the town, she says the eagerness was infectious. Not just the Muslim women, but several women from Bahujan castes have also joined the protest.
For media coordination and other official statements to ensure the movement is not misunderstood, Amna Roshi has been appointed as the director, Fozia as the deputy director, Iram Usmani as the secretary and Salma Ahsan as the deputy secretary. They have also named their initiative the 'Murtahida Khawatin Committee' (MKC), which loosely translates to 'women's unity committee'.
On the 11th day, a full-blown protest, styled on the lines of the Shaheen Bagh protest in Delhi, is on its way to make history. "Women were ready to breakout of their conventional roles and be a part of the caravan," Iram says.
The process of building resistance in Deoband was an organic one, just the way it took shape in other parts of the country. But the four initiators of the movement here have somewhat assumed the role of leaders – a tag they resist univocally. "No one is a leader here, we are rather an ever-growing team," Iram weighs in.
In fact, Iram is right. Every participant here is enthusiastic to tell her story. Older women, young mothers, school girls here say they are fighting a "kaala kanoon (black law)".
Young Asma, barely in her teens, has been attending the protest rally since day 1. She takes a break of five hours to attend school and returns to the ground soon after. She sits here in her school uniform, a sky blue kameez and white pyjama, and peppers it with a black ribbon, strapped around her forehead. Asma is the loudest of the protestors when the sloganeering begins. "CAA nahi aane denge, kaagaz nahi bataayenge (We won't allow CAA to be implemented. We won't show our papers)," she announces.
The constant fear of misinterpretation
Although organic and impromptu, the organisers have been mindful of not allowing any political posters to crop up and overtake their struggle. The tent has photos of only anti-caste leaders like Dr B.R. Ambedkar, Jotiba Phule, Savitibai Phule and Fatima Shaikh. One life-size picture of M.K. Gandhi adorns the outer space of the tent. A large cutout of the Indian map and the national flag are displayed outside the tent, where women take turns to pose for pictures.
The chances of misreporting and the Bharatiya Janata Party-led government both in the state and the Centre meddling with the discourse is very high, the women are aware, and they want to keep close tabs on how perception is built.
Iram says the understanding has improved phenomenally since they first began. "Women would sleep off as we began discussing these laws in their pure, legal forms. Then we started breaking down the various aspects, connecting them with their lived realities and the losses they would have to suffer if these fundamentally flawed laws were implemented. This way, women understood the issue well and were more willing to be a part of the movement," she says.
Seventy-year-old Tahera, a fervent participant of the protest, says this is a momentous time and it is her fight for her 'wajood (existence)'. "The time I was born, documents were not needed to prove our identity. But in such a ripe age, the government wants me to get my documents and prove my identity. The attempt is to push us to the margins further," she says. She then goes on to explain the differences in the CAA, NRC and NPR, and how each of them has a severe bearing on the lives of the marginalised. "And Muslim women, who have never stepped out of their homes and seen the world only through their purdahs, would be one of the worst affected," she adds.
While those leading the protest got involved with the full backing of their families, several others that The Wire talked to shared their multiple struggles. "While my husband and in-laws have largely been supportive, I have been over- worked, handling both domestic chores and participating in the protest. But I am determined, there is no going back," Muskaan shares. She has been sitting in at the protest every evening for over five hours since the first day.
The anti-CAA protests saw the most violent pushback in Uttar Pradesh. The state police resorted to extreme measures, killing at least 23 persons in December. Of them, all were Muslims and most belonged to lower caste or Pasmanda communities. In Deoband too, the women are worried that that the state will react sooner or later. "Our purdahs won't save us for long," Iram says, laughingly. The anxiety is palpable at Idgah ground. Most women don't want their educational backgrounds, their professional work and family names mentioned. "Yogi sarkar hai, kuch bhi kar sakti hai (The Adityanath government could do anything)," one of them says.
The protest ground, right from the beginning, allows only women's participation and entry into the tent is restricted only for women protestors and speakers. Men, however, have willingly accepted roles of foot soldiers, handling the logistics and also staying vigil as women lead on. Mohamad Mustafa, a farmer whose family's women and children have been sitting at the protest, met this reporter at the Murtahida Khawatin Committee centre set up only recently, just outside the Idgah ground.
Mustafa says he spends most of his time at the centre providing help as and when needed. "The women of Deoband are doing the unbelievable. They are showing us the way, the least we can do is extend our support," Mustafa says, as he moves back to arranging for water packets for the women at the protest tent.
Yogi government and the Darul Uloom
In December last year, Darul Uloom had advised its students to stay away from protests which it felt may "tarnish the image of the seminary". But that did not dissuade the women here. As the protest grew, many political leaders, including from the Congress, Bahujan Samaj Party and Samajwadi Party, have extended their support to the cause. Saharanpur born anti-caste movement Bhim Army has also extended its support. "This support has added impetus to our struggle," Fozia says.
The Uttar Pradesh police have been pressuring the women every day to end their protest. The district administration has offered options like "protests in regular intervals", which the protesting women says is only an attempt to weaken their mlvement. But the women are not giving any room for negotiations. "This law has already killed enough and caused enough destruction; we won't allow anything dilute our resistance," Iram announces.
https://thewire.in/rights/anti-caa-protest-up-deoband
--------
More Women Than Men Get Cancer In Pakistan: Experts
February 05, 2020
ISLAMABAD: Pakistan is the seventh most populous country with an increasing ratio of cancer patients, it was revealed at a Shifa International Hospital seminar.
Statistics shared by experts on World Cancer Day (observed on February 4 every year) said there were 148,041 new cancer cases, 101,113 cancer-related deaths (48,449 men and 52,664 women) in 2012, and 344,243 living cancer patients.
However, the age standardised ratio was more in females (128 women and 95 men per 100,000 people). In Pakistan, breast cancer and lip or mouth cancers were the highest in ratio, according to the data presented by Dr Yasser Rahman, consultant medical oncologist.
Around 9.6 million people die each year worldwide from cancer, more deaths than those caused by HIV/Aids, malaria and tuberculosis combined. If no action is taken, World Health Organisation experts project cancer deaths to rise to 13 million by 2030.
Minister of State for Climate Change Zartaj Gul said Khyber Pakhtunkhwa was facing a serious increase in cancer patients, and the risk could be reduced through awareness and education.
Gul commended the efforts of Shifa International Hospital to spread awareness among the masses for early detection and prevention of cancer.
She said during her social work at Shaukat Khanam Memorial Hospital, she noticed that every second patient suffering from serious cancer complications hailed from the Khyber Pakhtunkhwa province.
"There is need to conduct research and detailed study on this situation as if there is any issue with the soil, water or the air that is causing huge number of masses affected due to cancer in the region," Gul added.
https://gulfnews.com/world/asia/pakistan/more-women-than-men-get-cancer-in-pakistan-experts-1.69512052
--------
Pakistani Women To Continue Supporting Kashmiri Sisters
February 6, 2020
ISLAMABAD: PM's Special Assistant on Information and Broadcasting Dr Firdous Ashiq Awan said the Pakistani women from all walks of life organised a rally in Islamabad to express solidarity with their brave sisters and children of the Indian Occupied and Jammu Kashmir (IOJ&K) and renew the pledge to continue support for the cause of Kashmir till freedom from the Indian yoke.
Addressing the rally Wednesday, which marched towards the UNHCR office, at the starting point, she said the women, including parliamentarians, members of the civil society, working journalists and housewives, had gathered here along with their children to express solidarity with the Kashmiri women and children, who were deprived of all fundamental rights including religious, human and constitutional rights. She said they would make a human chain to express solidarity with the Kashmiri women, who had been victimised by the Indian occupation forces, using rape as a weapon of war.
The observance of solidarity day meant to give a message to the international community that Pakistan would continue its support for the cause of Kashmiris and nobody could deny them their right to self-determination, she added.
She said various activities had been organised all over the country, including Azad Jammu and Kashmir, to express solidarity with the IOJ&K people and shake the world's conscience for an end to the illegal Indian occupation of the Valley.
Firdous urged the United Nations, human rights organisations and international media to play their due role in highlighting the plight of Kashmiris. She said Prime Minister Imran Khan was advocating the cause of Kashmiri people at all international fora as their advocate and ambassador, and exposing the Indian face before the world.
She said the day was not far when they would see the dawn of freedom. Later, she presented a memorandum highlighting the oppression of Indian armed forces in the IOJ&K, to UN Resident Representative in Pakistan Julien Harneis. The memorandum emphasised that February 5was being observed around the world to express solidarity with the people of Jammu and Kashmir. It stated that the IOJ&K people were living under a state of siege for more than seven decades of cruel and illegal Indian occupation.
https://www.thenews.com.pk/print/609744-pakistani-women-to-continue-supporting-kashmiri-sisters
--------
URL: https://www.newageislam.com/islam-women-feminism/a-mentally-ill-indonesian-woman/d/120996
New Age Islam, Islam Online, Islamic Website, African Muslim News, Arab World News, South Asia News, Indian Muslim News, World Muslim News, Women in Islam, Islamic Feminism, Arab Women, Women In Arab, Islamophobia in America, Muslim Women in West, Islam Women and Feminism