New Age Islam News Bureau
21 Feb 2019
• Record Number of Indian Women to Embark On Hajj without Male Relatives This Year
• Shamima Begum Blasted By Amir Khan As He Says 'Arrogant' Jihad Gives Muslims 'A Bad Name'
• Sadaf Jaffer Sworn in as America's First Female Muslim Mayor
• Saudi Arabia Women's Team Out to Use Bowling Championship Debut As Springboard to Success
• Ban on Cycle Rally for Transgender Persons, Women Challenged In Pakistan Court
• Trump Bars US-Born Woman Who Joined IS From Returning
• British Police Knew ISIS Encouraged Girls To Go To Syria And Did Nothing: Begum Family
Compiled by New Age Islam News Bureau
URL: https://www.newageislam.com/islam-women-feminism/a-lady-muslim-ias-officer/d/117814
--------
A Lady Muslim IAS Officer of Bihar Heal Pulwama Wounds
by Syed Ali Mujtaba
February 20, 2019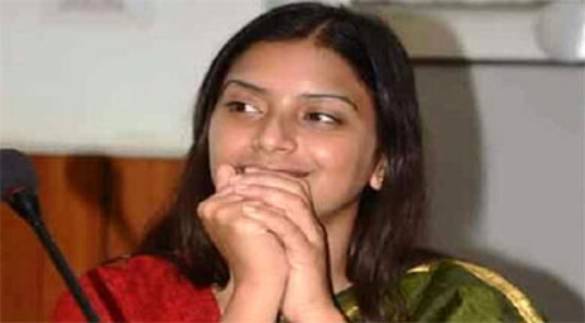 Ms Inayat Khan, District Magistrate Shiekhpura Bihar, has not only adopted two girls, one daughter each of slain CRPF personnel Ratan Kumar Thakur from Bhagalpur and Sanjay Kunar Sinha from Patna but also taking pains of raising funds for the bereaved families.
-----
At a time when venom against Indian Muslims is being splashed all over in the Social Media holding them responsible for the terror attack in Pulwama in Jammu and Kashmir on February 14, 2019, in which 42 CRPF Jawans were martyred in a dastardly terror attack, a Muslim lady IAS officer in Bihar has silenced such 'Indian vultures' by adopting a daughter each of two Bihar slain CRPF personal.
Ms Inayat Khan, who is 2012 Bihar cadre IAS office and currently posted as District Magistrate Shiekhpura Bihar in a telephonic conversation told, she has adopted two girls, one daughter each of slain CRPF personnel Ratan Kumar Thakur from Bhagalpur and Sanjay Kunar Sinha from Patna and will bear the cost of the girls' education besides taking care of other expenses throughout their lives.
The 31 years old IAS officer who hails from Agra said, as a good will gesture, she will also donate her two days' salary to the families of the two jawans. "I have requested all government staff of my district to donate their one day's salary to the families of the two martyrs," she said.
The DM of Shiekhpura has ordered to open a bank account for her adopted daughters in Sheikhpura. "Orders have been issued to open an account to raise funds for families of the two martyrs. Whatever amount will be collected by March 10 would be divided and given to the two families," she said appealing to the people to donate generously into the bank account of the kin of the slain CRPF personals.
Earlier, Ms Khan, along with the staff at the DM's office, paid tributes to 42 CRPF personals, killed in the Pulwama terror attack, by observing a minute's silence at the district headquarter.
The 2012 batch IAS officer of Bihar cadre represents the aspiration of modern Indian middle class girls. She had cracked UPSC Civil Services Examination in 2011 and got the rank of 176 and secured IAS ranking along with Bihar Cadre.
Her first posting was as the BDO of Pandarak, Patna District. After that she worked as the SDO was Rajgir and then as District Development Commissioner DDC in Bhojpur District. Her last posting was as Managing Director of the Bihar State Tourism Development Corporation (BSTDC).
Every Indian Muslim is proud of IAS officers like Ms Inayat Kan. She serves as a role model for the Muslim girls of our country. It is expected that more and more Muslim girls should take inspiration from Inyat Khan and aspire to join the Civil Services of India.
Ms Inayat Khan is widely regarded as an honest officer who is working tirelessly for the development of the society. The people of Shiekhpura have a lot of expectations from her. It is expected that this dynamic IAS officer will do wonders for this backward district of Bihar.
Syed Ali Mujtaba is a journalist based in Chennai. He hails from a farming family of Shiekhpura. He can be contacted atsyedalimujtaba2007@gmail.com
https://countercurrents.org/2019/02/20/a-lady-muslim-ias-officer-heal-pulwama-wounds/
--------
Record Number of Indian Women to Embark On Hajj without Male Relatives This Year
By Mahesh Trivedi
20 February 2019
A record 2,340 Indian Muslim women aged above 45 years will embark on the Hajj later this year without a male guardian even as the federal government is busy clearing the decks to ensure their safety during the annual pilgrimage in Saudi Arabia.
The Hajj 2019, scheduled in August, will witness a sharp increase in the number of pious women undertaking the journey unaccompanied by a male relative compared to last year when it was allowed for the first time.
The federal government allowed 1,308 women to perform Hajj without a mehram (a person with whom marriage is unlawful).
While the southern state of Kerala accounts for 85 percent of these independent women, not a single woman from India's only Muslim-majority state of Jammu & Kashmir has opted for the no-mehram category.
According to Minority Affairs Minister, Mukhtar Abbas Naqvi, about 100 women are being appointed for deputation to the consulate general of India in Jeddah to work as Hajj coordinators, officers and assistants.
They will extend helping hands to these women, and around 80,000 other women accompanied by family members.
For the past five years, the number of women going with mehrams and other members of the family has been around 45 percent, rising to 47 percent in 2018 and 48 percent this year.
Landmark decision
In 2014, Saudi Arabia allowed women over the age of 45 to travel together in groups without a male relative, though only after submitting a notarized no-objection letter from their husband, son or brother.
In 2017, Indian Prime Minister Narendra Modi and leaders of his Hindu-nationalist Bhartiya Janata Party (BJP) took credit for a "landmark decision" although rules governing the grant of Hajj visas for women are the prerogative of Saudi Arabia.
Among the many reasons, besides removal of subsidy, cited for the growing number of women undertaking Hajj in groups of four, sans a male kin, is the certainty of selection due to their exemption from the lottery system.
Woman assistants
On-the-spot availability of lady assistants, comfort of the three other group members, removal of middlemen, transparency in the application process due to digitalization and freedom to choose the embarkation point have all egged on more women to go solo. "A majority of no-mehram women are from Kerala because they enjoy greater sense of independence and also because husbands of many of them work in Gulf countries," points out senior journalist Hussain Ahmad.
The Modi administration, however, claims that the drastic cut in the goods and services tax (GST) on the Hajj pilgrimage from 18 percent to just 5 percent has made a lot of difference.
If minister Naqvi is to be believed, the sharp reduction in GST will not only ensure saving of Rs 1.13 billion by pilgrims but also ensure a significant decrease in airfares from the 11 selected embarkation points.
Private operators
Saudi Arabia allocates a quota to each country on the basis of one pilgrim for every 1,000 of the Muslim population of the country.
The Haj Committee of India has distributed its total quota of 175,025 seats to pilgrims going to Hajj through it – 125,025 through the Hajj Committee and the remaining 50,000 via private tour operators.
The federal Ministry of External Affairs coordinates the Hajj arrangements, in consultation with Hajj Committee and the Consulate General of India in Jeddah. The ministry also sends some 500 officials on deputation every year that includes coordinators, Hajj officers, assistants, doctors and para-medical staff for rendering assistance to the pilgrims.
The Consulate arranges for temporary tents in Mina, sets up dispensaries, branch Hajj offices, arranges ambulances and other local transport for the pilgrims. The ministry supplies medicines and medical equipment to the Consulate to meet the requirements of the pilgrims.
According to the Hajj Action Plan 2019, the first outbound flight for this year's pilgrimage season will depart from India on July 1 while the last outbound flight will be on August 3. The first inbound Hajj flight from Saudi Arabia to India will be on August 14.
https://english.alarabiya.net/en/features/2019/02/20/Record-number-of-Indian-women-to-embark-on-Hajj-without-male-relatives-this-year.html
--------
Shamima Begum Blasted By Amir Khan As He Says 'Arrogant' Jihad Gives Muslims 'A Bad Name'
Feb 20, 2019
Mr Khan, 32, branded the ISIS bride "arrogant" and told the 19-year-old she will have to "live with" the consequences of her actions. The two-time World Champion wrote on Twitter: "You left to support terrorism, now live with it. "After watching her video she doesn't seem one bit upset and comes across so arrogant.
"UK isn't your home, stop giving us all a bad name please."
Ms Begum fled to Syria aged 15-years-old along with two other girls from Bethnal Green in 2015, and maintains she is not a threat" to the UK despite admitting she had no regrets in joining the terror group.
Upon being told of the decision by the Home Office to remove her British citizenship, Ms Begum who has recently given birth to a son, described the news as "heartbreaking".
Speaking at a refugee camp in Syria she told ITV news:"I don't know what to say. I am not that shocked but I am a bit shocked.
"It's a bit upsetting and frustrating. I feel like it's a bit unjust on me and my son.
"It's kind of heartbreaking to read. My family made it sound like it would be a lot easier for me to come back to the UK when I was speaking to them in Baghuz. It's kind of hard to swallow."
It has also since been confirmed by the Bangladesh foreign minister this evening that she does not hold dual-nationality with the south-asian country and there is "no question of her being allowed to enter into Bangladesh
In a statement the minister added: "The Government of Bangladesh is deeply concerned that she has been erroneously identified as a holder of dual citizenship shared with Bangladesh alongside her birthplace, the United Kingdom.
"Bangladesh asserts that Ms Shamima Begum is not a Bangladeshi citizen. She is a British citizen by birth and has never applied for dual nationality with Bangladesh.
"It may also be mentioned that she never visited Bangladesh in the past despite her parental lineage.
"So, there is no question of her being allowed to enter into Bangladesh."
Yesterday in the House of Commons the Home Secretary Sajid Javid delivered a staunch defence of the Government's ability to use the citizenship powers to prevent the return of "dangerous individuals".
He told MPs that the step was never taken lightly, adding: "But when someone turns their back on the fundamental values and supports terror, they don't have an automatic right to return to the UK.
"We must put the safety and security of our country first and I will not hesitate to act to protect it."
The British Nationality Act 1981 provides the Home Secretary with the power to take such action if it is "conducive to the public good".
Meanwhile a complex legal battle over the move is now looming with international law forbidding nations from making people stateless.
However Ms Begum is also understood to be exploring the idea of applying for citizenship in the Netherlands.
She said: "Another option I might try with my family is my husband is from Holland and he has family in Holland.
"Maybe I can ask for citizenship in Holland. If he gets sent back to prison in Holland I can just wait for him while he is in prison."
https://www.express.co.uk/news/uk/1090094/Shamima-Begum-isis-syria-british-citizenship-amir-khan-muslim-bangladesh-sajid-javid
--------
Sadaf Jaffer Sworn in as America's First Female Muslim Mayor
02.20.2019
By Farah Harb
MONTGOMERY TOWNSHIP, NJ – Sadaf Jaffer was sworn in as mayor of Montgomery Township, N.J., a rapidly growing municipality of about 25,000 north of Princeton, making her the country's first female Muslim mayor, first female Pakistani American mayor and first female South Asian American mayor.
Jaffer has a doctorate from Harvard with a specialization in Islam, gender studies and South Asian history. She also serves as a postdoctoral research associate in South Asian studies at Princeton University, where she teaches courses on South Asian, Islamic and Asian American studies.
"I decided to run for public office because I didn't see my values reflected in my elected officials," Jaffer told the Religious News Service (RNS). "I've been a scholar and activist for some time. If you keep advocating to people who just don't share your values, you eventually hit a wall. I also believe we shouldn't ask others to do something we're not willing to do ourselves. If I want people from diverse backgrounds to run for office, I should also be willing to do it myself."
Jaffer cites her religious views as motivation for entering the political arena.
"Since I decided to pursue research on Islam in South Asia for my Ph.D., I've also come to see the ways in which religion and culture have always been intertwined," she said. "And I find much hope in how cosmopolitan societies have functioned in the past. They certainly weren't perfect, but I see the Islamic past as one of great beauty and cultural efflorescence. That inspires me for the future."
Jaffer said that she used her experience as a scholar to help authorities during an anti-Muslim hate crime that happened in her town.
"I was able to tap into my experience teaching a course on South Asian American literature and film to provide resources to government officials about Islamophobia as racism," she said.
Jaffer started a monthly discussion group called Montgomery Mosaic, which is affiliated with the national Not in Our Town movement. She said this project has been, "impactful in bringing people together in order to understand our common humanity."
"I'm proud to be an example of what is possible for Muslim women in our political system," she said. "We stand on the shoulders of generations of activists who have made these opportunities possible."
Jaffer also said she hopes her position as a Muslim scholar and mayor serves as an example that, "helps provide a different vision of what it means to be a Muslim woman in America today and the diversity of perspectives and skills we bring to the table."
https://www.arabamericannews.com/2019/02/20/sadaf-jaffer-sworn-in-as-americas-first-female-muslim-mayor/
--------
Saudi Arabia Women's Team Out to Use Bowling Championship Debut As Springboard to Success
February 20, 2019
LONDON: The Saudi Arabia women's team have vowed they will only get better after their first appearance at the Arab Bowling Championship.
The team of four finished in fifth spot in the team event but are hopeful that the experience could prove to be a springboard to future success and greater participation of Saudi women.
The competition was won by the hosts Egypt, with Oman claiming silver and Bahrain the bronze. But even though they ended their first participation in the tournament out of medal contention, the team were happy with how it went and hopeful for the future.
"It was an amazing experience everyone was very supportive," Mashael Abdulwahid, who has been playing since her childhood, said.
"I was overwhelmed on the first day because of the attendance of many high officials and many professional athletes. it was the first time to be in such an atmosphere but I got over it now.
"I learned a lot and will work on my mistakes to make it better next time."
Dana Alfaraj, the youngest team member said they did not know how good the other competitors were.
"We are happy we got this chance and happy the Saudi federation is very supportive. We will work hard to make our country proud, it's a huge responsibility and we are up to it," she said.
http://www.arabnews.com/node/1455461/sport
--------
Ban on Cycle Rally for Transgender Persons, Women Challenged In Pakistan Court
February 21, 2019
PESHAWAR: A nongovernmental organisation, Pak Development Mission, has moved the Peshawar High Court challenging the decision of Peshawar district's administration to bar it from holding a bicycle rally for transgender persons and women last month, and requested the court to help hold the event.
The organisation has fielded a petition in the high court requesting to declare illegal and unconstitutional the act of the district administration to stop it from organising the rally.
It prayed the court to direct the government and district administration to facilitate and provide adequate security to organise the 'Cycle Rally for Transgender and Females' in terms of permission previously granted by the administration on Jan 11, 2019, on a date mutually agreed between the petitioner and the administration.
The petitioner prayed the court to direct the government and administration to take strict action against those threatening organisers and participants of a lawful activity.
It sought the court's orders for the government to provide security to it and women and transgender persons of Peshawar.
The bicycle rally was scheduled for Jan 19 but it was cancelled after the Majlis Ulema-i-Hayatabad, a body of clerics and prayer leaders of all mosques in the area, and other religious groups, including Jamiat Ulema-i-Islam-Fazl and Jamaat-i-Islami Pakistan had termed the event promotion of vulgarity and obscenity in society and announced to stage a protest near the venue of the event to force the administration to ban it.
The respondents in the petition are the provincial government through its chief secretary and the Peshawar deputy commissioner. The petition filed through Barrister Masroor Shah said the petitioner organisation is duly registered under the Societies Registration Act, 1860, and is engaged in endeavours for the women's emancipation and transgender persons' mainstreaming.
It said it contemplated to organise the 'Cycle Rally for Transgender and Females' on Jan 19 in Hayatabad, Peshawar, for which formal permission was sought from the Peshawar deputy commissioner.
The petitioner said after thorough scrutiny and taking into account all aspects connected therewith, the deputy commissioner duly granted it permission through a letter on Jan 11.
It said after receiving the permission, it began arranging the event focusing all its efforts and resources on the same.
The petitioner said the bicycle rally was like a cool breeze blown in the already suffocated society wherein women and transgender persons expressed enthusiasm by getting them enrolled for the event in high numbers.
It claimed that in a unilateral and unlawful move, the deputy commissioner barred it from holding the bicycle rally after succumbing to the pressure and intimidation from a few clerics. The petitioner said the cancellation of permission already granted by the deputy commissioner to hold bicycle rally at the behest of few clerics stood testimony to the surrender of the State to unlawful threats and intimidation by non-state actors.
https://www.dawn.com/news/1465162/ban-on-cycle-rally-for-transgender-persons-women-challenged-in-court
--------
Trump Bars US-Born Woman Who Joined IS From Returning
February 21, 2019
President Donald Trump said Wednesday he is barring a US-born former Islamic State propagandist from returning home, making the highly unusual case that she is not a US citizen.
Trump's refusal to admit 24-year-old Hoda Muthana comes just as he is pressing Europeans to repatriate their own Islamic State fighters and will likely face legal challenges, with US citizenship extremely difficult to lose.
Trump said on Twitter he has "instructed" Secretary of State Mike Pompeo "not to allow Hoda Muthana back into the country" -- a break with usual US protocol not to comment on individuals' immigration issues.
"Ms. Hoda Muthana is not a US citizen and will not be admitted into the United States," Pompeo said in a terse statement.
"She does not have any legal basis, no valid US passport, no right to a passport, nor any visa to travel to the United States," he added.
The US generally grants citizenship to everyone born on its soil and the Alabama-raised Muthana is believed to have traveled to Syria on a US passport.
But a US official said a later investigation showed that she had not been entitled to her passport, adding: "Ms. Muthana's citizenship has not been revoked because she was never a citizen."
Officials declined further comment but in a loophole that could boost the government case, Muthana's father had been a diplomat from Yemen -- and children of diplomats are not automatically given citizenship.
Muthana's lawyer, Hassan Shilby, showed a birth certificate that demonstrated she was born in New Jersey in 1994 and said her father had ceased being a diplomat "months and months" before her birth.
"She is a US citizen. She had a valid passport. She may have broken the law and, if she has, she's willing to pay the price," Shilby told AFP at his office in Tampa.
He said Muthana wanted due process and was willing to go to prison if convicted.
"We cannot get to a point where we simply strip citizenship from those who break the law. That's not what America is about. We have one of the greatest legal systems in the world, and we have to abide by it."
US-born and radicalized
Just this weekend, Trump took to Twitter to chastise European allies that have not taken back hundreds of Islamic State prisoners caught in Syria, where Trump plans to withdraw US troops.
Comparatively few Americans have embraced radical Islam, with the Counter Extremism Project at George Washington University identifying 64 who went to join the Islamic State group in Syria or Iraq.
Muthana, raised in a strict household in Hoover, Alabama, said she was brainwashed by social media messages and headed to Syria without her parents' knowledge in 2014.
Shortly afterward, Muthana posted on Twitter a picture of herself and three other women who appeared to torch their Western passports, including an American one.
She went on to post vivid calls on social media to kill Americans, glorifying the ruthless extremist group notorious for its beheadings that for a time ruled vast swathes of Syria and Iraq.
But with the Islamic State group down to its last stretch of land, Muthana said she has renounced extremism and wants to return home with her toddler son, born to one of her three jihadist husbands.
"To say that I regret my past words, any pain that I caused my family and any concerns I would cause my country would be hard for me to really express properly," she said in a handwritten note to her lawyer.
Tough to lose US citizenship
The US decision on Muthana comes amid rising debate in Europe on the nationality of extremists. Britain recently revoked the citizenship of Shamina Begum, who similarly traveled to Syria and wants to return to her country of birth.
Britain asserted that she was entitled to Bangladeshi citizenship due to her heritage, but the Dhaka government on Wednesday denied that she was eligible, leading her to become effectively stateless.
US citizenship is significantly more difficult to lose. The 14th Amendment to the US Constitution, ratified in 1868 after the Civil War as slavery was abolished, establishes that anyone born in the country is a citizen with full rights.
The US Supreme Court in the landmark 1967 Afroyim decision rejected the government's attempt to revoke the nationality of a Polish-born naturalized American after he voted in Israel.
And last year a federal judge rejected a bid to strip the nationality of a Pakistani-born naturalized American who was convicted in a plot to blow up the Brooklyn Bridge.
But Trump has campaigned on a hard line over immigration and raised the prospect of ending birthright citizenship ahead of last year's congressional elections.
In 2011, President Barack Obama ordered drone strikes that killed two Americans in Yemen -- prominent Al-Qaeda preacher Anwar al-Awlaki and his 16-year-old son -- but did not believe it was possible to revoke citizenship.
https://www.thejakartapost.com/news/2019/02/21/trump-bars-us-born-woman-who-joined-is-from-returning.html
--------
British Police Knew ISIS Encouraged Girls To Go To Syria And Did Nothing: Begum Family
21 February 2019
The family of a teenage British ISIS bride said they are disappointed that local authorities did not inform them of their daughter's contact with the extremist group before she left for Syria in 2015, a family representative told Al Arabiya English.
Shamima Begum, who traveled to Syria four years ago aged 15 and who now wants to return to Britain after giving birth in a refugee camp in Syria last week, was stripped of her UK citizenship on Tuesday.
Dal Babu, a former MET Police chief superintendent who has been mandated by Begum's family to speak to the media, said the British teenager should not be blamed for her actions.
"They were very, very disappointed in how the police, the school, and local council had treated them. The school, the council, and the police knew that ISIS was trying to encourage these girls to go to Syria, but they did not share this information with the family, and then the girls obviously went," Babu said.
"If my child went shoplifting, then I would want to be told. Even though these girls were talking to ISIS being encouraged to go out to (Syria), the police still didn't tell the family what was happening," he said.
He then explained that Begum's case was handled poorly by authorities who he said had knowledge of her contact with ISIS but did not flag it with her family.
"ISIS was looking for vulnerable people. The internet is a big issue here because with the internet, you bypass all the family members and you go straight to the child," he said.
"So I think she has been let down and particularly when the police knew she had been talking to ISIS, they should have told her parents," he added.
He went on to say that the revocation of her citizenship breaks international law. "The reality is under international law, you cannot take citizenship from somebody if it makes them stateless," Babu said.
Family to challenge UK decision
Sky News, citing government sources, said Begum could have her citizenship revoked because she was a dual British-Bangladeshi national. But her family's representative said this poses a challenge as "she has never been to Bangladesh."
"She is not familiar with that area and her language skills are very poor around there. So essentially, she has no contact with Bangladesh," he said.
Britain's Home Secretary Sajid Javid said he would "not hesitate" to prevent the return to Britain of anyone who has supported terrorist organizations abroad.
The Begum family said they will challenge Javid's decision.
"This is a knee-jerk reaction, it has not been thought through. This will end up in the courts and the family will challenge the decision that has been made," Babu said.
Meanwhile, Dhaka's foreign ministry said on Wednesday that Begum has no claim to Bangladeshi nationality.
"Bangladesh asserts that Ms. Shamima Begum is not a Bangladeshi citizen. She is a British citizen by birth and has never applied for dual nationality with Bangladesh," the foreign ministry said in a statement.
"It may also be mentioned that she never visited Bangladesh in the past despite her parental lineage. So, there is no question of her being allowed to enter into Bangladesh," it added.
https://english.alarabiya.net/en/features/2019/02/21/British-police-knew-ISIS-encouraged-girls-to-go-to-Syria-and-did-nothing-Begum-family.html
--------
URL: https://www.newageislam.com/islam-women-feminism/a-lady-muslim-ias-officer/d/117814
New Age Islam, Islam Online, Islamic Website, African Muslim News, Arab World News, South Asia News, Indian Muslim News, World Muslim News, Women in Islam, Islamic Feminism, Arab Women, Women In Arab, Islamophobia in America, Muslim Women in West, Islam Women and Feminism