New Age Islam News Bureau
9 Sept 2018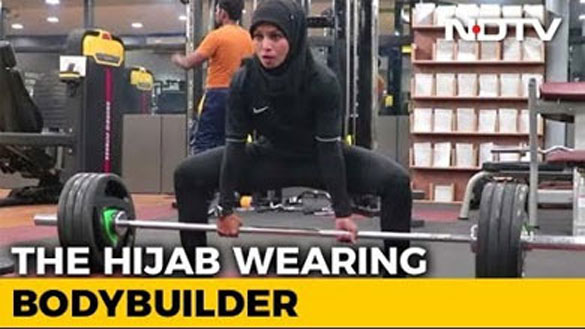 23-year-old Majiziya Bhanu believes that the hijab is never an obstacle for a woman.
-----
• Pakistan: Man Murders Daughter, Son-In-Law And Grandsons Over 'Honour': Police
• Stranger Than Fiction: 15-Year-Old Girl Is Youngest English-Language Saudi Author
• Pakistan's Envoy to Italy Accused of Sexually Harassing Female Officer
• Malala Yousafzai, Justin Trudeau Meet to Discuss Women Education, G7 GEAC Progress
• New Female Chiefs Ready to Take up Roles beyond Women's Affairs
• In First, Saudi Football Club Includes a Woman in Its Official Fan League
• Debate Heats up in Egypt over Women's Inheritance Rights
Compiled by New Age Islam News Bureau
URL: https://www.newageislam.com/islam-women-feminism/a-hijab-wearing-muslim-bodybuilder/d/116325
--------
A Hijab-Wearing Muslim Bodybuilder Breaks Stereotypes in India
September 9, 2018
When 23-year-old Majiziya Bhanu took to the stage to compete in the women's segment of the Mr Kerala competition in Kochi earlier this year, all eyes were on her -- never before had a bodybuilder wearing a hijab (Muslim head scarf) participated in the event. Proving that hijab is no hurdle for her or any other woman, she went on to win the competition.
Bhanu believes that the hijab is never an obstacle for a woman with burning passion, and if a woman is free to show her body, she should be free to cover it as well. While Bhanu is not the only Muslim woman in the world of arm-wrestling and powerlifting, she is yet to see another woman in the field who performs in a hijab.
"It is only after their names are announced that one realises that the contestant is a Muslim," she said.
"I feel proud to wear the hijab, which is a part of my identity. It does not limit me in any way but gives me dignity and strength."
It took Bhanu just about two years to transform from being an ordinary dental student to a local celebrity, not just in her sleepy village here, but across Kerala. She has been selected three times as the strongest woman of the state by the Kerala State Powerlifting Association.
In the two years since she began her career, she has already won national medals in powerlifting and arm-wrestling, while also continuing her dental training. And be it in practice or in competitions, she always wears her hijab.
"In the initial days, men used to stare at me as I had my hijab on. But soon they realised that I was as serious as them in my workouts. Then all the eyes disappeared," Bhanu told IANS.
While she was always interested in sports, there were hardly any facilities available in her village. But that did not stop her. Every day after her dental classes, she used to travel 60 km by train to Kozhikode to a gymnasium.
"I used to return around 9 pm. Initially, it was tough, but I slowly gained the confidence to travel alone and, eventually, it became a part of my routine," said the final year dental student
Bhanu said that, but for her parents' strong support, she would not have been able to achieve what she did. "I hail from a very orthodox village here and my parents agreed to let me pursue my passion of bodybuilding."
Today, Bhanu is an inspiration in her village for many other girls like her. After her success, the village has now got its own gym, which is frequented by women just as much as men.
"Many young girls and women have started coming to me to seek advice on what needs to be done as they also want to do what I am doing. Now there is a gym in my village itself," she said, adding that now she goes to Kozhikode only three to four times a month.
Bhanu today is extremely busy as she is getting ready to participate in the World Arm Wrestling Championship 2018 in Turkey next month.
"I never knew I could make it as funds was needed for the trip. I did knock on quite a few doors and finally managed -- a few well-wishers have sponsored my trip. At times, when I went scouting for sponsors, I felt that some did not wish to sponsor me as I was a Muslim woman," said Bhanu.
And of her future plans, she said her first goal is to finish her studies as it was her parents' dream to make her a medical professional.
"Once I finish it, then I will pursue my dream of setting up an academy which will be a multi-disciplinary one, including martial arts, powerlifting, arm-wrestling and bodybuilding. It would give special importance to girls. I am sure I will be able to pursue my passion and wish to empower women," Bhanu added with confidence.
https://www.business-standard.com/article/news-ians/a-hijab-wearing-muslim-bodybuilder-breaks-stereotypes-in-india-ians-special-series-118090900163_1.html
--------
Pakistan: Man Murders Daughter, Son-In-Law And Grandsons Over 'Honour': Police
Amir Kayani
September 08, 2018
A man from a village in Punjab's Hafizabad district turned himself in on Saturday after he allegedly killed his daughter, her husband and their two children in what police suspect is a case of 'honour killing'.
According to police, the suspect was angry at his daughter Sana for marrying a man named Firdous of her free will four years ago. However, after some time he claimed to have reconciled with his daughter.
Police said the man invited his daughter, son-in-law and grandsons — aged two and three — to his house and once they arrived, he allegedly attacked them with a sharp-edged weapon.
The bodies of the victims have been shifted to the tehsil headquarters hospital for post-mortem examination and a case is being registered against the suspected killer in the Jalalpur Bhattian police station. The anti-terrorism section will also be added in the first information report, a police official told DawnNewsTV.
Honour killings continue despite new law
Scores of people in Pakistan, an overwhelming majority of whom are women, are still being murdered by relatives for bringing 'shame' on their family, more than a year since new laws came into force aimed at stemming the menace of 'honour killings'.
In October 2016, a joint sitting of both houses of parliament passed two key pro-women bills that had been pending assent for a long time.
The move at that time was cautiously hailed by women's rights activists. More than a year on, however, lawyers and activists say honour killings are still occurring at an alarming pace.
At least 280 such murders were recorded by the independent Human Rights Commission of Pakistan from October 2016 to June 2017 ─ a figure believed to be understated and incomplete.
The legislation mandates life imprisonment for honour killings, but whether a murder can be defined as a crime of honour is left to the judge's discretion.
That means the culprits can simply claim another motive and still be pardoned, according to Dr Farzana Bari, a widely respected activist and head of the Gender Studies Department at Islamabad's Quaid-i-Azam University.
https://www.dawn.com/news/1431707/hafizabad-man-murders-daughter-son-in-law-and-grandsons-over-honour-police
--------
Stranger Than Fiction: 15-Year-Old Girl Is Youngest English-Language Saudi Author
September 08, 2018
JEDDAH: At the age of just 15, a schoolgirl has become the youngest Saudi to publish an English-language novel. Leena Althekair started writing her book, "Foreshadow," in the summer of 2017, when she was still only 14.
"I have always had this idea but it wasn't clear," she said. "But as I kept writing, it got easier and now it's in the form of 'Foreshadow.'"
The idea for the story originally emerged from a school writing assignment.
"I actually wrote an essay for school and when I re-read it I thought, 'You know what? This is a pretty good novel idea' — and then I spent whole summer writing it," she said.
"For me, it was never about becoming well known, it was getting the message across that age doesn't really matter; what matters is that you need to work hard. You are never too young or too old to be chasing your dreams."
Althekair said she had her share of naysayers and detractors who told her she was not old enough to succeed.
"People would say to me, 'You are still young — don't do it now because you have so much ahead of you.' But my mom and dad and my friends have been such a big support, cheering me on," she said. "Sometimes I would just want to stop but my friends told me to go on. In the beginning it was hard, because people wouldn't take me seriously. A lot of them didn't say anything but they would give me strange looks. I focused on the people who supported me instead."
It is well known that writer's block is the worst enemy of an author. Most will face it at some time, and Leena was no exception.
"In the middle of the book I started panicking because I had only planned it that far," she said. "There were times I deleted whole chapters right before sending it to the editor and wrote the whole thing again."
After pushing through the tough times, the book was finally completed and published, and Althekair recently appeared at the Virgin Megastore in Jeddah to sign copies for excited readers. Her family were there, as always, showing support for their talented daughter.
The book features a suspenseful, well-written story that draws the reader in from page one. The plot revolves around the adventures of Meghan, who is about to start high school. Her older brother is a physics geek, and she is spending time with him in his lab when an accident changes her life.
As for Althekair's own continuing adventure as an author, she said she has ideas for further novels, including a possible sequel for "Foreshadow."
http://www.arabnews.com/node/1368976/saudi-arabia
--------
Pakistan's envoy to Italy accused of sexually harassing female officer
BY SHAHZAD PARACHA
September 9, 2018
ISLAMABAD: A female official of the Foreign Affairs Ministry has moved the federal ombudsman's office against Pakistan's Ambassador to Italy Nadeem Riaz, accusing him of sexual harassment.
Pakistan Today has learnt that a complaint has been registered with the Federal Ombudsman Secretariat for Protection against Harassment of Women at Work Place which accuses Nadeem Riaz of sexually harassing a female commercial attaché.
The complainant, through her counsel Mirza Waqas Qayyum, alleged that the ambassador directed her to travel with him to places unrelated to her job. Additionally, she was also directed to arrange residence near his own. The complainant further alleges that the ambassador had also directed her to race her car with his cycle till Vatican City along with other things, unethical in nature. The respondent allegedly expressed his desire to become the woman's driver and asked her to share an exclusive nickname with him. Furthermore, the complainant was also asked to visit forests in Rome in his company.
The complaint further noted that the ambassador called the complainant in his office and relayed to her that he understands the nature and plight of being a single woman and invited her to visit him in his room anytime if she wishes to. Riaz also informed her that he is single and divorced and shared his divorce story to the complainant in order to gain sympathy, according to the complaint.
Recalling specific incidents of harassment, the complainant said that while preparing for an upcoming Mango Show, in the first week of August 2016, the respondent performed an indecent gesture in front of her, which was objected to. However, the complainant was sexually harassed time and again and the working environment was made hostile.
The complainant also accused Riaz of trying to get in uncomfortable proximity with the complainant while showing official presentations.
She narrated two incidents in which Riaz tried to get physically close to her: one before Trade Envoys Conference in Brussels from 23rd – 24th January, 2017 and the other before the Expo-Pakistan 2017 on 8th of November when the complainant went to show the presentation for Trade Officers' Conference on 6th November, 2017 in the office of the respondent.
As a result of the above mentioned humiliating and hostile working environment, a number of complaints were sent to the Ministry of Commerce from May 2017 to June 2018 wherein all above issues were raised.
The female official alleged that the hostile circumstances compelled her to file complaints before the departmental authorities, but they all remained unresolved. A summary for recall of the complainant was managed from Rome, to be approved with the condition of consent of the complainant. However, the complainant was recalled without obtaining her consent.
The complainant's PERs for the year 2016-17 and 2018 are still pending and the respondent is bent upon recording adverse entries because of the complaints submitted and her refusal to give into his unethical demands.
Taking notice of the complaint, Federal Ombudsman Secretariat has written a letter to the Foreign Affairs secretary to investigate the matter and report back immediately.
The matter is currently sub-judice with the Ombudsman. While the commerce division is responding to the ombudsman, the Foreign Office did not report the matter to the women harassment department.
The spokesperson of Ministry of Commerce said that the department did not receive any complaint of sexual harassment from their officer.
Meanwhile, the Foreign Office spokesperson stated that a query has been sent to the admin department and that he will inform as soon as he gets a reply but no reply was received till the filing of this report.
Ambassador Nadeem Riaz remained unavailable for comment, however, his response will be duly added to the story when he gets back to us.
https://www.pakistantoday.com.pk/2018/09/08/pakistans-envoy-to-italy-accused-of-sexually-harassing-female-officer/
--------
Malala Yousafzai, Justin Trudeau Meet to Discuss Women Education, G7 GEAC Progress
September 9, 2018
Canadian Prime Minister Justin Trudeau took to his official Twitter account and shared about his meeting with Pakistani Nobel laureate Malala Yousafzai.
He shared a picture of the two conversing and wrote: "Great to catch up with @malala today in Ottawa."
Trudeau and Yousafzai "talked about the important work of the G7 Gender Equality Advisory Council and the commitment to making sure more women & girls around the world get to go to school".
Malala responded to Trudeau's tweet and thanked the Canadian premier for his time.
She tweeted, "So happy to be back in Canada today! Thank you, Prime Minister, for your time and your commitment to education for every child."
https://www.pakistantoday.com.pk/2018/09/08/malala-yousafzai-justin-trudeau-meet-to-discuss-women-education-g7-geac-progress/
--------
New Female Chiefs Ready to Take up Roles beyond Women's Affairs
September 9, 2018
JEDDAH – A reshuffle in the municipality by Mayor Saleh Al-Turki led to structural changes and more opportunities for women that weren't available in the past.
The mayor issued the reorganization of the municipality's branches and redistributed over a dozen civil servants to various posts. Five were assigned to women, advancing women's participation in leadership.
The changes and introduction of divisions such as an agency for hygiene services, community service, and a rain drainage project, among others, aim to increase productivity and performance, according to the mayor.
A newly created position called the supervisor of central municipalities is now taken up by Amani Mahmoud. She oversees the airport, Al-Sharafiyah, Al-Balad and Historical Jeddah and regularly meets with the mayor and his deputies.
Her ambitions have expanded beyond the women's section where she worked during her career at the municipality. She said her shift to the administrative headquarters was met with professionalism and respect by fellow male colleagues despite her being the only woman occupying an office on the floor.
Women civil servants were previously segregated from other sections of the municipality and services were limited to women's commercial affairs.
"Saudi women are penetrating all kinds of fields nowadays and the same is happening in this sector," Ms. Mahmoud told Saudi Gazette. "The step could lead to increasing women in the organization in the coming years. Having a mix of genders in the organization creates for a healthier workplace."
While she's happy to see advancements in women empowerment, she didn't expect women heading municipalities would be possible this quickly.
Asked about her most pressing assignments, she said the goals are according to the mayor's directives of making Jeddah a world-class city, focusing on cleanliness, preserving the natural scenery and aesthetics.
Hiba Al-Bluwi amusingly describes her first week as chief of Al-Sharafiyah central municipality, a position where no woman has filled before.
Leaving the women's section was a leap in itself and dealing with men and women clients was something she did not expect to happen.
"Many citizens, both men and women, were walking in and were surprised to find a woman running the municipality. It's unusual at first but many were proud, saying words of encouragement and wishing their daughters would reach a similar position."
She said her family and friends did not expect such a change to occur, adding that her husband was especially supportive of her promotion.
"Our dreams were focused within the women's department," she said. "Our responsibility was mainly on developing the services concerning businesswomen in Jeddah. Running Al-Sharafiya means we're serving five districts that include all residents and this has expanded our role."
Al-Bluwi's role meant working on the ground and visiting the sites she's responsible for. On her first field visit with her team, she monitored cases that need to be treated such as sidewalks, lighting, and other urban matters but didn't face obstacles.
Photos of Dhahban's new municipality chief Shadah Al-Mohanna inspecting a site widely circulated on social media as it was the first time for people to see a woman in the role.
When she graduated from university, Mariam Abualenain had a simple dream of having her own office and a phone. She didn't realize that one day her hard work throughout the years would earn her a promotion to head the women's municipality branch.
As a civil servant, she started out as an electronic communications employee and gradually made her way to become a deputy supervisor of the women's section.
She was surprised to be chosen as head of the women's municipality branch, a new division that was renamed from the general directorate for women's services.
"I'm glad women are gaining more status and leadership positions in the Kingdom," Abualenain said. "Eleven years ago when I first started working, the women's section was newly opened at the time. Female residents were able to run their own matters and follow up by visiting the women's section. They were very happy about it and expressed relief in being able to follow up their cases and dealing with female civil servants."
Areej Al-Bugmi was named director general of human resources. After serving as a civil servant in the department and her experience in supervising a number of sections, she now oversees the entire department and reports directly to the mayor.
Her priority is to follow the King Salman Program for Development of Human Resources that aims to raise productivity and quality of employees, which she described as the biggest challenge she aims to overcome.
She was surprised at the decision to hire women in such leadership positions. "I didn't expect something like this to happen so quickly," she said. "Promoting women to positions they weren't able to reach in the past is a great advancement for government organizations that pulls the organization ten years ahead. Throughout my career, I was working on developing my skills and earning experience from my managers but I'm glad I was granted the opportunity and trust to take up this role."
After a video went viral showing inappropriate dancing by a female official inaugurating a park in Dhahban, the Jeddah Municipality stated the video was false and has nothing to do with Al-Mohanna, adding that legal action will be taken on false accusations.
However, the decision of female appointments also reaped positive responses from citizens and celebrations for progress in women empowerment in the Kingdom.
Ms. Mahmoud responded to the video as "unacceptable" and could not happen in real life, saying, "Our superiors in the organization have worked with us and know our work ethics. As women, we recognize professionalism and limits to anyone working in a professional environment."
Although the position of municipality branch heads has been introduced to women employees, it's not the first time for women to take up leadership in the municipality. Prof. Arwa Al-Aama was appointed as Vice Mayor of IT since 2009 which was considered the highest ranking position for a Saudi woman in municipalities and the Ministry of Municipal and Rural Affairs.
http://www.saudigazette.com.sa/article/542982/Gallery/Video/New-female-chiefs-ready-to-take-up-roles-beyond-womens-affairs
--------
In First, Saudi Football Club Includes a Woman in Its Official Fan League
9 September 2018
Saudi football club, Al Ettifaq, has made a female fan, named Sara Al-Dosari, in charge of organizing the family stands at its home stadium.
This is the first time a woman has been included in a Saudi club's official fan league, as well as giving her a leading role.
The agreement follows a landmark decision implemented in January to allow women to attend soccer matches in stadiums across the kingdom.
To prepare for the change, the kingdom designated "family sections" in the stands for women.
https://english.alarabiya.net/en/sports/2018/09/09/In-first-Saudi-football-club-includes-woman-in-official-fan-league.html
--------
Debate Heats up in Egypt over Women's Inheritance Rights
09/09/2018
CAIRO - After Tunisian President Beji Caid Essebsi called for women to be granted equal inheritance rights, many in Egypt issued similar appeals, sparking a nationwide debate.
"Women carry the same social and economic responsibilities as men and sometimes more," said Egyptian writer Farida al-Shubashi. "This is why they deserve to be treated on equal footing with men as far as inheritance rights are concerned."
Caid Essebsi last month expressed support for the introduction of legislation that would reform the inheritance system in Tunisia towards gender equality.
The inheritance system in operation in most Arab countries, including Tunisia and Egypt, is based on Islamic law and typically allows men to inherit double what a woman would receive. If Caid Essebsi's proposal becomes law, Tunisia would enforce full gender equality in matters of inheritance with sharia-based rules becoming optional.
Caid Essebsi's stance emboldened Egyptian feminists who say the current system is outdated and fails to consider growing social equality between men and women.
About 37% of Egyptian households are supported by women, government figures indicate. Women make up 22.9% of Egypt's workforce. Women hold almost 15% of the seats in parliament and eight members of the 33-member Egyptian cabinet are women.
This growing importance of the role of women, feminists say, requires a reinterpretation of the religious texts on which current laws are based.
"The interpretation of the religious texts needs to match the changes happening on the ground," said Dena Anwer, an Egyptian TV commentator on women's issues. "Many of the practices that were based on a misinterpretation of the texts have already changed because they no longer match developments on the ground."
There are major historic parallels between major sociopolitical developments in Tunisia and Egypt. The popular uprising against longstanding Tunisian President Zine El Abidine Ben Ali erupted in Tunisia in December 2010. One month later, similar protests saw the ouster of Egyptian President Hosni Mubarak.
The Islamist Ennahda Party won a majority of seats in the Constituent Assembly of Tunisia in 2011. Just months later, Egyptian Islamist parties, including the Muslim Brotherhood's Freedom and Justice Party, secured a majority in the Egyptian lower house.
However, when it comes to inheritance rights and the wider issue of gender equality, Egypt may have more ground to cover than Tunisia, which grants women more rights than most countries in the Arab and Muslim world.
Few Egyptian parents treat their daughters as equal to their sons, particularly in terms of education and social mobility. In 2015, government figures indicated that 27.3% of women were illiterate, compared to 14.7% of men.
In some parts of Egypt, particularly the countryside, where issues over inheritance are viewed as extremely important due to land ownership considerations, some husbands divorce their wives when they do not give birth to boys.
Al-Azhar, the highest religious authority in the Sunni Islamic world, reacted angrily to Caid Essebsi's call and its officials spoke out against Egyptians backing inheritance reform.
Al-Azhar said those proposing equal inheritance rights between men and women violate the rules of Islam.
"Financial burdens are heavier in the case of men," said Mohamed al-Shahat al-Guindi, a member of the Islamic Research Academy, the decision-making body of Al-Azhar. "True, there can be more than one interpretation for the same religious text, when it comes to inheritance, the Holy Quran is very clear."
In a statement last month about the Tunisian legislative proposal, Al-Azhar said some people's "extreme ideas" could threaten the security and stability of societies.
Egypt's parliament has entered the equal inheritance rights debate yet. Some legislators declined to comment on the issue and said they would not propose legislation that could prove divisive or anger the religious establishment.
Feminists, however, say granting women equal inheritance rights would push religious reform in Egypt forward.
Egyptian President Abdel Fattah al-Sisi has made several public calls for Al-Azhar to lead a reform process. In August, Sisi criticised Egypt's religious authorities for failing to make changes regarding divorce.
Under Islamic law, a husband is permitted to verbally divorce his wife. Sisi called for divorce to be recognised by the state only when it has been issued in a written document, giving husbands the chance to reconsider calls for divorce made during heated arguments. Al-Azhar refused, citing Islamic law.
Many say the issue of equal inheritance could become the next major battleground between Egypt's civilian and religious authorities, with Sisi still believed to be keen on pushing forward religious reform.
"Equating women with men when it comes to inheritance cannot be viewed as a violation of the Islamic religion," said Azza Kamel, a civil society campaigner active in defending women's rights. "It should be viewed, in fact, as part of the aspired religious reform."
https://thearabweekly.com/debate-heats-egypt-over-womens-inheritance-rights
--------
URL: https://www.newageislam.com/islam-women-feminism/a-hijab-wearing-muslim-bodybuilder/d/116325
New Age Islam, Islam Online, Islamic Website, African Muslim News, Arab World News, South Asia News, Indian Muslim News, World Muslim News, Women in Islam, Islamic Feminism, Arab Women, Women In Arab, Islamophobia in America, Muslim Women in West, Islam Women and Feminism