New Age Islam News Bureau
9 Jan 2013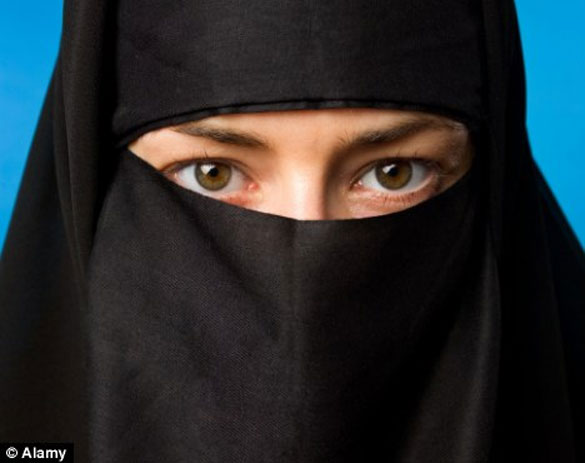 Against her will: The 15-year-old Saudi girl locked herself in her bedroom on the night of her wedding to a 90-year-old man
-------
• 15-Year-Old Girl Divorces 90-Year-Old Husband
• Muslim Women Fight Domestic Violence Using verses from the Noble Qur'an and Ahadith
• New-Look Shoura to Have 15 Women Out Of 150 Members Council
• Pakistani Women Turn To Divorce to Escape Abuse
• Community Groups Vital To Address Problems in Pregnancy, Delivery and Postnatal Period
• CARE Trains Men and Women in Eastern Congo to Detect and Prevent Sexual Violence
• Women's groups reject Aceh motorbike straddle ban
• Trio Arrested For Theft and Sexual Assault of an Ethiopian
• Assefa Zardari Meets Deceased Polio Workers' Heirs
• UN Women Director Brings Empowerment Message to W. Africa
• Maldivian Sentenced To 24 Years Imprisonment for Molesting His Daughters
• Shortage of Maids in UAE, Market Sources Say
• Anti domestic violence campaign for Scottish Muslims
• Egypt to host Girls Youth African Nations Championship in Cairo
• Swaziland: Women Organize To Promote Their Rights and Welfare
• Urooj Khan's Wife Says Poisoned Lottery Winner Had No Enemies
Compiled by New Age Islam News Bureau
Photo: New-Look Shoura to Have 15 Women Out Of 150 Members Council
URL: https://newageislam.com/islam-women-feminism/a-controversial-tradition-child-marriage/d/9923
------------------
A Controversial Tradition of Child Marriage Affecting Thousands
9 January 2013
Child marriage have both male and female victims, however the number of female victims is disproportionate to male as it is tradition in countries which practice child marriage that young girls are married off to older men.
Marriage of young girls is most common in sub-Saharan Africa and South Asia. In Niger, 77 per cent of 20- to 24-year-old women were married before the age of 18. In Bangladesh, this rate was 65 per cent.
UNICEF global figures from 2009 show that 36 per cent of women aged 20–24 were married or in union before they reached 18 and the latest numbers estimates 51 million of girls under 18 are married world-wide.
In the UK an estimated 1,000 out of 8,000 forced marriages every year involve a person under the age of 15.
The Universal Declaration of Human Rights, 1948 states that marriage 'shall be entered into only with the free and full consent of the intending parties.'
http://www.dailymail.co.uk/news/article-2259067/90-year-old-Saudi-groom-claims-wife-15-parents-set-10-000-dowry.html#ixzz2HT9N2YIQ
--------------
15-year-old girl divorces 90-year-old husband
By Habib Toumi
January 8, 2013
Manama: A Saudi ruling has put an end to a marriage between a 90-year-old man and his 15-year-old bride.
The verdict pronounced last week by a court in south western Saudi Arabia marked the conclusion of a bitter dispute between the man and his bride's family that lasted several months.
The case started when the would-be groom proposed to the teenager and offered her parents, a Saudi father and Yemeni mother, a 45,000 riyal dowry (Dh44,074) and said that he would fund the celebrations, sources told Saudi daily Al Yawm.
The father reportedly accepted the offer and agreed to the marriage despite the huge age difference between the bride and the groom.
However, the marriage was never consummated after the bride locked herself in a room following the celebrations, and refused to allow her husband in.
The bride, who was not named, spent the night crying and in the early morning, the groom called her family to "reason" with her.
When her relatives arrived, she opened the door and they were shocked to find her in tears. They also found out that she had torn her wedding dress in distress, the daily said.
The distraught family took the bride home and refused to compromise with the groom.
When he later visited them to take his calmed wife home, the family refused, leading the man to ask for the dowry to be returned.
The family said that they had spent it and that they did not have any money to give back, prompting him to take the case to court.
Following several sessions, the court last week ruled the end of the marriage, but said that the family had to give the dowry back.
However, the 90-year-old said that the case was still open and that the divorce had been pronounced by the leader of the tribe and not by an official judge.
"I did not want the dowry money back, and I still want my wife to come home," he said. "I am going to take the case to a court this week to rule on the conspiracy by the family to take my money. My wife's family have now taken her out to Riyadh so that I cannot reach her," he said.
The man attributed his decision to get married to the old age of his first wife.
"She is past her 80s now and it has been a long time since we lived as husband and wife. I have decided to take up a new wife," he said.
The paper, quoting sources close to the case, said that the man's wedding with the 15-year-old girl was not his first with an adolescent.
"Around 18 months ago, he married a Yemeni girl who was also 15 years old," the sources said. "She stayed with him for about one month before fleeing and seeking help from a village dignitary."
However, the elderly man told the daily that his Yemeni bride did not abscond from home and that he divorced her.
http://gulfnews.com/news/gulf/saudi-arabia/saudi-court-ruling-divorces-teenager-from-90-year-old-man-1.1129265
------------------
Muslim Women Fight Domestic Violence Using verses from the Noble Qur'an and Ahadith
08 January 2013
GLASGOW – Using verses from the Noble Qur'an and the sayings of Prophet Muhammad (peace and blessing be upon him), Muslim women in Scotland are launching a new campaign to fight domestic violence and show the true Islamic teachings about the phenomenon.
"We have women coming in, phoning our helpline, time and time again and saying: 'My husband said it's okay, he told me the Qur'an says it's okay'," Smina Akhtar, from Muslim women's charity Amina, told the BBC on Tuesday, January 8.
"We're quite surprised that Muslim women are often not educated, even in Islam, because Islam does not condone violence."
Shocked by the way some people had manipulated and misunderstood the teachings of Islam, the Muslim charity is planning a campaign to fight domestic violence in Scotland.
Held under the banner "The Change", the campaign formally launches in Glasgow and Edinburgh in February.
It calls on members of the public to become what it is calling "change-makers", urging them to oppose all sorts of violence against women and girls.
"We'll use certain Hadiths (the stories of the words and deeds of Prophet Muhammad, handed down by word of mouth) - for example when the Prophet, peace be upon him, says: 'The best among you is the one who is the best towards his wife'," Akhtar said.
"We'll use these and phrases within the Qur'an to say no - actually the Qur'an does not say that it's okay for your husband to hit you."
Organizers have received many complaints from women that domestic violence is justified in the name of Islam.
"Time and time again we have women who have experienced violence telling us about it years and years after the violence has happened," Akhtar said.
"Women often feel ashamed that this has happened to them and they're often living in extended family circumstances.
"For black and minority ethnic women, for Muslim women, it seems to take them longer than the indigenous women to come and speak up."
Problem Roots
The Muslim campaign has won support from Shakti Women's Aid, an Edinburgh-based organization offering help to women from ethnic minority experiencing domestic abuse.
"There is a need for an open and honest discussion about it; we cannot use arguments of faith and culture or men's 'rights' as an excuse anymore," Mridul Wadhwa, the information and education officer at Shakti, said.
"Men should be involved in this discussion too.
"Victims need to speak to someone safe, a service that's not compromised in any way by issues of patriarchy."
Scotland is home to more than 500,000 Muslims, making up less than one percent of the population.
Muslims are the second largest religious group in the country, which has thirty mosques.
In Islam, marriage is a sacred bond that brings together a man and a woman by virtue of the teachings of the Qur'an and the Sunnah.
Each partner in this sacred relationship must treat the other properly and with respect.
Woman is recognized by Islam as the full and equal partner of the man in the procreation of humankind.
By this partnership, she has an equal share in every aspect. She is entitled to equal rights, she undertakes equal responsibilities, and she has as many qualities and as much humanity as her partner.
Moreover, the relations between the spouses in Islam should be based on tranquility, love and mercy.
http://www.onislam.net/english/news/europe/460777-scottish-muslims-fight-domestic-violence.html
------------------
New-Look Shoura to Have 15 Women Out Of 150 Members Council
9 January 2013
JEDDAH: Saudis are eagerly looking forward to the appointment of women on the 150-member Shoura Council with great hope and believe the move would further empower women and enhance the Kingdom's reputation.
Abdullah Omar Naseef, former vice president of the Shoura, said the names of new Shoura members including women are likely to be announced next week. "According to the law, the new members are supposed to be announced on Jan. 15," he told Arab News.
Custodian of the Two Holy Mosques King Abdullah made history when he announced in September 2011 that women would be appointed on the Shoura and allowed to vote and contest municipal elections.
"We refuse to marginalize women in Saudi society," said the king, a champion of women empowerment, adding that many scholars have supported his decision. "Muslim women in our history have had stances that cannot be sidelined," the king pointed out.
According to informed sources, the new Shoura Council will have at least 15 women members or 10 percent of its total number of members. Prominent personalities have been nominated to take up the challenging position. They are Al-Jowhara Al-Anqari, Asiya Al-Asheikh, Maha Al-Muneef, Mee Al-Eissa, Fatma Jamjoom, Jowhara Bubsheet, Mahasin Flimban, Noura Al-Asqa, Elham Hasanain, Wafa Taiba, Baheeja Baha Ezzi and Nihad Al-Jashi. All of them hold doctorate degrees in various specializations and work as consultants at the Shoura.
Other names that are likely on the new Shoura are: Huda Al-Ameel, rector of Princess Noura University in Riyadh, who holds a doctorate in education from the University of Wales in the UK; Mouda Al-Zahrani, supervisor of women's protection department in Riyadh, who holds a doctorate in psychology from Columbus University in the US; and Noora Al-Fayez, current deputy minister of education.
Suhaila Hammad, a member of the National Society for Human Rights, hoped the authorities would appoint the most qualified women for the job. "I am sure they would find a lot of well qualified women to become Shoura members," she told Arab News.
Hammad hoped that women members would take up issues affecting women and work for changing systems and regulations that weaken their status in society.
She thanked King Abdullah for taking the initiative and described him as Saudi Arabia's No. 1 reformer. The appointment of women would strengthen the Shoura, she added.
Hammad called for changes in trade, real estate and civil status laws to protect the rights of women, recognizing the important status given to them by Islam.
She said the National Society for Human Rights was receiving a number of cases and complaints regarding violence against women and children and believed the change of regulations would contribute to reducing such family violence cases.
"Women are not allowed to do certain things without the permission of their male guardians. This must be changed," she said. "A woman is not allowed to admit her children to school without the permission of her husband. This has increased illiteracy among women," Hammad said, adding that illiteracy among Saudi women was at 27 percent while among men it was 9 percent.
Maha Akeel, a leading journalist and managing editor of OIC Journal, is excited over the move. "I think the historic decision by King Abdullah, may Allah give him good health and long life, to allow women as members in the Shoura Council will be forever remembered as one of the landmark decisions in support of women empowerment. It was a joyous moment and we look forward to seeing women in the council and hearing them voice their opinions and make recommendations like their male counterparts on various issues concerning our nation," she said.
Akeel said she hoped the excitement would not be dulled by superficial and trivial arguments over seating arrangements for women and having to be segregated from men to interact via closed-circuit television. She wanted female members to participate in the discussions on all issues and not only just women's issues.
Akeel also believed that the number of women members should be 45. "Women are half the society and I sincerely hope their number in the council would reflect that or close to it to become at least 30 percent. They will represent Saudi women in terms of their qualification, experience and diversity."
She added: "I expect the women's effect and contribution to the council will be noticed immediately as women bring in a different perspective on issues and can greatly expand on the discourse over any issue, which will be reflected on its decisions and recommendations. Also, women are known to be more committed and dedicated to their responsibilities and therefore I expect their presence and contributions will be highly visible."
Naseef, who has worked for eight years on the consultative council, commended the Kingdom's Shoura system, saying it operates like any other Parliament. "The Shoura plays a big role in drafting the Kingdom's rules and systems as well as international and bilateral treaties."
The Shoura members are appointed by the king taking into consideration their qualifications and expertise and represent the cream of society. "The working of Shoura is very systematic and its output is of high quality thanks to the efforts of its well-qualified members."
According to the law, a Shoura member should hold Saudi citizenship, aged not less than 30, should have an impeccable personal record and possess a high-level of competence and practical experience. "If you check the present list of Shoura members you can find them highly qualified and specialized in different topics. This enriches the discussions at the Shoura," he pointed out.
http://www.arabnews.com/women-strengthen-shoura
------------------
Pakistani Women Turn To Divorce to Escape Abuse
January 9, 2013
ISLAMABAD: Pakistani women are slowly turning to divorce to escape abusive and loveless marriages, once taboo and still a dangerous option in this strict Muslim nation even as more women become empowered by rising employment and awareness of their rights.
But the number of women with the courage to seek divorce remains small in the face of Pakistan's powerful religious right and growing Islamic conservatism, and in a male-dominated nation where few champion women's rights.
Women are often killed while pursuing divorces, with some shot on the way home from court or in front of their lawyers.
Full report at:
http://tribune.com.pk/story/491509/pakistani-women-turn-to-once-taboo-divorce-to-escape-abuse/
------------------
Community Groups Vital To Address Problems in Pregnancy, Delivery and Postnatal Period
09 January 2013
Mobilising women's groups in rural communities to address problems in pregnancy, delivery and postnatal period can substantially reduce newborn and postnatal deaths, said health experts yesterday.
They told a seminar titled "Improving Maternal and Child Health in Bangladesh: A Perinatal Care Project Experience."
Full report at:
http://www.thedailystar.net/newDesign/news-details.php?nid=264462
------------------
CARE trains men and women in eastern Congo to detect and prevent sexual violence
By CARE International
09 January 2013
Hands clap and fingers snap as a group of women and men watch CARE staff Rose Vive Lobo's lips and respond to her questions.
"What does sexual violence mean? Do you know different forms of such violence? What are women's and men's rights and obligations?"
Twenty women and men have been selected in each of three displacement camps in Goma, the provincial capital of North Kivu in eastern Democratic Republic of Congo. After several months of escalating violence, more than 150,000 people have been newly displaced, uprooted from their communities and mostly left to themselves in spontaneous displacement sites. To prevent and care for survivors of sexual and gender based violence, CARE trains community educators, both men and women.
Full report at:
http://www.trust.org/alertnet/blogs/africa-views/care-trains-men-and-women-in-eastern-congo-to-detect-and-prevent-sexual-violence
------------------
Women's groups reject Aceh motorbike straddle ban
(AFP) – 23 hours ago
JAKARTA — Rights groups urged the Indonesian government to block a proposed law banning women from sitting astride motorcycles in deeply Islamic Aceh province, where the position is deemed "improper".
The mayor of Lhokseumawe city in Aceh, where sharia law is enforced, circulated a letter Monday explaining the obligation for women to sit side-saddle was "to avoid immoral acts".
"Adult women who are riding on the back of a motorbike... cannot straddle unless in an emergency," mayor Suaidi Yahya's letter read, adding that the ban included women straddling female drivers.
Full report at: Copyright © 2013 AFP. All rights reserved
------------------
Trio Arrested For Theft and Sexual Assault of an Ethiopian
Afkar Abdullah / 9 January 2013
Three stateless citizen men allegedly kidnapped and sexually assaulted a 24-year-old Ethiopian woman at an isolated house in Sharjah last week.
The suspects, who were impersonating police officers when they kidnapped and assaulted the woman, also committed a series of robberies targeting Asians.
The police said that they received a call to the operations room from someone informing them that three men had entered his house claiming to be police officers, before stealing his money and kidnapping his Ethiopian maid.
Full report at:
http://www.khaleejtimes.com/kt-article-display-
------------------
Assefa Zardari Meets Deceased Polio Workers' Heirs
09 January 2013
KARACHI: Pakistan's Ambassador for Polio Eradication, Assefa Bhutto Zardari, inaugurated the anti-polio drive at Ibrahim Ali Bhai School in Gizri here on Tuesday.
She administered polio drops to children under five years and also distributed gifts among them. Adviser to Prime Minister Shahnaz Wazir Ali, MNA
Nafisa Shah, Deputy Speaker of Sindh Assembly Shahela Raza were also present on the occasion.
Full report at:
http://www.dailytimes.com.pk/default.asp?page=2013\01\09\story_9-1-2013_pg12_1
------------------
UN Women Director Brings Empowerment Message to W. Africa
Jennifer Lazuta
January 08, 2013
DAKAR — The executive director of U.N. Women kicked off a weeklong visit to West Africa on Monday in Senegal, a trip that is focused on ending violence against women and calling for women to take on greater economic, political and peace-building roles.
Michelle Bachelet was the first female president of Chile and is the current executive director of U.N. Women, an organization created in 2010 to promote gender equality and the empowerment of women.
Full report at:
http://www.voanews.com/content/un_women_director_brings_empowerment_message_to_west_africa/1579808.html
------------------
Maldivian Sentenced To 24 Years Imprisonment for Molesting His Daughters
By Ahmed Nazeer | January 7th, 2013
A 50 year-old man from Maalhendhoo in Noonu Atoll has been sentenced to 24 years in prison after being found guilty by Kendhikolhudhoo island court of molesting his two teenage daughters, police have said.
According to authorities, the two girls would have been aged 13 and 17 in August last year when complaints were first submitted to Manadhoo Police Station in Noonu Atoll over the abuse.
Full report at:
http://minivannews.com/society/kendhikolhudhoo-court-sentences-man-who-molested-two-daughters-to-24-years-50623
------------------
Shortage of maids in UAE, market sources say
January 8, 2013
Dubai: A shortage of housemaids and nannies due to a ban on certain nationalities has encouraged recruitment agencies to increase their fees — which in turn has led to the development of a black market in maids in the UAE, market sources said.
Gulf News has learnt the ban on visas for Ethiopian domestic and blue-collar workers to the UAE, which was imposed in July last year, will continue and the market has failed to find maids with similar traits.
Full report at:
http://gulfnews.com/news/gulf/uae/visa/shortage-of-maids-in-uae-market-sources-say-1.1129589
------------------
Anti domestic violence campaign for Scottish Muslims
January 08, 2013
London: A new campaign to combat domestic violence and encourage women in the Muslim community to speak up against it is being initiated in Scotland by a Muslim women's group.
'Change This' -- as it is being called -- will urge Muslim men and women to report any such violence they may have witnessed or experienced following its launch in Glasgow and Edinburgh next month.
The campaign has been initiated by Muslim women's charity 'Amina' to tackle misconceptions and manipulations of Islamic teachings.
Full report at:
http://zeenews.india.com/news/world/anti-domestic-violence-campaign-for-scottish-muslims_821588.html
------------------
Egypt to host Girls Youth African Nations Championship in Cairo
09 January 2013
Egypt, January 8, 2013 – The Girls' Youth African Nations Championship, the last event of the age group African Nations championships, will take place in Cairo Stadium Complex in Egypt from January 25 to 30, 2013.
The competition serves as a qualifier for the FIVB Youth Girls' World Championship, which will be held in Thailand later this year.
Full report at:
http://boxscorenews.com/egypt-to-host-girls-youth-african-nations-championship-in-cairo-p53882-68.htm
------------------
Swaziland: Women organize to promote their rights and welfare
UN Integrated Regional Information Networks (IRIN)
08 January 2013
Mbabane (Swaziland) - Swazi women are organizing to promote their rights and welfare, convinced that discriminatory laws are at odds with the essential roles they play in their families and in their country's economy.
"We are taking a page from the past to achieve the recognition Swazi women deserve as the ones who keep this society going. It is a scandal how the authorities refuse to take women seriously when we are holding the country together," said Cynthia Simelane, an activist who works with female garment workers at the Matsapha Industrial Site, outside the city of Manzini.
Full report at:
http://www.afrika.no/Detailed/23020.html
------------------
Urooj Khan's Wife Says Poisoned Lottery Winner Had No Enemies
Jan 09 2013
Chicago: The wife of an Indian-American lottery winner who was poisoned with cyanide says his death devastated her and she doesn't believe he had any enemies.
Shabana Ansari spoke to The Associated Press on Tuesday afternoon at a dry cleaner her husband started after emigrating to the U.S. from India in 1989. Ansari wouldn't talk about the circumstances of her husband's death, saying it was too painful.
Full report at:
http://www.indianexpress.com/story-print/1056815/
------------------
URL: https://newageislam.com/islam-women-feminism/a-controversial-tradition-child-marriage/d/9923