New Age Islam News Bureau
13 Nov 2016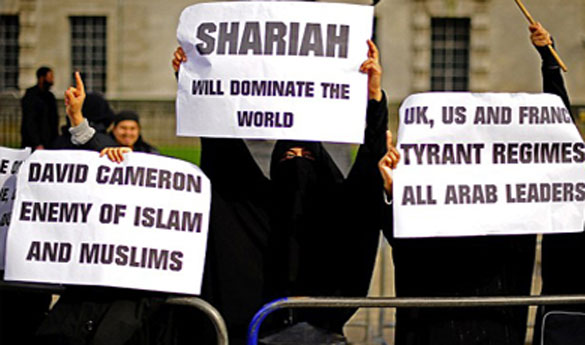 Photo: Hardline: Muslim women campaigning for Sharia law during a protest outside Downing Street
---------
• Isis Sends Female Supporters To Serve As Frontline Suicide Bombers
• Hijab, Breastfeeding and Yoga Emojis Coming Soon
• Afghanistan's Ambassador to India: "The Iconic Afghan Sharbat Gula Will Soon Be In India for Medical Treatment Free Of Cost."
Compiled by New Age Islam News Bureau
URL: https://newageislam.com/islam-women-feminism/a-chilling-expose-how-british/d/109088
------
A Chilling Expose of How BRITISH Females Are Being Sentenced To Lives of Misery by Muslim Courts
By GITA SAHGAL, HUMAN RIGHTS
12 November 2016
As a young British-Pakistani woman, Lubna faced an agonising decision. She was brought up a devout Muslim in a prosperous middle-class family in the north of England, but her arranged marriage to the father of her two children was a disaster.
He was both sexually abusive and physically violent; he and members of his family regularly beat up Lubna.
When he suddenly disappeared to pursue a new life in America with a new woman, she was left to work night and day to support his elderly parents until they threw her out of their house.
Shame on Sharia: Beaten women, raped women and robbed women - being sentenced to lives of misery by Muslim courts
Shame on Sharia: Beaten women, raped women and robbed women - being sentenced to lives of misery by Muslim courts
Lubna moved to London to rebuild her life. She studied for a university degree, and with the support of her family, began civil proceedings to divorce her husband.
Unlike her terrifying marriage, the process was largely pain-free. Thanks to a restraining order, her furious husband – who returned to contest the divorce – was banned from approaching her.
The court granted her custody of their children and successfully hid her address from him for fear of reprisals. But after she was persuaded to obtain an Islamic divorce in the sharia court, her true nightmare began.
First, the clerics tried to persuade her to attempt a reconciliation with her abusive husband. Then, after they disclosed her address, he threatened to kill her, kidnapped her children, and subjected her to an horrific rape that left her needing an abortion.
Lubna had not even thought she needed a sharia divorce, but shortly before her decree nisi was made absolute, her estranged husband stood up before a prayer meeting at her local mosque in East London and denounced her as 'a loose woman' who was being pimped by her widowed mother Shagufta.
He said he was 'still willing to take her back for the sake of our children'.
Although at least one imam knew the horrific background to her marriage, a delegation from the mosque visited her family to persuade her to return. When that failed, the imam, an old family friend, put more pressure on Lubna to go to the sharia court.
To satisfy her devout Muslim mother, who was being intimidated by the wider Muslim community, she eventually went to the sharia court near London's Regent's Park. What happened there shocked her to her core.
Faced by a 'bench' of clerics who described themselves as 'judges', she expected to be able to describe her plight at the hands of her violent husband.
Gita Sahgal: Britain has embarked on an unsavoury Faustian pact in which the rights and safety of Muslim women in this country have been sacrificed in the name of security
Gita Sahgal: Britain has embarked on an unsavoury Faustian pact in which the rights and safety of Muslim women in this country have been sacrificed in the name of security
She told me: 'The court was incredibly difficult. My mother and I were repeatedly told to be silent. None of the information from the civil proceedings, including non-molestation orders, was admissible in the sharia court.
'When my ex-husband said he wanted a reconciliation, the judges said I should comply.
'I tried to tell them about the violence and abuse I had suffered throughout the marriage, but was advised to be quiet. My mother was also silenced.'
She faced intrusive questioning about the last time she had sex with her husband – crucial, the judges told her, to determine exactly when their relationship had ended. She was also forced to disclose her address.
This is the reality of sharia courts currently spreading across Britain and denying Muslim women their legal rights – a proliferation that is being encouraged by the British state in the name of increased security. The Commons Home Affairs Committee has begun an investigation into the spread of Islamic law.
Dr Ahmad Al-Dubayan, chairman of the new UK Board of Sharia Councils, told the committee that British Muslims have the right to use sharia courts. They have no legal force but are regularly used by Muslim families to adjudicate on personal matters, including religious marriages and divorces.
They apply a far more extreme version of Islamic law than Pakistan
Dr Al-Dubayan's colleague said that Islamic law allows polygamy, but the sharia judges and 'regulators' denied that they were promoting the practice.
To me this sounded like double-speak from the very organisation that aimed to standardise procedures and prevent abuses which could be perpetrated by the scores of self-appointed 'courts' operating around the country with no regulation.
In other words, they were the good guys who should be trusted to tame the extremists who might flourish if sharia law was driven underground.
The truth, however, is far more sinister. As an activist and documentary film-maker who has spent more than two decades investigating religious fundamentalism in Britain, I can reveal that sharia courts seek to undermine British law, subject women to humiliation, subjugation and the risk of physical harm, and apply a version of Islamic law that is far more extreme than that used in Muslim countries such as Bangladesh and Pakistan.
The most prominent sharia councils are also the fundamentalist ones.
At the heart of their existence is a deliberate lie. The overwhelming majority of cases heard by sharia courts are divorce suits brought by women who are told that a British civil divorce does not count in the eyes of Islam.
Any woman who embarks on a new relationship will, they say, have committed adultery – a crime only equalled in their eyes by apostasy [abandoning Islam] and blasphemy.
Yet the courts in, for example, Bangladesh and Pakistan, are perfectly happy to accept a civil divorce certificate from Britain as evidence of the end of a marriage, which in the Muslim tradition is a civil contract rather than a sacrament. In those countries, the contract must be registered to count as a legal marriage.
But, here in Britain, there are many unregistered marriages.
Hardline: Muslim women campaigning for Sharia law during a protest outside Downing Street
Hardline: Muslim women campaigning for Sharia law during a protest outside Downing Street
Nobody knows how many unregulated sharia courts there are in Britain. One unofficial estimate put the total at around 85, which means there is a sharia court in pretty much every area with a sizeable Muslim community.
A Home Office study suggests there are about 30, but there are many individuals dispensing sharia law too, in mosques, Islamic centres and even below shops. Even the Home Office study did not name the sharia councils that it had identified.
Yet a generation ago, they were unknown. Now, because of pressure from radical mosques and elsewhere, the basic principle of equality in marriage is dispensed with in favour of an extreme interpretation of Islamic law.
The ending of a marriage in a civil court is simply not enough for a woman to feel she will not be labelled an adulterer if she marries again. That is why some women 'choose' sharia divorce, even if they are already divorced.
Lubna was one such woman. After filling in apparently routine paperwork, she went to the sharia court with her mother to press her case for an Islamic divorce.
'I left the sharia court in tears,' she added. 'My mother told me not to worry. But after the case was heard my ex-husband began a sustained campaign of harassment and stalking after learning my address from the sharia court document.
'He kidnapped my children and threatened to keep them if I did not allow him to come and live with me in my new home.'
Horrified by what she had seen at the sharia court, Lubna's mother sought advice from Islamic scholars in Pakistan and India, who told her a civil divorce was sufficient for a formal termination of the marriage and that Lubna was right to rely on the protection of the British law, which had granted her custody of the children.
As a result, Lubna never completed the sharia divorce and went on to rebuild her life.
If imams here spread that message, the sharia business would collapse. By common agreement, Islamic divorces account for the vast majority of cases heard in the sharia courts, which are dominated in this country by fundamentalists who seek to perpetuate the male domination of marriage.
They believe that men can end a marriage simply by repeating the words 'I divorce you' three times, while women must come before them and subject themselves to the intrusive questioning of an Islamic scholar who might typically ask them what more they could do to please their violent and abusive husbands.
Words can not express my anger - I do not recognise this Islam
Sharia courts can also interfere with the laws of property and inheritance. Hameeda, 70, was forced to abide by rules imposed by a sharia court consulted by her strict Muslim sons after her husband died.
The court told her she had to remain in iddat (seclusion) for 40 days. 'I do not understand this rule,' she said. 'Iddat is for women who might be pregnant. I am an old woman.
Did these judges think there was any possibility that I could be pregnant? Are they stupid? I was not allowed to answer the phone, the front door or even to go into the garden during this time because a man may see me! I felt like I was in prison.
'Four months after my husband died, I came under a lot of pressure from my sons to sell my house and give the money to them. They have been speaking to this sharia judge again. He told them that in English law I may own the house I live in but this is not the right way in Islam.
'He said that my husband's property should have been given to my sons. I cry every day because I do not know what is going to happen to me. Where will I go? I worked as a machinist for many years – day and night – to build a home for my family. I do not want to give up the home I have worked so hard to make.
'I am now being forced to listen to lecture after lecture from my sons about my religion and what it says about what happens to the family's wealth after the husband dies.'
Sharia courts are now orchestrating a cynical public relations campaign in which they are rebranding themselves not as courts, but as mediation and arbitration services. But in truth the first was established around 1986 by Islamic fundamentalists in an attempt to promulgate their rigid version of faith.
The presiding imams often call themselves 'judges' and in the oldest sharia council, they sit at a raised bench, looking down at the women who are petitioning for divorce. Yet the 'justice' they dispense has none of the safeguards and legal rights that petitioners in properly convened courts of law enjoy.
The most sickening thing is that the spread of sharia law has been aided and abetted by the British state, which sees acceptance of these shadowy courts as a way to appease what they regard as 'non-violent' extremists.
In doing so, Britain has embarked on an unsavoury Faustian pact in which the rights and safety of Muslim women in this country have been sacrificed in the name of security.
A disturbing example came earlier this year when the Home Office, then under Theresa May, announced an 'independent' review into sharia law as part of the Government's counter-extremism strategy.
Alarmingly, the Home Office appointed two imams as advisers to the panel, which is chaired by Professor Mona Siddiqui, herself a theologian. Surely they should be discussing the rights of women who may have been harmed by sharia courts rather than the finer points of Islam?
Sharia courts are being wooed by local councils and the police, who see them as a valuable bridge to the Muslim communities.
But they have been accused of pressuring the Crown Prosecution Service to drop domestic violence cases, claiming that they have been successfully 'mediated'.
It is a scandal, too, that some of these sharia courts have been given charitable status. Where is the public interest in allowing an abusive process and promoting a separate legal system? These so-called courts are businesses demanding fees of up to £800 for a divorce.
Lubna's mother said: 'I do not have words to convey my anger at what was being done in this supposed court. I do not recognise this Islam or how it is being portrayed. My time is coming to an end, but I am so sad for the generations to come if we continue on this path.'
dailymail.co.uk/news/article-3930510/Shame-Sharia-Women-beaten-robbed-raped-chilling-expose-BRITISH-females-sentenced-lives-misery-Muslim-courts.html#ixzz4PthlCWPB
------
Isis sends female supporters to serve as frontline suicide bombers
Jason Burke
Saturday 12 November 2016
Islamic State is using increasing numbers of women to evade security measures and spearhead a wave of attacks across Europe and the Islamic world as it loses territory in the Middle East.
Previously, female members of Isis have been confined to support roles and kept away from the battlefield. However, this policy appears to have been reversed in the summer, as military pressure on its main strongholds in Iraq, Syria and Libya intensified and substantial territory began to be lost. Researchers describe a "drastic U-turn".
Officials have repeatedly warned that Isis would launch attacks as it retreated from earlier gains. Since August, a series of plots involving women have been uncovered by security authorities in Europe and north Africa.
The new tactic poses a challenge for security organisations which already have difficulty penetrating extremist networks and identifying potential attackers. "It's a concern … There is constant evolution as the pressures on [Isis] increase, so we are not complacent," said one western European security official.
A plot in Paris in September, involving four women aged between 19 and 39, received significant media coverage. The cell, organised by a known Isis militant in France, was the first to be entirely female. Two of the women had been listed as potential security risks by French intelligence agencies after attempting to reach Syria to join Isis. A third was recently married to a militant shot dead by police on the outskirts of Paris in June, after he stabbed two police officials to death at their home.
"If at first it appeared that women were confined to family and domestic chores by the terrorist organisation, it must be noted that this view is now completely outdated," François Molins, a French prosecutor, told reporters after the four were arrested.
But a series of other plots around the world, which involve women playing "combat" roles, received less attention. In August, Isis was reported to have deployed at least one female suicide bomber in Libya, while last month 10 alleged female attackers were arrested in Morocco. All were in their teens, had sworn allegiance to Isis, and were in possession of bomb-making material, officials said.
Terrorists are focusing [recruitment] efforts on minors who are female. That is very worrying for all of us
Abdelhak Khiame, Morocco
The women, believed to have been planning a series of suicide attacks, "got in touch with [Isis] elements via the internet and were brainwashed into committing destructive acts targeting … tourist sites in particular," said Abdelhak Khiame, who leads Morocco's Central Bureau of Judicial Investigations.
"This is the first time we have found a terrorist cell that was entirely composed of women. Terrorists are focusing [recruitment] efforts on minors who are female. That is very worrying for all of us. It's an alarm bell," Khiame said.
Women have long played a role in Islamic militancy, and have been deployed in frontline positions before. Palestinian groups have used women suicide attackers. So, too, have organisations in central Asia and the Caucasus. However, senior commanders of al-Qaida, the extremist group responsible for the 9/11 attacks, has consistently made clear its opposition to women taking part in combat activities, insisting that they should support male "mujahideen" and the broader struggle, rather than physically take up arms themselves.
The ruling has not always been obeyed. Al-Qaida's own affiliate in Iraq deployed a female suicide bomber in 2005 to attack a hotel in Amman, Jordan. The decision prompted much criticism within extremist circles.
Isis, which shares broad ideological objectives with al-Qaida but differs dramatically over strategy and tactics, initially restricted the many thousands of female volunteers it attracted from Europe and the Islamic world to support activities. "Thus far, Isis has stifled the role of women in the 'caliphate' by limiting them to the house, ensuring they raise the next generation of jihadi militants and provide for their husbands," said Rachel Bryson, of the Centre on Religion and Geopolitics in London.
There have been some exceptions: female "lone wolf" attackers who attacked without official sanction from the group, and one major affiliate – Boko Haram in west Africa – which has systematically used young women as suicide attackers.
The recent change "would suggest the group is starting to heavily feel the pressure from the action taken against it," Bryson said.
In recent months, Isis has lost significant ground in Libya, and its core territory in Iraq and Syria is now threatened. Offensives are now under way against the cities of Raqqa, the provincial centre in Syria seen as the headquarters of the group, and Mosul, the biggest single urban centre under Isis control and the seat of the "caliphate" declared by its leader, Abu Bakr al-Baghdadi, more than two years ago.
As important as the loss of territory is the diminishing population under Isis authority. Although some revenue is earned from oil and other resources, most funds are raised through "taxation" of individuals, communities and businesses.
Analysts are split over the impact of military defeat on Isis. Some believe the organisation will be able to continue to attract support because of its past record of victories, with volunteers taking the view that it needs help now more than ever. Other experts believe that the appeal of Isis will be seriously weakened.
Bryson said: "As [Isis] and others start to lose more ground, their pool of recruits will grow smaller, meaning that they'll need more women to take up combat roles. Furthermore, Isis knows that the death of a woman evokes a larger response worldwide than that of a man, and for Isis's PR machine increasing the group's media platform is an attractive prospect."
https://theguardian.com/world/2016/nov/12/isis-women-frontline-suicide-bombers
------
Hijab, Breastfeeding and Yoga Emojis Coming Soon
PTI | Nov 13, 2016, 01.43 PM IST
LONDON: The consortium that approves emojis has signed off new ones, including a woman wearing a hijab, woman breastfeeding a baby and a person doing yoga.
The new emojis are likely to arrive on smartphones next year after Unicode, the international consortium that sets their global standards, proposed the 51 icons.
It will take the total number of the cartoon images, which are increasingly being used to replace words in text messages, to 1,724, The Telegraph reported.
Rayouf Alhumedhi, a 15-year-old from Germany, had campaigned for the inclusion of the character wearing a hijab emoji, proposing it to Unicode after realising there was no emoji to represent her.
Among the list of introductions are 'person with headscarf', 'breastfeeding', 'bearded person', 'older adult', reflecting the current lack of grandparent icons.
Other emojis that will be released in 2017 by Unicode are a head exploding, a face with open mouth vomiting and a man and woman practising yoga, The Guardian reported.
The new list, Unicode 10, adds to efforts to make emojis more diverse. Smartphone makers have included a variety of skin tones, hair colours and cultural and religious references in recent years following claims that they reinforce stereotypes.
Google recently called for more emojis that reflect women in the workplace, while Apple added male and female versions of some emojis after complaints that many of the female- focused cartoons featured activities such as cutting hair.
Alhumedhi, whose own proposal was accepted by Unicode, tweeted that she was "so excited" by the news.
The other new emojis proposed include a zombie, a vampire, a person holding their finger to their mouth, and a T-Rex.
Add sniper rifles,rocket launchers,man with beard,man covering whole i his face, beheading too..
Unicode, which represents the major technology companies, proposed a shortlist of the new emojis. They are typically approved in the following summer and are likely to be added to smartphones in roughly a year's time.
In the coming weeks, Apple is set to add the emojis from the previous set, Unicode 9. They include emojis for facepalm, selfie, a clown and a pregnant woman.
gadgetsnow.com/tech-news/Hijab-breastfeeding-and-yoga-emojis-coming-soon/articleshow/55398722.cms
------
Afghan govt reacts strongly as parliament dismiss 3 ministers
By KHAAMA PRESS - Sat Nov 12 2016
The Afghan government reacted strongly towards the dismissal of the three ministers including the foreign affairs minister Salahuddin Rabbani.
The Office of the President, ARG Palace, said President Mohammad Ashraf Ghani will meet with the administrative delegation heads of the parliamentary commissions to discuss regarding the process of the impeachment of the Afghan ministers.
The Palace further added that the impeachment of the ministers of the cabinet, specifically the minister of foreign affairs, is unjustifiable as cited in the article 92 of the Afghan constitution.
According to ARG Palace, since the Afghan lawmakers are not fully aware of the performance of the Afghan ministers for the expenditure of the development budget, it is expected that the impeachment process will delay until enough information is presented.
At least 17 Afghan ministers are due to be summoned by the lawmakers in the Lower House of the Parliament, Wolesi Jirga, to obtain clarification regarding the expenditure of the development budget.
The lawmakers earlier warned that the ministers who have failed to spend more than 70 percent of their development budget will be disqualified.
In the first day of the impeachment process, the three ministers, foreign minister Salahudddin Rabbani, public works minister Mahmood Baligh, and minister of labor, social affairs, martyrs & disabled Nasreen Oryakhel were summoned and were disqualified from their posts.
khaama.com/afghan-govt-reacts-strongly-as-parliament-dismiss-3-ministers-02264
------
Afghanistan's Ambassador to India: "The Iconic Afghan Sharbat Gula Will Soon Be In India for Medical Treatment Free Of Cost."
12 Nov 2016
According to her lawyer, Gula, who's in her 40s, suffers from Hepatitis C. She is now scheduled to travel to Bangalore to receive treatment, according to Afghan news agency Khaama Press.
Sharbat Gula was arrested by the Federal Investigation Agency (FIA) on Oct 26 from her house in Peshawar's Nauthia area for alleged forgery of a Pakistani Computerised National Identity Card (CNIC).
A day after her arrest, the United Nations High Commissioner distanced itself from Sharbat Gula, claiming that she was not a registered refugee.
She pleaded guilty to all charges against her and was sentenced to 15 days in jail and a fine of Rs110,000 by a special anti-corruption and immigration court. Following the sentence, the Khyber Pakhtunkhwa government offered to stop her deportation from the country but she refused to stay in Pakistan.
The Afghan president last week personally welcomed her upon her arrival in Afghanistan, offering her a furnished apartment after she was deported by Pakistan.
"The woman who stands next to me became an iconic figure representing Afghan deprivation, Afghan hope and Afghan aspirations," Ghani said. "All of us are inspired by her courage and determination."
'Mona Lisa of the Afghan war'
Sharbat Bibi became famously known as the 'Afghan Girl' when National Geographic photographer Steve McCurry captured her photograph at the Nasir Bagh refugee camp situated on the edge of Peshawar in 1984.
She was for years an unnamed celebrity after the image of her as a teenage Afghan refugee was featured on the magazine's cover in June 1985, her striking green eyes peering out from a headscarf with a mixture of ferocity and pain.
That photo has been likened to Leonardo Da Vinci's Mona Lisa.
Her image became a symbol of Afghanistan's suffering during the 1980s Soviet occupation and US-backed mujahideen insurgency against it.
She remained anonymous for years after her first photo made her an icon around the world. In 2001, National Geographic sent McCurry back to find the girl in the photo.
After Sharbat's family granted her permission to meet with the man who photographed her 17 years ago, McCurry knew immediately, even after so many years, that he had found her again.
"Her eyes are as haunting now as they were then," he had said.
National Geographic made a short documentary about her life and dubbed her the 'Mona Lisa of Afghan war'.
dawn.com/news/1296096/famed-afghan-girl-sharbat-gula-to-travel-to-india
URL: https://newageislam.com/islam-women-feminism/a-chilling-expose-how-british/d/109088
New Age Islam, Islam Online, Islamic Website, African Muslim News, Arab World News, South Asia News, Indian Muslim News, World Muslim News, Womens in Islam, Islamic Feminism, Arab Women, Womens In Arab, Islamphobia in America, Muslim Women in West, Islam Women and Feminism