New Age Islam News Bureau
21 Oct 2015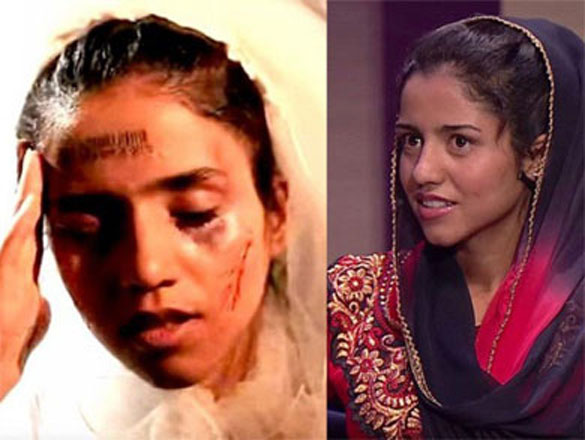 Escaping the shackles of child marriage, Sonita is committed to helping her female counterparts through her rap music.
--------
• A Child Bride at 10, Afghanistan's Youngest Female Rapper Breaks Silence Through Music
• Malala Always Welcome In India: Shiv Sena
• More Girls Dying Before Age 5 than Boys in India: UN Report
• The Indian women who took on a multinational and won
• Abused on Facebook, 8 Women from Kerala, India, Push for a Change
• Two Pakistani Women Win in Canadian Poll
• Indian Muslim Women's Group Demands 'Gender Just Reform' In Personal Law
• Science Has Terrible News for Women Who Are Intelligent
• Heart disease gene 'found in women'
• Ex-Cabinet Secretary Appointed as 1st Male Member of National Commission for Women in India
Compiled By New Age Islam News Bureau
URL: https://newageislam.com/islam-women-feminism/a-child-bride-10,-afghanistan/d/105001
---------
A Child Bride at 10, Afghanistan's Youngest Female Rapper Breaks Silence Through Music
October 21, 2015
A "good girl" in Afghanistan is one who keeps quiet about all matters concerning her. A "good girl" won't talk about her future. A "good girl" should listen to her family, even if they force her to marry a man of their choice.
"A good girl means you should be a doll; everyone can play with you and you have no say in it," says 18-year-old Sonita Alizadeh at London's Women of the World summit last week.
Escaping the shackles of child marriage at the tender age of 10, Sonita decided to go against the norms of Afghan culture and create a future for herself unlike her female counterparts.
Breaking tradition, India's child brides fight for freedom
And how did she fight for her rights? By becoming the youngest female rapper in Afghanistan.
Although she was interested in making music, Alizadeh was priced at $9,000 so that her brother could buy himself a bride. Her only question to her mother was "Don't you care about my feelings? My wasted potential?" and her mother, who was married at 13, was as helpless as her, "I have no other way," she responded to her daughter.
"I realised against my brother, I have no value. And they couldn't understand me," said the young girl in an interview with BBC reporter Zarghuna Kargar. And so she decided to help herself and make her own future.
After fleeing the war in Afghanistan, Sonita worked as a bathroom cleaner at an NGO in Iran. There she learned to read and write, gaining inspiration from American rapper Eminem and Iranian rapper Yas.
She wrote her first song Brides for Sale (2014) and uploaded it on YouTube. The video shows faux bruises and marks on her face, including a bar code on her forehead to symbolise that she is a price tag in this world and holds no value as a female. Her inspiration for the video came from her friend who was married at a young age and was victim to domestic violence.
"We were talking about how the music video should be, and one of my friends sitting next to me, had bruises on her face and she was quiet. When I looked at her, I imagined the music video in my mind and I wanted to show the horror story of millions of girls around the world," explained Sonita.
Her husband beat her and other women told her it's probably her fault
Her video gained traction and she was soon offered a full scholarship to study music at Wasatch Academy in Utah. Her music is her way of fighting and standing up for women all around the world who are subject to child marriage. Even her mother has since changed her views on the matter and is now a fan of her daughter's song.
"It was a terrible dream for my mother, she would always tell me, you're shameless if you decide to sing. But when my mother watched the video, she called me and she said 'it was good'… now she is a fan," she recalled.
Her life has been documented in a film titled Sonita, which is set to premiere at the International Documentary Film Festival Amsterdam.
http://tribune.com.pk/story/976609/a-child-bride-at-10-afghanistans-youngest-female-rapper-breaks-silence-through-music/
---------
Malala Always Welcome In India: Shiv Sena
ANI | Oct 21, 2015
MUMBAI: The Shiv Sena on Wednesday said it will always welcome child activist and Nobel Peace Prize winner Malala Yousufzai to India as she has stood up to terrorists.
"I want to tell all peace makers in India that the Shiv Sena and Saamna has appreciated the efforts and the struggle carried by Malala against terrorism in Pakistan. If Malala comes to India, Shiv Sena would also welcome her," Shiv Sena leader Sanjay Raut said in Mumbai.
"People like Kasuri and Hafiz Saeed spread terrorism and violence against India whereas there is a small girl like Malala, is still fighting against terrorism and has won the Nobel Peace Prize for the same," he added.
"So, if she is welcomed in India, it would send a great message to all Pakistan lovers in India that terrorism should not be promoted, instead it should be dealt with harshly," he further said.
Malala had said recently that she wished to pay a visit to India, especially to Delhi and Mumbai, to inspire young girls there.
http://timesofindia.indiatimes.com/india/Malala-always-welcome-in-India-Shiv-Sena/articleshow/49481075.cms
------
More Girls Dying Before Age 5 than Boys in India: UN Report
All India | Press Trust of India
October 21, 2015 15:24 IST
UNITED NATIONS: India is among the countries with the largest surplus of men and a worrying under-five sex ratio with more girls dying before the age of five than boys, according to a UN report.
"The World's Women 2015" report launched said men outnumber women in eastern Asia, southern Asia, Oceania, and western Asia.
The three regions have the highest surplus of men in absolute numbers: 50.5 million in Eastern Asia (mainly due to China), 49.5 million in Southern Asia (mainly due to India), and 12.1 million in Western Asia (mainly due to Saudi Arabia and the UAE).
In absolute terms, countries with the largest surplus of men are China (52 million), in Eastern Asia, and India (43 million), in Southern Asia.
The ratio of men to women and the surplus of men in these two most populous countries largely determine the surplus of men observed at the global level, the report said.
The report said that in India, while sex-selective abortions have been technically illegal since 1996, the law has had "little effect so far on the sex ratio at birth".
India has the lowest sex ratio in under-5 mortality, with a ratio of 93 (93 boys die before age 5 for 100 girls that die by that age).
"This is also the only country with a under-5 mortality sex ratio under 100 (more girls die than boys)," it said. India alone accounted for 21 per cent of all under-5 deaths in 2013 and this low sex ratio in under-5 mortality is pulling down the average for Southern Asia as a whole and the entire world.
"Higher mortality among girls can be closely related to a general preference for sons in India, which is expressed in special treatment for boys in terms of parental investment in nutrition, vaccinations, access to health treatment and parental care in general," the report said.
It further said that in China and India, between 1995 and 2013, women's participation in the labour force declined from72 to 64 per cent and from 35 to 27 per cent, respectively.
Child marriage is also most common in south Asia and sub-Saharan Africa, with India accounting for one-third of the global total of child brides.
http://www.ndtv.com/india-news/more-girls-dying-before-age-5-than-boys-in-india-un-report-1234833
------
The Indian Women Who Took On a Multinational And Won
Justin Rowlatt
South Asia correspondent
19 October 2015
From the section India
This is the story of an extraordinary uprising, a movement of 6,000 barely educated women labourers who took on one of the most powerful companies in the world.
In a country plagued by sexism they challenged the male-dominated world of trade unions and politics, refusing to allow men to take over their campaign.
And what's more, they won.
You may well have enjoyed the fruits of their labour. The women are tea pickers from the beautiful south Indian state of Kerala. They work for a huge plantation company, Kanan Devan Hills Plantations, which is part-owned and largely controlled by the Indian multinational, Tata, the owner of Tetley Tea.
The spark that ignited the protest was a decision to cut the bonus paid to tea pickers, but its roots go much deeper than that.
Going solo
Tea workers in India are not well treated. When I investigated the industry in Assam last month I found living and working conditions so bad, and wages so low, that tea workers and their families were left malnourished and vulnerable to fatal illnesses.
It seems conditions in Kerala are not much different.
Part of the women's complaint is that they live in one-bed huts without toilets and other basic amenities and, while they earn significantly more than the tea workers in Assam, they say the 230 rupees (£2.30; $3.50) they are paid for a day's work is half what a daily wage labourer in Kerala would get.
But when, in early September, the women in Kerala demanded the bonus be reinstated - along with a hike in daily wages and better living conditions - it was not just a challenge to the company that employs them, but also to the trade unions that are supposed to represent them.
The women workers say the male trade union leaders are in cahoots with the company management, denying women their entitlements while ensuring they get the plum jobs themselves.
When tea prices collapsed a few years back, and some estate owners abandoned their plantations, the women argue that trade union leaders always managed to keep their jobs.
They also say that the trade unions haven't done enough to stop their men from drinking away their earnings without regard for their children's education or the medical needs of their families.
And they showed that they could launch an effective protest without the help of the trade unions.
'Women's Unity'
When 6,000 women occupied the main road to the headquarters of the plantation company it was organised by the women themselves, most of whom have no history of union agitation.
They called themselves "Pempilai Orumai", or women's unity.
In effect the women laid siege to the Munnar, one of Kerala's most popular tourist destinations. Trade and tourism were brought to a near standstill.
Many slogans were directed squarely at the union leaders. "We pick the tea and carry the bags on our shoulders, you carry off the money bags," read one. "We live in tin sheds, you enjoy bungalows," said another.
When male trade union leaders tried to join the protest they were chased away. The women attacked one former trade union leader with their sandals. He had to be rescued by the police.
In another incident they tore down the flag poles outside the trade union offices.
They also saw off local politicians who wanted to be seen offering their support.
The women insisted they would continue the protest until their demands were met.
At first the plantation company was defiant but, after nine days of protest and marathon negotiations overseen by the chief minister of the state, it gave in.
It was a stunning victory: a group of semi-literate women had taken on the most powerful interests in the state and won.
The women had represented the workforce at the talks and forced management to accept their demand to bring back the 20% bonus. Meanwhile the male trade union leaders had to swallow their pride and sign the deal the women had negotiated.
Nothing to lose
But the battle isn't over yet.
The issue of the pay rise was to be negotiated separately and, when the women's demand for an increase in wages wasn't met, the unions launched an indefinite campaign to raise rates from 232 rupees to 500 rupees a day.
In part this was an attempt to seize the initiative back, following the success of the women's campaign.
Women tea workers balance bags of plucked leaves on their headsImage copyrightAFP
The women have refused to be part of the union effort and launched their own independent demand for higher wages.
Earlier this month some male union activists are alleged to have attacked the women's demonstration by throwing rocks. Six people suffered minor injuries.
But the women are determined to continue. "We have nothing to lose", Lissy Sunny, one of the leaders of Pempilai Orumai, told the Indian news website Catch.
"Hunger and suffering are part of our lives. We don't care even if we starve to death.
"But we won't allow anyone to exploit us. Enough is enough."
http://www.bbc.com/news/world-asia-india-34513824
------
Abused on Facebook, 8 Women from Kerala, India, Push for a Change
Kerala | Written by Sneha Mary Koshy
October 21, 2015 13:22 IST
THIRUVANANTHAPURAM: Going against the majority opinion has as much consequences in the virtual world as in the real. Eight women from Kerala, who found this to their cost, have now joined hands - their campaign is called For a Better FB -- and no less than 75 international online organisations are supporting their demands.
It is not just the abuse and victimisation by other users that they had to face, say the women.
"I was the one who was abused but it was my ID that Facebook blocked thrice," said Preetha G, 41, a single mother from a remote village. "When I reported the abusive comments to Facebook in Malayalam, I got a response that said it does not violate our community standards," she said.
Jaseela CV, 28, faced a similar situation. When she supported a man who got arrested for not standing up during the national anthem at a cinema hall, a torrent of abuse started, she said.
"I was abused, my profile was reported and I was shocked when Facebook sent me a message saying I was using a fake name, when actually I was using my real name," she said.
Now their demands put forward to Facebook includes getting rid of the real name policy and the need to provide government identification for verification; dedicated personnel to assess hate pages; linguistic experts who can understand the complexity of the non-English cultures.
Among the organisations that support their online campaign are the American Civil Liberties Union, Digital Rights Foundation and Global Voices Advocacy.
But Facebook, which has a system of closely working with several regional organisations across the world, maintains that it is their real name policy that bars people who habitually harass users and commit other irregularities.
"We take any violations of our standards seriously, and that is why we remove content, profiles and pages when we are made aware of it," A Facebook spokesperson told NDTV. "We know that we may not always get it right, given the lack of context we often have and the sheer volume of reports we receive, but we do have real people reviewing these reports in local languages and making the best decisions possible with the information before them."
http://www.ndtv.com/kerala-news/abused-on-facebook-8-women-from-kerala-push-for-a-change-1234703
------
Two Pakistani women win in Canadian poll
October 21, 2015
Two Pakistani women, Salma Zahid and Iqra Khalid representing the Liberal party, won seats in the Canadian elections 2015 held on Monday.
"Scarborough families tonight voted for real change," Salma Zahid said as dozens gathered to celebrate her victory. "I will work hard to deliver the results they deserve."
Salma has reclaimed Scarborough Centre for the Liberals by beating the Conservative incumbent Roxanne James who was elected in 2011.
A mother of two, Salma moved to Scarborough with her family 15 years ago and has since worked as a senior adviser to the Ontario government on health care, infrastructure, citizenship and tourism.
Another Pakistani-Canadian Iqra Khalid also won the election and succeeded in unseating Conservative incumbent Bob Dechert in Mississauga-Erin-Mills. The Liberal leader, Justin Trudeau, son of former Canadian Prime Minister Pierre Trudeau, led his party to victory in a federal election on Monday, defeating Stephen Harper's Conservatives by a wide margin.
http://tribune.com.pk/story/976514/two-pakistani-women-win-in-canadian-poll/
---------
Indian Muslim Women's Group Demands 'Gender Just Reform' In Personal Law
October 20, 2015
A Muslim women's group on Tuesday opposed attempts to impose a uniform civil code but said "a gender just reform" was needed in the Muslim personal law.
A Muslim women's group on Tuesday opposed attempts to impose a uniform civil code but said "a gender just reform" was needed in the Muslim personal law.
Any move to introduce a uniform civil code without taking into account the constitutional guarantee of freedom of religion would be wrong, the Bharatiya Muslim Mahila Andolan said.
"Article 25 the constitution gives the right to all, including minorities, to have personal laws based on respective tenets of different religious communities," the group said in a statement.
"Under this provision, we demand a gender just reform in the Muslim personal law based on the Quranic values of equality and justice, in line with article 25 of the constitution."
The group pointed out that the Supreme Court observation on the need to bring about a gender just legal framework was not aimed at imposing anything on different communities.
"As per the BJP manifesto, the NDA government wants to impose a family law on all communities with the intention of national integration," it said.
"It is important to point out that national integration cannot happen by a common family law but by treating all citizens equally.
"There can be no imposition of any kind as this would impinge on the religious freedom and secularism principles enshrined in the constitution. Nor would different socio-religious communities accept this.
"Like all religious majority and minority community in India, Muslims must also have a codified Muslim personal law based on its religious text.
"Just as there is a Hindu Marriage Act for Hindus, just as there is a Indian Christian Marriage Act for Christians, just as there is a Parsi Marriage and Divorce (Amendment) Act for the Parsis, Muslims too should have an amended Shariat Application Act to ensure a law for the Muslim community which is in consonance with the Islamic and constitutional values of justice and equality."
The group said the recent targeted violence on minorities "have led to an atmosphere of insecurity and deep sense of fear within the Muslim community and amongst all minorities.
"Any talk of a uniform civil code is only adding to the strongly felt sense of hurt and alienation.
"This atmosphere of intimidation does not help the cause of women's demand for justice at all.
"It appears that for the fringe right-wing groups, uniform civil code is another stick to beat the community with," the group said.
http://www.thehindu.com/news/national/muslim-womens-group-demands-gender-just-reform-in-personal-law/article7784609.ece
---------
Science Has Terrible News for Women Who Are Intelligent
Laura Dang, 21 10 2015
Ladies, it really isn't you. A recent report finds that men prefer dating women who are less intelligent than them.
The study from the November issue of the journal Personality and Social Psychology Bulletin was conducted by a team of researchers from the University of Buffalo, University of Texas at Austin, and California Lutheran University.
Researchers found that a woman's level of intelligence may threaten some men's masculinity.
Subjects in the study were presented with a series of hypothetical scenarios where women outperformed them in class subjects such as English and math. The responses of what men found attractive in women were recorded from the 105 male participants.
Lead researcher Lora Park elaborated on the results to Mic:
"[The men] are attracted to women who are smarter than them when she is psychologically distant. Men show less attraction to a woman when she is psychologically near and outperforms him in the intellectual domain. Some preliminary evidence suggested that this was due to men feeling more threatened — in terms of feeling less masculine — after the woman outsmarted them when she was closer to him."
This essentially means that men may find smart women attractive from afar, but less so when they realize that the women can outsmart them.
The study's findings reveal another wrinkle in smart women's dating problems. A recently published book called "Date-onomics" found there is a deficiency of single, college-educated men.
http://nextshark.com/men-smarter-women-study/#rmns
---------
Heart Disease Gene 'Found In Women'
21 10 15
Scientists have identified a gene that puts women at higher risk of heart disease, an early study suggests.
The work showed that women who had a particular version of the BCAR1 gene were more likely than other women to have heart attacks and strokes.
In contrast, men who had the gene were not at increased risk.
Researchers say this adds to mounting evidence that there are differences in how men and women experience heart disease.
Thicker arteries
In the study, published in the journal, Circulation: Cardiovascular Genetics, researchers from University College London pooled data from five European research projects, involving nearly 4,000 men and women.
Comparing their genes, the health of their blood vessels and the thickness of key arteries, scientists pinpointed a version of a gene that was linked to a higher risk of heart attacks, strokes and diseased blood vessels in women.
Though they still have work to do to fully understand the link, researchers believe the gene - when combined with a woman's naturally occurring oestrogen - could lead to an increased risk of heart disease.
And building on previous work, they suggest the gene may encourage the mass migration of cells into the walls of key blood vessels - making them thicker.
As blood vessel walls thicken, this could, in turn, increase the chance of blockages that lead to heart attacks and strokes.
Lead author of the research, Freya Boardman-Pretty, said: "We've known for a long time that risk factors for heart disease are different for men and women.
"This gene effect seen only in women, could be contributing to this difference, although we expect there are a lot of other factors at play.
"If we can confirm that this gene is involved, and work out exactly how it leads to an increased risk of heart disease in women, it could become a new target for drugs in the future."
She added that more research is needed and that individuals need to look beyond their genetic make-up and focus on healthy lifestyles to help protect themselves from heart disease.
Dr Shannon Amoils, from the British Heart Foundation, which helped fund the research, added: "Heart disease is often seen as a disease which predominantly affects men, but this is simply not the case.
"It is imperative that everyone takes steps to prevent it. Women can reduce their risk by not smoking, getting regular physical exercise and eating healthily."
http://www.bbc.com/news/health-34580962
---------
Ex-Cabinet Secretary Appointed as 1st Male Member of National Commission for Women in India
Delhi | Press Trust of India
October 21, 2015
NEW DELHI: Former Cabinet Secretary Alok Rawat has been appointed as the first male member of the National Commission for Women, filling the fourth seat in the five-member body.
A 1977 batch Sikkim cadre IAS officer, Mr Rawat has served as Director/Joint Secretary in Ministry of Defence and Ministry of Road Transport and Highways; Secretary (UPSC); Secretary (Coordination and Public Grievances) in the Cabinet Secretariat and Secretary in Ministry of Water Resources, River Development and Ganga Rejuvenation.
Not deterred to voice his opinions in a female-dominated body, he said, "I feel that the presence of a male would provide a better understanding to the women issues."
Mr Rawat said that working with the Commission will be a new experience and his first focus will be to learn the job.
"I will learn the job first as issues pertaining to women is a bit different from development agenda. So I will observe and learn first," he said.
Two other members -- Sushma Sahu and Rekha Sharma - were appointed to the Commission in August.
http://www.ndtv.com/delhi-news/ex-cabinet-secretary-alok-rawat-appointed-as-1st-male-member-of-national-commission-for-women-1234880
---------
URL: https://newageislam.com/islam-women-feminism/a-child-bride-10,-afghanistan/d/105001