New Age Islam News Bureau
24 Jan 2013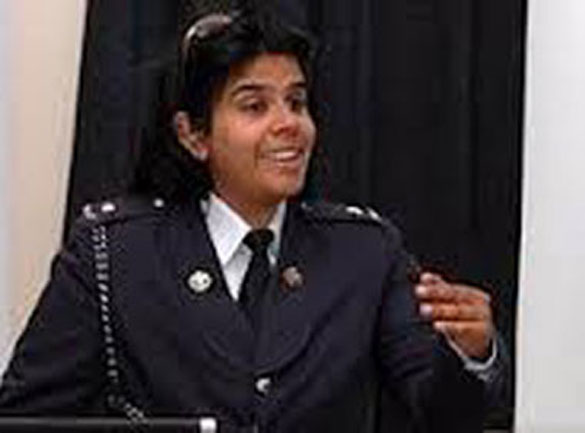 • Rizana Nafeek: Mother Forgives Over Saudi Beheading
• Fashionable Islamic Wear; a Lucrative Venture in Pakistan
• Chechen Girls and the Rise of Islam
• Fetish and Desire for Arab Sex Superwoman Brought To London Stage
• Dubai Mall Metro Turns into Fashion Catwalk
• Afghan Woman Sues Police over Daughter's Murder
• More Women Inspectors Needed for Jeddah's 3,000 Women's Shops
• Sania Mirza Tells of Life and Marriage
• Ambulance Training For Women Paramedics in Jeddah '20 Years Overdue'
• Mother Abducts Sons on Way to School in Mount Lebanon
• Mexico Quashes Frenchwoman's Kidnap Charge, Ends Seven-Year Ordeal
• Academy Award Winning Pakistani Filmmaker Honoured With Crystal Award
• Rs2b Spent On Benazir Income Support Programme Ads in Four Years: Chairperson
Compiled by New Age Islam News Bureau
Photo: Bahraini Princess Noura Bint Ebrahim al-Khalifa
URL: https://newageislam.com/islam-women-feminism/a-bahraini-princess-facing-multiple/d/10129
-----------------
A Bahraini princess is facing Multiple charges of torturing pro-democracy activists
24 Jan 2013: BBC report:
A Bahraini princess is facing charges of torturing pro-democracy activists in the Gulf island kingdom.
Noura Bint Ebrahim al-Khalifa, who serves in Bahrain's Drugs Control Unit, is accused along with another officer of torturing three people in detention.
Hundreds of protesters were detained as Bahrain struggled to put down a popular uprising that began in February 2011.
The uprising, which began peacefully with calls for democratic reform, was crushed by the ruling al-Khalifas.
Noura al-Khalifa, 29, who denies the charges, appeared in court on Sunday and Monday to hear the allegations.
In one case, the princess is accused of torturing two doctors, Ghassan and Bassem Daif, brothers who worked at the Salmaniya medical complex.
Medical staff from the facility went to help injured protesters after security police used force to disperse thousands of people who had camped out at an iconic landmark, Pearl Roundabout, in the capital, Manama.
At least two people were killed and hundreds wounded when police attacked with batons, tear gas and birdshot.
In March and April 2011 many of the medical staff were arrested and detained. It is alleged that Ms al-Khalifa tortured the doctors at that time.
She is also accused of torturing another person, 21-year-old Ayat al-Qurmazi.
Ms al-Qurmazi was arrested in March 2011 after giving public readings of poetry she wrote that was critical of the ruling family.
She alleges she was held for nine days, blindfolded, beaten with cables and threatened with rape. She identified Ms al-Khalifa as her torturer.
'Online threats'
Ms al Qurmazi's lawyer Reem Khalaf told the BBC that on one occasion while she was being beaten around her head, the blindfold slipped and she saw Ms al-Khalifa.
"Noura was very angry that Ayat had seen her," Ms Khalaf said.
Ayat al-Qurmazi told the BBC she did not regret reading her poems or taking Noura al-Khalifa to court, even though she had lost her place at college and was the target of online threats and abuse.
"I am not sorry. I only said what all Bahrainis feel and I haven't done anything against my country. What I am doing, I am doing for my country."
The case was adjourned to 7 February after three witnesses failed to turn up.
No-one from the Bahrain government was available to comment on the charges against Ms al-Khalifa.
http://www.bbc.co.uk/news/world-middle-east-21149779
------------
Rizana Nafeek: Mother Forgives Over Saudi Beheading
2013/01/24
The mother of a Sri Lankan domestic worker beheaded in Saudi Arabia has forgiven those who she says wanted her daughter executed.
Rafeena Nafeek said her daughter, Rizana, was innocent and was wrongfully convicted of killing a baby in 2005.
The Saudi government said that she could not be pardoned because the baby's parents wanted the punishment.
Documents show she was only 17 at the time of the killing and that her execution was a breach of child rights.
Rizana Nafeek's parents came to Colombo from their humble home in eastern Sri Lanka two weeks after the housemaid was executed.
A weeping Mrs Nafeek said she had forgiven the baby's parents who reportedly insisted on her daughter's beheading.
"There's no point in blaming anyone - Rizana has gone," she told the BBC's Azzam Ameen.
"We only got to know [about] her execution from the media. They [the Saudi authorities] should have at least told us about it.
"Even our request to get her body to Sri Lanka was refused."
The executed maid's family waited eight years to know her fate.
Trial 'a farce'
Mrs Nafeek urged other impoverished families not to send their daughters for domestic work in Saudi Arabia or anywhere else.
Instead she said that they should educate their children, a wish that Rizana had expressed for her own young siblings before her death.
The BBC's Charles Haviland in Colombo says that it appears that the maid's passport was falsified to give her age as 23 when she went to Saudi Arabia - other documents said to be genuine show that in fact she was only 17 and therefore a child.
Soon afterwards a baby in her care died in what she said was a choking accident, but the Saudi courts said were strangulation.
Human rights groups said her trial was a farce as she had no translator and no lawyer until after being sentenced.
Mrs Nafeek has publicly rejected compensation money offered by Riyadh, saying she would not accept anything from "the country that killed my child".
However on Tuesday the Sri Lankan president handed the family a sum of $7,800 (£4,900) extended by the Foreign Employment Bureau.
Our correspondent says that Mrs Nafeek's wish for other girls not to go abroad may not easily come true - just this week two underage girls from the same area were apprehended trying to go to Saudi Arabia.
The government says that it wants to introduce a new law to increase the age limit to 25.
http://www.bbc.co.uk/news/world-asia-21167277
-----------
Fashionable Islamic Wear; a Lucrative Venture in Pakistan
23 January 2013
Two female students in Pakistan, Asma Mahar and Quratul Ain, are proving that the Islamic veil can be fun and fashionable.
They are designing Hijabs and Abayas using embroidery and applique work, reported the Express Tribune on Wednesday.
As students of the Bachelor in Business Administration program the two know a lucrative opportunity when it presents itself. They have turned to designing fun variants of the Islamic covering in a country where girls are increasingly observing the practice of covering their hair and bodies.
"We joined the (academic) institute three years ago and since then, the number of girls wearing Hijab or an Abaya has been increasing," said Mahar to the Express Tribune.
"In view of the increasing demand, we decided to offer the girls a colourful variety to choose from."
The small-scale project was low on funding, however the university "came to our rescue and provided us an interest-free loan, which covered 85 per cent of the project's cost," said Quratul Ain. "The remaining 15 per cent was arranged by us."
A great deal of time and effort was put into the project.
"It took six months to complete the project and finally, with the help of others, we have put our designs on display," said one of the girls.
Competing in the market
There is not much choice on the Pakistani market when it comes to Islamic female wear, the two girls picked up on this and designed an appealing range.
"Our works use embroidery, appliqué, beads and other embellishments to suit everyone's choice."
The fabrics have been selected very diligently, said the designers, adding that some of the Hijabs have been made with Turkish materials.
With regards to the success of their stall in the university, they said 35 per cent of their stock was sold within two hours. "Our motto is to provide a variety of hijabs to girls at comparatively cheaper prices."
Using the revenues from on-campus sales, the next step is to take their project online by launching their own website.
"People, especially women, want change and we are happy that we have come up with something new to cater to their needs."
http://english.alarabiya.net/articles/2013/01/23/262047.html
-----------------
Chechen Girls and the Rise of Islam
JANUARY 23, 2013
More than 70 years of Soviet rule, followed by two decades of frequent warfare, inflicted a heavy toll on Chechnya, a small, mostly Muslim republic in southern Russia.
Russia has effectively crushed the rebel movement in Chechnya; the main city, Grozny, has been rebuilt; and the Chechen government has embarked on a campaign to promote Islam.
Today, alcohol is all but banned, polygamy encouraged, and single-sex hair salons and gyms are becoming the norm. Some Chechen women say their rights are being curtailed.
With these images, I hope to reveal a more intimate perspective of the personal lives and choices of girls who are grappling with questions of identity as they come of age in a place that is redefining itself through Islam.
Diana Markosian is a documentary photographer working out of Russia and the former Soviet Union. She holds a master's degree from Columbia University's Graduate School of Journalism. More of her work can be found on her website; a version of this post is on FotoVisura.
http://wbaa.org/post/100-words-chechen-girls-and-rise-islam
-----------------
Fetish and Desire for Arab Sex Superwoman Brought To London Stage
Sour Lips by playwright Omar El-Khairy dramatises the controversial blog 'A Gay Girl in Damascus,' critiquing representations of Arab women in contemporary Western culture
Sara Elkamel
20 Jan 2013
Sour Lips by Omar El-Khairy is a play that dramatises the story of Amina Arraf, a fictional Syrian character created by Tom MacMaster in a blog he dubbed A Gay Girl in Damascus.
Emerging in the hype surrounding the Arab Spring, the blog bore an activist façade and was part of a buzzing blogosphere discussing a transition to democracy and progressiveness in the region.
Full report at:
http://english.ahram.org.eg/NewsContent/5/35/62722/Arts--Culture/Stage--Street/Sour-Lips-Fetish-and-desire-for-Arab-sex-superwoma.aspx
-----------------
Dubai Mall Metro Turns into Fashion Catwalk
Models sashay down the aisle showcasing Bloomingdales' Spring and Summer 2013 collection
By Sharmila Dhal
January 23, 2013
Dubai: Like any other Wednesday, it's business as usual at the Burj Khalifa-Dubai Mall Metro Station. There's a steady flow of passengers streaming on and off the trains on either side of the Red Line. But when one train from Rashidiya makes a halt at 1pm, it creates history.
A public announcement goes off, welcoming the 80 invitees on board to the Fashion Express – the first moving train to host a live catwalk in the region. It's a feat pulled off by the Dubai Events and Promotions Establishment (DEPE) with the Roads and Transport Authority (RTA) and Dubai Mall as part of the 2013 Dubai Shopping Festival.
Full report at:
http://gulfnews.com/news/gulf/uae/general/metro-carriage-turns-into-fashion-catwalk-1.1136972
-----------------
Afghan Woman Sues Police over Daughter's Murder
Jennifer Glasse
January 23, 2013
Anisa Azam is a small woman with extraordinary courage. Her lined face makes her look older than her 40-something years, and there is a permanent sadness about her.
Last March her daughter Khatera was murdered. Azam tried to prevent it: A few weeks before the death, she and her daughter went to a Kabul police station to report a history of spousal abuse, and threats against her daughter. In addition to assaulting her, Khatera's husband Mohammed had also allegedly threatened her with a gun.
Full report at:
http://blogs.aljazeera.com/blog/asia/afghan-sues-police-over-daughters-murder
-----------------
More women inspectors needed for Jeddah's 3,000 women's shops
24 January 2013
A senior city official has called on government to provide 50 women inspectors to help monitor 3,000 licensed women's shops in the city.
Arwa Al-Aama, vice mayor at Jeddah Municipality's information technology department for women affairs, said that the current 19 inspectors are not enough to check whether these shops are complying with the law.
Full report at:
http://www.arabnews.com/more-women-inspectors-needed-jeddah%E2%80%99s-3000-women%E2%80%99s-shops
-----------------
Sania Mirza Tells of Life and Marriage
By JOHN MARTIN
2013/01/23
MELBOURNE, Australia -- Sania Mirza of India is the most celebrated female athlete in South Asia.
Mirza's movements on and off a tennis court, including her surprise 2010 marriage to a Pakistani cricket player, are the staple of tabloids and television across the vast subcontinent of 1.7 billion people.
Cementing their rock-star status, Mirza, 26, and her husband, Shoaib Malik, 30, appeared on India's version of "Dancing with the Stars."
Full report at:
http://straightsets.blogs.nytimes.com/2013/01/23/indian-star-tells-of-life-and-marriage-in-media-fishbowl/
---------------
Ambulance Training For Women Paramedics in Jeddah '20 Years Overdue'
24 January 2013
The general manager of the women department at the Saudi Red Crescent Authority (SRCA) has said the 20-year delay in activating the Women's Ambulance Training Centre in Jeddah is due to flawed procedures, sluggishness of officials, and red tape.
"The program already activated centres in Qassim, Riyadh, Asir, and other places, except Jeddah and Makkah," said Dr. Muneerah Al-Mazroa. She said that 50 women paramedic trainers and employees, as well 22 qualified staff, are working in these centres.
Full report at:
http://www.arabnews.com/ambulance-training-women-paramedics-%E2%80%9820-years-overdue%E2%80%99
-----------------
Mother Abducts Sons on Way to School in Mount Lebanon
January 24, 2013
ARAMOUN, Lebanon: Two young brothers were abducted Wednesday, apparently at the behest of their mother, as they were on their way to school with their paternal grandfather in Mount Lebanon.
The mother, Nadine Akkawi, called a radio station after the incident to claim responsibility for the kidnapping, saying she had been denied access to the boys.
Their grandfather told police gunmen threatened him, although the mother said no force was involved.
Full report at:
http://www.dailystar.com.lb/News/Local-News/2013/Jan-24/203532-mother-abducts-sons-on-way-to-school-in-mount-leba.ashx#ixzz2IskgexVh
-----------------
Mexico Quashes Frenchwoman's Kidnap Charge, Ends Seven-Year Ordeal
(Reuters) / 24 January 2013
Mexico's top court freed a Frenchwoman convicted of kidnapping on Wednesday, ruling that her trial was tainted and ending a seven-year prison ordeal that strained diplomatic ties.
Florence Cassez, 38, was serving a 60-year sentence that opened up a rift between France and Mexico after she was arrested in 2005 at a ranch near Mexico City with her former boyfriend, who led a kidnapping gang called the Zodiacs.
Full report at:
http://www.khaleejtimes.com/kt-article-display-
-----------------
Academy Award winning filmmaker honoured with Crystal Award
2013/01/24
Academy Award winning filmmaker Sharmeen Obaid-Chinoy was presented the 'Crystal Award' by Hilde Schwab at the 2013 World Economic Forum meeting for her efforts in promoting human rights and women's issues through film. The award was given at the official Crystal Award ceremony held at the World Economic Forum Congress Centre, Congress Hall in Davos, Switzerland.
Full report at:
http://dawn.com/2013/01/23/sharmeen-obaid-chinoy-honoured-with-crystal-award/
----------
Rs2b Spent On Benazir Income Support Programme Ads in Four Years: Chairperson
By Umer Nangiana
January 24, 2013
ISLAMABAD: During the last four fiscal years – up until December 2012 – the government has spent more than Rs2 billion on a media campaign for the Benazir Income Support Programme (BISP).
BISP Chairperson Farzana Raja shared this information with the National Assembly on Wednesday during the question hour session. She said that of the allocated Rs3.6 billion, Rs1.88 billion was spent on the promotion of BISP in electronic media, while Rs555 million was spent on print media.
Full report at:
http://tribune.com.pk/story/498357/rs2b-spent-on-bisp-ads-in-four-years-farzana/
-----------------
URL: https://newageislam.com/islam-women-feminism/a-bahraini-princess-facing-multiple/d/10129