New Age Islam News Bureau
31 May 2012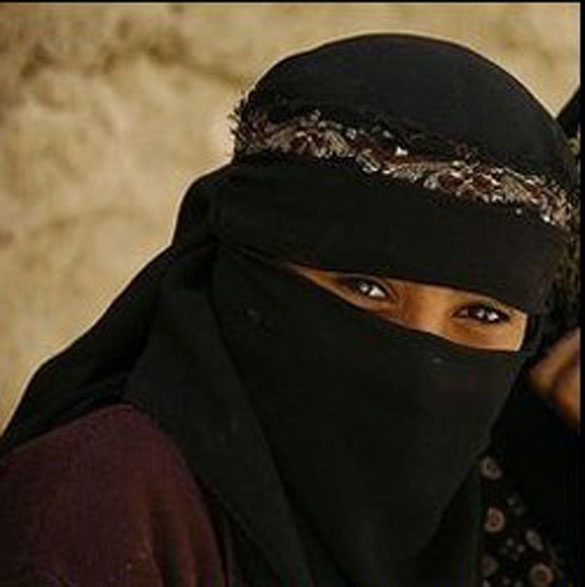 • Egyptian-born Accused of horrific 'honour killing' of his Daughters Working in New York
• Re-marrying and High Divorce Rates: Two Major Crises in Northern Nigeria
• Afghan girls forced to marry at young age
• Women, tie-sellers targeted in Iran clothing crackdown
• Minister's daughter held over Qatar fire that killed 19 people
• Constitutional rights of women in Pakistan
• Libyan Women Seeking Political Power
• Afghan Female Boxers Strike A Blow For Girl Power
• In Pakistan, free clinic for refugees uncovers effort to save girl's sight
• Afghan school poisonings an omen
• Olympics-rifle passion drives female Kuwaiti shooter
• Jamia Millia to felicitate girl students admitted in male bastion
Complied by New Age Islam News Bureau
Photo: Girl Bride in Yemen dies due to Bleeding on the Marriage Night
URL: https://www.newageislam.com/islam,-women-and-feminism/new-age-islam-news-bureau/girl-bride-in-yemen-dies-due-to-bleeding-on-the-marriage-night/d/7487
----------
A 13 Year old Girl Bride in Yemen dies due to Bleeding on the Marriage Night
30 May 2012
"A mother of a 13 year old girl in the rural north of Yemen contacted us, asking for help after her daughter died due to bleeding on the marriage night." Normally, you would expect to encounter such stories in NGO reports, but it is the Yemeni Minister for Human Rights, Hooria Mashhour, who is disarmingly forthcoming about the problem facing girls in her country.
"Child marriage is happening across the Arab countries, but it is more widespread in Yemen, based on the cultural tribal traditions", she explains. "During my work with the Women National Committee I've encountered many sad cases. Even within the office, the cleaner said that she was forced to get married at the age of 12, which caused her medical complication in the urinary system and she needed treatment to recover."
In a country that has recently ousted its president after 33 years in power, surprisingly little has changed for girls who are forced to get married before they reach adulthood. According to a 2008 study by the Gender Development Research and Studies Centre in Sana'a, just over half of girls are married before their eighteenth birthday - some as young as eight. Admittedly, the problem is not unique to Yemen: in May 2012, the Grand Mufti of the neighbouring Saudi Arabia suggested that girls can be married aged 10. However, in a recent report, former UK Prime Minister Gordon Brown notes that Yemen has the second highest number of mothers under the age of 15, out of the 16 countries where child marriage and pregnancy is most prevalent.
Unlike other developing countries who have raised the minimum age for marriage,Yemen has, in 1999, scrapped it altogether. Attempts by MPs to re-instate it in 2009, as well as protests on the streets and campaigns by the Yemeni Nobel Peace Prize winner Tawakkul Karman, have not succeeded. Meanwhile, the fragile political situation and the fight against Al Qaeda in the Arabian Peninsula (AQAP) has overshadowed human rights issues. "The war on terrorism has affected child rights by preventing them from being top priorities of the national agenda, and generally has put security ahead of development and human rights issues", says Mashhour.
Child marriage affects primarily young brides, but it also exacerbates many of the social and economic problems in Yemen, hindering the country from making further progress. Married girls often drop out of school, leaving them illiterate and unskilled, thus prevented from ever achieving self-sufficiency.
Aisha, a 25 year old Yemeni now living in the UK, tells the story of her mother, Bushra, who was forced to marry aged 13. Bushra's husband forbade her to attend secondary school or seek work. Aged 20, she already had four children, while her husband had married an additional wife.
Today, Bushra continues to suffer from health problems caused by her pregnancies, but she considers herself lucky compared to many others. Early teenage pregnancy carries a high risk of life threatening obstructed labour due to the undeveloped narrow hips, in addition to other conditions, such as fistula. In a country with one of the highest rates of maternal mortality in the region, early marriages have cost many girls their lives.
Some would argue that legislation is the answer. In Ethiopia, for example, the legal minimum age for marriage was raised to 18 in 2005. However, Jeffrey Edmeades of the International Center for Research on Women (ICRW) says this has had "very little effect on marriage rates".
Experience from other countries offers alternatives. Initiatives at the grassroots level used to tackle similar problems in Africa "can be adopted by Yemen" says Naana Otoo-Oyortey, the Executive Director of Forward, an African Diaspora women's charity. Forward has set up income-generating schemes for existing child mothers, as well as girls' clubs in schools, dispensing information and advice. In India, a programme called Apni Beti Apna Dhan ('Our Daughters, Our Wealth') works on the basis of cash incentives: a girl and her family can withdraw a sum of money if the girl turns 18 unwed. This initiative, reports The Daily Beast, saw an 18 percent drop in the practice between 1992 and 2006.
Similar ideas are being developed in the Yemeni diaspora. Lubna Maktari of the UK based Independent Yemen Group describes an initiative to educate and empower those outside of the main cities. "Over 70% of the Yemeni population lives in the rural areas, with limited or no electricity" The group wants to broadcast educational programmes on wind-up radios, providing basic skills, as well as support and information.
Laura Dickinson of 'Girls Not Brides', a new global partnership of organisations committed to ending child marriage, says that such initiatives are "definitely helpful" and have already been successfully used in places like Pakistan and Nepal. "This shatters the silence that has long existed around the subject of child marriage. In turn, girls feel there is support out there that they can access". The educational impact is also key - as well as providing girls with more choices, Dickinson says "it helps generate a change in the families' attitudes, removing the idea that girls are a burden."
A shift in thinking is also necessary, says Mashhour. In Yemen, "the main actors that could play a significant role are open-minded Muslim scholars because of their influence on communities. The new leaders and journalists that emerged during the revolution also have an important role in steering public opinion and resisting the radical rhetoric."
Paradoxically for Aisha, it was her father who pushed her towards education rather than marriage. "He insisted that I not only finish primary and secondary schools, but go on to university and study abroad. I think it was because he didn't want me to go through what his wives had experienced." Aisha now has a daughter of her own. "I remember my mother's lack of choice. Today, when my daughter says 'no' to me, I feel so proud of her."
http://www.guardian.co.uk/journalismcompetition/longlist-girl-brides-in-yemen-the-fight-for-the-right-to-say-no?newsfeed=true
----------
Egyptian-born Accused of horrific 'honour killing' of his Daughters Working in New York
30 May 2012
One of America's most wanted fugitives accused of murdering his two daughters because they were dating non-Muslim boys is believed to be working as a cab driver in New York City.
Egyptian-born Yaser Said fled his home in 2008 after allegedly shooting daughters Aminia, 18, and Sarah, 17, in an horrific 'honour killing' on New Year's Day.
He is now one of the FBI's most wanted criminals.
But private detective Bill Warner has been tracking the man, in his early fifties, on behalf of the girls' aunt and believes he never left the United States, instead taking refuge with family in New York, according to Fox News.
'It's all he knows and I wouldn't be surprised one bit if he's there working as a taxi driver,' Warner told the station.
'He could blend in at a metropolis like New York.'
Yassein Said, Yaser's brother, lives just north of Westchester County and a few years ago Warner located a post office in the area listed under the names of the two men.
'The brothers are really tight, so it's likely they assisted him in some way,' he said.
New York's Taxi and Limousine Commission regulates yellow cabs and requires criminal background checks for anyone applying for a license.
But Said could easily be renting a licensed car illegally or using his own vehicle to illicitly pick up fares, according to Fernando Mateo, president of the New York State Foundation of Taxi Drivers.
'There are 10,000 illegal drivers in New York City,' Mateo told the station.
'It's as easy as getting in your car and driving to the airport or picking up illegal street hails.'
Said took his Egyptian passport and $9,000 when he bolted although Warner believes the cash wouldn't have been enough to get to Egypt and set up a new life.
'He was not financially solvent,' the investigator told Fox News.
'He did not own the cab he drove. He didn't have the financial strength to leave.'
Said allegedly shot his daughters after they ran away from home a week earlier, fearing that he would kill them for dating non-Muslim boys.
The girls' aunt, Gail Gartrell, claimed the murders were an 'honour killing' - an act practiced outside of mainstream Islam where a family member can be killed for bringing 'great dishonor' to the family.
The girls' American-born mother, Patricia Owens-Said, had fled with them days earlier to Gartrell's house in Kansas, also fearing her husband would hurt the girls.
The three were planning to move to Tulsa, but Owens-Said convinced them to go back to Texas first to put flowers on their grandmother's grave.
When they got home, Said persuaded his daughters to get in his taxi to grab something to eat, but he instead took them to a remote area where they were shot multiple times.
Some are calling for the girl's mother to be arrested, claiming she helped lure them back to their father so he could murder them.
'There's always been the theory that she tried to cover it up,' said Warner.
'She was abused by Yaser. If she didn't do what he asked, she would get beaten. It was a battered woman syndrome.'
FBI officials told Fox News that the bureau was assisting in the search for Said.
It describes the 6-foot-2, 180-pound man as wearing a mustache and dark sunglasses, both indoors and outside. He frequents Denny's and I-Hop restaurants and smokes Marlboro Light 100 cigarettes.
http://www.dailymail.co.uk/news/article-2152369/Yaser-Said-Man-murdered-daughters-shocking-Muslim-honour-killing-working-New-York-City-cab-driver.html#ixzz1wR40VOOV
----------
Re-marrying and High Divorce Rates: Two Major Crises in Northern Nigeria
Bala Mohammed Liman
May 31, 2012
The current situation in Nigeria is that many Muslim marriages are not registered and there are no marriage contracts. Also the man does not have to get his wife's permission nor have to inform the authorities of his desire to take more wives, which differs in many other Muslim dominated countries where there are certain requirements before a man can get married or take another wife.
In a publication 'Knowing Our Rights: Women, family, laws and customs in the Muslim world' by Women Living Under Muslim Laws, it noted that in Algeria, Bangladesh, Indonesia, Malaysia, Morocco and Pakistan a husband is required to obtain the permission of a governmental authority, court or quasi-judicial body, or other forum to contract a polygynous marriage' while in Morocco it is required that 'the court consults both the existing and proposed wives before the proposed marriage can go ahead'. The husband must also show that he can provide equitable treatment in terms of economic support (though some want it to go further by taking the sexual and emotional needs of women into consideration).
Unfortunately, as stated, the current situation in marriages conducted under Sharia law in northern Nigeria does not take a lot of these into consideration especially regarding marriage registration and contracts. Men also divorce their wives by abusing the talaq, which is the pronouncement of divorce that a man makes when he wants to dissolve his marriage. They abuse this by making the pronouncement three times at once, giving no room for reconciliation, and can then simply get married again, starting the cycle once again. BOABAB which is a not for profit, nongovernmental organisation that focuses on women's legal rights that examines their rights under the three legal systems operational in Nigeria, in a paper on the validity of divorce under the Sharia, noted the following conditions for a valid talaq;
The husband must (a) be an adult
(b) be sane
(c) not acting under any sort of coercion (external pressure).
The woman must be in a 'state of purity' (free from menstrual blood and the blood of child birth)
There should be no cohabitation between the two after being 'clean'

He should not give it more than once; that is, it should be pronounced in a manner leaving room for reconciliation. This is known as Talaq Raj'i.
He should not give another divorce within the time of the three months awaiting period.
The intention to divorce must be clear. Intention can be shown by speaking, clear signs or writing.
Each statement of divorce must have at least two witnesses

The divorce that is pronounced once or twice is a revocable divorce. This is known as Bid'i. (a) This means that if the husband and wife decide to reconcile before the end of the waiting period (iddah) they may do so. (b) But, if they mutually reconcile after the end of the waiting period, they must go through another marriage contract. This is known as talaq ba'in bainuna sugra.
A divorce that is given three times is irrevocable. This is known as talaq ba'in kubra. A talaq ba'in kubra means that the husband and wife cannot reconcile and be married again, after the wife has been married to and divorced from another man. This should not be a marriage done for the purpose of being able to remarry with the former husband.
A lot of divorces do not follow these conditions. The high divorce rate also comes with two notable negative side effects. Firstly, in terms of the provision of upkeep for the children borne out of the union, while Islamic law mandates that the man must make adequate provision for this, many men do not meet this obligation, making it difficult for the women to maintain the children after the divorce.
Secondly, women are sometimes restricted from having custody of the children causing them psychological trauma and they usually have no recourse for justice. It is obvious that changes need to be made in the enforcement of the Islamic marriage system. There must be some form of control that ensures that men who want to take more wives must show that they are able to provide for the increased family size. Marriages must also be registered so that there can be a way to monitor abuses in the system. Men must also be penalized when they do not provide for their children; they must register these children at birth and must not be allowed them to send them outside the towns where their parents live under the pretext of sending them off for Islamic education.
Kano state has taken an initiative to address this issue by sponsoring the recent mass marriage of divorced and widowed women. There has been criticism from some quarters, with some arguing that the women would have been better off being empowered so that they can be self sufficient. But would they? Given that there was no compulsion in the marriages, it can be argued that women using their own agency took this decision to partake in this arrangement and if they had wanted something else, they would not have taken part in the process. The fact that the government also ensured that marriage contracts were in place would ensure that both parties are aware of their rights in the marriage and should reduce the abuse that has become common in many marriages especially with regards to dissolution of marriages and the rights of women.
It is important that efforts are made to address the twin challenges of Almajiris and the high rates of divorce in Northern Nigeria. While the federal government has started the process, the states in the north must take the initiative like Kano state did and be more proactive in how they approach these issues; government is tasked with enacting policies – including those that seem unpopular, but in the best interest of the majority. Governments must not allow themselves to be blackmailed into not doing the right things.
http://www.nigeriaintel.com/2012/05/31/almajiri-and-high-divorce-rates-two-major-crises-in-northern-nigeria-2/
----------
Afghan girls forced to marry at young age
May 29th, 2012
In many cultures around the world, marriages are arranged between the families of the bride and the groom.
But in some cases, very young girls are forced into marriage, crossing the line into the more sinister world of human trafficking.
Laws may exist on the books to prevent girls from being child brides, but those laws are often not enforced. Arwa Damon has this story from Afghanistan.
http://thecnnfreedomproject.blogs.cnn.com/2012/05/29/afghan-girls-forced-to-marry/
----------
Women, tie-sellers targeted in Iran clothing crackdown
31 May 2012
TEHRAN: Female booth attendants at an international trade fair and shops selling men's ties have become targets in a strict crackdown by Tehran police on clothing deemed un-Islamic, Iranian media reported on Wednesday.
Women "not properly observing the hijab," or the Islamic headscarf, as they staffed stands at an international food exhibition, prompted police to shut down 80 of the booths, Iranian deputy police chief Ahmad Reza Radan was quoted as saying in the Mardomsalari newspaper.
His boss, police chief Esmail Ahmadi Moqadam, said the female attendants had been warned, "but they did not take it seriously — that is why we shut them (the booths) down." It was not known if the women were fined or arrested, as often happens for such offences, nor was it known if any foreigners were among them. The fair, which wrapped up on Wednesday, hosted exhibitions by companies from several countries, including Austria, China, France, Germany, India, Italy, South Korea, Spain and Turkey.
Full report at:
http://www.dailytimes.com.pk/default.asp?page=2012\05\31\story_31-5-2012_pg14_6
----------
Minister's daughter held over Qatar fire that killed 19 people
30 May 2012
Police in Qatar have arrested five people including a government minister's daughter in connection with a shopping mall fire this week that killed 19 people, including 13 children, the state news agency QNA said yesterday.
The state's attorney-general ordered the detention of the upscale Villagio Mall's owner as well as Imran Al-Kuwari, daughter of the culture minister and owner of a nursery where the children and four teachers perished on Monday.
The others arrested were mall officials, including the shopping center's chief manager and the head of security, QNA said. It was not immediately clear what charges would be filed. At a public vigil held on Tuesday, Culture Minister Hamad bin Abdulaziz Al-Kuwari told reporters that his daughter was "the saddest person on earth."
Qatar has been investigating the blaze because of reports that security staff at the mall reacted slowly and in a chaotic fashion. Several people at the complex told Reuters that fire alarms did not go off or rang only faintly.
The blaze erupted in the nursery on the first floor of the mall in a hallway accessible only via a small passage with no emergency fire exit. Dense smoke and extreme heat created a "death trap" in the corridor as the staircase collapsed, according to the interior minister.
http://www.arabnews.com/minister%E2%80%99s-daughter-held-over-qatar-fire
----------
Constitutional rights of women in Pakistan
May 30, 2012
Rawalpindi—The Department of Communication and Media Studies, Fatima Jinnah Women University organized a lecture on "Constitutional Rights of Women in Pakistan".
The Heads of Departments, Controller Examination, Faculty and students were present at the event. Barrister Amna Bano was the guest speaker on the occasion. She is a lawyer by profession and currently practicing at the high courts and has a vast experience of working in this field.
Barrister Amna Bano highlighted the difference between law and constitution. She explained the different articles related to the rights of women in the Constitution 1973 of the Islamic Republic of Pakistan to the audience. She also discussed the Hadood and Sharia Law in her lecture.
Full report at:
http://pakobserver.net/detailnews.asp?id=157943
----------
Libyan Women Seeking Political Power
Linda Carbonell
May 30, 2012
One of the fascinating things about Islam is how, just when the West thinks they have Muslims figured out, they learn they don't.
The Justice and Construction Party in Libya is a coalition of the Muslim Brotherhood and other Islamists and independents who want to legislate according to Sharia. Yet, they are welcoming women into the party as potential candidates for office. One such woman is Samira Karmusi, who is running for Parliament, and explained "Women gave a lot of hard work to support the revolution, so why not enter the government now? We feel that we can do it, that we can make it."
Though Mrs. Karmusi has the support of a party, Najia Gajem is running as an independent, and does not share Mrs. Karmusi's belief that men are accepting of women in politics. Or maybe the fact that she is a university lecturer is intimidating to many men. "Many of them think that women and their opinions have to stay at home. When you want to change this concept, you have to struggle." Nonetheless, Mrs. Karmusi and Ms. Gajem are best friends, and share an ambitious nature, both hoping to rise to become ministers or ambassadors in the new Libya.
Full report at:
http://lezgetreal.com/2012/05/libyan-women-seeking-political-power/
----------
Afghan Female Boxers Strike A Blow For Girl Power
AHMAD SHAFI
May 28, 2012
When Saber Sharifi goes out recruiting girls and young women for his female boxing team in Afghanistan, he encounters a lot of skeptical parents.
"I reassure them that their daughters will not have broken noses on their wedding day," he says with a smile.
Sharifi launched his recruiting campaign in girls' high schools back in 2007. After three months of relentless speeches and presentations, he could only get two girls to sign up.
But he didn't give up. After two more years, he had eight more members on the team.
Today, he has 30 female boxers, and one them, Sadaf Rahimi, will be going to the Summer Olympics in London.
Sharifi still needs to get the approval of the skeptical parents. He promises them he will personally take the girls in his own car to the gym, at Kabul's Ghazi stadium, and bring them back home safely three times a week.
It's still not an easy decision for the parents. It was very difficult, says 19-year-old Shabnam Rahimi, the first Afghan female boxer to bring back a gold medal from a regional championship.
Full report at:
http://www.wbur.org/npr/153870878/afghan-female-boxers-strike-a-blow-for-girl-power
----------
In Pakistan, free clinic for refugees uncovers effort to save girl's sight
30 May 2012
KARACHI, Pakistan, May 30 (UNHCR) - Five year-old Adila struggled to keep her eyes open as a doctor pointed a torch in her face during a free clinic held for Afghan refugees in Pakistan's port city of Karachi.
Sitting in a chair twice her size, with her father beside her, Adila was just one of many people being attended to in a bustling hall where the UN refugee agency and the Pakistan Eye Bank Society (PEBS) have organized a free eye clinic on every Wednesday in the month of May.
Afghan refugees using the service have ranged in age from five to 95. They are provided with treatment and medicine for a variety of eye illnesses. After the initial diagnosis, the PEBS offers free treatment at its main hospital for patients with curable eye diseases or infections.
According to Adila's father, Taj Muhammad, the youngster accidentally injured her eye with a knife while cutting an apple at home. Adila was not able to describe what happened. "I noticed her eye was getting red and watery but thought it was a viral infection," said her father, who works as a baker.
Full report at:
http://www.trust.org/alertnet/news/in-pakistan-free-clinic-for-refugees-uncovers-effort-to-save-girls-sight
----------
Afghan school poisonings an omen
By Gayle Tzemach Lemmon
May 30, 2012
Afghan schoolgirls sit in the spotlight as their classrooms face alleged poison attacks in the north and threats from insurgents in the south. Questions surround the shadowy incidents, which come at a fragile time in the country's transition. And in many ways, as goes girls' education, so goes the country's procession toward progress.
"Instead of increasing the enrolment of girls in school and establishing more schools, gradually girls' schools are being closed and shut down," said Selay Ghaffar, executive director of the Humanitarian Assistance for the Women and Children of Afghanistan. "Some schools have been put on fire, and we are repeatedly witnessing that girls' schools have been poisoned. Acid has been thrown on the faces of girls in Kandahar."
For several weeks, alleged poisonings have been reported in northern Afghan provinces of Balkh and Takhar. The latest came Tuesday, when 160 girls from a school in Takhar province were admitted to a hospital after complaining of headaches and vomiting. On Sunday, according to Afghanistan's TOLO News, illness sent 40 female students to seek medical care. So far, investigators have found no traces of poison, but evidence is still being examined. The country's deputy education minister told TOLO that "the enemies of Afghanistan and education are behind such incidents."
Regardless of what is found, what is certain is that threats confront a slew of classrooms across the country.
Full report at:
http://edition.cnn.com/2012/05/30/opinion/lemmon-afghan-schoolgirls/
----------
Olympics-rifle passion drives female Kuwaiti shooter
May 31, 2012
Mariam Erzouqi grips her German-made air rifle with carefully-manicured hands, steadies her footing, eyes the target and slowly pulls the trigger until a soft crack echoes through Kuwait's cavernous shooting range.
The 24-year-old, who is set to become the second Kuwaiti woman to compete at an Olympic Games, has an affinity for her rifle and will take dead aim at a medal in the 10 and 50 metres air rifle in London.
She first held a rifle at Kuwait's shooting club aged 17 and recalls that date – June 16, 2004 – without a moment's hesitation.
"At the beginning I practiced it (was) just to fill my time, then afterwards I discovered that I was very attached to the rifle," said Erzouqi, dressed in multi-coloured team jumpsuit emblazoned with her family name, a black headscarf and heavy duty boots.
"I loved the sport and it quickly turned into a profession rather than a hobby."
Erzouqi comes from a family of female shooters who helped form her vital support base. All four of her sisters took up the rifle under the guidance of their watchful mother Awatif, who is also a shooter and competition judge.
Full report at:
http://www.kippreport.com/2012/05/olympics-rifle-passion-drives-female-kuwaiti-shooter/
----------
Jamia Millia to felicitate girl students admitted in male bastion
May 31, 2012
A batch of about 15 girl students, who have made history by taking admission in an institution which has for the last 300 years been a male bastion, will be felicitated by Jamia Millia Islamia Vice Chancellor Najeeb Jung Friday.
The Anglo Arabic School has made history by admitting girls for the first time in its over 300 year existence. Having started off as Madrasa Ghaziuddin around 1692, the school had remained an all-boys school thus far.
The school in the capital's Ajmeri Gate area has produced the likes of Liaqat Ali Khan, the first prime minister of Pakistan, Sir Syed Ahmad Khan, founder of Aligarh Muslim University, J.N. Dixit, former national security adviser and foreign secretary, among many other luminaries.
In a significant move, the managing committee of the school, in a meeting held on March 26, decided to open its doors to girls. However, this decision was not considered favourably by the staff of the school, which is predominantly male, and it seemed at the time that this decision would not be implemented.
Full report at:
http://www.deccanherald.com/content/253450/jamia-felicitate-girl-students-admitted.html
----------
URL: https://www.newageislam.com/islam,-women-and-feminism/new-age-islam-news-bureau/girl-bride-in-yemen-dies-due-to-bleeding-on-the-marriage-night/d/7487