New Age Islam News Bureau
21 Jan 2020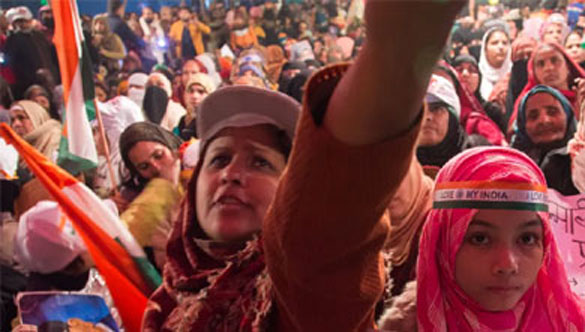 Women protesting in Shaheen Bagh. 'I will only leave this place when my children's lives are safe,' one protester said. Photograph: Anadolu Agency via Getty Images
------
• Muslim Women Continue Indefinite Protest against CAA in Lucknow
• Iran's Only Female Olympic Medallist Moving To Germany: Coach
• Female Bomber Kills 9 Civilians In Western Chad
• Meet Tasneem, the First Muslim Woman Mayor of Mysuru
• Saudi Women Embrace New Freedoms As Gradual Reforms Take Hold
• How Kuwaiti Media Deals With Women's Issues
• Federal Court Allows Woman Leave to Appeal in Bid to Be Declared Non-Muslim
• Populist Party Could Leave Norwegian Govt Over Daesh Woman
• BBME-AWIMA Alliance Highlights Women's Role in Maritime Sector
• Tahira Abdullah Schools Khalil-Ur-Rehman Qamar On Women's Rights, Feminism
• Syrian Kurds Confirm Handover Of ISIS-Affiliated Woman And 2 Children To Norway
• Yemen Police Find Kidnapped 9-Year-Old Girl with Severed Tongue
Compiled By New Age Islam News Bureau
URL: https://www.newageislam.com/islam-women-feminism/90-year-old-asma-khatun/d/120849
--------
90-Year-Old Asma Khatun: If I Die At CAA, NRC Protest, I Will Die Fighting For My Country
Hannah Ellis-Petersen in Delhi and Shaikh Azizur Rahman in Kolkata
21 Jan 2020
With a toothless grin and a clenched fist raised to the heavens, 90-year-old Asma Khatun chanted exuberantly. "Azadi," she cried, using the Hindi word for freedom and joining a loud chorus that rang out across Shaheen Bagh, a neighbourhood in South Delhi that over the past few weeks has become a nationwide symbol of resistance.
In her nine decades, Khatun has lived through British colonial rule, the war of independence and India's bloody partition with Pakistan, but as a housewife she had always stayed behind closed doors and barely brushed with politics. That was until last month.
For over 40 days, the frail but feisty 90-year-old has been camped out on the streets day and night, side by side with hundreds of women and braving Delhi's coldest temperatures for more than a century. "I am old, my bones hurt in the cold and my children are very worried about my health, but I am sitting here because I will not stand by as Mr Modi tries to break up India, to tell me that this is not my home after 90 years," said Khatun.
She added defiantly: "Scared? Who said anything about fear. I have never been in a protest before but I will not be moving and if I die here, then I will die fighting for my children and my country."
The unrest that engulfed India last month after the passing of a new citizenship law that many believe openly discriminates against Muslims and undermines the secular foundations of India's constitution has shown no sign of abating. Every week, millions have continued to take to the streets against the Citizenship Amendment Act, and what many see as an unacceptable attempt by the prime minister, Narendra Modi, and his BJP government to implement their Hindutva [Hindu nationalist] agenda and redefine India as a purely Hindu country. While the government has attempted to quash the protests, with bans on gatherings of more than four people and increasing police violence and torture, it has only fuelled the fire of discontent across India.
Strikingly, the loudest voices of dissent have largely been women. From activists and lawyers to students, housewives and grandmothers, both Hindu and Muslim, women across India have been at the forefront of the resistance to the new citizenship law, and a nationwide citizenship test, known as the NRC, which could result in millions of Muslims being declared illegal aliens in their own country. For many, it is the first time they have had any political engagement at all.
The female-driven political awakening sparked by the CAA has been most jubilantly epitomised by the gathering at the Muslim-majority neighbourhood of Shaheen Bagh that began in late December, when hundreds of women blocked a main road and began a sit-in demonstration against the new citizenship law. Since then, numbers have swelled, drawing in a cross-generational, largely female crowd unlike any protest seen in India before.
Among them was 82-year-old Bilkis, who had been camped out for over a month. "In my whole life, this is the first time I have taken part in any political movement," she said. "Before this I was a housewife, I never left the house. Now I eat here and sleep here, I go back home just every couple of days to get new clothes. It is cold sometimes but it is not difficult. How can I sit by knowing that my children might be thrown out of this country which is their home and made to go to prison or sent to Pakistan? I will only leave this place when my children's lives are safe. We are powerful and Modi is now afraid."
Nusrat Asra, 43, said she had abandoned her life as a housewife for the first time, to sit with the women of Shaheen Bagh every day. Her husband had initially been resistant, she said, "but now he knows why I am fighting".
"I am not afraid of anything, I am not afraid of the police, I am not afraid of being beaten, I am here just to stand up for freedom," said Asra animatedly, her face lit up in defiance. "We are not fighting for any god or any political party, we are fighting for our rights. And I have brought my 12-year-old daughter here every day to teach her to stand up and fight for her rights too."
The reasons the protests have struck a chord with India's women are multifaceted. On a pragmatic level, they are likely to suffer disproportionately from the CAA, which requires certain documents to prove citizenship. Across India, women generally tend to have less documentation, to be poorer, more excluded from the ambit of official administration, often don't have their names on property documents, have frequently moved away from where they were born to get married and are less likely to have their births registered.
Yet according to Karuna Nundy, one of India's most prominent lawyers who has been vocal against the CAA and organised mass demonstrations in opposition to the law, it runs deeper than that for India's women. "Being a woman in India feeds into the experience of, and resistance to oppression. We know exclusion, and we know it viscerally," said Nundy.
"But it's important to see how the rise of Hindutva has been powered in part by a toxic masculinity. A lot of the imagery and action around it, is very macho, violent, explicitly supremacist and hostile to women. Our constitution speaks of camaraderie between citizens. What we are seeing in some women's leadership and at Shaheen Bagh is an energy that's gentler. It's happier, more nurturing and yet strong and determined. And I think that is really speaking to the country as a counter to the toxic masculinity of Hindutva."
As well as the women of Shaheen Bagh, some of the most iconic images and footage of the protests have been of women, often Hindu and Muslim side-by-side, bravely standing up to an onslaught of all-male police officers frequently sent to disperse peaceful demonstrations.
One such video that went viral was five female students at Delhi's Jamia Millia Islamia university who surrounded a young man to prevent the police beating him with batons after they violently descended onto the university campus. Chanda Yadav, a 20-year-old student who was one of the five women in the clip, said she came from a conservative household in rural Uttar Pradesh where women were taught not to speak up or fight back and was the first woman from her village to take part in the demonstrations.
"I am not afraid," said Yadav. "I wanted to save my friends and my country and that is why I fought back against the police on that day and why I have been fighting against CAA since."
The spirit of Shaheen Bagh has proved infectious, and over the past two weeks, similar female-led sit-ins have cropped up across the country, including in Kolkata's Circus Maidan park. Sitting among the protestors was Navamita Chandra, 25, a student of Jadavpur University in Kolkata. She had already taken a vocal stand against CAA when she refused to accept her degree from the vice chancellor of her university in protest against the attacks by police on the students in Delhi and Uttar Pradesh during the anti-CAA and anti-NRC demonstrations. Walking onto the stage, she held a placard, which read: "I cannot take my degree ceremonially when fellow students are beaten, blinded and killed."
"Women from all background are waking up and taking to the streets in unprecedented numbers, it's incredible to see ," said Chandra. "We will not let our Muslim brothers and sisters be demonised and threatened. My father is not a fan of me taking part in protests but my mother is definitely still more of a trooper – she understands why I'm taking to the streets and she realises that we've come to a point where it is more important now than ever to raise our voices."
For Shafqat Rahim, a 25-year-old law student from a conservative Muslim family, the anti-CAA protests in Kolkata had been a moment of political awakening. "The protests are shaping up like a revolution where women have taken the leading roles," she said. "We, the women, will remove the fascist rulers."
https://www.theguardian.com/world/2020/jan/21/modi-is-afraid-women-take-lead-in-indias-citizenship-protests
--------
Muslim Women Continue Indefinite Protest against CAA in Lucknow
January 20, 2020
Lucknow's Ghanta Ghar has turned into Delhi's Shaheen Bagh where scores of Muslim women are protesting against the Citizenship Amendment Act (CAA) along with their children since last week.
On Sunday, the women protesters raised slogans of 'azadi' and were holding placards against the CAA and National Register of Citizens (NRC).
Nafisa, a resident of Chowk area who is peacefully protesting at the Ghanta Ghar since Friday said, "The central government is misleading the people. Prime Minister Narendra Modi and Home Minister Amit Shah have given different versions regarding the NRC. The government wants us to stand in queue to prove our nationality. It has already refused giving nationality to the Muslims from Pakistan, Bangladesh and Afghanistan. The CAA in unconstitutional."
Another protester Rukhsar said, "The CAA is discriminatory and has been enacted to create a divide in the nation. The government is not focusing on development. The police took away our food and blankets in the chilling weather late Saturday night. Cops misbehaved and threatened us. We will end our dharna only after the government decides to withdraw the CAA."
Salma Khan, a student from a private university raising anti-CAA slogans at Ghanta Ghar said, "We keep fast during the holy month of Ramzan. The police confiscated our food and blankets to scare us but our fight will continue. The government is acting like a dictator and is using the police to target the innocent."
Meanwhile, rejecting the allegations made by women protesters, Additional DCP Vikas Tripathi said, "The police only stopped outsiders belonging to different organisations who came on Saturday night at Ghanta Ghar with blankets. The cops didn't misbehave with the women who have gathered for protest."
Heavy security has been deployed at Ghanta Ghar where indefinite protest is going on since Friday last week.
Meanwhile, addressing a pro-CAA rally in Gorakhpur, Uttar Pradesh Chief Minister Yogi Adityanath said, "The CAA will provide citizenship to the minorities facing persecution in Pakistan, Bangladesh and Afghanistan. It is our duty to reach out to the people who are being exploited in these countries. However, parties like SP, BSP and Congress are continuing to spread false propaganda. This is being done by keeping women at the forefront. They have financed miscreants for opposing the CAA."
https://www.indiatoday.in/india/story/muslim-women-continue-indefinite-protest-against-caa-in-lucknow-1638431-2020-01-20
--------
Iran's Only Female Olympic Medallist Moving To Germany: Coach
20 January 2020
Iran's only female Olympic medalist Kimia Alizadeh, who has said she had left her homeland because she had had enough of being used as a propaganda tool, is moving to Germany, her Dutch coach said.
Alizadeh, who won taekwondo bronze at the Rio 2016 Olympics, had been training in the southern Dutch city of Eindhoven, after leaving Iran several weeks earlier.
"Kimia has decided to continue in Germany," Dutch national taekwondo coach Mimoun el Boujjoufi told Reuters on Monday.
German newspaper Bild this weekend reported that Alizadeh wished to continue her career in Germany and had moved to Hamburg, after having also received offers to compete for the Netherlands, Canada, Belgium and Bulgaria.
"After the explosion (of interest) many fought for her attention," El Boujjoufi said.
She had written on Instagram this month she was prepared to accept the "hardship of homesickness" because she "didn't want to be part of hypocrisy, lies, injustice and flattery".
"I wore whatever they told me and repeated whatever they ordered. Every sentence they ordered I repeated," she wrote. "None of us matter for them, we are just tools."
Mahin Farhadizadeh, a deputy Iranian sports minister, said at the time he had not read Kimia's post, adding "as far as I know she always wanted to continue her studies in physiotherapy", the semi-official ISNA news agency reported.
Alizadeh is one of several Iranian sportspeople to clash with the Iran authorities of late.
Iranian chess referee Shohreh Bayat who has been accused of violating her country's Islamic dress code while adjudicating a women's tournament said last week she did not want to return home from Russia out of fear for her safety.
Earlier this month, Iranian chess grandmaster Mitra Hejaziour was expelled from the national team for not wearing the hijab at the World Rapid and Blitz Championship in Moscow.
https://english.alarabiya.net/en/News/middle-east/2020/01/20/Iran-s-only-female-Olympic-medalist-moving-to-Germany-Coach.html
--------
Female Bomber Kills 9 Civilians In Western Chad
20 January 2020
Nine civilians have died in western Chad after a female bomber detonated her explosives in an area targeted in the past by militant group Boko Haram, the army and officials say.
Chad is one of the countries struggling with the militant violence that has spilled over from Nigeria's decades-long extremist insurgency.
The attack took place overnight Sunday in the village of Kaiga Kindjiria.
"A suicide bomber blew herself up yesterday in Kaiga Kindjiria, killing nine people, two women and seven men," an army source said.
The toll was confirmed by Chadian army spokesman Colonel Azem Bermandoa.
"It is Boko Haram, There is no doubt," the spokesman said.
Kaiga-Kindjiria, a village of about 7,000 people, is located near the vast Lake Chad region where militants hide out among islets and marshlands to launch attacks on Cameroon, Chad, Nigeria and Niger.
Boko Haram began in Nigeria but its attacks have spread to neighboring countries. The group has also split and a faction affiliated with Daesh, ISWAP, is particularly active around Lake Chad.
The attack came as French Minister of the Armed Forces Florence Parly visited the Chad capital N'Djamena, where she met her Chadian counterpart on Monday morning.
In early January, 1,200 Chadian troops, deployed as part of a regional force in Nigeria, returned to Chad to be redeployed around the Lake, where attacks have multiplied in recent months.
https://www.presstv.com/Detail/2020/01/20/616667/Chad-Boko-Haram-civilians-village-violence-militants
--------
Meet Tasneem, the First Muslim Woman Mayor of Mysuru
January 20, 2020
The Mysore City Corporation (MCC) recently elected its first-ever Muslim woman mayor, in its history spanning 158 years. The civic body will now be headed by 31-year-old Tasneem, who also happens to be the youngest MCC mayor.
Who is Mayor Tasneem?
Born as the third child to tailor Munnavar Pasha and homemaker Tahseen Banu, Tasneem has lived her entire life in Meena Bazaar area, the ward she has been representing since 2013 as a corporator.
Tasneem made her entry into electoral politics just before the 2013 Mysore Municipal Corporation Elections held in March, as a Congress candidate from Ward 26 – Meena Bazaar. As her ward was earmarked under Backward Classes (A category) for women, Tasneem emerged as party candidate, replacing her uncle, three-time corporator Alhaj Naseeruddin Babu.
She was picked as candidate again in 2018, but this time from a Janata Dal (Secular) ticket. Tasneem had switched sides as part of a Congress faction that chose to back JD(S) around the state legislative Assembly elections.
A former student of Maharani's Science College for Women in the city, Tasneem is said to have been rewarded with the mayor's designation for her work in organising workers at the grass-root level for her party, and her performance as a popular corporator. The Congress-JD(S) ruling coalition in the MCC had agreed to pick a mayor from each of their camps during the Council's tenure, which led to Tasneem emerging successor to Congress' Pushpalatha Jagannath (Ward 11).
Tasneem says she is now working towards ensuring the city retains the 'Cleanest City' tag in the Swachh Survekshan rankings.
"Even though we ended up third on the list of cleanest cities in the 2019 rankings, we are now working towards securing the coveted top spot on the list. With the dedicated service of our pourakarmikas, officers across all levels and with the help of our residents, we are confident of winning the 'Cleanest City' tag this time. This is my priority as of now," she told indianexpress.com.
She added that plans have already been chalked out to ensure uninterrupted water supply and electricity, underground drainage system, and a platform for citizens to provide constant feedback to the Corporation's efforts.
The youngest Mayor of Mysore is a mother to two — Syeda Rumani, a Class 8 student, and Syed Uwaiz, a Class 2 student. Her husband Syed Samiulla is a hand-embroidery worker who runs a business establishment in Meena Bazaar.
Tasneem was picked Mayor after she bagged 47 votes out of 70 to wrest the seat from BJP candidate Geetha Yogananda, who managed to secure only 23 votes.
Her Deputy C Sridhar, the Congress corporator from Giriyabovipalya (Ward-38), is a graduate who made his way to the Council after he defeated former Mayor Purushotham in the 2018 MCC polls.
https://indianexpress.com/article/cities/bangalore/tasneem-mother-of-two-is-the-first-muslim-woman-mayor-of-mysuru-mysore-6226593/
--------
Saudi Women Embrace New Freedoms As Gradual Reforms Take Hold
Ahmed Al Omran
January 21, 2020
After nearly a decade of studying in the US, Ghadah al-Ghunaim planned to take up a job in a private women's college in her hometown of Jeddah, a coastal city in Saudi Arabia.
But as she boarded the plane home, she got a job offer at a government entity in the more conservative capital of Riyadh, more money but hundreds of miles from her family — a huge leap for a young Saudi woman and one that under the country's strict guardianship laws demanded the blessing of her family.
"I went back to Jeddah and told them I'm flying to Riyadh tomorrow," she said. "They asked me: are you sure? I said: Let me try Riyadh." Nearly four years after she made that decision, Saudi Arabia, one of the world's most socially conservative states, is in the throes of liberalisation and more women are following in her footsteps.
While a strict interpretation of Islam and traditional social norms have meant that for decades Saudi women have led sheltered lives often dominated and controlled by male relatives, under Crown Prince Mohammed bin Salman's ambitious reform programme, these restrictions have been chipped away.
The kingdom has stripped power from the religious police who used to harass women over how they dress and act in public, lifted a ban on female drivers and allowed women to travel abroad without the permission of their male guardians.
Progress has come in fits and starts. In some cases, the authorities have cracked down on women activists, raising questions about the government's commitment to female empowerment.
A group of female activists who campaigned for women's rights, including the ban on driving and an end to male guardianship, were detained in May 2018. Some of them have been temporarily released but still face trial over charges related to their human rights work. Others remain in detention and some are alleged to have been tortured.
But many women praise the new opportunities. While some women who benefited from generous government scholarships to study abroad have stayed abroad, many now sense possibility at home.
In the past two years, female participation in the workforce has increased from 19.4 per cent in 2017 to 23.2 per cent at the end of the second half of 2019. Given that 58 per cent of all university graduates in the kingdom are women, this rate is still low. The government is targeting 30 per cent by 2030.
"The economic factor is important, but for women here this is also an opportunity to live alone and be independent from their families and they are really eager to have such an experience," said Mona al-Sheddi, assistant professor at the psychology department of King Saud University. "Some girls have sacrificed really good jobs in their local areas to move to Riyadh and be on their own."
The move to Riyadh reflects the fact that some of the most dramatic changes have been seen in the capital, long seen as more conservative than the coastal population. In the past couple of years, cinemas have opened and there have been music concerts.
More and more women have removed the veil from their faces in Riyadh. Coloured abayas, the full-length cloaks, have become more commonplace. "I started to hear about things changing, that I was missing out on what's happening in the new scene," said a 29-year-old woman who studied international development in the US and now works in Riyadh and lives by herself. "I didn't want to miss out."
"People are more relaxed and the composition of the city has changed," she said. "If this was 10 years ago this would be a 100 per cent different experience," she said. "Now almost everyone from Jeddah or the Eastern Province have some people they know in Riyadh."
This new-found sense of independence can cause friction between some women and their families, Ms Sheddi said. "Some of my students are questioning themselves and their families. Are they ready to embrace such change? They are in a hard situation," she said. "Families would be wise to take the middle ground but in many cases women would go away and the family would exclude or ostracise her. Sometimes they pay a high cost."
Hala al-Jishi, who hails from the eastern region of Qatif, stayed with a friend for few months after she moved to Riyadh. She saved enough money to rent her own place and found a flat, only for the landlord to tell her that she needed to bring a male family member to sign the contract. "If I'm paying it out of my pocket then why does my father have to sign it?" she asked. Eventually the landlord relented.
Frequently hassled by taxi drivers, including by one who threatened to kidnap her, she was relieved to finally be able to drive by herself. "I would take all of the hassle and not be responsible for a driver and that drama he brings with him. I'm done with drivers," Ms Jishi said. "I'm on my own now. I do everything myself. When I'm tired I'm tired. When I have energy I go."
https://www.ft.com/content/81a8267e-1cc9-11ea-97df-cc63de1d73f4
--------
How Kuwaiti Media Deals With Women's Issues
January 21, 2020
Kuwait Society for Human Rights issues a report that monitors media coverage of women's issues during the last third of the past year 2019. Khaled Al Hamodi, Chairman of Kuwaiti Society for Human Rights, said that the report is an activity that follows "Sisters" Observatory, which has been launched by the Society to be one of its activities within Takamul Project to promote the gender equality in Kuwaiti society, which is being executed by the Society in cooperation with the Middle East Partnership Initiative. He pointed out that that Sisters Observatory will issue a number of reports related to the media coverage of women's issues during the year 2020, in addition to other activities accompanying thereto within the activities of Takamul Project.
The report, entitled: "Women in Kuwaiti Media, A modest Coverage of Tremendous Achievements", has a number of recommendations that emphasized the importance of activating the role of media by introducing the Convention on the Elimination of All Forms of Discrimination against Women (CEDAW) and making more efforts to overcome the difficulties that prevent women from participating in Media work and not to restrict the media materials to news coverage. Below is part one of the full report — Editor
Executive Summary
The period of the report witnessed the formation of the Kuwaiti government. On December 17, 2019, the names of the Cabinet were announced and women received, for the first time in the history of Kuwait, three ministerial portfolios out of 15 ministerial seats, which represents 20 percent. It is noteworthy that the official ministerial portfolios are 22 in addition to the Prime Minister.
However, the Kuwaiti government sometimes appoints a minister to carry out the functions of two ministries. Her Excellency Mrs. Maryam Aqeel Hashim Al Aqeel was appointed as Minister of Finance and Acting Minister of State for Economic Affairs.
Moreover, her Excellency Dr. Rana Abdullah Abdulrahman Al-Fares was appointed as Minister of Public Works and Minister of State for Housing Affairs. Furthermore, her Excellency Dr. GhadeerMohammed Mahmoud Asiri was appointed as Minister of Social Affairs. The period also witnessed the holding of events and symposiums related to women that coincided with the International Day for the Elimination of Violence Against Women on 25th of November, as well as the 16-Day Campaign for the Elimination of Violence Against Women, in addition to the International Day of Women Human Rights Defenders.
The period also witnessed multiple achievements for a number of Kuwaiti women in various fields, including sports, science and community. The period witnessed the launch of the activities of the ninth and regional annual Conference for Women in the State of Kuwait, organized by the Center for Women Studies and Research at the Faculty of Social Sciences at Kuwait University under the auspices of the General Secretariat for Planning and in cooperation with the United Nations Development Program and the UN Women.
It also witnessed the hosting of the sixth Gulf Women's Sports Championship, in which six Gulf teams participated, competing in 11 unique and collective games, where Kuwait ranked third with 50 colored medals for women. One of the outstanding milestones during the reporting period is the return of the media figure Fajr Al-Saeed from a treatment trip abroad that lasted about 5 months, which was successful.
That was an occasion to celebrate, especially since the media had taken an interest in her treatment journey remarkably, given Al-Saeed›s position in the media, in which she was famous for her writings dealing with social issues that cause controversy. During the reporting period, a young Kuwaiti woman born in 1991 was killed. Her murder turned into a public opinion issue.
Many young people around the world tweeted about her murder and recalled incidents of violence against women in Kuwait and the related and controversial laws, particularly Article (153) of the Kuwaiti Penal Code, which many people demanded to abolish it. The media reported the news of her murder, noting that her brother turned himself in. A hashtag on her behalf continued to circulate until the end of the reporting period.
Introduction
Women in Kuwait need a supportive public opinion, motivated by a national motivation and calling for their potential to build a more sustainable, equitable and prosperous future, both within the framework of Kuwait›s commitment to achieving the global goals or the so-called: "17th Sustainable Development Goals", or within the framework of its National Vision 2035.
"New Kuwait", where women can be an important figure in contributing effectively to the implementation of Kuwait's vision or in achieving the global goals that Kuwait committed to achieving like all other countries of the world during the United Nations Development Summit .
Although the objectives of sustainable development are not legally or humanly binding, Kuwait was the first GCC country to support the fifth goal of the global goals related to: "Empowering All Women And Girls".
This was evident when it announced the launch of the Kuwait international Award for Outstanding Women on May 15, 2018. The former Minister of Social Affairs, her Excellency Hind Al-Sabeeh said at the launch of the Award that it was in line with the fifth goal of the Sustainable Development Goals.
Kuwait is keen to care for, empower and develop Kuwaiti women by supporting programs to develop their social, economic and craft capacities and ensure their family and psychological stability through qualification programs to raise women's competence, enhance their role in public life, provide services to working women and encourage support for their role in small enterprises. Therefore, it promotes open dialogue on gender equality and women›s empowerment as an essential element of inclusive and sustainable development( 4).
Statistics
Kuwaiti women constitute 51.06 percent of Kuwait's total population . The number of women is about 723,263 people . This is a very important indicator of the significant role women are supposed to play in shaping the country›s future. With regard to the Kuwaiti youth population, they represent a broad base in the demographic pyramid, numbering 787,129 people , accounting for 55.5 percent of the country›s total population of 1,416,495 people , with women accounting for 408,975 people , by 52 percent of the total young population, 29 percent of the total population and 56.5 percent of the total number of females in Kuwait, reflecting an increase in the number of women, especially female young women aged 1865-.
As for women working in the Ministry of Information, statistics of employees in the government sector as of 302018/06/ show that 2,386 Kuwaiti women out of a total of 7,055 Kuwaiti employees accounted for 33.8 percent of the total number of Kuwaiti employees, while 160 non-Kuwaiti women work in the Ministry of Information out of a total of 1,121 non-Kuwaiti employees , by 14.2 percent of the total number of non-Kuwaiti employees in the Ministry, i.e. there are 2,546 women working in the Kuwaiti Ministry of Information out of 8,176 employees, accounting for 31.1 percent of the staff. Women in Kuwaiti Media Despite the number of women in Kuwait, their media appearances are not at the required level. We have noted through the follow-up process to the media that the mention of women coincides with any existing event, in the sense that there is seasonality in highlighting women in society or their issues. We have also noted that the greatest share of mentioning women in media goes towards statements or news related to their participation. There is no trend to single out or allocate accounts or media materials on women›s issues or aspirations. This does not mean that the media ignore women's issues.
Rather, it means that their media materials are limited to statements or the transitory and temporary presentation of community activities carried out by women either in partnership with their male partner or separately. Wemay address this because we are aware that the mentioning of women›s efforts and highlighting the roles that they are capable of implementing, not only what they have implemented, will facilitate women's participation and invest their abilities towards achieving the new Vision of Kuwait by 2035 through their participation in the seven pillars of the national development plan.
Perhaps the former Kuwaiti Minister of Information, Dr. Saad bin Teflah Al Ajmi, touched on the importance of this matter by linking it with the stereotype of the Gulf region in the world. He said that it revolves around three issues: "women, terrorism and oil", indicating that it is possible to create the mindset to convey a positive image and flip the stereotype about us and about our region(13). He pointed out the importance of the media›s role in conveying positive images and building a positive relationship(14).
What it means here is not related to gender, but rather with regard to the diplomatic field. However, guidance by his words applies necessarily to the media›s dealing with the roles that women play and which do not take their right in shining a media spotlight on them.
Here we list the achievements and interaction with them in the media:
■ Lulua Rashid Al-Khattaf, a graduate student at the Department of Political Science at the College of Social Sciences at Kuwait University gets the best research paper in English for graduate students at Sciences Po University of France in 2019 out of more than 300 research papers
■ Eng. Dalal Al-Asousi wons the 2019 Prize for Maintenance and Global Reliability for the category of "Rising Leader" after being selected among the 3 best professionals in the field from among 6000 participants around the world. The award was presented by the Society for Maintenance & Reliability Professionals (SMRP) on the sidelines of a conference organized by the Society in Kentucky – USA
■ In the Arab Championship for Artistic and Rhythmic Gymnastics, and in the first participation of young women in Kuwait, they achieved a remarkable historical achievement by winning 10 medals, with 3 golds, 4 silver and 3 bronzes
■ The sixth Gulf Women's Sports Championship hosted by Kuwait and witnessed the participation of six teams competing for 11 unique and group games, and Kuwait ranked third with 50 colored medals The event was official, and therefore it had a wide and multiple media coverage
■ Sheikha Al-Othman was awarded the (Innovators under 35) award given by the Massachusetts Institute of Technology magazine, which is the best technical institution in the world in partnership with Dubai Future Foundation. She was chosen after receiving the first prize in the field of public health for its innovation in caring for home patients and its application in hospitals of New York
■ Eng. Asma Al-Ateeq, was honored by the Sabah Al-Ahmad Center for Giftedness and Creativity (SACGC), affiliated to the Kuwait Foundation for the Advancement of Sciences (KFAS), for her invention of the « Smart Waste Sorting Container» among a group of Kuwaiti inventors with international patents in recognition of their scientific efforts
■ Ms. Sharifa Al-Ghanim received the recognition from the Indian Charity Association for her efforts towards persons with disabilities
■ Dr. Haneen Al-Ghabra received the award for the best annual book for her book (Muslim Women and White Femininity: Simulation and Resistance) granted by the American National Communications Association. Her book addresses issues related to white racism against Muslim women in the light of Western media
■ Dr. Jinan bin Salama gave a lecture at the Sorbonne University in France as the first Kuwaiti to lecture at a prestigious university, which is one of the most prestigious universities in France and the world
■ Dr. Hanadi Jassam Al-Omani received the «Basira» award on the sidelines of the Fifth International Red Sea Conference of Ophthalmology in Jeddah This news has not been reported by the local media.
■ Honoring Maryam Al-Aqil from the Arab Women's Foundation in Britain for her prominent role in developing work in the government sectors in which she worked. The honor was during a ceremony held by the Foundation in cooperation with the British University (Regent) in honor of a group of Arab women creators in various fields
■ Honoring Sheikha Nawal Al-Hamoud Al-Malik Al-Sabah with the with the International University Union Medal at the Women Leaders' Summit Conference held in Istanbul This news has not been addressed by local media, except for creation of a single Twitter account.
■ The appointment of lawyer, Jumana Adnan Behbehani, as advisor to the President of the International Bar Association «UIA» as the first Kuwaiti lawyer to occupy this position This news has not been reported by the local media
■ An engineer turns into a chef who sells in a mobile commercial vehicle as the first Kuwaiti to turn to such business
■ Dr. Ghaid Al-Salem receives the National Patient Safety Award at the 2nd Saudi International Patient Safety Conference 2019 for her research on assessing the patient safety climate in healthcare institutions
■ Mai Al-Issa wins the «Platts Global Energy» award as the first Kuwaiti to win this award Presentation of this news was talking about the international Kuwait Petroleum Company's wining of award, which was reported by the Kuwait News Agency "KUNA"
■ Kuwaiti Women›s Weightlifting win a number of medals in the Arab Championship for young men and women in Jordan
With respect to the numbers of media outlets that interacted with the news over the course of the competition, there are a number of media outlets that published more than one journalistic article, but the media outlet was monitored, not the published material
https://www.arabtimesonline.com/news/how-kuwaiti-media-deals-with-womens-issues/
--------
Federal Court Allows Woman Leave to Appeal in Bid to Be Declared Non-Muslim
20 Jan 2020
PUTRAJAYA, Jan 20 — The Federal Court here today granted leave to appeal to a woman born to a Muslim father but raised as a Buddhist by her Buddhist mother, who is seeking to be declared a non-Muslim.
A three-member bench led by Chief Justice Tan Sri Tengku Maimun Tuan Mat allowed Rosliza Ibrahim's application for leave to appeal against the High Court and Court of Appeal dismissal of her originating summons (OS) for a declaration that she was Buddhist and not a Muslim.
In a unanimous decision, she (Justice Tengku Maimun) granted the leave to appeal on two legal questions for determination by the Federal Court.
Justice Tengku Maimun also directed that the court papers pertaining to the case be served to the Attorney-General's Chambers.
Federal Court judges Datuk Nallini Pathmanathan and Datuk Hasnah Mohammed Hashim were the other two judges presiding on the bench.
The two questions of law are: Where the subject matter of a cause or matter requires a determination of "whether a person is or is not a Muslim under the law" rather than "whether a person is no longer a Muslim", whether the High Court has the exclusive jurisdiction to hear and determine the said subject matter on a proper interpretation of Article 121 and Item 1 of the State List of the Federal Constitution?
And, in the light of Regulation 24 (1) of the National Registration Regulations 1990 and where the truth of the contents of any written application for registration of an identity card or the contents of any identity card is not proven by affidavit or a trial, whether the said contents of status is under section 41 of the Specific Act 1950?
Earlier, lawyer Datuk Seri Gopal Sri Ram representing Rosliza argued that her matter was not a renunciation case as she was never a Muslim, adding that the High Court has the jurisdiction to hear the matter.
He said Rosliza's mother had given a statutory declaration before she died, stating that she and Rosliza's father were never married and that Rosliza was never raised as a Muslim.
Selangor state legal adviser Datuk Masri Mohd Daud appearing for the Selangor Government and lawyer Datuk Sulaiman Abdullah representing the Selangor Islamic Religious Council (Mais) have respectively objected to the application for leave to appeal. Mais was made intervener in the matter.
Both Masri and Sulaiman respectively argued that the matter was under the jurisdiction of the Syariah Court to decide.
Rosliza, 38, filed the OS in 2015 for a declaration that she was born out of wedlock to a Muslim father and her late Buddhist mother.
She claimed that she was not a Muslim and therefore the Syariah courts had no jurisdiction over her. She claimed she was raised a Buddhist by her late mother.
On June 22, 2017, the Shah Alam High Court then judicial commissioner Datuk Seri Tun Abd Majid Tun Hamzah (now High Court judge) dismissed Rosliza's OS on grounds that the evidence produced by Rosliza only showed that no marriage registration was made, adding that failure to register a marriage was not proof that there was no such marriage.
He said the evidence produced by Rosliza failed to prove on a balance of probabilities that she was not a Muslim at birth and he (Tun Abd Majid) said he was of the view that she was born a Muslim.
Tun Abd Majid said her case was under the Syariah Court's jurisdiction and not the Civil High Court.
Rosliza had gone to the religious authorities of 10 other states and managed to get their confirmation that they did not have any records of her mother converting to become a Muslim, or of a Muslim marriage between her parents.
She lost her appeal which was dismissed by the Court of Appeal on April 25, 2018. — Bernama
https://www.malaymail.com/news/malaysia/2020/01/20/federal-court-allows-womans-bid-to-be-declared-non-muslim-leave-to-appeal/1829821
--------
Populist Party Could Leave Norwegian Govt Over Daesh Woman
January 20, 2020
COPENHAGEN: Norway's populist Progress Party could leave the center-right government coalition over a decision to bring back home an Daesh group-linked woman and her two children from a detention camp in Syria.
The anti-immigration party, Norway's third-largest, is one of Prime Minister Erna Solberg's four coalition members, together with her Conservatives, the centrist Liberal Party and the Christian Democrats..
The 29-year-old Norweigan woman of Pakistani descent reportedly traveled to Syria in 2013 and married a Norwegian foreign fighter there who was later killed in fighting. One of her children is quite ill.
"Many believe she used her child as a shield to come back to Norway. There are many in Norway who are displeased by this, not just in the Progress Party," said party leader Siv Jensen, who is also Norway's finance minister.
The party felt it was not consulted when the decision was made to bring back the woman and her children to Norway. She was formally arrested Saturday upon her return and was placed in an Oslo hospital with her two children,
"A majority in the government believed that the concern for the child was paramount," said Solberg,
The mother, who was not named, refused to let the sick child travel alone to Norway, which then allowed her to travel from the Kurdish-controlled camp at Al-Hol where they had been detained since March 2019.
Solberg and Jensen were to meet later Monday to discuss whether the Progress Party should remain in the government.
The government must muster a majority in the 169-seat Storting, or Parliament.
Solberg has been prime minister of the Scandinavian country since 2013 when she formed a coalition with the Progress Party. The parties won renewed support for the steering the country in the 2017 election.
https://www.arabnews.com/node/1615646/world
--------
BBME-AWIMA Alliance Highlights Women's Role in Maritime Sector
January 21, 2020
The Breakbulk Middle East (BBME), after last year's successful partnership with Women's International Shipping & Trading Association (WISTA) Arabia, an international networking organisation that supports women at the management level in maritime, as well as trading and logistics; has also formed an alliance with Arab Women in Maritime Association (AWIMA), an International Maritime Organization (IMO) mandated assembly focused on encouraging and empowering Arab women, as well as highlighting their effective role in the maritime sector.
Speaking on this mutual cooperation, Eng. Hessa Al Malek, Executive Director of Maritime Transport at the Federal Transport Authority for Land and Maritime, and President of AWIMA stated, "The primary mission of AWIMA is centered around enhancing the national and regional recognition of Arab women as resources for the maritime industry. Breakbulk's global portfolio of events offers international exposure that we hope to strategically leverage through Breakbulk Middle East, and ultimately we aspire to achieve the full scope of our strategic objectives one at a time. The UAE seeks to carry out a pioneering role among the countries of the world in all fields. Thus, ensuring the cultivation of female development within all industries, with a particular focus on maritime, is essential to support the country's economy. Active contributions from key industry players at industry enhancing events such as Breakbulk Middle East will pay great dividends in the grand scheme of the country's long-term goals."
Expressing similar sentiments, Jasmin Fichte, Managing Partner at Fichte & Co, and Founder and President of WISTA Arabia-UAE said, "Upon beginning my career in this industry, a lack of female leaders was visibly apparent. Since my initial entrance, this narrative has gradually shifted due to a number of factors. Empowerment organizations such as WISTA and AWIMA, female inclusion initiatives similar to last year's IMO World Maritime Day Theme, and events like Breakbulk Middle East that have been willing to give women a platform to achieve and showcase excellence, have all been major components of this sustainable turnaround. This is why we are thrilled to once again support an event that is demonstrating a willingness to innovate so that female leaders can emerge and shape our industry in a new era where adaptability is required to evolve."
Over the years, Breakbulk's global portfolio of events has strived to address and overcome topical industry issues; topics like digitalisation in a rapidly changing landscape, attracting the next generation workforce to carry the industry forward, and increasing the strength of female leadership have all been key in elevating the sector to new heights. Accordingly, the new Breakbulk in Breakfast initiative has been administered as an opportunity for women to inspire, and seek inspiration from, one another to carry this momentum into the next decade.
Leslie Meredith, Marketing Director, Breakbulk Events & Media, said, "Women are a growing force in the world of project cargo, represented in every sector of the industry. The Women in Breakbulk Breakfast is a meeting place for women to share their career stories, both the highs and lows, and offer advice to one another. This is why we are grateful to have the support of such well recognised female empowerment organizations, and we encourage ambitious career driven women to become a part of this group. Whether you are new to the industry, an industry veteran, or anywhere in between, there is significant value that can be extracted from this experience for all.
Meredith concluded, "The door for registration for the fifth edition is now open, and we welcome all industry leaders and experts to join us by registering through our official platforms."
Meanwhile, the Breakbulk Middle East has unveiled its plans to launch a new 'Women in Breakbulk Breakfast' initiative at the upcoming fifth edition of the event next month. The concerted effort to further improve female inclusion within the industry comes on the heels of last year's highly successful 'Women in Breakbulk Middle East' initiative which witnessed record-setting female participation.
Breakbulk Middle East will once again be held under the patronage of Dr. Abdullah Belhaif Al Nuaimi, the UAE Minister of Infrastructure Development and the Chairman of the Federal Transport Authority (FTA) for Land and Maritime. The two-day conference and exhibition is set to take place from February 25th to 26, 2020, at the Dubai World Trade Center in Dubai, UAE.
The events are held in four locations around the world and are the leading industry-specific exhibition in each region. Due to strong gatekeeping systems with companies in the Middle East, Breakbulk Middle East is one of the only ways to make direct connections with logistics and procurement decision makers, assured by its deepening ties with local government.
https://www.gulftoday.ae/business/2020/01/20/bbme-awima-alliance-highlights--womens-role-in-maritime-sector
--------
Tahira Abdullah Schools Khalil-Ur-Rehman Qamar On Women's Rights, Feminism
Jan 20 2020
Human rights activist Tahira Abdullah on Sunday brutally owned TV writer Khalil-ur-Rehman Qamar on women's rights, telling him feminism "is a revolutionary thought and not some organisation".
Speaking during a talk show on a private news channel, Abdullah, a staunch supporter of gender equality, said feminism is "that revolutionary viewpoint that understands and believes that women, too, are humans".
Quoting the Holy Quran and reciting the verse, "God gives honour to whom He pleases and dishonour to whom He pleases," the social scientist said women's honour and respect were not in the hands of any man.
"It's within me. My rights aren't in the hands or the control of a man to give them to me. When I'm born — through the same woman who gives birth to a man — I bring with me [to this world] my rights within myself, within my existence, just like I bring my own body, life, brain, heart, and soul into this world.
"Similarly, I bring my rights and then those rights are given safety, security, guarantee, safeguard as enshrined in this book, the Constitution of Pakistan, and it safeguards my rights — which I brought with me to this world — as a citizen of Pakistan," Abdullah added.
Abdullah's explanations were followed by pin-drop silence from the other three men, including the talk show host. Qamar, on the other hand, looked disinterested.
When the feminist stated point-blank that women did not have to ask or take their rights from anyone, the host asked: "So you don't have to ask men for your rights?"
To which Abdullah said: "Why should I? We were born, encapsulating, enriching, and bringing those rights.
"We don't need to beg for our rights whether we be mothers, sisters, wives or daughters or nothing, even if we are women … just women … we're humans and we need to be accepted as humans."
She also criticised the concepts of loyalty and honour set by men in a patriarchal society.
"This standard, this level, these criteria of loyalty and honour? These were all set by men — the same men birthed through a woman — and then the man gave the woman the bazaar, took her to the brothel, and who goes to a brothel? You men go to the brothel!"
Towards the end of the clip, the Abdullah voiced what so many women and feminist allies exasperatedly think about schooling men about unlearning their toxicity and misogyny.
"You see, this can become a very complex conversation and an hour would not be enough. It would take five to six hours to go into this conversation.
"We don't need men to tell us who we are or which woman is good, which woman is bad, what's feminism and what's not feminism, which woman is first-rate, which woman is second-rate … we don't need that. This is what we call mansplaining these days."
Qamar, later, tried to retort, saying: "When you go out on the streets with such placards, you are asking men for rights. You don't even know what your rights are, you want to take rights away from men for yourself but that's not going to happen.
"I hate the fact that [feminists] talk about men with such disdain, I'm the biggest feminist of Pakistan," he claimed.
To which, Abdullah shot back, highlighting the society's double standards that "women by nature are supposed to be loyal but if they can't be loyal, they're bad".
"Men by nature are supposedly not faithful and if they cheat, well, it's who they are.
"We are now in the 21st century and we're exhausted of being continuously judged. Men tell us who we are or what we should be like? Women oppose this objectification and are tired," she added.
https://www.geo.tv/latest/268361-tahira-abdullah-owns-tv-writer-khalil-ur-rehman-qamar-on-womens-rights
--------

Syrian Kurds Confirm Handover Of ISIS-Affiliated Woman And 2 Children To Norway
January 18-2020
ERBIL (Kurdistan 24) - The Autonomous Administration of North and East Syria confirmed on Friday that it had handed over a 29-year old Norwegian woman and her two children to Norway.
Until Tuesday, the three had been living at the now-infamous al-Hol Camp, where the Kurdish-led Syrian Democratic Forces (SDF) hold thousands of women accused of affiliation to the Islamic State, plus their children.
"We spoke about various important political matters with respect to the situation in the region, and the state of Norway appreciates the efforts made by the local authorities in north and east Syria to shoulder the burdens of this huge number of IDPs taking shelter in the camps, and all the sacrifices that the people in northern and eastern Syria have made," said the Deputy Director of the Afghanistan and South Asia Division of the Norwegian Foreign Ministry in a press conference in the northeastern Syrian city of Qamishli (Qamishlo).
They were received by the co-chair of the Foreign Relations Department, Abdulkarim Omar, and deputy co-chairs Abir Ilya and Fener Al-Kaeet, as well as Abdul Rahman Salman and Simaf Yusef, members of the Administrative Board of the Foreign Relations Department.
A transport document was signed by both parties confirming that the woman and her children, aged five and three, stating that they were all in good health and have not been exposed to any "moral or physical pressure" while they were in the custody of the Autonomous Administration.
The family was then brought over Syria's eastern border to the Kurdistan Region's capital of Erbil and, from there, flown back to Norway.
The Norwegian Foreign Ministry official also expressed his gratitude to the Autonomous Administration and the SDF for their "efforts and sacrifices to eliminate" the Islamic State.
Local Kurdish-led authorities in northern Syria have urged foreign states to take back female nationals suspected of membership to the Islamic State and their children.
The US has also called on Western countries to resettle their citizens. So far, a majority of them have not responded to the calls, often due to vocal opposition of officials and the general population.
Many nations in the European Union or abroad fear that, due to a lack of evidence of criminal wrongdoing, Islamic State supporters could be quickly released once they appear in court after returning home and would pose a threat to public safety.
Also in Norway, the repatriation could lead to a political crisis due to domestic opposition.
The anti-immigration Progress Party, a government coalition partner to conservatives, has criticized the decision by Prime Minister Erna Solberg to receive the woman and children, reported Norwegian news website The Local.
Some countries have repatriated orphans of Islamic State-affiliated parents to their countries based on humanitarian grounds.
On December 22, the Syrian Observatory for Human Rights (SOHR) also reported that two Finish orphans were handed over to the Finish authorities by the Kurdish-led authorities. Also on October 2, two children of Austrian origin were handed back to representatives of Austria's Foreign Ministry
According to Human Rights Watch, the local authorities hold roughly 11,000 foreign females charged with Islamic State affiliation and their children in various displacement camps in northern Syria.
https://www.kurdistan24.net/en/news/1946e845-3d2f-4706-ab33-7b5759f33e4e
--------
Yemen Police Find Kidnapped 9-Year-Old Girl with Severed Tongue
January 20, 2020
A 9-year-old Yemeni girl who was kidnapped last week in the capital Sanaa has been discovered with clear signs of torture on her body, including a severed tongue.
Lujain Mohammed was reported missing three days previously, prompting a search in the city, which is under the control of the Houthi-aligned National Salvation Government.
According to Al-Mashhad Al-Yemeni, local sources said the girl was found abandoned next to a rubbish bin next to a zoo, south of the capital. She reportedly had burn marks on her body and her tongue had been cut out, showing clear signs of psychological distress. The perpetrators are yet to be identified.
The New Arab also reported that two teenage boys were reported missing last week in Taiz's Dhabhan area, Mustafa Abdul Wasi, 13, and Awab Tarish, 14.
Hundreds of people have been kidnapped in Yemen over the last 15 years, exacerbated by the almost 5-year on-going war in Yemen.
A study published at the end of last year by the Sana'a Centre for Strategic Studies has revealed an increase in violence against women and children resulting from the conflict. Research shows women and girls in Yemen have been affected by rape, kidnapping and domestic violence, while boys face sexual violence and are forced to work.
https://www.middleeastmonitor.com/20200120-yemen-police-find-kidnapped-9-year-old-girl-with-severed-tongue/
--------
URL: https://www.newageislam.com/islam-women-feminism/90-year-old-asma-khatun/d/120849
New Age Islam, Islam Online, Islamic Website, African Muslim News, Arab World News, South Asia News, Indian Muslim News, World Muslim News, Women in Islam, Islamic Feminism, Arab Women, Women In Arab, Islamophobia in America, Muslim Women in West, Islam Women and Feminism