New Age Islam News Bureau
25 Nov 2016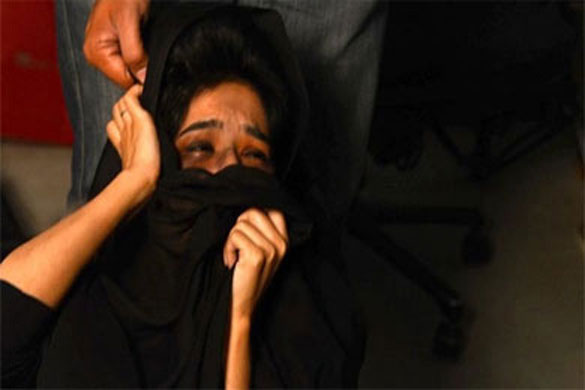 Violence against women is a human rights violation and continues to be a global pandemic.
-------
• Plight of Muslim 'Child Brides' In Sri Lanka
• Bangladesh's Girls' Age for Marriage: 18 Years, With Exceptions
• Two Pakistani Women Awarded Chirac Prize in Paris for Conflict Prevention
• PNU, Sports Authority Sign Deal to Promote Women's Sport in Saudi Arabia
• Islam Ensures Rights to Women: Punjab Chief Minister
• Australia Launches Programme for Pakistani Women
• Feminists for Implementation of Anti-Violence Laws
• Pakistani Women's Team Bag Gold at Bangkok in 2nd Asian Roll Ball Championship
Compiled by New Age Islam News Bureau
URL: https://newageislam.com/islam-women-feminism/80-percent-women-pakistan-enduring/d/109197
--------
80 Percent of Women In Pakistan Enduring Mental, Physical Torture
25 November, 2016
LAHORE (Dunya News) - International Day for the elimination of violence against women is being observed today (Friday).
In his message on the day, UN Secretary-General Ban Ki-moon said "Violence against women and girls is a human rights violation, public health pandemic and serious obstacle to sustainable development. It imposes large-scale costs on families, communities and economies. The world cannot afford to pay this price."
Violence against women is a human rights violation and continues to be a global pandemic.
At least 80 percent of women in Pakistan are enduring mental and physical torture due to being unaware of their rights.
Decades ago, violence against women in Pakistani society was not considered deplorable however; no positive change has come in the situation despite of the education, awareness and approval of government bills.
Many bills related to women protection have been passed in the country but the results are futile.
In the first six months of the current year, 5500 incidents of violence against women have been reported in Punjab alone.
According to a survey, such incidents are still escalating in the country despite of the approval of bills pertaining to honour killing, women protection and many other amendments.
Only 21 percent of women have attained their right in the property this year.
Moreover, no procedure has been devised in police stations for hearing women's pleas and guiding them towards the right way.
Analysts say that it is not possible to combat the mounting incidents of violence against women unless a campaign is run and practical steps are made against it.
http://dunyanews.tv/en/Pakistan/362544-80-percent-of-women-in-Pakistan-enduring-mental-p
--------
Bangladesh's Girls' Age for Marriage: 18 Years, With Exceptions
November 25, 2016
The cabinet yesterday okayed a draft law for preventing child marriage fixing 18 years as the minimum age for girls to get married but kept a provision for special circumstances under which girls below the age could tie the knot.
Women and rights bodies demanded cancellation of the provision terming it contrary to the very law that has been proposed.
According to the draft, men 21 and above could get married and if either the groom or the bride or both are below 21 and 18, it would be considered a child marriage and an offence.
The government had faced a wave of criticism when it, more than two years ago, planned to lower the minimum age for girls to get married to 16. It had wanted to have the provision in the law that would allow a 16-year-old girl to get married with her parents' consent or a court's consent obtained with justified grounds.
The government backtracked from that position but in the final draft left the scope for special cases.
State Minister for Women and Children Affairs Meher Afroze Chumki said the government would elaborate the grounds for special cases in a policy to be formulated in line with the draft law in a month or two.
It would take one and a half months to get the draft law passed by parliament, she hoped.
Briefing reporters at the secretariat after a cabinet meeting at the Prime Minister's Office, Cabinet Secretary M Shafiul Alam said as per section 19 of the proposed law, a child marriage would not be considered an offence if it was for the interest of the underage girl. This has to be done in line with the directives of a court, with the consent of the parents, and following due procedure, he said.
"There will be no crime committed in such a special case …," he said.
He gave an example: The marriage of an underage pregnant girl with the consent of the court and parents would not be an offence.
The draft law increases the punishment for committing such crimes. According to it, if guardians, or others, like marriage registrar, get involved in child marriage, they could be sentenced to a maximum of two years imprisonment and fined Tk 50,000.
The licence of the registrar could also be cancelled.
The cabinet secretary said if an adult marries an underage person, he or she could face two years' imprisonment and a fine of Tk 1 lakh.
If an underage boy and a girl get married, they would be detained for 15 days or there could be a fine of up to Tk 5,000.
If a court ordered the stop of a child marriage and parties concerned ignore the order, they could be sentenced to maximum six months' imprisonment and fined Tk 10,000.
Interestingly, a person who misinforms authorities concerned about violation of the proposed law could be sentenced to a maximum 6 months imprisonment and fined Tk 30,000.
Courts and even mobile courts would be able to try crimes under the proposed law.
Birth certificates, national identity cards, passports, and certificates of academic exams, like PEC and equivalent exams, JSC and equivalent, and SSC and equivalent, would be considered as legal documents for verifying ages of the people getting married. Talking to The Daily Star Ayesha Khanam, president of Bangladesh Mahila Parishad said the provision itself contradicted with the law. "We want its cancellation," she said.
On Wednesday, Social Restrain Committee, comprising 69 women, human rights and development organisations, protested the government's move to keep the provision for special cases.
State Minister Chumki said the special provision was incorporated considering the "social reality".
Criticising the protesters, she said they took opinions of all stakeholders before finalising the draft and that almost all the countries in the world had such provisions.
Asked what would be the minimum age of people getting married under special circumstances, she said the minimum age had not been fixed. "It may be 12, 13, or 15 years. The age is not important. It will depend on the situation," she added.
Replying to a query on the allegations that the proposed law, if enacted with the provision, would justify rape and could leave a loophole which some people could take advantage of, she said rape is tried under a different law.
She said the policy to be formulated would outline the grounds for special cases and that opinions of all stakeholders would be taken before it is done.
http://www.thedailystar.net/frontpage/girls-age-marriage-18-years-exceptions-1320139
--------
Plight of Muslim 'child brides' in Sri Lanka
November 25th, 2016
WHEN she was 14, Fathima was given in marriage by her parents. "I came home from school one day and I was told that a marriage had been arranged for me," recalls Fathima, now 22. She is seated on the step of her bare, half-built house, overlooking the agricultural landscape of the Muslim majority Ampara district.
Fathima's marriage lasted three weeks. Her husband abandoned her without leaving a trace of his whereabouts. Her sickly parents live with her and she faces a daily ordeal of finding work as a labourer in adjoining farmlands.
In an adjacent village, 58-year-old Siddilebbe asserts that there was no purpose in allowing his 13-year-old daughter to study. Therefore, soon after she turned 14, her married her off. Looking back, he has no regrets. "Girls are a burden," he says stoically.
In the village of Oluvil, Haniffa recalls the exact date of the circumstances that led to her marriage at the age of 14 to an alcoholic. "I was studying in grade eight. It was December 8. When I came home there was a man outside our home. My parents were at their hired agricultural labour work. He tried to grab me and I shouted. Neighbours gathered and when my parents arrived soon after, this stranger asked them permission to marry me. They consented immediately because the neighbours said my reputation had been lost," recollects Haniffa.
Haniffa is now 33, with four children, unable to get a divorce. "Every time my husband appears before the Qazi court, he pleads that he does not want to say talaq. When we return home, he gets drunk and tries to kill me and the children," she says sobbing.
The Muslim Marriage and Divorce Act in Sri Lanka, also known as the Muslim Personal Law, allows the marriage of girls as young as 12 years. A high percentage of Sri Lankan Muslim families get their girls married off before they reach 18 –– the statutory age of marriage in Sri Lanka –– says a new study titled Unequal Citizens:Muslim Women's Struggle for Justice and Equality, written by Hyshyama Hamin and Hasanah Cegu Isadeen.
The study quotes a 2015 survey conducted by Fokus Women in collaboration with the Muslim Women's Development Trust (MWDT) in Puttalam district involving 1,000 Muslim female heads of household that says 42 per cent of the respondents were married before they were18. The reasons given for early marriage were mainly "family tradition and customs" (55pc) and "economic reasons including protection and security" (23pc).
Records of Muslim marriage registration in Kattankudy, an all-Muslim town in the Eastern Province, indicated that in 2015, 22pc of all marriages were with a bride below 18 years of age. This is a considerable increase from 2014, when the figure was 14pc.
In Puttalam district on the western coast, and Batticaloa district on the eastern coast, the age of arranged marriages varies between 14 and 17.
Section 363(e) of the Sri Lankan Penal Code was amended in 1995 in such a way that the Muslim practice of allowing men to marry girls under 12 is safeguarded. The amended section re-defined "statutory rape" as sexual intercourse with any girl below the age of 16, with or without her consent ... unless the woman is his wife who is over 12 years and not judicially separated from the man."
In Addalachenai town, a small local community organisation –– the Humanitarian Elevation Organisation (HEO) headed by Kairudeen N. Ahamed and run by women –– hopes that the reform in the Muslim Marriage and Divorce Act will be a reality where woman will be an equal participant in the marriage process as mentioned in the Quran.
Raising of the marriage age of females to 18, male responsibility towards their children in case of divorce, scrapping the female dowry provision, a thorough assessment by the Quazi board of the financial background and suitability of the male before marriage, and the inclusion of women to the Quazi board, are some points Muslims who support the amendment of the law want added.
The Lankan government has decided to amend the Muslim Personal Law in Sri Lanka to comply with international conventions on women and children rights. It has appointed a sub-committee to propose amendments to the Muslim Personal Law.
However, immediate action on this may be postponed after the Sri Lankan Constitutional Assembly's sub-committee on Fundamental Rights recommended on Monday that within three months of the enactment of the new constitution, the president should appoint a five-member commission to go into the constitutional validity of the existing written and unwritten laws (including personal laws).
"Child marriage in Sri Lanka should be looked at as a sociological problem and not a religious problem. Any cultural backwardness that affects the girl child should be stopped by proper policies backed by law and in full accordance with Islam," says female sociologist and lecturer at the South Eastern University in Oluvil, M. Y. M. Suheera.
Published in Dawn, November 25th, 2016
http://www.dawn.com/news/1298485/footprints-plight-of-muslim-child-brides-in-sri-lanka
--------
Two Pakistani women awarded Chirac Prize in Paris for conflict prevention
November 25th, 2016
Two young Pakistani women Gulalai Ismail and Saba Ismail, co-founder of a non-governmental organisation (NGO) "Aware Girls" were conferred with the prestigious Chirac Prize for "Conflict Prevention" in Paris.
They have been awarded in recognition of their contributions toward development of a culture of peace and non-violence through the action of women and youth in Pakistan, read a message received from Paris on Thursday .
The prize was awarded by the Former French Minister for Culture Christine Albanel in an impressive ceremony held in Quai Branly Museum, Paris.
The ceremony was attended amongst others by French President Francois Hollande, the Ambassador of Pakistan to France Moin-ul-Haque, intellectuals, members of civil society, diplomats and media persons in large number.
Gulalai Ismail co-founder of NGO Aware Girls, after receiving the prize, said that their NGO with the help of young women was working successfully for empowerment of the women especially in the conflict zones to bring about qualitative changes in their way of life.
The French president while speaking on the occasion paid tributes to Aware Girls for empowerment of the women in the conflict zone.
He said that Aware Girls was giving the women the possibility to participate in and monitor elections, to provide education to women and economically empowering them by providing micro-credit.
The Ambassador congratulated the recipients on receiving the Chirac Prize and appreciated their work towards empowerment of women in the conflict prone areas.
The Chirac Foundation was launched by the former French President Jacques Chirac, who served two terms in office between 1995 and 2007.
French President Francois Hollande stands next to Gulalai Ismail, winner of the Prize for Conflict Prevention. —Rreuters
Since 2008, this foundation strives for peace through five advocacy programmes which include Conflict Prevention. The prize for conflict prevention has been awarded every year since 2009.
The Aware Girls is a young women led organisation, established in 2002 with the aim of strengthening leadership skills of young people especially young women and girls enabling them to act as agents of change for women empowerment and peace building.
http://www.dawn.com/news/1298452/two-pakistani-women-awarded-chirac-prize-in-paris-for-conflict-prevention
--------
PNU, sports authority sign deal to promote women's sport in Saudi Arabia
AISHA FAREED
25 November 2016
JEDDAH: The General Authority for Sports and Princess Nora bint Abdulrahman University (PNU) signed a memorandum of cooperation to activate sports facilities with a view to promoting healthy lifestyles.
The pact was signed in the presence of Princess Reema bint Bandar of the General Authority for Sports and PNU Rector Huda Al-Ameel.
Signing this agreement with Princess Nora University, which is considered one of the biggest women's universities in the world in terms of its sports facilities, will contribute to boosting student involvement in sports and making them aware of its importance for their bodies.
The agreement forms part of a project of General Authority for Sports and the Saudi Arabian Olympic Committee to raise the scale of community participation in sports from 13 percent to 40 percent by the year 2030 as a part of Vision 2030.
Princess Reema, who became the first Saudi woman to be appointed as the president's undersecretary for the female section (Rank 15) at the General Authority for Sports on Aug. 1, expressed her pleasure in signing the memorandum, which embodies cooperation between government agencies to contribute to spreading awareness of the importance of sports for the Saudi community.
She said society needs to spread this culture and promote it. "I am so proud of seeing PNU's huge potentials and its facilities, as well as the motivational halls provided for everyone," she said.
She reiterated that the community is in crucial need for spreading and promoting a sports culture.
The entertainment center for PNU's students started operating in 2014 under the supervision of a Korean training group, located on 200,000 square meters, with the capacity to accommodate 4,600 students.
Speaking to Arab News, Lina Al-Maeena expressed her excitement about this cooperation, saying it is a very wise and historic step as the facilities at PNU are outstanding. "We are talking about a multi-sport [facility]; it has basketball, football fields and numerous different sports; and as an educational institution is one of the biggest universities in the Kingdom in terms of space."
"The General Authority for Sports and the Saudi Olympic Committee are very active in promoting and raising awareness about women's sport. There is this hashtag #Health_Sportive_Society, which highlights the importance of the association for health and sports, because some people have a very limited perspective in how they view sports as competitive. But in reality, it should be a lifestyle, and this is what the General Authority for Sports, PNU, the Saudi Olympic Committee and Princess Reema are trying to do. So far, Princess Reema is doing a fantastic job," she added.
The facilities include a number of sports halls and a stadium, in addition to an Olympic-class swimming pool that is available all weekdays. These halls include basketball, volleyball, aerobics, hiking, bicycles, as well as weight loss exercises, full-body exercises and a variety of other sports.
http://www.arabnews.com/node/1015386/saudi-arabia
--------
Islam Ensures Rights to Women: Punjab Chief Minister
November 25, 2016
LAHORE - Punjab Chief Minister Shehbaz Sharif on Thursday said that no society could progress without giving rights to the women.
He said, "Islam has given unprecedented rights to the women which have no example in any society of the world. Islam stresses that no injustice should be committed to the women."
He said that all would have to discharge their religious, social and moral responsibilities for upholding women rights.
Shehbaz Sharif said, "Protection of women rights is a national obligation which we will have to discharge successfully." Dream of prosperity could not be materialized without progress and empowerment of women, he added.
In a message on International Day for the Elimination of Violence against Women, the Chief Minister said that the aim of observing that day was to protect women rights and expedite efforts for checking violence against them.
He said that the importance of key role of women in evolution of a society and every sector of life was recognized. He said the Punjab government had taken revolutionary steps for empowering women and safeguarding their rights.
The Punjab government was setting state-of-the-art centers for eliminating violence against women, he added.
The Chief Minister said that a state-of-the-art center had been established in Multan for the provision of justice to the women and redressing their grievances where police, prosecution, medical and forensic facilities were available at one place.
Shehbaz Sharif said, that was the first and unique center in South Asia which was a milestone in evolving a permanent system for immediate resolution of women complaints.
He said that effective legislation had been made for protecting women rights and eliminating violence against them and unprecedented steps had been taken in this regard.
He said that the role of women in economic development could not be neglected. He said that progress and prosperity could only be ensured through economic protection of women, safeguarding them at workplace and providing them equal opportunities to move forward. He said, "We will have to reiterate the resolve that all out resources will be utilized for the protection of women and their rights."
http://nation.com.pk/lahore/25-Nov-2016/islam-ensures-rights-to-women-cm
--------
Australia launches programme for Pakistani women
November 25, 2016
islamabad - The Australian High Commissioner, Margaret Adamson yesterday launched the 'Australia Awards Women in Leadership Network' to support Pakistani women in leadership roles.
The network will engage women alumni of the Australia Awards scholarship program in Pakistan.
The Women in Leadership Network is an Australian government regional initiative involving Australia Awards Alumni from Afghanistan, Bangladesh, Bhutan, the Maldives, Nepal, Pakistan and Sri Lanka.
The High Commissioner Margaret Adamson observed that gender equality was essential for successful economic and social development globally and noted that gender equality was at the core of Australia's foreign policy.
Adamson added that the network would support the Pakistan government's commitment to implementation of the Sustainable Development Goals regarding the women empowerment.
"This leadership network initiative would provide Australia Awards alumni in Pakistan with opportunities to connect and learn from other inspiring women in the South Asia region," Adamson said.
Australian Awards are an integral part of the Australian government's development assistance to Pakistan.
http://nation.com.pk/islamabad/25-Nov-2016/australia-launches-programme-for-pakistani-women
--------
Feminists for implementation of anti-violence laws
November 25, 2016
HYDERABAD - Women rights activists terming the violence against women a persistent global issue and a threat to millions of girls and women stressed upon effective implementation on laws aimed at protection and empowerment of women folk.
Talking to APP here on the 'International Day for the Elimination of Violence Against Women' chairperson All Pakistan Women Association (APWA) Sindh chapter, Begum Almas Zafar, said one of the major challenges to efforts to prevent and end violence against women and girls worldwide was the substantial funding shortfall. As a result, resources for initiatives to prevent and end violence against women and girls are severely lacking.
She emphasized the need of creating awareness among the women about the rights, bestowed to them not only in the international charter, but also in the country's Constitution. Majority of the cases of violence against the women were not being reported at the police stations because of lack of confidence or awareness.
, she said and added that effective implementation on the law can guarantee their rights.
She said violence against women affects all groups of women and remains prevalent all over the world; it both reflects and creates gender inequalities, and is one of the worst manifestations of gender-based discrimination.
http://nation.com.pk/karachi/25-Nov-2016/feminists-for-implementation-of-anti-violence-laws
--------
Pakistani women's team bag gold at Bangkok in 2nd Asian Roll Ball Championship
November 25th, 2016
BANGKOK: Pakistani women beat arch-rivals India in the final on Thursday to win the 2nd Asian Roll Ball Championship held in Bangkok, Thailand.
In a thrilling contest, Pakistani girls came out on top by scoring 4 goals against India who could only manage 2 goals.
The men's team also won silver in the competition for the second time after their previous silver in 2014, this time finishing runner-up after they succumbed to a 6-2 loss in their final against India.
The 2nd Asian Roll Ball Championship in Bangkok featured teams from eight countries.
Pakistan, India, Nepal, Sri Lanka, Bangladesh, Thailand, China and Myanmar
Pakistani men were drawn with China, Bangladesh and India in the group stage, where they lost their first match 1-4 against India. In the second match, Pakistan hammered China 14-0 to qualify for the final.
men roll stat_2
The champions — Pakistani women's team — started their journey with a 2-2 tie against India, followed by a convincing 5-0 victory over Nepal in the group stage.
Roll ball is a game similar to handball, played on skates, between two teams of 12 players. Out of the 12, only 6 players are allowed to play on the court at a time. The ball can be held in one hand or both, even during passing, unlike Basketball. A player must dribble the ball while carrying it. This game can be played on Ice Skating rink as well. There are two referees in a match.
This game was created by Raju Dabhade of India who is also the Secretary of International Roll ball Federation.
https://www.geo.tv/latest/121547-Pakistani-womens-team-bag-gold-at-Bangkok-in-2nd-Asian-Roll-Ball-Championship
--------
URL: https://newageislam.com/islam-women-feminism/80-percent-women-pakistan-enduring/d/109197
New Age Islam, Islam Online, Islamic Website, African Muslim News, Arab World News, South Asia News, Indian Muslim News, World Muslim News, Womens in Islam, Islamic Feminism, Arab Women, Womens In Arab, Islamphobia in America, Muslim Women in West, Islam Women and Feminism, Moderate Islam, Moderate Muslims, Progressive Islam, Progressive Muslims, Liberal Islam