New Age Islam News Bureau
22 January 2022
• 'I Am Losing My Skills': Female Boxer Who Was On Afghan National Team
• 'For The First Time, I Felt Free': Pakistan's Women-Led Livestock Market
• Afghan NGO Women 'Threatened With Shooting' By Taliban For Not Wearing Burqa
• Religious Women Have Abortions, Too. And Many Faiths Affirm Abortion Rights.
• Female Artists Craft Tributes To Agate In New Exhibition At Scitech
• Samia Khaled, Named Best Goalkeeper In Saudi Women's League, Shares Dream Of Turning Pro
Compiled by New Age Islam News Bureau
URL: https://www.newageislam.com/islam-women-feminism/women-footballers-saudi-arabia/d/126217
--------
700 Women Footballers Vie For A Place In Saudi Arabia's First-Ever Women's National Football Team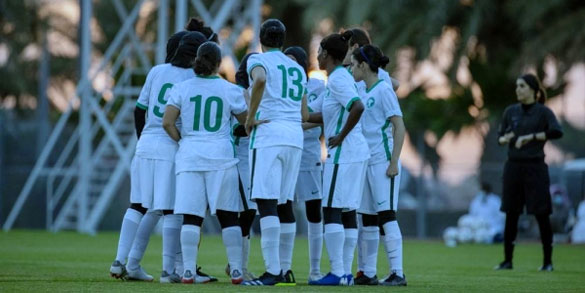 Intensive training sessions are under way for Saudi Arabia's first-ever women's national football team at the end of a long process of screening and performance tests.
-----
January 22, 2022
JEDDAH — Intensive training sessions are under way for Saudi Arabia's first-ever women's national football team at the end of a long process of screening and performance tests.
A highly professional and well-qualified technical staff made a number of shuttle tours to major cities of the Kingdom in their bid to evaluate the performance of a total of 700 players who vied to find a place in the national team.
The technical staff, headed by the national team's head coach Monika Staab, a leading German footballer, is tasked to form a strong team capable of representing the Kingdom in regional and international matches.
Jeddah's King Abdullah Sports City (Al-Jawhara Stadium) hosted the first phase of the training camp, which concluded on Friday while the second phase of the camp will be held in Riyadh from Jan. 27 to Feb. 16.
By the time the camp ends, the first-ever national women's team will be fully prepared to represent the Kingdom in the first two international matches, scheduled to be held in the Maldives — first against the Seychelles on Feb. 20 and the second against the Maldives on Feb. 24.
Several training sessions focusing on fitness and muscular exercises were held for the selected national team members with the aim of raising their fitness level. The tactical exercises were intensified before the players were divided into two groups.
The goalkeepers underwent special exercises under the supervision of goalkeeper coach Catherine Lingert. The team's exercises are being held daily in morning and evening shifts and these included physical and tactical exercises, as well as some theoretical and analytical lessons so that the team members attain the best level of readiness before heading to the Maldives.
It is noteworthy that the technical staff of the national team had conducted performance tests to pick the most qualified team members from various regions of the Kingdom since last October. Staab, the head coach, and her technical staff evaluated the performance of the players in the league rounds held in Riyadh, Jeddah and Dammam during last November and December.
A total of 16 teams comprising a total of 433 players competed in a total of 72 matches, in addition to the first ever Saudi Women's National Football Championship, which was held in early January, with the participation of eight qualified teams.
The technical staff, headed by Monica Staab, include assistant coaches Dana Rajab, Sandra Kalin (Switzerland) and Martin Pachulik (Slovakia), goalkeeper coach Catherine Lingert (Germany) and video analyst Dana Newbery (Australia). The administrative body of the women's team includes team supervisor Alia Al-Rasheed, team manager Beren Sadaqa, and team administrators Dalia Al-Obeikan and Intisar Al-Qahtani. Suleiman Sharahili and Fahd Al-Turki are team coordinators.
Referring to holding training camps, Lamia Bahaian, member of the Board of Directors of Saudi Arabian Football Federation (SAFF) and director of the Women's Football Department, said that the first phase of the training camp was held in Jeddah after formation of the team through a long process covering several phases.
The technical staff conducted several qualifying tests and experiments in several cities since October 2021, during which the performance level of more than 700 players was evaluated.
"Next month the newly formed national team will play the first two international matches, in preparation for our entry into the monthly FIFA rankings, as we aspire to officially enter the international classification during the year as well as in the AFC and International competitions in the near future."
On her part, the head coach Staab said that the selection process was carried out in accordance with complete diligence. "Since last September, we have started searching for the best players who could find a place in the journey of the national team to compete in its first international matches in the Maldives in February."
She said that holding the first official Saudi league matches and the national championship played a major role in the selection process. "This helped us a lot as technical staff in picking the best players for the team. We hope that the national team will be fully prepared by the time of participating in the first official tournament abroad," Staab added.
Source: Saudi Gazette
https://www.saudigazette.com.sa/article/616152
--------
'I Am Losing My Skills': Female Boxer Who Was On Afghan National Team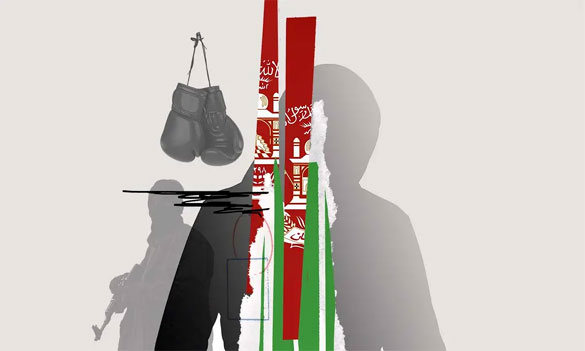 Mariam says things are difficult for women who are involved in sport. Illustration: Guardian Design
----
20 Jan 2022
Along with her sister, Mariam was forced to stop practising her sport when the Taliban came to power
*Mariam and her sister were on the national boxing team and the youth boxing team. They were ordered by the Taliban to stop practising, and are frightened they may be targeted in future. The interview was interrupted by a hail of gunshots near the place they are staying.
About two weeks after they took Kabul, the Taliban sent two gunmen to our doorstep. They told us: "Forget your dreams. The Islamic emirate is here now, you should stop boxing, and not go to the stadium."
I had been a member of the Afghan national boxing team when the Taliban arrived. It took me three years to make the team, my family and friends had supported me a lot, and I had done a lot of training before I was finally able to do it. My sister had been part of the youth team for several months.
In August, me and my sister and the other team members went to the Olympic headquarters to prepare for a match, and the guards from the previous government took our identity cards to register us. We went to pick them up some days later, and we think some of the Taliban who were there followed us home.
The next day, at around 3.30pm, some of them came to our house and asked for the girls who did boxing. We said we didn't know what they were talking about, and had nothing to do with any sports. But they said: "We saw you at the stadium." Then they told us to stop boxing.
It was a very bad day, one that I will never forget. They were very brutal, and said: "How can you go to a stadium full of men and let them watch you exercising? As a woman, why are you even taking part in sports?" My brother is also a boxer, but the threats were only for me and my sister.
We had already got a threat letter from the Taliban and we were scared they might come looking for us again, so we left our house and moved to a rented room. Things are difficult for us women who are involved in sport, we haven't been able to go out at all. Two women boxers were beaten up by the Taliban in the street.
My parents are now in danger because of our sports – we are afraid they will come back for us.
I am sure that while the Islamic emirate is here, we will not be able to box, even if they do not kill us. If I could leave, I could continue with boxing, and my sister could continue her education. She is a teenager and high school is closed for girls.
I really feel sad now, because I don't have the boxing club, or money for expenses to practise on my own. I am am losing my skills. I originally started training as a runner, then I saw women doing boxing and there were only a few. I decided to get involved and helped inspire others. When the Taliban came, about 100 women were doing boxing.
Please become our voice and tell the people of the world about our situation. Our lives are in danger because of our sport.
*The name has been changed for this article.
Source: The Guardian
https://www.theguardian.com/world/2022/jan/20/i-am-losing-my-skills-female-boxer-who-was-on-afghan-national-team
--------
'For the first time, I felt free': Pakistan's women-led livestock market
Zofeen Ebrahim
20 Jan 2022
On Saturday, Rozina Ghulam Mustafa arrived at the market in Tando Allahyar city, Pakistan's Sindh province, to sell the goats she had raised, milked and fed.
Usually her brother sells the animals, but he sold them too cheaply because he didn't know their true value. "He has always sold our goats at a much lower price," she says, standing inside an enclosure with 15 of them.
For Mustafa, joining hundreds of women to trade animals at Marui livestock market – believed to be Pakistan's first women-led livestock market – was a big moment.
By the afternoon, she had yet to sell any animals, but was unperturbed. "That's OK; it's my first time and I will learn how to trade," she says. "For the first time I felt free, I could make the decision of buying and selling myself."
Women in rural Pakistan have always reared animals, taking care of nutrition, milking and vaccinations and keeping their barns and sheds clean. But when the time comes for them to be sold, women are excluded. Taking the animals to market is considered a man's job.
Mustafa's 65-year-old mother, Rehmat, who accompanied her to the market with Mustafa's brother, says that when she was younger "it was unthinkable for a woman to come to the market and sell; it was a man's job".
"I think this change is in the right direction. If women can rear, women can buy and sell, like men. What is so complicated about it?"
The market is busy. Children run between the animal enclosures and stalls selling homemade ghee (clarified butter), eggs, chickens, animal fodder and ornaments. Other stalls sell food, tea and hand-embroidered women's clothing. The local government has a stall showcasing veterinary medicines.
Perween Panhwar has just bought her first goat for 19,000 PKR (£80) to start her livestock farm. "When I heard there was a women-led livestock market, I wanted the first animal I buy for the farm to be from this market," she says.
Lakshmi Phuto has travelled 12 miles (20km) from her village to the market. She has been given 30,000 PRK from a local NGO to buy livestock to help set up her farm. By the end of the day, Phuto has bought a lactating goat for 20,000 PKR. "Just the kind we wanted, with big ears and this big in height," she says, raising her hand about three feet from the ground. The rest of her money will be spent on "good quality food".
It is hoped that the market, organised by Tando Allahyar district government and local NGO the Research and Development Foundation (RDF), will encourage more women into the livestock sector. It is part of a six-year Growth for Rural Advancement and Sustainable Progress project to strengthen small-scale agribusinesses and reduce poverty in Sindh and Balochistan provinces, run in partnership with the International Trade Centre and the World Trade Organization.
"This is a great idea!" says Mustafa Talpur, regional advocacy and campaigns lead at Oxfam Asia, who has worked in the water and agriculture sector for more than 10 years. "Having separate women's markets or a share in existing agriculture markets will help them to engage."
Dr Mazhar Ali Rind, deputy director of the government's livestock department, hopes similar markets will be organised across the country.
"To my knowledge, this is the first of its kind in Pakistan," he says. "Many women-led households depend on the village men with business acumen for negotiating with strangers. They allow them to take their animals to the market, and pay a fee of up to 2,000 PKR for each animal sold. But now that they have learned the process, they can do it on their own. The middlemen's role can be eliminated."
Ashfaque Soomro, chief executive at RDF, plans to run the market at Tando Allahyar every month. "Now that these women are familiar with this place, getting here will be easier for them; many can now come on their own or in groups and will not need men to accompany them," he says. Soomro is confident the market will grow and attract many more women. "Now we need to bring in buyers from cities like Karachi and Hyderabad."
Source: The Guardian
https://www.theguardian.com/global-development/2022/jan/20/for-the-first-time-i-felt-free-pakistans-women-led-livestock-market
--------
Afghan NGO women 'threatened with shooting' by Taliban for not wearing burqa
21 January ,2022
The Taliban's religious police have threatened to shoot women NGO workers in a northwestern province of Afghanistan if they do not wear the all-covering burqa, two staff members told AFP.
The rights of Afghans -- particularly women and girls -- have been increasingly curtailed since the Taliban returned to power in August after ousting the US-backed government.
For the latest headlines, follow our Google News channel online or via the app.
Women are being squeezed from public life and largely barred from government jobs, while most secondary schools for girls are shut.
Two international NGO workers in rural Badghis province told AFP that the local branch of the feared Ministry for the Promotion of Virtue and Prevention of Vice met with aid groups on Sunday.
"They told us... if women staff come to the office without wearing the burqa, they will shoot them," one said, asking not to be named for safety reasons.
Women must also be accompanied to work by a male guardian, he added.
A second NGO source confirmed the warnings.
"They also said they will come to every office without prior notice to check the rules are being followed," he told AFP.
A notice to NGOs seen by AFP did not mention the threat of shooting but did order women to cover up.
Women in deeply conservative Afghanistan generally cover their hair with scarves anyway, while the burqa -- mandatory under the Taliban's first regime, from 1996 to 2001 -- is still widely worn, particularly outside the capital Kabul.
Desperate for international recognition to unlock frozen assets, the Taliban have largely refrained from issuing national policies that provoke outrage abroad.
Provincial officials, however, have issued various guidelines and edicts based on local interpretations of Islamic law and Afghan custom.
In the capital on Friday, the Taliban staged a demonstration with around 300 men, who chanted "We want Sharia law."
Holding posters of women wearing full coverings, the crowd accused women's rights activists who have taken to the streets of being "mercenaries."
Earlier this month, posters were slapped on cafes and shops in Kabul ordering Afghan women to cover up, illustrated with an image of the burqa.
Women are banned from appearing in television dramas and must be accompanied by a male guardian on journeys between towns and cities.
Small and scattered protests have broken out demanding women's rights, which had improved slightly over the past 20 years in the patriarchal Muslim nation.
However, several activists told AFP they had gone into hiding in the capital this week after a series of raids led to the arrests of three women.
Source: Al Arabiya
https://english.alarabiya.net/News/world/2022/01/21/Afghan-NGO-women-threatened-with-shooting-by-Taliban-for-not-wearing-burqa
--------
Religious women have abortions, too. And many faiths affirm abortion rights.
Jan. 22, 2022
The abortion debate is largely presented as a stark divide between secular people who support access to abortion care and religious people who oppose it. This false binary has obscured the diversity of religious positions on the issue, particularly of those who support abortion access. While Jewish support for abortion has been recognized on some occasions, support for abortion rights in Christianity, Islam and other religious traditions has largely been ignored.
With media attention trained on Friday's March for Life in Washington and the upcoming anniversary of Roe v. Wade — perhaps the last, as an increasingly conservative Supreme Court might strike it down later this year — it's important to correct this mistaken characterization of religious Americans' views on abortion.
The focus on religious opposition to abortion overlooks the perspectives and religious commitments of the millions of people who have abortions in this country. Additionally, an imbalance in media coverage normalizes religious opposition to abortion, thus paving the way for particular theological beliefs to be codified into law. This ultimately denies the right of religious freedom to other faith communities whose beliefs about pregnancy, abortion and childbearing differ.
Robust media coverage of Christian opposition to abortion, in particular, has amplified the anti-choice Christian perspective in the public debate. But it's actually a minority position; only 45 percent of all Christians think abortion should be illegal in most or all circumstances. The majority of white mainline Protestants (59 percent), Black Protestants (56 percent) and white Roman Catholics (52 percent) support legal access to abortion in all or most cases.
The majority of adherents of other faiths show similar, and in many cases stronger, support for abortion rights. The majority of Jews (70 percent), Muslims (51 percent), Buddhists (69 percent), Hindus (62 percent) and Unitarian Universalists (83 percent) support the legality of abortion in all or most cases.
Media coverage of religion and abortion also perpetuates a particularly harmful narrative about religious women and their reproductive autonomy. In stories about Christian women and unwanted pregnancies, for instance, we are usually led to believe that these women are forced by their faith to continue these pregnancies.
Consider The New York Times Magazine cover story from Dec. 2. Merritt Tierce got pregnant at 19 and, because of her Christian faith, decided not to terminate her pregnancy. Her story reinforces a popular (though certainly not universal) narrative that Christian women shouldn't have abortions, as she writes, "No one asked if I was ready to be a mother or a wife. No one asked if I was ready to disappear."
It often seems religion is not even a relevant statistical data point in understanding who gets abortions. In fact, 62 percent percent of women who have abortions identify as women of faith. Religiously identified women, with the notable exception of evangelical women, have abortions at virtually the same rate as their representation in the population.
For the last six months, our research team has conducted interviews with women having abortions in North Carolina who identify as Jewish, Christian or Muslim. We found that many women who identify as religious see their abortions as supported by their religious beliefs.
For many Christian women, the decision to terminate a pregnancy is one made from a kind of love that is in harmony with their religious views. Jane, a white college student, explained that she wasn't in a position to give a child "the right life right now" and that her choice was made out of love for the children that she hoped to have some day. She connected this love to her understanding of Christ's love. "It was Christ's love to die for us. It was God's love to send his Son to die for us, and then it was God's love that brought him back. Me making a choice of love, I don't see anything wrong with that."
Source: NBCN News
https://www.nbcnews.com/think/opinion/religious-women-have-abortions-too-many-faiths-affirm-abortion-rights-ncna1287846
--------
Female artists craft tributes to agate in new exhibition at Scitech
January 21, 2022
ALKHOBAR: It's been said that diamonds are a girl's best friend, but a new exhibition at the Sultan bin Abdulaziz Science and Technology Center suggests that agate is the gemstone that best symbolizes femininity.
"I see agate (as representing) the inner beauty of a woman," Saudi artist Esmat Mohsen Almohandis, the curator of the exhibition, which is called "The Agate," told Arab News. Since most women are fond of jewelry, agate seemed like a good theme for an exhibition of the work of female artists, she explained.
According to the International Colored Gemstone Association, "Agate was highly valued as a talisman or amulet in ancient times. It was said to quench thirst and protect against fever. Persian magicians used agate to divert storms." In Arabian folklore, agate is said to contain healing properties and bring power to its wearer.
The exhibition, hosted by Scitech in partnership with Alwan Al-Sharqia, consists of 70 paintings, all by female artists. Most of the artists are from Saudi Arabia, but a few are from neighboring Arab countries.
One of the participants, Hind Al-Tharman, used sustainable material in her work. "Since the theme of the exhibition was the agate stone and women, I used agate as the lip color of the woman in (my) painting," Al-Tharman told Arab News. "My piece was not painted on canvas but on wood — on a table I already had. It can be turned into a table again or be displayed as a painting on the wall. I like to use recycling and to provide options."
The paintings on show, if viewed in order, collectively tell a story of feminism and folklore by using fragmented storylines to build a narrative showcasing various milestones from many women's lives, from marriage to motherhood, but also depicting the trials and triumphs of living in the era of COVID-19.
Source: Arab News
Much like the gemstone for which it is named, the exhibition is both beautiful and valuable.
https://www.arabnews.com/node/2009191/saudi-arabia
--------
Samia Khaled, named best goalkeeper in Saudi Women's League, shares dream of turning pro
January 22, 2022
RIYADH: Saudi footballer Samia Khaled, who was named best goalkeeper in the inaugural Saudi Women's League Championship, said she is proud to be part of the Al-Mamlaka side that won the title this month.
Her personal award reflects the key role she played in her team during the tournament. In the final match against Al-Tahadi, for example, she kept a clean sheet as her side cruised to a 7-0 victory.
She said her ambition is to win more championships and develop her skills further in a bid to become a professional and play abroad one day, particularly in Europe.
Khaled lists Algerian goalkeeper Rais M'Bolhi, who plays for Al-Ettifaq in the Saudi Pro League, as a role model and hopes that like him, she will have the chance to represent her country.
She thanked all those who have supported her football dreams, including family, friends and the fans who cheer her on when she plays. There was special thanks for Mohammed Khalfan, who has been her trainer for several years, from futsal level up to her current position.
She also had advice for other women in the country interested in building a career in the sport: "Female Saudi players need more experience and skills, and need to build their body strength and increase speed and power."
Source: Arab News
https://www.arabnews.com/node/2009456/sport
--------
URL:URL: https://www.newageislam.com/islam-women-feminism/women-footballers-saudi-arabia/d/126217
New Age Islam, Islam Online, Islamic Website, African Muslim News, Arab World News, South Asia News, Indian Muslim News, World Muslim News, Women in Islam, Islamic Feminism, Arab Women, Women In Arab, Islamophobia in America, Muslim Women in West, Islam Women and Feminism