New Age Islam News Bureau
19 May 2022
• Female War Correspondents In The Spotlight At Arab Women Forum
• Suspended Sentence For German Woman, Leonora Messing; Cleared Of Aiding And Abetting Crimes Against Humanity
• Emotional Intelligence Necessary For Women To Succeed In The Business Sector: Samia El Kadiri
• 'Don't Be Shy — Women In Banking Sector Need To Go For It', Says Denovo's May Nasrallah
• Manal Rostom Becomes First Egyptian Woman To Reach Everest Summit
• Saudi Arabia Celebrates International Women's Day In Maritime Sector
• Dubai: World's Best Nurse From Kenya Is Only Woman In Her Village To Graduate College
Compiled by New Age Islam News Bureau
URL: https://newageislam.com/islam-women-feminism/nilambur-ayisha-kerala-religious-zealots/d/127042
--------
69 Yrs Later, Bid On Nilambur Ayisha's Life By Religious Zealots In Kerala, Back On Stage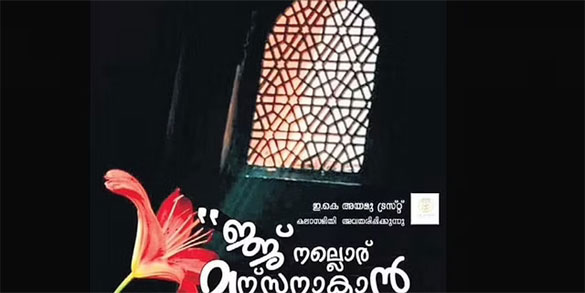 Poster from the play. ( File Photo )
----
19th May 2022
By Amiya Meethal
KOZHIKODE: The Attempt on the life of a 16-year-old Nilambur Ayisha, on stage in 1953, has been (was then) recorded as the most apparent attack against art by religious zealots in Kerala. The reason? Ayisha was the first Muslim woman who dared to act in a play. That shooting incident happened at Melakkam in Manjeri. Sixty-nine years on, even as fundamentalist sections attempt to stifle progressive voices, a reloaded version of the play Ejj Nalloru Manusanakan Nokk (You try to be a good human being), which had ushered in a renaissance wave among the Muslim community -- is set to be staged in Nilambur on Thursday and Friday.
Director Rafeeq Mangalasseri has revised the play — penned by E K Ayamu — by incorporating incidents from the modern times. "The two-hour play, under the Ayamu Memorial Trust, starts with the shooting attempt against Ayisha. The play depicts how the same forces that aimed at Ayisha 69 years ago continue to be active and are doing the same reprehensible act of stifling progress, especially against women," says Mangalasseri.
The play also mentions the recent incident of a girl being humiliated on stage by a religious leader. While gun-toting zealots stood against change in 1953, the reworked play attempts to portray the possibility of regressive forces now resorting to a bomb explosion.
Drama's new version features 6 women, 7 girls
"The play has the characters of Ayamu and the then Communist leader and legislator K Kunhali coming on stage and challenging the religious fanatics by saying that they had successfully resisted such forces in the past and that the fanatics cannot prevent the people marching ahead even now," the director points out.
Symbolising change, the new version features six women and seven girls compared to a lone woman in the 1953 play. While a single woman enacted the drama in 1953, six women and seven girls will be seen this time.
Shot from air gun
Recalling the shooting incident, Nilambur Ayisha, now 85, told TNIE that she was lucky to escape the bullet as she moved away from its path while delivering dialogues. "It might have been the seventh or eighth staging of Ejj Nalloru Manusanakan Nokk. That shot was fired from an air gun and the bullet hit the stage. But the play continued without a break," she reminisces. The struggle of those days are unimaginable now, she says. "We were almost running from one stage to another on foot, with harmonium on the head and shouting inquilab. There was no payment but death threats. We were welcomed only by the communists," she recalls.
The play spoke about the plight of Muslim lives trapped under religious doctrines and social customs, while shedding light on the farmers' struggle against feudalism. Besides Ayamu, Ayisha's brother Manu Muhammed, Dr M Usman and S A Jameel were the artists behind the play that was staged more than 1,000 times across the state, and in cities outside the state.
Source: New Indian Express
https://www.newindianexpress.com/states/kerala/2022/may/19/69-yrs-later-bid-on-nilambur-ayishas-life-back-on-stage-2455199.html
--------
Female War Correspondents In The Spotlight At Arab Women Forum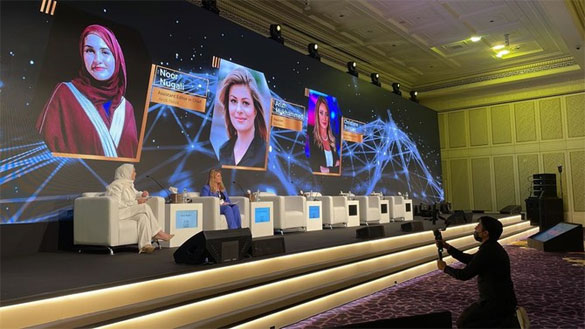 The image many harbour of the intrepid war correspondent is patently masculine . (AN Photo)
-----
May 18, 2022
DUBAI: Journalists, whether they are men or women, have a duty to find out the truth and to tell the human story behind major world events, including the harsh realities of war. But, by virtue of their gender, are women better equipped to tell those stories?
The view of women as the more "emotional" sex can sound dated to modern ears. But when a female journalist enters a war zone, it is often acknowledged that her access to the private lives of her sources, particularly families caught up in conflict, is often markedly different to the reception experienced by a male correspondent.
Arizh Mukhammed is a Moscow-based war reporter for Sky News Arabia. Over the past few months, she had been deployed to the front lines in Ukraine to report on the Russian invasion, braving armed conflict and the human tragedies of war.
"It is not easy to cover war, because, like any human being, you feel fear. And I feel fear," Mukhammed told a panel discussion a session entitled "Storytellers from the war front" at the Arab Women Forum in Dubai on Tuesday.
Mukhammed, who is half Russian and half Syrian, says wars bring journalists "closer to peoples' suffering," making it all the more difficult to remain objective about what they are witnessing.
But the ability to empathize with the men, women and children a reporter encounters while deployed in a war zone undoubtedly gives their coverage a powerful human dimension that allows viewers to experience the agonies of distant conflicts.
The question is, are women better equipped than men to document such accounts?
"Women war journalists give a deeper dimension to human suffering," Mukhammed told Arab News at the forum.
"While men might surround themselves with the impression that they are strong and fearless, women have actually shown they are much more patient."
Christiane Baissary, a senior news anchor for the Al-Hadath news channel, said there is a common misconception that women are not suited for war coverage.
"A soldier once told me that women should not be in a war zone. He was trying to convince me that I should not stay to cover the war," she said.
"This mentality is not just in the Middle East but everywhere," Baissary said, adding that things have since changed and women are gaining more opportunities to cover conflict zones.
The image many harbour of the intrepid war correspondent is patently masculine — a gung-ho adventurer who risks kidnap, injury, or even death to get as close as possible to the blood and gun smoke of war.
Indeed, the role of a war correspondent can be extremely dangerous. On May 11, Al Jazeera correspondent Shireen Abu Akleh was shot dead in the West Bank city of Jenin while reporting on an Israeli arrest operation, despite wearing protective gear clearly identifying her as a member of the press.
"The killing of Abu Akleh is another serious attack on media freedom and freedom of expression, amid the escalation of violence in the occupied West Bank," UN experts Morris Tidball-Binz, Reem Alsalem, and Irene Khan said in a statement on May 13.
They called for a prompt and impartial investigation into the killing of Abu Akleh, in full compliance with UN regulations.
"The role of journalists, especially in a context of heightened tension and marked by continuous abuses, like the occupied Palestinian territory, is critical," the statement read.
"Lack of accountability gives carte blanche to continue the litany of extrajudicial executions. The safety of journalists is essential in guaranteeing freedom of expression and media freedom."
Of course, Abu Akleh was only the latest reporter to be killed while on duty. According to the press advocacy organization Reporters Without Borders, scores of journalists are killed every year worldwide in connection with their work. Nearly a thousand have died over the past decade alone.
"I think it was really important for us to highlight female war correspondents and women correspondents because what they are doing is out of the ordinary," said Noor Nugali, assistant editor-in-chief at Arab News, who presided over Tuesday's panel.
"Usually when people think of correspondents, the first thing that comes to their minds (is that) women are too soft, women are incapable of handling such situations.
"But, in reality, it shows the resilience of women, strength of women, and their capability of getting all angles and facts straight."
This evolving image of women, particularly those in the Arab world, was a key feature of the Arab Women Forum, and a special session, entitled "Saudi women pioneers: Change from within," explored the issue in depth.
"I think the creation of Vision 2030 is life-changing, honestly, for a lot of women and young people," Lama Alshethri, editor-in-chief of Sayedati, one of the best-known magazines in the Arab region, told the panel.
"I think we, our generation, have been able to reap some of the fruits of Saudi Vision 2030. And we were prepared for the change."
Vision 2030, the social and economic reform agenda announced in 2016 by Saudi Crown Prince Mohammed bin Salman, emphasizes the need to inspire and empower all members of the society to realize the Kingdom's full potential.
Subsequently, women's empowerment in the Kingdom has expanded rapidly. Saudi women are now more active in different spheres of the public and private sector.
"I have not seen the change. I lived it," Princess Reema bint Bandar, Saudi Arabia's ambassador to the US, said in a special address opening Tuesday's forum.
"I know how important it is to open the workplace for women," she said.
"(However,) I realized that opening the doors wasn't enough. Women had to be prepared to take advantage of those open doors and we have to equip them with skills."
Source: Arab News
https://www.arabnews.com/node/2084621/middle-east
--------
Suspended Sentence For German Woman, Leonora Messing; Cleared Of Aiding And Abetting Crimes Against Humanity
18 May ,2022
A German woman who joined ISIS terrorist group in Syria as a 15-year-old was handed a two-year suspended prison sentence on Wednesday but cleared of aiding and abetting crimes against humanity.
Judges found Leonora Messing, now 22, guilty of membership of a terrorist organization, a spokesman for the higher regional court in Naumburg said in a statement.
Prosecutors had accused Messing and her husband of purchasing and enslaving a Yazidi woman in Syria in 2015.
But the judges found this could not be proven during her trial in the eastern city of Halle, held behind closed doors because Messing was a minor at the time of the alleged events.
The high-profile case prompted some soul-searching when it came to light over how a teenage girl from a small German town became radicalized and joined ISIS.
Messing, a former high school band majorette, ran away from home bound for the ISIS-controlled part of Syria in March 2015.
After reaching al-Rigga., then the de facto "capital" of ISIS in Syria, she became the third wife of a German national and known extremist.
Messing's father, a baker from the German village of Breitenbach, only learned his daughter had converted to a radical brand of Islam by opening her abandoned computer and reading her journal after her disappearance.
Six days after she vanished, her father received a message informing him his daughter "chose Allah and Islam" and that she had "arrived in the caliphate."
Messing, who had given birth to two small girls, wound up detained in a Kurdish-controlled camp in northern Syria.
Her husband, Martin Lemke, was captured in 2019 by the US-backed Syrian Democratic Forces (SDF), the Kurdish administration's de-facto army, two of his wives told AFP at the time.
In December 2020, Messing was repatriated in one of four operations bringing a total of 54 people, most of them children, back to Germany.
Messing was arrested upon her arrival at Frankfurt airport but later released.
She now lives close to where she grew up in Germany with her two children, according to local media.
A German court in November issued the first ruling worldwide to recognize crimes against the Yazidi community as genocide, in a verdict hailed by activists as a "historic" win for the minority.
The Yazidis, a Kurdish-speaking group hailing from northern Iraq, have for years been persecuted by ISIS militants who have killed hundreds of men, raped women and forcibly recruited children as fighters.
Source: Al Arabiya
https://english.alarabiya.net/News/world/2022/05/18/Suspended-sentence-for-German-woman-who-joined-ISIS-aged-15-
--------
Emotional intelligence necessary for women to succeed in the business sector: Samia El Kadiri
May 17, 2022
DUBAI: Emotional intelligence along with the smartness to deal with situations diplomatically is necessary for women to succeed in the business sector, according to Samia El Kadiri, adviser & head of research, governance & compliance at Hawkama Institute for Corporate Governance.
In an exclusive interview with Arab News, on the sidelines of the Arab Women Forum in Dubai on May 17, Samia El Kadiri said that women should believe in their potential and should put in the right efforts to become successful in the business sector.
"I have three key advice to the future generation of women; first, they need to believe in their potential. Second, they need to put in the right efforts. It's not always necessary to put more effort, just the right effort, and be consistent with those efforts," El Kadiri told Arab News.
According to El Kadiri, the general scenario has changed now, and so many women have proved themselves successful in various industries.
"It is not like before. Today, women have proven themselves that they can be successful leaders in so many industries, both in the private and government sectors. Today in the UAE, we have two-thirds of women holding senior leadership positions in the government sectors. Also, we have 50 percent of women in the corporate sector equal to men," she added.
El Kadiri also made it clear that Hawkamah does not have any plans to expand globally.
"There are no expansion plans because our head office is [in] the UAE and we are 100 percent owned by the government. So currently, there is no plan for expansion. We're just dealing with the projects from Dubai," she stated.
Source: Arab News
https://www.arabnews.com/node/2083891/business-economy
--------
'Don't be shy — Women in banking sector need to go for it', says deNovo's May Nasrallah
May 17, 2022
DUBAI: Women in the banking and investment sector can be their own worst enemies when it comes to progressing in the industry, according to May Nasrallah, the founder and executive chairman of UAE-based deNovo Corporate Advisors.
Speaking to Arab News on the sidelines of the Arab Women Forum in Dubai, Nasrallah urged female employees to put aside doubts and ask for more senior positions in the traditionally male-dominated industry.
She also shared her company's plans to expand into Saudi Arabia, but did not mention an exact timeline in which the company is planning to mark its presence in the Kingdom.
Talking about the capability of women in the banking and investment sector, Nasrallah said, "The investment banking sector, it has historically been very male-dominated. You're just as capable. You're just as evil. You're just as you know, ready than your male counterpart. And I think a lot of times, we tend to be our own worst enemies."
She continued, "So I would suggest the younger generation of women to just go for it. And not be shy about asking for a position, not be worried about whether you can do it."
During the interview, Nasrallah revealed that deNovo Corporate Advisors is both an advisory firm and advisory boutique. She added that the company helps with mergers between two companies, helping them monetize, helping them go public, and assisting them to get international global investors.
Talking about her resignation from Morgan Stanley and setting up deNovo Corporate Advisors — which helps with company mergers and securing investments — said: "Nobody expected that I would actually resign from Morgan Stanley. Subsequent to me, a number of men did it. But everybody expected it to be done by a man. Nobody expected it to be done by a woman."
Source: Arab News
https://www.arabnews.com/node/2083991/business-economy
--------
Manal Rostom Becomes First Egyptian Woman To Reach Everest Summit
May 17, 2022
LONDON: Extreme climber, marathon-runner and mountaineer Manal Rostom has become the first Egyptian woman to reach the summit of Mount Everest.
Rostom reached the world's highest peak earlier this week, and in the weeks beforehand shared a social media video on her thoughts and fears ahead of the final push to the top.
Rostom took two months to complete her journey to the top of the tallest mountain on Earth, which stands 8,849 meters tall.
Rostom has previous taken part in marathons around the world including in New York City, Berlin, Chicago, Boston and London, as well as the Great Wall of China.
She has also previously climbed some of the world's other highest mountain summits, namely Mount Kilimanjaro, Mount Kenya and Elbrus, and made it to the Mount Himalaya base camp in 2016.
In 2019, Nike chose Rostom to be the first veiled Egyptian Arab woman to serve as the face of their international women's sportswear brand.
Source: Arab News
https://www.arabnews.com/node/2084041/offbeat
--------
Saudi Arabia celebrates International Women's Day in Maritime Sector
May 18, 2022
RIYADH — Saudi Arabia participated in celebrating the International Women's Day in the Maritime Sector, which falls on May 18 of each year, and approved by the International Maritime Organization (IMO) in 2021 as an annual occasion, with the aim of introducing women's achievements in the maritime sector.
The day was set aside to mark the importance of their participation in the national economy and social and economic development and their main contributions to the Kingdom's Vision 2030, in addition to strengthening their role in the maritime sector.
On this day, the Transport General Authority, based on its legislative role for the maritime sector, conducted a number of activities and events that focus on the importance of the role of women in the maritime sector.
This they did through the implementation of a discussion workshop entitled: "Providing a work environment free of obstacles". The workshop was held in cooperation with the International Maritime Organization (IMO) and the UAE Ministry of Energy and Infrastructure.
Others involved in organizing the workshop were the Arab Women's Association in the Maritime Sector (AWIMA), IMOGENder Network, and a number of organizations supporting women's empowerment. Twenty-three speakers from maritime sector leaders participated.
Saudi Arabia's permanent representative to the IMO also participated in a virtual symposium held by the organization entitled: "Training — Vision — Recognition — Supporting a barrier-free work environment for women in the maritime field", aimed at raising awareness and introducing the sector and access to the best solutions and pioneering models in work environments for women.
The Saudi Ambassador to the United Kingdom Prince Khalid Bin Bandar Bin Sultan met with Eng. Reem Al-Khuwaiter, as one of the prominent females in the Saudi Arabia's maritime sector. He also met with IMO Secretary-General Kitack Lim, a delegation that included influential women in the maritime sector, and AWIMA.
The Transport General Authority implemented a social initiative for children in a primary school for a girls, with the aim of raising awareness about the sector and introducing the profession of seafarers, through their sharing of clips, and the use of new educational methods.
This comes as an extension of the importance of the vital role of women in all fields, particularly in the transport and logistics sector, and the Authority's relentless efforts to provide many opportunities for women competencies, especially in the maritime transport sector. — SPA
Source: Saudi Gazette
https://saudigazette.com.sa/article/620683
--------
Dubai: World's best nurse from Kenya is only woman in her village to graduate college
by Dhanusha Gokulan
18 May 2022
Kenyan nurse, gender justice champion and educationist Anna Qabale Duba wears several hats. After being crowned the first-ever world's best nurse at the maiden edition of the Aster Guardians Global Nursing Award, Anna revealed she was the first girl among 19 children in her family to attend school.
Moreover, the mother of two is the first female college graduate in her community. Duba has won beauty pageants, was crowned Miss Kenya Peace and Investment and is the founder of the Qabale Duba Foundation in Keyna.
The foundation employs 12 women, and since Duba is a keen believer in the power of education, her foundation imparts knowledge to 160 children and 70 adult learners. Adding to her list of achievements, her foundation also has championed cultural evils such as female genital mutilation and early marriage. She was also recognised as one of the Top 100 most influential young Africans in 2020.
Anna herself escaped forced marriage at the age of 14. Despite the illustrious list of achievements, when Anna was crowned the world's best nurse, she fought back the tears of joy.
She said, "Growing up in a rural village in Kenya, never in my wildest dreams did I imagine I would be celebrated on a global platform such as the Aster Guardians Global Nursing Award."
She called her win - 'a win for Africa and a win for all the women and girls across rural Africa.
She told Khaleej Times, "Women go through many hardships, especially in countries where the female empowerment movement does not exist or is in its nascent stages. I come from a village where I am the first graduate girl, and I am who I am today because I am educated."
Commenting on why she decided to launch a foundation for women and children, Anna said she decided to go back home and empower the girls in her village after realising only education can truly empower women.
"I am running a school not just for kids, it's for mothers and other women. We often give children homework to do, and they come back with blank notebooks because they do not have anyone to help them at home. Most mothers in rural areas could not read or write," Duba explained.
The social activist possesses an intense desire to change the status of women in her community. "If I hadn't received an education, I would be just like these mothers – married off at a young age, unable to read, write and comprehend. Since mothers are always with their kids, I decided to incorporate adult learning sessions at the school," she added.
At age 14, Duba's father insisted that she get married. "I was engaged to an unknown man without my knowledge. However, it was my mother who saved me. I cannot thank her enough for insisting that I continue my education instead of marrying young."
Dubai, a native of Marsabit County in Kenya that borders Ethiopia, was born to parents belonging to a pastoralist community. "Members of our community would travel from one place to another searching for pasture and water for their livestock," she explained.
"I am the youngest among 19 children. We had boys in the family who received an education; however, I am the only girl in my family who went to school. I was not special compared to my other sisters. My parents began recognising the importance of sending girls to school around the time I was born," she added.
Although her family was living in a settlement, Duba found opportunities that helped her cause. The journey was not easy. "Girls in our community do not stay unmarried for long. They are married off maximum by the age of 18. Even 18 is considered too late," explained Duba, who married at 26, which is very uncommon in her community.
"In our system, we have elementary and secondary school till Grade 8, followed by high school. I completed nursing studies at an undergraduate level, and now, I'm finalising my Master's degree in field epidemiology," she stated.
"I won the Miss Tourism title with my fame – wanted to give back to the community – sanitary pads, underwear for women, champion against cultural evils like FGM."
Why nursing? For Anna, this was a choice that came most naturally to her. "From my childhood, I have wanted to help people in need. I confined myself to doing charity work and helping people. It describes my passion for helping people in the best way," she added.
Commenting on why she chose to compete in beauty pageants, she said, "That's something which happened when I was at university. I was a student leader and the general secretary of the Kenya Middle East University from 2011-2012, this allowed me to understand what leadership was."
She added, "Around that time, there was a nationwide competition where women were invited from every county in Kenya to compete. There are 47 counties in the country, and I gave it a try. I won from my county, and we were competing for four national awards. I won two out of 4 and made it to second place. I won the Miss Tourism title."
After winning the competition, she began going to community work by giving sanitary pads and underwear to women. "I was part of the group that launched campaigns against female genital mutilation and early marriage. After handing over the crown, I realised I wanted to continue doing the work. That is how I established my foundation," she added.
The Qabale Duba Foundation (QDF) is a community organisation that champions the right of girls and women in northern Kenya. The foundation aims to promote the development of pastoralist communities by facilitating their access to education, health, social services, and economic empowerment.
The foundation has five major programmes, including the Pads and Pants (PAPA) project, which helps girls in rural villages have access to sanitary pads and panties to prevent them from missing classes or dropping out of school due to the lack of these necessities. The second one is a Mentorship Programme – where motivational speakers talk to girls and help empower them.
The foundation also has maternal health and safe motherhood programmes, a division that fights against early marriage and female genital mutilation, and several peace initiatives. "Now that I have won this money thanks to the Aster Guardian's Award, I want to set up a maternity shelter for pregnant women and expand the scope of our foundation," she stated. Anna added, "My husband has been incredibly supportive, and I want to give my children - Hirkena and Helena - the very best in terms of education."
Source: Khaleej Times
https://www.khaleejtimes.com/uae/dubai-worlds-best-nurse-from-kenya-is-only-woman-in-her-village-to-graduate-college
--------
URL: https://newageislam.com/islam-women-feminism/nilambur-ayisha-kerala-religious-zealots/d/127042
New Age Islam Islam Online, Islamic Website, African Muslim News, Arab World News, South Asia News, Indian Muslim News, World Muslim News, Women in Islam, Islamic Feminism, Arab Women, Women In Arab, Islamophobia in America, Muslim Women in West, Islam Women and Feminism