New Age Islam News Bureau
5 Dec 2019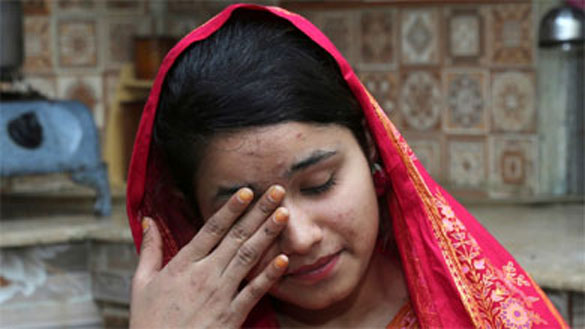 In this April 14, 2019 file photo, Pakistani Christian Mahek Liaqat, who married a Chinese national, cries as she narrates her ordeal, in Gujranwala, Pakistan. (AP Photo/K.M. Chaudary, File)
-------
• Young Women of Different Faiths to Share to Share Their Perspectives on Celebrating Traditional Faith Holidays
• Women Wearing Hijabs in News Stories May Be Judged Negatively
• The Attacks on Ilhan Omar Reveal A Disturbing Truth About Racism In America
• Lisa Smith Charged With Membership of Islamic State And Denied Bail At Dublin Court Hearing
• Grubs Up: Veganism Trend Soaring Among Young Saudis
• Boris Johnson Claimed Children of Working Mothers 'More Likely To Mug You'
Compiled By New Age Islam News Bureau
URL: https://www.newageislam.com/islam-women-feminism/629-pakistani-girls-sold-brides/d/120446
------
629 Pakistani girls sold as brides to China
Wednesday, December 4, 2019
LAHORE, PAKISTAN -- Page after page, the names stack up: 629 girls and women from across Pakistan who were sold as brides to Chinese men and taken to China. The list, obtained by The Associated Press, was compiled by Pakistani investigators determined to break up trafficking networks exploiting the country's poor and vulnerable.
The list gives the most concrete figure yet for the number of women caught up in the trafficking schemes since 2018.
But since the time it was put together in June, investigators' aggressive drive against the networks has largely ground to a halt. Officials with knowledge of the investigations say that is because of pressure from government officials fearful of hurting Pakistan's lucrative ties to Beijing.
The biggest case against traffickers has fallen apart. In October, a court in Faisalabad acquitted 31 Chinese nationals charged in connection with trafficking. Several of the women who had initially been interviewed by police refused to testify because they were either threatened or bribed into silence, according to a court official and a police investigator familiar with the case. The two spoke on condition of anonymity because they feared retribution for speaking out.
At the same time, the government has sought to curtail investigations, putting "immense pressure" on officials from the Federal Investigation Agency pursuing trafficking networks, said Saleem Iqbal, a Christian activist who has helped parents rescue several young girls from China and prevented others from being sent there.
"Some (FIA officials) were even transferred," Iqbal said in an interview. "When we talk to Pakistani rulers, they don't pay any attention. "
Asked about the complaints, Pakistan's interior and foreign ministries refused to comment.
Several senior officials familiar with the events said investigations into trafficking have slowed, the investigators are frustrated, and Pakistani media have been pushed to curb their reporting on trafficking. The officials spoke on condition of anonymity because they feared reprisals.
"No one is doing anything to help these girls," one of the officials said. "The whole racket is continuing, and it is growing. Why? Because they know they can get away with it. The authorities won't follow through, everyone is being pressured to not investigate. Trafficking is increasing now."
He said he was speaking out "because I have to live with myself. Where is our humanity?"
China's Foreign Ministry said it was unaware of the list.
"The two governments of China and Pakistan support the formation of happy families between their people on a voluntary basis in keeping with laws and regulations, while at the same time having zero tolerance for and resolutely fighting against any person engaging in illegal cross-border marriage behaviour," the ministry said in a statement faxed Monday to AP's Beijing bureau.
An AP investigation earlier this year revealed how Pakistan's Christian minority has become a new target of brokers who pay impoverished parents to marry off their daughters, some of them teenagers, to Chinese husbands who return with them to their homeland. Many of the brides are then isolated and abused or forced into prostitution in China, often contacting home and pleading to be brought back. The AP spoke to police and court officials and more than a dozen brides -- some of whom made it back to Pakistan, others who remained trapped in China -- as well as remorseful parents, neighbours, relatives and human rights workers.
Christians are targeted because they are one of the poorest communities in Muslim-majority Pakistan. The trafficking rings are made up of Chinese and Pakistani middlemen and include Christian ministers, mostly from small evangelical churches, who get bribes to urge their flock to sell their daughters. Investigators have also turned up at least one Muslim cleric running a marriage bureau from his madrassa, or religious school.
Investigators put together the list of 629 women from Pakistan's integrated border management system, which digitally records travel documents at the country's airports. The information includes the brides' national identity numbers, their Chinese husbands' names and the dates of their marriages.
All but a handful of the marriages took place in 2018 and up to April 2019. One of the senior officials said it was believed all 629 were sold to grooms by their families.
It is not known how many more women and girls were trafficked since the list was put together. But the official said, "the lucrative trade continues." He spoke to the AP in an interview conducted hundreds of kilometres from his place of work to protect his identity. "The Chinese and Pakistani brokers make between 4 million and 10 million rupees ($25,000 and $65,000) from the groom, but only about 200,000 rupees ($1,500), is given to the family," he said.
The official, with years of experience studying human trafficking in Pakistan, said many of the women who spoke to investigators told of forced fertility treatments, physical and sexual abuse and, in some cases, forced prostitution. Although no evidence has emerged, at least one investigation report contains allegations of organs being harvested from some of the women sent to China.
In September, Pakistan's investigation agency sent a report it labeled "fake Chinese marriages cases" to Prime Minister Imran Khan. The report, a copy of which was attained by the AP, provided details of cases registered against 52 Chinese nationals and 20 of their Pakistani associates in two cities in eastern Punjab province -- Faisalabad, Lahore -- as well as in the capital Islamabad. The Chinese suspects included the 31 later acquitted in court.
The report said police discovered two illegal marriage bureaus in Lahore, including one operated from an Islamic centre and madrassa -- the first known report of poor Muslims also being targeted by brokers. The Muslim cleric involved fled police.
After the acquittals, there are other cases before the courts involving arrested Pakistani and at least another 21 Chinese suspects, according to the report sent to the prime minister in September. But the Chinese defendants in the cases were all granted bail and left the country, say activists and a court official.
Activists and human rights workers say Pakistan has sought to keep the trafficking of brides quiet so as not to jeopardize Pakistan's increasingly close economic relationship with China.
China has been a steadfast ally of Pakistan for decades, particularly in its testy relationship with India. China has provided Islamabad with military assistance, including pre-tested nuclear devices and nuclear-capable missiles.
Today, Pakistan is receiving massive aid under China's Belt and Road Initiative, a global endeavour aimed at reconstituting the Silk Road and linking China to all corners of Asia. Under the $75 billion China-Pakistan Economic Corridor project, Beijing has promised Islamabad a sprawling package of infrastructure development, from road construction and power plants to agriculture.
The demand for foreign brides in China is rooted in that country's population, where there are roughly 34 million more men than women -- a result of the one-child policy that ended in 2015 after 35 years, along with an overwhelming preference for boys that led to abortions of girl children and female infanticide.
A report released this month by Human Rights Watch, documenting trafficking in brides from Myanmar to China, said the practice is spreading. It said Pakistan, Cambodia, Indonesia, Laos, Myanmar, Nepal, North Korea and Vietnam have "all have become source countries for a brutal business."
"One of the things that is very striking about this issue is how fast the list is growing of countries that are known to be source countries in the bride trafficking business," Heather Barr, the HRW report's author, told AP.
Omar Warriach, Amnesty International's campaigns director for South Asia, said Pakistan "must not let its close relationship with China become a reason to turn a blind eye to human rights abuses against its own citizens" -- either in abuses of women sold as brides or separation of Pakistani women from husbands from China's Muslim Uighur population sent to "re-education camps" to turn them away from Islam.
"It is horrifying that women are being treated this way without any concern being shown by the authorities in either country. And it's shocking that it's happening on this scale," he said.
https://www.ctvnews.ca/world/629-pakistani-girls-sold-as-brides-to-china-1.4714632
------
Young Women Of Different Faiths To Share To Share Their Perspectives On Celebrating Traditional Faith Holidays
Dec 4, 2019
MANCHESTER — Interfaith Women of New Hampshire will bring together four young women of different faiths to share their perspectives on celebrating traditional faith holidays.
Young women of different faiths to share 'Holiday Joy'
Masooma Athar, M.D., will moderate the program, "Holiday Joy — Voices of Young Women," which will start at 6:45 p.m. Monday at St. George Greek Orthodox Cathedral, 650 Hanover St. Athar, a Manchester geriatrician who has spoken about Islam at other Interfaith Women programs, will introduce the four women.
• Anna Hutchison, 18, a member of the Church of Jesus Christ of Latter-day Saints, will discuss Christmas. Hutchison, a Londonderry High School graduate, works in Bedford while preparing for missionary work.
"I love the joy and kindness being spread throughout the whole season. I also love that friends and family can get together and celebrate," she says.
• Hasna Kara, 17, a Muslim who lives in Boston, will speak about the Muslim practice of Ramadan, 30 days of fasting and the celebration of Eid al-Fitr, which marks the end of Ramadan.
Eid is "one of the biggest holidays that is celebrated in my religion," Hasna says. She also will talk about involving school friends during the fast and Eid.
• Mackenzie Murphy, 22, a Roman Catholic, will discuss Lent and how it relates to one of the most joyful times in the Catholic liturgical year, the resurrection of Jesus Christ celebrated on Easter.
Murphy has several certificates in theology and Christian doctrine from Notre Dame University. She serves on the council of her local parish while working toward a master's degree in higher education administration. She also received the National Federation for Catholic Youth Ministry: Saint Timothy Award for her outstanding leadership and service to her church and community while in her teens.
She will show slides to explain the 40 days of Lent, a time of fasting and self-sacrifice for Catholics.
• Avia Sagrone, 23, an Israeli Jew who is the Shlicha of New Hampshire's Jewish community, plans to tell how Purim commemorates the saving of the Jewish people as recounted in the Book of Esther.
Sagrone grew up in Israel, though her family is originally from Morocco and Tunisia. She has served in the Israeli military, lived in the Golan Heights and worked at more than one Kibbutz before becoming the New Hampshire Shlicha in August. She connects with synagogues, Hebrew schools and the public throughout the state to educate about Israel. Costumes and food associated with Purim celebrations will be illustrated.
To attend the program, email interfaithwomennh@gmail.com or call 233-7760. Refreshments will be served after the program. Doors will open at 6:15 p.m.
Interfaith Women's mission is to share religious beliefs, cultures and traditions among women of diverse faiths in order to develop understanding and friendship within the community.
https://www.unionleader.com/news/religion/young-women-of-different-faiths-to-share-holiday-joy/article_d90c3c71-c7c8-5f5c-949e-03343dbaa08f.html
------
Women Wearing Hijabs In News Stories May Be Judged Negatively
December 4, 2019
Women wearing a veil or headscarf in the United States may face harsher social judgement, according to a study by Penn State researchers that found when given the same information in a news story, some people may consider a woman wearing a headscarf to be more likely to have committed a crime.
The findings — recently published in the journal Mass Communication and Society — suggest potential obstacles that women who wear hijabs may face in the real world.
According to the researchers, the hijab has become a topic of intense debate over the past 20 years. Previous research found that while the hijab may be a symbol of religiosity to some, it may signal a threat to others. The current study sought to calculate the impact that media portrayals of veiled women have on news consumers.
"The influence of someone's view of a woman wearing a hijab can have major effects on that woman," said Colleen Connolly-Ahern, an associate professor at Penn State's Donald P. Bellisario College of Communications. "Through our findings, you can see what this could mean to a woman in a hijab if she is facing a jury."
The researchers found that a person's political identity was associated with how they reacted to a woman wearing a hijab. This was measured by comparing the gap — called parochial empathy — between how respondents feel about a group they identify with and a group they do not.
One thousand respondents from the United States took part in the study through an online panel. The participants watched videos of newscasts created by university video production professionals that featured stories about three individuals. Two of the stories were about a gardener and a contestant in a Miss Pennsylvania pageant, while the third was about a female college student suspected of contacting a terrorist group.
All participants watched identical versions of the stories about the gardener and beauty pageant contestant. However, each participant was randomly assigned to view one of four versions of the story about the student suspect. The versions included one in which the respondents referred to the student as a U.S. citizen wearing a hijab, a U.S. citizen not wearing a hijab, a refugee wearing a hijab, and a refugee not wearing a hijab.
After viewing the newscasts, the participants were presented with both positive and negative hypothetical scenarios about both the beauty pageant contestant and the student suspect. For example, "she found a sentimental possession she thought she lost" and "she found a $20 bill on the street." The participants were then asked about how they felt about these scenarios, and their responses were used to calculate differences in empathy for the two women. They were also asked about their perceptions of the student's innocence.
The researchers found that participants who identified as Republican tended to show a significant difference in empathy toward the woman — and lower levels of perceived innocence — when she was wearing a headscarf. Republicans' "preexisting dispositions were evoked by the veil," according to the report.
"The visual seems to be the difference," Connolly-Ahern said. "Conservatives were more likely to see someone as innocent until proven guilty, but when a hijab was present, that all changed. So what is the cost of wearing a veil in America today? Even when the woman is identified as a U.S. citizen, she is treated as 'other' by some."
According to lead authors Connolly-Ahern and Lee Ahern, an associate professor at the Bellisario College, the study has several implications for journalists. Connolly-Ahern said the results indicate that reporters may want to consider the preexisting biases of their audiences when covering women wearing headscarves. These portrayals, she said, "have real consequences in how people respond to news stories."
According to the researchers, the media will often generalize Muslims by regularly showing footage of women in hijabs — even though only a small number of Muslim-American women wear them. Similarly, research found that journalists will often reference a woman's headscarf, whether it was relevant to the story or not.
"Communicators have an opportunity and responsibility to improve these messages," said Connolly-Ahern, a senior research fellow at the Arthur W. Page Center for Integrity in Public Communication, which funded the study.
While past studies have described different ways women in headscarves have been portrayed in the media, this study takes the first step toward quantifying the impact of those messages. The researchers say their model could likely be applied to other situations — like religion and education level — and in other media types as well.
https://www.eurasiareview.com/04122019-women-wearing-hijabs-in-news-stories-may-be-judged-negatively/
------
The attacks on Ilhan Omar reveal a disturbing truth about racism in America
Dec 4, 2019
By Emily Stewart
Want to know how awful racism can still be in America? Look no further than the vitriol directed at Ilhan Omar.
Take, for example, the events of just the past several days. Last week, Twitter finally suspended the account of one of Omar's Republican challengers, Danielle Stella, after she called for the congresswoman to be tried for treason and hanged if an unproven conspiracy theory that Omar gave sensitive information to Iran were confirmed. And Tuesday, the Tampa Bay Times reported that the campaign of Republican George Buck, a challenger to Democratic Rep. Charlie Crist in Florida, sent out a fundraising letter accusing Omar of secretly working for Qatar and reading, "We should hang these traitors where they stand."
Racist threats and attacks are nothing new, but against Omar, they're on overdrive.
It's a depressing reversal from the triumph of the Minnesota Democrat's 2018 watershed victory: Omar is a Somali refugee, and she and Michigan Rep. Rashida Tlaib were the first two Muslim women to be elected to the United States Congress. "I stand here before you tonight as your congresswoman-elect with many firsts behind my name," Omar said the night of her election. "The first woman of color to represent our state in Congress. The first woman to wear a hijab. The first refugee ever elected to Congress. And one of the first Muslim women elected to Congress."
While many progressives and proponents of diversity celebrated Omar's victory, it has also brought to the surface a dark underbelly of American culture. A Muslim, a black woman, and a refugee, she faces Islamophobia, racism, misogyny, and anti-immigration strains in American culture, and putting that confluence of hate under the microscope is truly disturbing.
Ilhan Omar has faced racist attacks from the get-go
Omar has been in office for less than a year, and there are countless examples of vitriol and attacks against her — from the public, from her opponents, and even from the White House.
It is true that she has at times raised eyebrows with her own remarks and tweets, namely that critics say they sometimes have anti-Semitic airs (for which she has apologized). But as Vox's Nisha Chittal has argued, Omar (and her fellow first-term members of color in Congress) have been subjected to a more intense backlash for their comments, controversial or not. And that backlash is predominantly about "silencing outspoken women of color."
In April, a New York man was arrested for threatening to assault and murder Omar. He called Omar's office and allegedly told a staffer, "Do you work for the Muslim Brotherhood? Why are you working for her, she's a ... terrorist. I'll put a bullet in her skull." In November, the man pleaded guilty to threatening to kill Omar, after which she in a letter called for "compassion" in his sentencing. "Threatening assassination of a public official is dangerous to both the individual and our republic," she wrote. She also noted that "threats of political violence and hate speech are not unique" to the man.
Including and perhaps especially toward her.
Over the summer, Omar received a threat that someone would shoot her at the Minnesota State Fair. Alabama Republicans called for her to be expelled from Congress, accusing her of engaging in "rhetoric that explicitly runs counter to American values and patriotism" and citing remarks she's made about terrorism and Israel. Omar is often the subject of conspiracy theories and racist memes that spread on social media.
President Donald Trump has repeatedly targeted Omar. He has seized on Omar's comments about Israel and the pro-Israel lobby (Vox's Zack Beauchamp has a good rundown) by publicly disparaging her on multiple occasions. During a July rally, Trump claimed that Omar blames the US for terrorist attacks and suggested she supports al-Qaeda (which she does not), after which attendees chanted "send her back." Days before, the president had fired off a series of tweets saying that Omar and three other Democratic women of color in Congress — Tlaib, Alexandria Ocasio-Cortez, and Ayanna Pressley — should "go back and help fix the totally broken and crime-invested places from which they came." The president has also promoted the lie that Omar "partied" on 9/11 after some of the representative's comments about the attacks were taken out of context and used by Republicans to criticize her and repeated the conspiracy theory that she's married to her brother.
The threats and attacks have resulted in increased security for Omar. Her supporters have rallied behind her: In July, she was greeted by constituents chanting "welcome home" when she arrived at the Minneapolis airport.
Omar's identity brings together a lot of racist tendencies in the US
Of course, Omar is hardly the only politician to face racist attacks. Former President Barack Obama was for years dogged by "birther" rumors, which were propelled by the current president, and many people throughout the country face racism and hate daily.
A majority of Americans say that race relations in the United States are poor and that they have become worse with Trump in office, and black Americans tend to see the situation as worse. They also say it has become more common for people to express racist or racially insensitive beliefs. American Muslims are the religious minority group likeliest to report experiencing religious discrimination in the US, and Republicans have become increasingly hawkish on immigration. It paints a disheartening picture of the state of racial, religious, and ethnic minorities in the US — and one the attacks on Omar personify.
"From the start of our democracy, politicians have proudly held starkly different views. But have attacks ever been as vicious as they are against Omar?" writer Tashmiha Khan asked in the Independent this summer.
Branko Marcetic in Jacobin suggested that beyond racism, the assault on Omar also ties to her progressive views:
As Omar herself said, by trying to paint her as a Bush-era, Islamophobic caricature come to life, Trump is, on one level, trying to use racist fearmongering to distract from his own willful failure to improve the lives of working Americans, a strategy that's already failed spectacularly during the 2018 midterms. On another level, he's trying to undermine the working-class solidarity Americans of all backgrounds ought by rights to feel.
There is a lot of thinking to do about the why of the contempt for Omar among some circles, but it's really stark just to look at the what.
https://www.vox.com/policy-and-politics/2019/12/4/20995589/ilhan-omar-racism-attacks-twitter-danielle-stella-minnesota
------
Lisa Smith charged with membership of Islamic State and denied bail at Dublin court hearing
John Walsh, ireland correspondent
4 DECEMBER 2019
An Irishwoman has been charged with membership of Islamic State and denied bail in the Dublin district court. Lisa Smith was detained at Dublin airport last Sunday following her deportation from Turkey.
She was arrested at 10.30 this morning and charged with committing a terrorist offence outside the Irish state between 28 October, 2015 and 1 December, 2019.
Ms Smith denies the allegations.
This is the first case of this nature in the Republic of Ireland. Ms Smith, 38, has a two-year-old daughter who is now being cared for by relatives.
The former member of the Irish defence force, who was wearing a black burqa during the hearing, made no comment when she was charged.
Her application for bail was heard in-camera at the request of prosecution counsel.
The Director of Public Prospection said the state could not disclose its case publicly because it contained sensitive details that could be prejudicial to a future trial.
Ms Smith's legal counsel requested that she is separated from the wider prison population when she is remanded in custody.
Over the past three days, detectives questioned her about her movements throughout the Middle East, Africa and Europe since she converted to Islam.
Ms Smith is a former member of the Irish air corps and served on the government jet for a period in the 2000s. She left the force in 2012.
Ms Smith travelled to Syria in 2015, where she met and married British jihadist Sajid Aslam who later died in fighting. She was detained in the Ain Issa camp in Syria for most of the past year, but escaped in mid-October.
Ms Smith is charged that under Section Six of the Terrorist Offences Act 2005, which makes it an offence to join a foreign unlawful organisation.
She will appear in court again on 11 December when she will be served with a book of evidence.
https://www.telegraph.co.uk/news/2019/12/04/lisa-smith-charged-membership-islamic-state-denied-bail-dublin/
------
Grubs Up: Veganism Trend Soaring Among Young Saudis
05 December 2019
SHAHD ALHAMDAN
JEDDAH: Although vegans are facing daily stereotypes regarding their dietary habits, the number of young people in the Kingdom shifting to an animal-free diet is rising.
The trend has been attributed to Saudis' health concerns, especially with obesity.
Research has revealed that more than 40 percent of Saudi citizens are obese.
Online awareness campaigns are helping vegans to share their experiences with their eating habits. Several young Saudis were convinced to follow plant-based diets after watching the "Plant B" program during Ramadan.
The show is a bilingual web series starring Bassem Youssef, an Egyptian surgeon. It explained the importance and the benefit of veganism on human health.
The number of restaurants and home businesses that are serving vegan options are increasing every day.
Raneem Al-Qurashi, 17, is a student and owner of the Nabati online business. She turned to veganism two years ago. She said: "I used to eat a generally healthy diet. So, when I turned vegan, I did not feel much of a difference. However, I did feel a lot lighter after meals, since meat takes a long time to digest.
"I started this business out of my own needs for healthy vegan baked goods in Jeddah, about a year ago, there were little to no vegan options in Jeddah, and even if there were, it was usually overpriced."
Al-Qurashi believes that veganism and plant-based diets are growing in Saudi Arabia. People have become more aware and conscious about their decisions and how it might affect their health, environment and animals.
Jawan Kudus, a 32-year-old entrepreneur and the founder of Raw Instinct, is vegan in her diet, but she has to try non-vegan dishes for culinary purposes, to acquire knowledge of new tastes and combinations. She started her vegan journey in 2009, while she was studying in London.
Kudus said: "I discovered the raw food diet and fell in love with it, it was like a breakthrough in my life. I learned to eat superfoods without sacrificing taste. Then I explored cooked vegan dishes and continued to experiment in the kitchen. It really transformed the way I eat and approach my diet. I believe veganism helps you become your true and best version of yourself."
Abdullah Ghazi, a clinical psychologist and marriage therapist, explained that he had been a vegan for the last six months. He started by trying vegan dishes at restaurants, then trying to commit to a vegan meal a day. Eventually, his whole diet became vegan.
Ghazi said: "I was trying to find a better lifestyle because I'm getting into my 30s. Since I have a medical background, I could not try something new without doing my homework, and what I found was very encouraging. Research shows that plant-based diets are cost-effective, low-risk interventions that may lower body mass index, blood pressure and cholesterol levels. They may also reduce the number of medications needed to treat chronic diseases and lower heart disease mortality rates."
https://www.arabnews.com/node/1594266/saudi-arabia
------
Boris Johnson claimed children of working mothers 'more likely to mug you'
Wed 4 Dec 2019
Boris Johnson made claims that children of working mothers in low-income families were "unloved and undisciplined" and more likely to "mug you on the street corner", it has emerged.
In a 2006 collection of journalism, entitled Have I Got Views for You, Johnson bemoaned the increasing tendency of women to work, saying they had been "socially gestapoed into the workplace".
"In the last 30 years an ever-growing proportion of British women have been 'incentivised' or socially gestapoed into the workplace, on what seems to me to be the dubious assumption that the harder a woman works the happier she will be, when I am not sure that is true of women or anyone else," he wrote.
In the book, published before he became mayor of London, Johnson said an increasing number of female graduates tended to pair up with male graduates – a process known by economists as "assortative mating" – and that they then pool their advantages.
"The result is that in families on lower incomes the women have absolutely no choice but to work, often with adverse consequences for family life and society as a whole – in that unloved and undisciplined children are more likely to become hoodies, Neets [not in education, employment or training] and mug you on the street corner."
Labour seized on the remarks. The shadow education secretary, Angela Rayner, herself a working mother, said: "It is obvious that Boris Johnson has nothing but contempt for women and working-class people.
"For him to speak about us in such a disgusting manner shows just how out of touch he is. It is clear he only ever stands up for the privileged few."
The remarks were the latest that have come to light during the election campaign, as the prime minister's attitudes, including to migrants and low-income households, as well as women, have come under scrutiny.
The book's title is a play on Have I Got News For You, the satirical BBC quiz show that Johnson appeared on several times, helping to build his public profile outside Westminster.
In his introduction to the collection, which is laced with anecdotes about his time as Brussels correspondent for the Telegraph, he says of his journalism: "You may sometimes think that's not how it is. But never mind, buster: this is how I see it."
He has repeatedly been challenged during the campaign about his past remarks – including on a special edition of the BBC's Question Time, which saw audience members press him about whether some of his writings had fuelled racism.
In past columns for the Daily Telegraph, which paid him £275,000 a year for his work until he became prime minister, Johnson said Muslim women wearing the burqa looked like "letterboxes". He has also been criticised in the past for using the phrases, "piccaninnies," and "watermelon smiles".
"Racist rhetoric is completely rife in this country, will you admit that you have personally contributed to this, and say the words: 'I'm sorry'," the questioner asked.
Johnson replied that he had, "genuinely never intended to cause hurt or pain to anybody and that is my intention." But he went on to defend his right to "speak out".
"If you go through all my articles with a fine-tooth comb and take out individual phrases there is no doubt that you can find things that can be made to seem offensive and of course I understand that," he said.
https://www.theguardian.com/politics/2019/dec/04/boris-johnson-claimed-children-of-working-mothers-more-likely-to-mug-you
------
URL: https://www.newageislam.com/islam-women-feminism/629-pakistani-girls-sold-brides/d/120446
New Age Islam, Islam Online, Islamic Website, African Muslim News, Arab World News, South Asia News, Indian Muslim News, World Muslim News, Women in Islam, Islamic Feminism, Arab Women, Women In Arab, Islamophobia in America, Muslim Women in West, Islam Women and Feminism