New Age Islam News Bureau
12 Oct 2015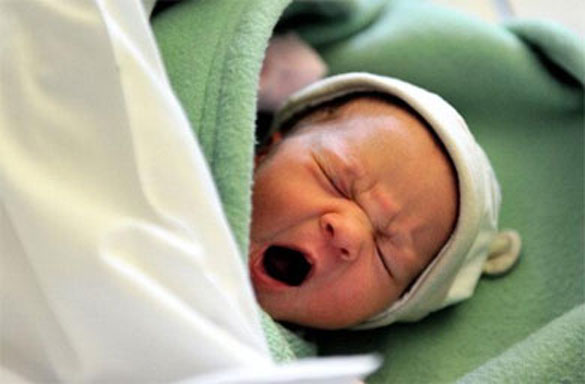 This little one is tired of women in Saudi Arabia having to give birth in their cars. (AFP/File)
------------
• 46 Saudi Women Flee Abroad To Join Terror Groups
• With No Local Hospital and Bad Roads, These Saudi Women Are Giving Birth in Cars
• Soon, Women in Indian Army's Anti-Terror Operations
• Malala Documentary Premiered At London Festival
• Aseefa Congratulates Maryam Nawaz
• Safe Rides For and With Women in Pakistan
• Palestinian Woman Wounds Herself with Bomb near Israeli Police
• Women Farmers Yet To Get Institutional Recognition in Bangladesh
• Saudis Constitute 89% of Child Workers
• Converted By Kindness: Touching Moment Woman Protesting 'Violent Islam' Outside Michigan Mosque Ends Up HUGGING And Befriending Muslims As They Talk To Her About Their Faith
Compiled By New Age Islam News Bureau
URL: https://newageislam.com/islam-women-feminism/46-saudi-women-flee-abroad/d/104886
--------
46 Saudi women flee abroad to join terror groups
12 October 2015
JEDDAH: Terrorist groups have infiltrated societies where women have special privacy such as Saudi Arabia. However, security authorities in the Kingdom arrested several women involved in terrorist activities, while there are other women who escaped abroad to join terrorist groups. Saudi security authorities estimate the number of women who escaped abroad to be 46.
A number of women transformed their activities to support terrorist groups through social networking websites. Um Ouis, 27 years old, is one of these women and she is the first woman to face trial as a result of her terrorist activities. She has been accused of belonging to Daesh, offering allegiance to its leader Abu Bakr Al-Baghdadi, printing publications and pasting them on mosque walls and light poles in the streets of Onaizah, according to a media report.
Um Ouis was a postgraduate student with an MSc in Islamic studies. She had a number of accounts on social networks spouting propaganda for Daesh. She was in contact with other women terrorists on Twitter. She also supported terrorist assault attempts against security men, which took place in Sharora in 2014, according to her tweets. Saudi authorities detained her with a number of other women.
Um Ouis was indoctrinated with terrorist ideology by her uncle. She produced media materials to criticize the role of Saudi security authorities using leaflets and banners.
Sociologist Amal Abu Al-Wafa said: "Um Ouis participated in terrorist activities as a result of her uncle's ideas, which affected her. Most women who are involved in terrorism have relatives or family members who are wanted by security authorities. Their relatives are members of terrorist groups and they help daughters, sisters or wives to join them."
Speaking to Arab News, she said: "The role of the Saudi media contributed to limit the number of Saudi women who joined terrorist groups. However, the social environment of women played a vital role to change her ideas in addition to the role of social networking websites that recruited several women from many countries to join terrorist groups."
http://www.arabnews.com/saudi-arabia/news/819116
-----
With no local hospital and bad roads, these Saudi women are giving birth in cars
October 12th, 2015
Harsh road conditions and the long distance to the nearest hospital leave women living in Madraka, a village in Jamoom governorate, with no option but to deliver their babies in cars when labor pains are at their peak. The closest hospital to the town is about 150 kilometers away and the trip there is not a pleasant one for women in labor.
Badria Al-Atiyani, a woman living in the province, said women are always faced with the challenge of reaching Hira Public Hospital at the entrance of Makkah since it is the closest to their town.
"Women are forced to deliver their babies in cars or ambulances that transport them to the hospital. For years these roads have been unpaved and in terrible condition causing so many accidents," Al-Atiyani told the Arabic daily Makkah.
People living in the village demanded from officials to build a public hospital to avoid critical situations, said Al-Atiyani. "But these requests were ignored despite the availability of public services in our village including the Commission for Promotion of Virtue and Prevention of Vice, Police, Civil Defense, Public Court, Saudi Post, and public schools. I don't see why can't we have our own public hospital," she added.
The principal of one of the schools in the region, Haya Al-Atiyani, said their village lacks public and amusement parks as well as a water pumping infrastructure. Despite having 85 elder patients who travel long distances to receive kidney dialysis treatment from main cities, no initiatives were made to provide a local center to better serve them.
Being a principal, Al-Atiyani is aware of the challenges college students deal with commuting daily to Makkah to attend the university there. Many accidents took the lives of hundreds of students and often times the trip discourages so many students from pursuing their education.
"Not only does the commute affect students' attendance, but the village doesn't have a Red Crescent center to rescue people severely injured in accidents. Everyone has to be transported to Makkah and often times people don't make it," said Al-Atiyani.
Vice President of Madraka Municipality Ahmed Al-Zahrani talked about plans of acquiring land to develop a modern medical center in the village. Construction plans also have been set and the only impediment at the moment is the budget.
http://www.albawaba.com/editorchoice/no-local-hospital-and-bad-roads-these-saudi-women-are-giving-birth-cars-753530
-------
Soon, women in Indian army's anti-terror operations
October 12, 2015
New Delhi: Defence Minister Manohar Parrikar has said he is in favour of assigning roles to women in the army's counter-terrorism operations.
He said "in principle" he was in favour of women in combat positions, but a final decision would be taken later.
"I don't see why not. We take them as equal in everything," Parrikar said in reply to a question.
The ministry could assign them "role in counter-terrorism operations (at the borders) or even to tackle terrorists within the country," he said.
He was speaking at a fund-raising function in Bambolim on the outskirts of Panaji yesterday evening.
Earlier this week, Air Chief Marshal Arup Raha had said IAF had moved a proposal to induct women as fighter aircraft pilots.
"It has to be done in a phase-wise manner. It won't happen immediately," Parrikar said, adding that the final notification on inducting women as fighter aircraft pilots would also take sometime.
He cited that the United Arab Emirates Air Force has women fighter plane pilots who had carried out strikes on ISIS targets.
http://www.siasat.com/news/soon-women-armys-anti-terror-operations-850839/
------
Malala documentary premiered at London festival
October 12, 2015
LONDON: Malala was the name on everyone's lips this week at the London Film Festival where a documentary about the youngest-ever Nobel Peace laureate had its European premiere.
"He named me Malala" is an intimate portrait of Malala Yousafzai and during the festival even the biggest stars seemed humbled by the teenager and her aspirations.
American actress Meryl Streep hailed her as the worthy heiress of the suffragettes who battled for the right to vote in Britain in the early 20th century.
Filmed over 18 months in Britain, Kenya, Nigeria, Abu Dhabi and Jordan, the documentary by American David Guggenheim recalls how Malala's father chose her name in honour of Malalai of Maiwand, a heroine who rallied the Pashtun army against British troops in 1880.
"When I was little, many people would say, `Change Malala's name. It's a bad name, it means sad.' But my father would always say,`No, it has another meaning. Bravery'," Malala said.
On screen, the 18-year-old is seen at her home in Birmingham, central England, explaining to her father in the family living room how Twitter works, or squabbling with her brothers, Atal and Khushal.
"She's fighting for human rights but at home she's so violent," complained Atal after being beaten in an arm wrestling match.
The film follows her at school, in the streets of New York, at a refugee camp, spreading her optimistic and determined message on the right to education.
"One child, one teacher, one book and one pen can change the world," she proclaimed.
The documentary also shows Malala's life in Swat valley where she decided, aged 11, to write a blog for the BBC — "Diary of a Pakistani schoolgirl" — in which she denounces Taliban violence.
Guggenheim turns to animation to bring to life these years before the attempted assassination in October 2012, when Taliban gunmen opened fire on then 14-year-old Malala on her school bus.
The cartoons, matching photos from the family album, also evoke the childhood of Malala's mother, Toor Pekai Yousafzai, who recalled her own brief education on Friday at London's Women in the World summit.
"I left school because I was the only girl in a class full of boys. I just wanted to play with my cousins who were girls," she said in Pashtun, adding that she is now trying to learn to read and write in English.
Of her daughter, she explained that, despite the anguish, she could not "stop a girl like her from talking or speaking up".
"Sometimes when I worried she would tell me `I can't stop going to school, I can't stop talking, because I am a girl and we cannot go back to the ages when they buried girls alive. I want to progress. I want to speak'."
The film also shows the months of hospitalisation and re-education of the girl who wants to become prime minister of Pakistan, as well as her close relationship to her father.
"We are one soul in two different bodies," said Malala in the documentary.
To silence the critics who see her as her father's mouthpiece, she added: "My father only gave me the name Malalai. He didn't make me Malalai. I chose this life."
Her father, Ziauddin Yousafzai, meanwhile told of his astonishment at the Taliban attack, saying, "they had never killed a child, I never expected that".
On occasions in the film, Malala is just a normal teenager: she looks at photos of Brad Pitt, speaks of her favourite book, "the Alchemist" by Paulo Coelho, and shares her passion for cricket.
But she recognises the difference between her and her British classmates who "all have boyfriends". And she shares her dreams of one day returning to the Swat valley.
"He named me Malala" is released in Britain on Nov 6.
http://www.dawn.com/news/1212439/malala-documentary-premiered-at-london-festival
-----
Aseefa congratulates Maryam Nawaz
October 12, 2015
LAHORE: Aseefa Bhutto Zardari yesterday night congratulated Maryam Nawaz Sharif over the victory of PML-N candidate Sardar Ayaz Sadiq in the by-election. She extended her congratulation to Maryam Nawaz through a tweet.
"Thank you very much Aseefa. God bless you. Much love," Maryam tweeted back to Aseefa. This exchange of tweets between the younger generations of country's top political dynasties shows they are less likely to carry forward their parties' legacy of bitterness in the future.
http://nation.com.pk/national/12-Oct-2015/aseefa-congratulates-maryam-nawaz
-------
Safe rides for and with women in Pakistan
October 11, 2015
LAHORE - They call it Tuk Tuk in Thailand.
In India and Bangladesh it is called auto.
In Pakistan they are called rickshaw and are major source of transportation.
The profession of rickshaw driving is 100 percent male job.
Now all that is going to change as Pink Rickshaw Scheme has officially been launched by NGO Environment Protection Foundation, a charity registered in USA.
Yesterday the first rally of five pink rickshaws took to the streets of Lahore with Zar Aslam the President and CEO of TEPF in one of the rickshaws.
The rally started from Lahore Cantonment and after media interaction at Bagh-e-Jinnah ended at Alhamra.
EPF has in the last four years worked on more than 100 projects and activities in Pakistan.
This is their initiative to provide safe rides for women who often have to face harassment from male rickshaw drivers.
The seating capacity of the vehicle is for three people including the driver.
These made in Pakistan vehicles have four stroke petrol engine type with CDI type ignition.
The rickshaw can also be run on electric power through a battery.
It has transmission line that is manual shift (4 Fwd and one Reverse) with hydraulic disc brake system.
"We believe the rickshaws would be more socially acceptable in Lahore.
They are safer, they are enclosed, better means of transportation during summer and winter, do not require helmets and are easier to drive.
It is huge potential source of revenue while providing safe rides for other women," Zar said talking to The Nation about the benefits of pink rickshaw.
On a query about how the idea first came to her mind, she said it all rose when she came to know about the transportation problem of female members of her staff.
"They use public transport.
These young ladies told me that when they were standing at the bus stop waiting for the public transport, they were harassed by eve-teasers.
The guys feel free to harass or tease the girls standing on the bus stops," she was of the view.
"The second reason is that since I work in the development sector, I realized that when we are talking about the empowerment of the women, we talk a lot and act very little.
Lot of working women don't have their own car.
They have to take cab which they can't afford.
The rickshaw is cheap but it is not necessarily safe.
So my motivation was to do something for the women who are working class and introduce a rickshaw on which they can't only travel but could also generate some extra income.
For example, the female staff before going to their work place can easily arrange picks and drop of school children.
She can easily arrange pick drops for some girls.
In this way they are not only travelling safe but also generating some extra income.
Even those women who don't have jobs can easily go around their community and arrange same thing for them," Zar explained.
PEF has trained the female drivers and set in motion a mobile unit that could reach them in case of emergency.
In the first phase the service will be on routes that are deemed safe.
"The approximate cost of the present rickshaw is Rs.
275,000.
As for as its design and body we have finalised this pink rickshaw and asked the manufacturers to make minor modifications.
For example, its side mirrors were small and we asked the manufacturers to replace those with bigger one, asked for a small fan and sunroof for better air system.
The wiper would be automatic as other rickshaws do not have such wipers," she said.
The rickshaws will be given to women on easy instalments.
"Women will have to come once in the month and pay the instalment and also share their experience and the difficulties they faced during that month.
This will further help us out to solve their problems and difficulties," Zar was of the view.
Putting women in the driving seat of rickshaws is a daunting task considering it has never happened before.
The project would be a milestone in removing some cultural barriers for women and help them to become independent, mobile and productive members of the society.
http://nation.com.pk/lahore/11-Oct-2015/safe-rides-for-and-with-women
-----
Palestinian woman wounds herself with bomb near Israeli police
October 11, 2015
JERUSALEM, Oct 11 (Reuters) - A Palestinian woman motorist set off a bomb after being pulled over by Israeli police near a Jewish settlement in the occupied West Bank on Sunday, wounding herself and an officer, police said.
The incident followed a surge since last week in Palestinian attacks on Israelis, mostly with crude weapons like knives and rocks, and a crackdown by Israeli security forces. Four Israelis and 23 Palestinians have been killed in 12 days of violence.
"The driver shouted 'Allah Hu Akbar' ('God is great' in Arabic) and detonated an explosive device," a police spokeswoman said of Sunday's attack.
Police initially said the woman had been killed, but amended this to say she had been wounded. Israel's Magen David Adom ambulance service said she was in critical condition. The police officer was lightly injured.
http://nation.com.pk/international/11-Oct-2015/palestinian-woman-wounds-herself-with-bomb-near-israeli-police
-----
Women farmers yet to get institutional recognition in Bangladesh
October 12, 2015
Although Bangladesh's agriculture sector is becoming increasingly dependent on women's participation, women do not get institutional recognition as farmers, let alone own farmlands, said speakers at a discussion yesterday.
Due to patriarchal and discriminatory social structure, women have little or no control over the harvest, they said.
The discussion on women's rights on land was organised by Nijera Kori, the Association for Land Reform and Development (ALRD), and Bangladesh Environmental Lawyers Association (Bela) in the capital's Cirdap auditorium.
Citing the Bangladesh Bureau of Statistics data, Bela Chief Executive Syeda Rizwana Hasan said women own only 18 percent land in the country while 81 percent is owned by men.
"Village women spend 53 percent time of the day in farming earning 61 percent of the GDP from agriculture," she said.
She also pointed out that one in three women in Bangladesh suffer from malnutrition.
A landless farmer from Faridpur Hazera Begum said, "We work in the fields more than men do, but we do not get any incentive from the government or banks as farmers."
Nijera Kori coordinator Khushi Kabir said women farmers are deprived of all government initiatives for farmers' welfare.
Prof Sadeka Halim pointed out that indigenous women of the Chittagong Hill Tracts do not have any legal protection on land as there is no law protecting their rights. She also demanded having women farmers on women's reserved seats in the parliament.
Botanist and ecology researcher Pavel Partha said rural women should be saved from becoming a tool for other people's earning.
http://www.thedailystar.net/city/women-farmers-yet-get-institutional-recognition-155734
------
Saudis constitute 89% of child workers
12 October 2015
DAMMAM: About 89 percent of child workers in the country are Saudis, according to a recent study conducted by the University of Qassim.
The study, entitled "Factors Associated with Child Labor in Saudi Society," warned of the serious consequences of children working. It found that 70 percent of Saudi workers have illiterate parents, 30 percent have literate parents, and 74 percent are between the ages of 12 and 14.
According to the study, 48 percent of working children have stopped their education at the preparatory stage, followed by 37 percent at the primary level, while 7 percent dropped out of high school.
The study conducted by Yusuf Ahmed Al-Romaih, head of the social service department at the university, aimed to identify the causes of the situation, including looking at the labor market, socioeconomic conditions and home environment of these children. He spoke to children working at the vegetable and fruit markets in Qassim.
"The study included about 100 Saudi children aged between 8 and 15. It revealed that 49 percent of respondents live in a large family of over eight members, followed by the children living in a medium-sized family."
"Seventy-seven percent of those children's families depend on the income of the household head, 22 percent depend on their children's income, and 17 percent on charities," he said.
Moreover, 79 percent of the respondents' families live in rented houses while 21 percent of them live with other families in shared dwellings. He said 54 percent of them sell vegetables, 38 percent work as delivery boys, while 8 percent of them work as street vendors.
In addition, the study showed that 42 percent of the children spend four to eight hours a day outside the home, 40 percent spend eight to 12 hours, while 10 percent spend more than 12 hours outside the home.
According to the researcher, 43 percent of child workers make SR50 a day, while the rest work for lower salaries.
Al-Romaih said the country needs a strategy to combat poverty, which would prevent children from having to work to support their families. He said there should be a database developed on the extent of child labor in the country.
http://www.arabnews.com/saudi-arabia/news/819156
------
Converted by kindness: Touching moment woman protesting 'violent Islam' outside Michigan mosque ends up HUGGING and befriending Muslims as they talk to her about their faith
12 October 2015
When just one woman showed up for an anti-Muslim protest in Michigan she never expected that she'd end up hugging the people she was chanting against just moments before.
As the woman stood in solitary protest with a couple of placards, about a dozen more protesters drove up to the mosque for the demonstration against 'violent Islam'. But after seeing that the mass protest had in fact attracted just one woman, they immediately drove off, leaving her to fight her cause alone.
What happened next, however, was inspiring.
To the woman's surprise, Muslim women wearing headscarves went up to her and embraced her after a heated conversation about the woman's misconceptions.
A Caucasian supporter of the mosque first walks up to the protester asking if she wants to talk.
'I'm not here for you she says. You're not Muslim,' she replies.
When he implies he may be Muslim she says, 'get thee away from me Satan and get to your side of the block please'.
She says her friends were supposed to join her at the protest to which he replies, 'We can be friends.'
'If you're a Muslim I can't be friends with you then,' she replies adding that she doesn't believe there is such a thing as a peaceful Muslim and that she wants the beheading to stop.
She later says she gets all her information from groups she's in on Facebook.
The man, who says he's Jewish not Muslim, then explains to her that the actual Muslim religion does not talk about beheading enemies the way that some are beheading people in Saudi Arabia.
The protester says that the mosque told her there'd be breakfast waiting for her when she arrived after she told them she was coming to protest against them and that she believed their kindness was 'deception', to which the Jewish mosque supporter told her that they were in fact just being nice.
In the video posted to Youtube, Muslims gather to join in conversation and explain to her that just because someone says they belong to a religion doesn't mean they act in a way that is characteristic of the religion.
One woman in a head scarf who says she is from Mexico says that the drug lords and people in drug cartels commit murder and rape every day despite being Catholic. Another person says that the Nazis who committed mass genocide were also Christian.
They then explain to the protester that ISIS, like the Nazis, were 'not Christian' are 'not really' Muslim and they are a result of socio-political conflict. They then invite her inside for coffee and bagels.
The woman and the others all came to the agreement that they all protest murder and stand for the freedoms available in America regardless of what religion they believe in.
'There's no evil in me,' the protester can be heard saying after she is disarmed by the unexpected kindness of those she is protesting against.
'I pray for my Muslim brothers and sisters. I just want the murder to stop,' she says.
'None of us want murder. No true Muslim wants murder,' said a Muslim woman at the mosque, 'just like no Christian wants genocide.'
They invited her to join in discussion in an interfaith group that they were all a part of.
After feeling more comfortable in her surroundings she caves in, walks into the mosque and even takes selfies.
She says her husband and her pastor didn't want her to come to protest but that she did anyway and didn't expect the events the way they did.
A police officer outside the mosque was even in shock that the woman walked inside.
When she stepped inside she was greeted by a big applause. She eventually had breakfast but made one of the mosque supporters test the bagels first just to reassure her the food was safe.
One of the supporters on the scene, Micah, recalled: 'Super funny look on the cops faces when they saw us walking her in. It was a sorta beautiful thing. One of those 'maybe there is still sorta hope for humanity' kind of days,' reports Addicting Info.
The Noor Islamic Cultural Center shared the touching story on Facebook along with photo memories from the day.
The one person protest was just one of several anti-Muslim protests planned in at least 20 cities recent days in the United States organized by a group called the Global Rally for Humanity.
For the rally in Michigan that the woman attended, protesters were asked to bring their legal guns with them for an 'open carry, anti-mosque, pro-America rally', reports Newsweek.
About 200 protesters crowded in front of a Phoenix, Arizona mosque on Saturday afternoon to demonstrate against Islam as part of a nationwide campaign that went largely unheeded. It was the biggest protest of its kind over the weekend.
There was also a small protest outside a mosque in Columbus, Ohio where many who planned to turn out to counter protest in Dearborn planned for 9am sharp went instead.
A small group of protesters also took their signs reading 'Islam is evil' and 'honk if you hate Islam' to a mosque in Florida.
Bigger were the groups of interfaith community members in each region who showed up to protest the hatred of the Muslim religion as a whole.
http://www.dailymail.co.uk/news/article-3268906/Woman-protesting-violent-Islam-hears-Facebook-ends-hugging-peaceful-Muslims-going-mosque-coffee-bagels.html
----
URL: https://newageislam.com/islam-women-feminism/46-saudi-women-flee-abroad/d/104886