New Age Islam News Bureau
12 March 2013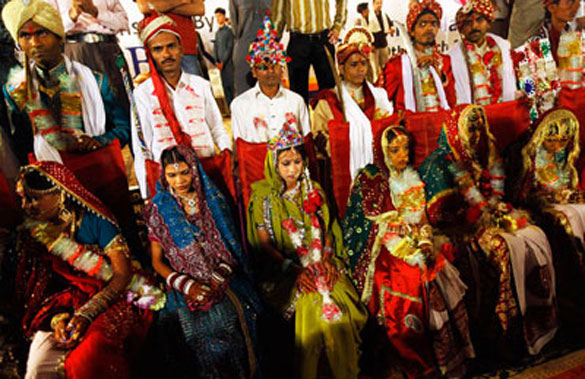 Photo: Mass Hindu marriage ceremony in Karachi
----------
• Supermodel Speaks Out Against Female Genital Mutilation
• The sister of the man accused of blasphemy in Pakistan seeks justice
• Mass Hindu marriage ceremony in Karachi
• The Healing Process: Treatment for Survivors of Sexual Violence
• Five Female Freedom Fighters of Bangladesh Honoured
• Two Sisters, Swept Up In a Suicide Wave
• Ukrainian Woman Journalist Escapes Kidnappers in Syria
• Nigeria: 'Violence Kills More Women than Road Accident, Malaria'
• Saudi Arabia Frees All But Two Arrested Women Protesters
• Film 'Girl Rising' Sheds Light on Girls' Education and Poverty
• Ugandan Woman Jailed For Stabbing Man to Death after Alleged Attempted Rape
• Kobigaan on Women's Rights Held in Chittagong
Compiled by New Age Islam News Bureau
URL: https://www.newageislam.com/islam,-women-and-feminism/new-age-islam-news-bureau/30,000-young-girls-are-currently-at-risk-of-female-genital-mutilation-in-the-uk/d/10741
---------------
30,000 Young Girls Are Currently At Risk of Female Genital Mutilation in the UK
'Girls ask me if I can put their clitoris back': Midwife behind UK's only female genital mutilation clinic recounts harrowing stories
By DENI KIRKOVA
12 March 2013
A midwife who opened Britain's only clinic for victims of female genital mutilation (FGM) has spoken in harrowing detail about the horrors inflicted upon her young patients.
Comfort Momoh, 50, originally from Nigeria, opened the African Well Women's Clinic at London's St Thomas' Hospital in 1997, and treats up to 350 women for 'reversal procedures' each year, despite FGM being illegal in the UK since 1985.
'I have young people saying to me: "Comfort, can you put my clitoris back?" And they get angry when I tell them what has been removed can't be returned,' Momoh told the Evening Standard on International Women's Day.
FGM is usually carried out on girls aged between five and 12, and Momoh says she performs surgery to reverse the closure of the vaginal opening on two women each week.
The midwife says it is 'fantastic' that communities are finally talking about the issue of FGM, a practice associated with religion and female oppression - and one actively encouraged by the victim's mothers '90 per cent of the time'.
Within certain communities female circumcision is deemed necessary to make a girl marriageable, and is often carried out by a 'grandma' who has no anatomical knowledge and sees it as 'an act of love' rather than something barbaric, reported the Standard.
Procedures can cause severe bleeding and problems urinating, and later cysts, infections, infertility as well as complications in childbirth and an increased risk of newborn deaths.
There are four types of FGM - clidoridectomy, excision, infibulation and other - and adult women who have undergone mutilation type three or four can have desperately painful intercourse, and suffer anxiety and palpitations when their husbands want sex.
Men can find it unpleasant, too, even suffering bruised penises. 'Some say to me it's like trying to penetrate a brick wall,' says Mamoh.
Momoh has discovered that parents keen for their daughters to be circumcised take them on 'summer holidays' to their ancestral homeland where they will be secretly cut.
She is now campaigning for a police stall at Heathrow airport over the summer months, and wants carriers to help raise awareness of the law, 'but they think it's too culturally sensitive'.
While almost 30 African countries practice FGM and most of Momoh's patients come from Somalia, Sierra Leone, Gambia, Eritrea, Sudan and Nigeria, they are far from an anomaly.
The World Health Organisation stresses FGM has no health benefits and is a violation of the human rights of girls and women
In November, Observer journalist Abigail Haworth reported witnessing 248 girls suffer mutilation in just one day 'of celebration' in Indonesia.
Haworth said: 'Although Indonesia is not a country where FGM is widely reported, the practice is endemic.
'Two nationwide studies carried out by population researchers in 2003 and 2010 found that between 86 and 100 per cent of households surveyed subjected their daughters to genital cutting, usually before the age of five.
'More than 90 per cent of adults said they wanted the practice to continue.'
The World Health Organisation stresses FGM has no health benefits and is a violation of the human rights of girls and women.
People who carry out or arrange female genital mutilation in the UK or abroad face up to 14 years in prison.
http://www.dailymail.co.uk/femail/article-2291155/Female-Genital-Mutilation-UK-Nigerian-Midwife-Comfort-Momoh-opened-African-Well-Womens-Clinic-London.html
---------------
Supermodel Speaks Out Against Female Genital Mutilation
12 March 2013
Somali supermodel Waris Dirie backed a film highlighting the plight of young girls facing female genital mutilation in the UK, The Mail reported in July 2011.
She supported the project together with the Metropolitan Police to highlight the potentially fatal practice.
Dirie, an FGM victim herself, said: 'Female genital mutilation targets little girls, baby girls - fragile angels who are helpless, who cannot fight back.
'It's a crime against a child, a crime against humanity. It's abuse. It's absolutely criminal and we have to stop it.'
A film, Cut - Some Wounds Never Heal, was produced by schoolgirls in London as a free download for schools in the UK.
Detective Sergeant Vicky Washington, from the Metropolitan Police, said: 'This is a hidden problem that affects thousands of children and young women in the UK.
'There are no legitimate cultural or religious reasons for female genital mutilation - it's child abuse.'
The film was financed by the Metropolitan Police, and the Foreign and Commonwealth Office, with the backing of the Home Office and the Department for Education.
It was produced by Kids Taskforce, which specialises in child safety.
Its president Sharon Doughty said: 'This is a practice that needs bringing out into the open so that it can be addressed - by working with communities here to change minds.'
http://www.dailymail.co.uk/femail/article-2291155/Female-Genital-Mutilation-UK-
---------------
The sister of the man accused of blasphemy in Pakistan seeks justice
March 12, 2013
LAHORE: The sister of the man accused of blasphemy in the Badami Bagh area of the city has called upon the Supreme Court as well as the government to provide her family justice.
Bushra, the sister of blasphemy accused Sawan Masih, says her brother is innocent.
Sawan's sister-in-law Kiran said Imran Bashir, the man who accused Sawan of blasphemy, was his trusted friend and she never saw the two arguing with each other over any issue.
She said the protesters did not even touch the warehouses owned by Muslim traders and Bashir's barber shop and this showed only Christians were the target.
She said her family was quite satisfied after voluntarily handing over Sawan to police for investigation on Friday evening. She said police officials visited the locality on Friday night and asked the Christians to vacate their houses to avoid protesters' wrath. "We all vacated our houses and the protesters looted and burnt them," Kiran said.
"It seems police were well aware of the plan," she added.
http://dawn.com/2013/03/12/sawans-sister-seeks-justice/
------------
Mass Hindu marriage ceremony in Karachi
March 12, 2013
The Pakistan Hindu Council organised a mass marriage ceremony where a total of 22 couples from the Hindu community residing in Pakistan's Sindh province took their wedding vows
http://dawn.com/2013/03/12/mass-marriage-ceremony-in-karachi/
-------------
The Healing Process: Treatment for Survivors of Sexual Violence
Naira Antoun
12 March 2013
A woman recounts her experience of sexual violence to you. It may be tempting if she is crying to tell her not to cry. It may be tempting to touch or hug her as well or try to help her feel better.
But these instinctive reactions have no place when it comes to listening to someone recount an experience of rape or sexual assault says Heba Ghanem, a psychologist at the Nazra for Feminist Studies NGO, explains. The goal, she says, "is for the woman to feel there is someone with her, that she is not alone."
Full report at:
http://www.egyptindependent.com/news/healing-process-treatment-survivors-sexual-violence
---------------
Five Female Freedom Fighters of Bangladesh Honoured
12 March 2013
Five female freedom fighters from different districts were honoured yesterday for their bravery during the Liberation War in 1971.
The freedom fighters are Kanchan Mala, Firoza Begum, Sheikh Fatema Ali, Sheikh Amena Begum and Kanan Gomez.
Doctors for Health and Environment, a non-government organisation, yesterday accorded a reception to the freedom fighters at Bangladesh Liberation War Museum in the capital.
Full report at:
http://www.thedailystar.net/beta2/news/five-female-freedom-fighters-honoured/
---------------
Two Sisters, Swept Up In A Suicide Wave
The New York Times
March 12, 2013
MAZAR-I-SHARIF, Afghanistan: On the surface, the Gul sisters seemed to have it all: They were young, beautiful, educated and well off, testing the bounds of conservative Afghan traditions with fitted jeans, makeup and mobile phones.
But Nabila Gul, 17, a bright and spunky high school student, pushed it too far. She fell in love.
Her older sister, Fareba, 25, alarmed at the potential shame and consequences of Nabila's pursuit of a young man outside of family channels, tried to intervene. Their argument that November day ended in grief: side by side coffins, both girls dead within hours of each other after consuming rat poison stolen from their father's grain closet.
Full report at:
http://www.smh.com.au/world/two-sisters-swept-up-in-a-suicide-wave-20130312-2fxy3.html#ixzz2NK3Ss0N7
---------------
Ukrainian Woman Journalist Escapes Kidnappers In Syria
11 March 2013
A Ukrainian journalist escaped from her kidnappers in Syria and was heading to the capital Damascus, according to her nephew Monday.
"She escaped this morning. We spoke by telephone with her for a couple of minutes. She said people were taking her to Damascus," her nephew, Dmitry Astafurov, was quoted by the Interfax news agency as saying.
The Ukrainian foreign ministry confirmed Ankhar Kochneva was free after several months in captivity but said it had no further information on the matter.
Full report at:
http://english.alarabiya.net/en/News/2013/03/11/Ukrainian-journalist-escapes-kidnappers-in-Syria.html
---------------
Nigeria: 'Violence Kills More Women than Road Accident, Malaria'
12 MARCH 2013
President, Soroptimist International of Nigeria, Mrs. Funlola Buraimoh-Ademuyewo, has bemoaned the increasing spate of violence against women, calling for the need for a more gender-sensitive society where more women and girls can achieve their individual and collective potentials.
Speaking in commemoration of this year's International Women's Day, Funlola lamented that violence had killed and disabled as many women between the ages of 15 and 44 as cancer, and that its toll on women's health surpassed that of traffic accidents and malaria combined.
Full report at:
http://allafrica.com/stories/201303120532.html
---------------
Saudi Arabia Frees All But Two Arrested Women Protesters
Saudi police say all women arrested earlier this month in the city of Buraida are leased except two who refused to leave even after all procedures for their release were completed
11 Mar 2013
Saudi authorities have freed all but two of a group of women arrested early this month while staging a sit-in to demand the release of Islamist prisoners in the city of Buraida, police said on Monday.
"All women arrested have been freed, with the exception of two of them who refused to leave even after all procedures for their release were completed," a police spokesman in the northern Qassim province said in a statement carried by the SPA news agency.
Full report at:
http://english.ahram.org.eg/NewsContent/2/8/66614/World/Region/Saudi-Arabia-frees-all-arrested-women-protesters.aspx
---------------
Film 'Girl Rising' Sheds Light on Girls' Education and Poverty
March 11, 2013
NEW YORK – A new feature film that debuted in US theatres this week explores the link between improving education for girls in poor countries around the globe and the battle against poverty.
"Girl Rising" blends documentary and narrative film-making to focus on the impact of education on the lives of nine girls from Cambodia, India, Afghanistan, Egypt, Ethiopia, Peru, Sierra Leone, Nepal and Haiti.
Full report at:
http://www.saudigazette.com.sa/index.cfm?method=home.regcon&contentid=20130311156336
---------------
Ugandan Woman Jailed For Stabbing Man to Death after Alleged Attempted Rape
Marie Nammour / 12 March 2013
A Ugandan woman, who stabbed a man to death in what she claimed to be an act of self-defence, has been sentenced to three years in prison after a contradictory testimony.
The Court of First Instance ordered the 29-year-old woman be deported after serving her prison term.
The case dates back to April 8 last year, when the defendant, in the country on a visit visa, turned herself into the Naif Police Station alleging that she killed a man in her flat in Freej Al Murar in the Naif area, after he tried to rape her.
Full report at:
http://www.khaleejtimes.com/nation/inside.asp?xfile=/data/courtroundup/2013/March/courtroundup_March23.xml&section=courtroundup
---------------
Kobigaan on women's rights held in Chittagong
12 March 2013
Two local bards–Kobial Abu Yousuf and Kobial Abdul Mannan– performed kobigaan (light songs in the form of questions and answers) on women's rights in Chittagong city on Sunday night to create awareness about the issue among people.
Full report at:
http://www.thedailystar.net/beta2/news/kobigaan-on-women-rights-held-in-chittagong/
---------------
URL: https://www.newageislam.com/islam,-women-and-feminism/new-age-islam-news-bureau/30,000-young-girls-are-currently-at-risk-of-female-genital-mutilation-in-the-uk/d/10741