New Age Islam News Bureau
16 Sept 2013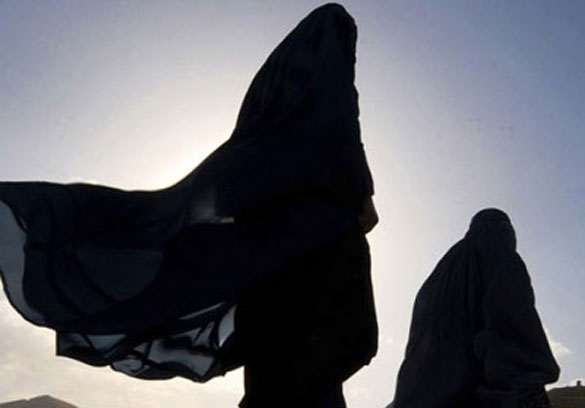 Ghazi Goth holds 100-plus yard houses, inhabited by single women of all kinds – Punjabi, Baloch, Muhajir, Bengali and Sindhi. PHOTO: AFP/FILE
-------------
• Patna College Bans Sleeveless Tops, T-Shirts to 'Maintain Decorum'
• Balochistan Girl Scores Top Grades In 'O Levels' At Cambridge
• Top Afghan Female Cop Dies after Gun Attack
• Best Kept Secrets: Ghazi Goth the Land of Single Women
• UK Minister Calls for Debate on Banning Muslim Girls, Young Women from Wearing Veils
• Kashmir Valley Glare on Girls at "Cultural Show" In Delhi
• Delhi Gang-Rape Effect: Public Outcry over Minor's Rape in Pak
• Thousands of Girls Abandon School Due to Pregnancy in Tanzania
• Rehabilitation of Deserted Muslim Women Essential: Rights Activists
• Meet Miss Uzbekistan, an 'Imposter' At the World Beauty Contest
• US Treatment for 5-Year-Old Victim of Chemo Mistake
• Turkish Girls Confess To Stabbing Own Mother 25 Times
• Young Saudi Woman Makes Waves in Catering Industry
Compiled by New Age Islam News Bureau
URL: https://newageislam.com/islam-women-feminism/3-women-executed-pak-orders/d/13521
--------------
3 Women Executed In Pak on Orders of 'Jirga'
September 16, 2013
A Pakistani woman was on Monday shot dead by tribesmen in Khyber Pakhtunkhwa province on orders of a 'jirga' for her alleged "illicit relations" while two of her relatives were also executed for aiding her. A jirga, or tribal council, of at least five village elders found 22-year-old Sadia guilty of "illicit relations".
Originally from Jawaki, the woman was residing in Karachi after her marriage.
She allegedly fled with a man to Swat hardly after two years of her marriage.
A case of kidnapping was registered in Karachi and hunt for recovery was started.
Swat police recovered the woman handed her over to her heirs.
A Jirga was held last night at Jawaki.
It found her guilty of "illicit relations". The women along with her aunt and a cousin -- who helped her fleeing from the house -- were brutally murdered on the orders of the Jirga, Geo News reported.
Police are investigating the case.
Jirgas have a strong influence in the tribal belt and are known as a parallel judicial system.
They have been notorious for issuing such verdicts.
http://www.hindustantimes.com/world-news/pakistan/3-women-executed-in-Pak-on-orders-of-jirga/Article1-1122708.aspx
---------
Patna College Bans Sleeveless Tops, T-Shirts to 'Maintain Decorum'
Sep 16 2013
Patna: Starting Monday, students at Patna's Magadh Mahila College won't be allowed to wear T-shirts and sleeveless tops. While no specific dress code has been prescribed, the college administration passed the order to "maintain decorum" on campus.
The college cabinet, which has over 50 members, including representatives of the college students' union, Saturday decided that officials would keep an eye on the main entrance, bike stand, canteen as well as the classes to monitor if students are dressed in accordance with the new order.
"As violence against women has been on the rise, the college administration has to take some steps, even if they seem regressive. Though the Delhi gang rape verdict may be a deterrent, education institutions have responsibilities as well," a source explained.
When contacted, Patna University Vice-Chancellor Arun Kumar Sinha told The Indian Express, "It is an internal order. As long as the dress code ensures decency, there is no problem. But if it restricts freedom of individuals, we will have to take a re-look at it. No other Patna college has any such dress code."
The office of the Bihar Governor, who is ex-officio chancellor, said the chancellor does not generally interfere in such cases. "If such an order spreads to other colleges and complaints are received from parents or students about their freedom being restricted, Raj Bhavan may intervene."
http://www.indianexpress.com/news/patna-college-bans-sleeveless-tops-tshirts-to--maintain-decorum-/1169646/
--------------
Balochistan Girl Scores Top Grades In 'O Levels' At Cambridge
2013-09-16
QUETTA: A girl student of Balochistan got five A*s (90 per cent or more) and three As (between 80pc and 89.9pc) in this year's O Level examinations given by the University of Cambridge, it was learnt on Sunday.
Rafia Durrani, a student of the Iqra Army Public School, Quetta, may be the region's top-scorer for the examinations.
According to the information released by the British university, Rafia secured A*s in English language, mathematics, physics, chemistry and Urdu. She secured As in biology, Islamiyat and Pakistan studies.
http://www.dawn.com/news/1043256/balochistan-girl-scores-top-grades-in-o-levels
--------------
Top Afghan Female Cop Dies after Gun Attack
September 16, 2013
The top female police officer in Afghanistan's restive Helmand province died on Monday, officials said, a day after she was shot by gunmen in an attack that followed the recent killing of her predecessor.
Both women were gunned down on the streets of Lashkar Gah, the capital of Helmand, by unknown assassins in murders that underlined the grave threat to women who take on public roles in Afghanistan.
"I can confirm that Nigar died in the emergency unit of the hospital this morning," provincial government spokesman Omar Zawak told AFP. "She died from a bad injury to her neck."
Nigar, who like many Afghans used only one name, was earlier expected to survive after she was shot on Sunday morning by gunmen who escaped by motorbike.
Nigar, 38, had worked for seven years in the police crime branch in Helmand province, a hotbed of the Islamist insurgency that was launched against the US-backed Kabul government after the fall of the Taliban in 2001.
She was the mother of a son and a daughter and was based at Lashkar Gah airport after reaching the rank of investigator.
The last senior police woman in Helmand, Lieutenant Bibi Islam, was seen as a high-profile symbol of how opportunities for women have improved in Afghanistan since the repressive Taliban regime was ousted.
But before her death, she admitted receiving regular death threats from people who disapproved of her career -- including from her own brother.
http://www.hindustantimes.com/world-news/Afghanistan/Top-Afghan-female--cop-dies-after-gun-attack/Article1-1122693.aspx
------------
Best Kept Secrets: Ghazi Goth the Land of Single Women
September 16, 2013
KARACHI. There are secrets that lie in the midst of a throbbing, convoluted Karachi. Secrets hidden in entire acres of land that no one knows about. In a city where areas are known by the number of blasts and killings, this is hardly surprising.
One such secret is Ghazi Goth.
This residential area, a 20-minute rickshaw ride away from Orangi Town, mostly holds 100-plus yard houses, inhabited by single women of all kinds – Punjabi, Baloch, Muhajir, Bengali and Sindhi. Strangely, they all gravitate towards this area, claiming it as their own – and there are more daughters than sons in each house.
The men are mostly dead
Many of the men of these women were once factory workers who developed health problems due to their working conditions.
A few still alive lay in some corner of the house, unable to provide because of injuries sustained at factories.
Visitors, rare and awaited, are shown x-rays and medical certificates these women clutch on to.
"He can't work, and I do what I can. Just look at the xrays," says one resident, shoving forth medical slides.
Sakina Bibi, an old resident, had two older sons who abandoned her just as they were old enough to work – one is a plumber, the other is an electrician. They don't contribute, they don't visit.
In this far corner of the city, beyond an area dominated by gangs who cordon off routes leading to the locality at the first sign of trouble, women abandoned by their men huddle together to share in each others sorrows.
Not an easy life
Sakina Bibi is one of the few lucky home-owners in the area. Her husband died, leaving her with a coveted pakka makaan, four daughters and two very young sons, one of whom is mentally challenged. Today, she and her offspring make embroidered patches for chappals.
"We, the seven people who live in this house, survive on Rs6,000 a month," she says quietly. "A contract employer provides me with the material to make a chappal patch at the fixed rate of three rupees per piece."
The contractor drops by once a month to collect the final products. The women working for him have no further knowledge about the product, and no means to step out of Ghazi goth to find out.
Aziza is the oldest resident of the area, and was amongst the first few women to move here years ago. She makes bangles for a living. Her husband, although alive and in the house, is too sick to do anything. The only other male in the house is a 6 month old child, mostly asleep, thanks to a dose of naswaar administered by one of his sisters.
An island in a metropolis
Disturbingly, the only connection this town has to the rest of the city comes through political workers and contract employers.
The politically charged individuals reach these areas before anyone else, canvassing for votes. In fact, many of the residents rent houses from party workers, who give them away for very cheap – as low as Rs800 a month – simply for votes.
And yet, on the upside, the fact that Ghazi Goth is so cut off makes it one of cleanest neighbourhoods in the city. There is no garbage lining the streets, no empty wrappers flying around. The streets are bare, with only open gutters, flies and stray dogs to be seen between the few barefoot children playing outside their houses. Political party posters add the only colour to the otherwise sand filled land. The closest shop is outside of Ghazi Goth.
Fighting the good fight
What stands out the most is the practical outlook on life that these women share.
While they don't miss an opportunity to narrate tales of sorrow, they also don't wait around for someone to solve their problems.
In this vein, Aziza puts her bangle collection on display within seconds. Before you know it, a direct sale has been made.
Despite living in a corner of Karachi with no security options, some of them still manage to send their children to government schools.
"Karna to parayga," says Aziza, a resilient glint in her eye. "What must be done, must be done."
http://tribune.com.pk/story/604913/best-kept-secrets-the-land-of-single-women/
-----------
UK Minister Calls for Debate On Banning Muslim Girls, Young Women From Wearing Veils
16 Sep 2013
The Government should consider banning Muslim girls and young women from wearing the veil in public places, a Liberal Democrat minister has said.
Home Office Minister Jeremy Browne called for a national debate on whether the state should step in to prevent young women having the veil imposed upon them.
His intervention came after a row erupted over the decision by Birmingham Metropolitan College to drop a ban on the wearing of full-face veils amid public protests.
Mr Browne said he was "instinctively uneasy" about restricting religious freedoms but said there may be a case to act to protect girls who were too young to decide for themselves whether they wished to wear the veil or not.
"I think this is a good topic for national debate.
"People of liberal instincts will have competing notions of how to protect and promote freedom of choice," he told The Daily Telegraph.
"I am instinctively uneasy about restricting the freedom of individuals to observe the religion of their choice.
"That would apply to Christian minorities in the Middle East just as much as religious minorities here in Britain.
"But there is genuine debate about whether girls should feel a compulsion to wear a veil when society deems children to be unable to express personal choices about other areas like buying alcohol, smoking or getting married.
"We should be very cautious about imposing religious conformity on a society which has always valued freedom of expression."
It is thought that Mr Browne, who is attending his party's annual conference in Glasgow, is the first senior Lib Dem to voice such concerns in public.
However there are signs that his views are shared by a number of Conservative MPs who were dismayed at the way the college case was handled.
The college had originally banned niqabs and burkas from its campuses eight years ago on the grounds that students should be easily identifiable at all times.
But when a 17-year-old prospective student complained to her local newspaper that she was being discriminated against, a campaign sprang up against the ban, attracting 8,000 signatures to an online petition in just 48 hours.
Following the college's decision to withdraw it, Downing Street said that David Cameron would support a ban in his children's schools, although the decision should rest with the head teacher.
However the Prime Minister has been coming under growing pressure from his own MPs for a re-think on current Department for Education guidelines in order to protect schools and colleges from being "bullied".
Tory backbencher Dr Sarah Wollaston, said the veils were "deeply offensive" and were "making women invisible" and called for the niqab to be banned in schools and colleges.
Writing for The Telegraph, she said: "It would be a perverse distortion of freedom if we knowingly allowed the restriction of communication in the very schools and colleges which should be equipping girls with skills for the modern world.
"We must not abandon our cultural belief that women should fully and equally participate in society."
http://www.mirror.co.uk/news/uk-news/lib-dem-minister-jeremy-browne-2276761#ixzz2f2q9B47L
--------------
Kashmir Valley Glare on Girls at "Cultural Show" In Delhi
September 16, 2013
Srinagar, Sept. 15: Women medical students from Kashmir participating in a "cultural show" in Delhi have run into a storm with separatists and a doctors' body opposing their move.
"This (the AIIMS college fest) is an obscene show where participants get to dance, sing and booze… this is immoral. My blood is boiling," said Nissar-u-Hassan, president of the Doctors Association of Kashmir.
The development comes days after the Zubin Mehta concert in Srinagar triggered massive protests by separatists and civil society groups, who opposed the event on political grounds arguing international shows on "disputed territory" were unacceptable. Those criticising the medical students, however, deem their participation un-Islamic.
Hassan said 85 medics from Srinagar's Government Medical College and Government Dental College had left to participate in the All India Institute of Medical Sciences' annual "Pulse" show, which begins tomorrow. "Around half of them are girls," Hassan said.
He added that the situation in Kashmir did not warrant participation in such shows.
"The current situation does not allow celebrations; we are in mourning," he said, referring to the recent death of five people in CRPF firing at Shopian.
Hurriyat hawk Syed Ali Shah Geelani said: "When I see some of my people, despite their Muslim traditions and identity, are on track to adopt a secular culture, I worry for their future."
However, Dr Rafiq Pampori, principal of the Government Medical College, trashed the charges.
"They go there every year; there is nothing new in it. They don't go there to participate in any cultural show but to participate in debates, sports and academic pursuits," he clarified.
Although Geelani and the Doctors Association of Kashmir said they were against participation by the male students too, it seemed to be the girls' participation that has left them fuming.
"The parents and the college administration have shown they are devoid of all sense of dignity by agreeing to send their daughters outside the state," Geelani said.
He said the Hurriyat had taken serious note of the matter and was investigating it. "After the probe is over, we will make it public and those responsible would be asked to face an open trial," Geelani warned.
http://www.telegraphindia.com/1130916/jsp/nation/story_17354535.jsp#.UjbJbdK-pRI
--------------
Delhi gang-rape effect: Public outcry over minor's rape in Pak
Imtiaz Ahmad, Hindustan Times
September 16, 2013
The Delhi gang-rape, which shook the collective conscience of India, seems to have jolted neighbouring Pakistan. A gruesome rape of a five-year-old in Lahore has triggered similar public outcry over the brutal assault. The girl, who was repeatedly raped before being dumped in an
impoverished Lahore neighbourhood battled for life on Sunday in a city hospital.
Police on Sunday confirmed they have finally arrested the man who dumped the child and are hopeful of more arrests in the coming days.
Pakistan's chief justice Iftikhar Muhammad Chaudhry took suo-moto notice of the incident, ordering the city police into action. Till then the police had claimed that there were no leads to follow. Following the brutal rape, protests many women organisations and memebers of civil society staged huge protest rallies.
Earlier, on Saturday, police arrested four suspects but released them soon after on lack of evidence. On Sunday, however, it emerged that one of the rapists had been identified by the hospital CCTV footage and arrested.
The 5- year-old girl and her 3-year-old cousin went missing on Thursday evening from outside their house in Mughalpura. On Friday, the culprits dumped the girl in front of the Ganga Ram Hospital while the boy was found weeping outside the Services hospital where he had been let off. A traffic warden found the boy and took him to the office of a private TV channel which in turn took him to a government office for child protection.
The girl was found on the lawns of Sir Ganga Ram Hospital. CCTV footage showed a hospital security guard carrying the victim on his shoulder after he found her lying on the road.
http://www.hindustantimes.com/world-news/pakistan/Delhi-gang-rape-effect-Public-outcry-over-minor-s-rape-in-Pak/Article1-1122608.aspx
--------------
Thousands of Girls Abandon School Due to Pregnancy in Tanzania
Sep 16, 2013
More than 8,000 primary and secondary school girls in Tanzania each year are forced to abandon studies due to pregnancy, it was disclosed in Moshi last week.
To make matters worse, many of the kids born by the school dropouts end up as street children because their parents cannot afford paying for their up keep and education.
A lawyer with the Child Rights Forum Mr. Jones John challenged policy makers to address the situation because it has led to escalating problems for the youth and the society in general.
He made the remarks during a training workshop on upbringing of the adolescents and the youth. The event was sponsored by the Nairobi-based non-governmental organization in collaboration with Mkombozi Children's Centre of Moshi.
Mr. John said it was pity that school girls become mothers at a young age, forcing them out of school and without any future life prospects because in most cases those who made them pregnant would abandon them.
He added that although in principle the government has agreed to re-admit to school girls who become pregnant after delivery, practically this has not been the case because such girls shied away from schools.
"They have failed to return to schools because as mothers they cannot abandon their kids and other domestic responsibilities", he pointed out.
However, the legal expert said NGOs and other civil society organizations have the responsibility to address the problem, adding that this should include devising better methods to enable under age mothers to continue with education without necessarily reporting back to their former schools.
The social welfare officer with the Moshi Municipal Council Ms Agnes Urassa called on the parents to talk to their children on reproductive health and how to avoid getting pregnant while still in school.
http://allafrica.com/stories/201309150339.html
------------
Rehabilitation of Deserted Muslim Women Essential: Rights Activists
TNN | Sep 16, 2013
HYDERABAD: Citing lack of educational and economic opportunities as the main reason for the backwardness of Muslim women, rights activists on Sunday said there was a need for massive awareness in the community.
Civil society representatives called for improved rehabilitation of deserted Muslim women, rehabilitation of women affected by communal riots and implementation of the recommendation of the Sachar Committee for emancipation of Muslim women.
Speaking at the regional conference on challenges faced by Muslim women 'Voice of the Voiceless', organised by the National Commission for Women (NCW) here, chairperson NCW, Mamta Sharma said mainstream education should be imparted along with religious education. "Women should be guided to enter the mainstream. Only then can there be true empowerment. Employment and political representation at all levels is also required for emancipation," she said. She also condemned the biased role of police in the event of communal riots.
Activists also said religious teachings of Islam have always upheld women's rights. However, various religious interpretations by a deeply patriarchal society have confined women and led to their backwardness in several ways, they added.
Some also called for codification of the Muslim personal law in India to prevent confusion with the Indian law in important matters such as marriage.
Discussion also veered around the fallout of communal riots on Muslim women, especially the Gujarat 2002 pogrom. Rashida Ansari, one of the riot victims, described her ordeal during the turbulent period. "My family members were injured and we were forced to live in a camp where nearly 3000 Muslim families were put up. The police did very little to protect us," she said, while adding that the riots scarred Muslims, particularly women who lost their children and husbands besides those who were sexually assaulted during the riots.
Some activists called for at least 10% reservation for Muslim women in Kasturbha Gandhi schools operating under the aegis of NCW, reservation in panchayat and local bodies, and quick passage of the long-pending communal violence bill that would safeguard the rights of Muslim women during and after riots.
http://timesofindia.indiatimes.com/city/hyderabad/Rehabilitation-of-deserted-Muslim-women-essential/articleshow/22612912.cms
------------
Meet Miss Uzbekistan, an 'Imposter' At the World Beauty Contest
15 September 2013
Uzbekistan has no idea who 18-year-old Rahima Ganieva is, although she's been claiming to be Miss Uzbekistan in this year's Miss World contest in Indonesia.
The Daily Mail has reported that Uzbekistan, a predominantly-Muslim country, does not hold a national beauty pageant.
Officials from the Uzbek Culture and Sports Ministry and the National Committee on Women told the newspaper that she was an imposter.
It is hard to figure out how the aspiring beauty queen made it to the Miss World contest. She is, however, listed on the official website as Miss Uzbekistan, saying she comes from "the beautiful and sunny city of Tashkent," and likes to read Chekhov, Dostoevsky and Tolstoy.
The website has also published pictures of Ganieva posing with other contestants.
A representative of the Tashkent-based Pro Models modeling agency told the Daily Mail that she never passed through any special selection process in Uzbekistan.
"If there had been a process to choose a young lady for this competition, I can assure you that a much more beautiful model would have been chosen. I'm sorry that Ganieva is choosing to build a career on lies," the representative said.
http://english.alarabiya.net/en/life-style/entertainment/2013/09/15/Miss-Uzbekistan-an-imposter-at-world-beauty-contest.html
--------------
US treatment for 5-year-old victim of chemo mistake
JEDDAH: ARAB NEWS
September 16, 2013
Rama Abdullah Al-Muhaimed, the 5-year-old girl who received chemotherapy by mistake at a Buraidah hospital, is under treatment at a hospital in the United States.
The Saudi girl was given the wrong treatment at Prince Faisal Oncology Center after it received an incorrect medical report from the laboratory at King Fahd Specialist Hospital in Buraidah. The sample tests of Rama were switched with that of a young cancer patient named Rami.
Rama's father told a local newspaper that the family met their American doctor as soon as they arrived in the US. The doctor was briefed on the child's condition and her medical reports.
Rama was treated for fever after the doctor examined her. The doctor has asked for Rama's test samples from Saudi Arabia.
The father said the doctor was surprised that a mistake like this could occur. She gave Rama antibiotics and a nourishing solution.
He said that Rama was still fearful and needed time to adjust to her surroundings.
Rama's father said that a source on the medical body investigating the mistake in Saudi Arabia, told him that King Fahd Specialist Hospital in Buraidah bears 70 percent of the blame, while the Maternity and Children's Hospital in Qassim bears 30 percent of the blame.
The Saudi government is paying for Rama's medical treatment in the Kingdom and the United States.
http://www.arabnews.com/news/464680
--------------
Turkish Girls Confess To Stabbing Own Mother 25 Times
September 16, 2013
Two Izmir girls murdered their mother by stabbing her 25 times, their confessions revealed, in a case that has gripped the nation's attention since the news of the victim's death broke out several days ago.
Seyda, aged 19, and her sister, two years younger, identified as B.P., admitted to killing their mother by first trying to knock her out with the help of an electroshock device, then resorting to knives when their initial plan failed. The body of the mother, Gülseren, was found with 25 stab wounds in the place where she died in her own house, right on the scene following the attack.
A trace of blood on the shoe one of the girls was wearing prompted police forces to focus the investigation on the sisters, putting them through a 12-hour-long interrogation that eventually forced the girls to crack.
The girls reported experiencing several kinds of abuse at the hands of their mother, including physical abuse, as well as accusing their mother of reportedly bringing home a string of boyfriends.
The girls told police forces that they dumped the knives and the electroshock device in a nearby container, where officers soon located them.
The victim's father initially accused an ex-husband of Gülseren of the murder, claiming he had attempted to sell older Seyma to other men, but the danger was thwarted when the family escaped and relocated their home.
Three other suspects detained over the murder were released following the confession, and the girls were sent to court to undergo trial.
http://www.hurriyetdailynews.com/daughters-confess-to-stabbing-mother-25-times-in-turkey.aspx?pageID=238&nID=54471&NewsCatID=341
--------------
Young Saudi woman makes waves in catering industry
September 16, 2013
JEDDAH — A young Saudi woman is making waves in the restaurant industry with a business that makes SR200,000 a month.
Nourah has a degree in Islamic studies but her hobby is cooking.
She said she can cook all different Arabic and international meals.
She said: "I had the idea of starting a home-catering business and was encouraged by my family, friends and neighbors."
Nourah began her small project with the help and encouragement of her husband and started by making desserts and other appetizers for weddings and large parties.
She got her big break when a hospital asked her to provide 100 meals a day for breakfast and lunch.
She said: "I was stunned and began crying, as I did not believe that I could meet that request.
"However, with my husband's assistance I was able to fulfill the hospital's request, and it was my starting point."
Nourah decided to open a restaurant so she could cater for weddings, schools and hospitals and did not receive any funding from banks or other lenders. She said her only obstacle was when she could not obtain visas from the labor office.
The office's conditions were difficult to meet, she said, especially as she could not provide any financial guarantees.
She is proud that she was among the first Saudi women to own and manage restaurants in the Kingdom and believes she has reached a stage where she can compete with large catering companies.
Nourah said she only uses good quality ingredients and is proud of the nickname that people now refer to her as, Chef Nourah.
She said she is continuously receiving encouragement from her customers and is grateful for the income her business generates, but is not currently planning any new branches.
"I would like to first feel completely comfortable running my Jeddah restaurant, which is only two years old."
She encouraged other women to work in this sector.
Nourah urged the Ministry of Labor and local chambers of commerce to facilitate procedures for Saudi women and help them to set up their own businesses.
http://www.saudigazette.com.sa/index.cfm?method=home.regcon&contentid=20130916180585
--------------
URL: https://newageislam.com/islam-women-feminism/3-women-executed-pak-orders/d/13521