New Age Islam News Bureau
22 March 2018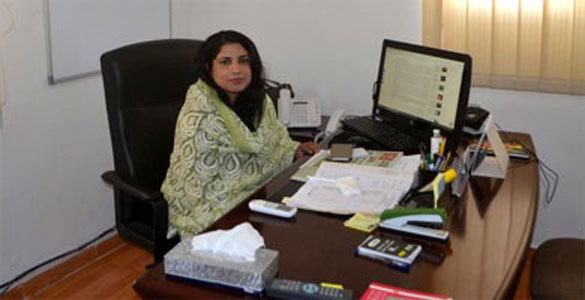 Fozia Fayyaz Ahmed becomes first female consular at Consulate General Pakistan Jeddah in its 70 years history.
-------
• Boko Haram Returns Dozens of Schoolgirls Kidnapped in Nigeria
• Education Is Key to Saudi Women's Empowerment: Academic
• Newly Empowered Saudi Women to Help Drive Growth at Al Rajhi Bank
• Fayyaz Appointed First Female Consular at Pakistan Consulate
• President El-Sisi Honours 42 Egyptian Women on Mother's Day
• Climb On Board: Afghan Woman Brings Stories to Kabul's Children
• Iran: UN Experts Alarmed By Reports Mistreatment of Women Activists
Compiled by New Age Islam News Bureau
URL: https://www.newageislam.com/islam-women-feminism/3-uae-women-want-become/d/114681
--------
3 UAE women want to become men, court turns down appeal
March 22, 2018
The Federal Appeal Court has turned down the request of three young Emirati women - who want to become men - to change their gender and have their female names changed in the government national registry.
The women, all aged below 25, had filed a lawsuit seeking permission to be allowed to become men after reportedly undergoing sex-change operations abroad.
The women had presented to the court several documents and medical reports from European hospitals that recommended the sex-change operations.
Their lawyer, Ali Abdullah Al Mansouri, earlier said that the Emirati women had undergone sex-change operations in a European country after suffering from congenital defects and having masculine features including too much hair on their legs, manly voices and other characteristics "that distinguished them from women".
He noted that his clients had received "many medical reports" that recommended the sex-change operations. They now want legal permission to have their gender and names changed in government records, he pointed out.
Al Mansouri had argued in the appeal court that the local medical committee appointed by the first court to examine the condition of his clients and issue a medical report on their eligibility for sex change acknowledged in their report that the women had sex disorders which cannot be reversed, but failed to recommend them for sex change.
"The report by the medical committee was brief and didn't look extensively into the fact that the young women had suffered from this gender disorder since childhood," said the lawyer.
Al Mansouri said the women have felt as if they were males at an early stage and want permission to become so and that denying them this would affect them psychologically which would lead to depression.
"They feel that they are men trapped in female bodies and they want to overcome this by getting court permission for sex change," said the lawyer.
The Federal First instance Court had earlier rejected the request of the women and refused permission for sex-change. But the women challenged the ruling in the Federal Appeal Court which has upheld the first ruling.
Al Mansouri said that his clients would challenge the ruling at the Federal Supreme Court.
https://www.khaleejtimes.com/nation/abu-dhabi/3-uae-women-want-to-become-men-court-turns-down-appeal
--------
Boko Haram Returns Dozens of Schoolgirls Kidnapped in Nigeria
By DIONNE SEARCEY and EMMANUEL AKINWOTU
MARCH 21, 2018
DAKAR, Senegal — Dozens of schoolgirls from the northern Nigerian community of Dapchi were returned early Wednesday morning, dropped off by the same group of Boko Haram militants who kidnapped them more than a month ago as they offered a stern warning to never go back to school again.
The surprising turn of events was greeted with joy from parents whose daughters were safely returned, but the relief was tempered by suspicions that several girls had died while in the hands of the militants. At least one is apparently still being held.
Jauro Usman, a resident of Dapchi who is close to many of the parents of the kidnapped girls, said those who had been reunited were "very, very happy."
"Boko Haram came themselves and dropped our daughters," he said.
The return of the girls might wind up as a major propaganda coup for Boko Haram as villagers had been outraged at the way Nigerian officials had handled the girls' capture, and some questioned why the military did not launch a rescue operation.
Initially, federal officials had stayed silent, and later local officials inaccurately told parents that the girls had been rescued, prompting a small riot by parents whose hopes were dashed.
On Wednesday, the families were upset that the government wanted the girls to travel to Abuja, Nigeria's capital, apparently for a debriefing by security officials, when their parents just wanted them home.
American military officials have said they believe that the faction of Boko Haram responsible for the kidnapping was backed by the Islamic State, which has criticized the kidnapping of Muslim students. The student who is apparently still being held is a Christian. Her fellow captives have told their families that she refused militants who wanted her to convert to Islam.
On Wednesday morning, the militants drove three of the girls to their homes in other villages, residents said. Others were delivered to a bus station along a freeway outside Dapchi.
Bukar Usman, a resident of Dapchi, said he had shaken hands with the insurgents, who warned residents that girls should not be in school but should instead be married off. The militants threatened to return if the girls went back to school.
Government officials said that at least 101 of the 110 girls who had been kidnapped had been returned, but that the total number of freed students was still being tallied.
The girls were released at about 3 a.m. "through back-channel efforts and with the help of some friends of the country," according to a statement from Lai Mohammed, Nigeria's information minister.
Babale Abubakar, a local government worker, said one released student had told him that five girls, who had been fasting before their abduction and were therefore already in a weakened state and extremely thirsty, had died while being held captive.
Other news outlets said five captives had been trampled in overcrowded trucks.
One of the released students, Maryam Adamu, said that Leah Sherubu, the Christian girl who was still being held, was in tears as the other girls were being rounded up to be returned.
On the evening of Feb. 19, militants dressed in army fatigues stormed the secondary school for girls in Dapchi. Nigerian officials faced heavy criticism for failing to prevent the attack, which came almost four years after a similar kidnapping of nearly 300 girls in the northern community of Chibok. Dozens of the Chibok girls are now free, in large part because of ransoms paid by the government, but more than 100 are still being held.
In Dapchi, the military had dismantled a checkpoint in the weeks before the kidnapping. Amnesty International said that at least five people had called security forces in the hours before the attack to warn them that Boko Haram was heading to Dapchi, but no help arrived.
Boko Haram, whose name can be loosely translated as "Western education is forbidden," was founded years ago by adherents who wanted to create an Islamic state, hoping it would put an end to years of corruption and neglect by government officials.
In past years, as it became increasingly violent, Boko Haram has been dogged by infighting and has split into factions, the most significant of which received the backing of the Islamic State.
That faction two years ago criticized the kidnapping of any Muslim students who were among those taken from the school in Chibok, said Jacob Zenn, an African affairs fellow at the Jamestown Foundation, a Washington-based research organization.
Mr. Zenn said the Islamic State in the past had offered alternatives to killing schoolchildren, condoning the murders of male students only if it was clear that the boys would later join the Nigerian military.
"It is possible this attack was genuinely a warning against Western education to the families of Dapchi and northern Nigeria more generally," Mr. Zenn said.
In at least one case, the threat worked. One of the abductees, Hauwa Lawal, 14, told her parents that she was not going back to school again, said Abubakar Mohammed, 31, who sometimes keeps Hauwa at his house when her parents are out of town.
Hauwa told her family that the Boko Haram fighters were good to the girls and fed them rice and corn dishes, gave them water, did not touch them and offered them Islamic training while telling them to avoid Western schooling, according to Mr. Mohammed. They would not let the girls bathe, however.
But fighters told the girls to stop listening when people said that the group brainwashed, poisoned or harmed its captives, Mr. Mohammed said.
Mr. Mohammed said that parents in other towns had called ahead after Boko Haram dropped off the first three girls at their homes to alert Dapchi residents that militants did not appear to have violent intentions.
"Some of us were running towards them, but it felt like suicide to run to Boko Haram," Mr. Mohammed said. "At the same time, they had our daughters."
The girls told their parents that they had been kept in what seemed to be a forest; the militants told some of the girls they were in nearby Niger, according to several accounts from returned girls. They heard aircraft flying overhead. It took them days to get back to Dapchi, and they crossed desert terrain and bodies of water.
Zainab Abubakar, one of the returned students, said that while with Boko Haram the girls were moved from place to place, apparently to avoid detection from security forces.
President Muhammadu Buhari of Nigeria said on Twitter that no ransom had been paid for the girls. The statement from the information minister indicated that security forces had stood down on Wednesday "to ensure free passage and also that lives were not lost."
The government of Nigeria paid millions of dollars in ransoms and released high-level Boko Haram commanders in exchange for the release of students from the school in Chibok. The ransom payments have led critics to express worry that they could inspire more kidnappings.
On Wednesday, Reuters reported that some parents of missing Chibok girls were in Dapchi, having traveled there to share their grief over missing daughters. Instead they watched as the parents were reunited with their girls.
Dionne Searcey reported from Dakar, Senegal, and Emmanuel Akinwotu from London. An employee of The New York Times contributed reporting from Dapchi.
https://www.nytimes.com/2018/03/21/world/africa/nigeria-boko-haram-girls.html
--------
Education is key to Saudi women's empowerment: Academic
22 March 2018
DUBAI: Education is the main driving forces for Saudi women's empowerment and that has been the case since the 1960s, renowned Saudi historian, academic and writer Hatoon Al-Fassi has said.
Speaking to Arab News in Dubai recently, Hatoon said that there are more women graduates and qualified women in Saudi Arabia than men.
"We hope that this will translate into empowerment. It all depends on how many of these women join the workforce, how many of them make it to decision making positions. We are not talking about numbers only, we are looking for the representation of these into positions of power," she said.
Hatoon said that stereotyping of Arab women in international forums is a problem. "It is not just the (Arab) women's image, but the mixing between Arab and Islamic images and the blurring of lines between them is also obvious in international literature," said Hatoon, who has a specialization in women's history.
She said that Saudi women are very strong but the depiction of their strength and confidence is not as common as in Western cultures.
"Not every woman appearing on TV or media are like me. Maybe I am one of those who wouldn't mind appearing in the media and I have been doing this for a long time but there are many who are very active," she said.
According to her, there are influential women who do not appear on TV or in the media and some of them have broken the stereotype. "So that has made my face a bit more familiar and some people may think that I am one of the unique ones but it is not true," she said.
Hatoon said she feels proud of the social reforms taking shape in the country. "We are very glad that at last the state is taking women's issues seriously," said Hatoon.
"I think we are in a phase where we are very proud and happy. I am very hopeful and optimistic that it will lead us to more openings, advantages and more gains that will reflect positively on the future of Saudi Arabia."
Hatoon said that the problem with the Western media is that they take only one side of the story and generalize it. "It is the problem of orientalist schools in general. This is how they look at our part of the world. It is easier for them to generalize and brand us," Hatoon said adding that Saudi Arabia is very much a multicultural society.
She also emphasized that Saudi Arabia is a very big and diverse country in more ways than one.
"Ethnically we are diverse, geographically diverse, and historically and culturally diverse. (Unfortunately) we have not given enough space to media outlets to show our diversities," she said.
She also said that times have changed and the realization has set in about how important it is to share the country's diversity with the world. "Promotion of tourism will bring so many economic opportunities in the country."
Hatoon highlighted that the promotion of tourism, which promotes every diversity and attraction in the country, could feed into this new economic opportunity.
http://www.arabnews.com/node/1271246/saudi-arabia
--------
Newly empowered Saudi women to help drive growth at Al Rajhi Bank
MARCH 21, 2018
DUBAI (Reuters) - As Saudi women get the right to drive and have more chances to work, increased economic activity among an entire half of the population is an opportunity for banks, the head of one of them said.
Al Rajhi Bank, Saudi Arabia's second largest by assets, has opened 133 female-only branches and even has a car showroom for women to help them access car loans, CEO Steve Bertamini told Reuters in an interview.
Marking a move away from the strictures of the Wahhabi brand of Sunni Islam, women have been allowed to attend mixed sporting events and will be able to drive from June.
The author of the reforms, Crown Prince Mohammed bin Salman, also wants to increase the proportion of Saudi women in work from the current roughly 10 percent of the labor force, as he aims to diversify the economy away from a reliance on oil.
"Women entering the workforce will be positive from a household perspective in terms of extra income to help offset some of the increase cost you see elsewhere," Bertamini said, referring to reduction in consumer spending expected from the introduction of Value Added Tax this year and the removal of some subsidies.
As Saudi Arabia's largest consumer lender, Al Rajhi is a major provider of vehicle loans and has operated car showrooms since 2008. But they were only for men until the bank opened its first women-only one late last year.
"The types and models of cars tend to be different. It's a really big learning curve in the market to adapt," said Munich-born Bertamini, who joined Al Rajhi from Standard Chartered in 2015.
"Usually the family has a large automobile already, so these tend to be smaller vehicles for commuting."
A showroom, run by one of the bank's partners, offering viewings for women had 75 bookings in its first week, Bertamini said.
The bank will provide extended hours for women within existing car showrooms and increase the number of female bank branches in 2018, he said.
Women's increased economic activity will help the bank's loan growth outperform the 4 percent expected for the sector in 2018, Bertamini said. Its loan growth was 3 percent last year.
HOUSING AND FOREIGN INFLOWS
The government's bid to raise the percentage of Saudis owning their own homes - from around half now to 70 percent by 2030, is another reform Al Rajhi expects to present opportunities.
Al Rajhi is Saudi Arabia's biggest mortgage provider, with around 44 percent of total mortgages last year.
"There's roughly 200 billion riyals of housing out there and the government is looking to increase that to 500 billion by 2050, which implies big opportunities for the industry," Bertamini said.
Al Rajhi has been one of the main beneficiaries of an inflow of foreign investment into the Saudi bourse in 2018 in anticipation of the country's possible inclusion in the MSCI and FTSE emerging market indexes.
"We captured 40 to 50 percent of this inflow, which shows the confidence in the market in general and the banking sector in particular" Bertamini said.
"I expect inflows to remain healthy for rest of 2018."
He said the inflows signaled that foreign investors were not unduly concerned about a purge of senior officials and business people who were detained for months.
https://www.reuters.com/article/us-al-rajhi-bank-outlook/newly-empowered-saudi-women-to-help-drive-growth-at-al-rajhi-bank-idUSKBN1GX1OC
--------
Fayyaz appointed first female consular at Pakistan Consulate
March 22, 2018
JEDDAH — Fozia Fayyaz Ahmed become first female consular at Consulate General Pakistan Jeddah in its 70 years history.
The newly arrived female career diplomat Fozia Fayyaz said, "Pakistan is a progressive country. Women are working in all fields. They are doing wonderful jobs. Our people have great regards for them. Everyone trusts on them and cooperates with them. Pakistan as a society that recognizes the women role and Pakistan's Ministry of Foreign Affairs (MOFA) is very progressive. It has opened its doors for women at all levels."
At present the head of the institution is Mrs. Tahmina Janjua and the special secretary is Tasneem Aslam. But Pakistan foreign office had not assigned any female diplomat to Saudi Arabia for the past 70 years and with this appointment have set a new precedent.
"I am the first female diplomat to serve in KSA. I am overall in-charge of consular section which provides facilities to service seekers such as passports, national identity cards, renewal and extension, travel documents etc.
Hailing from a very traditional background, she come from the part of Pakistan called southern Punjab. It is in the Saraiki belt of Pakistan, and she said, "People of the area, earlier, did not give much emphasis to girls education specially the higher education. But I am proud and credit my late father (Fayyaz Ahmad), who had vision, passion and courage that daughters should also get higher education."
Fozia holds a master degree in English literature from Islamic University of Bahawalpur and she passed Central Superior Service Exam (CSS exam) conducted by Federal Public Service Commission (FPSC) Islamabad and then joined foreign service of Pakistan. Her first posting was at Washington DC, and it was very rewarding and professional experience to work in such a big capital city. Then for a few years I served in Islamabad before being posted in New Delhi, India.
"Washington has different dynamics and in New Delhi the dynamics was totally different. In Delhi I got a chance to work in challenging environment and I learned a lot there. KSA is my third diplomatic posting. This is a new job for me because previously I had political assignments. But I am really taking it very positively."
She expressed happiness that due to her presence in consulate the accessibility of women has increased. She said my doors are open for everyone.
Answering a question, Fozia said, "I suggest and recommend in more female participation in diplomacy, and more female diplomats to be employed by the ministry in KSA."
Being housewife and diplomat, she said, "Sometimes it is very difficult and challenging. Because both have separate demands. But with the Grace of Allah my family, particularly my husband (Ahmed), is very cooperative and supportive so I manage."
She lauded Custodian of The Two Holy Mosques King Salman and Crown Prince Muhammad Bin Salman for their Vision 2030 and leadership of the Muslim Ummah.
http://www.saudigazette.com.sa/article/530975/SAUDI-ARABIA/Fayyaz-appointed-first-female-consular-at-Pakistan-Consulate
--------
President El-Sisi Honours 42 Egyptian Women on Mother's Day
22 March 2018
CAIRO: 42 Egyptian women were honored by Egyptian President Abdel Fattah El-Sisi as part of nationwide celebrations on Wednesday marking Mother's Day.
Speaking on the occasion, Sisi praised "the greatness of Egyptian women," in a ceremony held at a Cairo hotel.
Public figures, ministers, and Egypt's first lady attended the event.
Maya Morsi, Chairwoman of the National Council for Women (NCW), said Egyptian women are Egypt's third line of defense, after the army and the police, according to Al-Masry el-Youm newspaper.
Morsi said Egypt has a clear policy and approach to empowering women across all fields, referring to legislation and unprecedented laws recently issued to protect the rights of Egyptian women.
Meanwhile, Egyptian female celebrities filled social media with heartwarming messages as they expressed their gratitude towards mothers and motherhood.
Egyptian actress Donia Samir Ghanem sent her wishes to her mother Dalal Abdel Aziz in the form of a picture she has posted on her official Twitter account.
Egyptian singer Angham chose to celebrate the occasion her own way, by sharing a video of her newly released song that celebrate mother's love. "Mother, my backbone, my support, in your shadow I live .. no matter what I do to you is never enough." said the song's lyrics.
Meanwhile, singer Carmen Soliman, who was just blessed with a baby, posted on Instagram her latest song on how motherhood has changed her life, while asking fans to share the song with their beloved mothers.
The Arab world marks Mother's day on March 21 of every year.
http://www.arabnews.com/node/1271081/offbeat
--------
Climb on board: Afghan woman brings stories to Kabul's children
MARCH 21, 2018
LONDON (Thomson Reuters Foundation) - Undeterred by the risk of suicide bombers, 25-year-old Freshta Karim travels around Afghanistan's troubled capital every day in a big, blue bus to share the magic of reading with children.
After graduating from Britain's prestigious University of Oxford, she set up Kabul's first mobile library to let some of Afghanistan's 3.5 million out-of school children - mostly girls - listen to stories and pore over picture-books.
"When I was a child, I did not have the opportunity to go to a library and read the storybooks I wanted to read," she told the Thomson Reuters Foundation by phone from Kabul.
"My goal is to enable them not only to think critically, but also to be able to question the wrongdoing they see."
Afghanistan has one of the world's lowest literacy rates, with only three in 10 adults able to read, according to the United Nations cultural agency, UNESCO.
The Taliban have been waging an insurgency to overthrow Kabul's Western-backed government since their 2001 ouster and control large parts of the country.
While the education system has made significant gains since the Taliban era - when girls were excluded from formal education altogether - worsening security has forced many school closures.
After decades of war, more than four in 10 Afghan children are not in school, government data shows, with many working to support their families.
Karim set up the Charmaghz - meaning walnut in Dari - mobile library with three friends in January in a bus rented from the government, and painted it with colorful symbols, stars, balloons and footprints to attract children.
They installed bookshelves above the windows and chairs and desks for children and adults to sit and read - a luxury in a country where four in 10 schools do not even have a building, according to Human Rights Watch.
A sign over the windscreen reads "4 Maghz", or four minds, to spark the interest of passers-by.
"We intentionally did it to provoke the people's thought -whether we mean a walnut or four minds," said Karim, who went to school as a refugee in Pakistan and then won scholarships to study abroad.
CLIMB ON BOARD
Residents of Kabul have welcomed the library on wheels, which stops for three or four hours at a time in different parts of the city so that children can climb on board to read hundreds of fiction and non-fiction books.
"I loved the mobile library," said Farid, a 9-year-old shoeshine boy who is his family breadwinner and, like many Afghans, goes by one name.
"I was there with another 10 children and the boy read a story to us. I really enjoyed my time there."
Naweed Hamidi, who lives in northern Kabul, heard about the mobile library from relatives in the west of the city.
"My 12-year-old son keeps asking me almost every day about the mobile library and when will it come to our area," he said.
Karim said she has not approached any international donors for support, preferring to rely on donations from friends and relatives, and plans to charge users.
"No matter how small, but I would like them to pay something," she said.
"By putting a fee for the service, I encourage the children to value their time they spend in the library."
Streetchildren who cannot pay can donate a drawing or painting, she said.
It is not yet clear whether locals will be able to keep the mobile library running, but Karim is optimistic.
"The other day an army officer brought his young son into the bus and read him a book," she said, adding that he donated 20 afghanis ($0.29).
"We decided to keep that money and frame it because this is very first donation that we got from the community."
https://www.reuters.com/article/us-china-oil-futures-explainer/china-aims-to-challenge-brent-wti-oil-with-crude-futures-launch-idUSKBN1GY0S9
--------
Iran: UN experts alarmed by reports mistreatment of women activists
20 March 2018
Four UN experts issued a statement in Geneva, expressing alarm at the condition of human rights activists, imprisoned women, Atena Daemi and Golrokh Iraee, in Shahr-e Ray (aka Qarchak) Prison in Iran.
Michel Forst, the Special Rapporteur on the situation of human rights defenders; Dubravka Šimonovic, the Special Rapporteur on violence against women, its causes and consequences; David Kaye, the Special Rapporteur on the promotion and protection of the right to freedom of opinion and expression; and Mr. Nils Melzer, Special Rapporteur on torture and other cruel, inhuman or degrading treatment or punishment, expressed concern on March 19, 2018, "at the continued targeting of human rights defenders in Iran, including about reports that two well-known women human rights defenders have been subjected to beatings in detention."
The statement said, "On 12 March, the two defenders were reportedly beaten by riot guards following a disturbance, and then transferred to the general ward of the prison."
The experts noted in their statement, "We have attempted to initiate a dialogue with the authorities on this issue, to no avail. We call for the immediate release of Atena Daemi and Golrokh Ebrahimi Iraee, as well as the release of all those who have been imprisoned for exercising their rights to freedom of expression and peaceful assembly."
The experts also called on the authorities to ensure the two women were given access to appropriate medical care.
They said the actions had broader ramifications, instilling a sense of fear and creating an environment hostile to public debate and the free exercise of rights.
"Their cases are illustrative of a continuing pattern of harassment, intimidation and imprisonment of those undertaking peaceful and legitimate activities in the defense of human rights and prisoners of conscience, often through using vaguely worded or overly broad national security-related charges," they said.
The experts called on the authorities to carry out a prompt and impartial investigation into the allegations of beatings, and to ensure accountability for such actions.
http://women.ncr-iran.org/iran-women-news/4895-iran-un-experts-alarmed-by-reports-mistreatment-of-women-activists
--------
URL: https://www.newageislam.com/islam-women-feminism/3-uae-women-want-become/d/114681
New Age Islam, Islam Online, Islamic Website, African Muslim News, Arab World News, South Asia News, Indian Muslim News, World Muslim News, Women in Islam, Islamic Feminism, Arab Women, Women In Arab, Islamophobia in America, Muslim Women in West, Islam Women and Feminism