New Age Islam News Bureau
20 Jul 2014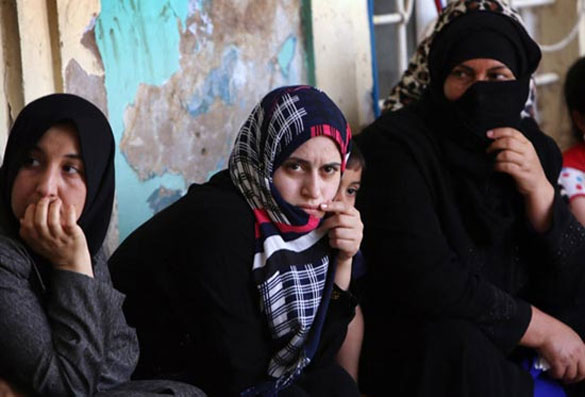 Women who fled ISIL violence in Ninawa wait to receive food at a mosque in Erbil.Safin/Hamed/AFP
----------
• Struggling To Keep Afghan Girl Safe after A Mullah Is Accused Of Rape
• Iraqi Women Scorn ISIL's 'Sex Jihad'
• Emirati Women Signing Up For Military Service
• Woman, Daughter Sentenced To Lashes by Taif Court
• Grand Mosque Police Arrest Female Pickpocket
• 'Self-Determination' Threatened By Veil Ban
• Daughters of Eve in Pakistan
• Transgenderism A Treatable Insanity, Claims Counsel in Shariah Law Review
Compiled by New Age Islam News Bureau
URL: https://www.newageislam.com/islam,-women-and-feminism/new-age-islam-news-bureau/24-women-seen-in-terrorist-camps-in-syria--tajik-interior-ministry/d/98207
----------
24 Women Seen In Terrorist Camps in Syria: Tajik Interior Ministry
20 July, 2014
Tajikistan's interior ministry announced that there are two dozen Tajik female nationals in the terrorist camps in Syria.
"A sum of 24 Tajik women and their husbands from Tajikistan's Soghd province are living in terrorist camps in Syria," Sharif Nazarov, Representative of Tajikistan's Interior Ministry in Soghd province told reporters.
He noted that the Tajik nationals who have not helped the militants in Syria will be pardoned upon their return home.
There are about 1,000 Tajik nationals fighting alongside other foreign militants against the Damascus government in Syria.
Earlier this week, sources revealed that Turkish Air has been transferring large groups of Takfiri terrorists from different countries to Syria and Iraq, including nearly a hundred Takfiri Tajiks to Iraq lately.
"The airliner transported 91 Takfiri Tajiks from Dushanbe to Istanbul at 21:10 on July 2 onboard flight 254," a source, who asked to remain unnamed for fear of his life, told FNA, and added, "The militants were later transferred to Iraq to join their ISIL co-fighters."
According to the source, the Saudi embassy in Dushanbe acts as the headquarters for recruiting, organizing and leading the terrorists in Tajikistan to send them to Syria and Iraq.
"Abu Tariq, the first secretary of the Saudi embassy, is in charge of payments and costs of the militants' transportation fees," he added.
The source also mentioned that "Turkish Air has transferred about 1,000 Takfiri Tajik fighters to Iraq so far".
In relevant remarks in October, Tajikistan's presidential spokesman confirmed reports of Tajik citizens fighting in Syria.
Abdufattokh Sharipov said that Tajik nationals fighting in Syria could present a danger to Tajikistan's own security if they returned home.
Sharipov added that Tajik authorities would ask Damascus to provide Dushanbe with more details about Tajik nationals fighting on Syrian territory.
Syria's grand mufti, Ahmad Badr Al-Din Hassoun, said in Moscow on October 27 that he believed around 100,000 foreigners - including from the United States, China, and European Union states - were fighting on the side of opposition forces in Syria's civil war.
Hassoun said that 190 Tajik nationals, as well as hundreds of fighters from other former Soviet republics - namely Azerbaijan, Georgia, Kazakhstan, Turkmenistan, and the Russian republic of Chechnya - were among the fighters.
http://english.farsnews.com/newstext.aspx?nn=13930429000495
----------
Struggling To Keep Afghan Girl Safe After A Mullah Is Accused Of Rape
20 July, 2014
KUNDUZ, Afghanistan — It was bad enough that the alleged rape took place in the sanctity of a mosque, and that the accused man was a mullah who invoked the familiar defense that it had been consensual sex.
But the victim was only 10 years old. And there was more: The authorities said her family members openly planned to carry out an "honor killing" in the case — against the young girl. The mullah offered to marry his victim instead.
This past week, the awful matter became even worse. On Tuesday, local policemen removed the girl from the shelter that had given her refuge and returned her to her family, despite complaints from women's activists that she was likely to be killed.
The case has broader repercussions. The head of the Women for Afghan Women shelter here where the girl took refuge, Dr. Hassina Sarwari, was at one point driven into hiding by death threats from the girl's family and other mullahs, who sought to play down the crime by arguing the girl was much older than 10. One militia commander sent Dr. Sarwari threatening texts and an ultimatum to return the girl to her family. The doctor said she now wanted to flee Afghanistan.
The head of the women's affairs office in Kunduz, Nederah Geyah, who actively campaigned to have the young girl protected from her family and the mullah prosecuted, resigned on May 21 and moved to another part of the country.
The case itself would just be an aberrant atrocity, except that the resulting support for the mullah, and for the girl's family and its honor killing plans, have become emblematic of a broader failure to help Afghan women who have been victims of violence.
The result challenges hopes that Western aid and encouragement can make lasting headway on behalf of Afghan women, particularly in remote parts of the country where traditional customs are still stronger than modern law. Here, Taliban insurgents and pro-government elements often make common cause in their hatred of progress in women's rights, most of which has come about with international funding and pressure.
Most of the anger in Kunduz has been focused not on the mullah but on the women's activists and the shelter, which is one of seven operated across Afghanistan by W omen for Afghan Women, an Afghan-run charity that is heavily dependent on American aid, from both government and private donors.
"People know this office as the Americans' office," Dr. Sarwari said. "They all think the shelter is an American shelter. There isn't a single American here," she said.
"W.A.W. is not American-run," said Manizha Naderi, its executive director. "Every single staff member is an Afghan. They are from the communities we work in. Our only concern is to make sure women and girls are protected and that they get justice."
As the Western withdrawal from Afghanistan has accelerated, rights advocates are seeing a sharp difference in their funding. "We already see the signs of losing the support of the international community," said Ms. Geyah, in an interview before she resigned. "No one's funding new civil society programs anymore. None of the foreigners show up anymore; they're all in hiding. And I think what gains we have achieved the last 13 years, we're slowly losing all of them."
Continue reading the main story
The accused mullah, Mohammad Amin, was arrested and confessed to having sex with the girl after Quran recitation classes at the mosque on May 1, but claimed that he thought the girl was older and that she responded to his advances.
The girl's own testimony, and medical evidence, supported a rape so violent that it caused a fistula, or a break in the wall between the vagina and rectum, according to the police and the official bill of indictment. She bled so profusely after the attack that she was at one point in danger of losing her life because of a delay in getting medical care.
After the two women's officials began speaking out about the case, they started receiving threatening calls from mullahs — some of them Taliban, others on the government side — and from arbakai, or pro-government militiamen. One of their claims was that the girl was actually 17, and thus of marriageable age, not 10.
Photographs of the girl that Dr. Sarwari took in the hospital clearly show a pre-pubescent child, and the doctor said the girl weighed only 40 pounds. Few Afghans have birth records, and many do not know their precise ages. But the girl's mother said she was 10, and a forensic examination in the hospital agreed, saying she had not yet started menstruating or developing secondary sexual characteristics.
In the photographs, which Dr. Sarwari displayed on her laptop computer recently, the girl has beautiful alabaster features and inky black hair cut in a pageboy style. She lay in her hospital bed under a quilted blanket with cartoon characters on it.
Ms. Geyah said she showed photos of the girl to government officials and prosecutors to prove that she was much too young to have consented. Dr. Sarwari said, "We wanted to give her a face, to make her real to them."
Ms. Geyah said: "I went to the hospital when they brought her there. I was sitting next to her bed when I overheard her mother and aunt saying that her father was under tremendous pressure by the villagers to kill the girl because she had brought shame to them."
Such honor killings in rape cases are common in Afghanistan, and are often more important to the victim's family than vengeance against the attacker. Human rights groups say about 150 honor killings a year come to light, and many more probably go unreported.
When Dr. Sarwari, who is a pediatrician, arrived to pick up the girl at the hospital, a crowd of village elders from Alti Gumbad, the girl's home village on the outskirts of the city of Kunduz, were gathered outside the hospital; the girl's brothers, father and uncle were among them. Inside, Dr. Sarwari encountered the girl's aunt, who told her she had been ordered by her husband to sneak the girl out of the hospital and deliver her to the male relatives outside. "She said they wanted to take her and kill her, and dump her in the river," Dr. Sarwari said.
Efforts to reach the girl's relatives by telephone were unsuccessful, and insurgent activity around Alti Gumbad made the village too dangerous for journalists to visit. "The girl's family gave us a guarantee that they would not harm her," said Sayed Sarwar Hussaini, head of the Kunduz police criminal investigation division. "We would not hand her back unless we were sure."
Continue reading the main storyContinue reading the main storyContinue reading the main story
In the hospital room, the doctor found the girl's mother holding her child's hand, and both were weeping. "My daughter, may dust and soil protect you now," Dr. Sarwari quoted the mother as saying. "We will make you a bed of dust and soil. We will send you to the cemetery where you will be safe."
Even mothers here often believe that there is no choice but to kill rape victims, who are seen as unmarriageable and therefore a lifelong burden to their families, as well as a constant reminder of dishonor. "Their men feel they have to wash their shame with blood," Dr. Sarwari said.
The doctor took the girl away to the shelter. Afterward, Dr. Sarwari and several women's affairs officials were threatened by the girl's family, and by other mullahs. "They call me and curse me, and threaten to kill me and my family, and say they know where I live," Dr. Sarwari said. "They say, once your American husbands leave Afghanistan, we will do what we want to you." (Her husband is an Afghan doctor and war veteran.)
Dr. Sarwari has accused prosecutors and religious officials of siding with the accused rapist and ignoring the child's plight.
"There are a lot of powerful people behind the mullah," Dr. Sarwari said. The girl's family knows they cannot do anything to Mr. Amin, she said, but "the girl is easy. They can get to her; she's their daughter." She said she feared the girl would either be killed, or forced to recant her accusations against the mullah.
Women for Afghan Women arranged for the girl to get medical treatment, and after she healed, she was returned to the shelter in Kunduz, about two weeks ago, until the police returned her to her family last Tuesday. Those caring for the girl said she had been terribly homesick and wanted to return to her family, but no one had the heart to tell her they had been conspiring to kill her.
Habib Zahori contributed reporting from Kunduz, and Jawad Sukhanyar from Kabul, Afghanistan.
http://www.nytimes.com/2014/07/20/world/asia/struggling-to-keep-afghan-girl-safe-after-a-mullah-is-accused-of-rape.html?hp&action=click&pgtype=Homepage&version=HpHeadline&module=second-column-region&region=top-news&WT.nav=top-news
----------
Iraqi Women Scorn ISIL's 'Sex Jihad'
20 July, 2014
BEIRUT – Iraqis living in Lebanon told Al-Shorfa they are outraged that the Islamic State of Iraq and the Levant (ISIL) has been forcing women in northern Iraq to marry its fighters for "sexual jihad."
Earlier this month, the Iraqi Ministry of Human Rights said it has recorded a number of ISIL violations of Iraqi women's rights.
These include forcing several women to "satisfy the sexual desires of the group's fighters, or what is known as the 'sexual jihad fatwa', and forcing minors to marry them," ministry spokesman Kamel Amine said.
Also this month, UN undersecretary general and executive director of UN Women Phumzile Mlambo-Ngcuka announced that four Iraqi women have committed suicide after being raped or forced to marry ISIL fighters.
"What is happening is a disgrace," said Mona Mahdi, a 21-year-old university student studying hotel management who has been living with her family in Lebanon for the past seven years.
"We cannot, in the third millennium, turn back decades to what ISIL proclaims," she said. "ISIL and its so-called caliph cannot govern us in the name of religion, enforce rulings on us that have nothing to do with human rights, or impose their humiliating laws on Iraqi women."
A violation of honour and principles
ISIL's treatment of girls in Ninawa and Mosul is "a flagrant violation of honour and principles," said her brother, Zain Mahdi, a university professor.
"Sexual jihad is foreign to Iraqi traditions," he said, adding, "It is outright prostitution and a response to perverse desires."
Mahdi called on Iraqi society to counter this "corrupt and abominable" phenomenon.
"[ISIL] wants to establish a caliphate that has nothing to do with Islam, which respects man and safeguards and respects women's rights," he said.
Iraqis cannot live under such a caliphate that would put an end to modern life and undermine the rule of civil law, university student Assil Flaih, who is studying business management at the American University of Science and Technology in Beirut, told Al-Shorfa.
"We will not return our Iraq to laws that insult women and undermine their dignity, and we will not give up the modern civilised life we have reached," she said.
http://centralasiaonline.com/en_GB/articles/caii/features/main/2014/07/18/feature-02
----------
Emirati women signing up for military service
20 July, 2014
DUBAI – Hundreds of young Emiratis are registering for military service in special recruitment centers all over the country for the first time in history.
"We are making history as we join the national service as the first exemplary batch, which is a big achievement and a matter of honor for us all," one of the recruits, Ganem Al-Junaibi told the Gulf News.
Registration for Emirati men is to last until July 17. Emirati women can also sign up for optional service from July 20 to July 24. Overall, some 7,000 Emiratis are to be called up for national military service by the beginning of September 2014.
National military service in the United Arab Emirates is to consist of military exercises and compulsory lectures on patriotism.
Chairman of the National Service, General Pilot Shaikh Ahmad Bin Tahnoun Al Nahyan, is sure the military service will help young Emiratis become responsible citizens.
"You will preserve and defend those basic principles on which our nation has been built. Through military discipline, our youth will gain physical strength, endurance, knowledge, and spirit," Gulf News quoted Al Nahyan as saying to the recruits.
UAE President Shaikh Khalifa Bin Zayed Al Nahyan approved the law introducing mandatory military service for all Emirati men aged 18-30 last month. Emirati men who have finished secondary school are to undergo military training for nine months, while others are to serve for two years. National service for women is optional, and first they have to receive written permission from their parents or guardians.
Emirati men that fail to sign up for the service before they are 29 are to face a jail term of up to one year and a fine. – Agencies
http://www.saudigazette.com.sa/index.cfm?method=home.regcon&contentid=20140720212072
---------
Woman, Daughter Sentenced To Lashes by Taif Court
20 July, 2014
TAIF — The District Court in Taif has sentenced a Palestinian woman to 30 lashes and asked her to submit a written apology to a General Court employee who she accused of accepting bribes. The woman and her daughter used to frequent the court and accost employees and show disrespect to the judicial council, which forced a judge to refer them to the bureau of Investigation and Public Prosecution. The judge also sentenced her daughter to 30 lashes and granted both 30 days to appeal the sentences.
http://www.saudigazette.com.sa/index.cfm?method=home.regcon&contentid=20140720212128
---------
Grand Mosque police arrest female pickpocket
20 July, 2014
MAKKAH — Search and investigation teams at the Grand Mosque detained an Arab woman who they suspected of being a pickpocket. The head of the Grand Mosque Security Force, Maj. Gen. Yahya Al-Zahrani, said the force had received several reports of pickpockets targeting pilgrims and visitors. As a result, monitoring of crowded areas was intensified and the woman was caught acting suspiciously, Al-Zahrani said. He added that the woman was found to be residing in a nearby hotel and officers found US dollars, Egyptian pounds and other currencies in her room, in addition to 19 mobile phones and 13 watches, jewelry and handbags. The currencies and other stolen items were estimated to be worth SR43,000. The suspect was referred to the concerned bodies for further action.
http://www.saudigazette.com.sa/index.cfm?method=home.regcon&contentid=20140720212098
---------
'Self-Determination' Threatened By Veil Ban
20 July, 2014
Imagine a woman being assaulted for being dressed too modestly or being denied health care because she is dressed conservatively.
These reflections inevitably bring to the mind an image of a society where a woman's right to self-determination is denied.
They evoke the image of a society which holds women to be so intellectually weak that they cannot even choose how to dress; a society where a woman's worth is no more than that of a doll to be dressed and undressed as you please.
This society, ironically, is one which claims to uphold the rights of women to live their life free from oppression.
This is France, a secular state which claims to be an advocate of women's rights. In 2004, France banned Muslim girls and women from covering their hair in schools.
This ban on headscarves or Hijabs led to widespread discrimination against Muslim women.
Female teachers were forced to choose between their jobs and their Hijabs and Muslim mothers were barred from participating in school activities.
Since this controversial law, Muslim women in France wearing the Hijab became the target of intolerance, and physical and verbal assaults of Muslim women increased.
In 2011, France went even further and barred the face veil worn by Muslim women from public places.
The law states that a woman wearing a face veil can be arrested and fined. She can also be denied healthcare, education and other public services.
While it is true that the ban against face covering applies to all, irrespective of religious affiliations, it cannot be denied that Muslim women constitute the majority of those who veil the face and are the ones who are most affected by this ban.
Thus, on one side there are some 'Islamic' governments who insist on covering women from head to toe at all cost.
On the other side there is the French government insisting that Muslim women wear no covering and go to great lengths to remove their headscarves and veils, whether the women like it or not.
In both cases, women are being victimized and nobody cares enough to listen to what they want. Islam enjoins modesty in thoughts, speech, behaviour and dress for both men and women.
Women are additionally advised to "disclose not their beauty except that which is apparent thereof, and that they draw their head-coverings over their bosoms." (Holy Quran 24:32).
The form that this covering takes varies according to one's tradition and culture as is evidenced by the wide variations of Hijabs in the Muslim world.
A good majority of Muslim women adopt the Hijab and veil due to the desire to fully abide by all Islamic injunctions.
Forcing a Muslim woman to remove her Hijab or veil is most certainly a vile thing to do and can only cause distress and offence to the woman's religious sentiments and values.
Instead of liberating them from oppression, such coercion subjects Muslim women to hurtful and humiliating discrimination and intolerance.
A woman's right to self-determination cannot be snatched in the name of upholding secularism.
Indeed, Hazrat Mirza Masroor Ahmad, Head of the Ahmadiyya Muslim Community, has correctly asked (Peace Symposium, 2010): "Is it such a heinous crime to cover one's head and chin with a piece of cloth so that an entire Parliament sits to pass a law against it?"
http://bermudasun.bm/Content/FAITH/Faith/Article/-Self-determination--threatened-by-veil-ban/42/140/79253
----------
Daughters of Eve In Pakistan
20 July, 2014
Lahore - Women have a history of being looked upon as slaves. Though Islam elevated the status of women as daughter, mother, sister and wife; our society is still reluctant to respect them in real manner. We are persistent to confine the women to houses, depriving them of their rights to get education, marry to someone of their own choice. Islam defines equal rights for men and women, which allows women to be a vital part of the society. Looking back in the past, we witness women from the household and companionship of the Holy Prophet (PBUH) doing great tasks helping build the Islamic society. They maintained their households, along with participating in wars against infidels, serving water and tending to injured. Preachers, they were, among their own gender. Khadija bint Khuwaylid (RA) was a wealthy and well-respected businesswoman before her marriage to the holy Prophet. Razia Sultana, the famous Mughal empress, is also widely respected in our society.
French leader Napoleon Bonaparte said, "Give me good mothers and I shall give you a great nation!". Russia and Japan other trained thousand of women as soldiers to serve in the World Wars. But our society doesn't allow women to be better at any level. Here in Pakistan, we are still arguing over the belief whether women should take part in social and cultural activities or not. Women, in our country, are still deprived of their financial, economic, social and political rights. The rights of women in Pakistan are not protected at all. She is a victim of violence at home; eve teasing on streets; and sexual harassment at work field. She is undoubtedly dealt with injustice and unfairness in our society.
In rural areas of Pakistan, women are not being provided with basic education. Illiteracy is prevailing, which is leading towards more violence and devastation. Malala Yousaf Zai, the girl from Swat, was shot in the head for trying to pursue education. Dozens of rape, torture and acid throwing incidents are being reported on daily basis from these areas. Honour killings and forced marriages are some of the unacceptable violence against the women in our society, which result in lifelong agony and sufferings. Over the years, we have allowed our values to be subverted by the Middle Eastern culture, which is brought over from Pakistanis working in the region. While driving through Skardu last year, I saw several signs stating "Dear sisters, Hijab is our culture. Be considerate so that you are respected". In my opinion, Hijab (veiling face) has never been a part of our culture, rather than a choice in our religion and should be respected.
Former dictator Ziaul Haq is known for his conservative leanings. His era is regarded as retrogressive for women rights. Hudood Laws, passed during his period, are yet the causes of concern for women right activists in the country. However, this era also saw some significant steps towards realization of women rights. A New Women's Division was established in 1979 at the Cabinet secretariat level. Most importantly his rule saw an unprecedented inclusion of females in work force. In recent years, our media has been extremely vocal and highlighted such violence. But our government should pay special attention to eliminate such injustice with women and safeguard the women rights in Pakistan. In the constitution of Pakistan 1973, the article 25(1) states, "All citizens are equal and are entitled to equal protection of law''.
During former premiere Benazir Bhutto's election campaigns in 1988, she voiced concerns over discrimination against women. She announced different plans to set up women's police stations, courts and women's development banks. She also promised to repeal controversial Hudood laws that curtailed the rights of women. However, during her two incomplete terms in office (1988-90 and 1993-96), she could not propose any legislation to improve social status of Pakistan women. She was unable to repeal a single one of 'Islamic laws' which were protected both from ordinary legislative modification and from judicial review by virtue of the eighth constitutional amendment.
Status of women in any society is determined by the rights enjoyed by them. The developed societies give equal rights to women so that they can play their role in the progress and development. However, the backward societies deprive women even of their basic human rights. In order to protect the rights of women in professional field, the Labour Laws And Factories Act 1934 included special discussions for the securing women from violence. The need of the hour is to root out these causes which violate women rights so that they can play their role in progress and development of the country. Companies and institutions should design policies and implement them strictly to protect the rights of women. Women in our country badly need anti-harassment policy and equal employment opportunities, which are their genuine rights.
http://www.nation.com.pk/national/18-Jul-2014/daughters-of-eve-in-pakistan
----------
Transgenderism a treatable insanity, claims counsel in Shariah law review
20 July, 2014
PUTRAJAYA — Transgenderism is a curable "psychological condition" that does not preclude those with the disorder from being subject to Shariah law, Negri Sembilan's state legal adviser asserted in a judicial review of a state enactment that criminalises cross-dressing today.
He also told the Court of Appeal here that there is a simple solution to the alleged harassment and arrests that the community faces regularly: force transgenders to dress "like they are supposed to".
"Just because people have a medical condition, mental health disorder, doesn't mean that they're not subject to a law," said Iskandar Ali Dewa, the lead counsel for the respondents that include the Negri Sembilan state government, state religious authority and its officers.
According to Iskandar, transgenders can already defend themselves under Section 11 of the Negri Sembilan Shariah Criminal Enactment 1992 by pleading insanity.
But his offered solution drew criticism from the panel of judges, who also expressed scepticism at the lawyer's earlier psychiatric analysis.
"I think that's a far-fetched interpretation of 'insanity' … I'm still trying to recover from your claim," said Justice Datuk Mohd Hishammuddin Mohd Yunus afterwards, who chaired the three-man bench.
Iskandar said Section 66 that outlaws cross-dressing does not deprive transgenders of their fundamental liberties, since they "have no right to dress as female" in the first place.
According to Iskandar, Section 66 does not apply to women who cross-dress as men, but he failed to explain why when the judge queried him.
He also claimed that transgenders are exacerbating their condition instead of "curing" themselves, by cross-dressing and undergoing hormone treatments.
"They're just making it worse … There exists men who have inclinations as women, but they continue to live as males," said Iskandar.
But he failed to provide any medical evidence to support any of his claims, leading to a rebuke from the judges.
Lawyers Aston Paiva and Fahri Azzat represented three transgender clients who contend that Section 66 violates constitutional articles and do not apply to those diagnosed with GID.
The appellants were medically diagnosed with GID under the Diagnostic and Statistical Manual of Mental Disorders Fourth Edition (DSM IV), consistent with "the desire to dress as a female and be recognised as a female".
GID is widely recognised as a life-long medical condition with no discernible "cure".
The appellants claimed that the section violates Article 8(2) that governs gender discrimination, 10(1)(a) on freedom of expression, 9(2) on freedom of movement, and 5(1) on the rights to dignity, privacy and livelihood.
The court will deliver its judgment on November 7.
The three appellants had raised the matter in the Seremban High Court, but lost when Justice Datuk Siti Mariah Ahmad ruled on October 11, 2012 that Section 66 excludes the transgender people from fundamental liberties under the Constitution.
The case also exemplifies the ongoing tussle between conservative Malaysia and its progressive side that is increasingly tolerant of the lesbian, gay, bisexual and transgender communities (LGBT).
Muslim-majority Malaysia continues to reject the perceived rise in LGBT activity, which together with growing calls for greater civil liberties, they deem to be an assault against Islam.
"Transwomen" or "transgender" are terms used to refer to those who were born male but associate themselves with the female identity, and have nothing to do with sexual preferences.
http://www.themalaymailonline.com/malaysia/article/transgenderism-aable-insanity-claims-negri-counsel-in-shariah-law-review#sthash.V4tGJ92O.dpuf
----------
URL: https://www.newageislam.com/islam,-women-and-feminism/new-age-islam-news-bureau/24-women-seen-in-terrorist-camps-in-syria--tajik-interior-ministry/d/98207