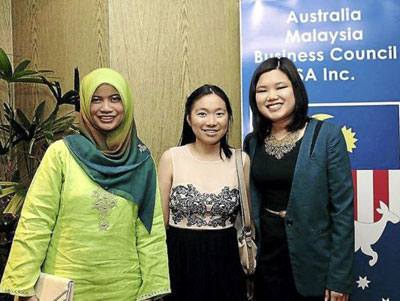 Photo: Girls once again sweep top three prizes for Malaysian varsity students
Woman arrested for sexual exploitation of 14-year-old girl in Maldives
Protests Target Female Non-Muslim Chief
Hijab-wearing Girls Banned from School in Azerbaijan
Summit on Women's Leadership In Pakistan Call to strengthen women's role in governance
Shortage of female security forces may keep Afghan women from presidential vote
27-year-old Shirine, Norwegian activist stays in Syria to fight 'injustice'
Iran foreign ministry appoints first-ever spokeswoman
'Afghan Women's Writing Project' Enables Women in Afghanistan to Read, Write in Secret
Ethiopian Housemaid Nabbed For Allegedly Attacking Sponsor
Girls Once Again Sweep Top Three Prizes For Malaysian Varsity Students
500 Women Entrepreneurs to Showcase Their Products at Riyadh Exhibition
Compiled by New Age Islam News Bureau
URL: http://www.newageislam.com/islam,-women-and-feminism/new-age-islam-news-bureau/22-women-held-for-'militancy'-at-jamaat-i-islami-leader's-house-in-bangladesh/d/13260
---------
22 Women Held For 'Militancy' At Jamaat-I-Islami Leader's House in Bangladesh
29 August 2013
The women were allegedly meeting for militancy training at a local Jamaat leader's house
Police arrested 22 women activists of Jamaat's student wing Islami Chhatri Sangstha at Poikkha-Hosnabad village in Barisal's Muladi upazila yesterday.
Police said the women were allegedly meeting for militancy training at a local Jamaat leader's house.
The women arrested however deny being involved in any illegal activities, and said they were a group of friends who had gathered for an Eid reunion.
Shah Alam Hawladar, officer-in-charge (OC) of Muladi police station, said police raided the house of Jamaat-i-Islami's Gachhuya union unit secretary in the afternoon on a tip-off, where they detained 22 women activists. Ataur Rahman and his family fled the scene.
Law enforcers seized a diary, a register, two CDs on Jamaat's activities and 36 books, including several titles written by Ghulam Azam, Motiur Rahman Nizami, and Delwar Hossain Sayedee, which were in the women's possession.
Among those arrested one young woman is a student of Barisal BM College, and the others are school and college students from Gachhuya union, said Md Qamaruzzaman assistant police superintendent of Gournadi.
http://www.dhakatribune.com/crime/2013/aug/29/22-women-held-%E2%80%98militancy%E2%80%99
---------
Woman arrested for sexual exploitation of 14-year-old girl in Maldives
August 28, 2013
A woman has been arrested in Haa Dhaalu Makunudhoo for sexual exploitation of a 14-year-old girl.
The police said that the Haa Dhaalu Kulhudhuffushi Magistrate Court has given a detention period of 15 days for the 38-year-old woman.
She was arrested under a court warrant on 26 August at 7:15 pm, following a case filed to the police by the Kulhudhuffushi Family and Children's Service Centre on 19 August.
The police also arrested a 42-year-old man under a court warrant on 19 August at 11:30 pm in relation to the same case.
The Haa Dhaalu Kulhudhuffushi Magistrate Court has given a detention period of 13 days for him, said the police.
Sun has come to know that the woman arrested in relation to this case is a relative of the victim.
This case is under investigation by the Kulhudhuffushi Police Station.
http://sun.mv/english/15515
-----------
Protests Target Female Non-Muslim Chief
By Lenny Tristia Tambun & Bayu Marhaenjati
August 29, 2013.
The campaign against a South Jakarta ward chief for being a non-Muslim woman intensified on Wednesday, with hundreds of residents protesting outside the office of the local official they say will have limited ability to mingle with the Muslim-majority residents or attend religious functions.
Lenteng Agung residents last week circulated a petition calling for the dismissal of ward chief Susan Jasmine Zulkifli, but the request was turned down by the provincial government, who is responsible for her appointment.
At Wednesday's demonstration, protesters said the Jakarta administration should have chosen a leader whose religion was the same as that of the majority. With regard to her gender, the protesters said she would not be able to partake in important men-only events.
"This [appointment] did not take into account the sociocultural history of the Lenteng Agung area," said Nasri Nasrullah, one of the protestors, as quoted by Tempo on Wednesday.
Nasri said the protest did not constitute hatred or religious slurs against Susan but was a criticism of the government.
Nasri said protests would continue if Jakarta Governor Joko Widodo refused to move Susan from Lenteng Agung.
Susan was working in her office during the protest. "I have a deputy. Let's say I can't attend because I'm not Muslim, I still have a deputy and staff to represent me," she said.
Susan defended the right of citizens to protest. "They are my residents, they can voice their concerns. But I am only carrying out my duties in accordance with the [gubernatorial] decree," Susan said.
Not afraid
Jakarta Deputy Governor Basuki Tjahaja Purnama said the city administration is not afraid of the protestors and called on them to remain peaceful if they choose to rally.
Basuki continued his criticism of Lenteng Agung residents' opposition.
"What's the population of Lenteng Agung? Fifty-thousand? How many took part in the protest? How can you judge people by the color of their skin?" Basuki said at City Hall on Wednesday.
"How many of them staged a demo? If the country is afraid of dozens of people like that, this country will be ruined. I can also send 1,000 people from Belitung to protest against SBY [President Susilo Bambang Yudhoyono], can't I? But that's just ridiculous."
Basuki threatened to take a legal action if the protests turned violent or anarchic. "If they turn to violence, [they] will be legally processed. The regulation is clear," he said. He called on Lenteng Agung residents to accept the city's decision to appoint Susan as their ward chief, adding that the city's decisions could not satisfy everyone but were intended to improve the prosperity of Jakarta residents.
Joko's doubts
Governor Joko said the local opposition stemmed not from religious differences but from an internal rivalry in the ward.
He added that the protestors were not Lenteng Agung residents.
"From what I know, those who protested are not Lenteng Agung residents. There have been some conflicts and internal rivalries," Joko said on Wednesday.
Unconfirmed reports circulated that the protests were in reality because she had defeated other Lenteng Agung ward staff, including the ward deputy, in securing the top job two months ago.
Susan was previously the head of the Structure and Infrastructure division in the Senen ward.
The governor said he had not taken any action yet on the complaints but was investigating the cause. "I have checked. I already know what the real problem is. But I don't want to publicize it just yet because I have just started processing it," he said.
Joko said the appointment of a civil servant to a role was based on the civil servant's achievement and capability, and not religion or race.
No second thoughts
Joko said he had not reconsidered Susan's appointment as Lenteng Agung ward chief.
"I want to emphasize that we assign someone to a certain place based on achievement and capability. In terms of a review, that has not crossed my mind until now," Joko said.
He said that only time would tell if Susan's performed well as ward chief. He added that she had only been in the job for two months, but a ward chief does not face a performance evaluation until he or she has been in the job for six months.
"I don't have any plans to replace the ward chief. Replacing a ward chief should be because of achievement and capability problems," the governor added.
Jakarta Employment Agency (BKD) head I Made Karmayoga said he South Jakarta mayor Syamsudin Noor had reported that Susan was a "good and a capable ward chief."
"[Public] services there continue to run normally. Susan's performance is still good," Karmayoga said. The official said Susan performed satisfactorily in the test to become a ward chief.
Human rights
Human rights group the Setara Institute said the petition to oust Susan from her position constituted intolerance and discrimination against Susan, and called on Joko and Basuki to oppose the prejudice.
The leaders "must show firmly that the administration is run based on the Indonesian Constitution and the law," Setara Institute chairman Hendardi said.
Hendardi said that every citizen has an equal right to assume a position and that caving in to the request would create a bad precedent and spread intolerance.
He added that the city administration still needs to address a case of intolerance in Tambora, West Jakarta.
In 2007 Tambora residents opposed a plan to turn a school into a church, saying it violated a 1998 gubernatorial decree.
The church's supporters insisted they had used the school hall for religious activities since 1968 because they had no other place to pray.
Joko sought to solve the problem in February, but no progress has been reported.
http://www.thejakartaglobe.com/news/protests-target-female-non-muslim-chief/
----------
Hijab-wearing Girls Banned from School in Azerbaijan
29 August 2013
(Ahlul Bayt News Agency) - He said that from the beginning of this year's school year, high school students will have to wear special uniforms and that, girls should refuse to wear Hijab.
The minister added that the uniforms for students are designed based on the regulations of schools.
Last year, a ban on wearing Hijab in high schools drew widespread criticisms and protests in the Republic of Azerbaijan.
Those opposed to the ban held a demonstration in front of the education ministry in Baku last year.
Around 98 percent of the population of Azerbaijan is Muslim and a ban on the Islamic dress code is not mentioned in the country's constitution.
Muslim communities in Azerbaijan blame the growing secularism in the country on Tel Aviv and accuse Israel of being behind the anti-Islamic programs.
http://abna.ir/data.asp?lang=3&Id=456643
---------
Summit on Women's Leadership In Pakistan Call to strengthen women's role in governance
FATIMA MUJTABA
2013-08-29
ISLAMABAD: "No nation can be worthy of its existence that cannot take its women along with men. No struggle can ever succeed without women participating side by side with men," former National Assembly speaker Fehmida Mirza quoted Quaid-i-Azam Muhammad Ali Jinnah as saying.
She was addressing an audience of women parliamentarians at the 'National Networking Summit on Women's Leadership' on Wednesday.
The summit was organised by Search for Common Ground and PAIMAN to strengthen women's role in the governance process.
Despite this vision set by the Quaid, the dominant perception is that a woman is the extension of her man, said Salman Asif, gender adviser at the UN. It is her responsibility to protect his honour and respect, he added.
Echoing this notion, Jamaat-i-Islami's Raheela Qazi argued that women in her party were allowed by her father, Qazi Hussain Ahmed, to campaign in the electoral process, in many contentious areas for democratic female participation, such as Lower and Upper Dir.
However, many parliamentarians said that it was this very language of submission to patriarchal demands that subverted an equal voice and agency.
"Whether it is the liberal parties or the conservative ones, there is still reluctance to award tickets to female members," said Farzana Bari, professor at Quaid-i-Azam University.
In the current election, only 16 women were elected on general seats. Further research indicates, particularly at provincial levels, women politicians felt that they lacked networks and linkages with key stakeholders to be able to influence any process of change. Yet, there are many stories of resilience. Rukkaya Hashmi of the Balochistan National Party remembers witnessing the massacre in Hazara Town of Quetta where hundreds of people were killed in bomb blasts.
"I was shaken but my courage emerged, and I started talking. Suddenly I was getting heard; I was the most prominent person in the crowd. That was shocking for me, but next I knew I was leading the delegation to discuss the situation with the President of Pakistan."Women are not so different from men, contended Afiya Zia, a Karachi-based activist.
"We need to ensure our role in the mainstream, and ensure that we are not marginalising ourselves. The question often arises if women in parliament have made contributions to earn the appreciation they often demand?"
Ms Zia maintained that the popular mode of empowerment was through donor-driven programmes, which are often critiqued for being depolitised.
This is an interesting point, since this particular programme organised by Search for Common Ground and PAIMAN was funded by the US State Department.
So while the conversation may be important in addressing the gaps that challenge female participation, the mode and structure of this dialogue may also need to be re-organised.
http://dawn.com/news/1039031/call-to-strengthen-womens-role-in-governance
----------
Shortage of female security forces may keep Afghan women from presidential vote
Reuters | Aug 28, 2013
KABUL: Women across Afghanistan risk being unable to vote in next year's presidential elections because of a severe shortage of women in the security forces, the country's election monitor said on Wednesday.
Afghanistan's Independent Election Commission (IEC) said that there were just 2,000 of the required 12,000 women needed to carry out body searches required for voters entering polling stations set aside specially for women.
Voting is segregated as the two sexes are not permitted to mingle in public in conservative Afghanistan.
The shortfall of women staff is one of the greatest challenges facing the government ahead of the vote, planned for April 5.
"This is a really important issue for the IEC. We must have the same opportunities for male and females," IEC spokesman Noor Mohammad Noor said.
Recruiting women into the police force was considered an important victory for Western efforts to promote equality after the toppling of the hardline Islamist Taliban in 2001.
However, a Reuters report late last year found the aspirations of Afghanistan's female police force have been poisoned by a steady stream of taunts, molestations and even rapes by their male colleagues.
Recruitment has proved slow and numbers remain far below President Hamid Karzai's target of 5,000 women by the end of 2014.
To make up for the election day shortfall, the ministry of interior is considering training female teachers to carry out searches at polling stations, the IEC said.
The ministry of education was prepared to "help in any way possible", a spokesman said, though it was unclear whether the plan was workable.
Election officials encountered similar problems at the 2009 presidential poll, with female staff present at only 30 per cent of polling stations set aside for women.
No figures for turnout of female voters are available, but officials say the numbers were very low, except in central Bamiyan province and areas in the country's north. In some areas in the less secure south and southeast, officials and international observers reported that almost no women voted.
Even if the ministry finds and trains the 10,000 women needed to secure polling stations, in Afghanistan's most conservative provinces, hardly any women have registered to vote.
"We have been visiting homes and trying to get women together to explain why voting is important, that they have a voice and despite government corruption their vote does matter," said Neda Khaihani, a member of the provincial council in Baghlan in the north.
"We've been working for months and only have eight women registered at the moment."
http://timesofindia.indiatimes.com/world/middle-east/Shortage-of-female-security-forces-may-keep-Afghan-women-from-presidential-vote/articleshow/22122309.cms
----------
27-year-old Shirine, Norwegian activist stays in Syria to fight 'injustice'
28 August 2013
Fayruz Sado
For security reasons, 27-year-old Shirine cannot disclose her full name. She is a Norwegian of Turkish decent who went from Norway to Syria in May in order to fight against the regime of Syrian President Bashar al-Assad. accompanied by her 32-year-old Algerian husband.
Shirine was accompanied by her 32-year-old husband, a Norwegian of Algerian decent, who was killed in action two months after the couple arrived in Syria. After her husband's death, Shirine decided to stay in the country and continue what she deemed to be a war against injustice.
The relatively normal and liberal couple could not be described as "militants" or supporters of any terrorist group, according to their friends in Oslo.
In fact, Shirine is described as a "normal, young Norwegian girl who liked to party, have fun and live her life," one of her friends, who spoke to Al Arabiya English on condition of anonymity, said. The friend added that she is shocked but proud of Shirine's decision.
Shirine states that she joined the Syrian opposition to help the people of the country.
"When we went to the Syria, we weren't sure what we could do for the Syrian people, but doing anything is considered something. My husband joined the rebel army and I tried to mainly provide food and water for the villagers," she told Al Arabiya English.
Her husband was injured in a rocket attack while he was on his way to get food. He was then transferred to a hospital in Idlib with wounds in his upper body, he did not survive his injuries.
A few days after her husband's death, Shirine posted a video on YouTube, telling her story and crying for help for Syria. The video has been translated into English.
"There are dead people everywhere. We have no doctors who can save those who are left and in need. The Syrian army is using brutal methods to increase a form of fear within the civilian population," Shirine says in the video.
There have been reports of other Scandinavian nationals, traveling to Syria to partake in the conflict. Scandinavian governments have expressed concern regarding the trend, according comments made by Norwegian Security Police Advisor Siv Alsén, reported by Norwegian newspaper Verdens Gang.
"Some of the young Muslims who have chosen to conduct Jihadist activities in Syria will come back to Norway with greater intention and capacity to plan terrorist attacks," Alsén said.
"As a result of personal experiences in Syria and close contact with groups who want to carry out attacks in Western countries, there is a reason for concern," the advisor added.
Norway-based professor of Disaster Psychology, Lars Weisæth, said he was concerned about the psychological impact the young fighters were imposing on themselves.
"The concern is mainly about the return from war. Young and radical warriors who travel to Syria and join terrorist groups will be more dangerous at homecoming, due to high risk of post-traumatic stress disorder combined with radicalism," Lars Wiesæth told Verdens Gang.
Why Syria?
According to Shirine, images of dead Syrian children and their parents, which she and her husband found online, prompted the couple to act.
She stresses that they are not militants or terrorists and that her husband wanted to help people in the country and that his intentions were good.
Shirine is still in Syria and has no intention of leaving the country before the conflict comes to an end.
"I will rather be called a terrorist and die for these people than go home and forget about them. I will stay until Syria stops bleeding," she says.
Shirine told Al Arabiya English that she is now in a village not far from Damascus in Syria. She states that she has joined a young newly married couple and together they support local residents while constantly moving location to avoid bombings
http://english.alarabiya.net/en/perspective/features/2013/08/28/Against-all-odds-Norwegian-activist-stays-in-Syria-to-fight-injustice-.html
----------
Iran foreign ministry appoints first-ever spokeswoman
Thursday, 29 August 2013
AFP, Tehran
Iran's Foreign Ministry has appointed career diplomat Marzieh Afkham as its new spokesperson, the first time the Islamic republic has named a woman to the position, reports said Thursday.
With nearly three decades of service at the ministry, Afkham has been director of its media and public diplomacy department since 2010, Iranian media reported.
"She is seasoned and experienced in the field of media diplomacy," incumbent spokesman Abbas Araqchi told the ISNA news agency, announcing the appointment.
"Those who have criticism about this will understand that her expertise was the only factor in this appointment," he added in reference to opposition voiced by members of the parliament's ultra-conservative faction.
Hojatoleslam Morteza Hosseini, a cleric from a powerful religious faction, said the clergy "might be opposed" to the employment of women to such posts.
"We decided to deliver a caution to foreign minister (Mohammad Javad Zarif), so that he appoints a man instead of a woman" as his spokesperson, Hosseini was quoted as saying by the 7 Sobh daily.
Araqchi had said on Tuesday another woman, without naming her, was being groomed to become the Iran's first-ever ambassador.
Afkham's appointment comes as moderate Iranian President Hassan Rowhani has reportedly asked officials to appoint women to high ranking posts.
His cabinet is dominated by men, except for Elham Aminzadeh, who is the vice president for parliamentary affairs.
During his election campaign, Rowhani vowed that "discrimination against women will not be tolerated" in his administration.
Although better than those of many regional Arab countries, Iran's laws since the 1979 Islamic revolution have been criticized as unfair to women in matters of marriage, divorce and inheritance.
While women can hold key posts, including in the parliament and the cabinet, they are currently not allowed to stand in presidential elections.
Iran's clergy, which still holds sway in the country, defends the laws, saying they are designed to protect against a Western lifestyle they say takes advantage of women.
http://english.alarabiya.net/en/News/middle-east/2013/08/29/Iran-foreign-ministry-appoints-first-ever-spokeswoman.html
-----------
'Afghan Women's Writing Project' Enables Women in Afghanistan to Read, Write in Secret
By Leigh Cuen, dowser.org
Aug 29, 2013
Despite constant dangers, Afghan women's poetry continues to flourish. One outlet for women's poetry is Mirman Baheer, Afghanistan's largest literary society for women. Mirman Baheer operates in Kabul with over 100 members. Its members are generally educated and employed; they are professors, parliamentarians, journalists and
Approximately 300 of Miram Baheer's members live in the outlying provinces -- Khost, Paktia, Maidan Wardak, Kunduz, Kandahar, Herat and Farah -- where the group functions in secret. Many who cannot safely travel to meet together listen to radio programs broadcast by Mirman Baheer and the Afghan Women's Writing Project.
"We recruit only through word-of-mouth and delete any content that might be used to identify our writers," says Richelle McClain, director of the Afghan Women's Writing Project.
The Afghan Women's Writing Project (AWWP) was founded in 2009. Today, 160 Afghan women across five provinces are enrolled in AWWP's workshops, including a new workshop for teenagers and a Dari writing program. While security is an omnipresent concern, dwindling financial support is one of their greatest challenges. "We just lost 75 percent of our funding because of the U.S. withdrawal," says McClain.
In addition to radio broadcasts and writing programs, the AWWP collects oral stories from illiterate Afghan women, which are edited and published on the organization's blog.
Before the 2014 elections in Afghanistan, the AWWP plans to partner with IFES Afghanistan (International Foundation for Electoral Systems) to promote political writings by local women through digital, print, and radio networks. They will also run special broadcasts featuring interviews with female candidates and programs about how election results will impact Afghan citizens.
For many rural women in Afghanistan, these secret networks and the poetry broadcasts are their only form of education. U.N. investigations revealed that only 12 percent of Afghan women are literate.
But, thanks to volunteer translators and journalists, contemporary Afghan women's poetry can now reach global audiences. For example, the June 2013 issue of Poetry magazine was dedicated to landays – vitriolic, two-line verses traditionally recited by Afghan women at the river, the well, or private gatherings.
This collection came from years of investigative reporting by journalist Eliza Griswold. She journeyed to Afghanistan with photographer and filmmaker Seamus Murphy. On July 30, 2013 the Pulitzer Center will host "I Am the Beggar of the World," a presentation of Griswald and Murphy's work at the Culture Project in New York City.
A free exhibit at the Poetry Foundation Gallery in Chicago, Shame Every Rose: Images of Afghanistan, features many of these landays and images. The exhibit is open to the public through August.
"Sharing this poetry could endanger the poets' lives," says Don Share, editor of Poetry magazine. "Still, they gave these poems willingly."
See also: Powerful Tech: New Innovations To Fight Rape, Murder And Atrocities
The tradition of landays provides some level of anonymity for women because they are collective. They are recited and shared rather than attributed to a single poet. Even so, in modern Afghanistan, poetry can be dangerous. Over the past year, several young Afghan poets were killed by their male relatives. A young Mirman Baheer member who called herself Rahila Muska burned herself to death in protest after her brothers found her writing poetry and brutally attacked her. Her real name was Zarmina. She often recited this landay over the phone to members of Miram Baheer:
"You sold me to an old man, Father.
May God destroy your home, I was your daughter."
Landays derive their power from shrewd layers of tension between the poet's inner and outer world. They can explore rage, sarcasm, irony, loss, separation and desire. Many of the poems are humorous, filled with bawdy sexual imagery.
Whatever the subject, a landay lilts from word to word in a short lullaby with scathing, layered meaning. These poems come from a long legacy of Afghan women's literature.
"The Afghan woman poet predates the American or European female poet," says Zohra Saed, an Afghan-American poet living in New York City. "Consider the poet queen Rabia Balkhi." Legend has it this 11th century Afghan used her last drop of blood to write poems.
"Afghan women's poetry is unique because it must respond to create change," says Saed. "Within our communities and also to change outside perceptions. It is the poetry of witness, of trauma, of memory and of struggle to be seen as individuals."
Saed recounted the time she edited a collection of literature by Afghan writers around the world. Before it was finished, an American radio station published a CD of the collection without her permission. They listed her as the editor and printed a photograph of an impoverished child on the cover.
"When people are interested in Afghan women's poetry, it is presented as poetry by the same women the world has imagined rescuing over the past 20 years," Saed says.
She took legal action to recall the copyrighted anthology, then focused it exclusively on Afghan-American writers. "There were also women poets who were not part of the war," she says. "Writers raised abroad, their aesthetics and poetic voice is very different."
Today, Afghan literature is fragmented by linguistic, cultural and geographic divides. Some of the world's most prominent Afghan writers live outside their fatherland and write in English. Many female writers in Afghanistan come from the urban elite, often educated in western universities. Poems by women in rural Afghanistan are rarely published. Groups like the Afghan Women's Writing Project and the Poetry Foundation are working to bridge this divide.
"Poetry is not only for the classroom and elite art circles," says Share, editor of Poetry magazine. "Poetry is an essential part of life, the only way these women can share their experiences. These poems are electrifying and relevant." He hopes readers will realize that, even in the digital age, poetry can wield tangible power.
http://www.huffingtonpost.com/2013/08/27/afghan-womens-writing-project_n_3823807.html
------------
Ethiopian Housemaid Nabbed For Allegedly Attacking Sponsor
MADINAH: YOUSUF MOHAMMED
Aug 29, 2013
Security patrols in Madinah arrested an Ethiopian housemaid who allegedly attacked her sponsor and ran away.
Madinah police received a tip from a citizen, saying that he saw an Ethiopian maid who looked suspicious. The police arrested her and turned her to Al-Azizyah police station after being identified by a relative of the sponsor. The maid was referred to the investigative agency for interrogation and further action.
Meanwhile, police at Al-Hanakiyyah Governorate arrested a Saudi man who admitted to have committed with another person several thefts and robberies.
The other person is wanted in Qassim on charges regarding the stealing of a number of cars in various areas, mostly in Qassim, Hail and Riyadh. He used to take the cars to a desert area, removed parts and then obscured the chassis number and burned them.
The authorities are still investigating the matter, according to Madinah police Col. Fahd Al-Ghannam.
http://www.arabnews.com/news/462755
---------
Girls once again sweep top three prizes for Malaysian varsity students
Aug 29, 2013
ADELAIDE: In the battle for academic excellence, female students have once again made a clean sweep, winning all three top prizes for Malaysian university students at the annual Merdeka gala dinner and awards night here.
Dana Jamie Chinn, 23, who received the International Student Transition award from Flinders University in 2011, showed her flying colours again by being named Malaysia's most outstanding student in South Australia to win the Sir Eric Neal award this year.
Neal is a former state governor and a long-standing supporter of Malaysia. He presented the awards at the dinner organised by the Australia-Malaysia Business Council (AMBC) at the Adelaide Convention Centre.
Chinn, who will graduate with a Bachelor of Speech Pathology this year, was presented with the award as well as an iPad and A$1,500 (about RM4,400).
Penang-born Yeap Yu Wen, 21, a Bachelor of Commerce student, who has scored distinction or above for every topic studied at the University of Adelaide, came second. She received a trophy and A$1,000 (RM3,000).
University of Adelaide law student Nurul Hidayah Puteri Abdul Rahim of Johor completed the awesome achievement by scooping the third prize of a trophy and A$750 (RM2,250).
A government scholarship holder, Nurul Hidayah, 23, is the national treasurer of the Malaysian Students Council of Australia.
Malaysia's Talent Corporation Malaysia Bhd (TalentCorp) CEO Johan Mahmood Merican has agreed to fly to Melbourne and provide accommodation for the three winners for its jobs expo later this year.
The panel that judged the entries comprised South Australia vice-governor Hiue Vin Le, prominent barrister Frances Nelson, and James Bennett, curator of Asian Art at the State Art Gallery here.
Female academic power was first seen in 2011 when Fan Yee Mun (Petaling Jaya), Elysia Chin Low Pei (Kuching) and Lim Shu Yi (Penang) collected all the awards.
The dinner was attended by Malaysian High Commissioner Datuk Salman Ahmad, Neal, South Australia State Minister for Communities and Social Inclusion Tony Piccolo, the state's opposition leader Steven Marshall, South Australia Malaysian consul Datuk Hassan Salleh and Malaysian-born singer Kamahl.
AMBC president Sathish Dasan said the aim of the Merdeka awards was to encourage and help develop future leaders.
"Over the past 15 years, the awards have helped us unearth a fantastic bunch of young women and men who have displayed a capacity to be leaders both in Australia and Malaysia in business and government," he said. — Bernama
http://www.thestar.com.my/News/Nation/2013/08/29/Female-students-shine-Down-Under-Girls-once-again-sweep-top-three-prizes-for-Malaysian-varsity-stude.aspx
---------
500 Women Entrepreneurs to Showcase Their Products at Riyadh Exhibition
RIYADH: ARAB NEWS
29 August 2013
More than 500 women entrepreneurs who work from home will market their products at a six-day producers' exhibition on Sept. 30 at the Riyadh International Convention and Exhibition.
The Riyadh Chamber of Commerce will organize the event, which will be patronized by Riyadh Gov. Prince Khaled bin Bandar.
"The exhibition aims to support opportunities to work from home and launch more outlets for introducing and marketing the various products of Saudi females," said Huda Al-Jraisi, chairperson for the Work-from-home Committee.
The exhibition's visitors will be met with hundreds of products, including foodstuffs, accessories, handcrafts, fashion, decorative items, furniture and other products.
The exhibition aims to clarify the role of projects that are made from home in the development of the country's economy. It will encourage success models in the field and will create opportunities for these ladies by familiarizing consumers with their products.
The exhibition aims to attract work-from-home pioneers regardless of their economic level. Yet the event is not limited to those in need. "There are many creative young women who work from home without needing the money that comes with it. They do it because they want to practice their hobbies and develop their skills."
http://www.arabnews.com/news/462851
---------
URL: http://www.newageislam.com/islam,-women-and-feminism/new-age-islam-news-bureau/22-women-held-for-'militancy'-at-jamaat-i-islami-leader's-house-in-bangladesh/d/13260