New Age Islam News Bureau
10 Jul 2018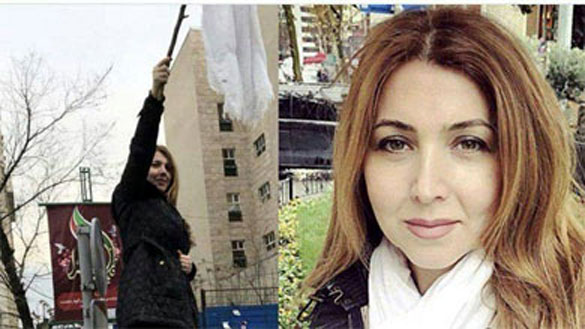 Shapark Shajarizadeh posted on her personal website that she had been jailed for "opposing the compulsory hijab". (Twitter)
-----
• Saudi Women with Notarization License Accept New Work Challenge
• Malaysian Muslim Fined for Marrying 11-Year-Old Thai Girl
• Iranians Outraged Over Arrest of Teenage Girl for Instagram Dancing Clips
• Saudi Arabia's Ministry of Justice Grants 12 Women 'Verification' License
• Allowing Women to Drive Will Create 50,000 Jobs in Saudi Arabia
• Ofsted Chief Accuses Minority Groups of 'Entitlement' In Hijab Row
• Young man arrested in first case of harassment against women drivers
• Jobless Rate among Saudi Women to Fall By 12.7%
• Over 3 Million Women Heads of Household in Iran Are Unemployed
Compiled by New Age Islam News Bureau
URL: https://www.newageislam.com/islam-women-feminism/20-year-sentence-iranian-woman/d/115787
--------
20-Year Sentence for Iranian Woman, Shaparak Shajarizadeh , Who Protested Headscarf
10 July 2018
An Iranian woman who removed her headscarf out of protest in December says she has been sentenced to 20 years in prison.
Shapark Shajarizadeh posted on her personal website that she had been jailed for "opposing the compulsory hijab" and "waving a white flag of peace in the street." There was no immediate comment from Iranian officials.
Police in Iran arrested 29 people in February for removing their headscarves as part of a campaign known as "White Wednesdays." Nasrin Sotoudeh, a prominent human rights lawyer who represented Shajarizadeh and other women, was arrested last month.
Shajarizadeh, 42, was released on bail in late April. Her current whereabouts were unknown. In Iran, women showing their hair in public face penalties ranging from a $25 fine to prison time.
https://english.alarabiya.net/en/News/gulf/2018/07/10/20-year-sentence-for-Iranian-woman-who-protested-headscarf.html
--------
Saudi women with notarization license accept new work challenge
9 July 2018
Saudi women are obtaining notarization licenses to work in private notary departments at the ministry of justice.
"Since this is the first time women pursue and accept this profession, we are excited about this new challenge and willing to show our hard work and commitment," a recently licensed woman at a private notary said.
"We are the first to join this busy profession, but we expect many women to join us soon… There is so much to learn, issuing and canceling power of attorneys, notarizing documents and other legal services we offer help us learn and understand the legal system," she added.
According to the ministry of justice, private notaries can issue and cancel powers of attorney (PoAs), and notarize corporate charters and property conveyances. Their private offices work in the mornings and evenings, seven days a week, using an integrated digital system.
Licensed private notaries total more than 13,000, and the ministry of justice announced its plans to continue granting licenses while observing the quality of services provided, the ministry said.
Recent statistics published by ministry of justice show that private notaries have issued around 30,000 PoAs, canceled 272 PoAs, and certified around 3,000 corporate charters since the service was launched in February, 2017.
The PoAs and corporate charters certified by private notaries are accepted by all government departments and judicial entities, the ministry said.
"The private notarization service is one of the ministry's NTP 2020 initiatives, aiming at enhancing notarial efficiency for individuals and companies by involving the private sector. This will bring about more privatization of justice services and boost the national economy in accordance with Saudi Vision 2030," the ministry explained.
https://english.alarabiya.net/en/News/gulf/2018/07/09/Saudi-women-with-notarization-license-accept-new-work-challenge.html
--------
Malaysian Muslim Fined for Marrying 11-Year-Old Thai Girl
July 9, 2018
A sharia court in Malaysia's Kelantan state fined a local man 1,800 ringgit (U.S. $446) after he pleaded guilty to two charges stemming from his recent Islamic marriage in neighboring Thailand to an 11-year-old Thai girl, local media reported Monday.
The 41-year-old man was charged with solemnizing a marriage and polygamy without obtaining the court's permission under the Kelantan Islamic Family Law Enactment No. 6 of 2002, Malaysian online media outlet Harian Metro reported. The charges carry maximum fines of 1,000 ringgit each, or two months in prison.
News of the marriage in Narathiwat, a province just across the border in predominantly Muslim southern Thailand, angered people in both countries after it surfaced online in a Facebook post from the man's second wife.
In Thailand, a government official said there was little it could do to annul the marriage because the couple wed under Islamic law by a local imam.
"We cannot immediately intervene because Islamic law, applied in southern provinces, allows this marriage with the parents' consent, but Thai law doesn't," Kotrimah Hajiahrun, an official at the ministry of social development and human security, told BenarNews.
Officials from Thailand's Department of Children and Youth, the Southern Border Province Administration Center and representatives from the Narathiwat Islamic Committee convened last week to discuss the case, Kotrimah said.
The department "met with parties involved to see how we can intervene or help this family. We need to make things clear. At this moment we don't know exactly what we can do," Kotrimah added.
Islamic committees in Narathiwat and other provinces of Thailand's Deep South oversee matters of Islamic jurisprudence, issue marriage and divorce certificates as well as certify halal products, among other duties, but imams of local mosques operate independently of the committees, sources said.
Safiri Jeha, president of the Islamic committee in Narathiwat, said the girls' parents played a major role in allowing the marriage to go forth.
"Islamic law allows youths age 15 and up to marry but they can be younger with parents' consent. They can have ceremony anywhere with and Imam," Safiri told BenarNews. "In the case of the 11-year-old girl, who had wedding at Sungai Golok, they followed the Islamic teaching and Islamic law enacted in Yala, Pattani, Narathiwat and Satun."
On July 3, the provincial committee met to discuss the case and determined that the imam who solemnized the wedding between the Malaysian man and 11-year-old girl had not violated Islamic law, he said.
To be consummated later: Groom
Malaysia has a civil legal system and a separate Islamic (sharia) legal system. Sharia law, specifically, the Islamic Family Law (Federal Territory) Act of 1984, sets the legal age for marriage at 16 for girls and 18 for boys, allowing for exceptions with court permission. The civil law sets 18 as the minimum marriage age for both boys and girls.
Besides the age issue, Islamic family law requires a Malaysian who marries someone in another country to register the wedding with the Registrar of Muslim Marriages within six months.
Under Islamic law, a man can have four wives as long as he can provide for and maintain each of his families equally.
The groom in question defended the marriage in an online video, claiming it occurred under "nikah gantung," a Malay term meaning that a couple is married with the understanding that it will be consummated at a later date, in this case after the girl turns 16.
"She will be under the care of her parents. Until she comes of age, we will not be together," he said in the video.
Malaysian media identified the man as Che Abdul Karim Che Hamid.
'An exploitation of children'
Thailand's human rights commission, meanwhile, has challenged the marriage.
"The National Human Rights Commission is concerned that underage marriage (under 18 years of age) of a woman, a deprival of education and chance to development into adulthood, is inconsistent with the United Nations Convention on the Rights of the Child and the Children Protection Act," the commission said in a statement late last week.
A human rights commissioner called for the Thai government to change the law.
"Thailand should pass a law to ban underage marriage in all cases. Underage marriage of the poor is an exploitation of children by the adult husband. It is multiple violations of children," Angkhana Neelapaijit told BenarNews.
Under Thai civil law, a woman can marry at 20 years old without parental consent. She can also marry at age 17 provide she has her parents' approval, as well as at age 15 through a court order, according to legal experts.
Malaysian reaction
The case of the marriage of the 11-year-old Thai also led Malaysia's deputy prime minister to call for the man and the girl to be separated, saying she had consulted with a sharia judge on the matter.
Wan Azizah Wan Ismail, who also holds a portfolio as minister of women, family and community development in Malaysia's new government, said the marriage hastened the need for action to increase the legal marriage age to 18.
The Pakatan Harapan (PH) coalition that defeated the Barisan Nasional coalition in the May 9 general election, included the age increase for marriage in its party platform.
Wan Azizah said the change was needed to protect children and avoid issues of pedophilia, child exploitation and child pornography.
https://www.benarnews.org/english/news/malaysian/bride-update-07092018154454.html
--------
Iranians Outraged Over Arrest of Teenage Girl for Instagram Dancing Clips
July 10, 2018
ANKARA, Turkey: Iranians on social media mocked clerical rulers on Monday after the hard-line judiciary arrested a teenage girl for posting on Instagram videos of herself dancing in her room.
Critics of the arrest of gymnast Maedeh Hojabri, 18, used the hashtag #Dancingisnotacrime and Iranian women posted videos of themselves dancing in public.
"You will be laughed at if you tell people anywhere in the world that 17 and 18-year-old girls are arrested for their dance, happiness and beauty on charges of spreading indecency, while child rapists and others are free," wrote Iranian blogger and political dissident Hossein Ronaghi-Maleki.
Iranian state TV aired a video in which she apologized for "breaking moral norms" but said any breach was not her intention. Some Iranian news websites reported three other people had been arrested on similar charges in the past weeks. The reports said they were released on bail.
"I had no bad intentions ... I did not want to encourage others to do the same ... I did not work with a network," a crying Hojabri told TV on Friday.
Before her account was blocked by Iranian authorities, Hojabri had posted around 300 videos on her Instagram account – in which she appeared without wearing the compulsory Islamic headscarf.
Under Iran's Islamic Sharia law, women are required to wear headscarves and modest clothing in public and are banned from dancing in public.
The potential charges against Hojabri were not specified, but she is likely to be accused of running afoul of Islamic codes of behavior that call for modesty in attire and behavior.
"Art is the language of the soul, highest of the hopes, not a crime, said Twitter user @samzglam. Sharing her own dancing clip, @Marun_1 said :"usually I don't share pictures and videos but today is an important day."
Access to many social media sites, including Facebook, Twitter, YouTube and the Telegram messaging app are blocked in Iran. Iranian officials said last week the judiciary was considering blocking access to Instagram.
But many Iranians evade the filtering through the use of VPN software, which provides encrypted links directly to private networks abroad, and can allow a computer to behave as if it is based in another country.
In April, the judiciary arrested a senior Iranian official after a video posted online that showed young boys and girls dancing in public in the northeastern holy Shiite city of Mashhad for undermining public decency."
In 2014, a group of Pharrell Williams fans arrested for sharing videos of themselves dancing to the song Happy on the rooftops of Tehran and got suspended sentences of imprisonment and lashes.
http://www.arabnews.com/node/1336161/middle-east
--------
Saudi Arabia's Ministry of Justice Grants 12 Women 'Verification' License
July 09, 2018
JEDDAH: The Ministry of Justice has revealed that 12 women have been granted "verification" licenses, which allow them to do some of the services of notaries for the first time in the Ministry's history.
The Ministry explained that the terms of reference granted to male and female "verifiers" include issuing and revoking mandates, and documenting the contracts of the establishment of companies, and that the verifiers should work morning and evening hours throughout the week according to an integrated electronic process.
The Ministry noted that the total number of verification licensees has reached 1,313 for male and female verifiers and confirmed that it continues to grant licenses while ensuring the quality of services provided to beneficiaries. Verified documents through this service are approved by all government departments.
The Minister of Justice, Dr. Waleed Al-Sama'ani, launched the verification service last year as part of the Ministry's initiatives in the National Transformation 2020 Program aimed at increasing the efficiency of the verification work for individuals and companies through the involvement of the private sector in a way that expands the privatization of justice services and supports the national economy in line with the objectives of Vision 2030.
The verification service, which can be accessed through its portal (https://mwathiq.sa), is one of the main services of the Ministry of Justice assigned to the private sector to facilitate verification procedures for beneficiaries as well as to support the national economy and Vision 2030.
http://www.arabnews.com/node/1335971/saudi-arabia
--------
Allowing Women to Drive Will Create 50,000 Jobs in Saudi Arabia
July 10, 2018
JEDDAH: A two-day forum targeting 20,000 women and bringing together under one roof all the services related to women driving began on Sunday.
Specialists at the forum expect that lifting the ban on women driving will create more than 50,000 jobs after a year.
The event, titled "You Take the Lead," was inaugurated at Leylaty Hall by Prince Khalid bin Sultan Abdullah Al-Faisal, chairman of the Saudi Arabian Motor Federation.
Six bodies related to women's driving services and facilitation are participating, including the Ministry of Interior and the Ministry of Media, with the strategic partnership of Traffic Management, the Saudi Committee of Traffic Safety and the Standardization Committee, in addition to automobile dealers, banks, insurance companies and logistical service providers.
The program of the first day of the event included seminars by distinguished speakers discussing the economic effects of Saudi women driving, penalties for obstructing women from driving, how lifting the ban on women driving will create new jobs for women, the negative aspects of depending on expat drivers, and finally the success story of the first Saudi female rally driver.
The prince said that the decisions taken by the Saudi government aim to achieve social justice by enhancing the role of women as they represent half of the community, and are a main component to achieve economic growth according to the strategies set out in Vision 2030.
He called on Saudi women to invest in the great transformations society is witnessing, through active participation and taking advantage of the series of historic decisions issued by the government to support Saudi women. The prince expected that the leadership of women will contribute to providing a large number of job opportunities and help women enter the labor market, achieving one of the pillars of Vision 2030, with is to raise the participation rate of women from 22 to 30 percent.
President of the forum's organizing company Suhail Al-Tayyar stressed that they work through the forum to raise awareness of the role of women in the country's economic, social and cultural development, in addition to providing quality services, creating job opportunities, and making the best conditions for women. He also revealed the requirements of women's leadership as a key partner in the community and the role of car dealers in the provision of facilities and technology in vehicles and accessories for women, as well as the banking and insurance sector services.
The managing editor of Al-Bilad newspaper and Aqra'a magazine, Manal Al-Sherif, spoke about the economic and social disadvantages of depending on expat drivers, and how to deal with them.
When Rasha Imam, the first Saudi rally driver, spoke about her experience and success, she said she was thrilled with the lifting the ban on women driving as she will be able to represent her country in many competitions.
She plans to move forward to participate in Arab and global races, noting that she received a degree in business administration from King Abdul Aziz University in Jeddah and works in the field of marketing and public relations. She has benefited from traveling abroad with her family to learn to drive and master a lot of leadership skills.
Basma Khazneh, driving trainer and one of the invited guests at the forum, told Arab News: "When I first came to Saudi Arabia 22 years ago I was shocked that women were not able to drive, and now I am very happy that my dream came true and I can finally drive in Saudi Arabia.
"I already have public and private vehicle driving licenses, and also an international driving license, and I would be very glad to have the chance to train Saudi women."
Samia Basha, 34, an attendee at the forum, told Arab News: "I am here to look at the offers car dealers are providing for us. I cannot wait to get my license and set off!
"We have waited too long," she added.
http://www.arabnews.com/node/1336156/saudi-arabia
--------
Ofsted Chief Accuses Minority Groups of 'Entitlement' In Hijab Row
9 Jul 2018
The head of Ofsted has again stepped into the debate over the wearing of the hijab by primary school pupils, accusing minority groups with a "sense of religious or cultural entitlement" of attempting to exert an outsize influence on school policy.
In a speech on Monday evening, Amanda Spielman urged school leaders to resist pressure on issues such as what children should wear or what is taught to pupils.
She highlighted a "worrying" trend in schools where headteachers were being lobbied by groups seeking to influence school policy "whether or not members of that group constitute the majority of a school's intake".
The importance of teaching British values in schools has become a familiar theme in the 18 months since Spielman . In her latest intervention, she urged headteachers to step up their efforts so children learn about democracy and civil society, rather than leaving a vacuum that can be filled by extremist groups.
Spielman has previously attracted criticism for her comments about the wearing of the headscarf by Muslim girls as young as five. Last year, she announced Ofsted inspectors had been told to wearing a hijab, warning that expecting pupils to wear the headscarf "could be interpreted as sexualisation of young girls".
She also came under fire for her intervention in the case of St Stephen's, a state primary school in east London, where the pupils from wearing the hijab in class after an outcry from parents and others. Spielman vociferously argued it was up to headteachers to set uniform rules.
In her speech to the Policy Exchange thinktank in London, she said for some children "school may be the only time in their lives that they spend time every day with people from outside their immediate ethnic or religious group, or at least where the values of people outside their own group can be explained and openly discussed".
She said: "Islamist extremists, particularly fuelled by the online propaganda of Daesh [Islamic State] and others, prey on a sense of isolation and alienation in some minority communities."
Earlier this year, teachers at the annual conference of the National Education Union accused Spielman of to girls wearing the hijab and said her remarks had gone beyond the remit of the schools' watchdog.
In her latest foray, the chief inspector of schools in England took a defiant stance, insisting that Ofsted had a vital role in making sure that schools promote British values and vowing to continue to call out poor practice.
"For many people, the things I have been talking about today are too sensitive and too difficult for them to want to risk giving offence. They are easy things to skirt, yet the risk of doing so is great," she said. "If we leave these topics to the likes of the English Defence League and British National party on the one hand and Islamists on the other, then the mission of integration will fail."
She said too many pupils were being taught British values such as tolerance and democracy in a "piecemeal" fashion, with wall displays and assemblies. Instead they should be taught as part of a strong academic curriculum that would help pupils identify "fake news and siren voices".
In a long and detailed speech, the chief inspector said the problems were confined to a small number of state schools, as well as some independent schools and unregistered provision.
She denied that Ofsted was biased against faith schools and said Muslim state schools were almost three times as likely to be judged outstanding by Ofsted than the national average, and Jewish and Christian state schools were more likely to be good or outstanding than their secular counterparts.
She also flagged up the dangers of the far right in response to a growing disenchantment with the status quo. "That disenchantment can so easily be exploited by extremists, who promise a better tomorrow by scapegoating and blaming minorities today. This is why it is right that the Prevent duty also focuses on tackling the growth of the far right."
Responding to the speech, the Muslim Council of Britain expressed concern about a "top-down, mono-nationalist and establishment British values approach" which put the "moral onus on ethnic minorities for the supposed failures of integration".
The MCB called on Spielman to tackle Islamophobia in schools with the same sort of gusto as she advocated British values and added: "The hijab is a religious right, and just as no one should be obligated to wear, nor must people alienate and vilify those who choose to adopt this practice."
Mary Bousted, the National Education Union joint general secretary, accused Ofsted of being out of touch with schools on the issues of values. "The speech does nothing to help schools develop a culturally inclusive curriculum.
"Ofsted seem oblivious to the levels of racism faced by BME children and teenagers, and faced by BME professionals in education. Schools work tirelessly to support children to develop positive values – to both think for themselves and act for others. Ofsted should be supporting this work instead of making it harder."
https://www.theguardian.com/education/2018/jul/09/ofsted-amanda-spielman-accuses-minority-groups-entitlement-hijab-row-schools
--------
Young man arrested in first case of harassment against women drivers
By Ibrahim Alawi
10 July 2018
JEDDAH — Saudi police on Sunday recorded the first incident of harassment against a female driver in the country since the ban on women driving in the Kingdom was lifted under a royal decision on June 24. However, the harasser was pardoned at the behest of the victim.
Samar Khan, dean of the College of Business at Effat University in Jeddah, reported the harasser to the police. Khan complained that a man in his 20s started bothering her and endangering her as she was driving to work on Sunday.
Police identified the man from his car's plate number and summoned him to the police station. The man complied and arrived at the police station accompanied by his elder brother.
The young confessed and expressed regret for his action. He said he did not realize the amount of danger he was causing to the woman driver.
Khan came to the police station to identify her harasser. The harasser and his brother apologized to the woman.
"I believe I taught the harasser a lesson that he won't forget. I demanded that he respect women everywhere. I felt sorry when his older brother lowered his head and began crying. His father and mother were also crying. I decided to forgive the harasser to spare his family from the humiliation," said Khan.
Addressing all women in the country, she said they should not hesitate from fighting for their rights.
"The police were very cooperative with me and they caught him within hours. I don't have the right to publicize the harasser's name or his picture," said Khan.
Lawyer and legal consultant Mohammad Al-Tuwairqi said harassment cases involve a public right and a private right.
"If the victim of the harassment decides to forgive the harasser, the harasser is only absolved of the infringement of private right. But he still has to face the public rights violation. Harassment penalties include imprisonment for no more than two years and a fine that reaches up to SR100,000. The penalty is more severe for repeat offenders," said Al-Tuwairqi.
http://saudigazette.com.sa/article/538637/SAUDI-ARABIA/Young-man-arrested-in-first-case-of-harassment-against-women-drivers
--------
Jobless Rate among Saudi Women to Fall By 12.7%
10 July 2018
JEDDAH — The lifting of the ban on women driving in the country is expected to reduce unemployment among Saudi females to 20 percent from the current rate of 32.7 percent, the Arabic daily Al-Madina reported quoting market sources.
They said the drop in unemployment rate among women is expected to become remarkably visible in a year or two.
The number of employed Saudi women at present is about 560,000, representing about 22 percent of the entire Saudi manpower.
The Kingdom's Vision 2030 stipulates that unemployment among women should not exceed 30 percent.
Khaled Al-Maimani, head of the department of human resources at the faculty of economics at King Abdulaziz University in Jeddah, expected the decision to allow women to drive to take down the unemployment rate among them to between 20-30 percent in the coming two years.
"The issue of transport had been a major problem for the employment of women in the private sector," he said.
Maimani said the decision to allow women to drive would expand their areas of employment and enable them to invest in new fields such as car showrooms, spare parts, insurance, and financing.
"The country will save billions of riyals spent on foreign drivers annually," he said.
Nidal Radwan, chairman of the constituent assembly of the union of the labor committees, said the historic decision would boost women's contribution to economic and social development.
"Women will now be able to work in various fields all over the Kingdom as they can reach their work places and return home in their own private cars," he said.
Radwan said the number of expatriate drivers would decrease gradually and as a result remittances abroad would go down drastically.
He also expected the number of traffic accidents to drop as women are known to be careful drivers who are strongly committed to the traffic rules and regulations.
According to a report covering the labor market during the third quarter of 2017, the rate of unemployment in the Kingdom was 12.8 percent.
It said the joblessness among Saudi men was 7.4 percent while it was 32.7 percent among women.
There were 13.7 million employed people in the Kingdom including Saudis and expatriates while there were 1.2 million Saudi job seekers.
As many as 120,000 Saudi women have applied to obtain driving licenses.
http://saudigazette.com.sa/article/538636/SAUDI-ARABIA/Jobless-rate-among-Saudi-women-to-fall-by-127
--------
Over 3 Million Women Heads of Household in Iran Are Unemployed
09 July 2018
Over 3 million women heads of household in Iran are unemployed. This was revealed by Massoumeh Ebetkar on Saturday, July 7, 2018, in a meeting of women members of the city and village councils in Semnan Province.
She also confessed, "We see that unemployment is more rampant among talented women of our country who comprise half of the population... The number of unemployed women with higher education is two to three time unemployed men with highter education."
Ebtakar also acknowledged that young girls also have a larger share of school drop outs compared to boys. "The number of unemployed educated girls is on the rise and this is considered a serious challenged that we face." (The state-run ISNA news agency - July 7, 2018)
The regime's officials had earlier confessed that unemployment is the greatest challenge for Iran's economy and that the situation is worse with regards to the employment of women, female university graduates, and women heads of household.
Over 3 million women heads of household is exactly 3.5 million wome, only 18 per cent of whom receive a meager aid from the Welfare Organization which is only 10 per cent of the poverty line. As a result, over 3 million women heads of household in Iran have to resort to unconventional means such as sale of their body parts in order to earn their family's living.
At the same time, because of limited employment opportunities for women, a large number of women heads of household have to accept just any job in small workshops with very low income, without enjoying any of their legal benefits including insurance, and without any government or legal support.
In addition to the over 3 million women heads of household, educated girls with higher education have to work in small manufacturing units and engage in jobs that have nothing to do with their fields of study. At the same time, due to the economic conditions in Iran, these young women are the first ones to be laid off or fired.
https://women.ncr-iran.org/iran-women-news/5317-over-3-million-women-heads-of-household-in-iran-are-unemployed
--------
URL: https://www.newageislam.com/islam-women-feminism/20-year-sentence-iranian-woman/d/115787
New Age Islam, Islam Online, Islamic Website, African Muslim News, Arab World News, South Asia News, Indian Muslim News, World Muslim News, Women in Islam, Islamic Feminism, Arab Women, Women In Arab, Islamophobia in America, Muslim Women in West, Islam Women and Feminism