New Age Islam News Bureau
2 Sept 2018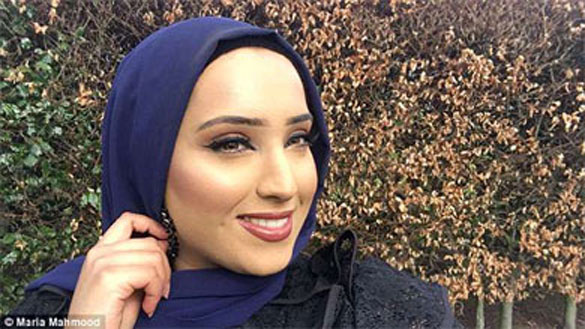 The 20 year old British Muslim, Maria Mahmood, has made it through to the semi-finals of Miss England Beauty Pageant.
------
• Muslim Woman Moves SC against Setting up of Sharia Courts in India
• When Illness Is a 'Death Sentence': The Victimization of Gaza Women
• Chevrolet Middle East Picks Saudi Woman Mountaineer as Brand Ambassador in Region
• 15 Iranian Women among Jailed Protesters - Human Rights Watch
• War In Yemen: New Skills Help Yemen's Women Survive
Compiled by New Age Islam News Bureau
URL: https://www.newageislam.com/islam-women-feminism/20-year-old-muslim-woman/d/116262
--------
20-Year-Old Muslim Woman to Be the First to Wear Hijab in Miss England Finals
September 2, 2018
A 20-year-old Muslim woman is set to become the first to wear a hijab in the Miss England finals, a media report said on Sunday.
Sara Iftekhar will walk on the ramp in the headscarf this week, hoping to get the crown.
Women have worn the hijab in qualifying rounds of the event, but Sara is the first to wear it for a final, Mirror reported.
The law student, who won Miss Huddersfield and Yorkshire's Miss Popularity round, said: "Everyone is beautiful in their own way, regardless of weight, race, colour or shape."
https://www.khaleejtimes.com/international/20-year-old-muslim-woman-to-be-the-first-to-wear-hijab-in-miss-england-finals
--------
Muslim Woman Moves SC against Setting up of Sharia Courts in India
September 2, 2018
New Delhi: The Supreme Court has considered a fresh plea of a Muslim woman seeking to declare the setting up of Sharia courts to decide marriage, divorce and other cases as unconstitutional.
A bench comprising Chief Justice Dipak Misra and Justices A M Khanwilkar and D Y Chandrachud asked petitioner Zikra to file an application to intervene as a party in a batch of pleas challenging the practice of polygamy and 'nikah halala' among Muslims.
The apex court, which had last year banned the age-old practice of instant 'triple talaq' among Sunni Muslims, had on March 26 decided to refer to a five-judge Constitution bench a batch of pleas challenging the constitutional validity of polygamy and 'nikah halala'.
Polygamy allows a Muslim man to have four wives. Under 'nikah halala', a man cannot remarry his former wife unless she marries another man, consummates the marriage, gets a divorce and observes a period of separation period called 'iddat'.
Zikra, a 21-year-old resident of Uttar Pradesh and a mother of two, was represented by lawyer Ashwini Upadhyay.
She has demanded that triple talaq be declared "cruelty" under Section 498A and 'nikah halala, nikah mutah and nikah-misyar' rape under Section 375 of the Indian Penal Code.
"Polygamy is an offence under Section 494 of the IPC," her plea read.
Muslim personal laws of India permit the practice of nikah halala and polygamy.
In her petition, Zikra narrated her experience of facing "triple talaq, nikah halala and other laws and practices".
The woman was divorced twice and forced to undergo 'niakh halala' to remarry her husband.
"Declare that establishing a Sharia court to decide cases related to marriage, divorce, adoption, inheritance, succession and/or other similar matters is illegal and unconstitutional," Zikra said in the plea.
The Muslim Personal Law, like all other personal laws, is subject to the rigours of the fundamental rights guaranteed under the Constitution and "any part of it contravening the fundamental rights would, to that extent, is void and ineffective", she said. "Nikah halala, nikah mutah, nikah misyar and polygamy definitely run counter to public order, morality and health," the plea read.
It said these laws must "yield to the basic right of women to live with dignity, under equal protection of laws, without any discrimination on the basis of gender or religion".
Earlier, the top court had said the petitions challenged the prevalent practices of polygamy and 'nikah halala' and they would be heard by the Constitution bench.
The Centre recently made it clear that it would oppose in the Supreme Court the practice of 'nikah halala' when the top court would examine its legal validity in the coming days
https://www.news18.com/news/india/muslim-woman-moves-sc-against-setting-up-of-sharia-courts-1864497.html
--------
When Illness Is a 'Death Sentence': The Victimization of Gaza Women
09.01.2018
Hanan al-Khoudari, a Gaza resident, resorted to Facebook in a cry for help when Israeli authorities rejected her request to accompany her 3-year-old son, Louay, to his chemotherapy treatment in East Jerusalem.
The boy is suffering from an "aggressive soft tissue sarcoma." Israeli authorities then justified their decision based on a vague claim that one of Hannan's relatives is a "Hamas operative."
The rights group Gisha reported that the state remains unwilling to define precisely what it means to be a "Hamas operative." Even if an explanation is offered, denying gravely ill Palestinians from receiving life-saving treatment remains an immoral and illegal act.
"The state is sentencing the petitioners to death or a lifetime of suffering," said Muna Haddad, an advocate with Gisha. By "petitioners", she was referring to seven Gaza women who were denied access to urgent medical treatment by Israel, which required them to leave the besieged Gaza Strip.
The suffering of Gaza women rarely makes headlines. When Palestinian women are not invisible in Western media coverage, they are seen as hapless victims of circumstances beyond their control.
The fact that a woman from Gaza is "sentenced to death" simply because a male relative is shunned by Israel is quite typical behavior from a country that oddly presents itself internationally as an oasis for equality and women rights.
It feeds into the false notion that Palestinian women are trapped in a "conflict" in which they play no part. Such misrepresentations undermine the political and humanitarian urgency of the plight of Palestinian women and the Palestinian people, as a whole.
In truth, Palestinian women are hardly bystanders in the collective victimization. They deserve to be made visible and understood within the larger context of the Israeli occupation of Palestine.
The seven women who petitioned the Israeli court, and the story of Hanan al-Khoudari, are but a small representation of thousands of women who are suffering in Gaza without legal advocates or media coverage.
I spoke to several of these women — whose suffering is only matched by their incredible resilience — who deserve more than mere recognition, but an urgent remedy as well.
Shaima Tayseer Ibrahim, 19, from the town of Rafah in southern Gaza, can hardly speak. Her brain tumor has affected her mobility and her ability to express herself. Yet, she is determined to pursue her degree in Basic Education at Al-Quds Open University in Rafah, in the southern Gaza Strip.
The pain that this 19-year-old is enduring is extraordinary even by the standards of poor, isolated Gaza. She is the oldest of five children in a family that fell into poverty following the Israeli siege. Her father is retired and the family has been struggling but, nevertheless, Shaima has been determined to get an education.
She was engaged to be married after her graduation from university. Hope still has a way of making it into the hearts of the Palestinians of Gaza and Shaima was hoping for a brighter future for herself and her family.
But March 12 changed all of that.
On that day, Shaima was diagnosed with an aggressive brain cancer. Just before her first surgery at Al-Makassed Hospital in Jerusalem on April 4, her fiancé broke off the engagement.
The surgery left Shaima with partial paralysis. She speaks and moves with great difficulty. But there was more bad news; further tests in a Gaza hospital showed that the tumor was not fully removed and it must be quickly extracted before it spreads any further.
To make matters worse, on August 12, the Ministry of Health in Gaza announced that it would no longer be able to treat cancer patients in the Israel-besieged enclave.
Shaima is now fighting for her life as she awaits Israeli permission to cross the Beit Hanoun checkpoint (called the Erez Crossing by Israel) to the West Bank, through Israel, for an urgent surgery.
Many Gazans have perished that way, waiting for pieces of paper, a permission, that never materialized. Shaima, however, remains hopeful, while her whole family constantly prays that their eldest daughter prevails in her fight against cancer and resumes her pursuit of a university degree.
On the other side of Gaza, Dwlat Fawzi Younis, 33, from Beit Hanoun is living a similar experience. Dwlat, however also looks after a family of 11, including her nephews and her gravely ill father.
She had to become the main breadwinner of her family when her father, 55, suffered kidney failure and was unable to work.
She would look after the entire family with the money she earned as a hairdresser. Her brothers and sisters are all unemployed. She used to help them, too, whenever she could.
Dwlat is a strong person; she has always been that way. Perhaps it was her experience on November 3, 2006, that strengthened her resolve. An Israeli soldier shot her while she was protesting with a group of women against the Israeli attack and destruction of the historic Umm Al-Nasr mosque in Beit Hanoun. Two women were killed that day. Dwlat was hit by a bullet in her pelvis, but she survived.
After months of treatment, she recovered and resumed her daily struggle. She also never missed a chance to raise her voice in solidarity with her people at protests.
On May 14, when the United States officially transferred its embassy from Tel Aviv to Jerusalem, 60 Palestinian protesters were killed and nearly 3,000 were wounded at the Gaza-Israel fence. Dwlat was shot in her right thigh, the bullet penetrating the bone and cutting through the artery.
Her health has deteriorated quickly since then and she is now unable to work. But Israel still has not approved her application to be transferred to Al-Makassed Hospital in Jerusalem to receive treatment.
Yet, Dwlat insists she will continue to be an active and empowered member of the Gaza community, even if it means joining the protests along the Gaza fence on crutches.
In truth, these women embody the remarkable spirit and courage of every Palestinian woman living under Israeli occupation and siege in the West Bank and Gaza.
They endure and persist, despite the massive price they pay, and continue the struggle of generations of courageous Palestinian women who came before them.
https://www.arabamericannews.com/2018/09/01/when-illness-is-a-death-sentence-the-victimization-of-gaza-women/
--------
Chevrolet Middle East Picks Saudi Woman Mountaineer as Brand Ambassador in Region
September 2, 2018
CHEVROLET Middle East has signed Raha Moharrak, the first ever Saudi woman to climb Mount Everest and the seven summits, as the company's brand ambassador in the Middle East. Raha made history when she became the first Saudi Woman and youngest Arab ever to summit the world's highest mountain in 2013, an achievement she accomplished when she was just 27 years old.
Commenting on the new partnership with Raha, Molly Peck, Chief Marketing Officer General Motors Middle East, said "we are extremely proud to have Raha on board the Chevrolet Middle East team, Raha is a dynamic and driven young Arab woman whose personality not only complements the Chevrolet brand but also embodies Chevrolet's mantra of Finding New Roads, pushing boundaries and challenging the status quo."
Raha's inseparable love for altitude began after she summited Africa's highest peak, Mount Kilimanjaro. In addition to Mount Everest and Kilimanjaro, Raha has conquered a total of eight of the world's highest and most challenging mountain tops, including Vinson Massif in Antarctica, Mount Elbrus, the highest peak in Europe, as well as Aconcagua in the Argentinian Andes. Raha has also been on a total of 14 expeditions and currently holds 12 different records.
A self-described "accidental role model", Raha has inspired both women and men of all ages in the Middle East by pursuing her passion for mountain climbing, adventure sports and proving that she could, where others tried to convince her that she couldn't. "I am thrilled to start working with Chevrolet Middle East as their regional brand ambassador," said Raha. "I've always been unapologetic about who I am and that has allowed me to pursue my passion in mountain climbing and exploring the world's most remote regions. It has also allowed me to inspire people to be who they are, relentlessly, and I'm very excited to work closely with Chevrolet to create content that will continue to inspire others to push their own boundaries and take the road less traveled," she continued.
A graduate of the American University of Sharjah, Raha currently works in the UAE as a Graphic Designer and Art Director for a leading global marketing firm. When she's not working, summiting the world's highest peaks, or training for her next expedition, Raha can also be seen participating at public events around the Middle East as a keynote speaker. — SG
http://saudigazette.com.sa/article/542408/BUSINESS/Chevrolet-Middle-East-picks-Saudi-woman-mountaineer-as-brand-ambassador-in-region
--------
15 Iranian Women among Jailed Protesters - Human Rights Watch
01 September 2018
At least 15 women have been among jailed protesters, according to a news release by Human Rights Watch on August 31, 2018. The NGO called for the freedom of jailed protesters including 15 women in Iran prisons.
The news release reads in part: "Iranian authorities should drop all charges brought against protesters for peaceful assembly and release those detained on that basis, Human Rights Watch said today. Since August 2, 2018, authorities have detained more than 50 people during protests in Tehran.
"On July 31, a new wave of protests against the deteriorating economic conditions and perceptions of government corruption began in the city of Esfahan and quickly spread to other cities, including Karaj in Alborz province and Tehran, the capital."
On August 11, 2018, Mehdi Mahmoudian, an Iranian journalist, tweeted that authorities had detained 15 women they had arrested during the August protests in Qarchak prison in Tehran, HRW said.
He mentioned the names of the arrested women and said, "Almost 10 days after the protests in Tehran, dozens of people, including 15 women are still being held in prison.
"Most of the detained women are middle aged or older. Ms. Fatemeh Dizaji is one of them, who has been temporarily released from Qarchak Prison due to the death of her child.
"Elaheh Bahmani, Khadijeh Kiani-zadeh and Hadiseh Sabouri are other detainees who have been taken away from their children for almost 10 days and are in an uncertain condition.
"Sara Malek-Shirazi and Mojhdeh Rajabi are other detainees in Qarchak Prison who were only passing by the locations of the protests and did not have direct connections to the unrests. They were arrested and taken to Evin Prison and then transferred to Qarchak Prison," he concluded.
The NCRI Women's Committee has not independently confirmed the names but these figures should be considered the least and the actual figures of arrest and detention of women during the August protests is higher.
Rassoul Sanaii Rad, political deputy for the IRGC, confessed to the role of women in national protests, saying, "For the first time, 28 percent of the arrests in the protests were women."
Referring to the arrests of women in the protests last winter, he noted, "Previously, the number of women arrested in the protests was 5 to 7 percent." (The state-run Mehr News Agency - August 15, 2018)
During the nationwide uprisings in Iran last December and January, a total of 50 people were killed and at least 8,000 people were arrested.
https://women.ncr-iran.org/iran-women-news/5445-15-women-among-jailed-protesters-human-rights-watch
--------
War In Yemen: New Skills Help Yemen's Women Survive
September 2, 2018
Yemen's civil war has made life a lot harder for all Yemenis and women and children are the most vulnerable.
But some charities are now helping them earn a living, teaching them new skills so that they can support themselves and not rely upon donations.
https://www.aljazeera.com/news/2018/09/war-yemen-skills-yemens-women-survive-180901150026319.html
--------
URL: https://www.newageislam.com/islam-women-feminism/20-year-old-muslim-woman/d/116262
New Age Islam, Islam Online, Islamic Website, African Muslim News, Arab World News, South Asia News, Indian Muslim News, World Muslim News, Women in Islam, Islamic Feminism, Arab Women, Women In Arab, Islamophobia in America, Muslim Women in West, Islam Women and Feminism