New Age Islam News Bureau
03 March 2021
• 'Nobody Is Safe Anymore': Afghans in Shock after Three Female Media Workers Enikass TV Killed
• Muslim Women Targeted By Repeated Threats In Canada In Hate Crimes
• UP: Mentally Unstable Man Kills Wife, 2 Daughters
• Entertainment Network OSN Celebrates International Women's Day with All-Female Line-Up
• Women Activists Aiming To Make History in Vanuatuan Politics
• 2 Moroccan Women Win L'Oreal-UNESCO 'For Women in Science' Award
Compiled by New Age Islam News Bureau
URL: https://www.newageislam.com/islam-women-feminism/19-years-old-asha-mohamed/d/124446
--------
19 Years Old Asha Mohamed Is Divorced and Drives a Taxi In Somalia Paving The Way For Other Women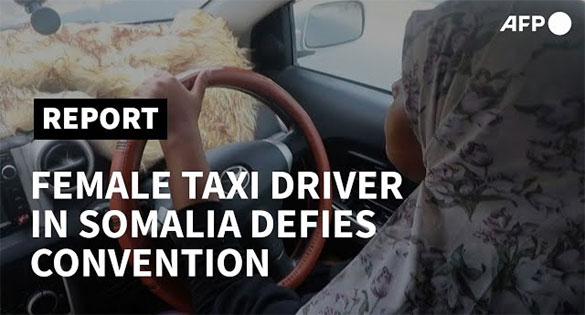 MARCH 01, 2021
At 19 years old, Asha Mohamed is divorced and drives a taxi in Somalia, defying conventions to support her family in one of the world's most conservative and dangerous countries.
For the past year, the young woman has crisscrossed the capital Mogadishu in her white taxi, with a faux fur throw covering her dashboard.
Her career choice was driven by passion, but also necessity after she divorced her husband — whom she married at age 16 — and was left to take care of her two children and her mother.
Taxi driving in Mogadishu is not only typically reserved for men, but is also dangerous in a city where Al-Shabaab Islamists regularly set off car bombs at intersections and security checkpoints.
In a recent blast on February 13, three people were killed and eight wounded.
But car-loving Mohamed, who enjoys playing racing video games on her phone, was not put off.
"In my childhood, it was my passion to be a driver one day, but I was not thinking that I will work as a taxi driver," she told AFP.
She said she had been given the opportunity by a relatively new company called Rikaab taxi.
"The number of women working as taxi drivers were small for security reasons, but… the number of women taxi drivers is gradually growing," said Ilham Abdullahi Ali, the female finance chief at Rikaab Taxi.
However, only three of the company's 2,000 taxis in Mogadishu are driven by women.
Mohamed earns up to $40 a day, allowing her to take care of her family, and hopes that by defying tradition, she can contribute to changing the minds of her countrymen about the role of women.
Clients are often taken off guard when they climb into the white taxi and see Mohamed, wearing light make-up and a colourful hijab, behind the steering wheel.
Sadiq Dahir, a student at the Salaam University, admits he was surprised when he first saw her arrive to pick him up, but that his view has changed.
"Recently I have been using this Rikaab taxi service. Although it is male-dominated work I prefer female taxi drivers because they drive safely and arrive on time."
The Somali capital, situated on a pristine white coastline with turquoise waters, remains dogged by violence a decade after the Al-Qaeda-linked Al-Shabaab was ousted from the city by African Union peacekeepers fighting alongside government troops.
The 1991 overthrow of President Siad Barre's military regime ushered in decades of chaos and civil war.
Thirty years later, the internationally backed federal government has yet to gain full control of the country or hold the first one-person, one-vote ballot since 1969, which had been promised this year.
Even the holding of a complex indirect vote has been delayed by political infighting, which recently led to gun battles between opposing camps in the capital.
Women's rights are low on the list of priorities, and the most recent data, in 2012, showed the country among the bottom four on a United Nations gender equality index.
The report described gender inequality as "alarmingly high", in a country where 98 percent of women have undergone genital mutilation.
"Women suffer severe exclusion and inequality in all dimensions of the index — health, employment and labour market participation," it noted.
"Somali girls are given away in marriage very young, and violence against girls and women is widespread."
https://www.news18.com/news/buzz/meet-the-19-year-old-female-taxi-driver-paving-the-way-for-other-women-in-somalia-3485753.html
--------
'Nobody Is Safe Anymore': Afghans in Shock after Three Female Media Workers Enikass TV Killed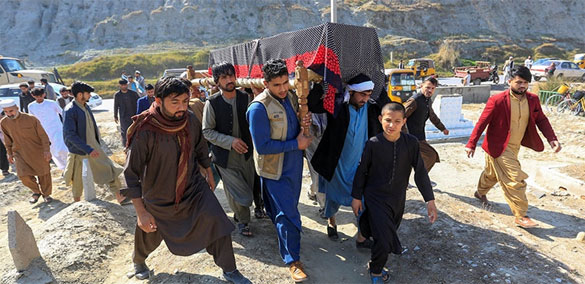 Mourners carry the coffins of three female journalists who were shot dead in Jalalabad on Tuesday. — Reuters
-------
Mar 3, 2021
JALALABAD: Outrage rippled through Afghanistan Wednesday as funerals were held for three female media workers gunned down in the eastern city of Jalalabad, the latest assassinations to rack the war-weary country.
Journalists, activists and judges have recently been ambushed by gunmen or killed by explosives attached to their vehicles as surging violence forces many into hiding -- with some leaving Afghanistan.
The killings have escalated since peace talks began last year between the Afghan government and the Taliban, sparking fears that the insurgents are eliminating perceived opponents.
The three women were shot and killed in two separate attacks after they left the Enikass TV station where they worked on Tuesday.
An Islamic State affiliate later claimed responsibility for the murders, saying its gunmen carried out the killings of what it called "journalists working for one of the media stations loyal to the apostate Afghan government".
Friends and family gathered in Jalalabad to bury their loved ones as they pleaded for an end to the killings.
Mohammad Nazif said his cousin Sadia Sadat was just 18 years old when she was killed Tuesday, and she had been working at the TV station over the past year to help support her family.
"Her family was very happy for her to work in TV. She had not received any warnings," Nazif told AFP.
"I don't know why the militants target such innocent girls. I ask them to stop the targeted killing of media workers."
A colleague at Enikass TV who spoke on condition of anonymity said the station was reeling from the murders, saying the three victims were like "family".
"Three innocent girls were shot dead in the daylight in the middle of the city. Nobody is safe anymore," said the colleague.
In December, another female employee working for Enikass TV was murdered in Jalalabad in similar circumstances.
Afghanistan has long been ranked as one of the most dangerous countries in the world for journalists.
At least nine media workers have been killed since peace talks with the Taliban started in September, according to the Afghan Journalists Safety Committee.
US officials have blamed the Taliban for the wave of violence, while the Kabul government said the insurgents routinely hide behind IS claims to cover their tracks. The Taliban has denied the charges.
https://timesofindia.indiatimes.com/world/south-asia/nobody-is-safe-anymore-afghans-in-shock-after-three-female-media-workers-killed/articleshow/81308351.cms
--------
Muslim Women Targeted By Repeated Threats In Canada In Hate Crimes
Barry Ellsworth
02.03.2021
TRENTON, Canada
Attacks and threats against five Somali-Canadian Muslim women have been reported in Edmonton, Alberta in the last 10 weeks, according to media reports Tuesday.
In the Alberta province cities of Edmonton and Calgary, 140 incidents were reported in 2020, including death threats.
But there are many so-called hate crimes that go unreported because they are so frequent, said Assam Ali, an Edmonton hospital nurse, who spoke to Global News.
Ali, a Somali-Canadian, said she has been targeted repeatedly with slurs because of her hijab and dark skin.
"Most of my visibly Muslim friends and family members have a story of some kind of Islamophobia," said Ali. "The general public hears about this through the media, while our reality is that these are our sisters and our mothers."
Last month a man uttered racial slurs against a Muslim female at the University of Alberta. And in a separate incident, a man knocked down a female, threatened her life and tore off her burqa, a robe used by Muslim women.
On Feb. 17, a man cursed a hijab-wearing Black Muslim woman and threatened to kill her.
While Alberta Premier Jason Kenney and others have condemned the attacks, Mustafa Farooq said more must be done to battle Islamophobia.
"Anti-Black racism is a real problem in Alberta," said Farooq, chief executive officer of the National Council of Canadian Muslims (NCCM)/
"Tension and fear are high," he said in a statement. "That's why we are calling for the immediate creation of a bipartisan provincial-municipal committee to deal with the challenge of racist and Islamophobic street harassment."
There are an estimated 113,000 Muslims in Alberta, according to the latest figures in 2011, according to the news webaite.
https://www.aa.com.tr/en/americas/muslim-women-targeted-by-repeated-threats-in-canada/2162529
--------
UP: Mentally Unstable Man Kills Wife, 2 Daughters
By IANS
Bulandshahr (Uttar Pradesh), March 3: A 60-year-old mentally unstable man in Bulandshahr district bludgeoned his wife and two of his three daughters to death with a hammer.
The incident took place late on Tuesday night.
According to Senior Superintendent of Police (SSP) Santosh Kumar Singh, the man's wife and two of his daughters died on the spot, while the third daughter is in critical condition and has been admitted to the hospital.
The bodies have been sent for post-mortem examination.
The accused, identified as Saeed, fled the scene after the incident and the police have set up teams to locate his whereabouts.
According to reports, the accused used to suspect the character of his wife and daughters, which could be the motive behind the crime.
Disclaimer: This story is auto-generated from IANS service.
https://www.siasat.com/up-mentally-unstable-man-kills-wife-2-daughters-2102104/
------
Entertainment Network OSN Celebrates International Women's Day with All-Female Line-Up
March 02, 2021
DUBAI: In celebration of International Women's Day, entertainment network OSN is planning to launch its first-ever content lineup dedicated to women in the region.
The OSN Woman content will be launched on March 8 and will be available as a standalone channel through any OSN box, as we well as on-demand and on the OSN streaming app.
"OSN Woman was born from the desire to provide women of the region with a tailored content offering. This is the start of a new chapter for OSN, as we launch new content offering that caters to the needs of women of the region and engages with them in a truly relevant way," Rolla Karam, interim chief content officer at OSN, told Arab News.
Fashion, health, parenting, relationships and reality topics will feature in the new channel.
The content, which has been chosen by female programming specialists at OSN, includes "Framing Britney Spears," "A Perfect 14," which explores the world of plus size modeling; and "Public Figure," which looks at the psychological effect of social media use on influencers.
The campaign to promote OSN Woman is also created by an all-women team led by director Danielle Arden and Nayla Chacra, regional executive content producer at production company Prodigious.
"This is the outcome of serious efforts led by talented women at OSN, who invested all their knowledge and understanding of the region in coming up with this unique line-up," said Karam.
https://www.arabnews.com/node/1818681/media
--------
Women Activists Aiming To Make History in Vanuatuan Politics
March 03, 2021
VANUATU — The Republic of Vanuatu is one of the few countries in the world without a single woman representative in parliament, but two determined activists are committed to ending that situation, and ensuring that women's voices are heard by the island nation's most senior decision-makers.
Anthea Arukola, a political advisor to the Vanuatu government, plans to become the country's first member of parliament since 2008. Georgiilla Worwor, a law student and community activist, wants to go even further, and convince voters to elect her as Vanuatu's first-ever Prime Minister.
As part of an audio series recorded in Vanuatu, focusing on some of the women pioneers fighting for gender equality across society, the UN Office for Small Island Developing States (OHRLLS), brought Arukola and Worwor together, to share their dreams and aspirations for women in the country.
Georgilla Worwor: The parliament of the Republic of Vanuatu is our legislative assembly?, but all I see are pictures of men: presidents, prime ministers, MPs...all men.
I'm an indigenous woman of Vanuatu and the work I do here is to build the country that we want, one that respects, values and makes spaces for women for all people. I have a dream and I'm working towards it. I see myself making decisions, leading, and making history by becoming the Prime Minister of the Republic of Vanuatu.
I first met Anthea at the parliament building, during a campaign to elect women to parliament. We marched up to the parliament building and I saw a lady trying to deliver a speech, but her dress was being blown up by the wind. People, mainly men, were laughing so I ran over and held down her dress until she had finished speaking...
Anthea Arukole: ...and I told you that you did something that no-one else would have done. I think it's important to encourage young girls who are doing the right thing.
Truly belonging
Anthea Arukole: Vanuatu has been independent for forty years. I'm going to sound like an old lady, but I was five years old when the first flag was raised, and every single year on the July 30, I shed a tear.
The fortieth anniversary celebrations in 2020 were a realization of where we've come as a nation and prompted discussions on nationhood, of who we are, what we represent, and what we've achieved.
Georgilla Worwor: There was a lot of pride in our people, the fact that we are an independent nation, something that not all Melanesian peoples have achieved.
Anthea Arukole: I think it's also for me, about truly belonging to a place, truly knowing who you are. We are taught in English and French at school, but there is another level of schooling, at home, where we learn our indigenous languages, which also define me. Vanuatu is multicultural, and I am part of a bigger group called Ni-Vanuatu (the people of Vanuatu).
An arena for men
Anthea Arukole: In my view, nepotism plays a big role in Vanuatu politics, and that's how leaders get picked, but I want to see us choose leaders who will make a difference to people's lives.
Georgilla Worwor: For me, politics in Vanuatu is an arena all men. I have never seen a woman politician, never seen women in leadership positions. However, I see women taking care of communities, I have seen women taking care of my home.
Anthea Arukole: This is also a political arena! Yes, there are no women in parliament right now, but take a look at women-run councils, and the churches. I think they are participating.
Personally, I want to be an MP because women can get things done and I think that I am a good decisionmaker.
Georgilla Worwor: My political ambition grew out of what I saw in my community. Every time I go back to the island there's a lack of basic facilities and services. To get to hospital we would have to trek a long way, up a steep hill through an overgrown path. And I thought to myself that what are we doing, what have we been doing?
Anthea Arukole: I think it's exciting that we have women talking about politics, decision making, and leadership, and to meet someone who has political aspirations. I'd like to tell everyone that you are a leader of yourself first, and if you can lead yourself you can lead other people, other communities.
Georgilla Worwor: I have one thing to say: Anthea, will you open the doors for us to walk in?
Anthea Arukole: Yes, and I think I already have, for a lot of people. Just don't hesitate to walk through when I open them! — UN News
https://saudigazette.com.sa/article/604047/World/Asia/Women-activists-aiming-to-make-history-in-Vanuatuan-politics
--------
2 Moroccan Women Win L'Oreal-UNESCO 'For Women in Science' Award
By Oumaima Latrech
Mar 2, 2021
Rabat – The 2020 L'Oreal-UNESCO Maghreb fellowship program awarded two Moroccan researchers, Jihane Ouchrif and Najlaa Fathi for their outstanding research in STEM.
Both Ouchrif and Fathi are praised for their research that contributes to STEM fields and were each granted a scholarship of 10 000 € ($12040) to finance their post-PhD projects.
Ouchrif is a PhD student at Hassan II University in Casablanca, majoring in electrical engineering and telecommunications. Her research focuses on designing prototypes of the optical detector based on the optical transistor of fiber optic communication systems.
Fathi is also a PhD student majoring in environmental science at Cadi Ayyad University of Marrakech. Fathi's research emphasizes the impact of urban warming and the effect on surface temperature, and the reduction of carbon absorption due to non-permeable surfaces.
The fellowship program aims to encourage female participation from North Africa in the STEMfield.
The award was also presented to three other prominent women.
Aida Lahmer from Tunisia was recognized for her research about creating dermatological alternatives based on collagen and medicinal plants. Her fellow Tunisian, Roha Dziri, was chosen for her research on the rapid and persistent change of antibiotic-resistant bacteria, with a focus on treatments like antibiotics which are becoming increasingly ineffective.
Algerian Sarah Benkhalifa was acknowledged for research in identifying new biomarkers that enable targeted therapeutic treatment increasing efficacy, focusing on colorectal cancer .
Following the global precautionary health measures, the official prize ceremony has been postponed until further notice.
Since 1998, the L'Oreal foundation alongside UNESCO, have organized the "for Women in Science" program to highlight the achievements of young women in science and to encourage them to pursue a career in life sciences, physical sciences, mathematics, and computer science.
Ouchrif and Fathi join the list of Moroccan women with great accomplishments, enhancing the image of women across the Arab world.
https://www.moroccoworldnews.com/2021/03/336396/2-moroccan-women-win-loreal-unesco-for-women-in-science-award/
--------
URL: https://www.newageislam.com/islam-women-feminism/19-years-old-asha-mohamed/d/124446
New Age Islam, Islam Online, Islamic Website, African Muslim News, Arab World News, South Asia News, Indian Muslim News, World Muslim News, Women in Islam, Islamic Feminism, Arab Women, Women In Arab, Islamophobia in America, Muslim Women in West, Islam Women and Feminism