New Age Islam News Bureau
2 Jan 2014
• Russia's Deadly Black Widow Cult That Threatens Olympians
• Hebrew University Women Learn To Fend Off Arabs Making Sexual Advances
• Afghan Authorities Annul 7-Year-Old's Marriage-For-Money, Launch Investigation
• Saudi Man Gets 80 Lashes for 'Defaming' Kuwaiti Singer on Twitter
• Madinah Conference Calls For Creating Jobs for At-Home Women
• Former Johor Sultanah Says She and Late Sultan Were Not Divorced
• Women in Northwestern Turkey Sweating To Earn Living in Carpentry
• Pakistani Students Weddings to UK Women a 'Sham'
Compiled by New Age Islam News Bureau
URL: https://www.newageislam.com/islam,-women-and-feminism/new-age-islam-news-bureau/19-muslim-malaysian-couples-nabbed-for--khalwat--or-sex-outside-marriage-on-new-year-day/d/35107
---------------
19 Muslim Malaysian Couples Nabbed For 'KHALWAT' or Sex-Outside-Marriage on New Year Day
2 January 2014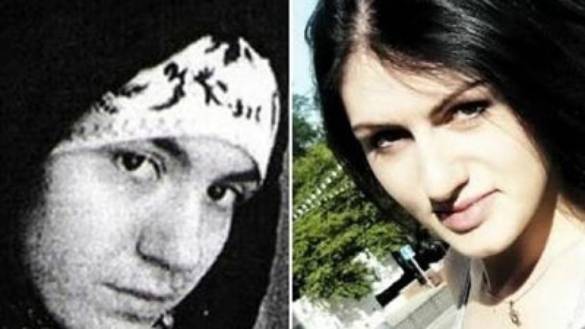 Wanted: Black widow Oksana Aslanova (right) before her conversion to Islam (left). Picture: Supplied. Source: Supplied
-----------
GEORGE TOWN - A mother of two and an eight-month pregnant woman were among 19 Muslim couples detained here by Penang Religious Department for committing Khalwat (close proximity) on New Year Day.
The pre-dawn raid was carried out from 2am on several budget hotels in Sebarang Perai and Timur Laut districts from Department's chief enforcement officer Khair ul Azman Azizan said the 29-year-old mother had taken her two children, aged between three and six year-old, to the hotel room to be with her boyfriend.
"They tried to pass themselves off as married couple but checks revealed they were not married," he said.
Khairul said they also detained an eight-month pregnant woman with her boyfriend after they failed to prove that they were married.
He said those detained were in their 20s to 40s and included students from the local higher learning institutions. - NST
http://www.malaysia-chronicle.com/index.php?option=com_k2&view=item&id=207862:19-muslim-couples-nabbed-for-khalwat-or-sex-outside-marriage-on-new-year-day&Itemid=4#ixzz2qDI5WxYN
---------------
Russia's deadly black widow cult that threatens Olympians
02 January 2014
THEY are young, female, and in love - and they are the doomed followers of a man known as Russia's Osama bin Laden.
They are the "black widows" of Russia's extremist terrorist group and are selected for death almost from the moment they join up.
Lured by the promise of a key role in a coming Russian holy war led by a charismatic madman with bin Laden-style aims, the women - some still in their teens - enjoy a brief, passionate relationships with Russian men who are also terror recruits.
Then, after he blows himself up in a suicide bombing, the new widow prepares herself for her own fiery end.
Willing to become martyrs for their beliefs and their lost loved ones, they enter train stations, buses and airports strapped with explosives destined to cause death and havoc.
The cult of the black widow is striking fear in the hearts of Russian parents who are losing daughters and sons to the terror group which is bent on a suicide bombing jihad.
Following two lethal bomb blasts in the southern Russian city of Volgograd this week, fears the terrorist cult will threaten the safety of Australians and other athletes competing in the Winter Olympics next month have escalated.
The leader of the group is Doku Umarov, a 49-year-old former oil construction engineer turned Islamic war lord and now dubbed the country's Osama bin Laden.
The US government has placed a $5 million bounty on the head of the Chechen-born self-proclaimed emir of a new Muslim state he calls the Caucasus Emirate.
Umarov has made a direct threat against the February 7-23 Sochi Games, saying it was his holy duty to prevent them from taking place.
Authorities believe Umarov is operating his terrorist movement out of the strife-torn southern republic of Dagestan, which lies between the Caucasus mountains and the Caspian Sea.
Umarov has denounced the establishment of Sochi's Olympic village as a defilement of the "sacred ground" once occupied by Circassians, who were "ethnically cleansed" by Russia in the 19th century.
Although young terrorist recruits to Umarov's movement have come from all over Russia, at least one black widow, Naida Asiyalova, who blew herself up in a suicide bombing in Volgograd in October, is from Dagestan.
Known as Amaturahman, Asiyalova was in love with another suicide bomber before she "did her duty" to the jihad cause.
She was a close friend of the missing woman initially implicated in this week's Volgograd station bombing.
As the death toll rises from the Volgograd bombings, Russian investigators have linked the explosions.
Russian Investigative Committee spokesman, Vladimir Markin confirmed Sunday's Volgograd train station was the work of a suicide bomber, whose "signature closely matches" the following day's bomb on a trolleybus.
Police first identified 26-year-old black widow Oksana Aslanova.
Russian news source Life News published a picture of what it reported was her bloodied head lying amid a pile of debris with her long brown hair spread across the train station floor.
Aslanova, who has been on Russia's wanted list for two years, has reportedly been married to two Islamic militant leaders liquidated by Russian forces in the North Caucasus.
After investigators found further remains - a male finger with a pin from a grenade - among the debris at the crime scene, a new culprit emerged.
Pavel Pechyonkin, a medical school graduate, left Moscow to join Dagestani militants in 2011.
It is believed he became a disciple of Doku Umarov.
Oksana Aslanova is now thought to be still at large.
As Russian president Vladimir Putin ordered a further security crackdown, Sochi, which lies west of Dagestan on the Black sea coast, is being turned into a massive security fortress.
Umarov is said to excel in hostage-taking and suicide bombing, favouring buses, trains, rail stations and airports where he can kill and maim as many people as possible and cause maximum transport mayhem.
These are the bombings he is credited with and the black widows or young male recruits it is said have danced to his tune:
Dzhennet Abdurakhmanova was only 16 when she met and married Umalat Magomedov, a Dagestani Islamist rebel killed in 2009.
A classic, if very young example of the "black widow" cult which is a feature of the Russian Islamic terror campaign, Abdurakhmanova was part of a nationwide recruiting campaign by the Chechen rebel group.
Once lured in, the women are immediately treated as potential suicide bombers. They are not told this, rather they are treated the same way as male recruits and included in discussions about the right and wrong ways of Islamic faith.
Then the girl becomes a wife or mistress of the young war lord.
Abdurakhmanova's husband, Magomedov, aka Emir Al Bara, was the leader of the Shariat Jamaat organisation in Dagestan and an appointee of Doku Umarov.
After the husband's inevitable death - Magomedov was killed by Russian security forces on 31 December 2009 - the new widow may become the wife of another member of the armed underground.
From thereon, the black widow begins a new stage: preparing for suicide bombing.
Abdurakhmanova, whose real name was Janet Abdullaev, was one of two women earmarked by Umarov to carry out bombings during the morning rush hour at Moscow's Metro station on March 29, 2010.
At the time, an estimated 500,000 people were commuting through the Moscow metro system.
At least 40 people died and more than 90 were injured.
Russian officials called the incident "the deadliest and most sophisticated terrorist attack in the Russian capital in six years".
About 48 hours later, a double suicide bombing in the Dagestani town of Kizylar killed 12 people including nine policemen.
Four days on, another explosion derailed a freight train in Dagestan.
The second black widow turned suicide bomber responsible for the Moscow metro explosions was 28-year-old Maryam Sharipova.
Married to close Umarov associate, Magomedali Vagabov, killed in an operation in Dagestan along with four other militants in August 2010, Sharipova was identified after police released photographs of her remains in the bombing aftermath.
Sharipova's father recognised his daughter in photographs of her remains.
He told authorities Sharipova, who taught computer science at a local school, had gone missing the day before the attacks.
She had allegedly told her mother that she was going to visit a friend. The couple had not heard from her since.
Sharipova, who lived with her parents in the village of Balakhani in Dagestan, was never known to show extremist views or unusual behaviour, her father said.
Naida Asiyalova, whose jihadi name was "Amaturahman", was a 30-year-old Dagestani national
and alleged wife of Dmitry Sokolov, a militant in the regional capital of Makhachkala.
Neighbours from her village remembered an ordinary, westernised girl who was not religious, but who married a Turk, and "then something happened" and she "changed completely" and began attending the mosque and wearing a scarf.
Asiyalova and Sokolov met in the Moscow suburbs, where she recruited him to radical Islam.
They later left the capital to join rebel groups in Dagestan.
Sokolov was reported missing in July 2012 after he failed to return home from Arabic language courses that he attended at one of the capital's mosques.
Taking on the rebel name of Abdul Jabbar, he allegedly took part in the two 2010 Dagestan explosions.
Russian media reported Asiyalova had a serious disease which caused her jawbone to recede and required tranquillisers and painkillers.
A fundraiser was previously organised on social network VKontakte for her treatment. It stated that she had a disease which caused her jawbone to recede.
Asiyalova constantly changed her place of residence from Makhachkala to other Dagestani cities, where she met with the widows and wives of militants.
An ardent convert, she was popular and had access to money collected at Muslim gatherings aimed at preaching Islam.
On the morning of October 21 last year, she boarded a bus in Volgograd with explosives strapped to her body beneath her flowing veil.
At about 2.05pm. Moscow time, she detonated the bombs, killing six people and injuring 37 others, included a 20-month-old child.
Now one of the most wanted women in Russia, Oksana Aslanova is reportedly the black widow of two extremist warlords.
Born in 1987, she later moved to Dagestan, where she married Mansur Velibekov, a Chechen radical and member of a criminal ring wiped out in 2008.
Upon his death, Aslanova became a so-called "Sharia wife" of the gang's leader, Gasan Abdulayev.
Another report suggests that Aslanova was also married to a known terrorist, Israpil Validzhanov, who went under the nickname of Amir Hasan.
He was eliminated on March 18, 2011 near the Dagestani village of Tashkapur.
She has been missing since March 8, 2012 and it is now believed the "black widow" who outlived three husbands has undergone training as a suicide bomber.
Police now think one-time trainee doctor, Pavel Pechyonkin, self-detonated the bomb in Volgograd's railway station this week, killing 17 people.
Pechyonkin left Moscow in 2011 to join militants in Dagestan and subsequently posted a video on YouTube saying that he was following God's will and was working to earn a place in heaven.
His parents Nikolai and Fanaziya desperately tried to save their son.
Mr Pechyonkin said initially Pavel had changed for the better.
"He stopped arguing with me, did not drink, went to the mosque. I bought him Halal meat," he said.
Then following a visit to Moscow, he vanished.
The Pechyonkins heard he had gone "in the forest" with rebels and made an internet appeal for him to return, to which he replied: "It was sad to see your tears, very sad.
"I didn't even want to watch. I thought it would weaken me. I came here so Allah would be pleased with me, to earn my way to paradise."
They travelled to Dagestan, hoping to rescue him from the militants.
The Moscow Times quoted his mother saying, "imagine somebody were to kill your parents, how would that make you feel? Why are you turning children into orphans?"
Pechyonkin told his parents he had then decided he would not be swayed.
http://www.news.com.au/world/russias-deadly-black-widow-cult-that-threatens-olympians/story-fndir2ev-1226793863105
-----------
Hebrew University women learn to fend off Arabs making sexual advances
2 January 2014
The initiative was created following a series complaints by Arab and Jewish female students of crude advances by young Palestinian men.
To combat increasingly brazen cases of sexual harassment against female Hebrew University students by young Arabs living near their French Hill dormitories, two student organizations are collaborating to offer self-defense and empowerment courses.
The initiative, spearheaded by the university-affiliated Yerushalmiot (Women of Jerusalem) and Hitorerut (Awakening on Campus), was created following a series complaints by Arab and Jewish female students of unwanted and crude advances by young Palestinian men.
"On a daily basis both Palestinian and Jewish women are being harassed by these young Arab [residents] living near the French Hill neighborhood," said Eitan Mamrud, chairman of Hitorerut. "It's a major issue, and while I don't know the number of complaints, it's just getting worse, so we want to provide a holistic solution."
Mamrud said the majority of incidents had occurred at night, while the students were walking from campus to the dormitories, 10-15 minutes away.
"It can be a small thing, like a car following them and [its occupants] shouting crude comments to scare them, or having their breasts groped," he said. "It's not safe and it's not supposed to be like this. It's wrong."
To empower the women, Mamrud said his organization had joined forces with Yerushalmiot to face the problem head-on by setting up two classes to address the students' concerns and teach them how to respond.
The first session, which took place Sunday on campus, was primarily theoretical and discussed different types of aggression.
The second class, on Monday, will instruct women how to physically defend themselves.
Mamrud said if the classes are successful, he hopes to hold sessions more frequently throughout the year.
"This provides them with tools that go beyond French Hill to help make them safe and strong," he said.
Indeed, Einav Cahaner, a 26-year-old freshman who attended the first class with roughly 30 other women, said that although she doesn't live in the dormitories she hopes to use the training to stay safe anywhere.
"I heard about people who are afraid to go by themselves to French Hill, and I share the same fears living in the center of the city," she said Tuesday.
While Cahaner said she did not know any women who had been physically attacked, she has heard about several frightening encounters from Jewish and Arab students accosted by young Palestinian men living near the dorms.
"I heard about this one girl who was walking down the street near there, and someone came up to her and asked a question and kept following her," she said. "When she asked him to leave he refused, and even though he didn't attack her it was still very scary."
Cahaner said the fear engendered by the stories led her to feel the need to limit her movements, which has negatively affected her quality of life.
"In Israel you grow up thinking you can safely go anywhere at any time, and suddenly there are people who make you scared to walk somewhere because you know something bad might happen," she said.
At the initial class, Cahaner said self-defense experts from El Halev, which specifically trains women, addressed the participants' collective concerns.
"Many of the girls said they are afraid to walk to the dorms but are scared to do something about it," she said. "They talked to us about why we should protect ourselves and not be afraid."
Cahaner said the initial discussion focused on self-empowerment and then delineated various threatening scenarios, as well as proactive measures the women can take to protect themselves.
"They talked to us about 'doing,' and I really agree with that," she said. "They said we can't just sit and wait for these things to happen, but [need to] protect ourselves. That's why the program is so great, because it gives us the power to know we can do something and teaches us how to do it."
While Cahaner conceded that the self-defense course was not a "perfect solution," she said it was an invaluable tool to harness confidence.
"It's a beginning to help women believe in themselves," she said.
Lili Pergamenikov, head of Yerushalmiot, said she lived in French Hill during her first year as a student but decided to move to Rehavia because she was uncomfortable walking near Arab neighborhoods, particularly at night.
"When you get near Palestinian areas, a lot of cars pull up next to you and people proposition you," she said. "But girls have talked about much more serious things, like people stopping them, touching them and holding them."
According to Pergamenikov, who is also taking the courses, the young Arabs have become markedly more aggressive during the past year, going so far as to throw rocks at the students and steal their phones.
"Things have gotten more severe, so the whole idea of the program is to try to take self-control back," she said.
"We try to make women feel like they are powerful and can do anything they put their minds to."
Pergamenikov emphasized that the program was in no way political.
"This is not just Jews versus Arabs," she said. "The issue is that we have men of various ages who think they can do whatever they like. It's not about the Right or Left. It's much bigger than that."
Asked to comment on the situation, national police spokesman Micky Rosenfeld said that while police were actively patrolling and making arrests in the Arab community of Isawiya, located near the university, the French Hill dormitories were overseen by private security.
Still, he said any cases of sexual abuse should be reported right away to police.
"If we get a report we will respond immediately," he said.
http://www.jpost.com/National-News/Hebrew-University-women-learn-to-fend-off-Arabs-making-sexual-advances-336749
---------------
Afghan Authorities Annul 7-Year-Old's Marriage-For-Money, Launch Investigation
Jan 2, 2014
Authorities in the Afghan province of Jowzjan have annulled the marriage of a 7-year-old girl whose father admits giving her away in return for the equivalent of $2,000.
An investigation has also been launched against the father, Ramadan, who like many Afghans goes by one name, as well as the groom and the cleric who reportedly presided over the ceremony.
The father blamed his action on poverty that has plagued his family.
"We didn't have a place to live, we were hungry, we had debts," Ramadan said. "I regretted doing this the day I did it. I regret it now."
He acknowledged marrying off his underage daughter in return for around $2,000 and foodstuffs, including rice and wheat.
Jowzjan police officials say they opened the criminal case after Ramadan's wife complained to local human rights groups and officials that her eldest daughter was being subjected to violence by her in-laws.
"My daughter was married for nearly one year, and during this time she ran away from her home twice," said the mother, who didn't give her name. "Her husband beat her frequently. I didn't want my daughter to go back to her marital home, but her husband would come and take her back by force."
Police have arrested Ramadan and his 35-year-old son-in-law, Asadullah, as well as the mullah who conducted an Islamic marriage ceremony for the couple.
The mullah, Mawlawi Noor, who was released on bail, insists the parents lied to him about the girl's age.
Many Afghans do not have birth certificates, and it's not uncommon for religious marriage ceremonies to be conducted without the bride's or groom's identity documents.
Instead, two witnesses and two representatives of each party are invited to be present at the ceremony to testify about the couple's real names, ages, and marital status, if the mullah requires such information.
Poverty, Drug Addiction
According to Ewazali Saberi, a children's rights advocate for Afghanistan's Independent Human Rights Commission, the authorities should also punish the witnesses and the family representatives for "withholding information about the girl's age" during the marriage ceremony.
"The two witnesses and the two family representatives should be held responsible for their actions," he said. "Police haven't investigated these people so far."
Authorities have annulled the marriage as the investigation continues.
"This marriage violates both Afghan laws and religious norms," said Abdulmalek Mamnun, the head of the criminal investigation department of Jowzjan Province.
Human rights groups as well as women and children's organizations have been involved in the case.
Maghferat Samimi, the head of the regional Human Rights Organization, said "locking up a few culprits doesn't resolve the problem; we need to do more."
"The father of the girl is a drug addict," she added. "He doesn't understand his children's rights. Poverty in one hand, and drug addiction in the other, has led the man to take such actions against his own children."
In a joint meeting this week in the provincial capital, Sheberghan, local authorities, court representatives, and human rights officials decided to send Ramadan to a drug rehabilitation center in neighboring Balkh Province.
The mother was placed in a Sheberghan safe house for women, while her four children have been transferred to a nearby children's home.
Local authorities say they are considering "finding a suitable job for the mother -- in the women's shelter or children's home -- to help the family rebuild their lives."
http://www.rferl.org/content/afghanistan-probe-child-marriage/25214436.html
----------
Saudi man gets 80 lashes for 'defaming' Kuwaiti singer on Twitter
2 January 2014
The Riyadh Criminal Court has sentenced a Saudi man to a three-month jail term, 80 lashes and a fine of 10,000 riyals ($2,600) after defaming a Kuwaiti singer on Twitter and Facebook.
The Saudi man was accused of posting defamatory messages on social media, including allegations of immoral conduct about celebrity artist Shams.
The defendant had been on bail since August and will now appeal the court's verdict, according to local media.
But he may be in for a surprise as Shams' lawyer announced the singer will appeal the court's decision "because the punishment was light compared to the enormity of the man's crime," the Saudi-based Arab News reported on Wednesday.
In a statement to the press following the court ruling, Shams said the defendant had referred to himself as an "attorney" for popular Emirati artist Ahlam. In recent years, Shams and Ahlam have been embroiled in a public clash, which has attracted major media attention in the region.
In 2012, Shams reportedly mocked Ahlam on Twitter, posting: "I don't like Ahlam, nor do international fashion designers find any use in her."
Shams has now said she will also follow up on defamation charges held against three other "Ahlam fans" on social media.
They had accused Shams of committing adultery and "posted fake photos on social media to support his charge," the newspaper reported. In turn, Shams accused the defendant of trying to provoke groups to murder her.
During the trial, the defendant did not provide any "reliable proof" to support his accusations.
The case highlights the extent to which public figures have begun to crack down on defamatory posts on social media that could be of harm to their reputation.
Last October, a Kuwaiti court sentenced prominent opposition writer Mohammad al-Wushaihi to a three-month jail term for tweets deemed defamatory to a former prime minister.
http://english.alarabiya.net/en/variety/2014/01/01/Saudi-man-gets-80-lashes-for-defaming-Kuwaiti-singer-on-Twitter.html
---------------
Madinah conference calls for creating jobs for at-home women
2 January 2014
The conference on Women's Rights in Islam organized by the Taibah University — which concluded in Madinah on Wednesday — stressed the need for opening up job fields that can be undertaken by women in their homes and which can guarantee large-scale employment of women.
The conference recommended setting up consultant offices for women with female experts on Islamic Shariah and family counseling.
The conference also recommended consultancy bureaus in law courts and settling of women's issues based on the principles of the Holy Qur'an and the Sunnah of the Prophet (peace be upon him.)
It also recommended a follow up for the implementation of the conference's recommendations. Another recommendation was to support the Islamic stand on honoring women and treating them with respect. In addition, it was suggested that Muslims should view women's rights as an obligation on the part of a Muslim.
The conference recommended the need to spread a culture of granting women their legal rights and simplifying the legal procedures in courts on women's issues besides a speedy disposal of their cases.
The recommendations included preparing periodic statistics on women's deprivation of their rights to explore the depth of the issue in addition to preparing studies on the real state of women in the Kingdom.
The conference also recommended the setting up of a commission to monitor the news in the international media and on forums on women's rights and adopt what is beneficial to women and in compliance with Islamic values.
Taibah University organized the conference as part of the celebrations of Madinah being declared as the cultural capital of Islam for the year 2013.
http://www.arabnews.com/news/502246
---------------
Former Johor Sultanah Says She and Late Sultan Were Not Divorced
2 January 2014
The former Johor Sultanah, Tuanku Zanariah Tunku Ahmad, has filed an application in the Syariah Court to set aside an earlier court order that her late husband Sultan Iskandar Sultan Ismail had divorced her on January 23, 2009.
She also wants the ruju' (resumption of conjugal relationship) pronounced a week later after the purported divorce be declared invalid.
In her affidavit in support of the application which was filed today, she alleged that the state administration, especially the religious authorities, were used in an attempt to defame her and Sultan Iskandar.
Tuanku Zanariah said that the late ruler did not make any application to verify the alleged divorce, adding that she and the late sultan were both living together as lawful husband and wife in peace and harmony until Sultan Iskandar died on January 22, 2010.
Sultan Iskandar was named as plaintiff in that case while Tuanku Zanariah was the defendant, meaning that the late ruler had initiated legal action against his wife.
However, Tuanku Zanariah said that she was not informed nor served with any papers of the court proceedings and only learnt about it on September 30 this year from a letter sent by Johor Mufti Datuk Mohd Tahrir Syamsuddin.
"From the Mufti's letter, it is apparent that the state fatwa committee had abused its power by making a ruling on August 6, 2010, that Sultan Iskandar and Tuanku Zanariah were divorced and that the ruju' by Almarhum is invalid," a statement issued by Tuanku Zanariah's office read.
Subsequently, Tuanku Zanariah said, then menteri besar of Johor, Datuk Abdul Ghani Othman, had on December 9, 2010, written a letter to her stripping her of the title "Yang Maha Mulia Sultanah".
She said she was also not informed of the Menteri Besar's decision but only knew about it from the Mufti's letter, some three years later.
"A gross injustice has been done where the various organs of state have been blatantly used, in particular by the religious authorities," she said, adding that the suit was filed to clear her good name as well as Sultan Iskandar, whose reputation has been equally tarnished but is not around to defend himself.
Tuanku Zanariah was not present, but her lawyers, Afshah Arifin and Kamar Ainiah Kamaruzaman, were in court to file the documents.
The case will be mentioned on January 20.
Outside the court, Tuanku Zanariah's youngest daughter Tunku Masera Iskandar said that she is disappointed over the way her mother had been treated.
"I hope justice will be served," she said.
http://www.themalaysianinsider.com/malaysia/article/former-johor-sultanah-fights-to-clear-name-says-she-and-late-sultan-were-no
---------------
Women in northwestern Turkey sweating to earn living in carpentry
2 January 2014
Women in the northwestern district of Iznik are helping bring in cash to the family home by working in a sector that has traditionally been the purview of men in Turkey: carpentry.
The women working to produce boxes in the district's Mahmut Çelebi neighborhood, where most of the sawmill ateliers are located, use their skills to create wooden boxes that are then used to transport fruit and vegetables.
In the neighborhood, which is known for its carpenters and carpenter shops, one inevitably finds women attempting to earn their daily wage amid the sawdust.
Keeping the nails between their lips, women produce boxes rapidly thanks to their many years of experience.
One of the female workers in an atelier, Yasemin Cengiz, said she had been married for 23 years and had two children. She said she got into the business 22 years ago to support her husband, adding that their only purpose was to raise their children and give them a chance to find a good job.
Noting that her living conditions were difficult, Cengiz said: "One of my children is attending university. The other is in high school. The money my husband earns is not enough for us to get by on."
70 liras for 200 boxes
Cengiz said being a carpenter was a hard job for women, while adding that most of those helping produce boxes in Iznik were women.
Boxes are generally produced by a whole family, she said. "The stages of this job are not easy. It also takes time to learn how to do it. … The more boxes we produce a day, the more we earn. We send these boxes, which are used to carry fruits and vegetables, to the fruit and vegetable markets in cities such as Ankara, Eskisehir and Antalya. We can produce 450-500 boxes a day when work is good. I can produce 125 boxes a day on my own but there are some workers who can produce 200 boxes a day. The daily wage of a worker is some 70 Turkish Liras. The daily wage of an average worker is not less than 50 liras."
http://www.hurriyetdailynews.com/women-in-northwestern-turkey-sweating-to-earn-living-in-carpentry.aspx?pageID=238&nID=60376&NewsCatID=341
---------------
Pakistani Students weddings to UK women a 'sham'
2 January 2014
A Pakistani student has been deported and another is fighting to stay in the UK after their marriages to mentally handicapped women have been declared a sham.
The first man, in his 20s, began a relationship shortly after exhausting his rights of appeal.
The pair married in a Muslim ceremony in mid-2012, but last month the judge declared the marriage fraudulent and the man was deported, according to the Daily Mail.
The second man, win his 30s, also married a woman in a Muslim ceremony in late 2011 not long after his application to stay in the UK was refused.
The woman became pregnant not long after they wed and gave birth to a son in 2012.
The man is now demanding to stay in the UK, claiming he has a human right to family life with his young son.
But in both cases, it has been claimed that the women's disabilities meant they did not have the capacity to consent to marriage.
Justice Keehan said the first man had arrived in the UK to study in 2009 but an application to stay was refused.
An immigration tribunal found that he submitted forged documents and attempted to deceive officials.
The judge said days after the marriage ceremony the man claimed asylum because "he feared he would be killed by his family who disapproved of his marriage to a white British woman".
He said the man had been refused asylum and deported in August 2012.
The judge concluded that the woman had the capacity to consent to sexual relations but did not have the capacity to enter into marriage.
In the second case, Justice Parker was appointed to decide whether the woman had capacity to consent to marriage and sexual relationships.
She said six weeks before the marriage the man's application to stay in the UK following the expiry of a two-year student visa had been refused.
The judge concluded that the woman lacked the capacity to consent to sexual relations and lacked "sufficient understanding" to consent to marriage.
Justice Parker said the man was basing a claim to remain in the UK on his human right to family life.
Mrs Justice Parker said the case had been about the woman - not her son. She was told that man wanted stay in England with the baby.
She said plans for the little boy's care would need "rigorous evaluation".
http://au.news.yahoo.com/thewest/world/a/20573589/students-wed-uk-women-in-sham/
---------------
URL: https://www.newageislam.com/islam,-women-and-feminism/new-age-islam-news-bureau/19-muslim-malaysian-couples-nabbed-for--khalwat--or-sex-outside-marriage-on-new-year-day/d/35107