New Age Islam News Bureau
6 Jun 2014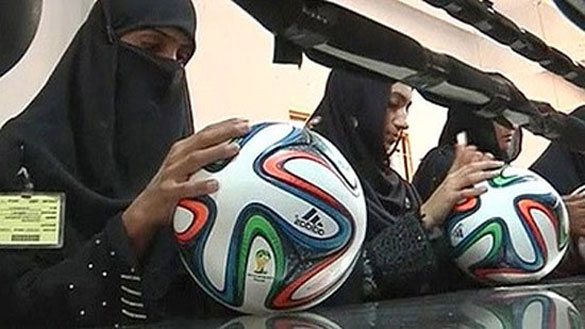 Pakistan factory's World Cup win
----------
• 'Execute Her,' Says Brother of Sudan Christian Convert
• Unions Accuse Qatar Airways of Sex Discrimination
• Honour Killing Case: Farzana Parveen Was Not Pregnant, Claims Police
• (Mis)Use of Influence: 'I Am Being Pressured To Withdraw My Rape Case'
• After Six Years of Silence, a Women's Magazine Makes a Comeback in Iran
• Meet the Pakistani Women behind the Official FIFA World Cup Balls
• Only 10 Percent Saudi Investors Are Women
• Saudi Men Prefer Women Work From Home
• Yemen Opens Religious Summer Schools
• Burma's Move on Marriage Restrictions Spark International Alarm of an Attack on Rights of Women and Minorities
Compiled by New Age Islam News Bureau
URL: https://newageislam.com/islam-women-feminism/18-year-old-woman-survives/d/87396
------------
18-Year-Old Woman Survives Honour Killing Bid in Pakistan
June 6, 2014
HAFIZABAD: An 18-year-old woman was miraculously pulled out alive from a canal on Thursday after members of her family shot her twice, bundled her into a sack and threw her into the water.
Apparently her family tried to kill her because she married against their will.
Cantt police have registered an attempted murder case against four people, including the woman's father and brother. The woman, a resident of Iftikhar Colony, Gujranwala, told the police that she had married one of her relatives without her family's consent last week. She said that her family had been furious over the marriage.
"Her condition is out of danger and we have registered a case against her family on her complaint," a police official said.
In her statement to the press, she said that her father Maqsood Ahmad, brother Faisal, uncle Ashfaq Ahmad and aunt Sajida Bibi on Thursday took her to Hafizabad to buy wheat. Instead, they shot and injured her. Presuming her to be dead, they put her into a sack and threw her into a canal. Some Rescue-1122 officials fished the sack out of the water and saved her. They took her to the district headquarters hospital.
Police said they had arrested Maqsood Ahmad and Faisal from their house in Iftikhar Colony, Gujranwala.
http://tribune.com.pk/story/718180/woman-survives-honour-killing-bid/
------------
'Execute her,' says brother of Sudan Christian convert
06, June 2014
The brother of Meriam Ibrahim, a Sudanese woman facing the death penalty for converting to Christianity, has said she "should be executed."
Al-Samani al-Hadi told CNN that he handed his sister over to the authorities because his family are "Muslim people," and that she should "repent."
"It's one of two; if she repents and returns to our Islamic faith and to the embrace of our family then we are her family and she is ours," he said.
"But if she refuses she should be executed," he said.
Ibrahim, 27, was sentenced to death for "apostasy" last month by a Khartoum court for allegedly converting to Christianity from Islam. She maintains that her Muslim father left when she was young and that she was raised a Christian by her Ethiopian mother, who is an Orthodox Christian.
Ibrahim married a Christian man from southern Sudan in a church ceremony in 2011. As in many Muslim nations, Muslim women in Sudan are prohibited from marrying non-Muslims, though Muslim men can marry outside their faith.
Ibrahim has a son, 18-month-old Martin, who is living with her in jail, where she gave birth to a second child, a baby girl, last week.
By Sudanese law, children must follow their father's religion.
Human rights group Amnesty International condemned the sentence, calling it "abhorrent," and the U.S. State Department said it was "deeply disturbed" by the sentence.
http://english.alarabiya.net/en/News/middle-east/2014/06/06/Sudanese-women-sentenced-to-death-should-be-executed-says-brother.html
------------
Unions accuse Qatar Airways of sex discrimination
06, June 2014
Two global union organizations submitted a case against Qatar to the International Labor Organization (ILO) accusing the Gulf country of allowing its state-owned airline, Qatar Airways, to violate conventions against workplace discrimination.
The International Transport Workers' Federation (ITF) and the International Trade Union Confederation (ITUC) accused the Qatari government of allowing Qatar Airways to violate ILO Convention 111, which Qatar signed in 1976.
Both organizations accuse Qatar Airways of workplace sex discrimination and restricting women's rights, and allege that the Qatari government is in breach of its international obligations by turning a blind eye to these offences.
The case provides evidence that female cabin crew members face gender-based discrimination such as a contractual marriage bar for the first five years of service.
ITF acting General-Secretary Steve Cotton said: "Qatar Airways already has an unenviable reputation for severe employment practices, even among industry professionals, with allegations including harassment and restrictions on visitors and relationships. Its gender discrimination against female cabin crew is equally unacceptable," according to an ITF press release.
Sharan Burrow, ITUC general-secretary, said: "The corrupt kafala system used in Qatar, including by Qatar Airways, virtually enslaves women and controls their every movement. They live under strict curfews and the smallest details of their lives are controlled by their employers.
In March, after months of scathing reports from labor rights officials, Qatar Airways said controversy over its female cabin crew policy was "not true."
The airline was blasted last September for forcing its female workers to seek permission from the company when they decide to get married.
In a report released then by the International Transport Workers' Federation (ITF), the airline was found to also mandate that women tell a supervisor if they become pregnant.
In February, Qatar Airways came under fire from Norway's anti-discrimination ombudsman after it posted an advert telling women to wear short skirts to a cabin-crew recruitment day in the capital, Oslo.
In the same advert, men were asked to come wearing "business suits," according to Norwegian news website The Local.
The advert was later changed to state that both men and women to attend wearing "business wear."
Qatar Airways did not yet respond to a request for comment by Al Arabiya News.
http://english.alarabiya.net/en/News/middle-east/2014/06/05/Unions-accuse-Qatar-Airways-of-sex-discrimination-.html
------------
Honour killing case: Farzana Parveen was not pregnant, claims police
06, June 2014
LAHORE: The Lahore police has claimed that Farzana Parveen, the woman who was bludgeoned to death by members of her family outside the Lahore High Court on May 27, was not pregnant, as reported earlier.
The claims were made in a report submitted to the court on Thursday. Capital City Police Officer (CCPO) Shafiq Gujjar, who appeared before a special division bench of the LHC, also stated that the police officials deputed at the LHC premises, as well the adjacent building of the Punjab Judicial Academy, could not leave their place of duty according to standard operating procedure on the day the incident took place.
The CCPO further said that they registered a First Information Report (FIR) against six nominated and 22 unknown accused, and have arrested four nominated and nine unknown accused. He said they are collecting evidence and would submit a charge sheet against the accused before the court within the stipulated time. The court asserted that no innocent person should be implicated in this case.
Acting Advocate General Mustafa Ramaday, on the other hand, also submitted a report before the court stating that no policeman was on duty when the incident took place. .
The LHC bench, comprising Chief Justice Umar Ata Bandial and Justice Manzoor Ahmed Malik, ordered the CCPO to file a report after conducting an inquiry against the police officials on duty outside the court on May 27. The bench also ordered a report following the submission of a charge sheet of the accused, as well as a court also sought a report about the security in surrounding areas of the courts in the province. The court also directed the CCPO to ensure security in the areas surrounding areas courts.
The bench remarked that failure of the police to take any action and the apathy displayed by them that day has put their performance in doubt. It also pointed out that the areas surrounding courts have become 'safe havens' for criminals. It is due to apathy of the police, the bench concluded.
The court adjourned the hearing till July 10.
http://tribune.com.pk/story/717812/farzana-parveen-was-not-pregnant-claims-police/
------------
(Mis)Use of Influence: 'I Am Being Pressured To Withdraw My Rape Case'
June 6, 2014
PESHAWAR: Farahnaz*, who had earlier accused the brother of Khyber-Pakhtunkhwa's (K-P) deputy assembly speaker of rape, alleged her family is being pressured to withdraw the case.
From Shakar Darra, Farahnaz had accused Safdar Qureshi, deputy speaker Imtiaz Qureshi's brother, and his cousin Asmatullah Qureshi of raping her in her own house on May 6 while the rest of Farahnaz's family was out working the fields.
The alleged victim spoke to the media at the Peshawar High Court (PHC) on Thursday. "My father and I will take our own lives if justice is not delivered," said Farahnaz. "The accused belong to an influential family in the area and keep forcing us to withdraw the rape case," she added.
According to her father Akbar, when Farahnaz was being taken to the hospital for a medical check-up, they were stopped on the way on some pretext. The medical report was, therefore, received later and the results were also changed at the behest of the alleged rapists, accused the victim's father.
"The accused threaten us saying they are part of the provincial government and will not lose this case. They said it would be 'good' for the family to keep a distance from the matter at hand," shared the father.
Farahnaz has asked the high court chief justice to help her get justice as she was first violated and as a result, her husband Zulfiqar has distanced himself from her.
Intimidation
On May 10, Farahnaz's mother Tajwar told journalists in Kohat that the Pakistan Tehreek-e-Insaf's local leader and deputy speaker were threatening her son-in-law to not appear before the court against Imtiaz's brother and cousin. Tajwar said even though Zulfiqar had initially gone with her daughter, the alleged victim, to file the case at the Shakar Darra police station, he later started pressuring her to withdraw it.
"He told his wife he had been threatened by the accused and his brother, the deputy speaker," claimed Tajwar.
She had also accused her son-in-law of striking a lucrative deal with the deputy speaker; "That is why he is trying to stop my daughter from appearing before the court."
Meanwhile, on Thursday, the accused approached PHC for bail. The victim told the court she wanted to hire a lawyer to defend her in the case as the accused have approached the high court for bail.
Justice Nisar Hussain Khan then adjourned the hearing till the next case date.
A lower court had previously dismissed the bail application of the accused after which they approached the high court.
According to the FIR dated May 7, Safdar and Asmatullah entered the house of the victim at around 9:30am on May 6 when she was alone at home and allegedly raped her.
The police registered an FIR under sections 376 (rape), 452 (trespass with the intent to hurt, assault or wrongful restraint) and 34 (acts done by several persons in furtherance of common intention) of the Pakistan Penal Code, 1860.
http://tribune.com.pk/story/717978/misuse-of-influence-i-am-being-pressured-to-withdraw-my-rape-case/
------------
After six years of silence, a women's magazine makes a comeback in Iran
Public Radio International
06, June 2014
After six years of absence, one of the country's most popular and well-known women's magazine was given permission to publish again.
"Zanan e Emrooz" (Women Today) was shut down in 2008 after the conservative government of then-President Mahmoud Ahmadinejad accused it of "portraying the situation of women in a dark light." Its closing was considered a blow for women's rights.
Zanan was the longest-running and most popular feminist publication in post-revolutionary Iran," says Nina Ansary, an Iranian historian and an expert on Iran's women's movement with an upcoming book called "The Jewels of Allah."
"It was unique and unprecedented that it was able to remain on the radar for 16 years," she adds.
Zanan was different from any other magazine that covered women's issues in Iran. It covered difficult topics, such as discriminatory laws regarding divorce, inheritance and custody. It wrote about sexism and the problems of working women in Iran.
The force behind the magazine was a woman named Shahla Sherkat. Sherkat founded Zanan in 1991.
"She came from a traditional family, got a degree in psychology from the University of Tehran and accidentally stumbled upon the journalistic field," Ansary says.
After the Islamic Revolution in 1979, Sherkat was asked to revive a different women's magazine.
"She was continuously asked, as the editor of that magazine, to depict women as homemakers," Ansary says. "She resigned because she could not go on with this charade."
Then Sherkat decided to create her own magazine — and that's how Zanan was born. Sherkat had to tread carefully to avoid being shutdown in such a conservative environment — and managed to do that for 16 years.
In a piece she wrote for Nieman Report in 2009, she called Zanan her 16-year-old daughter. About the time the magazine was shut down, she wrote: "every day I arrive at work, but a piece of the puzzle of my being has been lost."
Today, Sherkat is back at it again. The first cover of the revived magazine features women veterinarians with the title "We are happy with our decision."
Having read the first issue, Ansary says the articles aren't as bold as what she used to see in Zanan six years ago.
"Sherkat's stories reflect a strong, yet cautious opening act, which is completely understandable. Given that she was absent for six years, I think this is a beautiful opening act," she says.
Ansary adds that she also sees "a sense of determination" from Sherkat, "something crucial for women's movement in Iran."
http://www.pri.org/stories/2014-06-05/after-six-years-silence-womens-magazine-makes-comeback-iran
------------
Meet the Pakistani women behind the official FIFA World Cup balls
06, June 2014
She has no idea who Lionel Messi is and her home country isn't even playing, but Pakistani mother-of-five Gulshan Bibi can't wait for the World Cup — because she helped make the balls.
When Brazil and Croatia kick off the tournament in Sao Paolo on June 12 there's a good chance they'll be using a ball made by Gulshan and her colleagues at the Forward Sports factory in Pakistan's eastern town of Sialkot.
"I'm really looking forward to the World Cup and inshallah (God willing) we will watch the matches. The balls we make will be used and all the women who work here are very proud," Gulshan told AFP.
Cricket-mad Pakistan might not have much of a football team - 159th in FIFA's world rankings - but Sialkot has a long history of manufacturing top-class balls.
Forward Sports has been working with Adidas since 1995 and supplies match balls to some of the world's top football competitions, including the Champions League, the German Bundesliga - and now the World Cup.
It is believed that a cobbler was once asked to repair a punctured ball for colonial-era British soldiers, later studying how to make them.
So began a successful business venture that spawned an industry, but child labor scandals in the 1990s almost sank it.
Now international brands like Adidas work closely with factories and non-government organizations to enforce stringent checks to prevent any return to the dark days of children stitching balls in dingy backrooms.
At Forward Sports, workers must provide government ID to prove they are over 18.
And while the basic 10,000-rupee ($182) monthly salary might put a $160 FIFA-approved "Brazuca" ball beyond the reach of the workers, several spoken to by AFP privately said the company looked after them well.
In any case, assembling modern match balls is not simply a matter of sitting down with a needle and thread.
High tech
The Forward Sports plant stands barely a free kick's distance from the dust and chaos of the Grand Trunk Road, the ancient highway that cuts across the subcontinent all the way to Kolkata.
In contrast to the baking, deafening road outside where ancient goods trucks, donkey carts and motorbikes overloaded with families and livestock compete to avoid potholes, order and efficiency reign inside the factory.
On the Brazuca production line, women in headscarves, some with their faces veiled, work briskly.
They start with flat white propeller-shaped pieces of polyurethane, add the Brazuca's distinctive bright colors and glue the panels to the ball's rubber bladder.
The seams are then treated with a special sealant and the ball is heated and compressed in a spherical clamp to give it the correct shape. The heat also activates the temperature-sensitive bonding compound that holds the ball securely together.
The whole process from flat panels to finished item takes 40 minutes - speed is crucial to prevent impurities getting into the ball - and the factory can produce up to 100 per hour.
It's a high-tech process for Pakistan, where much of the workforce is unskilled and poorly educated - only around half the population can read and write.
"We take unskilled workers and train them - this is a job that is not available anywhere else. You have to get someone with good attitude and train them," said Forward Sports CEO Khawaja Masood Akhtar.
Ninety percent of those working on the Brazuca were women - unusual in Pakistan, where they are largely expected to stay at home with families, but Akhtar said they were more diligent and meticulous than their male colleagues.
Making the Brazuca was no simple matter for Forward, as Adidas gave the order at short notice when they realized their main manufacturer in China was unable to meet demand.
In just over a month, Forward managed to have the equipment it needed to make the Brazuca from scratch.
"It was a matter of honor for us, we wanted to do it," Hassan Masood Khawaja, head of new product development, told AFP.
Gadgets and lab coats
Quality control is crucial, as the world's greatest football tournament and greatest players demand the best equipment.
In the gleaming labs of Forward Sports, white-coated technicians put the Brazuca, 437 grams in weight and 69 centimeters in circumference, through a battery of tests on precision equipment brought from Germany.
One machine rotates the ball while a curved arm tracks its surface, measuring 4,500 points and plotting its shape in 3D on a computer to ensure it is properly round.
Other devices measure bounce, resistance to water and mold, even the glossiness of the ball's surface.
The ball's durability is also rigorously tested. A special machine fires Brazucas at a flat metal plate - they must survive 3,500 impacts at 50 kilometers an hour.
The Brazuca was designed after the controversy that dogged the Jabulani ball at South Africa 2010 - slammed for its erratic, unpredictable flight.
Scientists concluded the machine-made Jabulani was too smooth and too perfectly spherical to fly straight, with a tendency to slow suddenly in mid-air.
Adidas spent two and a half years working on the new ball, testing it in 10 countries with 600 players from 30 teams including Messi, England's Steven Gerrard and Germany's Bastian Schweinsteiger.
The deeper seams and textured surface of the Brazuca should disrupt the airflow over its surface, helping it fly more like a traditional 32-panel ball.
Khawaja said the likes of Messi and Ronaldo should have no nasty surprises in Brazil.
"We want this ball to be the same they are used to playing with in the Champions League, for instance - they should not feel a difference," he said.
http://english.alarabiya.net/en/sports/2014/06/04/Meet-the-Pakistani-women-behind-the-official-FIFA-World-Cup-balls.html
------------
Only 10 percent Saudi investors are women
06, June 2014
Saudi businesswomen and investors continue to devote their efforts and ambitions to leaving their mark on the economic development of the country, despite the obstacles and great difficulties they encounter along the way.
Nadia Ba'ashin confirmed that the ratio of female-led investment is no more than 10 percent.
She said that 15 years ago, King Abdullah called for finding solutions to enable women's investments, and warned about these investments going to other Gulf countries, or Lebanon, Tunisia, Paris, and London, if these investment funds and efforts were not supported properly.
She said women have a huge amount of funds stacked in banks and more women are increasingly being drawn to invest abroad because of the many obstacles they face in the Kingdom.
Ba'ashin also revealed that 80 percent of businesswomen allocate their investments to sewing, cosmetics, and private school businesses, while 5 percent invest in training programs. Only 15 percent of women are involved in other fields, such as restaurants and cafes.
Despite several decisions taken by the government to help businesswomen, including one to open women's sections in all government facilities, she said these decisions have not yet been applied. Institutions that have opened female sections are still under the control of men, who deprive women of all powers and opportunities, she added.
Ba'ashin said: "We need to activate the female presence in government facilities, and demand the activation of the women's departments in the ports facilities, the Ministry of Industry, the various municipalities, and the General Authority for Industrial Lands."
She urged the authorities to implement the provisions of the royal decree issued in 1994, which calls for the opening of women's facilities in all government departments. She said she strongly believes that the solution lies in the implementation of the king's decisions to empower women investors to work and to open doors for them, all of which would have a positive impact in solving the problems of unemployment and in facilitating the role of businesswomen in the economy.
Munira Al-Shenaifi, a businesswoman, said there is a great deal of interest from Saudi businesswomen in all-women coffee shops and restaurants. She also said the royal decree enables Saudi women to work in the field of investment and that Custodian of the Two Holy Mosques King Abdullah has called for supporting Saudi businesswomen to invest in diverse areas, but the problem remains in the conversion of these decisions to reality.
About the reluctance of Saudi women to participate in industrial and health sectors, Al-Shenaifi argued that these are the best fields in which Saudi businesswomen can achieve real economic development, but a fear of failure holds them back.
Al-Shenaifi has been involved in fields related to organizing exhibitions and bazaars, cosmetics, advertisement, media, and education. She said the king did not limit the ability of Saudi women to take part in various fields, but rather the decisions have been supportive of Saudi women, especially with the entry of women to the Shoura Council and the municipal elections. That said, the proportion of women's investments is still low compared to men, and this requires the support of Chambers of Commerce, the Ministry of Trade, and training institutions to educate businesswomen about the investment opportunities, she said.
About the obstacles facing women investors, she pointed to the problems which are mostly derived from cultural practices and lack of adequate facilities.
http://www.arabnews.com/news/582681
------------
Saudi Men Prefer Women Work From Home
06, June 2014
Some 81 percent of men support the idea of women working from home, according to a survey published recently in Jeddah.
Local media reported that the survey was carried out by the Khadija bint Khuwailid Centre, an affiliate of the Jeddah Chamber of Commerce and Industry.
There were diverse opinions about the most appropriate jobs for women, with 77 percent of respondents saying administrative positions. Food preparation and work at entertainment centres followed. The survey also found that most people support feminization of shops selling products for women. There was also greater community acceptance of women working in these shops.
http://www.arabnews.com/news/582666
------------
Yemen opens religious summer schools
06, June 2014
Religious summer schools operated under the auspices of the Yemeni Ministry of Religious Endowments and Guidance opened in all Yemeni provinces on June 1st.
Ministry officials are encouraging parents to enrol their children at the centres, which offer Qur'an memorisation classes in addition to other activities and seek to foster a spirit of moderation.
The summer centres will be in session for one month and aim to immunise children and youth against extremist ideas, officials told Al-Shorfa.
"The establishment of summer centres to teach children and the youth the Qur'an will help refine their morals and cognitive development, and thus contribute to building a generation that is armed with knowledge and faith that is free of fanaticism and extremism," said Minister of Religious Endowments and Guidance Hamoud Abad.
The government is focusing particular attention on young people, and is seeking to develop their cognitive and physical skills through the summer centres so they will not fall prey to extreme or deviant ideology, he told Al-Shorfa
Through the centres, it hopes to teach them the meanings and concepts of the true Islam and to strengthen the bonds of amity and national unity among them and enhance their efforts to serve their communities and country, he said.
The centres aim to take advantage of the students' free time during their summer holiday, said Hassan al-Sheikh, ministry undersecretary.
The classes include lessons on the Qur'an and its interpretation, recitation and jurisprudence, in addition to lectures on patriotism and national loyalty by way of raising awareness of the outputs of the national dialogue, al-Sheikh said.
Around 30,000 youth are expected to enrol at the summer centres this year, he said, and the ministry is working with the directors of its provincial offices in order to ensure that all those who wish to register can be accommodated.
In a statement released by the official news agency Saba, al-Sheikh called on all parents to enrol their children in the centres so they can take advantage of their downtime to learn the Qur'an and acquire knowledge of religious sciences, Islamic culture as well as general culture, and sports and social activities that will be of benefit to them in their lives.
Al-Sheikh said it is important for Ministry of Endowments' offices to adhere to the established guidelines of the programmes prepared for the centres.
Several parents expressed their keenness to enrol their children in the summer centres.
"I am concerned about the state of idleness students may slip into during the summer -- thus the importance of the summer centres which keep them busy during this period," said Ali al-Absi, the father of three secondary school students.
Al-Absi said he wished the classes would continue year-round.
Shop owner Amin Musleh said he is eager to enrol his two sons in the summer centres as "an important part in strengthening their knowledge in the subjects of the Qur'an and Islamic education, as well as other knowledge they may gain".
AN EXTENSION OF EDUCATIONAL ACTIVITY
"The educational part of the summer centres' work is an extension of the educational activity that was carried out in April by the Ministry of Endowments' [Sanaa] office in all public and private schools and technical and vocational institutes," said Qaid Mohammed Qaid, director general of Amanat Sanaa's endowments office.
This included "raising awareness against terrorism, extremism, radicalism and hatred, in addition to prohibiting killing and attacks on public and private property, and raising awareness of the outcomes of the national dialogue", he said.
These activities aim to "build a mindful generation that contributes to the development of its country instead of its destruction", Qaid said.
"There are some who work to [entice] children and youth in the name of religion and by using loose terms to exploit their zeal to instil a culture of violence and extremism in their minds," Yemen Scholars Association member and former deputy minister of endowments Yahya al-Najjar told Al-Shorfa.
"The extremism and terrorism we see today by some of the youth is the result of such an effect by certain groups and individuals," he said.
The culture of extremism and terrorism must not be allowed to invade Yemeni society, al-Najjar said, noting that it is important the ministry be committed to developing curricula to which all centres must adhere.
It will be essential to monitor, supervise and conduct field visits to all summer centres "to ensure the proper implementation of the curricula by the directors of these centres so they may fulfil the purpose of their establishment -- to promote a culture of moderation, centrism and national unity, and to combat extremism and terrorism", he said.
http://al-shorfa.com/en_GB/articles/meii/features/2014/06/05/feature-01
------------
Burma's Move on Marriage Restrictions Spark International Alarm of an Attack on Rights of Women and Minorities
06, June 2014
Alarm is mounting over a suit of newly proposed laws regarding marriage and religion, proposed by a group allegedly connected to the extremist Buddhist nationalist '969' movement, with international rights watchdogs and community groups alike warning that they discriminate against minorities and could further inflame inter-communal violence.
Burma's government is currently considering four laws related to marriage, religion, polygamy and family planning – at least two of them directly undermine the rights of minorities and women, rights groups warn.
In an official statement last week, Human Rights Watch condemned the proposed laws as encouraging further "repression and violence against Muslims and other religious minorities."
One of the proposed laws, entitled the 'The Emergency Provisions on Marriage Act for Burmese Buddhist Women' – also known as the inter-faith marriage law – makes it illegal for a Buddhist woman to marry a non-Buddhist partner unless the man converts to Buddhism before marriage. Violation of this proposed law could lead to a draconian 10-year prison sentence and confiscation of personal property.
Another law requires that any Burmese citizen who plans to change religion must first seek series of permissions from local representatives of government departments, including the Ministries of Religion, Education, Immigration and Population, and Women's Affairs, and wait 90 days for permission to be granted. Proselytizing, forcing someone to convert, or insulting another religion would become punishable by up to one year in prison.
Brad Adams, HRW's Asia Director, slammed the religion law. "Burma's government is stoking communal tensions by considering a draft law that will politicize religion and permit government intrusion on decisions of faith," Mr. Adams said, "Following more than two years of anti-Muslim violence, this law would put Muslims and other religious minorities in an even more precarious situation."
Mr. Adams warned that anti-Muslim violence was a "powder keg" and that the international community needed to intervene.
"The government's failure to address anti-Muslim repression and violence in the country is a powder keg waiting to be lit," Mr. Adams said. "International donors, investors, and governments need to vocally oppose this law and other laws and policies that could result in long-term religious discrimination in Burma."
The laws now being considered by Burma's Ministry of Religious Affairs were first proposed by a Buddhist organisation called the Association for the Protection of Race and Religion. HRW alleges that the group is connected to the extremist nationalist Buddhist monk movement known as '969,' now internationally infamous for anti-Muslim ideology including the calling of boycotts of Muslim-owned shops.
One of 969's movement's senior leaders, the monk U Wirathu, has been quoted in Burmese media saying that "[Muslims] are breeding so fast and they are stealing our women, raping them." U Wirathu has also allegedly said that most of Burma's Muslims are "radical, bad people."
Thein Sein and the speaker of the national assembly, Thura Shwe Mann, have already instructed ministries and departments to convert the monks' draft laws into government-endorsed drafts to be considered by the public before being introduced into the lower house of parliament after June 20 in the assembly's current session, HRW said.
HRW noted that the proposed laws not only violated the Universal Declaration of Human Rights but also Burma's own 2008 constitution which states that that citizens may "freely profess and practice religion subject to public order, morality or health," and article 348 ensures that the state "shall not discriminate against any citizen … based on race, birth, religion, official position, status, culture, sex and wealth."
Matthew Smith, executive director of Fortify Rights, a human rights watchdog, said in an interview with Karen News that Burma's government would be go backwards on human rights if the religion law passed. "If passed, this law would stand in clear violation of basic human rights and it would demonstrate a significant backtracking on human rights. It should be condemned by concerned citizens in the country as well as by the international community."
Mr. Smith added that the laws could incite further racial hatred in Burma. "There is a serious risk this law and others like it would contribute to more violence and racial hatred in the country. This law is coming at a time when the country needs to be uniting and making every effort to protect the rights of religious and ethnic minorities."
The laws have been met with stiff domestic opposition from some quarters, especially from women's rights organisations and ethnic groups. On May 6, a coalition of 97 Burma based women's groups and community-based organisations – including the Women's League of Burma and the Karen Women's Organisation – signed a joint petition rejecting the inter-faith marriage law. Nationalist monks, in response, referred to the coalition as "lice that live under the skin," with U Wirathu calling them traitors, HRW claimed.
Burmese Muslims visiting or working at the Thai-Burma border town of Mae Sot expressed their concerns to Karen News over the inter-faith marriage law. Their names have been withheld to protect their identities.
"I cannot trust the Burmese government. They say that Buddhist and Muslims cannot marry," one Muslim man said, "So they have to go on pretending they are not married. If they get married in Mae Sot then they cannot go back to Burma either – they get stuck outside Burma."
A Muslim woman from Yangon expressed anger at the proposed law. "The government doesn't allow Muslim women to have their choice. The situation in Burma is difficult. If the government asks why did you become a Muslim? I would say because I love my husband – who is Muslim – and my religion. I should be able to choose."
The woman said she would be forced to marry a man from another religion in secret if the law passed. "If I love someone then I will marry them, but if they are not Muslim then I would have to do it in secret." She said that the Burmese government was instigating hatred against Muslims in Burma for political reasons. "When I go to Yangon I get along with Buddhists just fine but the policies of this government are no good. Oppression against Muslims is because of this government – they are making us Muslims the problem for their own ends."
http://karennews.org/2014/06/burmas-move-on-marriage-restrictions-spark-international-alarm-of-an-attack-on-rights-of-women-and-minorities-2.html/
------------
URL: https://newageislam.com/islam-women-feminism/18-year-old-woman-survives/d/87396