New Age Islam News Bureau
22 Oct 2016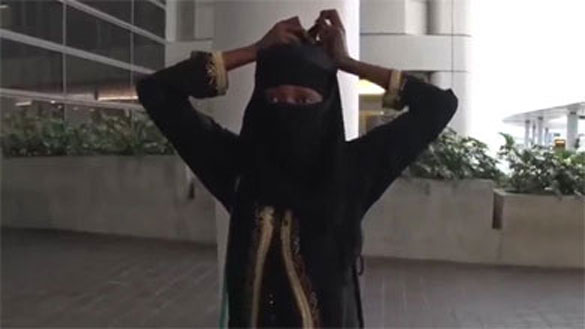 She claimed American would be bombed and that homosexuality was forbidden
--------
• 18-Year-Old Pune Muslim Woman Refuses To Accept Triple Talaq Notice by Husband
• Veiled Muslim Woman 'Is Arrested after Telling Passenger at LAX Airport That US Will Be Bombed'
• Muslim Girls Making Change Bring Slam Poetry to Rutland
• 15 Iraqi Women Slain In US-Led Airstrike in Kirkuk Province
Compiled by New Age Islam News Bureau
URL: https://newageislam.com/islam-women-feminism/18-year-old-pune-muslim/d/108900
-----
18-Year-Old Muslim Woman Narrates Her Ordeal: 'I Do Not Accept This Triple Talaq System'
Oct 22, 2016
PUNE: Amid the hue and cry over the central government's bid for a uniform civil code, an 18-year-old married woman from Baramati has decided not to bow down to the practice of "unilateral talaq" by her husband.
"I do not accept this Islamic triple Talaq system and I do not accept the reason given for Talaq. How can 'I do not like you anymore' become a reason for Talaq, without listening to my side? When 22 countries from the world do not accept this Islamic law, then why should India follow it?" Aarshiya Bagwan questioned.
Bagwan now wants to pursue her education and work for those women from the Muslim community who are suffering because of such laws. She narrated her story to Pune Mirror, saying, "I was married at 16. My parents gave a dowry; my husband's side is financially well settled and he has a shop in the market yard area of Baramati. Immediately after marriage, my mother-in-law started harassing me. I was asked to work like a dog. She even alleged that my mother and my father-in-law were having an affair. I was ill-treated by my in-laws even when I was pregnant."
She continued, "One day, when I was at my parents' home, I was shocked to receive a Talaq notice and immediately called my husband, saying I have no issues with him, just with his parents. I do not accept this Talaq and we will rent a room and live as a nuclear family. But, the only justification I received from my husband was that he no longer likes me."
She is now worried about her and her child, who is just eight months old. "What about the future of my kid and me?" she said. Bagwan's mother Nasarin added, "We committed a grave mistake when we arranged her marriage at the age of 16. When we approached the community, we did not get any help. Why is the Islamic community not questioning this?"
A raging debate continues across the country over the Centre's move to oppose triple Talaq. The government has filed its response to the Supreme Court (SC) notice on the clutch of Public Interest Litigations (PILs) filed by several Muslim women. The matter is pending before the SC.
Shamshuddin Tamboli, president of the Muslim Satya Shodhak Mandal, said, "When the Constitution of India is guaranteeing rights to women, Muslim women should not be denied the same. It is important to listen to their sorrows as well. If the laws are not amended, then there will be no difference between the Jaat Panchayat and the Jamaat."
Razia Patel, head of the minority cell at the centre for educational studies in the Indian Institute of Education, Pune, contended, "Rather than us playing politics over the issue, we need to hear the accounts of the women sufferer also. Clerics point out different provisions in law and the issue does not go ahead. When there is talk on uniform civil code, Muslim fanatics keep opposing it. Even Hindu women have not got all the rights. Therefore gender-just laws in the country is the need of the hour."
Sharing his take, Anees Chishty, an Islamic scholar from the city who has written around 52 books on Islam, said, "This is not a new thing and the issue has cropped up on many occasions in the past. The Muslim population is against uniform civil code and campaigning over this. Personal law is a personal thing for the community. Tribal communities also have their laws and no one interferes with that. Issues like poverty, health and education are the ones which we should work on."
http://timesofindia.indiatimes.com/city/pune/18-year-old-muslim-woman-narrates-her-ordeal-i-do-not-accept-this-triple-talaq-system/articleshow/54993494.cms
--
Veiled Muslim Woman 'Is Arrested after Telling Passenger at LAX Airport That US Will Be Bombed'
21st October 2016
The footage, purportedly filmed at LAX airport on June 14, later shows her being arrested while at the check-in counter.
She is first seen standing outside the departures entrance ranting at the man filming while adjusting her Niqab.
The Sun was unable to verify the circumstances of the incident, though she is later seen being handcuffed and led into a police car.
She says: "I have am going to have a safe life but I'm going to make sure none of you will have a safe sleep. Boom! Wait and see for yourself. Do you know who Allah is?
"F*** America. I will make sure we bomb America. First of all there is lesbian and gay this is not allowed. Wait and see!
"We will bomb the country. You have no idea what's happening. That's what we do, we bomb people. Who cares what's right or what's not, it is (god's will)."
When asked about the Orlando Pulse nightclub massacre, she claims the victims were doing something wrong and that's why they were killed.
She then says the shooter was only labelled a terrorist because he was Muslim.
Moments later, the footage cuts to her handcuffed and surrounded by officers at the airport's check-in counter.
The final shot shows her being led into the back of a police car.
https://www.thesun.co.uk/news/2025245/shocking-moment-veiled-muslim-woman-is-arrested-after-telling-passenger-at-lax-airport-that-us-will-be-bombed/
--
Muslim Girls Making Change Bring Slam Poetry to Rutland
OCT. 22, 2016
Before a packed crowd at the Vermont Adult Learning center in downtown Rutland, three members of a Burlington based slam poetry group offered up a bracing portrait of what it means to be Muslim women in post-9/11 America. Muslim Girls Making Change wasted little time in tackling stereotypes and misconceptions about their faith, identity, and fashion. Their poems also addressed the civil war in Syria, police violence in America, and the immigrant experience.
Their first poem, "What hijab means to us," began with a litany of assumptions often made about the headdress worn by millions of Muslim women throughout the world.
"Aren't you hot in that?
Do you shower with that on?
What's underneath that thing?
Why do wear that?
You were prettier before
Can I see your hair?
Does your dad make you wear it?"
Launching into what they called "hijab 101" the three high-school juniors dispelled some of the myths and explained what the veil means to them.
"People don't seem to realize it's my choice
No, my parents aren't forcing me to wear it
I chose to put it on
This hijab has been a part of me
Remember I do it for the creator not his creation
This hijab is my form of liberation."
In recent years the hijab has become a potent symbol, particularly in Europe. In 2010 the French Parliament passed a bill that bans any sort of garment that completely covers the face, including some forms of Islamic dress. An earlier law banned the wearing of all religious symbols in public schools.
In numerous town meetings and public forums on the question of refugee resettlement in Rutland the role of Islam in American society has been raised. In mid-September Rutland First brought a former member of the Customs and Border Protection agency to discuss resettlement and national security. Philip Haney told the group that "progressive leftists" and Muslim extremists were seeking to alter or abolish the constitution.
The Rutland First Facebook page has been used on occasion to espouse racist or anti-Islam sentiment and at a rally before the Haney talk a protester held up a Rutland Welcomes sign with the word Jihad scrawled across it.
It is clear from their poems that Kiran Waqar, Hawa Adam, and Lena Ginawi (a fourth member, Balkisa Abdikadir was unable to make it) are not afraid to take on difficult subjects.
Ginawi, who described herself as somewhat shy before she took up slam poetry, said it has given her greater confidence. "For me I used to be shy," she said. "In middle school I was the girl in the back of the classroom who didn't say anything." But she added, "I am who I am right now."
Hawa Adam, a junior at Burlington High School, said writing and performing has "made us braver."
The young women, who've known each other since middle school, took up slam poetry in March and, with support from the Young Writers Project, traveled to the Brave New Voices festival in Washington, D.C., this summer.
Their poems range from the personal to political and historical. "Wake Up America" chronicles a series of crimes committed against Muslim Americans since 9/11. An assault on a Muslim woman wearing a hijab in 2004. A bombing at a mosque in Arizona in 2007. A 2010 knife attack on a New York City taxi driver because he was Muslim.
"These are the things we see, hear and experience daily," the poem concludes.
Muslim Girls Making Change first came to Rutland in the summer to perform at Grace Congregational Church. According to Michelle Folger, regional manager of Vermont Adult Learning, they were so impressed that they invited the group back. In her opening remarks Folger said there was so much interest they had to turn people away.
For Muslim Girls Making Change that's a good sign. Their voices are being heard.
http://vtdigger.org/2016/10/22/muslim-girls-making-change-bring-slam-poetry-rutland/
--
15 Iraqi Women Slain In US-Led Airstrike in Kirkuk Province
Fri Oct 21, 2016
At least 15 women have lost their lives and scores of other civilians have sustained injuries when fighter jets operated by the so-called US-led coalition struck a mourning procession in Iraq's oil-rich northern province of Kirkuk.
Local official Amir Huda Karam said the aerial attack targeted a Shia place of worship in the town of Daquq, located approximately 180 kilometers north of the capital Baghdad, on Friday.
Iraqis go through the rubble after a US-led coalition airstrike targeted a Shia mourning ceremony in the town of Daquq, south of the city of Kirkuk, October 21, 2016. (Photo by Iraqi al-Ghadeer television channel)
'Not justifiable'
Meanwhile, Iranian Foreign Ministry spokesman Bahram Qassemi condemned the killing of Iraqi civilians by foreign military forces under the pretext of fighting terrorism, saying that no excuse can justify attacking innocent civilians attending a mourning procession.
He also offered the Islamic Republic's condolences to the Iraqi government and nation over the deadly attack in Daquq.
US-led strike on the heels of Daesh attack
The tragic incident came just hours after three Daesh Takfiri terrorists attacked a power plant in the town of Dibs, located 55 kilometers northwest of Kirkuk, and blew themselves up, killing 18 people, including three Iranians.
Security sources, speaking on condition of anonymity, said the slain Iranian technicians were carrying out maintenance at the facility.
The sources added that some of the surviving militants had blocked off the road between the town and the power station.
Crude oil production facilities were not affected as a result of the assault, and power supply remained uninterrupted.
The security sources said the situation in Kirkuk had largely been brought under control after Kurdish forces dislodged the militants from all the police and public buildings they had seized before dawn.
Earlier, multiple explosions ripped through Kirkuk and bursts of machine gun fire could be heard across the northeastern oil city.
Witnesses, requesting anonymity, said much of the fighting was focused on a government compound in the city.
Kirkuk Governor Najmadin Karim, however, stated that militants had not managed to take control of any government buildings in the city, located 236 kilometers north of Baghdad.
A curfew is now in effect and streets are largely deserted amid fears of militant snipers.
Local authorities had earlier said some of the assailants were holed up in a hotel and a mosque in the middle of Kirkuk.
Lieutenant General Talib Shaghati, commander of Iraq's Joint Operations Command, said the attackers in Kirkuk came from outside the city.
The Takfiri Daesh terrorist group later claimed responsibility for the attacks in Dibs in an online statement.
The assaults came four days after nearly 30,000 army soldiers, fighters from pro-government Popular Mobilization Units and Kurdish Peshmerga forces launched a massive and multi-pronged operation to retake the city of Mosul from Daesh militants.
Iraqi journalist killed in Kirkuk
Additionally, a senior correspondent for the regional and state-run Turkmeneli television network has been fatally shot by a Daesh sniper in Kirkuk.
http://www.presstv.ir/Detail/2016/10/21/490070/Iraq-USled-strike-funeral-Kirkuk-civilians-killed-injured
--
URL: https://newageislam.com/islam-women-feminism/18-year-old-pune-muslim/d/108900
New Age Islam, Islam Online, Islamic Website, African Muslim News, Arab World News, South Asia News, Indian Muslim News, World Muslim News, Women in Islam, Islamic Feminism, Arab Women, Women In Arab, Islamophobia in America, Muslim Women in West, Islam Women and Feminism