New Age Islam News Bureau
6 Oct 2018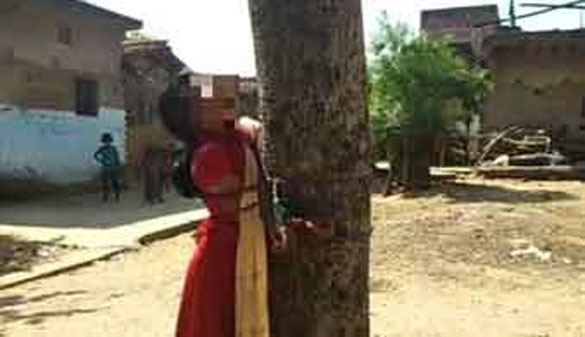 Photo: No one came to her rescue when the girl was being thrashed | Photo from Twitter: ANI
--------
• Court prevents Saudi woman from marrying 'musical' suitor
• Woman killed, 11 injured in Houthi attack on KS Relief camp in Yemen
• Islamic State Threatens to Kill Women, Children Hostages to Slow Assad Campaign
• Newly elected Quebec PM vows to bar Muslim teachers, judges from wearing hijabs
• Time Nearly Up for Kidnapped Christian Schoolgirl, Muslim-Led Government Ignores Her Parents' Pleas
• As deadline passes, fate of Syrian women held by ISIS uncertain
• Nadia Murad: From jihadists' slave to global champion for women
• Erdogan: Turkey Must Break 'Taboo' Against Men and Women Praying Together at Mosques
• Saudi female singer's music video causes controversy
• Tears and broken dreams: How a Sabah woman forced to marry at 13 suffered
• Lubna Al Olayan appointed as first woman Saudi bank head
• Afghanistan: 3 women, 1 child killed following air raid
• Nobel Peace Prize awarded to Congolese doctor and Iraqi woman
Compiled by New Age Islam News Bureau
URL: https://www.newageislam.com/islam-women-feminism/18-year-old-muslim-girl/d/116577
--------
18-year-old Muslim girl in love with Hindu boy tied to tree, thrashed in Bihar
Rohit Kumar Singh
October 5, 2018
An 18-year-old Muslim girl in Nawada district, Bihar was tied to a tree and caned by her family members for loving a Hindu boy. Her punishment was allegedly a result of the village panchayat's diktat.
The incident happened on Wednesday (October 3) in Jogiya Maran village falling under Rajauli police station in Nawada. She remained tied to the tree for around five hours.
When she was being thrashed, no one came to her rescue.
The 18-year-old girl, daughter of Mohammad Farid Ansari, fell in love with Rupesh Kumar who hails from a neighbouring village.
Both of them wanted to marry but the girl's family was against the union.
On September 30, the girl fled form her village to stay with Kumar. When the family learnt of her absence, they started looking for her.
The girl's family came to know that she was with Kumar and soon went to his place to bring her back.
Thereafter, the panchayat was convened which directed the girl's family to punish her for dishonouring the village. The girl was then tied to a tree and caned.
The police received the incident's information and reached the spot. They took the girl's statement. The alleged perpetrators were not arrested but instead were given a warning.
The police are also looking for Rupesh Kumar who is on the run.
https://www.indiatoday.in/india/story/nawada-bihar-muslim-girl-tied-tree-thrashed-love-hindu-boy-1356895-2018-10-05
--------
Court prevents Saudi woman from marrying 'musical' suitor
Oct 2, 2018
By Fatima Al-Dubais
UNAIZAH — A Saudi woman has lost a judicial battle to marry the man of her choice as a court deemed him "religiously" unfit because he plays a musical instrument.
In some parts of the Kingdom, a man who plays music is considered of having a bad reputation.
Two years ago the suitor, a schoolteacher for 20 years, asked for the hand of the woman, a 38-year-old bank manager in Unaizah in Qassim province.
But her family objected, saying he was not "religiously compatible" with her because he played the oud, the oriental lute which is popular across the Arab world.
The woman, who was not named, took her case to the court.
A lower court weighed in on the side of the family, saying the marriage could not go through.
"Because the suitor plays a musical instrument he is unsuitable for the woman from a religious point of view," the court said.
The woman said her uncle had approved the marriage but one of her brothers rejected the suitor claiming he played "oud".
The woman did not get married for seven years after the proposal. The same suitor proposed to her again two years ago but her family rejected him on the same grounds, which made the woman to take her family to the Personal Status Court.
The court looked into the case and ruled in favor of the family stating that the couple were not suitable for each other due to "religious incompatibility".
The court did not see the need to question the suitor and took the testimony of the brother for granted.
The woman took the case to the Court of Appeals and proved that her brother's testimony was unfounded as he only heard from a witness that her suitor played a musical instrument.
The Court of Appeals brought in the witness who, according to the woman, confessed that he never actually saw the suitor play an instrument. He confessed that his mother pressured him to testify against the suitor.
The woman also submitted testimony from the suitor's colleagues and from the imam of the mosque he frequents. They all vouched for the suitor saying he was a man of good manners and strong faith.
However, the Court of Appeals ratified the lower court's verdict in favor of the family.
The woman told Okaz/Saudi Gazette she will seek intervention from the country's higher authorities. The bank manager said she was determined to marry her suitor, describing him as "very pious and with a good reputation".
"I won't stop here. I'll take the matter to the Supreme Court. Maybe I'll find my salvation there. I am 38 years old and holds an executive position managing over 300 people and I have a master's degree. I'm pretty sure I know what's best for me. The reason why I am insisting on marrying my suitor is that he has been a teacher for 20 years and everyone who knows him vouches for his honor and piety," said the woman. — With input from AFP
http://saudigazette.com.sa/article/544683/SAUDI-ARABIA/Court-prevents-Saudi-woman-from-marrying-musical-suitor
--------
Woman killed, 11 injured in Houthi attack on KS Relief camp in Yemen
October 05, 2018
JEDDAH: A woman was killed and many people injured on Friday after the Houthi militia attacked the Bani Jaber camp for the displaced in Al-Khokha, Hodeidah governorate.
Three missiles launched by Houthi militias hit the camp which is run by the King Salman Humanitarian Aid and Relief Center (KSRelief), killing one woman and injuring many people who were staying at the camp.
KSRelief condemned the attack, describing it as "a heinous crime" that did not respect the principles of human rights and international humanitarian law.
The center called on the UN and its organizations to strongly condemn the attack, which disregarded international principles and human rights. The militias have also repeatedly stolen humanitarian and relief aid provided by the center and hindered access to people most in need.
The center also urged the UN to assume its humanitarian and social responsibility against Houthis crimes that have ravaged the country.
UN special envoy to Yemen Martin Griffiths said on Thursday that, by November, the UN hopes to resume consultations between the Iranian-backed Houthis and the internationally-recognized government, which is backed by Saudi Arabia, the UAE and the West.
The first attempt in three years at talks collapsed a month ago after the Houthis failed to turn up.
http://www.arabnews.com/node/1382971/saudi-arabia
--------
Islamic State Threatens to Kill Women, Children Hostages to Slow Assad Campaign
5 Oct 2018
Islamic State (ISIS/ISIL) jihadis threatened to execute more than two dozen women and children it abducted in southwest Syria if dictator Bashar al-Assad does not stop his offensive against rebels in the region Friday.
An unverified video purporting to show the terrorists killing one of the female hostages this week sparked protests by people demanding government protection in southwest Syria's Sweida province, located along the border with Jordan.
The Wall Street Journal (WSJ) reports:
Some protesters shut down the headquarters of the provincial governor on Thursday, according to residents. Discontent in Sweida, home mostly to the country's minority Druze religious sect, has been building since an unusually bloody series of Islamic State attacks in July.
The attacks killed more than 200 people, shocking a community that had largely evaded the worst violence during the war. Islamic State kidnapped dozens of women and children, whom it is now threatening to kill.
Residents have accused the Assad regime of failing to take action to rescue the hostages.
Today, families of the Druze hostages held by ISIS, estimated at about 30 mostly women and children, rallied for a third day to demand action by the Assad regime to liberate them, the Agence France-Presse (AFP) agency learned from witnesses of the demonstrations.
WSJ acknowledged:
The kidnappings by Islamic State reflect the challenges—from administration to security—the Assad government faces as it reasserts control across the country after a more than seven-year war and the near defeat of Islamic State.
Residents of Sweida said the Assad government hadn't taken any steps to rescue the women and children. The government wasn't available to comment.
Following the fall of ISIS' so-called caliphate in Iraq and Syria, the terrorist group has resorted to "guerilla-style" tactics to show it is still capable of wreaking havoc, particularly in Assad-held areas, the Journal pointed out.
Although the U.S.-led coalition, the Assad alliance, and their allies have dealt ISIS a significant blow, the group continues to hold pockets of territory, mainly in Syria.
According to various assessments, the Assad regime and its Russian and Iranian supporters control more territory in Syria than any other stakeholder.
Nevertheless, ISIS remains a threat in the country.
"Its fighters maintain an insurgency in eastern and southern Syria, and broke through a government siege in late September to enter the eastern part of Sweida province," pointed out the Journal.
Most of the province reportedly remains under Syrian regime control.
On Tuesday, the U.S.-led coalition said it was closing "in on the last group of remaining fighters in Syria," adding that its allies on the ground have surrounded the "last pocket of ISIS resistance."
However, the Institute for the Study of War (ISW) think-tank warned that ISIS is regrouping to mount a "second resurgence" in Iraq and Syria despite ongoing efforts to thwart its recovery.
https://www.breitbart.com/national-security/2018/10/05/islamic-state-threatens-kill-women-children-hostages-slow-assad-campaign/
--------
Newly elected Quebec PM vows to bar Muslim teachers, judges from wearing hijabs
Oct 5, 2018
A newly-elected right-wing government in Canada's French-speaking province of Quebec has pledged to bar Muslim women wearing headscarves while working in public service jobs.
Premier-elect Francois Legault announced this week, a day after his electoral victory, that intends to introduce legislation banning teachers, police officers, judges and other public sector employees from wearing any sort of religious symbols, Middle East Eye news outlet reported Thursday.
"I think that the vast majority of Quebecers … would like to have a framework where we say people in an authority position, they must not wear religious signs," Legault said as quoted in the report during a Tuesday press conference, following his election victory on Monday.
This came as a ban on the use of religious symbols in public life has remained a heated topic of debate in the province for more than a decade.
This is while the previous government in Quebec City also passed legislation – known as bill 62 -- last October banning face-coverings while providing or receiving public services, prompting criticism by human rights groups and legal experts, who insisted that the law serves as an affront to religious freedoms since it would prohibit Muslim women who wear full face veils (niqabs) from taking public transportation, going to hospitals, or attending public school.
That law is currently being challenged in court as unconstitutional.
However, the new government has taken an even more restrictive approach, banning all religious symbols in the public service sector.
Moreover, Legault has further declared that he would consider invoking the notwithstanding clause, giving federal and provincial governments the power to override the Canadian Charter of Rights and Freedoms, to enact the measure.
Canadian Prime Minister Justin Trudeau, however, cautioned the new Quebec premier earlier this week against using the exceptional provision.
"It's not something that should be done lightly," Trudeau was quoted as saying by CBC, adding that "careful attention" must be paid to anything that could remove or fail to defend "the fundamental rights of Canadians."
Meanwhile, Legault's Coalition Avenir Quebec (CAQ) party, which secured a majority in the provincial legislature, has also campaigned on a pledge to lower the number of immigrants allowed into the province.
Legault vowed during his electoral campaign to subject incoming immigrants to French-language and values tests three years after they settle in Quebec, and if they fail the test, they would be expelled from Canada.
Reacting to Legault's election victory, more than 160 community groups are due to take part in a protest rally on Sunday against racism in Montreal, the largest city in Quebec.
Organizers of the protest event emphasized in a statement this week that "migrants were heavily scapegoated" during the election campaign.
"Once again, women wearing hijabs have been targeted by proposals that would bar them from working, even as teachers," they added.
A rise in Islamophobic and anti-Muslim sentiments across the US, Canada, and Western Europe has been widely attributed to hateful rhetoric against Muslims by US President Donald Trump.
https://www.presstv.com/Detail/2018/10/05/576129/Canada-Quebec-Premierelect-Francois-Legault-Muslim-women-ban-on-hijab-public-service-jobs
--------
Time Nearly Up for Kidnapped Christian Schoolgirl, Muslim-Led Government Ignores Her Parents' Pleas
10-05-2018
The clock is ticking down for 15-year old Leah Sharibu. The Nigerian Christian schoolgirl has stood firm in her faith and it may cost Leah her life.
Sharibu is the only Christian among 110 girls abducted by Boko Haram from a school in Dapchi (northern Nigeria) February 15, 2018. In late March, the terrorists freed all the abducted Dapchi girls except for Leah because she refused to renounce her Christian faith and convert to Islam.
The government reportedly paid a ransom to win the release of the 109 Muslim school girls, but not Leah. Nigerian Christians say the Muslim-led government left Leah behind because it considers Christians of lesser value than Muslims.
Now, Leah's parents are pleading with the Nigerian government to get involved to save their daughter's life.
International human rights attorney Emmanuel Ogebe recently met with Leah's parents in Nigeria and he said they told him the government has yet to respond to their pleas for help.
"Up to this point the government hasn't so much as contacted the family of Leah. They've not spoken to her father or her mother since the day Leah was abducted," Ogebe explained.
He said Leah's parents have only heard media reports featuring government officials saying they are doing their best to help the Christian girl.
Ogebe said people close to the terrorists told him the government needs to comply with the kidnapper's ransom demands. The amount they are demanding is not publicly known, but Ogebe said it has increased.
"From what I hear, the terrorists have asked for a higher ransom because they see the world paying attention to this 15-year old. We don't know for political reasons with their coming elections if the government will decide to pay a ransom for her. It's unclear," Ogebe said.
On September 17th the terrorists released a video showing the shooting death of an International Red Cross humanitarian worker. They warned they will kill Leah and two abducted UNICEF staff members if their ransom is not paid within 30-days.
"We contacted the government through writing and also sent audio messages, but the government have ignored us. So, here is a message of blood," warned a Boko Haram spokesman. "The other nurse and midwife will be executed in a similar manner in one month, including Leah Sharibu."
https://www1.cbn.com/cbnnews/world/2018/october/time-nearly-up-for-kidnapped-christian-schoolgirl-muslim-led-government-ignores-her-parents-pleas
--------
As deadline passes, fate of Syrian women held by ISIS uncertain
5 October 2018
The fate of more than 30 Syrian women who were kidnapped by ISIS after it carried out a series of coordinated suicide attacks and shootings in the Syrian province of Sweida, is still unknown after ISIS recently threatened to kill them all.
ISIS leaked a video on Tuesday where they murdered a woman they had abducted in Sweida, south of Damascus, after negotiations through a mediator failed.
One of the masked men in the video said that they would execute all those abducted within a maximum of three days if Bashar al-Assad's regime did not comply with its demand to release all ISIS members the regime had detained. The deadline ISIS gave to comply with their demands ended on Thursday.
Activists on social media identified the woman in the video as Thuraya Abu Ammar. According to the Sweida24 news site, the woman was 25 years old, and was kidnapped on July 25 during the attack.
Influential social and political figures within the Druze-majority province accused the Assad regime of "laxity" and neglecting to protect the residents of the province, most of whom refused to join the military operations against other Syrians.
According to many media outlets, multiple sources from the province accused the Assad regime of causing the massacre following an agreement with ISIS that called for their transfer from southern Damascus to the eastern desert of Sweida. The sources added that this transfer enabled ISIS to carry out its military operation easily, especially in the absence of Assad's militants.
The committee in charge of following-up on the kidnappings has made a public apology and stated its continued efforts to negotiate with ISIS. The committee also stressed that they faced many "obstacles", the details of which they declined to disclose at the moment.
The committee's apology reveals that they did not know of the murder at the time of its release. The statement said that the kidnappers did not make "any demands [that were] to be discussed [by the committee]".
However, the video released by ISIS on October first shows a fighter demanding that the Assad regime release its captives and stop its military operation in al-Safa region in exchange for the Druze abductees.
https://english.alarabiya.net/en/News/middle-east/2018/10/05/Fate-of-women-abducted-by-ISIS-remains-unknown.html
--------
Nadia Murad: From jihadists' slave to global champion for women
By SARAH BENHAIDA
5 October 2018
BAGHDAD, Iraq (AFP) — Nadia Murad survived the worst cruelties ever inflicted on her people, the Yazidis of Iraq, before becoming a global champion of their cause and winning the Nobel Peace Prize.
On Friday, Murad and Congolese doctor Denis Mukwege were jointly awarded the prize for their "efforts to end the use of sexual violence as a weapon of war," Nobel committee chairwoman Berit Reiss-Andersen said in unveiling the winners in Oslo.
The 25-year-old Murad, her thin, pale face framed by her long brown hair, once lived a quiet life in her village near the mountainous Yazidi stronghold of Sinjar in northern Iraq, close to the border with Syria.
But when the Islamic State jihadist group stormed across swathes of the two countries in 2014, her fate changed forever and her nightmare began.
One day in August that year, pick-up trucks bearing the black flag of the jihadists swept into her village, Kocho.
IS fighters set about killing the men, taking children captive to train them as fighters and condemning thousands of women to a life of forced labor and sexual slavery.
Today, Murad and her friend Lamia Haji Bashar, joint recipients of the EU's 2016 Sakharov human rights prize, continue the fight for the 3,000 Yazidis who remain missing, presumed still in captivity.
IS fighters wanted "to take our honor, but they lost their honor," said Murad, now a United Nations goodwill ambassador for survivors of human trafficking.
It is an evil she personally experienced during a harrowing three months.
After being captured by IS fighters, Murad was taken by force to Mosul, the de facto "capital" of the IS's self-declared caliphate.
During her ordeal she was held captive and repeatedly gang-raped, tortured and beaten.
The jihadists organized slave markets for selling off the women and girls, and Yazidi women were forced to renounce their religion.
Seen as heretics
For the jihadists, with their ultra-strict interpretation of Islam, the Yazidis are seen as heretics.
The Kurdish-speaking community follows an ancient religion, revering a single God and the "leader of the angels," represented by a peacock.
Like thousands of Yazidis, Murad was forcibly married to a jihadist, beaten and forced to wear makeup and tight clothes — an experience she later related in front of the United Nations Security Council.
"The first thing they did was they forced us to covert to Islam," Murad told AFP in 2016.
Shocked by the violence, Murad set about trying to escape, and managed to flee with the help of a Muslim family from Mosul.
Armed with false identity papers, she managed to cross the few dozen kilometers to Iraqi Kurdistan, joining crowds of other displaced Yazidis in camps.
There, she learned that six of her brothers and her mother had been killed.
With the help of an organization that assists Yazidis, she joined her sister in Germany, where she lives today.
She has since dedicated herself to what she calls "our peoples' fight," becoming a well-known spokeswoman even before the #MeToo movement swept the world.
The Yazidis numbered around 550,000 in Iraq before 2014, but some 100,000 have since left the country.
Many others have fled and remain in Iraqi Kurdistan, reluctant to return to their traditional lands.
Slight and soft-spoken Murad has now become a global voice, campaigning for justice for her people and for the acts committed by the jihadists to be recognized internationally as genocide.
And she and the Yazidis have won a high-profile supporter — Lebanese-British lawyer and rights activist Amal Clooney, who also penned the foreword to Murad's book, "The Last Girl," published in 2017.
The same year, the UN Security Council committed to helping Iraq gather evidence of IS crimes.
Yet in contrast to all the tragedies that have befallen her, recent pictures on Murad's Twitter feed show happier times.
In August, she announced her engagement to fellow Yazidi activist Abid Shamdeen.
"The struggle of our people brought us together & we will continue this path together," she wrote.
Underneath, a photo showed her next to a young man in a bow tie, her face still framed by her long brown hair, but this time, bearing a broad smile.
https://www.timesofisrael.com/nadia-murad-from-jihadists-slave-to-global-champion-for-women/
--------
Erdogan: Turkey Must Break 'Taboo' Against Men and Women Praying Together at Mosques
5 Oct 2018
Turkish President Recep Tayyip Erdoğan told attendees at an event Thursday that the government, and its Directorate of Religious Affairs (Diyanet) specifically, must do a better job of encouraging men and women to pray together at mosques, calling that segregation of sexes a "wrong taboo."
Erdoğan was speaking at an event to observe "Mosques and Religious Officials Week," a staple event in the country since 1986. He has adamantly encouraged women to take on homemaker roles and called birth control "treason" in the past, but in this case encouraged more women and children to come to mosques in the interest of advancing Islamic worship.
Turkey is a nominally secular state, established with strict separation of mosque and state under founder Mustafa Kemal Atatürk. Erdoğan and his Islamist Justice and Development Party (AKP) have used their power to significantly undermine this divide in the past decade, however, increasingly empowering Islamic voices in politics.
Thursday's event featured a government call for more Turks to regularly attend mosques.
"It is my personal duty to encourage open discussion of all questions related to religion and mosques in this country," the president said, according to Turkish newspaper Hurriyet. "Is there a verse or hadith [in the Quran] that bars women from going to mosques?"
"I have never heard of it or have read of such a thing. My tutors have never taught me anything like that. These false beliefs must be dispelled," he continued. "There are mentalities that show this as Islam. But we need to get rid of these. These wrong taboos need to be destroyed now. And this needs to be done by the president of Diyanet. If the deputy president of Diyanet is currently a woman, that is a sign such taboos are being destroyed."
Erdoğan insisted the government has a role in advancing Islam. "A society cannot maintain its existence if its ties to its civilizational values have been weakened just as is the case of a tree whose roots have been severed. Religion, wisdom, morality, and justice are load-bearing pillars that support us as a nation," he contended.
He noted that if Turks are moving away from religion, he saw this as a fault on the part of the government.
"The language of sermons and khutbas should be updated, renewed and refined for youth to understand. Also, our religious officials should avoid otherizing and alienating expressions in all forms and kinds," the president said.
He emphasized that every Turk must participate in mosque life, according to his point of view. "In my eyes, a mosque is empty without our children's joy, our youth's excitement, our elderly's experience, our women's grace and dexterity. If we are to build the future, we should encourage a mosque-centered life," he said.
The Stockholm Center for Freedom adds that Erdoğan referred to the Diyanet as an "army" to be used in Islamic recruitment.
"From such an army we cannot get the results we expect. We should work more," he reportedly said, adding that the Diyanet must encourage a "mosque-centric life."
The Stockholm Center notes that Erdoğan's language has changed little throughout his political career and has gotten him in trouble during more secular times in Turkish history. In 1998, Erdoğan was convicted of "inciting religious hatred" for reading a poem in public, which stated in part, "The mosques are our barracks, the domes our helmets, the minarets our bayonets and the faithful our soldiers."
Some Christian groups have objected to Erdoğan's remarks this week, given the increasingly hostile treatment of Christians in the country. The group International Christian Concern noted that, while Erdoğan emphasized the importance of Islamic religious life in mosques as social centers, "many Christians have repeatedly petitioned the government to allow them to open official churches and train their own pastoral leaders. Success has been minimal. Instead, the government under Erdoğan's leadership has only increased its pressure on Christians." In addition to preventing Christians from opening new houses of worship, Erdoğan's government has increased the number of church seizures, limiting the ability of Christians to serve their communities and proselytize.
"The religious minorities in Turkey, like the Christians, Jews, and a few others, suffer from unequal treatment. … The religious minorities are believed to be enemies of the state," Dr. Y. Alp Aslandogan, the executive director of the Alliance for Shared Values, said in remarks in March.
Erdoğan has openly admitted to wanting to increase the scope and influence of Islam in Turkish life, calling for a "pious generation" of Muslims to "work for the construction of a new civilization." He has also publicly criticized Atatürk for reforms in language, consolidating the Turkish language into a Latin alphabet form and, according to Erdoğan, "attacking" it with "unpleasant, dull and soulless words" from Western languages.
Insulting Atatürk is a crime in Turkey, subject to up to three years in prison.
https://www.breitbart.com/national-security/2018/10/05/erdogan-turkey-break-taboo-men-women-praying-together-mosques/
--------
Saudi female singer's music video causes controversy
October 05, 2018
Saudi Arabia is playing host to interesting developments after Crown Prince Muhammad bin Salman vowed to promote a more moderate form of Islam and loosened strict social rules like a ban on women driving.
Prince Mohammed launched his Vision 2030 program with promises to fundamentally transform Saudi Arabia's economy, however his reforms have been subject to various reactions, the latest of which have been directed toward the recently-released video clip that stars Waad Mohammad.
The clip, which was launched on the 88th anniversary of the founding of Saudi Arabia, is the first of its kind; that is, an English song has been verbalized for the first time. Additionally, Muhammad is seen without a headscarf and dancing in the clip.
"2030, now let go. It's time to give the world our show. There's nowhere like Saudi," she sings in the music video.
The crown prince's reforms have been accompanied by a harsh crackdown on dissent, a purge of top royals and businessmen on corruption charges, and a costly war in Yemen now in its fourth year.
https://www.yenisafak.com/en/world/saudi-female-singers-music-video-causes-controversy-as-moderate-islam-takes-speed-3462760
--------
Tears and broken dreams: How a Sabah woman forced to marry at 13 suffered
05 October 2018
KUALA LUMPUR, Oct 5 — Sail Ayu was only 13 years old when she was forced to marry a total stranger.
Coming from a poor family in Tenom, Sabah, her parents could not afford to pay for her education.
"When we were young, our life was very hard. We had to wake up early in the morning. We would be up at 5am and walk to school. We had to walk for three miles," she said in a Facebook video posted by Sabah Women's Action-Resource Group earlier this week.
"When we were walking home, the weather would be hot and we didn't have anything to eat or drink. So, when we were walking home, we had to drink the river water first. I always wanted to go to secondary school."
Despite the struggle, Sail said she always got good grades when sitting for primary school examinations, which motivated her to continue to secondary school.
"Unfortunately, I didn't get to go," said Sail, who is now 59.
Everything changed, when Sail was forced to get married.
She admitted, at that time, she had no idea at all about weddings — only that she was told to wear something nice for the wedding
"I didn't even know that man was my husband. We just sat there. Everyone else was looking at us, clapping their hands, but I wasn't even sure if I felt happy. Why? Because I didn't know what marriage was.
"I didn't know the meaning of marriage, what happens after that. That was how I felt. I felt scared," she continued.
That was when she started to feel disappointed with her own life, that she was crying so much.
"My father saw me crying and he caned me," she said, adding that she was beaten just for wanting to go to school.
"I look at my friends. There were some who became teachers. Some became nurses. Why couldn't I be just like them? I studied hard," she said solemnly, recalling her unfulfilled dreams.
Due to constant heartbreak, Sail said she attempted suicide twice. While she was determined to drink poison, she admitted she did not have the courage.
"If I drank the poison, who's going to take care of my child? I didn't forget that, but what could I have done? Maybe Maybe that was God's will for me," she said, struggling to hold back her tears.
"If I wasn't forced to get married at such a young age, maybe my husband wouldn't have married me. I would be in a better place right now.
"But I don't blame him. What could we have done, right?" she asked.
Yesterday, Sabah Chief Minister Datuk Seri Shafie Apdal finally caved in and confirmed that the state government will raise the minimum age of marriage to 18, despite its state mufti's proposal for Muslim girls to marry as early as 14.
https://www.malaymail.com/s/1679805/tears-and-broken-dreams-how-a-sabah-woman-forced-to-marry-at-13-suffered-vi
--------
Lubna Al Olayan appointed as first woman Saudi bank head
5 October 2018
A woman has been appointed to run a Saudi Arabian bank in a first for women in the country.
Saudi businesswoman Lubna Al Olayan will chair a new bank being formed out of a merger between the Saudi British Bank (SABB) and Alawwal Bank.
The move comes amid a liberalisation of women's roles in a traditionally conservative society.
In June, Saudi women were officially allowed behind the wheel for the first time, after a driving ban was lifted.
Currently the head of a family conglomerate, Ms Olayan is seen as a trailblazer for Saudi women in the finance industry.
The US-educated financier topped the list of Forbes Middle East's Most Influential Women 2018.
The empowerment of Saudi women is seen as key to the kingdom's modernisation as part of an initiative led by Crown Prince Mohammed bin Salman known as Saudi Vision 2030.
The merger between the SABB and Alawwal Bank creates the country's third biggest bank, with a capitalisation of £13.2bn ($17.2bn). British multinational bank HSBC will own part of the new entity.
https://www.bbc.com/news/world-middle-east-45763656
--------
Afghanistan: 3 women, 1 child killed following air raid
05.10.2018
By Shadi Khan Saif
KABUL, Afghanistan
At least four civilians, including three women and a child, were killed in Afghanistan's restive Kandahar province on Friday following an air raid, according to a local official.
Provincial police spokesman Zia Durrani told Anadolu Agency that the Taliban caused the casualties by firing at a wedding party in the Maruf district after coming under air raid by security forces.
"The foreign forces targeted two vehicles of the Taliban in Khogyani area of the district, but they escaped and tried to hide in a wedding party, and from there the rebels and the security forces exchanged fire," he said.
Durrani confirmed a child and three women were killed in the incident, while seven more women and another child were wounded.
The NATO-led Resolute Support Mission in Afghanistan has not commented on the incident yet. The Taliban claims the civilians were killed due to the air raid.
Last month, the UN in Afghanistan expressed serious concerns over surging civilian casualties in airstrikes.
In a statement, the United Nations Assistance Mission in Afghanistan (UNAMA) said 353 civilian casualties including 149 deaths and 204 injured were documented in the first six months of 2018 from aerial strikes, a 52 percent increase from the same period in 2017.
The UNAMA attributed 52 percent of all civilian casualties from aerial attacks to the Afghan Air Force, 45 percent to international military forces, and the remaining three percent to unidentified pro-government forces.
https://www.aa.com.tr/en/asia-pacific/afghanistan-3-women-1-child-killed-following-air-raid/1273537
--------
Nobel Peace Prize awarded to Congolese doctor and Iraqi woman
By Stefan J. Bos
Oct 5, 2018
The Norwegian Nobel Committee made clear it wanted to send a special message about sexual violence with this year's Nobel Peace price. It said that the "Nobel Peace Prize for 2018" was awarded to Denis Mukwege and Nadia Murad "for their efforts to end the use of sexual violence as a weapon of war and armed conflict."
Both laureates, it said, "have made a crucial contribution to focusing attention on, and combating, such war crimes."
The Nobel Committee said there were good reasons to award the Nobel Peace Prize to Dr. Mukwege and Murad, who was named the United Nations first Goodwill Ambassador for the Dignity of Survivors of Human Trafficking. "Denis Mukwege is the helper who has devoted his life to defending these victims."
The 63-year old Dr. Mukwege founded a hospital in Eastern Congo and treated thousands of women, many of whom were victims of gang rape.
He also provides HIV/AIDS treatment as well as free maternal care.
War in Congo
Although the Second Congo War, which killed more than five million people, formally ended in 2003, violence remains rampant, with militias frequently targeting civilians.
Dr. Mkwege's hospital was the subject of threats, and in 2012 his home was invaded by armed men who held his daughters at gunpoint, shot at him and killed his bodyguard.
Murad not alone
The Nobel Committee also noted the bravery of his fellow Peace Prize laureate Murad, saying that she tackled sexual violence by speaking about her experiences in Iraq. "Nadia Murad is the witness who tells of the abuses perpetrated against herself and others. Each of them in their own way has helped to give greater visibility to war-time sexual violence so that the perpetrators can be held accountable for their actions."
Murad is an advocate for the Yazidi minority in Iraq and for refugee and women's rights in general. She was enslaved and raped by Islamic State fighters in Mosul, Iraq, in 2014.
She isn't alone: An estimated 3,000 Yazidi girls and women who were victims of rape and other abuses by Islamic militants. She managed to escape after three months and chose to speak about her experiences.
Pope Concerned
Murad was only 23 when she was named the U.N.'s Goodwill Ambassador and her book, "The Last Girl," tells of her captivity, the loss of her family and her eventual escape.
Last year Nadia Murad met the pope, who expressed deep concern about sexual violence and other atrocities.
During that conversation at the Vatican, she sought spiritual support for the suffering of her people and thanked him for having spoken out about crimes not just against Christians but also against other ethnic and religious minorities, including the Yazidi.
https://www.vaticannews.va/en/world/news/2018-10/nobel-peace-prize-mukwege-murad-congo-yazidi.html
--------
URL: https://www.newageislam.com/islam-women-feminism/18-year-old-muslim-girl/d/116577
New Age Islam, Islam Online, Islamic Website, African Muslim News, Arab World News, South Asia News, Indian Muslim News, World Muslim News, Women in Islam, Islamic Feminism, Arab Women, Women In Arab, Islamophobia in America, Muslim Women in West, Islam Women and Feminism