New Age Islam News Bureau
22 Feb 2014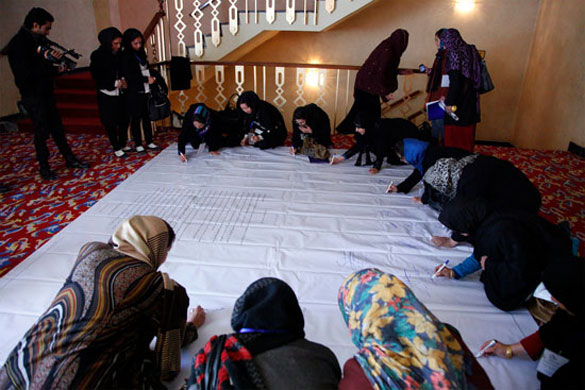 Afghan women participating in the signature campaign for ceasefire and peace. Photo: Fardin Waezi Addressing a gathering of the members of the HPC
------------
• Child Brides Married Off For 'Honour' In Pakistan
• Two Village Leaders Held For Ostracising Woman in Bangladesh
• Women's Group Calls for Domestic Violence Law in Lebanon
• Teenage Palestinian Amputees Top Kilimanjaro
• 2 Filipino Muslim Sisters Escape from Extremists with Cat
• Two Emirati Brothers In Search Of Their Indian Half Sister
• Afghan Women Campaign for Peace
• Beirut: Child Trafficking Arrests a Drop in the Ocean
Compiled by New Age Islam News Bureau
URL: https://www.newageislam.com/islam,-women-and-feminism/new-age-islam-news-bureau/17-year-old-indian-muslim-girl-escapes-forced-6th-marriage,-approaches-police/d/35892
-----------
17-Year-Old Indian Muslim Girl Escapes Forced 6th Marriage, Approaches Police
February 22, 2014
Poor Muslim girls are being sold off in the name of marriage to wealthy and aged Arab Sheikhs in Hyderabad.
Last Monday, a 17-year-old girl approached the police when her parents tried to marry her off for the sixth time.
The girl, the third daughter of a Paan shop owner, Mohammed Akbar, 52, from Hafeezbabanagar escaped with the help of an NGO when she was being taken in an auto to meet the prospective groom — a 50-year-old Sudanese man — at a city hotel.
In her police complaint, she accused her parents of selling her off in the name of marriage six times in the past two years. Her father, his third wife and the Sudanese national has been arrested.
"We are trying to identify the Quazi and the brokers who fixed the wedding," ACP Sai Krishna of Santoshnagar police station said.
In 1992, the menace came to light when an air hostess rescued a 12-year-old girl, who was being forcibly married off, from Hyderabad-Mumbai flight.
But more than 20 years later, the problem persists. It has now spread its tentacles to Muslim-dominated towns in Kerala and Karnataka where it is referred to as "Arabi Kalyanam", "Mysore Kalyanam" or "Male Kalyanam". In Hyderabad it is known as 'Arab Nikah' where minor girls are married off in exchange of money. These marriages last for a few days to a couple of months after which the bride is divorced.
The police said Akbar with help from his third wife Niloufer and broker Rehana married off the girl six times in a row since 2012. She was first sold to one Basheer from Nagpur for Rs30, 000. A few months later Basheer divorced her and she was married off to an NRI, Jamal, in Pune for Rs30, 000. She was married off to Saudi Sheikhs for the third and fourth time. Her parents received something between Rs50, 000 and Rs1 lakh in 2013.
The Sheikhs, said the girl in her complaint, held her captive for three months. She was never allowed to go anywhere without a guard or an escort.
Her fifth marriage was with a Bahrain national in Hyderabad for Rs1 lakh a few months ago. On January 14 this year, her father fixed her sixth marriage with a 50-year-old Sudanese national, Mannan, for Rs1 lakh.
She escaped while on her way to a hotel to meet the man. She then approached the police through an NGO. The girl has studied till the 10th after which her parents started marrying her off. "They splurged the money on luxury goods and also to clear their loans," the girl said in her complaint. "My father who has four wives recently sold off my two sisters (daughters of his second wife) in a similar way."
At times, instead of money, the Sheikhs offer visas for the bride's brothers or other family members, the police said.
Mazhar Hussain, director of COVA, an NGO, said these are cases of human trafficking rather than marriages for money.
In 1988, the police detected 1,500 such cases and arrested 25 kazis. In 2011 and 2012, the police busted rackets involving Afghan, Sudan, Nigerian and Pakistani nationals.
Police say none of the men want to spend the rest of their lives with these girls. "They just want to have fun while they stay here," an officer said.
In such marriages, the girls are made to sign blank bond papers that are later used for divorce proceedings.
The Waqf board says such marriages are un-Islamic. But some Quazis bend the rules in exchange of money. And the board can do little. In 2004, the board issued a set of guidelines asking Quazis not to perform such marriages where there is a huge age gap between the groom and the bride.
http://www.dnaindia.com/india/report-17-year-old-girl-escapes-forced-6th-marriage-approaches-police-1964104
-----------
Child Brides Married Off For 'Honour' In Pakistan
AGENCE FRANCE PRESSE
22 February 2014
One sunny afternoon as she skipped home from school, Saneeda was accosted by her estranged father, who wanted to marry her to a man she'd never met to settle a debt of "honor." She was five years old.
A few months earlier, Saneeda's father Ali Ahmed had eloped with a girl from another valley. To avoid violent revenge from her family, he promised to give them his daughter and niece Sapna in marriage.
Offering young girls as brides in compensation to settle disputes persists in many areas of deeply conservative Pakistan.
In Saneeda's home district of Swat, in the country's northwest, the practice is known as "Swara."
Government data show that it is on the rise in Swat, four years after an army operation ended the Taleban's brutal two-year rule in the scenic valley once known as the "Switzerland of Pakistan."
Nine cases were registered in the area in 2013, up from just one in 2012. Rights groups say the true number is much higher.
"My father stopped me in the street and told me that he has given me in swara and soon will hand me over to a man who will be my husband," Saneeda, wearing a golden shawl with red and purple embroidery, told AFP, her cheeks reddening in embarrassment.
Her mother dismissed it at first, but the arrangement had been ordered by a jirga, a traditional tribal gathering, and the gravity of the situation soon became clear.
"We initially thought they can't take this girl away but then they increased pressure with every passing day to give her in swara," Fazal Ahad, Saneeda's maternal uncle, told AFP.
Eventually Saneeda's family got a court order protecting her. Police arrested her father and the jirga members who had decided to give her in swara.
A lucky escape, but Saneeda, now aged seven, still faces discrimination and mockery.
"Whenever I go to school, children taunt me and tell me that I have been given in swara and will be married to a man," she said.
Saneeda was unsual in that her family challenged the jirga's ruling. In Pakistan's patriarchal society, where family reputation is paramount, airing the "dirty laundry" in public in this way is very rare.
"There are many other cases of swara, but people in our area don't go to police and court and don't highlight such cases. We don't take matters of our women to the court — the victimised girls have to bear it all," said Ahad.
The authorities do not keep detailed data on swara, but Samar Minallah, an activist who made an acclaimed documentary on the practice, said she had identified at least 132 cases around Pakistan in 2012.
The other girl given by Saneeda's father, 16-year-old Sapna, had to abide by the jirga ruling and settled with the husband they chose for her.
The custom and the code of silence that surrounds it is so strictly followed that AFP was unable to reach her to speak about her experience.
Ahad said the nine Swara cases reported in Swat are just the tip of the iceberg, but victims were becoming increasingly willing to speak out.
"People are slowly getting aware through media that this custom is an evil, so some of them have started reporting," he said.
Forced marriage under swara is against the law, but police say that even when a complaint is brought there is great reluctance among witnesses to give statements.
"In the cases of swara, people don't provide evidence against each other, because they are from the same village and community," Naveed Khan, a senior police official told AFP in Mingora, the district headquarter of Swat.
"In the single swara marriage case in 2012, all 12 accused were set free because there was lack of evidence against them. Nobody speaks up in such cases."
Officers arrested 65 suspects in the nine swara cases in 2013, including Saneeda's father, Khan said, but their fate rests with the courts.
Women's rights groups say the government needs to do more to crack down on swara.
"There are more than 15 cases of Swara, which have been highlighted," Tabassum Adnan Safi, the chair of a local women's campaign group, told AFP.
"We are working to make women aware of the evilness of this custom. Besides these awareness campaigns, we also protest against Swara and raise voice for the protection.
"But getting evidence in such cases is no doubt a big challenge because nobody talks about it."
Minallah says that nothing will change until the police and prosecutors are prepared to challenge the authority of local elders — a difficult task in areas where such traditional power structures are deeply entrenched.
"An awareness has been created against swara, that is why there are more reported cases, but the authorities need to take strict action against jirgas and stop them violating the law," she said.
And there are those, even in the legal community, who defend the practice staunchly.
"It is helpful in removing deadly enmities among scores of tribes, saves dozens of lives and brings peace among families," Syed Kareem Shalman, a practising lawyer in Mingora, told AFP.
"If a family, which gets a bride in Swara mistreats her, faces revenge from the family who give their daughter to resolve the dispute."
http://www.arabnews.com/news/529396
-----------
Two village leaders held for ostracising woman in Bangladesh
February 22, 2014
Police arrested two village leaders at Norsingshar village in Sadar upazila under the district on Tuesday night on charge of ostracising a woman through a so-called fatwa (religious edict).
The victim, Nazma Begum, 55, faced confinement to her house and non-cooperation from the villagers, including provision of stopping food and water, as the leaders, instigated by Nazma's husband Abdul Karim and satin (co-wife) Johora Begum, had Moulovi Rahmat Ullah pronounced the fatwa.
Declaring illegal the restoration of marriage between Nazma and Karim after a few years of their divorce, the village leaders asked both to pay kaffara (penance) of Tk 5,000 each.
They ordered Nazma to pay Tk 1 lakh as compensation to Karim and leave the village soon.
They also erected a high fence in front of Nazma's house to isolate her.
Informed by Nargis Akter, upazila manager of BRAC, a police team led by Brahmanbaria Sadar model police station OC Md Abdur Rab rushed to the village on Tuesday night and arrested two village leaders – Abdur Rouf and Safar Mia – while a few others fled.
Nazma filed a case with Brahmanbaria Sadar Model Police Station in this connection.
Narrating her ordeal, Nazma said, "In 1982 I was married to Abdul Karim of Norsingshar village under Sadar upazila. Two sons were born to us. In 1988, Karim divorced me following a family feud. I along with two sons took shelter at my father's house at Talshahar village in Sadar upazila while Karim married another woman named Johora Begum, who has now three daughters.
"Meanwhile, my sons grew up. In 2001, they persuaded their father to marry me again. Karim arranged two separate houses for me and Johora at Norsingshar.
"Afterwards, my two sons went abroad for work and they started sending money to me. I used to share it for both the families and thus spent at least Tk 15 lakh so far. But Karim and Johora wanted my sons to send all the money only to them.
"A few months ago, Johora, her elder daughter and Karim mercilessly beat me and my second son Haroon's wife Yeasmin Begum. I filed a case under Woman and Children Repression Prevention Act and Karim was sent to jail custody.
"After release on bail, Karim called a local arbitration on January 20 this year when the village leaders and Moulovi Rahmat Ullah, being motivated by my husband and Johora, declared our marriage illegal and pronounced the so-called fatwa.
http://www.thedailystar.net/country/two-village-leaders-held-for-ostracising-woman-12349
-----------
Women's group calls for domestic violence law in Lebanon
February 22, 2014
BEIRUT: A women's association urged officials Friday to pass a domestic violence draft law after a woman was allegedly poisoned to death by her husband, the latest in a string of domestic violence murders targeting women in Lebanon in recent weeks. "We join calls by all organizations for passing the domestic violence draft law as quickly as possible. We appeal to the conscience of all responsible officials to meet this demand out of our eagerness to protect women and all Lebanese families," said Mona Khauli, the general secretary of the YWCA of Lebanon.
http://www.dailystar.com.lb/News/Lebanon-News/2014/Feb-22/248141-womens-group-calls-for-domestic-violence-law.ashx#ixzz2u572MJ1N
-----------
Teenage Palestinian Amputees Top Kilimanjaro
February 22, 2014
A boy from Gaza and a girl from the West Bank have climbed Africa's highest peak to raise funds for Syrian children.
In 2006, Mutussam Abu Karsh was playing soccer in the northern Gaza Strip when an Israeli tank shell exploded, ripping his leg and part of his hand from his body. He was eight years old.
A few years earlier, three-year-old Yasmeen Najjar was playing outside her family's house near Nablus in the West Bank when she was struck by an Israeli army vehicle. The injury resulted in the loss of her right leg above the knee.
Yet last month, despite their injuries, Yasmeen and Mutussam - now 17 and 16 years old respectively - became the first Arab amputees ever to reach the summit of Mount Kilimanjaro, conquering Africa's highest peak after a gruelling eight-day trek. "It was a feeling of great pride and victory," said Yasmeen afterwards.
The climb of hope, led by Dubai mountaineer Suzanne al-Houby and organised by the non-profit Palestinian Children's Relief Fund (PCRF), was made to raise funds to provide medical care for Syrian children And bring awareness of the plight of injured children throughout the Middle East.
Speaking to Al Jazeera this week, Mutussam said: "I was very happy [at the summit]. I had a strange feeling of great accomplishment to represent my homeland Palestine, and to help the Palestinian and Syrian children."
PCRF was founded during the first intifada, and provides advanced medical care for injured children such as Mutussam and Yasmeen. It has sent more than 1,000 children from Iraq, Lebanon, Jordan and Syria to receive medical care around the world, and tens of thousands more have been treated inside the occupied Palestinian territories.
The hike up the Tanzanian mountain was conceived as a response to the humanitarian crisis in Syria, where, according to a recent UN report, more than 10,000 children have been killed and countless more injured.
"We feel obliged to provide services to Palestinian refugee and Syrian children, but because of the security situation we cannot send missions into Syria," said Steve Sosebee, PCRF's founder. "This trip is in part about raising money to treat those Syrian and refugee children coming into Lebanon and Jordan, where we can provide care." The trip also had a larger mission of providing a message of hope for Palestinians and a sense of unity in a region embroiled in violence.
The idea for the trek came from Houby, a Palestinian born in Dubai who is the first Arab woman to have climbed Mount Everest. She wanted to bring a boy and girl from both Palestinian territories to "present a message of solidarity - not just to Palestinians but to the larger Arab world", she told Al Jazeera from her office in Dubai. "I really wanted representation from the inside, from the West Bank and occupied territories. It's a powerful metaphor: a boy from Gaza and a girl from the West Bank climbing to help Syrian children. It shows Arab children they can do anything."
The trek up Kilimanjaro takes seven to nine days, and fewer than half of climbers reach the 5,895-metre summit. For Yasmeen and Mutussam, climbing with prosthetic limbs provided a unique set of challenges. "Yasmeen is an an above-the-knee amputee and lacks good tissue between her bone and skin," said Sosebee. "The constant impact creates a lot of pressure and some pain."
Mutussam's difficulties were as much political as physical, as the movement restrictions imposed upon Palestinians in the besieged coastal territory made it extremely difficult for the teenager to leave.
According to Israeli human rights organisation B'Tselem, Israel has almost completely severed the Gaza Strip from the West Bank. It is difficult for Gazans to go abroad, and many have been denied permission to exit altogether.
"Gazans can only leave through Egypt, but as you know the border is closed," said Sosabee. "To go through Israel he had to first get security clearance, a permit from the Jordanians, and a visa from the United Arab Emirates, all of which are extremely difficult for Palestinians to get. He then had to fly to Dubai because the UAE is the only place the Tanzanian visa could be issued. When he got off the plane we realised his visa was issued in his mother's name. And when he finally arrived in Tanzania his luggage was lost. It was a disaster of an experience."
But aside from Mutussam's late arrival, the climb itself went smoothly. The group even finished one day ahead of schedule.
Houby recalled the emotional moment when the two teenagers approached the top of the mountain, "When Yasmeen and Mutussam saw the summit, their faces lit up. Yasmeen, exhausted as she was, ran up and hugged me. Her whole body was shaking, and she was sobbing loudly, tears of happiness. For Muttusam, you know, boys from Gaza don't cry. He's a tough boy. But you could see it in his face."
Yasmeen and Mutussam are not alone in their injuries. According to Ayed Abu Eqtaish, accountability director for Defence of Children International, 1,400 children have been killed by Israeli soldiers or settlers since the year 2000.
Providing medical care for children affected by the ongoing violence is difficult in the West Bank, where an elaborate system of movement restrictions imposed by Israel since the early 2000s have had a major impact on health conditions and the ability to provide services in the territory. The health situation in the enclosed Gaza Strip is even worse.
Yet regardless of the challenges faced by children from the Palestinian territories to Syria, the climb provided a message of hope.
"I climbed Mount Kilimanjaro because I want to inspire others," said Mutussam. "That no matter what happens; you can do anything you want in your life".
http://www.aljazeera.com/indepth/features/2014/02/palestinian-teen-amputees-scale-kilimanjaro-201422012162649821.html
-----------
2 Filipino Muslim sisters escape from extremists with cat
Associated Press
February 22, 2014
MANILA: Two Algerian-born Filipino sisters kidnapped by Abu Sayyaf extremists eight months ago escaped from their captors in the jungles of the southern Philippines with a cat that had given them company during their ordeal.
Nadjoua and Linda Bansil were abducted by the brutal militant group when they traveled to Jolo island in Sulu province to make a video documentary about the lives of poor coffee farmers in the predominantly Muslim region.
The Muslim sisters were born in Algeria to an Algerian mother and a Filipino father but grew up in the Philippines, where they have produced independent films.
Philippine marines found them Thursday in Buhanginan village in the mountainous town of Patikul, clad in black Muslim dresses that exposed only their eyes. One was cradling a cat, marine Capt. Ryan Lacuesta said.
"They said that their captors often kept them in isolation in the mountains and the cat gave them company and pleasure," Lacuesta said by telephone from Jolo.
Linda Basil, 37, said she started taking care of the cat, named Juanita, after it was brought by a militant to the Abu Sayyaf camp where they were being held, reading books and "waiting and waiting." When mortar rounds went off and loud explosions thudded in the distance, she would hide the cat in a piece of cloth for safety.
"I think I needed a pet because they say a pet makes you relax," she told The Associated Press in a telephone interview Friday. "It's scary, there were times we heard mortar explosions but I always grabbed her first. I got used to that. I got attached to her."
She said the worst period was the first five days of their captivity, when they were unaccustomed to the harsh environment and constant danger.
"When I heard mortars and loud explosions ... I just didn't know what would happen next," she said. "You can't eat, you can't think, you're in shock ... but, after a while, you get used to it."
She said the cat eventually grew fatter than the sisters because all of them ate at the same time, and the cat would finish the leftovers. Although the cat could have hampered their escape, she said she couldn't leave it behind in the mountains alone.
The sisters were taken to a military trauma center in Jolo for a medical checkup, given a meal and then flown to southern Zamboanga city, where they were briefly presented to journalists.
The women's brother, Mohammed, told reporters he would accompany his sisters back home to their mother in Manila.
The women said their captors moved them often from one jungle camp to another to avoid being found by government forces. They were fed rice, dried fish and root crops and were often detained in a hut.
The Abu Sayyaf had demanded 50 million pesos ransom ($1.1 million) for the sisters' freedom, but Lacuesta said it was not clear if any money had changed hands. Constant military assaults and search operations put pressure on the kidnappers to release them, he said.
When a marine patrol approached Thursday, the women's guards ran away and they dashed to freedom, Lacuesta said.
Abu Sayyaf militants still hold about a dozen hostages, including two European bird watchers kidnapped two years ago, in Sulu province, where Jolo is located, Sulu military commander Col. Jose Cenabre said.
Associated Press writer Teresa Cerojano contributed to this report.
http://www.arabnews.com/news/529091
-----------
Two Emirati brothers in search of their Indian half sister
Amira Agarib / 22 February 2014
Hope flickered when they read some local media reports recently about a 40-year-old Indian woman who landed in the UAE in search of her father.
Two Emirati brothers are searching for their half sister who was born in India 40 years ago.
Hope flickered in them when they read some local media reports recently about a 40-year-old Indian woman who landed in the UAE in search of her father. They contacted the Dubai Police immediately but their hope was short-lived.
Ibrahim Abdulla, who lives in Sharjah's Khorfakkan area, said three years before his death, their father told them that he had a daughter in India but he had failed to find her. He was worried that he had not fulfilled his responsibility as the father.
Abdulla said their father told them that he used to visit India for work, as people used to do in the past, and had stayed there for months occasionally. He married an Indian woman during one of those visits. Months after he returned to the UAE, he learnt from people who knew him and his Indian wife that she had given birth to a baby girl and that his daughter's name is Fatima.
He investigated the matter and found that the information was correct. He travelled to India many times but could not track down his wife and daughter. Once, he learnt that his wife had relocated to another place and searched that area but could not find the duo.
Abdulla said their father had been so worried that he would die without seeing his daughter at least once that he could not sleep for several nights. Abdulla said that his brother Ahmed who lives in London now, his sisters and he are keen to find their Indian half sister. The two brothers had visited India several times in search of her in vain.
They contacted the Dubai Police after reading reports about an Indian woman who came to the UAE after 40 years to search for her father, who had died. The reports said the woman had approached the police's Human Rights Department with her birth certificate for help in finding her other family members.
The two brothers approached the department but the woman said that she belonged to another family living in another emirate.
Abdulla said he and his family members are eager to find their half sister and compensate her for the love and care their father could not give her during his lifetime.
He said the authorities have agreed to help them in finding her in coordination with the Ministry of Foreign Affairs and other organisations concerned.
Colonel Dr Mohammed Al Murr, Director of General Department of Human Rights of the Dubai Police, said, "We usually receive cases of people coming from abroad to the UAE to prove that they belong to an Emirati family or another, but not of Emiratis in search for their relatives."
He said the department has been helping people on all humanitarian issues and would do all it can for this family too.
http://www.khaleejtimes.com/kt-article-display-1.asp?xfile=data/nationgeneral/2014/February/nationgeneral_February176.xml&section=nationgeneral
-----------
Afghan Women Campaign for Peace
February 22, 2014
ISLAMABAD — War-weary women in Afghanistan have unleashed an unprecedented campaign to seek an immediate cessation of hostilities and defend the freedom they have gained over the past decade in the mostly conservative and male-dominated Afghan society. The move comes amid intensifying fears the Islamist Taliban would try to regain power after NATO combat troops withdraw from the country in December.
Afghanistan's nearly four-year-long peace effort, made through a High Peace Council of prominent Afghan personalities, has so far failed to persuade the Taliban to end its insurgency and join a political reconciliation process.
The lack of progress has prompted the women's wing of the panel to undertake a rare peace initiative of its own, providing a glimmer of hope for traditionally and socially oppressed Afghan women.
A Council member, parliamentarian Golalei Nur Safi, is at the forefront of the campaign, called 'Voice of Afghan Women for Peace and Cease-fire'. She told VOA their mission is to urge the government and Taliban-led opposition groups, as well as international forces, to try to negotiate a peaceful settlement of the conflict as soon as possible.
Safi said the campaign was launched early this month and Afghan women are joining it in large numbers every day. She added that despite security concerns, women volunteers are making serious efforts to secure as many signatures as possible from female members of Afghan society on a piece of paper carrying a message of peace.
"We go door-to-door also and also [arrange] some meetings between the women. And the group of volunteers they go to the people, to the society, to the schools, to the universities, to the workplaces, and they tell [them] about the message that we want peace and [a] cease-fire. We have hundreds of women, they are working like volunteers to take the signature from the women and until now we have more than 120,000 signatures," said Safi.
Organizers say copies of the signatures will be submitted to President Hamid Karzai, United Nations Secretary-General, Ban Ki-moon and representatives of the Taliban.
Safi said they have also taken their demands to candidates taking part in the upcoming Afghan presidential elections.
"We talk to every candidate about this campaign and we tell our message to them that Afghan women they are very tired from the war and we want peace," said Safi.
She said that after more than a decade of political empowerment at different levels, Afghan women are determined not allow anyone violate their rights, be it the government or the Taliban. The lawmaker reiterated that women must be made part of political decision-making process to ensure their rights are protected in the search for a peaceful way out of the crisis facing Afghanistan.
"We expect that the rights of women are not violated once again that we have achieved and accomplished in the last ten years in Afghanistan. And we believe that the rights of women will not be jeopardized once again as it was a decade ago and these rights shall be respected and should be promoted despite starting or convening the peace negotiations with the Taliban," she said.
The Afghan civil war of the 1990s that paved the way for the Taliban to seize power and impose their brand of strict Islamic law critically undermined female rights in the war-shattered country. The Taliban banned women from workplaces and prohibited girls' education during their five year rule.
It is estimated that until the U.S.-led military coalition ousted the Taliban from power in 2001, there were fewer than one million Afghan children in school, and all of them were boys. Recent local and foreign studies show that international assistance has since helped the country raise the number of students close to eight million; more than a third of that 8 million are girls. Meanwhile, improvements to health facilities has brought down the maternal mortality rate by 80 percent and Afghan women are now running their own businesses.
http://www.voanews.com/content/afghan-women-campaign-for-peace/1856204.html
-----------
Beirut: Child trafficking arrests a drop in the ocean
February 22, 2014
BEIRUT: Four children sell tissues in the middle of the road adjacent to the market in Sabra. "I hope you go to prison!" a truck driver shouts as the eldest proffers a pack of Kleenex.
"My mother is sick," she tells The Daily Star, hugging a concrete barrier on the road to avoid a passing car.
While the girl and her coterie claim to have walked from their nearby residence in the penurious neighborhood of Sabra, many Syrian children scattered around the affluent areas of Beirut are far from their homes, some purposefully shuffled around by trafficking networks, the inner workings of which were revealed in part last week when the Internal Security Forces dismantled an alleged child trafficking ring in Ras Beirut.
On Feb. 13, The ISF arrested members of the alleged ring following a three-day stakeout at the corniche, undertaken after patrol officers grew suspicious of four young Syrian girls, aged 15, 10, 9 and 4, selling Kleenex and chewing gum to passing motorists.
The sight of children selling the goods is not uncommon, but what struck the officers was the orderly manner by which they arrived and were picked up.
The officers documented that a woman, later identified as Lebanese, would drop off the four children in the morning and pick them up during the evening. That regularity was the first step in identifying the ring as an organized trafficking enterprise.
The implicated Lebanese woman, identified as M.Z., or "operations manager," as Col. Elias Asmar, head of the ISF's moral protection department calls her, was arrested, as were the parents of the four girls, W.K., M.H. and H.H.
The suspects, who did not confess during the interrogation, have been accused of running a child trafficking ring. The child victims, including three siblings, were referred to House of Hope orphanage in the Baabda town of Kahaleh, as per prosecutor Rajaa Harmoush's request.
"We and the prosecutor deem that the girls were exploited by their parents and the Lebanese manager, who were benefitting from the girls' work on the streets," Asmar said. "And this is an aspect of human trafficking, as explicitly stated by our law. It is mentioned in Article 586/1 of the penal code."
The dismantling of the ring is a drop in the ocean, however, Asmar said. Child trafficking is on the rise due to the conflict in Syria and Lebanon's worsening security situation. The majority of cases involve Syrian refugees.
"The major affected population is Syrian, but you can't say that other nationalities aren't vulnerable. Every child coming from bad economic conditions and armed conflict is a potential victim of trafficking," Asmar added.
He said that the arrests were a step in the right direction toward implementing the 2011 anti-trafficking law, but that finding shelter options for victims continued to be a challenge.
"There is not enough space in shelters," Asmar said. "In this case, the kids were referred to a social center in Kahaleh but in other cases, we face a lot of difficulty in finding a place to keep the kids."
Marcelle Aoun, the president of UPEL – a child protection group – has long been an outspoken critic of state's lack of investment in shelter programs. She said the Justice Ministry, which administers her program for juvenile delinquents and victims of abuse, went six months without paying its employees.
"The problem is that there is no budget for [shelters and rehabilitation programs]," she said.
Even House of Hope, which received the four Syrian girls, said they were dependent on private donations to keep their programs running. Noah George, the assistant director, said the government funding they received was just enough to cover staff salaries, "and we're understaffed." The shelter, which often receives severe abuse cases, is not able to hire a full-time psychologist.
The lack of proper identification, especially for victims of trafficking, is one factor that excludes them from rehabilitation programs, George said.
"They are doing fine," he said of the young Syrian girls who arrived last week. "They have issues, but they are coming out more and more the longer they stay."
Child trafficking victims are typically mistrustful at first, George said. "It takes them a long time to trust people, and they always want to run away."
Asmar remarked that the girls were very mature for their age. "Surely, it's because of their experience on the streets."
If indicted, the parents could face 10 to 15 years of jail time and be fined up to 600 times Lebanon's minimum wage, which is about $450.
When asked whether the sentence should take the socioeconomic hardships faced by the parents into account, Asmar said the law was fair.
"Traffickers think about easy money and how to diminish costs," Asmar said. "They don't have to put in any effort if they invest in their children."
In Sabra, Syrian refugees live in cramped quarters off dank alleyways in the underdeveloped neighborhood. The parents arrested last week lived here and had arrived to Lebanon a mere month before.
Parents have a hand in allowing their children to beg, said Mahmoud M. Abbas, a social worker with Children and Youth Center in Beirut's Shatila camp.
"The parents ... they are partnered with these gangs," he said.
Feryal Ahmad al-Ahmad, a Palestinian woman who lives in the area, said she knew who managed a group of child beggars.
"His name is Fouad, he lives in the Naameh area and he's Lebanese," she added.
Georges Talamas, a project manager at the NGO Basmeh and Zeitooneh estimates that one child can make up to $300 month begging on the streets.
"Those families won't accept a food basket and a mattress," Talamas said.
According to Ahmad, Fouad fled when he learned the authorities had identified him.
Traffickers "come in a van, daily," she said.
"They are distributed in the area, and they change shifts."
"They get out from the van at Rehab, go to the Al-Sahel Hospital [area] and sit on the edge of the road," Ahmad said.
http://www.dailystar.com.lb/News/Lebanon-News/2014/Feb-22/248125-child-trafficking-arrests-a-drop-in-the-ocean.ashx#ixzz2u57j3Chp
-----------
URL: https://www.newageislam.com/islam,-women-and-feminism/new-age-islam-news-bureau/17-year-old-indian-muslim-girl-escapes-forced-6th-marriage,-approaches-police/d/35892