New Age Islam News Bureau
9 Dec 2013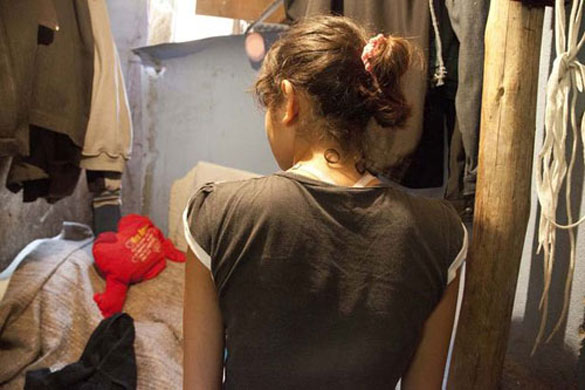 14-year-old Poliana looks like any innocent young teenager
-------------
• Brazil: Prostitute Aged 14 Used By Workers at England World Cup Venue
• Female Genital Mutilation a 'Huge Problem' In U.K
• Canadian Non-Muslim Woman Wears A Hijab to Make A Statement
• 20 Saudi Women Fill Jobs Left By Expat Engineers
• Court Verdicts In Favour Of Women 'Not Being Enforced'
• Edmonton Police Approve Newly Designed Uniform Hijab for Female Officers
• Afghan Law Barring Violence against Women Stalls, UN Says
• Tanzania: How FGM Rituals Keep Maasai Women At Bay
• Pakistan Fashion Casts Off 'Dark Cloud' Of Extremism
Compiled by New Age Islam News Bureau
URL: https://newageislam.com/islam-women-feminism/16-pregnant-teenagers-rescued-nigeria/d/34781
--------------
16 Pregnant Teenagers Rescued From Nigeria 'Baby Factory'
World Bulletin / News Desk
09 December 2013
Sixteen pregnant teenagers, between the ages of 14 and 19, have been rescued from what the Nigeria police described as a "baby factory" operated by a fake medical doctor in Southeast Imo State.
"Following investigations triggered by a tip off, our men launched a clampdown on a so-called nongovernmental orphanage where teenagers are enticed with money to get pregnant and deliver same for sale into human trafficking or rituals," Police Commissioner Mohamed Katsina told Anadolu Agency in a telephone interview on Wednesday.
He said the arrest was made at Ezuma Women and Children Rights Protection Initiative (EWCRPI), a registered nonprofit group.
"The NGO is a baby factory where teenage girls are encouraged to get pregnant and deliver baby for use in child trafficking and rituals," insisted the police chief.
He asserted that for years that orphanage existed and its registration status has shielded its nefarious activities from the security operatives.
The police chief said the rescued girls are between the ages of 14 and 19.
The girls, he added, were recruited by one James Ezuma, a fake medical doctor already standing trial over allegations of owning a gun-running business.
Katsina said the teenage mothers were paid between N100, 000 and N150, 000 (roughly between $640 and $960) to abandon their newborn babies.
Nigeria's southeast region is particularly notorious for kidnapping aimed at extracting ransom from relatives of the victim.
Incidents of "baby factories" are also not new in the region.
http://www.worldbulletin.net/?aType=haber&ArticleID=124341
--------------
Brazil: Prostitute Aged 14 Used By Workers at England World Cup Venue
09 December 2013
Sitting on a bed covered in cuddly toys, her long hair tied with a pink scrunchie, 14-year-old Poliana looks like any innocent young teenager.
But instead she is part of a sickening child prostitution scandal that heaps shame on World Cup hosts Brazil.
In this bedroom, only yards from a new £200million stadium where England will play in next summer's finals, Poliana sells her body to dozens of construction workers in their lunch break every day for just £2.60 a time.
And she is not alone.
A Sunday Mirror investigation reveals how hundreds of poverty stricken children, some aged just ELEVEN, are being sold to workers building Sao Paulo's showcase World Cup ground.
Yet they are feared to be just the start of a tidal wave of child prostitutes run by organised crime from drugs gangs and child sex traffickers to the Russian mafia. And they will swamp here and other stadiums in Brazil, luring lucrative foreign fans, when the tournament kicks off in June.
Already there are sinister reports of buses full of children like Poliana arriving in Sao Paulo, Brazil's biggest city with 11.3 million people, from poor parts of the country after being snatched by traffickers.
The city's worried justice secretary, Eloisa de Sousa Arruda, told us of cases of underage girls arriving through its international airport from the Congo and Somalia, supposedly financed by the Russian mafia.
And a Sao Paulo council inquiry into child prostitution, seen by the Sunday Mirror before publication, shows the crime-ridden city is powerless to stop them – because there is "no political will" to do so.
Every day, the grotesque trade goes on in broad daylight in roads near the stadium in the poor district of Itaquera – in full view of security guards and regular police patrols.
The girls sometimes take clients back to local run-down sex hotels, or work from their own bedrooms in shacks in a local squalid 'favela' or shanty town.
Residents of Favela da Paz, a slum in the shadow of the stadium, claim many of the girls are forced into prostitution by gangs.
We found Poliana after being led to her bedroom by other girls plying their trade close to the stadium's perimeter fence.
She said she normally arranges to meet clients in a local sex motel, the pink-painted Hotel Palace, even though Brazilian law bans minors from entering such vice dens. "The owners know me, they always let me in," she said.
Poliana said most of her trade comes from the 300 workers building Sao Paulo's Arena Corinthians. Two weeks ago she discovered she is pregnant.
The youngster told us how she fell headlong into the world of prostitution only three months ago. She said: "It was the night my mother died. I'd been tempted to do prostitution before – some of my friends were doing it and there were people wanting me to do it.
"But when she died I just lost it. I went out on the streets that night. I didn't know how I would find money to eat or pay the rent. It didn't take long to find people wanting to pay. There were lots of men from the stadium turning up looking for sex."
Poliana said she knows many other underage girls from poor communities around the stadium who sell their bodies to stadium workers employed by Odebrecht Infrastructure.
She said: "There are many who are younger than me, 11, 12. I'm often the oldest girl on the road. When the World Cup begins there will be many more girls my age and younger. Everyone thinks they can make a lot of money from the foreigners coming here."
Thousands of England fans will be in Sao Paulo for the team's second group game on June 19 against Uruguay. Another girl, 16-year-old Thais, left a man waiting inside a garage where she sometimes takes clients so she could speak to us.
A crack addict, Thais said she charges between 10 and 15 Reals – £2.60 to £4 – and has sex with up to 15 men a day.
"Nearly all my clients are from the works," she said. "They always pay up, but they don't always treat me well.
"But what can I do? My parents are dead, I need money. If it were not for the men at the stadium, I don't know what I'd do. Tomorrow one of them has booked a whole day in the hotel – it will be a good day's work for me."
Thais also said she is "looking forward" to earning more during the World Cup. She said: "I'm going to charge the foreigners 50 Reals (£13) a time. I'm sure I'll get a lot of work from the football fans."
The city council's inquiry into rocketing child prostitution paints a disturbing picture. A public hotline to report cases has "not stopped ringing" since it was set up nine months ago, said councillor Laercio Benko, the inquiry's president. Reports include allegations children are being forcibly recruited into the sex trade by drugs gangsters.
The inquiry, due to publish its findings next month, also heard how pimps had been approaching men working at the stadium, offering them "very young girls" for sale. Cllr Benko said he fears the city could become a "child prostitution hub" before the big kick-off.
He said: "Sao Paulo is not organised to prevent this type of child sexual exploitation, not right now and much less during big events like the 2014 World Cup. What we are hearing are very serious ­allegations which demand responses, but I'm afraid there's a lack of political will to bring it to an end."
The nightmare is repeated across Brazil. In a recent survey of 300 workers on World Cup projects, 57 per cent said they knew of underage prostitution close to the sites. Astonishingly, a quarter of the men interviewed admitted they had paid for sex with children on one or more occasions.
An anti-trafficking expert told us: "For trafficking gangs the World Cup represents an unprecedented opportunity to make money. Foreign fans need to be aware of this – and that sex with a minor in Brazil carries up to 10 years' jail."
Back in the Favela da Paz, as building workers follow children into squalid shanty homes, dad-of-four Anderson Fonseca, 34, told us: "Since the work on the stadium started, it's got out of control. Every day you see more girls, and much younger girls."
Two weeks ago the Arena Corinthians raised fears of Brazil's readiness to host the World Cup after a huge crane collapsed onto the structure, killing two workers.
But Sao Paulo's chilling child prostitution ­explosion reveals even deeper worries about the country's suitability to run the tournament.
A statement from construction firm Odebrecht Infrastructure said on Friday it "has not been ­notified" of child abuse allegations and is "unaware of any information about them".
http://www.mirror.co.uk/news/world-news/england-world-cup-venue-workers-2904052#ixzz2n1NqMPZ6
--------------
Female genital mutilation a 'huge problem' in U.K
09 December 2013
Britain's reputation for turning a blind eye on the illegal practice of female genital mutilation may be about to change after British doctors, nurses and midwifes decided to take a stand and demand it be treated as child abuse.
Earlier this month, leading British medical groups delivered an extensive report to Parliament, recommending aggressive steps to eradicate the practice, which is still being carried out on young girls from certain African, Middle Eastern and Asian cultures.
The report revealed tens of thousands of cases of FGM in Britain (as many as 66,000 by some estimates). And while the practice was outlawed in 1985 and carries a maximum penalty of 14 years imprisonment, the country has never seen a single prosecution.
''It's a huge problem in Britain,'' says Dr. Deborah Hodes, a London community paediatrician and chair of child protection with the Royal College of Paediatrics, outlining that more than 24,000 girls are at risk of FGM and more than 66,000 women are living with the consequences. Hodes regularly gets referrals for young girls who underwent cutting — a common term for the practice in the U.K.— or who are at high risk of being cut.
Britain's medical community now wants all front-line health professionals to be better trained in detecting FGM and responding to it, and to report female patients who have had their sexual organs mutilated to police and other services.
FGM, sometimes called female circumcision, involves removing all or part of the clitoris as well as, often, the labia, the "lips" that surround the vagina, to make young girls more virginal and therefore attractive to future mates.
An estimated 140 million girls and women are living with the consequences of the practice, according to the World Health Organization, and in countries like Britain it is often done on young girls who are sent back to their ancestral homelands to have the procedure done.
Leyla Hussein, a British woman, was once one of these girls. She was taken away to Somalia to be cut when she was seven. She's now campaigning to end the practice.
During her own pregnancy, she recalls, "I was shaking, having panic attacks, my body remembered the trauma. That's when I decided there was no way my daughter was going through that. But I needed the right information to defend my decision to my community.''
Soft-touch Britain
In Britain, anti-FGM campaigners are saying that an overzealous cultural sensitivity has led to authorities being slow to react on the FGM front, with some even questioning whether FGM is actually a British problem.
''It's not so much that I've encountered resistance, but there's a lot of silence," says Hussein. "For me when you're silent, you're consenting.''
In contrast, neighbouring France has adopted a much less tolerant approach to tackling FGM. Its systematic examination of young girls has led to some hundred prosecutions.
''I think England is very tolerant because they put cultural relativism first," says Isabelle Gillette-Faye, a French sociologist. "So if in your country of origin, you cut your girl, then it's possible in England as well.''
Gillette-Faye suspects many French girls are sent to "easier" Britain to have the procedure done.
'It's easier to take the Eurostar to go to London, to a private clinic, and have someone cut the girl. It's just easier, it's less money than to go to another country,'' she says.
For her part, Hussein likes France's attitude towards FGM, but allows that an approach like that of the Netherlands' might be more effective.
"What the Netherlands have done really well," she says, "is implement that work in sexual education classes. It's compulsory. Front-line staff working with women and children, every new nurse, every new doctor, every new teacher, has to be trained on FGM.''
'Cultural sensitivity'
In Britain, the ministry of education has so far refused to make FGM training mandatory for teachers, though in a statement it said that "schools can choose to teach about FGM as part of their curriculum.''
That is not enough for some. ''We're talking about girls who are British citizens, and this is against their right to be safe," says Dr. Hodes. "So I don't really think it's a debate.''
As a result of the report, parliament's home affairs committee is considering an inquiry into why there hasn't been a prosecution yet in Britain. The Crown Prosecution Service is reportedly looking into a handful of cases that it may bring to trial.
To date, there are not definitive studies of the number of girls at risk of FGM in Canada, but immigration patterns and human rights groups in Canada indicate that the figures could be substantial.
'The biggest Somali community in the diaspora is in North America, that's a big alarm for me,'' says Hussein.
''A lot of Canadian women contact us. They suffer in silence, they don't know where to go.''
http://www.cbc.ca/news/world/female-genital-mutilation-a-huge-problem-in-u-k-1.2439423
--------------
Canadian non-Muslim woman wears a hijab to make a statement
09 December 2013
On the day after the Parti Québécois tabled Bill 60 on Nov. 7, I started wearing a hijab at work, to publicly register my opposition to the proposed values charter. I am not a Muslim. But I am a public-sector worker — an associate professor of history at Concordia University — and as such, a category of worker that would be affected by the charter in my working life.
I already had been considering wearing a hijab for some time, not just to register my opposition to the principle of a values charter but also as a gesture of support for the people that Bill 60 proposes to target. Wearing a hijab — or any other — also seemed to me to be a potentially effective strategy for defying the charter's effective implementation, if Bill 60 is ever passed.
I approached this gradually. Before the charter was even tabled, I had bought a scarf that could be draped in a style evoking a hijab. I wore it to and from work, shopping, picking my kids up from school. I felt the effects immediately. Other women who were veiled were more likely to catch my eye in public; almost everyone else, more often than not, looked away. I sensed their discomfort. Or maybe I only imagined this and it was only me who felt uncomfortable.
"I'm not really Muslim," I felt inclined to tell people. "I'm only doing this to oppose the charter."
But that felt like cheating. On the day the charter was tabled, I decided it was time to make a stronger commitment — wearing a hijab more consistently, and wearing a proper hijab.
My youngest son, age 5, thought the hijab was fine. "Everyone can wear what they want to," he said. But my 8-year-old son was clearly uncomfortable when he saw me striding through the classroom toward him.
"Kids are going to make fun of me," he said. He was right. "My daughter is isolated at this school," a veiled mom told me when we were standing around in the playground watching the kindergartners line up to go into class. "She has one friend, whose mother is Tunisian. When she's away from school, my daughter spends the day alone."
On the first day I wore my hijab to work, people had mixed reactions. Those who didn't know me didn't say anything, or really react at all. In fact, it felt kind of normal wearing the hijab at Concordia. The university felt like a less tense place to be wearing a hijab than did the métro or the streets near my home. People who knew me, by contrast, avoided saying anything about it unless I said something about it first. One colleague said: "I thought you were maybe trying to keep your ears warm in the cooler weather."
I decided that the thing to do was just state what I was doing, every time I saw someone I knew, so they would understand what I was up to, and why.
Every colleague I spoke to was supportive. And since that first day wearing the hijab, I have been wearing it at Concordia, in my workplace, every working day since. Some students seem surprised. I'm not sure if they think this is what a professor should be doing, or if they believe that it is an inappropriate action for a non-Muslim. I suspect they are, understandably, more wary than my colleagues of entering into a political discussion with me about a matter that is not strictly academic.
I told Ada, one of the veiled kindergarten moms, that I was wearing a hijab to work and she said: "I am worried this will be hard for you. Is it dangerous?"
I tell her it really isn't hard for me (although it can be momentarily awkward, and I find it hard to hear sometimes, especially on the telephone). I have supportive peers. I have the protection of a formidable union. I have cultural capital.
Right now, it seems much harder to be a person who has none of these privileges to be wearing a hijab. It seems much braver for a woman to wear a hijab every day, like Ada, as she says goodbye to her children when they enter a schoolyard where other children are learning to search for and seize upon difference. It seems much more problematic when a hijab might offer a reason for one's children's exclusion or isolation.
All of us would do almost anything to make our kids' lives happier, and easier, and to bring them more success. To not unveil, when one might feel that such things are at stake, is truly brave.
http://muslimvillage.com/2013/12/09/47089/canadian-non-muslim-woman-wears-a-hijab-to-make-a-statement/
http://www.montrealgazette.com/touch/story.html?id=9237250
--------------
20 Saudi women fill jobs left by expat engineers
09 December 2013
JEDDAH — Majdah Al-Toukhi said the recent correction campaign has resulted in shortages of qualified engineers and she employed these women to replace expatriates.
She said she began a fashion designing business but her longtime love for home designing and decor took over and so she moved into those fields.
Al-Toukhi obtained her master's from the US 15 years ago and when she returned home she established her business with the help of her husband.
She has traveled to different parts of the world with her businessman father and was exposed to different cultures and civilizations, increasing her passion for decor and designing.
Jeddah residents, she added, have traveled to many countries and are exposed to various cultures and tastes.
In addition, there is a mix of cultures in Jeddah that led to the city getting its name as the Bride of the Red Sea, she claimed.
She pointed out that the new employees may face some problems in the beginning as they are engineers but she has provided training to supplement their knowledge.
Her family has greatly supported her decision to establish a real estate and decor business.
She said she has acquired perseverance from her father and business experience from her husband.
Meanwhile, the Ministry of Health said all healthcare jobs occupied by non-Saudis are considered vacant until they are filled with Saudis.
"Such jobs are considered vacant until a qualified Saudi is employed, and when job opportunities are available, priority is given to Saudis," said the ministry's spokesman Dr. Khalid Marghalani.
He said the government has issued directives for the employment of Saudis holding diplomas from private health institutes.
These directives follow the instructions of Custodian of the Two Holy Mosques King Abdullah to provide such graduates with necessary training.
Marghalani said the ministry is cooperating with universities and hospitals for the training and employment of these graduates.
The ministry has prepared a two-stage training program for diploma holders; the first stage is six months long and graduates learn English and the second stage tests their professional skills.
The Ministry of Social Services is coordinating with other government bodies that offer medical services to employ these graduates for a year. Those who cannot be employed in the government sector are referred to the private sector to fill vacant positions or to replace non-Saudis.
http://www.saudigazette.com.sa/index.cfm?method=home.regcon&contentid=20131209189014
--------------
Court verdicts in favour of women 'not being enforced'
09 December 2013
RIYADH — Court sentences issued in absentia should be reviewed and firmer penalties issued to those who repeatedly fail to attend court hearings, according to a sociology professor at King Saud University.
Latifa Al-Abdullateef also called for the establishment of family and community police forces to help enforce verdicts in family cases, Al-Madinah newspaper reported.
She said in many cases of violence, the authorities that receive the case are incapable of dealing with or classifying it correctly.
They ought to be trained to deal with cases of domestic violence and force them to receive the reports and complaints from all individuals and respond to them, she said in her study on the factors in ensuring divorced and abandoned women's rights.
The study was implemented in Riyadh on two different samples.
The study said numerous programs and systems were needed to confront these problems, deal with such conduct and methods of prevention.
It also suggested laying down clear strategies to deal with victims of divorce, desertion and violence and their perpetrators and protect women's rights. The study also emphasized the importance of encouraging religious and civil institutions to carry out an effective role that contributes to solving family problems and ensure women are able to maintain their rights.
This will alleviate the negative effects on the family and society, said Al-Abdullateef.
She called for issuing a document allowing women to see what their rights are according to Shariah.
This document should be distributed through the government, national and charitable authorities, female community leaders and human rights societies, she said.
Subjects like behavioral education and marital rights should be included in the curricula for boys and girls in secondary schools and universities, Al-Abdullateef claimed.
These subjects will teach them how to respect marital relations and rights and the duties of all members of the family, she said.
Al-Abdullateef said such a curriculum would train students on how to deal with their problems themselves on the basis of sound religious and social bases.
Also, plans for women's education should be reconsidered so that they are suitable for women and takes into account society's circumstances and the requirements for development, she said.
Al-Abdullateef called for giving women their social and cultural rights and to assist them in getting all their rights and not to give power of attorney to their husbands or male relatives to handle their official papers, title deeds or other documents.
She said giving the male relatives power of attorney encourages them to exploit women.
Women should not be forced to concede their rights to their male relatives, she said.
http://www.saudigazette.com.sa/index.cfm?method=home.regcon&contentid=20131209189010
--------------
Edmonton police approve newly designed uniform hijab for female officers
World Bulletin / News Desk
09 December 2013
The Edmonton Police Service has approved the option for female officers of Muslim faith to wear a police-issued hijab headscarf while in uniform.
The hijab covers the head and neck, but not the face, according to a press release issued Friday.
"EPS respects a Muslim woman's choice to wear the head scarf," the statement reads.
"The Edmonton Police Service continues to change with the times, as have a number of police, justice and military organizations in western nations that have already modified their uniforms to accommodate the hijab."
The police service doesn't currently have any members or applicants requesting the hijab, but Soraya Zaki Hafez, president of the Edmonton chapter of the Canadian Council of Muslim Women, believes some women may now consider being a police officer, where before they did not.
"This makes Muslim women part and parcel of that community," Hafez said. "To be accepted, I think it's a great feeling."
"Regardless of race, culture, religion, or sexual orientation, it is important that anyone who has a calling to serve and protect Edmontonians, and passes the rigorous recruitment and police training standards, feel welcome and included in the EPS." said Kevin Galvin, EPS Superintendent representing the Chief's Muslim Community Liaison Committee in a release.
http://www.worldbulletin.net/?aType=haber&ArticleID=124540
--------------
Afghan law barring violence against women stalls, UN says
09 December 2013
While Afghan women and girls are increasingly coming forward to report incidents of abuse, signifying greater awareness of a landmark law barring violence against them, prosecution of those crimes isn't rising along with it, a U.N. report revealed on Sunday.
The report showed that 650 incidents of violence against women and girls were reported to authorities across 18 different Afghan provinces between October 2012 and September 2013, representing a 28 percent increase from the previous year.
However, the Elimination of Violence Against Women law (EVAW) was applied to just 109 of those reported incidents, or 17 percent of cases, representing a meager 2 percent increase from the 15 percent of reported cases to which EVAW was applied the year before.
EVAW, which was implemented by presidential decree in 2009, bans 22 different harmful practices against women and girls – including rape, physical violence, child marriage, forced marriage and the denial of rights to education or work.
Adding to the report, the Afghan Department of Women's Affairs recorded an additional 1,019 incidents of violence against women and girls — meaning it had tracked far more cases than police and prosecutors. This gap, the authors wrote, "suggests that many Afghan women (and their families) still remained reluctant to approach police and prosecutors with their complaints." In fact, "most incidents of violence against women still remain largely underreported, especially in rural areas, due to social norms and cultural restrains," the report said.
"The landmark law on the Elimination of Violence against Women was a huge achievement for all Afghans," Navi Pillay, the U.N. High Commissioner for Human Rights, said in a released statement. "But implementation has been slow and uneven, with police still reluctant to enforce the legal prohibition against violence and harmful practices, and prosecutors and courts slow to enforce the legal protections in the law."
Legal troubles
Legislative developments within the last year have set back efforts to curb violence against women and girls, the report's authors said. In May, for example, the Afghan parliament held a debate in which some members criticized portions of the EVAW law as "un-Islamic" – specifically, its prohibition of child marriage, forced marriage and restrictions on women's access to health care and education.
EVAW, which was signed by President Hamid Karzai, was never ratified by parliament, and some activists fear the legislative body could amend or overturn it in the future.
The lower house of parliament also recently passed a draft criminal-procedure code which would bar a woman's relatives from testifying in any criminal cases dealing with violence against her, with the aim of keeping abuse "private," the authors wrote. But since violence against Afghan women often takes place in the domestic sphere, the authors argued that prosecuting the perpetrators of the violence would be virtually impossible without family testimony. As of this month, the draft code is still pending a vote in the upper house of parliament.
Furthermore, earlier this year the government reduced its quota to reserve 25 percent of elected seats for women to 20 percent, and eliminated the requirement for positions at the local level.
The report said that 2013 saw "continuing attacks on women in public life," with two senior policewomen killed in Helmand province over the summer and another one shot on Dec. 5, and two female senators and their families attacked in August.
'A long way to go'
The authors surmised that the government's past failure to prosecute crimes against women and girls may have contributed to its limited capacity to process current cases – but is also likely due to what they said is a pervasive pressure to resolve family affairs through mediation or other informal practices. In such cases, decisions are often made by powerful men in the community and based on religious interpretations of the law – which sometimes leave women and girls facing "further victimization."
Women and girls who run away from home to flee abuse are sometimes considered to have attempted "zina," an Arabic term for premarital sex, which violates religious law. Though Afghanistan's highest court and attorney general's office have said that women shouldn't be punished for running away from home, authorities in three provinces continue to imprison women for it.
According to the U.N. report, the UNAMA's field monitors had observed "negative attitudes towards the EVAW laws as well as a reluctance to apply it" among many judicial and law-enforcement officers, which "discouraged women from reporting violence perpetrated against them."
As a means of combating violence against women and girls, the report recommended bringing more women into the Afghan police force, of which they currently constitute just 1 percent; establishing a system to track incidents of violence against them; and increasing funding and training for EVAW commissions in each province to enable more follow-up on cases.
"The government has a long way to go to fully protect women and girls through implementation of EVAW law," the authors wrote, but that improvements are "clear, apparent and achievable."
http://america.aljazeera.com/articles/2013/12/8/afghan-law-barringviolenceagainstwomenstallsunsays.html
--------------
Tanzania: How FGM Rituals Keep Maasai Women At Bay
09 December 2013
SOME women who haven't undergone female genital mutilation (FGM) in pastoral communities in Arusha have failed to venture into marriage, as their communities continue to embrace the out-dated tradition.
Jamboi Barmayegu, who is one of the Ujamaa Community Resource Team (UCRT) Project officers, says denying marriage to women, who have not undergone FGM, is extremely cruel to women. She called upon the government and other stakeholders to intervene.
Ethnic groups, which are still practicing FGM though secretly in Arusha include Maasai, Iraqis, Hadzabe and Wasonjo. He says violence against women should be fought from the family level.
'These problems are caused by our cultures so, starting a fight against cruelty of women and children from the family level can help eliminating this problem," he says. He therefore made a call to advance literacy and advocacy against female genital mutilation (FGM) even as the practice continues to gain ground in the region despite combined efforts to end it.
He said deep-rooted conservatism and backward values have been the major driver of FGM, a practice that deeply affects women in the region. Normally, young girls in regions such as Mara face FGM during the mi-year during the dry season. "Because of poverty and illiteracy, harmful tribal values are often fostered by conservative elders," he noted.
He noted that harmful practices survive due pressure from tribal elders who want their daughters circumcised. Each year, Tanzania joined the rest of Africa to commemorate the 10th International Day of Zero Tolerance to Female Genital Mutilation/Cutting, also known as FGM.
According to WHO, about 100 million to 140 million girls and women worldwide have undergone genital mutilation and more than three million girls are at risk of cutting each year. WHO says female genital mutilation (FGM) is a violation of human rights.
About 140 million girls and women worldwide are living with the consequences of the practice. In Africa, according to WHO, about 92 million girls aged 10 and above have undergone FGM. FGM entails There are three varieties of the procedure: Sunna circumcision consists of the removal of the retractable fold of the skin and/or the tip of the clitoris.
Clitoridectomy consists of the removal of the entire clitoris and the adjacent labia. Infibulation involves removal of all or part of the labia, which is then stitched up allowing a small hole to remain open to allow for urine and menstrual blood to flow through.
In Tanzania, most tribes practice clitoridectomy. A woman who has undergone FGM loses genital sensitivity as the clitoris (a sensitive area that serves the purpose of providing sexual pleasure) would be replaced by scar tissue. The scar resembles cured animal hide.
It is, therefore, hard for a woman to have an orgasm as the scar makes penetrative sex difficult and makes intercourse a nightmare," says a survey on Tarime, one of the practising areas, by Tanzania Media Women Association (TAMWA). Often times, rudimentary methods are practised, using unclean knives or blades. In case of complications, the victims may die.
The organisation says the only sure way to stop FGM is by involving the people who have snubbed the archaic practice to sensitise the community about the dangers. Some victims of FGM have come out to discourage their peers from embracing the culture, but a lot more sensitization still needs to be done.
"FGM is a deep rooted cultural practice that requires concerted efforts to eliminate. I call upon all people to advocate against FGM so that every girl and woman enjoys their fundamental freedom to live productive and healthy and contribute to the development of their families, communities and the nation," it notes FGM should, therefore, be wiped out as it degrades women and denies them the right to enjoy their lives and make decisions that affect their health and wellbeing.
The immediate side-effects of female genital mutilation (FGM), according to the survey, include; shock, stress and excruciating pain resulting from cutting of the sensitive clitoral tissue without using an anaesthetic. As a result of cutting of the clitoral blood vessels in the vulva, one may over-bleed. This can result in anaemia and eventually death, if not handled immediately.
It adds that FGM can lead to urinary retention due to fear of the pain one feels as she passes urine. It can also cause the genital tissue to swell, or injure the urethra, resulting in bladder and urinary tract infections. It notes that many times the local surgeons do not use sterilised instruments, so given the unhygienic environment and the fact that the circumcision instruments are shared, this can cause infections such as HIV, Hepatitis B and Hepatitis C.
"An infection may also cause pelvic inflammation and blood poisoning, resulting in tetanus. If the surgeon is inexperienced, the anus, urethra and bladder can be damaged," it adds. Longterm consequences FGM causes long-term gynaecological, obstetric and urinary tract complications. One may also suffer from repeated urinary infections and painful urination. This is because FGM narrows the urinary outlet, preventing complete emptying of the bladder, thus causing urine retention.
This can result in inflammation of the bladder. It charges that FGM is a form of Gender Based Violence (GBV) which is practiced by many ethnic groups in the country. It notes that the practice results in severe consequences on women's health according to a report, 'Gaps in Policies and Laws that Perpetuate Gender Based Violence in Tanzania'.
It notes that FGM's outcomes may include gynecological complications, psychosexual problems, and maternal and neonatal mortality. These are some of the things being addressed by the Gender Equality and Women Empowerment programme (GEWE II) being implemented in partnership with four other organizations that defend the rights of women and children.
These are the Tanzania Gender Networking Program (TGNP), the Tanzania Women Lawyers Association, (TAWLA), The Zanzibar Female Lawyers Association (ZAFELA) and TAMWA's Crisis Resolving Centre- (CRC). The programme is implemented in ten districts of Tanzania Mainland and Zanzibar.
The districts includes; Wete (Pemba North), Unguja Urban West (Unguja West), Unguja South, Kisarawe (Coast), Newala (Mtwara), Mvomero (Morogoro), Lindi Rural, Ruangwa (Lindi) and two Dar es Salaam districts of Kinondoni and Ilala.
http://allafrica.com/stories/201312090910.html?viewall=1
--------------
Pakistan Fashion Casts Off 'Dark Cloud' Of Extremism
09 December 2013
PARIS: Mention the Taliban to Pakistan fashion designer Kamiar Rokni and his irritation is clear.
"One of the things we feel diminishes our work is whenever our story is linked to Talibanisation and whether we are doing this to fight extremism," he told AFP in Paris.
"We're not. We're doing this for the business of fashion!"
Tired of the country's 'bombs and burqas' image, Rokni is far from alone in his desire to see fashion for fashion's sake.
Certain precautions are unavoidable however and the locations of fashion shows are never disclosed in advance.
"It's the one thing we do to protect ourselves," said Rokni who runs his House of Kamiar Rokni label with two cousins.
"Apart from that you just have to have faith and carry on."
Fellow designer Hassan Sheheryar Yasin, founder of the HSY label, is equally keen to distance himself from any political motive.
"We've been lumped up with a very bad dark cloud that's been over our heads... but this really isn't our war," he said.
Extremism aside, the designers -- who recently held a catwalk show in Paris -- say Pakistan fashion is finally starting to establish itself.
Fashion for fashion's sake
From an industry made up of just a handful of designers and models in the early 1990s, fashion shows, attracting foreign buyers, are now held regularly in Lahore and Karachi.
Its leading figures are gossip column and glossy magazine staples and not afraid to court controversy.
One designer, Safinaz Muneer, sparked outrage last year when she told Hello! magazine that Pakistan employees could spend 1,500 hours on embroidery that "will cost you nothing".
The row failed to dent sales and the designer denounced critics demanding to know what they had contributed to the industry.
Rokni and Yasin, both graduates of the couture-focused Pakistan School of Fashion Design in Lahore, are evangelical about what the country has to offer, citing the Zardozi embroidery technique which uses gold thread, beads and seed pearls to embellish fabric.
"The world gets their embellishment done from India but when you see the clothes that are hand embellished in Pakistan it's arguably some of the best in the world," said Rokni.
"It's generally a South Asian tradition and the skills are very much alive here."
The Lahore school, now known as the Pakistan Institute of Fashion and Design, was established in 1994 with the aim of giving Pakistani textiles a competitive edge in a global market.
Textiles contributed 7.4 percent to GDP in 2011 accounting for over half of all exports, worth around $11 billion.
"Our fashion school was primarily to develop us into making value added products for the textiles industry but our fashion industry also started to develop and flourish," Rokni said.
Yasin describes his clothes as "uber-masculine with a touch of contemporary", summing up his signature style as "rock, royal, gent".
"That's 'rock', for rock star, 'royal', all the embellishments, and 'gent' meaning very classic so the blazer is 100 percent wool cashmere," he said.
Ethnicity on speed
And he dismissed as out of date the image of Pakistan as a place where men only ever dressed in the traditional Shalwar Quameez of long shirt worn over loose trousers.
In fact, well off Pakistani men in the 25 to 35 age group were increasingly interested in fashion, he said, irrespective of whether they opted for western or traditional south Asian styles.
"Our clone culture -- where we used to seem like clones in white Shalwar Quameez -- has started to fade away very rapidly," Yasin said.
Few would deny that Pakistan fashion still has a long way to go to reach even the majority of the middle class, let alone poorer sections of society.
The socially conservative, mainly Muslim South Asian country is among the world's poorest.
But an appreciation of fashion can sometimes be found in unlikely quarters, added Mohsin Ali, a member of the targeted minority Hazara community, from Quetta in southern Pakistan.
Ali set his sights on a career in fashion after learning about the Lahore school from a television programme.
But his father, a Muslim preacher, was horrified at the prospect of his son dressing women in revealing clothes and having physical contact during fittings.
"There was a little bit of a drama from the family," he said.
There was, however, such a positive reaction from Hazaras after media coverage of his designs -- described by fellow designers as "ethnicity on speed" -- that his father dropped his opposition.
"Hazaras are really not given any importance in Pakistan so it was a proud moment for me to represent them because the designs are inspired by the culture," he said.
"Now lots of people go to him (my father) and say 'we saw him on television and we are truly proud'. For him it's far more than working with girls, the whole meaning has changed," he said.
http://www.dawn.com/news/1061476/pakistan-fashion-casts-off-dark-cloud-of-extremism
--------------
URL: https://newageislam.com/islam-women-feminism/16-pregnant-teenagers-rescued-nigeria/d/34781