New Age Islam News Bureau
17 Dec 2014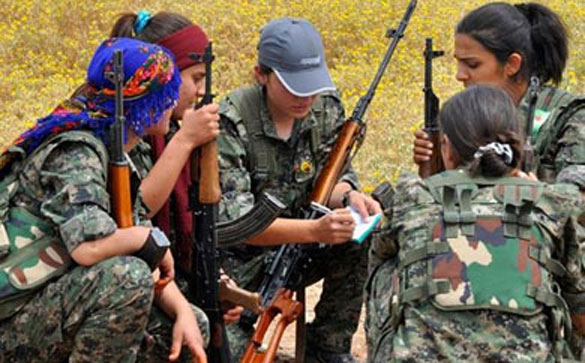 Kurdish female fighters of the Women Protection Unit (YPJ) squat as they discuss military strategies at a training field near Qamishli city May 11, 2014. REUTERS/Massoud Mohammed
------------
• 15 Schoolgirls Killed In Yemen Car Bomb
• China Becomes Latest Nation to Impose Burqa Ban in Muslim Western Capital
• 254 Female Freedom Fighters Honoured In Bangladesh
• Breast-Feeding Break at Work: Saudi Ministry Official
• Hatred of Women on the March in Iran
• Saudisation Will Help Women Adapt To Work Culture
• Embedding With the Women Who Are Kicking ISIS Ass
• Women's Veil Needed For 'Weak-Hearted' Men
• Kurdish Female Fighters Battle for Freedom in Syria
• Hope for Muslim Women's Fashion Exhibition to Counter Misconceptions
Compiled by New Age Islam News Bureau
URL: https://newageislam.com/islam-women-feminism/150-women-executed-after-refusing/d/100541
------------
150 Women Executed After Refusing To Marry ISIL Militants
World Bulletin/News Desk
December 17, 2014
At least 150 women who refused to marry militants of the Islamic State of Iraq and the Levant, or ISIL, were executed in the western Iraqi province of Al-Anbar, Iraq's Ministry of Human Rights said.
According to a ministry statement released Tuesday, ISIL militants carried out a number of attacks in Fallujah and buried the victims in mass graves in one of the city's neighborhoods.
"At least 150 females, including pregnant women, were executed in Fallujah by a militant named Abu Anas Al-Libi after they refused to accept jihad marriage," the statement said. "Many families were also forced to migrate from the province's northern town of Al-Wafa after hundreds of residents received death threats."
The ministry said many children died when their families were stranded in the desert after leaving their homes.
ISIL controls many areas in Al-Anbar and is attempting to take over Ramadi, the province's capital city.
The U.S. is leading an international coalition that has carried out a number of airstrikes against ISIL in Iraq and Syria since the militant group captured the northern province of Mosul back in June.
http://www.worldbulletin.net/world/150962/iraq-150-women-executed-after-refusing-to-marry-isil-militants
-----------
15 Schoolgirls Killed In Yemen Car Bomb
December 17, 2014
SANAA: On a day when Taliban militants killed over 130 school children in Peshawar, 15 schoolgirls were killed in Yemen when their bus was caught up in a car bomb attack targeting a local militia leader by suspected al Qaeda militants on Tuesday, officials said.
Another 10 people also died in the blast outside the home of Abdallah Idriss, a leader of the Shia rebels known as Huthis, in the flashpoint town of Rada in central Yemen, a security source said.
A medical official confirmed at least 25 people had died.
The attack "bore the hallmarks" of al Qaeda, the security source told AFP.
The United States considers the Yemen-based al Qaeda in the Arabian Peninsula, or AQAP, to be the global jihadist network's most dangerous affiliate.
Also blaming al Qaeda, the Yemeni defence ministry condemned "this cowardly terrorist attack on the home of a citizen and a school bus".
The AQAP has yet to claim responsibility, but last month its military chief Qassem al-Rimi vowed to launch fierce attacks against the Shia militia.
"To the Huthis we say: brace yourselves for horrors that will make the hair of children turn white," he said at the time.
Yemen has been rocked by instability since the Shia fighters seized control of the capital Sanaa on September 21.
The Huthis have since expanded their presence in western and central Yemen, but have been met by fierce resistance from Sunni tribes and al Qaeda militants.
The bombing comes after at least six Huthi militants were killed Friday in an attack on their checkpoint in Baida province, according to tribal sources.
Al Qaeda claimed at the time that it had killed dozens of people in several attacks in Rada, which is located in Baida province.
Tuesday's attack was the second bombing to target Huthis in Rada in little more than a month.
On November 12, a suicide bomber killed dozens of people gathered at the residence of a tribal chief in the town.
The mixed Sunni-Shia town has seen heavy fighting since the Huthis took over parts of it in October, with al Qaeda setting its sights on Rada.
State authority has weakened in the face of the rivalries on the ground.
Armed Huthis on Tuesday surrounded the defence ministry in Sanaa after having been denied access, a military source said.
Another group of Shiite militiamen broke into the offices of Ath-Thawra newspaper demanding the dismissal of the chairman of the board, Faisal Makram, a source at the official daily told AFP.
The militiamen said they were following orders from their leader, Abdelmalek al-Huthi, "to end corruption in all state institutions".
In another sign of its weakness, the government of Khaled Bahah lost a parliamentary vote of confidence on Tuesday.
Loyalists of ousted former president Ali Abdullah Saleh derailed the vote by leaving the assembly.
Lawmakers from Saleh's General People's Congress staged the walkout in protest after the party's office in the southern city of Aden was shut.
"The closure of the headquarters of our party in Aden by the security forces does not help the government," said Sultan al-Barakani, head of the GPC's parliamentary bloc.
Saleh remains influential in Yemen nearly three years after he was forced to step aside following a bloody year-long crackdown on Arab Spring-inspired protests against his iron-fisted rule.
He has been accused of backing the Shia rebels.
http://tribune.com.pk/story/808054/15-schoolgirls-killed-in-yemen-car-bomb/
-----------
China Becomes Latest Nation to Impose Burqa Ban in Muslim Western Capital
Dec 17, 2014
China has just banned the Burqa (ambulatory body bag and face mask) in the mainly Muslim province of Xinjiang's capital, Urumqi. The government has also banned Islamic head coverings and beards in an effort to contain restive Islamic fundamentalism ("political Islam") from turning into a full-scale Jihad against the state.
"Beijing blames Islamist separatists for several deadly bomb and knife attacks that have killed hundreds of people in the past two years," Reuters notes. According to experts and exiles, China's "heavy-handed policies" may be the cause of ethnic and religious unrest.
Communism still views religion as the "opiate" of the people and as having the dangerous power of dividing a citizen's loyalty between private faith and the state. Thus, China has controlled permitted religious practices—but it has also jailed clerics, instituted bans, restricted certain religious practices entirely. In neighbouring Tibet, occupied by China, Buddhist monks, nuns, and former nuns have immolated themselves in protest to the "brutal repression" of their religion.
While I do not agree with many of China's policies, their ban on face veils, body bags, and beards in public may make sense. Many European cities and countries have also banned the face veil (with varying degrees of success).
Communist Russia was unsuccessful in holding back the tide of political Islam in Afghanistan. Although they did offer education and other benefits to poor people, including women, the Afghan mode of resistance was associated with the Burqa, the turban, and the beard. China is well aware of this. Interestingly, both Tunisia and Turkey have bans on hijab (head covering) in public schools, universities, and government buildings; Morocco has no such ban but it discourages women from wearing Islamic head or face coverings.
Do followers of radical, political Islam who believe in holy war (Jihad) against "unbelievers" tend to face-veil their women? According to Samia Labidi, the answer is yes.
There is also this: Face veils and Burqas are not mandated by the Qur'an. "Modesty" is mandated for both men and women. There are serious security risks associated with face veils (Niqab) and Burqas (head, face, and body bags). Recently, in Abu Dhabi, an American woman was stabbed to death by a woman wearing a Burqa. In addition, face masks are, in my view, a violation of both woman's rights and human rights.
If someone is living in France or China, what does it mean that they want to look as if they are living in the Arab Middle East, following protocols with links to Jihadism that are not mandated by the Qur'an? Does it mean they are signalling a hostile separation from the state—one that seems to inevitably lead to Jihad terrorism?
China is not known as a bastion of religious freedom or of other human rights. Although religious freedom is a constitutional right, nevertheless, the atheist, communist, Chinese government has been persecuting, outlawing, and limiting Protestant, Catholic, Buddhist, Falun Gong, and Taoist practices for many years.
Islamic practice has been similarly treated. There are anywhere from 21 to 50 million Muslims, mainly located in four northwest provinces of China: Ningxia, Quinghai, Gansu (where Hui/Han and some Uyghur Muslims live), and Xinjiang (where mainly ethnic Uyghur Muslims live).
Many Uyghur Muslims were once part of Eastern Turkistan.
As Westerners, we value the post-Enlightenment principle of freedom of religion as well as freedom from religion. Islam does not honour anyone who leaves the faith and views doing so as a capital crime. For this reason alone, Islam is radically different than other world religions. Today, most Muslim countries do not allow non-Muslims to practice their religion; on the contrary, over the centuries, Muslims have persecuted, exiled, and slaughtered Christians, Jews, Hindus, Zoroastrians, Ba'hai, "politicals," and the wrong kind of Muslims.
http://www.breitbart.com/Big-Peace/2014/12/15/China-Becomes-Latest-Nation-to-Impose-Burqa-Ban-in-Muslim-Western-Capital
---------
254 Female Freedom Fighters Honoured In Bangladesh
17 December 2014
The Muktijuddho Academy yesterday accorded reception to 254 female freedom fighters for their contribution in the 1971 Liberation War.
Speakers at the programme said the female freedom fighters had not been recognised properly because of the patriarchal society, and that they should be honoured before they die.
Deputy Leader of the House Syeda Sajeda Chowdhury distributed crests, certificates and flag among them at the National Museum of the capital.
The senior Awami League leader said: "Women played a great role in our Liberation War which cannot be denied. But many female freedom fighters still do not get the proper recognition they deserve.
"The country achieved independence for the contribution of all people regardless age, occupation, religion, nationality and caste."
Sajeda urged all to identify and bring out those women from every corner of the country who had contribution in the war; no matter if they used to cook for the freedom fighters.
Muktijuddho Academy Chairman Abul Azad presided over the programme.
He said: "Still, there is no final list of the female freedom fighters. The actual number of female freedom fighters will be more than what is in the gazette.
"We are preparing a primary list of female freedom fighters following proper verification. It will be submitted to the government soon."
http://www.dhakatribune.com/bangladesh/2014/dec/16/254-female-freedom-fighters-honoured#sthash.1WLIHy1T.dpuf
---------
Breast-Feeding Break at Work: Saudi Ministry Official
Dec 17, 2014
The Ministry of Labour has announced several new measures to encourage women to enter the work force, including breast-feeding for one hour a day over two years.
Mothers would be allowed this concession at a time agreed upon with their employers. A ministry official told Arab News that the new steps would empower women, giving them the rights and independence to work in a safe and secure environment.
The concessions would also cover women with disabilities, he said. The other measures include working from home and in retail outlets such as shops and stalls in enclosed malls, particularly those selling products for female customers. Allowing women to work from home would reduce transport problems and benefit their families, he said.
The ministry said that employers are required to follow the Nitaqat program's quotas.
The rate of unemployment amongst Saudi women in 2013 has been pegged at 34 percent, up 2 percent from the previous year, according to recent statistics issued by the Central Department of Statistics and Information (CDSI).
The CDSI statistics also showed that the rate of unemployment among men stands at 6.2 percent. According to the Civil Affairs Ministry, there are 1.2 million Saudis working in the public sector with women accounting for 38.3 percent.
http://www.arabnews.com/news/675171
---------
Hatred of Women on the March in Iran
17 December 2014
The hatred, misogyny and injustice against Iranian women has continued to ratchet up under the office of the so-called moderate president of Iran, Hassan Rouhani.
After a series of acid attacks against young women in the city of Esfahan, the Iranian parliament (Majlis) has passed a new bill, which would allow Basij, the governmental volunteer militia, to go around in the streets and give verbal warning to those Iranian women who do not comply with the government's Islamic dress code.
More recently, stabbing women has become another sign of increased violence. A suspect was recently arrested for stabbing six women in city of Fars in Iran, reportedly for wearing an improper Hijab. One of the women was stabbed in the stomach. According to Saham News, the suspect is the son of a Basij Commander from the village of Ghotbabad.
The Basij, which is supervised by the Islamic Republic's Revolutionary Guard Corps, intervenes in the day to day activities of ordinary people, spying on individuals, and attempting to impose the ideological and Islamist doctrine of the Iranian government.
When I used to live in Iran, I, like many Iranian people, witnessed how young girls would be dragged into police cars by the moral police for not complying with the government's religious dress code. Showing some strands of hair or some part of the body in public can lead to arrest, imprisonment, and fines.
The Vigilante Law to Impose Hijab and Dress Code
Under the presidency of Hassan Rouhani, the Iranian parliament has also introduced a bill referred to as the "Plan to Promote Virtue and Prevent Vice." Apparently, all of these human rights abuses and discrimination against women are part of promoting virtue in the perception of the ruling clerics in power.
Nevertheless, what is crucial to point out is that discrimination against Iranian women and the egregious human rights abuses against them are at the core of the cleric political power. In other words, these human rights abuses — such as restricting women's freedoms, imposing the Hijab on them, encouraging them to stay at home and raise children, forbidding them from participating in sports or even watching some sports events such as volleyball — are cemented in the state's institutional structure as well as in the Islamic Republic's constitution.
Secondly, women are being utilized as a crucial tool and platform to define the country as Islamic. Imposing dress codes and the Hijab on women gives the clerical political institution unique character ideologically. Walking in public and watching millions of women across the country being forced to wear the Hijab and cover their hair strengthen the image of the country as being Islamic. It also makes it stands out immediately in comparison to other Muslim countries, and it significantly ratchets up the ideological foundation and Shiite agenda of the Islamic Republic.
Third, forcing women to comply with a dress code is the manifestation of the state's power. Technically, this is referred to as bio power of the state, which is applied in order to homogenize the population, immediately find those who dissent, make women compliant, subservient, and remind women everyday that the state is in power of even their basic activities such as wearing clothes, listening to music, and watching sports. As Michel Foucault states, bio power is a political strategy. "By this I mean a number of phenomena that seem to me to be quite significant, namely, the set of mechanisms through which the basic biological features of the human species became the object of a political strategy, of a general strategy of power."
Fourth, marginalization of Iranian women by the state and depriving them of their basic and fundamental rights is a method to treat almost half of the population as second-class citizens. Subduing women, repressing them, and ensuring that women are controlled by their male guardians and state apparatuses, promotes the patriarchal character of the system.
Fifth, the increasing misogynistic laws and hatred against Iranian women will continue whether the president of the Islamic Republic is a reformist, moderate, hardliner, etc. This is due to the fact, all Iranian presidents believe in the fundamental institution of the Islamic Republic and they totally accept the superiority of the Supreme Leader, Ayatollah Ali Khamenei.
Nevertheless, misogyny and hatred against women has not halted courageous and brave Iranian women from fighting inequality and the repression against them. Several female leaders and formidable women's movements in Iran continue to resist the repressive apparatuses even though they face imprisonment, execution, and torture. Their efforts have produced powerful women such as Shirin Ebadi, the Noble Prize Laureate, and Maryam Rajavi, the human rights and political activist, and the president of the National Council of Resistance of Iran (NCRI).
As the repression against women continue in the Islamic Republic, their resistance grows deeper, and their stance firmer. Our responsibility is to chart efficient approaches in order to give a voice to these women and assist them in their struggle for combating extremism carried out under the name of religion, the ruling cleric's version and the manipulation of Shia Islam.
http://www.frontpagemag.com/2014/majid-rafizadeh/hatred-of-women-on-the-march-in-iran/
---------
Saudisation Will Help Women Adapt To Work Culture
17 December 2014
Several Saudi businesswomen claimed that many young women are unable to work in certain jobs due to lack of experience and poor training.
Nouf Al-Rakan, chairman of the businesswomen committee in Riyadh's Chamber of Commerce, told Arab News that their main difficulty when hiring females was insufficient experience, since many Saudi women don't work for long periods of time.
Al-Rakan hoped that the recent launch of campaign to promote female employment will yield results, as their expectations are to employ over 2,500 Saudi women for next year. Their hopes are high after a similar campaign during 2014 succeeded in employing more than 1,300 female workers.
The new campaign was presented during the Together for Nationalization plan, presented by Riyadh's Chamber of Commerce this month. Saudi women are much more productive than their male counterparts, said Al-Rakan.
a fact that has enticed many companies to employ more females.
Currently, women who applied for jobs following the chamber's program have various degrees of education, with titles ranging from secondary school, university degrees, masters and sometimes PhD degrees, according to the chamber's data. Women usually prefer jobs in fields like banking, medicine, administration and commerce.
Al-Rakan confirmed that there is coordination between the government private companies, but so far, none from the Ministry of Labor. The chamber is hoping the ministry will be more supporting of the program through follow up and training next summer.
http://www.arabnews.com/saudi-arabia/news/675096
---------
Embedding With the Women Who Are Kicking ISIS Ass
Dec 17, 2014
SULIMANIYA, Iraq—Every morning when veteran fighter Lt. Col. Nasreen Hamlawa walks into her office, the first thing she sees is her daughter's martyr poster. Snapped on the front lines outside Kirkuk just days before she was killed, Rangin Hamlawa, 26, dressed in classic beige Peshmerga fatigues and holding a sniper rifle, stares hard into the camera.
"I'm glad my daughter died for a cause," Hamlawa said calmly, referring to the duty of the Peshmergas (described as a "regional guard force" in the Iraqi constitution) to defend Iraq's semi-autonomous Kurdish region. "It's a cause, beliefs that I share," she said, "and now all I want is to return to the battlefield to continue that work."
Hamlawa was by her daughter's side when she was fatally wounded in October. A round of mortar fire launched by the Islamic State landed near their position, riddling Rangin's body with shrapnel. As Rangin was being prepared to be evacuated to a hospital back in Sulimaniya, Hamlawa's fellow fighters told her to stay by her daughter's side and travel with her to the hospital. But, Hamlawa says, she choose to stay on the front lines instead, "I stayed with my other daughters." Ten days later Rangin died.
Martyr Rangin, as she's now referred to at the base, was the first female peshmerga fighter to be killed in battle from the 2nd Battalion, since its founding 18 years ago. While the senior officers are veterans of battles against Saddam Hussein's forces and the Iran-Iraq War, for the majority of the more than 500 women in the unit, the fight against the Islamic State was the first time they'd seen battle.
And while Hamlawa says her daughter's death has only strengthened the resolve of her fellow fighters, the unit has since been taken off the front lines and called back to their base for further training.
The unit's commander, Col. Nahida Ahmed Rashid, denies that ordering her troops off the front lines had anything to do with Rangin's death. She says the women were called back as a matter of common practice for more heavy weapons training. But she admits she's stir crazy at the base; she wants to return to the fight.
"[Rangin's death], her loss made our women stronger and more adamant to take their revenge," she said. "We didn't want to come back [to our base]."
But, she says, Rangin's death has also left a "gap" in her unit. "It a big loss," she says, her eyes sad but dry. "She was one of our bravest fighters."
Throughout the afternoon, Rashid was inundated with phone calls and knocks on the door. Since Rangin's death, Rashid says the numbers of women seeking to join the peshmerga has skyrocketed.
"We are getting more and more people asking to join," she said, so many that she has had to start turning them down because she no longer has the capacity to train new fighters.
Gesturing to a small photograph of Rangin she wears on her lapel, Rashid says she saw a lot of herself in the young officer and was hoping that one day she would take over command of the unit.
"I could see she was a talented leader," Rashid said of her first impressions of Rangin. "I'm getting older so I was trying to train her to be the one to replace me if I'm not here anymore." Rashid said she was initially criticized for making the relatively junior Rangin her deputy, but she believed in the young fighter and stood by her decision.
"All these Peshmerga are my daughters but this one was special to me, she was close to me," Rashid said, "I loved her so much, everyone did."
"When you become a Peshmerga, your life becomes like a butterfly," she said. "You can go at any moment."
The 2nd Battalion was formally established in 1996 during the Kurdish civil war by the Patriotic Union of Kurdistan (PUK) as they were battling the Kurdish Democratic Party (KDP).
In four years of brutal fighting reportedly sparked by a quarrel between a KDP landlord and a group of PUK shop owners, an estimated 3,000 to 5,000 people were killed. However, the true death toll is believed to be higher as mass graves dating back to that period are still being discovered in the Kurdish region. The conflict ended in 1998 following intensive U.S. mediation with a treaty that divided power and resources between the two parties.
"The idea was to eliminate the difference between men and women in Kurdistan," said Rashid, who was then a founding member of the unit. After fighting alongside her brothers for years in the 1980s, she demanded the women fighters be formally recognized.
"We wanted to have what the civilized nations do," she said, "Have women in the armed forces and at the same time fight for women's rights."
The relatively young unit partnered with American troops in 2003 during the U.S.-led occupation of Iraq, but rarely saw battle. Most female peshmerga fighters were tasked with staffing checkpoints and guarding bases alongside their male counterparts. But following the fall of Mosul and the Islamic State's ultimate thwarted advance on Erbil, the unit was called up to fight.
"We were part of the unit protecting gas and oil depots outside of Kirkuk," Rashid says. Her unit first deployed in late June—"A very hot summer," she remembers. "We first participated in the fight in Basheer against [ISIS], then later our women deployed to the Jalawla area."
In both arenas, Rashid describes the work of her troops as critical to the Peshmerga victories achieved around the strategically important city of Kirkuk.
"Of course the women fighters are important [in the fight against the Islamic State]," said Jaber Yawer, the spokesman for the Peshmerga forces. Darkly joking, he added, "We were running out of the men."
Yawer says as a matter of policy, the female Peshmerga unit is treated the same as the other male units. "We don't think that they are weak," he said. "They play an important role fighting next to the men because they complement one another."
Like Rashid, Hamlawa, the mother of the slain female fighter, first fought alongside her brothers in the 1970s against Saddam Hussein's forces before formally joining the peshmerga when the female unit was established. She says her family encouraged her to join and she, in turn, encouraged her own children.
"We've been brought up that Kurdistan is the first thing, to liberate our country and protect our country, so that's our guiding principle," she explained from behind a desk in her dark office, "I always wanted my children to follow my path."
Her family, she said, was aware of the risks. "When you become a peshmerga your life becomes like a butterfly," she said. "You can go at any moment."
Another of Hamlawa's children—a son—is on the front lines outside Kirkuk, she says, while her three surviving daughters, all fighters as well, want to return as soon as possible.
"Children are dear to their mothers, but our land, Kurdistan, is also dear to us." At this, Hamlawa's strong eyes water slightly. She dabbed them with a tissue and continued without ceremony. "Without martyrs, you'll never see a free Kurdistan."
http://www.thedailybeast.com/articles/2014/12/15/embedding-with-the-women-who-are-kicking-isis-ass.html
---------
Women's Veil Needed For 'Weak-Hearted' Men
17 December 2014
Muslim women need to keep a veil on their body and face to protect themselves against men with weak hearts, a senior Saudi Islamic scholar has said.
Sheikh Abdullah Al Manei, member of the 7-man supreme scholars authority in the oil-rich Gulf kingdom, admitted that women's face veil has been a 'bone of contention' among the Islamic scholars for a long time.
"Scholars have differed on whether women can unveil their faces…this matter has been a bone of contention for a long time," he said, quoted by 'Sada' newspaper.
"But the veil can be part of the woman's commitment to preserving her dignity and chastity…covering her face will protect her from men with weak hearts."
http://www.emirates247.com/news/region/women-s-veil-needed-for-weak-hearted-men-scholar-2014-12-17-1.573735
---------
Kurdish Female Fighters Battle for Freedom in Syria
17 December 2014
TAL KOCHER, Syria: Every night before 27-year-old Arin goes to bed, she hangs her Makarov, a Russian semiautomatic pistol, from a steel coat rack by the entrance to her one-bedroom apartment in a small, dusty town on the Syrian border with Iraq. The pistol was an award for her success on the front line in the battle to protect Kurdish areas of northeastern Syria and is a far cry from her life a year ago when she was working as a nurse in Cologne, Germany.
"This is a bloody war," Arin, using only her combat name, said at the almost deserted apartment block in Tal Kocher.
"'But we need to fight it, we need to protect our women and children or nobody else will defend us."'
Arin is one of thousands of young Kurdish women who have taken up arms in the past two years.
Kurds, Syria's largest minority group, are largely left to their own devices by President Bashar Assad's forces battling ISIS militants who have seized large areas of Iraq and Syria.
An estimated 7,500 women have joined the Women's Protection Unit (YPJ), many as volunteers.
The unit was set up in 2012 as part of the People's Defense Unit (YPG), the Kurds' dominant fighting unit in the northern Syrian Kurdish region of Rojava.
Their aim is to fight any group that threatens Kurdish-inhabited areas of Rojava.
The YPG has taken de facto control over a sizable chunk of Syria's predominantly Kurdish north.
While female fighters are common within the ranks of Kurdish forces, a women-only combat unit is unusual for the Muslim world, where some traditionalists believe women should not engage in combat.
Like ISIS' followers, many Kurds are Sunni Muslims, but this band of young female fighters hopes their front-line role will help put women on an equal footing with men.
"We want to set an example for [both] the Middle East and the West. We want gender equality for all," said one of the six other women in Arin's unit who all live together in the same, small apartment.
When asked for their full names, the women declined, preferring to be known and addressed by their noms de guerre.
David L. Phillips, director of the Program on Peace-building and Human Rights at Columbia University's Institute for the Study of Human Rights in New York, said these women were making a mark.
"[They] are some of the fiercest and most effective fighters. Many of them are widowed, and strongly motivated on the battlefield by their personal loss," he said.
Human Rights Watch has reported serious human rights abuses by the Syrian government and other opposition fighters in Syria.
They also said Kurds in parts of northern Syria have carried out arbitrary arrests and failed to investigate the killings and disappearance of political opponents.
Arin, who was born and raised in Germany, said she was awarded her pistol after she killed 20 ISIS militants, earning her the reputation among her colleagues as one of the most dangerous snipers in the group.
Born in Cologne of Kurdish parents, Arin graduated from nursing school and was working there when the Syrian uprising started.
Some 200,000 people have died during the four-year conflict, according to the U.N.
"I had a good life, I liked living there,"Arin said, dressed in a dark green camouflage uniform.
But she felt she had to do something as the news became worse.
"I remember watching television when I saw women and children slaughtered by ISIS, and I couldn't stand it anymore," she added.
Last year she travelled to Syria to join the YPJ and now heads her unit, which originally had 20 members, mainly from Syria and Turkey. Today, only seven survive.
She was reluctant to give too many details about the group's combat operations or to comment on any links between the YPJ and the Kurdistan Workers' Party, or PKK, an organization fighting for Kurds in Turkey that is designated a terrorist group by the United States and European Union.
Syrian Kurds have an ambiguous relationship with Assad, who has mostly left them alone while focusing firepower on insurgents fighting to unseat him.
The Syrian Kurds have denied cooperating with him.
When they're not fighting, the unit of seven women try to avoid talking about war.
They cook and laugh as if they were living an ordinary life, but their lives are far from normal.
Arin hasn't talked to her parents since she left Germany.
"I don't call them, its better this way," she said, adding that she might call then one day, once the war is over.
"My life is here with these brave women. They are my family."
Her loyalty to her fellow soldiers is typical of YPJ members who boast about living by a code of honesty, morals and justice, addressing each other as "Haval," the Kurdish word for comrade and friend.
The schedule of Arin's unit is always tight, starting with breakfast at 8 a.m. and strategy meetings.
Nisan, a 24-year-old combatant, spread a plastic tablecloth on the floor.
She lost her right finger in August while fighting in Rabia, the Iraqi town adjacent to Tal Kocher.
Rangin, another sniper, came in with breakfast: tomatoes, olives, goat cheese, and homemade bread.
After breakfast, the unit's phone rang. Orders were given and three women grabbed their combat gear, ready to jump in a car waiting for them outside to take them to Jezza, a town close to Ain al-Arab near the Turkish border and one of the most violent flashpoints in the war.
"We are going to fight ISIS, take care," Arin said as she closed the door behind her.
http://www.dailystar.com.lb/News/Middle-East/2014/Dec-17/281316-kurdish-female-fighters-battle-for-freedom-in-syria.ashx#sthash.DjWTxg0L.dpuf
---------
Hope for Muslim Women's Fashion Exhibition to Counter Misconceptions
17 December 2014
Geraldton's museum will host an exhibition showcasing Muslim women's contemporary fashion this week.
'Faith Fashion Fusion: Muslim Women's Style in Australia' originated in Sydney and will run in Geraldton until March, showcasing the Burkini, denim and red carpet dresses.
It is expected the exhibition will then move to the Kalgoorlie and Albany museums next year.
Geraldton resident Erfana Jackey said she hoped the exhibition would help people better understand the diversity of women in the community.
"We get judged through our local community because we're more covered and more modest," she said.
"We get a lot of questions, why do you cover yourself ... and isn't it hot under there?
"It's not, there are different fabrics, different looks and different seasons that we use to express ourselves."
She said she hoped the exhibition would help people see through the misconceptions about Muslim women in the community.
"Comfort comes first with me. It's the way I am with myself and who I am as well," she said.
"I'm a mother and a wife so it's about respecting myself and respecting my husband.
"I'm very privileged to be in the exhibition and to be representing the community."
http://www.abc.net.au/news/2014-12-16/wa-relgions-to-experience-exhibition-showcasing/5970926
---------
URL: https://newageislam.com/islam-women-feminism/150-women-executed-after-refusing/d/100541