New Age Islam News Bureau
17 Jan 2013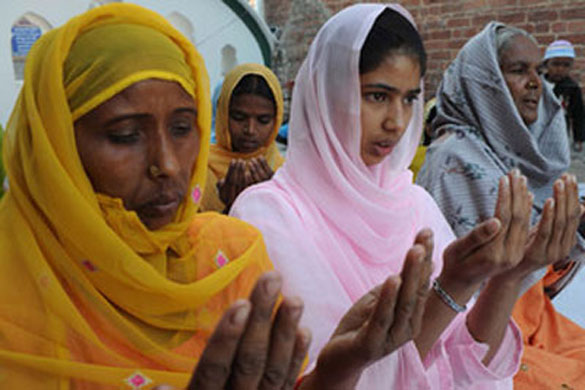 • Muslim Personal Law Is Not Absolute, Indian Judge Limits Muslim Polygamy Rights
• Have Governments Or Advocates Failed Domestic Workers In Saudi Arabia?
• Saudi Shura: Women Will Be Amongst First Four Candidates on Any Given Electoral List
• Emirati Women Employees in Demand in the Private Sector
• Humanity Welcomes Back 'Daughter of the World', Malala Yousafzai
• Give Malala Nobel Prize, Sun Woman Launches a Campaign
• Hayat, Saudi Shoura Member to Women: Opt For a Career in Science
• Memories of a Childhood Interrupted in Afghanistan
• Man Held On Rape Charge of a 10-Year-Old Girl in Bangladesh
• Rape Victims Suffer Further At The Hands Of Authority: Malaysian NGOs
• Decision To Charge 15 Year-Old With Fornication Intact: Maldives PG's Office
• No More Girl Heroes: Outlawed in Pakistan
• Women Entrepreneurs in Mena Are Calling Out For Financial Help
• Bloggers Reject Opposition to Women in Shura
• SC Admits Petition against Pak US Ambassador Over Alleged Blasphemy
• Yemeni Mother-Of-Five Losing Cancer Battle to Medical Costs, In Dubai
• Birth Control Law Too Late For Philippine Mum Of 22
• Help Afghan Women: Women's Rights Adviser
Compiled by New Age Islam News Bureau
Photo: Muslim Personal Law Is Not Absolute, Indian Judge Limits Muslim Polygamy Rights
URL: https://newageislam.com/islam-women-feminism/15-years-jail-mother-7/d/10045
---------------
15 Years of Jail for Mother and 7 Children for Converting Back To Christianity
Egyptian court sentences a mother and seven children to 15 yrs jail for converting back to Christianity
Jan 17 2013
London: A mother and her seven children are jailed for 15 years for converting back to Christianity and changing their names in Egypt.
Nadia Mohamed Ali and her children Mohab, Maged, Sherif, Amira, Amir and Nancy were sentenced at the criminal court in Beni Suef, 70 miles south of Cairo.
Nadia was born a Christian, but converted to Islam when she married husband Mohamed Abdel-Wahhab Mustafa 23 years ago.
He later died, and she planned to convert back to Christianity along with her children, Sky News reports.
In 2004, after converting back to Christianity, they attempted to get new identity cards with their Christian names on them.
But one of her children was arrested in 2006 and police became suspicious after looking at his documents and noticing he had changed his name.
He confessed the documents had been changed illegally and Nadia, her children and clerks who processed the identity cards were all arrested and charged.
The family was sentenced to 15 years in prison in court last week.
Christians in Egypt who convert to Islam have complained they face difficulties if they decide to convert back, especially in changing names on official documents.
This leads many people to forge the documents, risking prison sentences, the report added.
http://www.indianexpress.com/news/egyptian-court-sentences-a-mother-and-seven-childr.../1060705/
----------
Muslim Personal Law Is Not Absolute, Indian Judge Limits Muslim Polygamy Rights
Indian judge limits Muslim polygamy rights
In a landmark ruling, judge writes Muslim Personal Law is not absolute and that courts must act when 'regressive religious practice comes into conflict with the rights of citizens.'
By Udayan Namboodiri for Khabar South Asia in New Delhi
January 17, 2013
In the midst of national outcry over a lack of women's rights in India, a judge issued a recent landmark ruling curtailing the absolute right of Muslim men to polygamy.
Under India's Muslim Personal Law, Islamic Shariah permits men to have up to four wives at a time. But for the first time, a judge held that polygamous marriages are permitted "only in special circumstances".
"The Holy Qur'an permits a Muslim man to marry more than one woman at a time … but does not encourage such behaviour," Additional Sessions Judge Kamini Lau of New Delhi's Tiz Hazari Court said in her January 1st ruling.
"The second marriage is permitted under special circumstances such as an illness of the first wife or her inability to bear children. In these cases, with the first wife's consent, a man may marry again.
"Jurists are unanimous that in Islamic societies polygamous marriages are permitted but only in special circumstances…," she elaborated. "The Qur'an's conditional endorsement stresses that self-interest or sexual desire should not be the reason for entering into polygamous marriages. It is a practice associated with the social duty of Islamic men to protect the social and financial standing of widows and orphans in their community."
Forced marriage
Judge Lau addressed an anticipatory bail petition by an Islamic cleric against whom a police warrant was out for solemnizing the forced wedding of a 16-year-old girl to a married man. She rejected the bail application, quoting extensively from Islamic holy books and interpretative texts in an Order which ran 27 pages – far more than necessary in such cases, according to legal experts contacted by Khabar South Asia.
In July 2012, Maulvi Mustafa Raza of Delhi allegedly abetted the abduction of a girl by a man named Nadeem Khan by performing a nikaah (wedding ceremony) without the girl's consent and, in the absence of her parents.
Delhi's Additional Police Commissioner Shankar Anand told Khabar, "The man had raped the girl subsequently and later she had escaped his clutches. The maulvi argued that Muslims were permitted four wives but we were sure that his logic was not based on Islamic tenets. That is why we wanted to arrest him. He moved court seeking anticipatory bail, but now that it has been dismissed we will arrest him."
Raza did not respond to repeated calls by Khabar seeking whether he plans to appeal the order.
Judge Lau said, "The Indian legal system provides sufficient space for religious freedom but whenever any such regressive religious practice comes into conflict with the rights of citizens as enshrined in the Indian Constitution, it becomes obligatory for courts to ensure that it is the majesty of law and the Constitutional mandate which prevail."
Broad support
News of the judgment swept the Internet and was largely welcomed by the Muslim community. No conservative backlash followed.
"The fact that a woman judge has passed this order has made it more significant. Humanity has been upheld," columnist Shahroze Tariq Reza, editor of the Urdu newspaper Daur e Jadeed, told Khabar.
The ruling came in the midst of unprecedented civil protests over the lot of women in India following the gang-rape and mortal wounding of a 23-year-old medical student aboard a Delhi bus. Thousands of women took to the streets of Indian cities to show their anger over weak women's rights laws.
Rehana Akhtar, a 32-year-old business executive, commented to Khabar, "The conservatives dare not raise a voice against this order at the present time when there is so much unity among India's women against oppression. If any politician tries to interfere with this judgment another mass upsurge will result."
Social activist Aslam Mehdoodi told Khabar that Judge Lau deserves kudos for "showing exceptional knowledge of Qur'anic scriptures".
"Her interpretation is in line with Islamic law because the Law is a living entity, not dead and frozen in time. She has done what even a judge in Saudi Arabia would have done," he said.
Amina Tirurangadi, an Islamic law expert in the southern state of Kerala, told Khabar she anticipated attacks on Judge Lau from fundamentalists for her bold stand. "I appeal to the government of India to give her police protection because she may be attacked by some bigoted men at any time."
Muslim support for the ruling is not unanimous. Maulana Mohammad Naseeruddin of Meerut in Uttar Pradesh told Khabar he finds the idea of a non-Muslim judge interpreting Islamic law unacceptable.
"It is grossly inaccurate to say that the consent of the first wife is mandatory for a man before taking a second wife. This is not required by either the Qur'an or the Hadith," the Muslim scholar said.
http://khabarsouthasia.com/en_GB/articles/apwi/articles/features/2013/01/17/feature-01
---------------
Have governments or advocates failed domestic workers in Saudi Arabia?
16 Jan 2013
By Lys Anzia
(WNN) Riyadh, SAUDI ARABIA, GULF STATES REGION: On Wednesday January 9, 2013 a young woman in Saudi Arabia was executed by the government in a case that has brought together global advocates, agencies and governments. The campaign to save her life lasted almost 7 years.
But the campaign failed. Despite the global appeal from human rights activists worldwide, including the Islamic Human Rights Commission based in London and a personal appeal for clemency from Sri Lankan President Mahinda Rajapaksa sent to Saudi Arabia's King Abdullah bin Abdul Aziz Al Saud.
Even Britain's Royal Prince of Whales is said to have contacted the Saudi King Abdullah in October 2010, although the Royal Office did not deny or confirm this story. If the story is true the Prince is only one of many who asked for clemency for the young woman.
The truth of the matter is that the combined international work to save the life of one Sri Lankan foreign domestic worker in Saudi Arabia, Ms. Rizana Fathima Nafeek, could not reach its goal. Advocates worldwide are now exploring why this campaign failed and why this order for execution stayed.
But the question all advocates are asking now is this: can lives be saved in the future?
When the completion of the order of execution by beheading for Rizana Nafeek was confirmed on Wednesday 9 January, 2013 by the Office of the Saudi Arabian Ministry of Affairs from the capital of Riyadh, advocates worldwide realized at that moment their petitions, letters, articles and protests, in the attempt to save the life of Nafeek, had not worked.
It is assumed that numerous advocates and activists on that day who had worked for years in hopes of saving Rizana's life felt personal failure after hearing that orders in the beheading execution had been completed.
"International law, accepted as binding by Saudi Arabia, is clear that it is unlawful to execute someone who was under 18 years old when they allegedly committed a crime," said United Nations Special Rapporteur on extrajudicial, summary or arbitrary executions, Christof Heyns on January 11, two days after Rizana was executed. "Moreoever, beheading is a particularly cruel form of execution," he added.
Latest statistics now reveal that there are currently 52.6 million domestic workers worldwide with Latin America, the Caribbean and Asia employing the most domestic workers. Africa, Europe and the Arab region are next in the count of domestic workers. Today the number of foreign domestic workers inside the Saudi Arabian region has reached somewhere between 876,596 to 1.5 million.
Saudi Arabia is known as one of the world's largest employers of domestic workers in the Gulf region, although forced labour is currently illegal in Saudi Arabia. But this does not mean that illegal forced labour does not exist in the region. Domestic workers are especially vulnerable to forced labour and other conditions of hardship because they are viewed widely to be 'outside' the 'public' labour system in Saudi society.
"Domestic work has been absent for a very long time from public policy debates and this is mainly the case because domestic workers are employed by private individuals, in private households, they work for families and homes rather than for workplaces such as factories or offices, so for a long time domestic workers were absent from the debate on social reforms and labour protection," said Martin Oelz, Legal Specialist on Working Conditions with the ILO – International Labour Organization.
In April 2012, according to the Jakarta Globe, Saudi Arabia had 1,700 Indonesian nationals serving out prison terms. The previous year on the same month, in April 2011, 22 migrant domestic workers were pardoned from sentences they had received in Saudi courtrooms. Along with pardons from King Abdullah and formal releases from the families who had charged them with crimes, they were allowed to return to their home regions.
Although labour laws in Saudi Arabia require that all workers be at least 18 years of age, the Royal Embassy of Saudia Arabia in Washington, D.C. states that the Law "does not apply" to domestic workers. This essentially means that domestic workers have little to no protections or legal recourse in any Saudia Arabian court under the Law.
In spite of this Saudi Arabia has continued to convey that they are supporting efforts to "fully protect domestic workers" in the workplace. This guarantee was made specifically in a 2011 joint statement made during the ILO – International Labour Organization's annual conference.
"…all countries [which includes Saudi Arabia] supported the efforts to fully protect domestic workers, in line with the specificities of that type of work…," said a portion of the joint statement during the 100th Session of the ILO conference in June 2011 in Geneva, Switzerland.
Over the last decade, discrimination against migrant domestic workers throughout the Gulf has become a growing and serious issue. Rising pressures in the domestic job market inside the region is at an all time high and has contributed to increased migrant racial discrimination. Gender for domestic workers is also a factor that works against women workers in Saudi Arabia who work off-the-grid. Specific restrictions that exist for all women in Saudi Arabia often exists doubly for women domestic workers.
Although the government of Saudi Arabia has formally disagreed with the true age of Rizana at the time of her sentencing, documentation shows that she was a 17-year-old from Sri Lanka who wanted to help make money for her family at the time of her employment. As a member of a family with six children with a father who struggled as a woodworker, Rizana was asked if she wanted to go to Saudi Arabia and signed on willingly with a Sri Lankan based employment agency. When she was asked by the agency if she would go as a housemaid her answer, and the answer of her family, was yes.
When Rizana Nafeek arrived on April 1, 2005 to begin working in Saudi Arabia, she didn't know then that her entire lifetime of having a job would span only 55 days. She didn't know then that she and her family had been cheated by job agents who were also trying to cheat the labour system and the government of Saudi Arabia.
To enable Nafeek to work legally inside the region, her documents of employment along with her passport were falsified by her Sri Lankan employment agents. Numbers were changed to show that she was not underage, making her appear instead to actually be 23-years-old. Presenting the teenager as a housemaid 'with experience' the agents made money on the deal. Later they were fined, arrested and sanctioned by the government of Sri Lanka for falsifying documents.
Before this, in April 2009, the Sri Lanka Cabinet adopted the National Labour Migration Policy. It's goal was to: "Enhance the benefits of labour migraton on the economy, society, and migrant workers and their families, and minimize its negative impacts."
But this goal was never reached in Rizana's case. As the months and years passed following her arrest, detention, and the years passed in her long wait on death row, Nafeek's needs and protections under the new Sri Lankan policy was never of benefit to her.
"…new overseas markets and opportunities must be explored and promoted," outlined Sri Lanka's Migration Policy. "This will ensure the promotion and development of employment opportunities outside Sri Lanka for Sri Lankans. Labour market surveys, market analyses and market promotion plans in foreign countries will help ascertain the emerging opportunities and new demands," the policy added.
Less than eight weeks later after Rizana began her employment, the 4-month-old infant son of the Al Otaibi family died while under Nafeek's care. Charged with the murder of the infant son Nafeek was arrested and sent to jail on May 25, 2007 in the city of Dawdami.
At the time, with her very limited understanding of Arabic, it unknown how much Rizana understood what was actually happening to her.
In her arrest there are no records available of any police investigation, DNA or forensics evidence. There also appears to be no evidence recovery or crime scene investigations in her case. There was also no attorney summoned to give Nafeek knowledge of her rights under arrest. Her case had no jury, no witnesses speaking in her behalf, no clarification of her false employment documents or mention of her true age.
Originally signing a confession that she killed the child, Rizana outlined later that her confession was completely false and made against her will. Stating that she signed a confession while under duress during the time of her arrest, Rizana later retracted her original confession in the court of appeal explaining that the infant died without her volition during what appeared to be a choking accident while he was bottle-feeding.
"We are deeply troubled by reports of irregularities in her detention and trial, including that no lawyer was present to assist her in key stages of her interrogation and trial, that language interpretation was poor, and Ms. Nafeek's contention that she was physically assaulted and forced to sign a confession under duress," said Rupert Colville, a spokesperson for the Office of the OHCHR – UN High Commissioner for Human Rights, during a recent news briefing in Geneva.
Under a failed appeal Nafeek's death sentence was sealed by decision of Saudi Arabia's Supreme Court in Riyadh. Her court sentence was subsequently signed into motion by Saudi's King Abdullah before the beheading took place. Much earlier though on December 2010 King Abdullah had moved to suspend Nafeek's court sentence, but after negotiations with the Al Otaibi family, who would not give pardon in the case, the death sentence set against Nafeek was set for execution as mandated.
What advocates have called the 'mishandling of this case' from its beginning in 2005 up to Rizana's execution in 2013 has brought sustained international concern. It also has brought together the attention of numerous human rights and advocacy organizations including the Asian Human Rights Commission, Amnesty International and Human Rights Watch, along with Safe World for Women and many others who worked without success to push for a legal pardon from execution for Nafeek.
While numerous employers in Saudi Arabia have no specific wish to abuse their domestic workers, reports of physical abuse against domestics have been ongoing and documented in the region. These abuses have included reports of unpaid wages, the withholding of food, forced confinement, excessive workloads and psychological abuse. Human Rights Watch has also highlighted the fate of migrant domestic workers who have faced sexual harassment, forced labour, torture and even death.
Lack of safety for domestic workers in the region is also an issue. Domestic workers are currently not protected under OSH – Occupational Safety and Health policies inside Saudi Arabia.
"Since the work environment in enterprises is different from the domestic environment, not all OSH [Occupational Safety and Health] standards applied to other workers can be applied to domestic workers…," outlined a representative from Saudi Arabia during the 2010 International Labour Conference in Geneva.
One critical condition in the case of Rizana Nafeek is that she received little to no access to legal or human rights advocates before receiving her death sentence during her incarceration. Even though Nafeek did not speak any Arabic, she was not given the right to translation services at any time during her arrest.
"It appears that the man who translated her statement may not have been able adequately to translate between Tamil and Arabic," outlined Amnesty International recently on January 8, 2013.
"Executions in Saudi Arabia are generally held in public," continued Amnesty International. "Prisoners are usually sentenced to death following inadequate legal representation. Saudi Arabia continues to execute prisoners despite the UN General Assembly's adoption of a resolution calling for a worldwide moratorium on executions on 18 December 2007. The beheading is counter to the Universal Declaration of Human Rights and comes at a time when there is a clear international trend away from the use of the death penalty," continued the human rights agency.
Public beheading is not an unusual punishment under the death penalty in Saudi Arabia. Executions may also be carried out by stoning or firing squad.
"Although the sentences vary greatly according to the discretion of the judge, 260 criminal punishments in Saudi Arabia can be severe and include imprisonment, flogging, amputation, and execution by beheading, stoning, or firing squad," says a Colombia Law School report by attorney Katherine Scully.
In working to reduce the death penalty worldwide the United Nations currently has 150 Members who have formally abolished the death penalty. This is out of 193 Member States at the United Nations. But the problems for the death penalty with lack of legal protections for domestic workers continues in many global regions.
"In 2011, at least 79 people were reportedly executed in Saudi Arabia. Among them, many were migrant workers, deprived of protection under the Vienna Convention and sentenced to death without respect of fair trial standards," said the United Nations OHCHR – Office for the High Commissioner for Human Rights, with the UN Secretary General Ban Ki-Moon, before the UN General Assembly in July 2012.
According to the current interpretation of Shariah Law in Saudi Arabia, the Nafeek's death penalty case could only be overturned by either a pardon from the family or a direct order from the Office of Saudi Arabia's King Abudullah. Under interpretive Shariah Law in the region, the use of 'Kafala' – a legal system of sponsorship in Saudi Arabia gives family sponsors complete rights over a domestic worker's punishment. This puts the supreme power in the hands of employers regardless of case details.
"The United Nations opposes the death penalty because it negates the right to life and its application raises serious human rights concerns," said United Nations High Commissioner for Human Rights Navi Pillay last October.
"It is striking that even well-functioning legal systems have sentenced to death persons who were ultimately proved innocent. In sentencing practice, the decision whether to sentence the convict to death or life imprisonment is often arbitrary and devoid of predictable rational criteria. In this 'judicial lottery', the odds are often stacked against those who belong to racial, religious, national, ethnic or sexual minorities," Pillay continued.
"A death sentence is often imposed on less privileged individuals who do not have sufficient access to effective legal representation," added Pillay.
While courtrooms in the United States continue to process their own death penalty cases, some U.S. regions have made the punishment illegal under the law. U.S. regions which include the State of New Mexico, the State of New Jersey, and the States of Illinois and Connecticut have now abolished the death penalty as an option available to U.S. state courts.
"Saudi Arabia is one of just three countries that executes people for crimes they committed as children," said Nisha Varia, senior women's rights researcher at Human Rights Watch. "Rizana Nafeek is yet another victim of the deep flaws in Saudi Arabia's judicial system."
As flaws are exposed in Rizana's case, advocates will continue to ask: Are governments or advocates to blame for the death of Rizana Nafeek?
"Court proceedings in Saudi Arabian capital cases typically fall far short of international fair trial standards. Defendants are rarely allowed formal representation by a lawyer and in many cases are kept in the dark about the progress of legal proceedings against them," says Amnesty International today in response to the news of Rizana Nafeek's execution.
"Allegations that the offender is a minor are incorrect," said a formal statement released by Saudia Arabia's state owned press agency on Sunday January 13, four days after the execution of Rizana Nafeek. "Such allegations are clearly and unequivocally refuted by her age. Her official passport shows that she was 21 years old at the time of committing the crime. As it is universally recognized, the passport is an official document issued by her Government. Moreover, the legal regulations of the Kingdom of Saudi Arabia do not allow the recruitment of minors," continued the statement.
As advocates hope to change the Kafala policy in Saudi Arabia that gives family sponsors complete control over life-and-death decisions in cases including their domestic workers, the road does not look easy. Saudi Arabia does not appear at this time to want to reform its own system.
"The Kingdom of Saudi Arabia categorically rejects any interference in its affairs or in the provisions of its judiciary under any justifications," adds the Saudi Press Agency in their January 13 statement.
http://www.trust.org/trustlaw/news/have-governments-or-advocates-failed-domestic-workers-in-saudi-arabia
------------
Saudi Shura: Women Will Be Amongst First Four Candidates on Any Given Electoral List
Electoral lists must include women amongst the top four candidates according to an article of the new elections law approved by the Shura Council
16 Jan 2013
The Shura Council approved in its Wednesday session an article in the elections law that stipulates that women must be included amongst the first four candidates on any given electoral list in the upcoming parliamentary elections expected in April, according to Ahram Arabic website.
The article stirred debate and disagreement within the legislative body as the Salafist El-Nour Party opposed it, considering it discriminatory. Others, however, argued for the law, considering it an instrument of positive discrimination that empowers women.
Head of the Shura Council Ahmed Fahmy put the article forward for voting Wedsneday, and it was approved by 103 to 82.
The last parliament, which was dissolved by court ruling, contained a surprisingly low number of women although party lists were obliged by law to include at least one woman candidate.
http://english.ahram.org.eg/NewsContent/1/64/62660/Egypt/Politics-/Shura-Council-agrees-women-will-be-amongst-first-f.aspx
---------------
Emirati women employees in demand in the private sector
By Sara Sabry
January 16, 2013
Study shows Emirati women employees are hard working and keen to prove their skills
Abu Dhabi: Emirati women employees are in high demand in the private sector because they are hard working and always keen to prove their potential, according to a study by the National Bureau of Statistics (NBS) released on Wednesday.
The study shows women have been a vital part of Emirati society throughout the country's history. They used to work in the pearl and fishing industries in addition to fulfilling the family's agricultural needs and raising children.
"We are aware of the importance of female labour forces among UAE nationals, which is why we always make sure that they get the chance to hunt the job they are looking for in a more comfortable atmosphere," said Hayete Jemai, director of the Tawdheef exhibition.
According to the NBS, the unemployment rate among Emiratis has reached 20.8 per cent while the Abu Dhabi Tawteen Council said earlier the number of Emirati jobseekers had reached 13,000 annually, 80 per cent of whom are female, most with a high standard of education.
The results prompted the UAE government to announce 2013 as the year of creating jobs for Emiratis and for Emiratisation of jobs to boost the Emirati workforce and secure a decent life for citizens.
Held under the patronage of Shaikh Nahyan Bin Mubarak Al Nahyan, Minister of Higher Education and Scientific Research, Tawdheef's recruitment show will take place from January 29-31 at the Abu Dhabi National Exhibition Centre (Adnec).
The three-day event covers a vast range of sectors including finance, recruitment, oil and gas, media and health.
"As the UAE's leading career fair, Tawdheef has always focused on developing a unique platform to support the UAE government's strategic plan to boost Emiratisation and help create jobs for young UAE nationals," Hayete added.
"Every year we attract an impressive line-up of hiring organisations, from small start-up private companies to large government institutions. All participating organisations at the expo will have open positions for Emiratis, so we can ensure a variety of career options available for eager job hunters," Hayete said.
Emiratis are preparing their CVs to attend the three-day fair in order to meet recruiters.
Mai Al Mansouri, 23, an Emirati graduate, said: "In the past women would have been put off by the working conditions; however, it is absolutely changing now. Women's requirements and demands are fully taken into consideration."
"I can really see great progress regarding how women are treated in the workplace in the UAE. They are given the same respect and job opportunities as men," she added.
Major companies have already stated their intent to place extra emphasis to the year of Emiratisation by revealing more than 1,000 job positions they will be offering at the fair.
All participating organisations are looking to meet, interview, and recruit male and female Emiratis.
Saqr Gobash Saeed Gobash, Minister of Labour, told Gulf News in an earlier interview that Emiratis have to be told of opportunities and the government should increase their awareness of programmes and initiatives available.
Gobash also pointed out that the ministry has sent a quota to different banking institutions and financial firms to support Emiratisation targets.
"For instance, the banking sector is looking to increase its Emiratisation targets by four per cent on an annual basis to reach 45 per cent of its staff to be UAE nationals-up from the current 35 per cent," he said.
http://gulfnews.com/news/gulf/uae/general/emirati-women-employees-in-demand-in-the-private-sector-1.1133251
---------------
Humanity Welcomes Back 'Daughter of the World', Malala Yousafzai
Philippine Daily Inquirer
January 16th, 2013
I join the moral world and the international humanistic community in welcoming Malala Yousafzai back to us. This brave young Pakistani girl has been discharged from the hospital after recuperating from gunshot wounds.
Bravo to this courageous child!
She stood against the tyranny, the sexism, intolerance, madness and the fanatical views of the Taliban. The whole world knows how she passionately struggled and fought firmly for her inherent right to education, to improve herself, to develop her knowledge for purposes of ultimately cultivating herself. She did this not just for herself but for all Pakistani children like her, especially young girls.
Full report at:
http://opinion.inquirer.net/44987/humanity-welcomes-back-daughter-of-the-world
---------------
Give Malala Nobel Prize, Sun Woman Launches a Campaign
01/17/2013
TODAY Sun Woman launches a campaign to have the Nobel Peace Prize awarded to brave schoolgirl Malala Yousafzai.
Our reporter SHARON HENDRY teamed up with education campaigners to deliver a petition of 256,015 signatures to No10, calling on Downing Street to nominate the 15-year-old for the gong.
Malala was shot in the head by the Taliban in Pakistan in October for demanding women's rights to education. Her courage has inspired people across the world – including students from the Central Foundation School in Bow, east London.
Full report at:
http://www.thesun.co.uk/sol/homepage/woman/4748153/Give-Malala-Nobel-Prize.html#ixzz2IDaTNX7L
---------------
Hayat, Saudi Shoura Member to Women: Opt For a Career in Science
17 January 2013
Hayat Sindi is one of the newly appointed Shoura members. She recently figured in Newsweek's list of 150 women who shook the world in 2012. She is founder and CEO of the i2 institute of Imagination and Ingenuity, a leading nongovernmental organization in the field of scientific innovations in the Arab world. She is also the first Saudi woman to obtain a doctorate from Cambridge University in the field of Biotechnology. Sindi is science ambassador for UNESCO.
Full report at:
http://www.arabnews.com/hayat-sindi-women-opt-career-science
---------------
Memories of a Childhood Interrupted in Afghanistan
January 16, 2013
Noorjahan Akbar
I was born in an apartment building in Kabul, where we had inconsistent power and running water. My mother tells me that I used to love water and would scream, "Water is here. Power is here" every time we would get running water. I would run to the tap and make myself wet. Hours of playing with water had bought me the nickname "MAheecha," the little fish. My grandmother called me "Maarcha," the little snake, because I did not crawl like normal babies. I rolled across the floor. I don't remember any of this and I have built an image of my baby self based on the stories I heard from my mother, grandmother and father, but this was my childhood.
Full report at:
http://www.undispatch.com/just-40-days-of-childhood-before-war-gripped-my-country
---------------
Man Held On Rape Charge of a 10-Year-Old Girl in Bangladesh
January 17 2013
A man was held in the city yesterday on charge of violating a 10-year-old girl. Manosh Ranjon Ghosh, sub-inspector and second officer at Khulna Kotwali police station, said that the girl was a class four student at UCEF School in the city. On January 14, she was going to nearby East Baniakhamar road area for watching television at the residence of Labu Farazi. Around 10:30pm, his neighbour Shahidul, 42, took the girl forcibly to the rooftop of the house and raped her, alleged the victim's mother in her complaint lodged with Khulna Kotwali police station. The victim at first did not disclose the matter to her mother as Shahidul had threatened her with dire consequences. As her condition was deteriorating, the girl finally told it to her parents and she was rushed to Khulna Medical College Hospital (KMCH) on Tuesday.
http://www.thedailystar.net/newDesign/news-details.php?nid=265502
---------------
Rape Victims Suffer Further At The Hands Of Authority: Malaysian NGOs
Margareth S. Aritonang
January 17 2013
A coalition of NGOs has called on the authorities to protect the rights of rape victims, saying that the existing standard operating procedures to deal with victims further violated their rights.
Members of the coalition, mostly NGOs working for the protection of women and children's rights, said that not only had the police failed to prosecute rapists, they often abused the victims further, especially during the investigation stage.
Full report at:
http://www.thejakartapost.com/news/2013/01/17/rape-victims-suffer-further-hands-authority.html
---------------
Decision To Charge 15 Year-Old With Fornication Intact: Maldives PG's Office
By Minivan News | January 16th, 2013
The Prosecutor General's (PG) office has "no intention" of reversing the decision to charge a 15 year-old child abuse victim with fornication, local media has reported.
An official from the PG's office told local newspaper Haveeru that the decision to charge the 15-year-old from Shaviyani Atoll Feydhoo with fornication was made after extensive assessment of the case.
Full report at:
http://minivannews.com/category/news-in-brief
---------------
No More Girl Heroes: Outlawed in Pakistan
01/16/2013
Deborah Stambler Freelance writer; poet
The story of Kainat Soomro is a moving one. Kainat is a Pakistani teenager of 17. When she was 13, she was abducted and gang-raped by four men. Since that time, she has worked tirelessly to bring the rapists to justice; hiring an attorney, making television appearances, appealing court decisions. Her family was ordered to carry out an honor killing as Kainat was declared kari (black virgin) and being a rape victim brings shame to the family, according to parts of Pakistani culture and judiciary. Kainat's parents refused to kill their daughter. Since then, Kainat and her family were forced to leave the village where they lived. The alleged rapists have beaten her father and one of her brothers. Kainat's older brother, Sabir was missing for three months, only to be found murdered. It is believed he was killed due to his support for his sister. It's not overstating things to say that Kainat's young life has been deeply touched by tragedy. Her persistence in her quest for justice and unwillingness to back down in the face of continued adversity are heroic.
Full report at:
http://www.huffingtonpost.com/deborah-stambler/outlawed-in-pakistan-film_b_2483215.html
---------------
Women entrepreneurs in Mena are calling out for financial help
Sarah Algethami
January 16, 2013
30 per cent Khalifa Fund capital goes to ventures by women
Dubai: One of the biggest challenges facing women entrepreneurs in the Mena region is lack of funding, according to experts at the Women Entrepreneurs in Mena conference yesterday.
Alongside increasing funds for women, law makers "need to make micro financing options more transparent, so we need to look at improving laws and regulations," said Mounira Jamjoom, Senior Research Specialist at Booz and Company. Many women entrepreneurs are not aware of the funding options that are available to them, she added.
Full report at:
http://gulfnews.com/business/economy/women-entrepreneurs-in-mena-are-calling-out-for-financial-help-1.1133371
---------------
Bloggers reject opposition to women in Shura
January 16, 2013
Women seen as positive voices of change for greater rights
Dubai: A move by hardened conservatives in Saudi Arabia to have the decision of appointing women to the Shura Council delayed or revoked has been criticised by bloggers in the Saudi blogosphere.
On Friday, King Abdullah Bin Abdul Aziz Al Saud issued a decree that named 30 women to the 150-seat consultative council in a historic breakthrough that ended the exclusive male presence in the formal advisory body since its inception in 1993.
Full report at:
http://gulfnews.com/news/gulf/saudi-arabia/bloggers-reject-opposition-to-women-in-shura-1.1133112
---------------
SC Admits Petition against Pak US Ambassador Over Alleged Blasphemy
January 17 2013
ISLAMABAD: The Supreme Court on Thursday admitted a petition filed against Sherry Rehman over allegedly committing blasphemy, Dawn News reported.
The petition was heard by a two-judge bench of the apex court comprising Justice Anwar Zaheer Jamali and Justice Ejaz Afzal.
Full report at:
http://dawn.com/2013/01/17/sc-admits-petition-against-sherry-rehman-over-alleged-blasphemy/
---------------
Yemeni Mother-Of-Five Losing Cancer Battle to Medical Costs, In Dubai
By Faisal Masudi
January 16, 2013
Sister appeals for urgent aid to put Kefaya back on Dh22, 000-a-week treatment cycle
Dubai: A Yemeni mother-of-five battling cancer needs immediate funds for treatment in Dubai, her sister said.
Najat Mokbel said her 49-year-old sister Kefaya Mokbel needs about Dh55,000 in current and backdated bills for chemotherapy at Dubai Hospital.
"We can't even afford two weeks' worth of treatment, let alone the past outstanding bills. Her doctors say if she keeps missing her treatment there's nothing they can do to save her," Najat said.
Full report at:
http://gulfnews.com/news/gulf/uae/general/mother-of-five-losing-cancer-battle-to-medical-costs-1.1133168
---------------
Birth control law too late for Philippine mum of 22
17 January 2013
A historic birth control law that took effect in the Philippines Thursday after years of opposition from the Catholic Church came too late for Rosalie Cabenan, a housewife who has given birth 22 times.
Frail, with a leathery face streaked with wrinkles, 48-year-old Cabenan suffers from untreated gall stones and constant fatigue because her body has never had the time to properly recover from her successive pregnancies.
Full report at:
http://www.khaleejtimes.com/kt-article-display-
---------------
Help Afghan Women: Women's Rights Adviser
16 January 2013
President Obama is right to be "unequivocal" about the importance of protecting women's rights in Afghanistan as part of the US's peace, reconciliation and development efforts in the country (Report, 12 January).
It is highly significant that his comments come as part of official talks with President Karzai about future troop movements. The weekly assassinations and attacks on women activists confirm we are a long way off from a safe Afghanistan for women.
Full report at:
http://www.guardian.co.uk/world/2013/jan/16/help-afghan-women
---------------
URL: https://newageislam.com/islam-women-feminism/15-years-jail-mother-7/d/10045