New Age Islam News Bureau
26 Dec 2014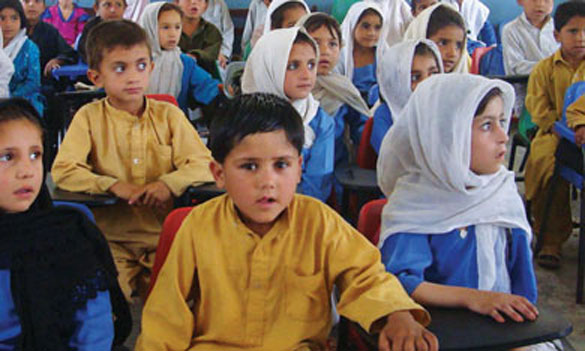 Children are attending class at Noor Model School. — Photo by Sumaira Jajja
------------
• Driving Ban: Two Women Sent To Saudi 'Terror' Court
• Rajasthan Khap Panchayat Orders Chopping off Woman's Nose
• Interfaith Women's Group Seeks to Forge Peace, Understanding
• Morocco's Workplace Gender Gap Widens
• Women of Timbuktu Find Their Voice Again After Nightmare of Jihadi Rule
• Gaza Women Protest against Gaza Crossing Closure
• Kobane: 'Our Children Never Come Back'
• Pak Schoolchildren to Get Civil Defence Training
• Iranian Students Face Dangerous Schools
Compiled by New Age Islam News Bureau
URL: https://www.newageislam.com/islam,-women-and-feminism/new-age-islam-news-bureau/13-year-old-girl-says-father-gave-her-to-boko-haram/d/100704
---------
13-Year-Old Girl Says Father Gave Her to Boko Haram
26 December 2014
A 13-year-old girl has accused her father of giving her to Nigeria's Boko Haram group that ordered her to explode a suicide bomb in Kano city.
The girl said she and two other females were sent to carry out an attack on a textile market but after the other detonated their bombs, she decided not to complete the mission.
Police Superintendent Adenrele Shinaba said on Wednesday that the girl left her suicide vest on the seat of a taxi that took her to the hospital for treatment of her wounded leg after shrapnel hit her in the market bombing. The taxi driver alerted police who then arrested her.
The girl told a news conference on Wednesday night that her captors asked if she wanted to go to paradise and, when she said yes, explained she would have to be a suicide bomber.
"When I was told I would have to die to enter paradise, that I would have to explode a bomb and die, I said I cannot do it," she said.
When they threatened to kill her, she allowed them to strap her into a vest primed with explosives, saying "I was afraid to be buried alive".
Father at large
The girl said she saw many people being buried alive at the Boko Haram camp where her father took her in Bauchi state, east of Kano.
Police said the girl would remain in custody while investigations continued and that they had been unable to find her father, who the girl said belongs to Boko Haram.
Police said the attack on the textile market on December 10 killed four people and wounded seven, including the girl.
The West African nation's home-grown Boko Haram group attracted international condemnation when its fighters kidnapped 276 schoolgirls from a boarding school in northeast Chibok town in April. Dozens escaped but 219 remain missing.
Thousands of people have been killed and 1.6 million driven from their homes in the five-year-old uprising to create an Islamic state in Nigeria, Africa's most populous nation of 160 million people divided between mainly Muslims in the north and Christians in the south.
http://www.aljazeera.com/news/africa/2014/12/girl-says-father-gave-her-boko-haram-20141225162449466569.html
-----------
Driving ban: Two women sent to Saudi 'terror' court
(AFP) / 26 December 2014
Activists did not provide full details of the allegations against the pair but said investigations appeared to focus on the women's social media activities rather than their driving.
Riyadh: Two women's rights campaigners detained in Saudi Arabia have been transferred to a special tribunal for "terrorism", activists said on Thursday after the women appeared in court.
The ruling came at a hearing in Al Ahsa, in the kingdom's Eastern Province, according to the activists who declined to be named.
Loujain Hathloul has been detained since December 1 after she tried to drive into the kingdom from neighbouring country in defiance of a ban.
Saudi Arabia is the only country in the world which does not allow women to drive.
Maysaa Alamoudi, a Saudi journalist, arrived at the border to support Hathloul and was also arrested.
Activists did not provide full details of the allegations against the pair but said investigations appeared to focus on the women's social media activities rather than their driving.
"They will transfer her case to the terrorism court," said an activist familiar with Hathloul's case, adding that her lawyer plans to appeal. A second activist confirmed that Alamoudi's case was also being moved to the specialist tribunal.
Hathloul has 228,000 followers on Twitter.
Before her arrest she tweeted, sometimes with humour, details of the 24 hours she spent waiting to cross into Saudi Arabia after border officers stopped her.
Alamoudi has 131,000 followers and has also hosted a programme on YouTube discussing the driving ban.
In early December Saudi authorities blocked the website of a regional human rights group which reported the women's case.
Reporters Without Borders, a watchdog, this year named Saudi Arabia as one of 19 countries where government agencies are "enemies of the Internet" for their censorship and surveillance.
In October, dozens of women posted images online of themselves behind the wheel as part of an online campaign supporting the right to drive.
In response, the Ministry of Interior said it would "strictly implement" measures against anyone undermining "the social cohesion".
Activists say women's driving is not technically illegal but that the ban is linked to tradition and custom in the kingdom.
http://www.khaleejtimes.com/kt-article-display-1.asp?xfile=data/middleeast/2014/December/middleeast_December210.xml&section=middleeast
-----------
Rajasthan Khap Panchayat Orders Chopping off Woman's Nose
26 December 2014
In a shocking decision, a self-styled social Panchayat in Barmer district has ordered chopping off the nose of a woman for complaining of rape against her father-in-law which led to his arrest.
The pronouncement was made by a Khap Panchayat of Luharwa village under Dhorimanna village in Barmer which also ordered that the maternal family members should be socially boycotted.
In a petition made to the police, the woman alleged that she was being sexually harassed by her father-in-law for a long time and had even raped her following which she had lodged a complaint with the police. The police consequently arrested her father-in-law.
However, the accused came out on bail this week and convened a Khap Panchayat where it was decided that the nose of the young woman should be chopped off for complaining to the police and her family should be socially boycotted for supporting her. The victim and her father have sought police protection.
http://www.thehindu.com/news/national/other-states/khap-panchayat-orders-chopping-off-womans-nose/article6723294.ece
-----------
Interfaith Women's Group Seeks to Forge Peace, Understanding
26 December 2014
Rabia Zahir is a Muslim woman who grew up in Pakistan. Roseanna Vogt is Catholic. Over spicy-smelling cups of tea in the basement of the Southern Maryland Islamic Center in Prince Frederick, the two are able to learn and find common ground through the Daughters of Abraham, a group that formed after Sept. 11, 2001, welcoming women from the three Abrahamic faiths: Islam, Judaism and Christianity.
"I have learned so much from the dialogue we've had," Vogt said.
Zahir, of Hughesville, decorated the white concrete expanse of the basement room at the Islamic Center in Prince Frederick to give it a remarkably homelike feel, with green tablecloths covering the round tables topped with gold lanterns as centrepieces. A lime-scented candle is lit at the front of the room as about a dozen women of the three faiths snack on pizza, fruit and chocolate.
Even though Zahir went to Catholic school in Pakistan, she found she had much to learn about the Christian faith, like how there are more types of Christians besides Catholics.
"The group gave me an opportunity to get in touch with more people," she said.
Sally Douglass of Port Republic said she has been able to defend Islam because of the things she has learned from being a part of the group, even though she isn't Muslim.
The inception of the Daughters of Abraham came from a conversation in a van while a small group of people were returning from a conference in Washington, D.C., shortly after Sept. 11, 2001, said the Rev. Peter Daly, pastor of St. John Vianney Catholic Church in Prince Frederick. One of the challenges given to those attending the conference was to start a grass-roots movement for peace and understanding between faith groups.
"There was so much division in our community at that time … in the nation," Daly said in an interview.
Since its inception, the group has visited the places of worship in Washington, D.C., for each faith, gone to the Holocaust Museum, participated in interfaith services and held meetings on various topics to discuss many aspects of the three faiths.
During the October meeting of the Daughters of Abraham, the discussion ranged from Halloween celebrations, saints and the Ten Commandments to Jewish traditions and how they are carried on in the Christian faith and more. The group gathered was predominantly Christian, as 11 Christian women attended along with two Jewish women and Zahir, the sole Muslim.
The women learned the Ten Commandments are a part of all three faiths. The story of Moses going to receive the Ten Commandments on stone tablets is included in the Quran, Torah and Christian Bible.
"The Ten Commandments is very much a part of our faith," Zahir said.
Norma Imershein said Jewish households put containers called mezuzahs near the doors of their homes. The mezuzahs can be simple or elaborate and contain the text of the Ten Commandments.
Douglass said she loves hearing how the Jewish faith carries on biblical traditions. Imershein said all the faiths apply Jewish traditions in different ways. For instance, she said, many Baptists don't realize how the practice of baptizing people with water is derived from the Jewish practice of cleansing oneself with water before the Sabbath.
For Halloween, Roberta Safer of Port Republic said the holiday is viewed negatively in Jewish tradition because, historically, bad things happen to Jews on Halloween. Additionally, orthodox Judaism prohibits its members from participating in what it deems idolatrous practices, including Halloween.
Some Christians frown upon the celebration of Halloween, while others embrace it with roots to All Saints' Day and All Souls' Day. Group member Susan Mattingly told the women of how she used to teach in a Presbyterian church that forbade Halloween, so her class had to work creatively to be able to dress in costumes for that day by dressing up as things in their science unit.
Although the faiths have their differences, they all trace back to one common patriarch: Abraham, and the belief in one God.
At the end of the meeting, Zahir was asked to talk about the Arabic texts hanging on the walls of the Islamic Center.
First, she read the texts in Arabic; her reading was more like singing or chanting rather than reciting. Then, she translated the passages to English. One of the passages Zahir said was one of the most important texts in the Quran. Safer said it resembled the Shema recited by Jews during prayer services and corresponds to Deuteronomy 6:4, which says, "Hear O Israel, the Lord our God is one Lord." Zahir's singing reminded Imershein of the way Jewish rabbis chant the Torah.
"There is no God but him," Zahir read. "The living, the eternal, he neither slumbers nor sleeps. To him belongs all that is in the heavens and the Earth …" Zahir read.
"It sounded like it came out of the Torah," Imershein said.
sfleischman@somdnews.com
http://www.somdnews.com/article/20141225/NEWS/141229710/1045&template=southernMaryland
-----------
Morocco's workplace gender gap widens
26 December 2014
Working women in Morocco have a hard life. In its second report on gender equality in the workplace, the Economic, Social and Environmental Council (ESEC) described the employment situation of Moroccan women as alarming.
In its 2012 report, ESEC made clear recommendations to the government to fight discrimination against women. In the new report, released on Nov. 27, 2014, ESEC focuses on the realities of female employment and the "ineffective" laws working against women. For the second time, ESEC has made recommendations to the government. Telquel runs through it, in figures.
Less than one in four women are employed
2.74: In millions, the total number of employed women. Of those who work, 1.03 million are employed in urban areas and 1.71 million work in rural areas.
22.7%: The female employment rate in Morocco (ratio between the number of people employed and the total number of individuals), which means that less than one in four women has a job.
26.8%: The percentage of women in a labor force of 11.3 million people.
30%: The female employment rate exceeds 30% in agricultural areas, such as Doukkala, Souss-Massa-Draa and Gharb.
130 out of 142 countries: Morocco's rank worldwide, in terms of the wage gap between men and women. The kingdom is toward the low end of the ranking, below other Arab countries such as Qatar, Kuwait and Tunisia.
Women: Victims of illegal practices
73.2%: The percentage of rural women under the age of 15 who are employed. ESEC considered this type of employment to be a "form of outright exploitation of children of school age, which must be denounced." Moreover, underage labor is a violation of children's rights, as it denies "girls the right to access to education and training."
78.9%: The percentage of women working in the textile sector who have not been eligible for paid maternity leave.
87.5%: The percentage of women working without a written contract in rural areas. This figure drops to 54.2% in urban areas. Such women are "working without a written contract and therefore they are not covered by the labor law." It should also be noted that text regulating employment and working conditions of domestic workers has not been adopted yet.
Women: Excluded from decision-making posts
0.1%: The percentage of women holding decision-making positions in private companies in the trade, industry and services fields.
0.38%: The percentage of female union representatives.
6%: The percentage of women occupying the post of "secretary general" in public services, and 11% of women are directors.
7%: The percentage of women administrators in the country's largest public companies. Women represent 11% of directors in listed companies.
12%: The percentage of management posts occupied by women.
50%: Women are absent from governance bodies in more than half of listed companies in Morocco.
ESEC recommendations
To counteract the problems that hinder gender equality in the workplace, the ESEC report included four recommendations to the government.
The council suggests that the government "acquire efficient instruments and consistent indicators … that allow an understanding of the effectiveness of gender equality in the economic sector as a tool for reducing inequality." This is a measure that falls in line with the "definition of indicators produced by the various agencies (in particular the Higher Planning Commission), and the Convention on the Rights of the Child and ILO [International Labour Organization] standards."
This means that, among other things, Morocco should adopt a law enshrining 15 as the minimum age for employment. The recommendations call for the category of "housewife," which normalizes the sexist representation of women, to be replaced by the following two categories: "Adult persons running a household " and "school children." The council, headed by Nizar Baraka, recommends the establishment of a national employment observatory that issues regular reports on women's participation in economic activities and the discrimination they face.
ESEC also recommends the establishment of a "favorable environment for economic equality between women and men and a balance between work and family responsibilities." The measure would involve ratifying the ILO Workers with Family Responsibilities Convention and implementing it in accordance with the Family Code that establishes the joint responsibility of both parents within a family. The council also suggests the establishment of "information, training and awareness campaigns [focusing] on the prevention of discrimination in administrations and businesses."
The council also mentions facilitating access to employment for women. The measures accompanying this suggestion include the adoption of "incentives and granting the right … to tax benefits for private companies that establish [gender] parity in their various bodies." To promote female access to employment, ESEC also calls for the promotion of a "skills training and for girls to access all courses offered in the male-dominated industries."
Finally, Baraka's organization urges the promotion and support of women's entrepreneurship through the development of support mechanisms for female entrepreneurs in different parts of the kingdom. ESEC also recommends that the government encourage "the access of women's enterprises to
http://www.al-monitor.com/pulse/business/2014/12/morocco-women-unemployment-discrimination-workplace-gender.html#ixzz3N2zDFAuB
-----------
Women of Timbuktu find their voice again after nightmare of jihadi rule
26 December 2014
It was, says Khaira Arby with some pride, her music that swung the election in favour of Timbuktu's 1st female MP. Arby had been asked by the only female candidate, Aziza Mint Mohamed, to perform at a rally on the last day of campaigning in Mali's national assembly elections of 2013. She had travelled the 560 miles from Bamako to Timbuktu specifically, setting up her band in the sandy acres of open ground between the 14th-century adobe-walled Sankoré mosque and the city's single paved road.
When she reached the city, Arby, a desert blues legend and cousin of the late Ali Farka Touré, found Mint Mohamed's major rival was holding a simultaneous rally a few hundred metres away in the Grand Marché. When "the nightingale of the north" started to sing, nevertheless, the unfortunate contender's audience started to move northwards towards the soulful notes that were drifting out of the Place Sankoré. Mint Mohamed went on to win the election.
It was a sweet victory for Arby and Mint Mohamed, not least since of their opponents' sexism. In the 1st stage of the two-round vote, five male candidates, had been ranged against Mint Mohamed in the second round, when she was running against a member of the president's RPM celebration, all 4 of the males who had lost urged their supporters to vote against her.
"They said, no, a woman can't be MP for Timbuktu," says Mint Mohamed, a short but forceful presence whose father was 1 of Timbuktu's top imams. "In the madness of the election campaign, the males of the north said a woman MP could not be fantastic for the city. But if politics had been forbidden for us by Islam, my father wouldn't have let me go into politics. So I mentioned to them, show me the verse in the Qur'an exactly where it says that a woman cannot be MP. They weren't capable to."
A year just after Mint Mohamed was elected, stories of the suffering and humiliation females seasoned beneath jihadi rule in 2012 are beginning to emerge. In late March that year, a rebellion in the north of Mali sparked by the fall of Muammar Gaddafi in Libya swept across the north of the country. On 1 April the rebels captured the remote desert town. So started a nine-month occupation, very first by the secular Tuareg separatists of the MNLA, whose fighters wrecked government buildings and stole what they could, then by the jihadi alliance of Ansar Dine (Defenders of the Faith) and al-Qaida in the Islamic Maghbreb (AQIM).
It was an unprecedented circumstance: rather of merely attempting to destabilise a political structure to pursue global jihad, al-Qaida was now in possession of a famous city that it set about trying to govern. The jihadis imposed their version of sharia law, with catastrophic consequences for the girls of the north.
Arby was on tour on the day Timbuktu fell, and close friends warned her not to return. The rebels broke into her home and wrecked it. "They came to my house and have been attempting to discover me because I am a musician," says Arby. "They located all my instruments and took them and they burned them. I thought if I was there perhaps they would catch me and do the same thing to me."
The jihadi ban on music – a thing that, according to Arby, had never happened in Timbuktu's long history of invasions – hit ladies hard because the musical tradition for which the north of Mali is popular has been kept alive by women. "Music is extremely essential to Timbuktu. You cannot have a wedding, or a baptism, or a major meeting of the population here devoid of music. It is a thing that unifies folks, that can pass a message to the individuals. Due to the fact its creation, the people who produced music in Timbuktu have been the married ladies. They took up their violins and created their music for their husbands, to make them pleased, and for their personal pleasure, to sing enjoy songs."
For the duration of the occupation even musical ringtones had been forbidden: jihadis, like the al-Qaida governor of Timbuktu, Abdelhamid Abou Zeid, chose the sound of a laughing baby alternatively for telephone alerts. Arby says the occupiers' interpretation of Islamic texts with regard to music is just wrong. "Music is a major part of Islam. The day the prophet entered Mecca they created music for him, they sang for him. If it was forbidden it would have been forbidden ever given that then."
Other parts of the jihadis' sharia law were equally painful for women. They appeared obsessed with sex and sexuality: unmarried couples with youngsters had been beaten, and just about every interaction in between unrelated guys and girls was banned. Brothers and sisters, mothers and sons who had been found speaking in the street have been interrogated by the fighters. At checkpoints, gunmen stopped vehicles not for illegal goods or arms, but to check that male and female passengers have been not sitting in the same row.
But it was the dress code that triggered most grief: women were forced to cover all except their faces. Girls with manual jobs discovered it virtually not possible to operate in their jihadi-approved gloves.
Stories of ladies becoming beaten or jailed for dressing incorrectly are legion in the city. The Islamic police's "vice squad" set up a women's jail in the ATM booth of the Malian Solidarity Bank. The booth was no a lot more than 3 metres by two, but a dozen ladies would be held there for days at a time with no access to water or sanitation. People who live nearby try to remember distressed prisoners wailing all night, and in particular one young woman who had a seizure and reduce herself whilst smashing the glass door of the booth. Even as she bled profusely and folks tried to assistance her, the vice squad's leader, Hamid Moussa, told her she deserved every little thing she got and he would let her die in prison.
Other females say they have been told to obtain jihadi-approrpriate clothing they could not afford from Moussa's wife.
"They had applied their law, and if you did not obey their law there have been sanctions," says Mint Mohamed. "So when the ladies refused to wear the burka, they sanctioned them. If the males didn't wear their trousers brief, they were forced them to cut them with scissors. These have been their laws and their justice. If you do not respect their law they place you in jail."
She continues: "It was a violation of human rights, and it was the girls who suffered the most, simply because in Timbuktu the females go out a lot. They go to the industry, they earn revenue, they run smaller companies, they just about run a branch of the economy. And they are already covered, but burkas are not part of our culture. All the females who didn't put on them got into difficulty. It was genuinely a humiliation."
When French and Malian troops liberated Timbuktu on 28 January 2013, the individuals who had not fled the city came out to welcome them. Virtually two years on, extended-term peace, the large prize, remains elusive. "The jihadis left with [the French-led] Operation Serval," says Mint Mohamed. "But now there has been a rebirth of the armed groups. They have come back and it is only the capital of the Timbuktu area that is cost-free. Even there it is not superior, people today aren't in a position to sleep, just about every day they say they are about to take Timbuktu, folks are coming tomorrow. They are afraid. It is not excellent for the thoughts or the spirit."
Timbuktu is fortunate, she says, for the reason that of its name, cultural heritage, saints and girls. "Did you know the Sankoré mosque was financed by a lady," she says. "And Timbuktu was founded by a lady. Currently the UN force in Timbuktu is led by a lady. We have had many good girls – and that is why Timbuktu has women in authority these days."
Improvement and education for the population are her priorities, but these are overridden by the require for peace, which she hopes may possibly but be delivered by talks amongst the rebels and the government in Algeria, due to restart in the new year. "I am optimistic," Mint Mohamed says. "As lengthy as persons are speaking, there is cause to hope."
Our editors found this article on this site using Google and regenerated it for our readers.
http://www.theguardian.com/world/2014/dec/25/women-timbuktu-shape-city-future-mali
http://www.macroinsider.com/uk/women-of-timbuktu-find-their-voice-again-after-nightmare-of-jihadi-rule-h10433.html
-----------
Gaza women protest against Gaza crossing closure
World Bulletin / News Desk
26 December 2014
Scores of Palestinian women on Thursday staged a protest on the Palestinian side of the Rafah crossing on the border between Egypt and the Gaza Strip to demand the reopening of the crossing.
The women said the crossing needed to be reopened so that thousands of Palestinian medical patients could seek medical treatment outside the Gaza Strip, which has been suffering an all-out Israeli blockade since 2007.
The protesters carried placards on which they called for reopening the crossing and complained against the inability of Gaza's patients to travel to seek medical treatment abroad.
"Palestinians have the right to freely move through the crossing," Esraa al-Areer, the spokeswoman of "Women against the Blockade", the Palestinian movement that organized the protest, told The Anadolu Agency.
She called on Egyptian authorities to reopen the crossing to ease the travel of thousands of Gaza's Palestinians.
Al-Areer said around 38,000 Palestinians needed to travel from Gaza to other parts outside of it.
She called on Arab and Islamic states to support the Palestinians of the Gaza Strip and help them to break the Israeli siege imposed on the Palestinian territory since 2007.
Egypt closed the Rafah border crossing, Gaza's only access to the outside world that is not controlled by Israel, on October 24 following an attack on a military site in the Sinai Peninsula that left 31 Egyptian troops dead.
Egypt has tightened its grip on the border with the blockaded Gaza Strip since last year's ouster of Mohamed Morsi – the country's first freely elected president – by the army.
Repeated crossing closures have made life even more difficult for Gaza's roughly 1.9 million residents.
http://www.worldbulletin.net/world/151635/gaza-women-protest-against-gaza-crossing-closure
-----------
Kobane: 'Our children never come back'
26 December 2014
Fikirye Byrum is a 38-year-old Kurdish woman with a thin frame, a white headscarf and a nest of wrinkles around her eyes. She lives in the eastern Turkish province of Diyarbakir in a modest four-bedroom apartment with her two sisters, mother and four remaining children.
When the Kurdish People's Protection Unit (YPG) openly called on all Kurds in the region to join their defence against ISIL, Fikirye's 21-year-old daughter Evrim carefully broached the topic. She asked her mother how she felt about those crossing into Syria to defend her people's community.
"I told Evrim that if I didn't have children, I, too, would've gone to help my people," Fikirye told Al Jazeera, while holding her youngest child in her arms.
On April 3, Fikirye was out of the house when Evrim told her grandmother she was heading out to university. That day Evrim left her phone behind and kissed her baby siblings goodbye.
When her mother arrived home in the evening, she waited a few hours before calling her daughter's friends to locate her whereabouts. With still no word from her daughter, the next day she went into Evrim's room and saw a note by her bedside.
"[In her note] she said I shouldn't worry about her," Fikirye told Al Jazeera solemnly, while taking a deep breath before lighting a cigarette. "That's when I realised she had searched out the PKK."
Evrim is the third member of her family to join the Kurdistan Worker's Party (PKK), a militant group that carried out a three-decade insurgency against the Turkish state and is now engaged with their Syrian affiliates (YPG) in a fight against ISIL. Her younger sister Raperin also left unannounced three years ago. She was only 16 when she joined her uncle in the PKK ranks.
Kurdish families in Turkey have long dreaded the day when their children would join the PKK. While the commencement of the peace process was supposed to offer a new way forward in their quest for greater autonomy and liberation, the threat posed by ISIL has now compelled thousands of young Kurds to protect their persecuted communities.
Because fighters traverse the Syrian border undocumented, the number of people joining the PKK in recent months remains uncertain. But as more cross the border to battle this new threat, their families are left with mixed emotions of despair and honour.
Emre, a 48-year-old shop owner from Diyarbakir, says that his 23-year-old son also joined the ranks of the PKK three months ago after celebrating Eid al-Adha with his family.
"I'm angry at the entire world," said Emre, while showing Al Jazeera a photo of his son. "They push us to death against ISIL while still labelling us a terrorist organisation."
Walet, a 35-year-old Kurdish activist working for Mayader - an organisation managing funeral arrangements for those who lost relatives - said that the corpses of 170 people from eastern Turkey have been retrieved from Syria since January.
In 2012, the US State Department listed the PKK as the deadliest terrorist group in Europe. And though many Kurds have questioned the group's quick resort to violence, family ties with fighters and harrowing memories of state repression have influenced many children to identify with the organisation at an early age.
Emre's close friend Estere says that his 2-year-old son makes the peace sign whenever he sees references to the PKK on television. Despite Estere's unwavering support for his people in Kobane, he's already anxious about his son's potential departure when he grows up.
"If he wanted to join, there is nothing I could do to stop him," said Estere, while pouring a glass of tea in Emre's shop.
Most families receive no word about their relatives, until they die. Fikirye's neighbour promised to look for Raperin while visiting northern Iraq last year.
He returned two weeks later with a photo of her sitting in a field among her fellow combatants.
Although comforted by Raperin's picture, Fikirye still hadn't received any word about her eldest. In October, she turned on the television and recognised Evrim's corpse in the news. Falling to her knees, she wept.
"We're proud of our children," Fikirye told Al Jazeera, after opening Evrim's bedroom for the first time since finding her letter by her bedside. "They've done nothing shameful."
Evrim's room was tidy. The bed was made and her old school books were stacked on a bookshelf next to the door. Sitting on top of the bookshelf stood a collage of portraits. Evrim's high school graduation picture was among them.
While coming to terms with her daughter's death, Fikirye keeps her bedroom untouched and her door closed at all times.
As of today, Fikirye's greatest worry is that her 16-year-old son may also depart to protect his people in Kobane. Resigned to her fate, she finds refuge in her daughter's memory and bitter honour in her death.
"We still suffer from the pain," Fikirye told Al Jazeera, while looking at her son. "We understand that after our children leave, they don't come back."
http://www.aljazeera.com/news/middleeast/2014/12/kobane-our-children-never-come-back-2014121891115546455.html
-----------
Pak Schoolchildren to get civil defence training
26 December 2014
KARACHI: With the country taking administrative and security measures to deal with security challenges following the Peshawar tragedy, the Karachi city administration has decided to launch a civil defence training programme for schoolchildren to prepare them to cope with sudden disasters and assist security forces in the event of a feared terrorist attack, it emerged on Thursday.
The decision was taken at a recent meeting held at the office of the commissioner of Karachi division in which participants exchanged views about preparedness for disaster and post-disaster situations.
The meeting was informed that the director of rescue 1299 had established liaison with the additional director of Civil Defence and the director of School Education Karachi with regard to imparting civil defence training in government schools.
"The training will be started very soon," it was stated at the meeting, according to the minutes of the meeting reviewed by Dawn.
Besides representatives of the city administration and civil defence, the meeting was attended by officials of schools, the Pakistan International Airlines (PIA), the Defence Housing Authority (DHA) and the Sindh Building Control Authority (SBCA).
A representative of PIA said that rescue and civil defence training was also being imparted to the Airport Security Force, Civil Aviation Authority and other employees of Karachi airport.
A DHA representative said the DHA had taken measures to create awareness in its schools and added that the DHA director of school education was already working on the proposal.
A representative of the All Private Schools Management Association told the meeting that they were planning to hold a seminar on the subject soon.
Another representative of PIA proposed developing a "community emergency plan" on the pattern of western countries and suggested that the deputy commissioners should develop such a plan in their districts.
The PIA official said that such a plan also existed in European countries and the US and promised to provide coordination and assistance to materialise the proposal.
The meeting was informed that deputy commissioners had also held a meeting with Civil Defence to raise a 'voluntary force' to meet any eventuality in future.
It was decided that additional commissioner-I Karachi would coordinate and utilise the services being offered by PIA to this effect.
It was also proposed at the meeting that all leading TV channels would be requested to telecast dramas during their prime time aimed at creating awareness of disaster management. Besides, K-Electric and SSGC would be asked to print messages on utility bills to create awareness among the public.
The meeting was informed that the traffic police in coordination with PIA were expected to launch the training programme for traffic police.
A representative of the SBCA claimed at the meeting that the "building plans are approved after satisfaction that the builder has a seismic plan for their buildings and proper firefighting equipment has been fixed."
As far as fire safety was concerned, it was revealed by an electric inspector to the disappointment of the participants that the authorities had again stopped the practice of inspection and checking industrial and commercial establishments. A letter had been written to the secretary of provincial energy department as to why the inspection of factories had been withheld, he said.
In order to meet any eventuality at beaches, the meeting was informed the DHA would fix watchtowers in their area while Karachi Municipal Corporation had accepted an offer by the Citizens Council for Human Rights to install watchtowers in beach area.
It was stated that the Karachi administration had also written a letter to the director general of the National Institute of Oceanography regarding their assessment of different beach areas with regard to their vulnerability in case of tsunami. Additional deputy commissioners of West, Malir and Korangi informed the meeting that they would start awareness messages through mosques.
http://www.dawn.com/news/1153215/schoolchildren-to-get-civil-defence-training
-----------
Iranian students face dangerous schools
26 December 2014
With the arrival of winter in Iran comes renewed fears of a repeat of the 2012 tragedy caused by a school's unsafe heating system.
On Dec. 6, Rasul Khezri, a representative from Piranshahr and Sardasht, announced to parliament that more than 130,000 classrooms in Iran did not have safe heating systems. He said, "Unsafe heating systems in classrooms are among the most important concerns." Khezri made his remarks on the anniversary of a fire in the Enghelab elementary school, in the village of Shinabad, by the border town of Piranshahr.
On Dec. 5, 2012, an oil heater in one of the classrooms of the school for girls in Shinabad caught fire. The school's janitor tried unsuccessfully to put it out with a fire extinguisher. When he then tried to remove the heater, it exploded, engulfing the entire classroom in flames. Out of the 37 students, two died and 29 were injured. Seven of the injured were hospitalized in intensive care, and doctors had to amputate the fingers of three of them because of the severity of the burns.
From February 1998 to December 2012, there were at least seven horrendous school fires in Iran, killing four students and severely injuring 63. The heating systems of some 86% of schools identified as being unsafe after the Shinabad incident remain dangerous.
"Right now, out of the 150,000 classrooms which were not equipped with safe heating systems, about 130,000 of them continue to have unsafe heating systems," said Khezri during an interview with Khabar Online. "Only 20,000 schools were able to equip themselves with safe heating systems, and even that was for the most part made possible by donations."
Shirzad Abdollahi, a Tehran-based education expert, told Al-Monitor, "If we assume that there are about 20 students in each classroom, and since there are at least 120,000 classrooms with unsafe heating systems, about 2,400,000 students, mostly in villages, are studying in classrooms that are unsafe."
Minister of Education Ali Asghar Fani has announced that his ministry lacks the "necessary funds to replace all the oil heaters in the classrooms across the country." He noted Nov. 17 that the ministry faces a budget deficit.
Fani had confirmed on Oct. 17 that about 120,000 classrooms were still using oil heaters and said that instead of replacing them, the ministry would insure the students. According to Fani, "This year, based on our contract with the insurance company, we have arranged for students to be partially compensated in case of fire or other similar incidents."
Abdollahi went on, "The minister has disavowed responsibility for any future incidents that might happen," and added, "There shouldn't be any oil, gas or flame in the classrooms. Classrooms should be equipped with new and central heating systems."
Requesting anonymity, a journalist working for the Reformist newspaper Etemaad told Al-Monitor, "The ministry does not have enough money to make the classrooms safe, so instead, they will insure the students. 'If they burn, we will treat them.' Where else in the world would a minister talk like that?"
According to the Tehran-based journalist, budget deficits are not a justifiable reason for not improving the conditions in schools. "In each society with a responsible government in charge, there are priorities. What he is saying is like saying that we don't have enough money to treat the cancer patients, but if they die we will pay the blood money. A responsible government can cut military expenses in order to allocate budget money for important issues such as this."
Morteza Raeisi, deputy education minister in charge of development, has predicted that starting next year, even in the best-case scenario, only half of schools will be equipped with safe heating systems. In November, he said, "We are hopeful that after receiving the entire budget allocated for this issue, before the end of the financial year [2014] and July 2015, we can raise the number from 28,000 classrooms to 78,000 classrooms. If this is achieved, then half of the classrooms in the country will be equipped with standard heating systems."
Abdollahi is skeptical of claims by high-ranking ministry officials about gradually improving school safety. He stated, "Each year, with the start of the cold season, the Ministry of Education promises to replace the oil heaters. When spring comes, they forget about their promise and postpone it until the next winter."
President Mohammad Khatami had prepared a bill allocating $4 billion to school safety. The bill did not go into effect during his tenure, but was passed by parliament in 2006, during Mahmoud Ahmadinejad's presidency. According to Abdollahi, however, "It was never properly utilized due to the mismanagement of Ahmadinejad's administration."
Given the positions of Fani and other officials at the Ministry of Education, Iranian schools are unlikely to become safer anytime soon. Under the circumstances, Abdollahi recommends that the ministry train teachers and other school officials to deal with fires. He said, "One of the issues is that the officials in schools are not trained to deal with such incidents. There are not enough fire extinguishers in schools, and even if there is a fire extinguisher, no one knows how to use it. The other issue is the safety bars that cover the window. Because of these safety bars, students are trapped in the classroom when a fire occurs."
http://www.al-monitor.com/pulse/originals/2014/12/iran-winter-shinabad-accident-heater.html#ixzz3N30zS7yE
-----------
URL: https://www.newageislam.com/islam,-women-and-feminism/new-age-islam-news-bureau/13-year-old-girl-says-father-gave-her-to-boko-haram/d/100704