New Age Islam News Bureau
18 Jul 2015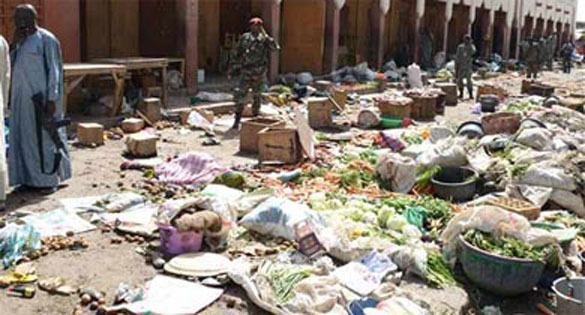 Three girls staged suicide bombings in the Nigerian city of Damaturu, killing at least 13 people.
---------
• 13 Dead As Nigerian Girls Launch Triple Suicide Bombings
• Married at 11 months, Indian teenager seeks NGO's help and moves court to terminate her marriage
• The 'Muslim Tinder' That Sets Up Married Men with Their Next Bride
• Khyber-Pakhtunkhwa: Poll Body Seeks Candidates' List for Women's Seats
• Democratic Republic of Congo Muslim Women Win Prizes for Quran Recitation
Compiled by New Age Islam News Bureau
URL: https://www.newageislam.com/islam,-women-and-feminism/new-age-islam-news-bureau/13-dead-as-nigerian-girls-launch-triple-suicide-bombings/d/103940
------
13 Dead As Nigerian Girls Launch Triple Suicide Bombings
JULY 17, 2015 Gulf News
AFP
Kano, Nigeria: At least 13 people were killed in the Nigerian city of Damaturu on Friday in three suicide attacks carried out by girls as residents prepared for the Eid festival at the end of Ramadan, police said.
Other news agencies are reporting a much higher death toll, though these could not be independently confirmed.
CNN reported that a 10-year-old girl and an elderly woman carried out two of the three suicide bombings on Friday targeting Muslim prayer grounds in Nigeria's northeastern Yobe state, an army spokesman said.
They detonated their devices at screening areas set up by security forces outside two sites where worshippers were gathering for prayers in the town of Damaturu, said Col. Sani Kukasheka Usman, killing nine people and injuring 18.
A day earlier, on Thursday two simultaneous bombings ripped through a market in the city of Gombe, capital of neighbouring Gombe state, killing 64 people and injuring dozens, said officials. One of the blasts was caused by a female suicide bomber, the other by a bomb hidden at the market, they said.
The deadly attacks on Friday struck a region where violence blamed on the Islamic militant group Boko Haram has killed hundreds of people in recent weeks.
The attacks, in an area hard hit by the Boko Haram insurgency, came just days before Nigeria's new President Muhammadu Buhari travels to Washington for talks with his US counterpart Barack Obama.
Buhari is expected to use Monday's meeting with Obama to push for US help to tackle the jihadist violence, which has surged since he took office in May.
Boko Haram have increasingly used young women and girls as human bombs over the past year as part of a campaign of terror, which has left 15,000 people dead and 1.5 million homeless since 2009.
Residents said twin explosions near a prayer ground in Damaturu had killed two people, before a third blast went off moments later near a mosque leaving another 11 people dead, according to medics.
"Thirteen people were killed in the ... suicide blasts," said Markus Danladi, Yobe state police commissioner. "The attacks were carried out by three underage girls. Fifteen people were also injured in the attacks."
The attacks followed a double bombing at a market in the town of Gombe, south of Damaturu, on Thursday evening that killed at least 49 people who were shopping for Eid.
This year's Ramadan has been particularly deadly, with suicide bombers hitting mosques and worshippers gunned down as they prayed.
"There were two blasts near the Eid prayer ground," said Ahmad Adamu, a security volunteer in Damaturu said of Friday's attacks.
"The first blast went off around 7:15am (0615 GMT) while security volunteers who had come earlier than worshippers were waiting for the worshippers so they could assist in crowd control. Two were killed and three were injured," he said.
"While we were attending to the victims we heard another blast about 500 metres (yards) away."
Damaturu is the capital of Yobe, one of three northeastern states worst affected by the insurgency.
Nigeria's new army chief Major General Tukur Buratai was due to visit Damaturu on Friday to celebrate Eid with soldiers battling the jihadists, who have pledged allegiance to Daesh terror group that has seized swathes of Iraq and Syria.
Buhari, a former military head of state, has made the fight against Boko Haram one of the main planks of his administration — but more than 700 people have been killed in attacks since he came to office.
Topping the agenda of his talks with Obama "will be measures to strengthen and intensify bilateral and international cooperation against terrorism in Nigeria and West Africa", a statement from the Nigerian presidency said.
Relations suffered in the latter part of former Nigerian president Goodluck Jonathan's rule, with Abuja considering US aid to fight Boko Haram insufficient.
The West African nation decided to halt a US training programme for an army battalion which would have developed into a unit to take on the militants.
The US State Department reacted by saying it would do what was needed to assist Nigeria.
But it also expressed concern over respect for human rights and protection of civilians during military operations.
The Islamist militants have taken advantage of the transitional period between Buhari's installation and the deployment of a regional force of 8,700 troops, scheduled for late July, to launch deadly attacks on an almost daily basis.
The group has also carried out suicide bombings in neighbouring Chad and Cameroon.
Washington, which has consistently condemned Boko Haram attacks, has said it can provide material aid to Nigerian forces and encourage countries in the region to combat the group.
The United States already shares intelligence on Boko Haram with Nigeria, and last year sent military and civilian advisers to try find the more than 200 school girls abducted from their school in Chibok in the northeast.
The girls are still missing.
http://gulfnews.com/news/africa/nigeria/13-dead-as-nigerian-girls-launch-triple-suicide-bombings-1.1551851
--------
Married At 11 Months, Indian Teenager Seeks NGO's Help and Moves Court to Terminate Her Marriage
JULY 18, 2015
BY NILIMA PATHAK, CORRESPONDENT
New Delhi: Santadevi Meghwal, a brave teenager in Rajasthan, has moved court for legal termination of her childhood marriage. Her parents conducted her marriage when she was barely 11-months-old.
"It is part of a tradition in our village that when an elderly relative dies, a child in the family has to get married within 13 days," Santadevi informed.
Though the marriage function is a small affair and the child bride and groom are only made to sit next to each other, the understanding is that a formal wedding would take place once the girl becomes an adolescent.
The practice of child marriage is widespread in Rajasthan, Uttar Pradesh, Madhya Pradesh, Andhra Pradesh, Jharkhand, Bihar and Chhattisgarh. These states have an average age of marriage below the legal limit of 18 for girls and 21 for boys. According to the 2001 census, about 1.5 million girls were married when they were under 15.
While child marriage is banned in India, it is not 'void' and has to be annulled, should either partner wish to do so.
In Santadevi's case, on turning 16, she learnt about her marriage and protested vehemently. But when her so-called husband and in-laws refused to give in, she decided to fight for her rights and break free.
Here she speaks to Gulf News.
Gulf News: While child marriage is illegal, the tradition continues. What were your reasons for opposing it?
Santadevi Meghwal: I was sceptical about it because my elder sister, who also had a child marriage, suffered a lot. Her in-laws ill-treated and threw her out of the house within four years of marriage. I did not want to suffer the same fate. Moreover, when I turned 16 and my so-called husband Sanwalram and his parents turned up at our house in Rohicha Kallan village in Jodhpur district and I refused to go with them, Sanwalram showed his true colours. He began stalking me when I would go to college. He even threatened to take me away forcibly. The villagers would see him harassing me, but never intervened. Such experiences helped me in my decision to oppose such a marriage.
Did you discuss everything with your parents?
Yes I did, but initially they did not support my decision of not marrying Sanwalram and I used to feel very scared. They were angry because according to them refusal by a girl was unheard of and she was never expected to disobey.
So, how did you convince them?
I was adamant not to accept Sanwalram as my husband. But it was only after I told them how he was harassing me in full public view that they realised the kind of a person he was and understood my point of view.
What was the reaction of the villagers?
No one stood by us. To make matters worse, the village caste panchayat slapped a penalty of Rs1.6 million (Dh92,617) on my parents ordering them to either send me to my so-called in-laws' home or pay the penalty. The community elders boycotted our family and we were forced to leave the village and came to live in Jodhpur.
In what way has life changed for you and your family?
My father, who works in the fields as a daily wage earner, is very supportive now and since I wanted to study further, he is fully backing my decision to educate myself.
How and when did you approach the court to annul your marriage?
I had read about NGO Saarthi Trust and Kriti Bharti, who runs it. One day, I approached her and narrated my story. She first counselled both my parents and then tried to counsel Sanwalram and his parents, but when they refused to budge, she explained to me the anomaly in the law. She advised me to file a petition in court for annulment of the marriage and has been helping me since then.
With what documents did you approach the court?
For an annulment, I had to prove I was underage at the time of marriage. So a birth certificate or a school certificate proves this. The process can work out within three days to six months or even a year, depending on the proceedings. In my case, it might take a longer time because Sanwalram and his parents feel slighted and might continue to bring hurdles. But then I am not bothered. Let them drag the case. I know the law is on my side and I will win the case.
Have any of your friends followed your footsteps?
No, all of them were married early. And even though some of them are unhappy in their marriage, they say there is nothing they can do, as their parents do not support them.
What are your future plans?
I am 20-years-old now and have completed the second year of my graduation. My aim is to become a teacher and guide young children about issues concerning their lives.
BOX
Kriti Bharti, 27, is a child rights campaigner who runs the Saarthi Trust in Jodhpur, Rajasthan. She says, "I find it strange that every year the state's Women & Child Development department wakes up only in the month of April at the time of Akshaya Tritya festival, considered auspicious for marriages. They claim to keep an eye so that no child marriage takes place. But since child marriages take place any time of the year, what's the logic of them coming into action only for a month."
Discussing the remedial approach, she claims, "There is no awareness regarding annulment of child marriage, which is a very important aspect to tackle this issue. It is not possible for my NGO to help each and every child in other states. The government should join hands and do something about it."
Kriti shot to fame in 2012 when 16-year-old Laxmi, who was married off when she was a toddler, approached her. "Laxmi did not want to go to her husband's house and came to me for help," she informs.
A child psychologist, Kriti approached the court on Laxmi's behalf. She says, "Though I knew the law on child marriage had a provision for annulment, it was never tested in court. The judges and lawyers I spoke to had no idea about such a case. Nevertheless, I went ahead and the marriage was declared void. Victory for Laxmi set a legal precedent and gave hope to other girls."
Since Laxmi's husband had consented to terminate the marriage, it was easily dealt with in court. The case not only made it to school textbooks, but also secured a place for Kriti in the Limca Book of Records.
Ever since, Kriti has won 28 more annulments in the family courts and won several national and international awards for her work. She comes to the rescue of child brides married as infants, who wish to annul the marriage they never consented to. Child marriage can result in girls dropping out of school and becoming mothers at an age when they are themselves a child.
http://gulfnews.com/news/asia/india/standing-up-for-her-rights-1.1552136
--------
The 'Muslim Tinder' That Sets Up Married Men with Their Next Bride
By WILL STEWART FOR MAILONLINE
17 July 2015
An explosion of dating apps means finding love in the 21st century is only a swipe away.
Now already-married Muslim men are joining in the fun, thanks to a new Tinder-style app dedicated to helping them find a second wife.
Created by a Russian inventor, the 'My Diaspora' app uses the same principles as Tinder and enables polygamous Muslim men to log on through Facebook and find women close by to flirt with.
But while singletons on Tinder are usually just looking for a date, a relationship or a one-night stand My Diaspora is specifically for men looking for a second wife, and lets them message up to three potential brides-to-be a day.
Women who download the app are asked whether they would consider becoming someone's second wife - ticking 'Yes', 'Probably' or 'Definitely No'.
They are also asked if they are willing to move to another country and convert religion after getting hitched - as well as being asked to provide details about their number of siblings, their jobs and whether they smoke or drink.
App developers even have an 'Add Father' feature, allowing brothers and dads to join in the conversation between two matches, in keeping with Muslim tradition of men and woman meeting in the presence of a patron.
And on many of their profiles the men list their own high expectations - hoping to get lucky second time around.
One Muslim man said he wanted to meet a 'beautiful Muslim girl should be modest and (have) Islamic culture values' in the hope of attracting a suitable woman.
Others using the app stand posing for photos, with one portly man in traditional dress outside a carpet shop, declaring: 'I want good women who married with me.'
Another, hoping to attract women with his positive attitude, writes alongside a selfie: 'Cheer up for yourself, nobody else is as much going to love you as yourself.'
The developers claim to have taken advice from Muslim holy men on the service and stress they allow women to keep information hidden unless they choose to show it.
One man using the controversial service in Russia, which has the same marriage laws as the UK, said he signed up because he wanted a second family.
'I have already notified my wife. Let's see what happens next. Perhaps, she'll mess it up at the wedding, like in some comedy,' he told a local news site.
Popular: British men are said to be signing up in numbers to the smartphone app My Diaspora, looking for potential wives
Women are asked if they are willing to move to another country and convert religion after marriage. They are also asked to provide details about their of siblings, their jobs and whether they smoke or drink
Muslim men can even click an 'add father' button so they can speak to potential spouse's male relatives, in line with traditions
A man on the 'My Diaspora' app uses his charm to attract a female user
Proposals: Men can even click an 'add father' button so they can speak to potential spouse's male relatives, in line with traditions
My Diaspora app sets up married men with their next bride
His second bride-to-be, Amina, knew he was already married from his application as he had ticked a box saying he was looking for 'wife number two'.
She said she wanted to join as she was unmarried and wanted a family.
'I am 30. But Allah hasn't given me a husband. I already want to have children, so I feel okay to be a second wife,' she said.
Because such marriages are not recognised by English courts — and around 70 to 75 per cent of Muslim weddings go unregistered — those who marry under the system are not subject to prosecution.
The Ministry of Justice told MailOnline that anyone committing bigamy in the UK faces a prison sentence of seven years.
I am 30. But Allah hasn't given me a husband. I already want to have children, so I feel okay to be a second wife
Amina, engaged to be a second wife
It is estimated that around 20,000 polygamous marriages have taken place in the UK.
Arsen Kazibekov, the creator of the app, dubbed a Muslim version of Tinder, said the service was simply responding to demand.
'We respect and acknowledge the laws of the countries we're operating, and if there are demands for banning this particular service, we can possibly do that, there are technical ways to do so,' he said.
'Polygamy is legal in 40 countries, and we're not trying to make it more popular.
'In fact, we only launched that service because people were messaging us with their life stories and asking us to do that. So we did. It's a tribute to tradition.'
The app also offers Muslim-friendly dating to its followers, explaining that more than half of those registered are based in either Muslim or conservative societies including Bangladesh, China, India, Indonesia, which generally look down on Internet dating.
These people need to find the right partner, but this cannot be done by existing online dating services because of the cultural needs, it claims.
'A potential spouse is selected not by appearance or personality, but by nationality, religion, class, and many other social conditions,' the website explains.
'Dating as we know it in the West is either prohibited or quietly condemned. Meanwhile, small nations - there are more small nations than large - strive to preserve their national identity and have a need for national Web resources.
'Using the Internet to find the right partner and content which matches one's ethnic and cultural upbringing becomes even more important when people move from their homeland and become members of the diaspora.'
Images advertising this web service have labelled it 'dating according to Oriental traditions' and say it is working towards an international Halal license, which guarantees compliance with all Islamic norms.
The application is understood to operate from Dagestan, a strife-torn mainly Muslim area of southern Russia, which has previously come under attack from ISIS.
But its creators said the application was designed to help migrants to better adjust to the countries they move to, while adhering to traditional practices.
Marry me? One of the many signed up to the new app which allows married men to trawl the website looking for another partner
Matchmaking service: Women looking to be part of a family are encouraged to sign up to the new marriage app
'Our research shows that migrants do things that annoy others not because they are 'bad', but because no one told them what's acceptable and what's not, what are the traditions of the area and such.
'We're trying to fill in this gap and assist cultural integration by telling what's 'good' and acceptable and providing easy-to-understand info on culture and history of countries.
'Migrants often feel insecure, that's why there are ethnic communities forming - people feel comfortable in the environment they know.'
http://www.dailymail.co.uk/news/article-3163858/Swipe-right-second-wife-new-Tinder-style-app-married-Muslim-men-flirt-women-ask-dad-s-permission-bride.html#ixzz3gEasad00
---------
Khyber-Pakhtunkhwa: Poll Body Seeks Candidates' List for Women's Seats
By Qamar Zaman: July 18, 2015
ISLAMABAD:
The Election Commission of Pakistan (ECP) has asked Khyber-Pakhtunkhwa-based political groupings to share names of their candidates in order to fill the reserved seats for women in the tehsil/town council, as well as the district council of the province.
The poll supervisory body has issued a notification in this regard under Article 219(d) of the Constitution, sub-section (1) of Section 75 of the K-P Local Government Act, 2013 read with sub-rule (10A) of rule 42 of the K-P Local Councils (Conduct of Elections) Rules 2014 and all other powers in this behalf.
"The ECP hereby notifies the schedule to fill the reserved seats in tehsil/town council and district council of the province of Khyber-Pakhtunkhwa which remained vacant due to non-filing of nomination papers by the candidates of the respective political parties or exhaustion of the priority lists of candidates of these political parties who secured more seats than the priority lists of candidates earlier provided to returning officers," said the ECP notification.
The K-P government has held direct polls on all seats, except those reserved for women.
The reserved seats would provide an opportunity to the women to play their role in local government. In May, political parties had given tacit approval to a decision under which women were not allowed to vote in Lower Dir during a by-election.
According to the schedule announced by the poll body, the date for filing of nomination papers with the returning officers (ROs) has been fixed as July 24, last date for filing of appeals against decisions of ROs accepting/rejecting the nomination papers is July 28, last date for withdrawal of candidates is 31 July and revised list of candidates would be published on August 1.
The notification further said that the authorised persons of those political parties whose priority list of candidates is exhausted shall submit additional names of candidates under rule 42(10A) on or before the filing of nomination papers by the candidates on July 22 or in case none of the candidates of such political parties has submitted nomination papers earlier but political party has secured number of general seats in district and tehsil/town council, they shall also submit nomination papers to concerned ROs in the district and tehsil council to fill those vacant reserved seats.
According to election results, Pakistan Tehreek-e-Insaf secured more seats than any other party in the province. The party has been given the opportunity, in particular, to submit the list of candidates for reserved seats especially women.
http://tribune.com.pk/story/922808/khyber-pakhtunkhwa-poll-body-seeks-candidates-list-for-womens-seats/
-------
Democratic Republic of Congo Muslim Women Win Prizes For Quran Recitation
By Enver Faruk GÜNEY - Jul 17, 2015 0 18
BENI, Democratic Republic of Congo – Kismati Hassan, 23, won first prize in a Quran recitation contest held Friday at the Beni Islamic School in the Democratic Republic of Congo (DRC)'s North Kivu region.
"I am happy to have won the contest because women like me often simply take care of their families at home," she told Anadolu Agency.
As the winner, Hassan – one of 78 contestants – will have the privilege of going to Mecca, Saudi Arabia on a pilgrimage funded by the Congolese Islamic Community (COMICO).
Kurishidah Rashidi, 41, who won second prize, will take home $400, two bags of rice and a Quran.
The competition is not only about Quran recitation, but also focuses on basic knowledge of Islamic jurisprudence.
Other runners-up received hejabs, bags, Qurans and small sums of money.
"These prizes are meant to reward good learning of the Holy Quran despite the difficulties with which these women must contend," COMICO representative Imam Sheikh Al-hadji Ali Amin told Anadolu Agency.
"Some of them are married and have many domestic responsibilities, yet they were able to find the time to study during the Holy month [of Ramadan]," he said.
http://news.videonews.us/drc-muslim-women-win-prizes-for-quran-recitation-1728445.html
------
URL: https://www.newageislam.com/islam,-women-and-feminism/new-age-islam-news-bureau/13-dead-as-nigerian-girls-launch-triple-suicide-bombings/d/103940