New Age Islam News Bureau
24 Sept 2019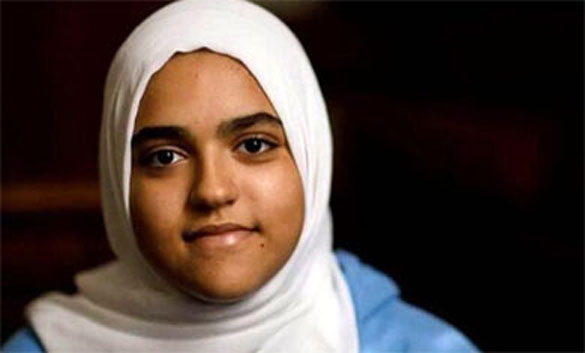 Fatima Abdelrahman, Image Credit: Twitter
----
• Muslim Students Express Faith and Style with Hijabs
• For Kurdish Iraq's Women Entrepreneurs, Persistence Pays Off
• GCC Countries Miss Chance To Grant Women Full Citizenship Rights
• SC Pulls Up U P Home Secretary for Not Replying To Minor Muslim Girl's Petition
• Sister Of Jailed Saudi Women's Rights Activist Says She Is Forced To Endure 'Emotional Rollercoaster' Due To Authorities' Silence
• U.N. Says Women and Babies At Risk In Yemen As Funds Crunch Forces Clinics To Shut
Compiled by New Age Islam News Bureau
URL: https://www.newageislam.com/islam-women-feminism/12-year-old-californian-girl/d/119822
--------
12-Year-Old Californian Girl Fatima Abdelrahman, Who Is Part of the U.S. National Junior Squash Team Forced To Remove Hijab by Air Canada
September 24, 2019
Marwa Hamad
Air Canada has left a young girl feeling "degraded" after forcing her to remove her hijab in view of other passengers last month.
12-year-old Californian girl Fatima Abdelrahman, who is part of the U.S. national junior squash team, was waiting to board a flight to Toronto en route to an international tournament on August 1, when an Air Canada staff member approached her and demanded she remove her head scarf as part of a "pre-boarding identification procedure", according to the Muslim civil rights group Council on American-Islamic Relations (CAIR).
The young girl explained that she wears the head scarf for religious reasons and repeatedly requested for a private screening area. However, Air Canada employees denied the request and forced Abdelrahman to publicly remove her hijab in a nearby tunnel.
"Like taking off a limb"
"The Air Canada agent said you need to take that off — he pointed at my scarf — and I said I can't and he said you have to," Abdelrahman told CBS outlet KPIX in a video call.
"Taking it off isn't just like taking off a sock or taking off whatever, it's almost like taking off a limb. It's a big deal to me. It's part of my Muslim identity and who I am as a person. So when someone tells me to casually take it off and hurry up, it's degrading," she said.
According to the official website of the Department of Homeland Security, TSA agents, who are typically responsible for screening procedures, are required to accommodate private screening requests.
"At any time during the process, you may request private screening accompanied by a companion of your choice. A second officer of the same gender will always be present during private screening," their website states.
Ehsan Zaffar, a Senior Policy Advisor at the US Department of Homeland Security, reiterated this in a 2013 article on travelers' rights.
"Muslim women who wear the hijab (head covering or scarf) may ask to be screened privately by a female TSA officer if removal of a head covering is absolutely necessary," he wrote.
Twitter backlash
The debacle took place at San Francisco airport, after which Abdelrahman's older sister Sabreen took to Twitter to demand an explanation.
"@AirCanada pls explain why you pulled aside my 12yr old sister for flight 758 making her take off her hijab AT THE GATE?? AFTER she already passed security??" wrote Sabreen. "Thx for ruining her experience as the first U.S. National Team Squash player in Hijab + her first time traveling alone."
A brief response from Air Canada arrived, which mixed up the two girls' relationship to one another.
"Hello Sabreen, we are truly sorry to hear about this situation and we certainly understand your concerns. May you please DM us your daughter's booking reference so we can better follow-up?" they wrote.
"You can't even get it right. It's her sister," one Twitter user replied.
Others did not understand the significance of the hijab, comparing it to removing a ball cap, hat or sunglasses.
"No need to apologize," a woman tweeted. "I'm glad for this because anyone can hide anything in a hijab. No offence but it's true."
Mubin Shaikh, a former security intelligence and counter terrorism operative, wrote: "Give them a free vacation package and make it right. Also: get corporate training, this is wildly unacceptable. Or, get sued. Choose wisely."
Some added that they would not be flying with Air Canada any longer.
Civil Rights Complaint
According to Canadian publication Toronto Star, the Muslim advocacy organisation CAIR are now launching a formal civil rights complaint against the airline, which is the country's largest and has been in operation since 1937.
"CAIR-SFBA (San Francisco Bay Area), along with our client, are committed to ensuring that in the future individuals hoping to travel with Air Canada or other airlines are not subject to differential treatment based on their religious beliefs and how they choose to observe their faith," said CAIR-SFBA's Civil Rights & Legal Services Coordinator Ammad Rafiqi, in a statement.
"We hope Air Canada will show responsibility by coming to the table in good-faith to ensure that Fatima is made whole for having her right to privacy violated and the ensuing distress she felt during the trip."
https://gulfnews.com/world/americas/12-year-old-girl-forced-to-remove-hijab-by-air-canada-1.66635945
--------
Muslim Students Express Faith and Style with Hijabs
Sep 24, 2019
Hijabs, a religious headcovering worn by some Muslim women, are starting to appear in the Western fashion industry.
Halima Aden, a 21-year-old Somali-American, became the first model to walk in New York Fashion Week wearing a hijab in 2017, W Magazine reported. She has been featured in British Vogue, campaigns with Fenty Beauty and American Eagle, and was one of E! News' Front Five hosts for this year's NYFW.
Brands like Dolce & Gabbana, DKNY and Tommy Hilfiger have made special collections featuring the hijab, Mic.com and Fortune.com reported. The hijab fashion industry is set to reach $488 billion this year, WHYY reported.
"Hijab has transformed not only with the culture and society of the time but also with the way that women perceive it and choose to cover," said Nora Alamiri, a senior public health major and member of the College of Public Health's Diversity Committee.
It wasn't easy to be a hijabi as a child in King of Prussia, Pennsylvania Alamiri said. Today, Muslim girls can look to Congresswoman Ilhan Omar (D-MI) and Olympian fencer Ibtihaj Muhammad to see themselves in mainstream American culture, but these role models weren't visible when Alamiri was growing up, she added.
"I had to come to my own decisions and my own beliefs that this is something for me that is a symbol of strength and I choose to wear it because truthfully, I don't want to be like everybody else," Alamiri said. "I want to stand out because, even now in a country where so much is homogenized, it's kind of unique and cool."
President of Ahmadiyya Muslim Student Association for Women and senior biology major Kurat Abaidullah said that growing up, she felt her hijab made her unique when she was a student at Little Flower Catholic High School for Girls in Hunting Park. Now, she's happy to be among fellow hijabis and other Muslim students on campus.
"At Temple, fashion in Islam unifies us because when people are walking around like, 'Hey I like your shoes' or 'Hey I like your sweater,' [Muslim girls are] going around like, 'Oh my god, where did you get that hijab? I love that!'" Abaidullah said.
Typically, Abaidullah said, she shops at The Islamic Place, which sells modest clothing like the hijab. She and other hijabis have made do with scarves from department stores like Kohl's and Sears, but a growing online presence from brands like Haute Hijab and Annah Hariri have made hijabs more available.
This evident demand, combined with a desire to fuse hijabi and street style, has inspired Alamiri to create her own hijabs.
Her first design — slated to be sold on the up-and-coming Philadelphia clothing brand Live By Faith, Inc. — is a plain white scarf with a colorful floral background. Over the flowers is the Arabic word "Modesty," a nod to Alamiri's own heritage. Below, in English, bold letters say "For modesty." She chose modesty because it's the whole purpose of the hijab.
"Modesty means something different to everyone," she said. "It's everyone's personal choice, and whatever way she chooses to cover, that's up to her. Modesty is a spectrum, and you cannot judge somebody for the way she chooses to cover."
Hafeezat Bishi, a sophomore communication and social influence major, said people misinterpret the religious meaning of modesty.
"Hijab means 'of modesty,' so when you wear hijab you have to be modest not only in outward appearance but in how you speak, but people like to conflate that with being docile," Bishi said. "A lot of people don't think a woman in hijab can be outspoken, can be a leader, can make a change, which is what these women are doing right now."
Modest fashion being more visible is definitely a good thing, Alamiri said, but she urged people to be wary of major fashion labels who do not use authentic hijabi models.
"I think that's dangerous when you use someone who isn't of the culture to represent the culture because there's a fine line between representation and misuse of minorities," she said.
Alamiri said she buys her hijabs from hijabi entrepreneurs to support women who share her values, which she hopes people will remember as the hijab becomes more en vogue.
"If people don't forget that it's a religious symbol, I think it's great," Abaidullah said. "I think the second they start abusing it and making it more of a fashion statement instead of realizing that it's a symbol that you're a Muslim ambassador, it might become a slippery slope."
https://temple-news.com/muslim-students-express-faith-and-style-with-hijabs/
--------
For Kurdish Iraq's Women Entrepreneurs, Persistence Pays Off
September 23, 2019
IRBIL, Iraq: Smiling proudly, Zilan Serwud welcomed hungry customers swarming her newly-opened food truck in Kurdish Iraq. But launching the venture required more than just permits and loans: Serwud needed family approval.
Lingering societal prejudice, family pressures and an under-developed private sector have constrained women from breaking into the Iraqi workforce, including in Kurdistan.
That didn't stop 22-year-old Serwud.
She launched Zee Burger in the regional capital Irbil last month, offering no-fuss fare of burgers, fries and onion rings served at small wooden tables.
The journey to get there was nowhere near as simple.
The first step to any female-run business, said Serwud, was convincing relatives the venture would not be looked down on by the Muslim-majority, conservative society.
"I heard some people say: 'she has a father and brother, why should she run the restaurant?'" Serwud said.
"But if you have an idea or want to develop yourself, you should not listen to hearsay."
Her family gave its approval, and she received funding from the German development agency (GIZ) to purchase mobile kitchen equipment.
Serwud's father helped pick out the kitchenware and her brother Bayad even flips burgers part-time in the yellow-and-purple food truck.
"I am super happy now that I have my own business. I feel I've obtained my freedom and am showing everyone, this is what I am capable of," said Serwud.
In Iraq, only 15 percent of working-age women are in the labor force, one of the lowest rates in the world, according to a 2018 demographic survey by the regional government.
Among employed women in Kurdistan, up to 75 percent work in the public sector, making female entrepreneurs an especially rare breed.
The biggest obstacle is defamation by conservative elements of Iraqi society who see economically-autonomous women as too liberal or even promiscuous.
"What actually destroys women in our society is the word 'shameful'," said Diman Fatah, 59, who opened Irbil's first female-run plant nursery and chairs a botanical club with 450 members, including 25 women.
"Women are afraid to innovate or develop themselves because of what other people might say about them," said Fatah.
Some recent comments on the Facebook pages of female-led businesses described the owners as "silly" and insisted that "women are responsible for work at home."
But through solidarity and persistence, a gradual shift has become noticeable.
Besides caring for literal buds, Fatah's club helps women-led ventures flourish by encouraging owners to "be confident."
"Don't give up and don't be silent about your rights," she urges peers.
"When a woman starts her own business in our society, she does not only earn money. She raises awareness about equality and paves the way for other women to enter the market and obtain their freedom," she said.
A 2013 United Nations survey found that 66 percent of Iraqi youth support the right of women to work, compared to just 42 percent among the elderly — a marked generational improvement.
Avan Jaff, a female Kurdish labor activist who publishes online testimonies of women entrepreneurs, said she had noticed a shift, too.
"It is not because society has become open-minded all of a sudden," said Jaff.
"Yes, some have become more tolerant, but the rest realized that women are resilient and do not give up in pursuing their passion. They think their comments are not effective anymore, so they don't engage," she explained.
Still, a host of challenges remain.
In practice, some Iraqi laws prohibit women from working in particular industries that require physical labor or overnight work.
Women workers who go on maternity leave in Kurdistan are not guaranteed their positions when they return, and many who do start ventures are pressured to cede some decision-making to their male relatives.
"It is the family who decides how to spend the profit or where they should invest, not the women," said Jaff.
About 100 kilometers (60 miles) east in the city of Rania, Shawnem Hussein's Sky Fitness health center boasts 150 female subscribers.
Members dance Zumba and share stories.
"These women are not coming only to work out, but also to mingle, chat with other women and talk about their problems," said Hussein.
One of them, a gym member who asked to remain anonymous, said seeing the success of Sky Fitness had fed her own dreams of opening a restaurant in her hometown.
But, in a sign of the enduring conservatism in some parts of Kurdistan, her husband swiftly shattered her hopes.
"He told me, the day you open the restaurant will be the last day you come home," she said.
https://www.arabnews.com/node/1558516/middle-east
--------
GCC Countries Miss Chance To Grant Women Full Citizenship Rights
Sebastian Castelier
September 21, 2019
Half of the Gulf Arab states imposed an abrupt blockade on neighboring Qatar June 5, 2017, and ordered their citizens to exit the emirate within 14 days, leaving people across the region dumbstruck.
Among those instructed to "return home" forthwith were thousands of men and women who often had little connection to the blockading countries other than a Saudi, Emirati or Bahraini father. But nationality in the Gulf Cooperation Council has historically followed the male bloodline and those born from a Qatari mother and a foreign father are not automatically entitled to become Qatari.
But for many born from cross-national marriages, home is in Doha, where they have lived under the sponsorship of their mother for decades. Why would a blockade force them to leave, they wondered.
Although this unprecedented diplomatic crisis jeopardized the bedrock of the social construct of the Gulf countries, it could have triggered long-awaited progressive citizenship reforms for women. "We would have given Qatar a lot of credit for being the first to have moved forward," said Rothna Begum, Middle East women's rights researcher for Human Rights Watch.
But that did not happen. Regardless of their years-long commitment to implement the Convention on the Elimination of Discrimination against Women, none of the GCC countries made the move.
Legal amendment
In a bid to mitigate the impact of the blockade on mixed-citizenship families, the Qatari government amended its family law in September 2018. The addendum stipulates that up to 100 people a year are entitled to permanent residence status, with priority given to children of Qatari women married to non-Qataris. It offers access to the same social rights as Qatari nationals, including "free health care and education in government schools" as well as "priority in government jobs," Al Jazeera reported.
However, rights organizations call 100 new permanent residencies a year insufficient, as cross-national marriages between Qatari women and GCC nationals are quite common: They made up 7% of 2,069 unions registered in 2015, according to the Doha International Family Institute.
Moreover, a senior official at the National Human Rights Committee of Qatar told Al-Monitor that most applicants are "upset" because their applications for a permanent residency are still being processed and "nothing much seems to be happening." The committee's annual report also reveals inequalities in term of salaries, allowances, grades, housing, social security rights and inheritance.
The Ministry of Interior did not respond to Al-Monitor's requests for comment.
Begum, like some human rights organizations, believes that momentum is growing to resolve a crisis that damages the familial relations that have traditionally spanned national borders. The issue has also sparked debate in Saudi Arabia, where 700,000 Saudi women are reportedly married to foreigners.
Tribal dynamics and women's rights
Two decades ago, then-Qatari Minister of Justice Najeeb Al Nuaimi made tremendous efforts to grant female Qatari citizens the right to pass on citizenship, without success. "There was a lot of resistance," the prominent human rights lawyer told Al-Monitor, saying that officials argued women could be preyed on by foreigners seeking a powerful passport for their children.
This ideology lives on among some segments of society. Qatari feminist Maryam Ali Al Hajri believes such claims "reinforce preconceived ideas that Gulf women are weak."
According to a Qatari sociologist who spoke to Al-Monitor on condition of anonymity, the government discourages Qatari women from marrying foreigners as the indigenous population is already a small minority — foreign citizens in Qatar account for 88% of the total population.
"Qatari-Qatari marriages are also socially and culturally easier," he added, saying that men traditionally pass on family names and maintain the tribal identity. Conservatives would see granting this right to women as a threat to ancient tribal dynamics.
In 2014, the Riyadh Agreement stipulated that Qatar must "stop granting its citizenship to GCC nationals" while Bahrain called for the "end to the naturalization of some of its well-established Arab families by Qatar authorities," reported Dubai-based Gulf News.
Permanent residences appear to be a middle-ground solution that helps sort out convoluted personal situations without sparking conflict within Qatari society.
Al Hajri regrets that in the region, reforms remain the prerogative of governments and ruling families rather than the outcome of a dialogue between civil society and decision-makers. Al Nuaimi laments the absence of freedom of political speech in the Arabian Gulf.
In August 2019, the Qatari authorities interrogated a group of Qatari women who created QatarFem, a Twitter account to advocate for women's rights in the emirate. A source close to the matter told Al-Monitor that they were ordered to promptly put an end to any public activism.
Fear of opening Pandora's box
Rothna Begum bemoans that children of Qatari women and non-Qatari men having to apply for citizenship makes of it an arbitrarily granted privilege rather than a right. "That has lots of impacts. You can't be critical of governmental policies, for instance," the researcher said.
Other Gulf states have similar legislation in place. The United Arab Emirates announced in May 2019 that 3,354 children of Emirati women married to foreign fathers will be granted citizenship. Two months later, Qatar reiterated its long-standing position during the 73rd session of the Committee on the Elimination of Discrimination against Women: "Nationality is passed according to blood relations" but "In the country's constitution, the child is linked to the father."
But beyond concerns of stirring controversy among the patriarchal society, it is perhaps fear of opening a Pandora's box that prevents the Gulf countries from moving forward.
Al Hajri believes so, as "those who have lived in the region for decades might also claim rights to citizenship." There are millions of mostly-Asian foreign workers whose tedious work made most of the staggering economic development in the Gulf over recent decades possible.
The son of a Qatari woman and a foreign father interviewed by Al-Monitor said that allowing women to pass on citizenship could result in the rapid growth of Qatari passport holders, possibly diluting the Qatari identity and affecting the state's capacity to provide its citizens with tremendous social security benefits.
"I am sure my mother would love her children to be Qataris because we've lived here our entire life and Qatar is our home. But with or without citizenship, I don't care, this is my country," said the man, who did not wish to be named.
https://www.al-monitor.com/pulse/originals/2019/09/gcc-missed-opportunity-women-pass-citizenship-qatar.html
--------
SC Pulls Up U P Home Secretary for Not Replying To Minor Muslim Girl's Petition
Sep 23, 2019
The Supreme Court on Monday directed the Uttar Pradesh government to produce before it the 16-year-old Muslim girl, who is presently being kept at a children's home in Lucknow after her marriage was declared void by the Allahabad High Court, and also pulled up the state for not instructing its lawyers on her appeal.
The top court, which also directed the father and the 'husband' of the girl to remain present before it on October 1, asked the state government to properly take care of the girl, who had moved the apex court on the grounds that the high court did not consider the Mohammedan Law while annulling her marriage.
A bench headed by justice N. V. Ramana came down heavily on the state government for its failure to either file response earlier on the petition or properly instruct its lawyers and questioned why she was initially kept in a 'nari niketan' (women's shelter home).
"Uttar Pradesh do not have lawyers to defend them? No instructions are given to the lawyers who appear in the matter. Is this the way you behave?," the bench, which also comprised justices Sanjiv Khanna and Krishna Murari, said after the home secretary of Uttar Pradesh appeared before it.
"It is a serious matter where a girl has been kept in a juvenile home and you do not assist us," the bench said, adding, "The girl is in a 'nari niketan'."
"How can she be kept in a 'nari niketan'?" the bench asked.
Senior advocate Aishwarya Bhati, appearing for Uttar Pradesh, informed the bench that the girl has now been shifted to a children's home in Lucknow.
"That is because we have interfered," the bench said.
The girl's father had lodged a police complaint alleging that his daughter had been kidnapped by a man. Thereafter, the girl recorded her statement before a magistrate in which she said that she had married the man out of her free will and wanted to stay with him.
Advocate Dushyant Parashar, appearing for the girl, told the bench on Monday that she is a 16-year-old and had married on her free will.
Referring to Mohammedan Law, Parashar said once a female attains the age of puberty, that is 15 years, she is independent to take decisions for her life and is competent to marry any one of her own choice.
To this, the bench said, "We will order for appearance of the girl. Let her come."
The top court said it would also ask a doctor, preferably psychiatrist, to interact with the girl.
"We will also ask her husband to appear before us," the bench said.
Bhati told the bench that they would also produce her father before the court on the next date of hearing on October 1.
At the end of hearing, the bench told state home secretary to ensure that lawyers appearing in any matter before the court should be properly instructed.
While orally asking the home secretary to file an undertaking in this regard, the bench noted in its order that it was forced to direct him to appear before the court due to the "non-responsive attitude" of the state.
It said the home secretary has "expressed regret" and assured the bench that the counsel would be properly instructed and counter affidavit on behalf of the state would be filed.
The apex court also asked its registry to request for appearance of a doctor, preferably a female psychiatrist, from All India Institute of Medical Sciences, New Delhi, on the next date of hearing.
The apex court had last week summoned the home secretary of Uttar Pradesh while taking a serious view of the state government's failure to respond to a plea by the girl, who has challenged the high court's order by which her marriage was found to be void. The top court had earlier agreed to examine the plea of the girl who has been ordered to stay in a shelter home for women in Uttar Pradesh after her marriage was found to be void.
The girl has challenged the high court's July order, which dismissed her petition against a trial court directive sending her to a shelter home at Ayodhya.
The high court had observed that since she was a "minor," her case would be dealt with in accordance with the Juvenile Justice (Care and Protection) Act, 2015, and as she did not want to join her parents, the order sending her to the shelter home was correct.
The girl has told the apex court that high court failed to appreciate the fact that her 'nikah' (marriage) is in accordance with the Mohammedan Law.
The plea, which said that her right to life and liberty may be protected, contended that she was in love with a man and they performed the 'nikah' in accordance with the Mohammedan Law in June this year.
The trial court had directed that she be sent to the child welfare committee for safe custody and protection until she attains the age of 18.
In her plea, she has said that she should be freed from the shelter home during the pendency of the appeal before the top court.
https://www.telegraphindia.com/india/sc-pulls-up-up-home-secretary-for-not-replying-to-minor-muslim-girl-s-petition/cid/1707025
--------
Sister Of Jailed Saudi Women's Rights Activist Says She Is Forced To Endure 'Emotional Rollercoaster' Due To Authorities' Silence
Maya Oppenheim
Sep 24, 2019
The sister of a prominent Saudi women's rights campaigner who has allegedly been tortured in prison has vented her frustrations about not receiving any information about her trial or release date from authorities.
Loujain al-Hathloul, who campaigned to win Saudi women the right to drive and was arrested several times for breaking the recently overturned driving ban, was arrested in May 2018 alongside 10 other women's rights activists in the kingdom.
Some of the women made appearances in court earlier this year to face charges linked to their human rights work and contacts with foreign journalists and diplomats but it has been months since the trial has convened.
At least three of the women, including Ms al-Hathloul, were placed in solitary confinement for months and forced to endure abuse including electric shocks, flogging and sexual assault, according to human rights organisations.
Lina al-Hathloul, her younger sister who lives in Brussels, has said coping with the uncertainty around her case is an "emotional rollercoaster" for both Loujain and her family.
"The trial has been suspended without any information about it. She is waiting without any information. Waiting is very tiring when you do not know what the procedures are," the 24-year-old told The Independent.
"It is very psychologically exhausting for both her and the family. We have hope even though we do not have any information but it takes a lot of energy to have this hope."
Ms al-Hathloul said she and her brother had been banned from contacting Loujain since the trial began but her parents still talk to her once a week for 10 minutes on the phone, and visit her monthly.
She said: "We are never really sure about the conditions she is in because they do not let her speak freely. She is imprisoned arbitrarily. Nothing she does is free – even her conversations with her family. However, she is managing to stay strong.
"But if the Saudi government are sincere about the reforms on women's rights then they should release the women who asked for these reforms."
The Independent has contacted the Saudi embassy in the UK for comment.
Lina al-Hathloul, who works in a solar energy start-up, explained she could not return to Riyadh to see her parents because her family have been banned from the leaving the kingdom – adding that there was no official documentation or legal basis for this ban.
She made a public statement at the United Nations Human Rights Council in Geneva on Monday which called for the immediate and unconditional release of her sister.
Her comments come after her family said Loujain al-Hathloul had been offered release from jail if she stated publicly that she had not been subjected to torture behind bars.
Ms al-Hathloul, a University of British Columbia graduate, has told her parents she has been beaten, waterboarded and threatened with rape and murder while in prison.
"They saw that her hands were shaking, they saw the signs of torture – the burns and bruises on her legs," her brother told The Independent in March.
He added: "One of the interrogators put his legs on my sister's legs like you would put your legs on the table. He was smoking and puffing in front of her face".
Saudi officials have denied the torture allegations, and said said they were investigating claims of maltreatment.
Government figures have claimed the activists were a threat to national security.
https://www.independent.co.uk/news/world/middle-east/loujain-al-hathloul-saudi-arabia-prison-jail-sister-lina-activist-a9117361.html
--------
U.N. Says Women and Babies At Risk In Yemen As Funds Crunch Forces Clinics To Shut
SEPTEMBER 5, 2019
LONDON (Thomson Reuters Foundation) - The United Nations warned on Thursday that more than half its reproductive health facilities in war-hit Yemen would close by the end of this month, putting the lives of women and babies at risk, unless it got more funding.
The UN Population Fund (UNFPA) said it had closed 100 facilities at the end of August and would have to shut 75 more this month, leaving 650,000 women and girls without access to vital services.
The facilities perform a crucial role in treating pregnant and lactating women for acute malnutrition in a country pushed to the brink of famine by conflict. The UNFPA estimates that 1 million pregnant women in Yemen are malnourished.
"We are now trying to reach as many women as possible with a minimum package of reproductive health services, so that no woman dies giving life," said Nestor Owomuhangi, the UNFPA's deputy representative in Yemen.
"The closure of these reproductive health facilities would mean that in the immediate term, 100,000 women who may develop life-threatening complications would not be able to access the services they require."
The UNFPA, which supports 268 clinics in Yemen, said it had raised just $33 million of the $110 million it needed for 2019. The funding shortfall has already forced the agency to stop buying in medical equipment and supplies.
"The immediate impact is that the quality of services is compromised," said Owomuhangi.
"Clearly you could lose a number of women and babies as result of the lack of quality," he added, citing the risk of premature babies dying for the lack of an incubator.
In Yemen, a woman dies from complications of pregnancy and childbirth every two hours, according to the UNFPA.
Due to the conflict, only about half of Yemen's health facilities are functioning and many women already have to travel far to get to a clinic, risking being stopped at checkpoints along the way.
Even before the conflict Yemen was the poorest country in the Middle East and the country now faces the worst humanitarian crisis in the world, according to the United Nations.
A Saudi-led coalition has been fighting the Houthi group in Yemen since March 2015. The coalition is backed by Western countries including the United States and Britain.
https://www.reuters.com/article/us-yemen-women-health/un-says-women-and-babies-at-risk-in-yemen-as-funds-crunch-forces-clinics-to-shut-idUSKCN1VQ2B1
--------
URL: https://www.newageislam.com/islam-women-feminism/12-year-old-californian-girl/d/119822
New Age Islam, Islam Online, Islamic Website, African Muslim News, Arab World News, South Asia News, Indian Muslim News, World Muslim News, Women in Islam, Islamic Feminism, Arab Women, Women In Arab, Islamophobia in America, Muslim Women in West, Islam Women and Feminism