New Age Islam News Bureau
11 July 2022
• Saudi Arabia Women Don Colourful Robes at Guardian-Free Hajj
• Saudi Authorities Seize Rainbow Toys For Promoting Homosexuality
• Saudi Women Unemployment Rate In Q1 Lowest In 20 Years
• Pressure Ramps Up In Iran To Impose The Compulsory Hijab On Women
• Saudi Arabia Focused On 'Real Empowerment Of Women,' Says Kingdom's UN Envoy
Compiled by New Age Islam News Bureau
URL: https://newageislam.com/islam-women-feminism/child-marriages-hindus-muslims/d/127458
--------
12 Million Child Marriages, 84 Per Cent Hindus And 11 Per Cent Muslims In India, Rival The Population Of J&K, Shows Data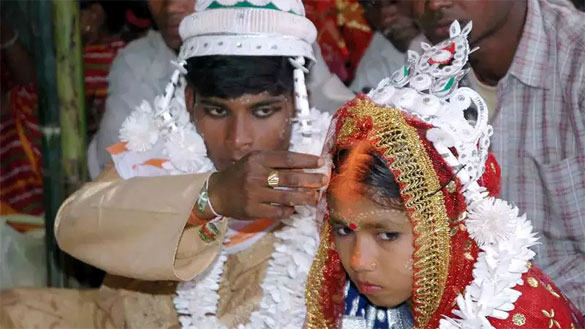 Photo: Shutterstock
-----
July 10, 2022
Nearly 12 million Indian children were married before the age of 10 years — 84 per cent of them Hindus and 11 per cent Muslims —reveals an analysis of recently released census data. To put it in context, this number is equivalent to Jammu & Kashmir's population.
As many of 7.84 million (65 per cent) married children were female, reinforcing the fact that girls are significantly more disadvantaged; eight in 10 illiterate children who were married were also girls.
The data further reveals that 72 per cent of all Hindu girls married before 10 were in rural areas, compared to 58.5 per cent Muslim girls, with higher levels of education correlating with later marriage.
Jain women marry late (at a median age of 20.8 years), followed by Christian women (20.6 years) and Sikh women (19.9 years). Hindu and Muslim women have the lowest median age at first marriage (16.7 years), according to a report by Nirantar: A Centre for Gender and Education — a Delhi-based advocacy group. Women from urban areas, on average, marry more than two years later than their rural counterparts.
Chart
The report also noted that the level of teenage pregnancy and motherhood is 9x higher among women with no education than among women with 12 or more years of education.
As many as 5.4 million (44 per cent) married children under 10 were illiterate — 80 per cent of them female — indicating how lower levels of education correlate with early marriage.
As many as 1,403 females have never attended any educational institution for every 1,000 males who have not.
In developing countries, girls with less access to quality education are more likely to marry early, wrote Quentin Wodon, an advisor in the World Bank's education department.
Better and safer job opportunities for girls may also reduce child marriage, as might better access to basic infrastructure (water, electricity), which frees up time spent on domestic chores for schooling, wrote Wodon.
Source: Business Standard
https://www.business-standard.com/article/current-affairs/12-million-child-marriages-rival-the-population-of-j-k-shows-data-122071000505_1.html
--------
Saudi Arabia Women Don Colourful Robes at Guardian-Free Hajj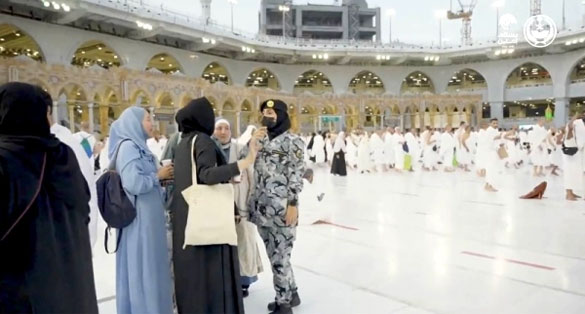 Women pray in the shade as they face the very hot desert weather, during the annual hajj pilgrimage in the Saudi holy city of Mecca. (Credits: AFP)
----
JULY 11, 2022
With her husband back at home in Tunisia and draped in a national flag, Laila al-Qarni urges all Muslim women to attend Saudi Arabia's hajj without a male guardian, after the requirement was shelved last year. The Saudi authorities' move has brought a whole new dimension to the annual pilgrimage. "Why do women have to be accompanied by a male anyway? Why?" she said, speaking near the Grand Mosque in Mecca, Islam's holiest city, in western Saudi Arabia. "Women are capable of handling themselves. I encourage every woman to come here without a male guardian," the 60-year-old added. This year's hajj, the first large-scale edition since the guardian requirement was dropped in 2021 amid Covid, has taken on a different hue with thousands of unaccompanied women joining the rituals.
Many of them have abandoned the black robes traditionally preferred by hajj organisers, adding a dash of colour with reds, greens, oranges and blues dotted around the crowds.
Arab women should be "courageous and able to adapt" to different circumstances, said Al-Qarni's sister, Hayat Abdul Malek.
"A woman is worth 100 men," said the mother of three, who managed 1,400 employees at the company where she worked before retiring.
Last year, the Saudi hajj ministry allowed women of all ages to make the pilgrimage without a male relative, known as a "mehrem", on the condition that they go in a group.
Authorities previously stipulated a male guardian for any female pilgrim under the age of 45, preventing many women around the world from performing one of the five pillars of Islam.
Al-Qarni's husband could not attend because he is over the maximum age of 65.
The new ruling has also encouraged women over 45 who had been hesitant to attend without their brothers, sons, fathers or husbands.
Don't be scared
One million people, including 850,000 from abroad, are allowed at this year's hajj after just tens of thousands could attend over the last two years, due to pandemic restrictions.
On Saturday, the local women of Mecca are expected to celebrate the first day of Eid al-Adha, which marks the end of the hajj, in traditional, colourful Saudi dresses that were abandoned for decades before recent moves to modernise the conservative country.
The decision to drop the "mehrem" is part of the social reforms rolled out by de facto leader Crown Prince Mohammed bin Salman, who is trying to shake off the kingdom's austere image and open up its oil-reliant economy.
Since his rise to power in 2017, women have been allowed to drive and to travel abroad without a male guardian. Counter-balancing the new freedoms, critics of Prince Mohammed's rule have also suffered a harsh crackdown.
Suhail Mohammed, an Egyptian pilgrim and mother of three, has worked as a manager in a department of the ministry of defence for more than three decades.
"Come and don't be scared," she said, encouraging other women to make the trip without male relatives.
"It gave me confidence… It empowered me and made me stronger," she said of tackling the five-day pilgrimage.
"Women who stay at home are the ones who can feel afraid" of performing rituals such as the hajj, which requires mental and physical resilience, she added.
Gender gap
Women in the Arab region have long faced a combination of "patriarchal structures, prolonged insecurities, and protracted crises", a Middle East Institute study said in October.
"The Arab region's diverse collection of 22 countries has one thing in common: women continue to experience a backlash against their own long-overdue rights and fundamental freedoms," it added.
The region ranks the "lowest in the world in terms of women's rights, with a gender gap that needs 153 years to close".
Despite hardships, women in countries such as Tunisia and Lebanon enjoy more social freedoms than others.
Things are also changing in the Gulf region, with more women entering the workforce and some going into politics, holding cabinet positions in the United Arab Emirates and parliament seats in Kuwait.
In Mecca's Grand Mosque, many women this week performed the opening hajj rituals alone.
Some of them video-called their relatives back home, and others read long prayers from electronic tablets.
"For those (women) who are able to (perform the hajj), don't lose the opportunity," even if it means going without a male guardian, said retired Egyptian financial expert Faten Abdel Moneim, 65.
"This is a spiritual joy that cannot be described. You are in the house of God, what more could you ask for?"
Source: News18
https://www.news18.com/news/buzz/worth-100-men-saudi-arabia-women-don-colourful-robes-at-guardian-free-hajj-5529217.html
--------
Saudi authorities seize rainbow toys for promoting homosexuality
By David Gritten
Authorities in Saudi Arabia have been seizing rainbow-coloured toys and children's clothing, which they claim encourage homosexuality, state TV says.
An Al-Ekhbariya report showed commerce ministry officials removing a range of items from shops in the capital Riyadh.
They included hair clips, pop-its, t-shirts, hats and pencil cases.
One official said the items "contradict the Islamic faith and public morals, and promote homosexual colours targeting the younger generation".
The commerce ministry tweeted separately that its teams were confiscating "products that contain symbols and signs calling for deviation and contradicting common sense".
Shops found to be selling them would face legal penalties, it added.
In December, authorities in neighbouring Qatar announced that they had confiscated rainbow-coloured pop-its and other toys from shops for "bearing slogans that go against Islamic values".
Although Sunni Muslim-ruled Saudi Arabia has no laws regarding sexual orientation or gender identity, sexual relations outside marriage, including homosexual sex, are strictly prohibited.
Under the country's interpretation of Islamic law, consensual same-sex sexual conduct is punishable by death or flogging, depending on the perceived seriousness of the case.
It is also illegal for men to "behave like women" or to wear women's clothes, and vice versa, and for anyone to carry out online activity impinging on "public order, religious values, public morals, and privacy".
In April, cinemas in the kingdom did not screen the film Doctor Strange in the Multiverse of Madness after Disney refused a request from Saudi authorities to cut what they called "LGBTQ references".
A source close to Disney told AFP news agency on Tuesday that its new animated film Lightyear, which features a same-sex kiss, had also been banned in Saudi Arabia.
Saudi officials have not yet confirmed such a move, but the kingdom's two main cinema chains are not advertising screenings.
The United Arab Emirates culture ministry said it had banned Lightyear on Monday "due to its violation of the country's media content standards".
Source: BBC
https://www.bbc.com/news/world-middle-east-61813390
--------
Saudi women unemployment rate in Q1 lowest in 20 years
June 30, 2022
RIYADH — The unemployment rate among Saudi women aged 15 years and above reached 20.2 percent at the end of the first quarter of 2022 compared to 22.5 percent by the end of the fourth quarter of 2021.
This is the lowest unemployment rate recorded among Saudi women in 20 years since 2001 when it was 17.3 percent, according to a report carried by Al-Eqtisadiah newspaper based on official data.
On the other hand, the economic participation rate of Saudi women in the labor market decreased to 33.6 percent by the end of the first quarter of 2022, against 35.6 percent by the end of the fourth quarter of 2021.
The economic participation rate of Saudi women at the end of the fourth quarter of 2021 was the highest in history. Thus, the economic participation of Saudi women exceeded the target of 25 percent set in the National Transformation Program 2020, while the rate of economic participation set as a baseline within the program was 17 percent, recorded in 2017, the report indicated.
Source: Saudi Gazette
https://saudigazette.com.sa/article/622447/SAUDI-ARABIA/Saudi-women-unemployment-rate-in-Q1-lowest-in-20-years
--------
Pressure ramps up in Iran to impose the compulsory Hijab on women
July 8, 2022
Tehran's Friday Prayer leader, Ahmad Khatami, insulted the brave Iranian women who resisted the misogynist mullahs' pressure to impose the compulsory Hijab on them. Khatami indirectly called these women thieves.
Khatami commented on women's resistance against the regime's efforts to impose the compulsory Hijab, "The very minute we say Hijab, they say, 'don't fuss about four strands of hair. You would better catch up with embezzlement and corruption."
He then added, "We fussed as much as needed. Theft, embezzlement and removing the veil are all sinful. Many of those who remove their veils are wives and children of the thieves." (The state-run Khabaronline.ir – July 8, 2022)
Khatami added, "Hijab is not a secondary but a major issue. Confronting women with improper veiling must be done legally. Hijab is a law… Let me say this, the term, compulsory Hijab, is a wrong phrase aimed at questioning the Hijab itself. Removing the veil deals a blow to the society's psychological safety (i.e., the mullahs' rule)."
On Thursday, July 7, 2022, a member of the mullahs' parliament wrote an open letter to the Commander of the State Security Force (SSF), Hossein Ashtari, revealing the brutal treatment of Iranian women by the guidance patrols while attempting to impose the compulsory veil.
Earlier, the Anti-Vice Headquarters in Khorasan Razavi Province announced that according to their agenda to impose the compulsory Hijab, women were not allowed to use profile photos in which they appear without the Hijab. (The state-run Rokna.ir– July 5, 2022)
As a supervisory body, the headquarters has seriously begun its work in Mashhad, and the headquarters of 21 Tir has been established in this regard.
Sports activities on Kish Island beach considered a crime
The Iranian regime has announced it will deal with mixed-gender group sports activities seen on beaches in Kish Island, off the southern coast of Iran, in the Persian Gulf.
The police will deal with individuals who gather on the shores after sunrise in mixed-gender groups under the pretext of sports activities. The SSF Commander in Kish, Ali Asghar Jamali, said the measure was part of a project called "thunder."
Jamali reiterated that since June 22, more than eight unauthorized photography teams had been identified on the beach through the Thunder plan, and their beach decoration was rounded up. Jamali added, "The police will deal with violators according to the law!"
More than 21 cars and electric motorbikes spotted with unveiled drivers and passengers have been seized according to the same plan. (The state-run aftabnews.ir – July 8, 2022)
The Women's Committee of the National Council of Resistance of Iran (WNCRI) urges the United Nations Special Rapporteur on Violence against Women to condemn the atrocities against Iranian women. The committee also calls on her to visit Iran to learn more about the violation of women's rudimentary rights, especially in the regime's prisons.
Iranian women are fanning the flames of the uprisings against the mullahs' regime with the chant of "no to compulsory religion, no to compulsory hijab, and no to the compulsory regime."
Source: Women NCR
https://women.ncr-iran.org/2022/07/08/impose-the-compulsory-hijab/
--------
URL: https://newageislam.com/islam-women-feminism/child-marriages-hindus-muslims/d/127458
New Age Islam Islam Online, Islamic Website, African Muslim News, Arab World News, South Asia News, Indian Muslim News, World Muslim News, Women in Islam, Islamic Feminism, Arab Women, Women In Arab, Islamophobia in America, Muslim Women in West, Islam Women and Feminism