New Age Islam News Bureau
10 Apr 2015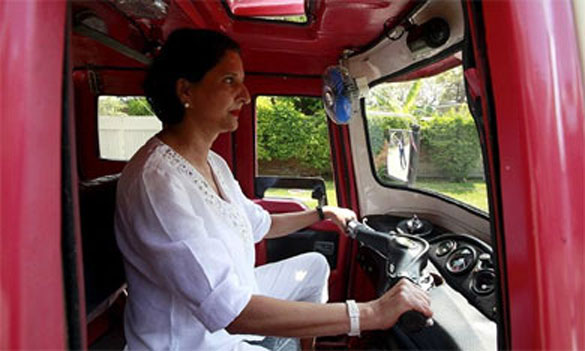 Zar Aslam, president of Pakistan's non-profit Environment Protection Fund, drives a Pink Rickshaw in Lahore April 8, 2015. — Reuters
----------
• Saudi Children between the Ages of Seven and 13 Used As Drug Mules
• Rape and HIV a Common Reality for Young Swazi Women
• Yazidi Girls 'Raped In Public' and Sold To Isis Fighters before Release
• Victoria Council Slammed For Asking Non-Muslim Women to Wear Hijab to Raise Awareness
• Abortion Rates Going Up As Only 31% People Use Contraceptives in Pakistan
• Lahore Gets First Women-Only Auto-Rickshaw to Beat 'Male Pests'
• Why Divorce Is Complicated For Orthodox Jewish Women
• Ahlam Ahmed Determined to Become New York's First Female Muslim Fire-fighter
• Khap Panchayat Bans Army Jawan from Marriage over Dowry in UP, India
Compiled by New Age Islam News Bureau
URL: https://newageislam.com/islam-women-feminism/11,000-girls-odisha,-india,-mothers/d/102390
----------
11,000 Girls in Odisha, India, Are Mothers before 15: Study
Ashok Pradhan,TNN | Apr 10, 2015
BHUBANESWAR: The 2011 Census has come up with the shocking disclosure that girls below the age of 15 in Odisha have given birth to babies when they should have been going to school. The exact figure, the data shows, of girls attaining motherhood even before 15 is 11,000. The figures point a finger to the failure of social welfare programmes and campaigns to contain early marriages and pregnancies.
Of the 59.09 lakh girls below the age of 15, 41,729 girls (0.7%) were already married. Around one-fourth of the married girls (10,685) in the same age group had delivered before celebrating their 15th birthday. While 3,896 (9.34% of those married) had become mothers of at least one child, 6,789 girls (16.27%) had delivered two children.
Women and child development minister Usha Devi said, "We need to focus more on creating awareness among parents because that is the only way to prevent underage marriages and pregnancies."
Women's rights campaigners attribute the early pregnancies to three factors. "Tribals have a tendency to marry off their boys and girls early. Second, economically weak sections don't wait for 18 years for their girl's marriage for purposes of social security," said Namrata Chadha, a women's rights campaigner.
RD Women's College principal Chitrangada Samanta Singhar said the findings are shocking. "The Right to Education Act envisages education for all children below 14. But it seems many girls in this age group are burdened with children," she said.
"Early pregnancy is dangerous for both the mother and child. This could be a reason behind the high infant and maternal mortality rates in the state," said gynaecologist R K Purohit.
Odisha's maternal mortality ratio (MMR) per 1,000 women is 235 compared to the all-India figure of 178. The infant mortality rate is 57 compared to 44 at the national level (SRS-2012).
In neighbouring Chhattisgarh, around 6,400 girls become mothers before 15, while in Jharkhand their number stands at over 12,000. At the national level, 18.12 lakh of the 17.80 crore girls below 15 years are married. Around 4.5 lakh in the age group (around 25% of those married) had delivered; while 1.36 lakh had delivered one child, 3.20 lakh had delivered two.
In the age group of 15-19 years, there are 2.90 lakh married women in Odisha. Of them, over 65,000 (22.52%) had given birth to one child, over 12,000 (4.23%) to two children, 4,400 (1.55%) to three children and 5,500 (1.92%) to four children.
Out of the total 2 crore women in Odisha reported during the census count, 1.19 crore are married (57.76%) and gave birth to on an average 2.6 children. Of the total 1.19 crore married women, 14.27% have not given birth to any child. While 17.04% delivered one child, 22.93% gave birth to two, 17.74% to three, 12.23% to four, 7.13% to five, 4.10% to six and 4.56% to seven or more.
http://timesofindia.indiatimes.com/india/11000-girls-in-Odisha-are-mothers-before-15-Study/articleshow/46873734.cms
------------
Saudi Children between the Ages of Seven and 13 Used As Drug Mules
Apr 10, 2015
Smugglers are using children between the ages of seven and 13 to smuggle drugs and other contraband into the Kingdom, according to the Border Guard.
Saleh Al-Omari, commander of the Border Guard in the Twal sector, said that smugglers are continuing to use these children because Saudi Arabia does not imprison them. They are fingerprinted and then sent back home, he said.
Al-Omari said these smugglers are endangering the lives of these youngsters by forcing them to travel through dangerous areas on the border including the Tashar, Bin Abdullah and Melh valleys.
"Our troops and military are in complete control of the border and do not allow any child to cross over carrying contraband," he was quoted as saying in a local publication on Thursday.
When the children were interviewed, many said they did not know that they were being used. There were 30 children arrested recently, between seven and 13 years of age. Some said gangs had told them to cross the border.
Abdullah Hassan, 10, said he has been arrested more than once trying to sneak across the border. He was caught with larger amounts of qat every time, to compensate for losing his previous loads. He said his father had asked him to help the gangs because he owes them money.
Abdo Ahmad, 11, said one of his friends convinced him to start smuggling. "He asked me to accompany him carrying 30 bags of qat in exchange for only SR300," he said.
Another child, Yahya Ali, said this was the second time he has been caught by the military. However, he would try to enter the Kingdom again.
Abdullah Baker, 13, has been arrested a record 30 times. He said that he has been forced to try this because of financial problems at home.
Another 12-year-old said that smuggling drugs is an easy way to make money. The smugglers pay him between SR20 and SR50 for each bag he sells.
The adults arrested on the border often turn on each other. One man got into a fistfight with his friend, after accusing him of being responsible for the contraband.
http://www.arabnews.com/saudi-arabia/news/730426
------------
Rape and HIV a Common Reality for Young Swazi Women
10 April, 2015
Mbabane — Nokwanda Dlamini* was 14 when she tested positive for HIV.
Too sick to go to school and on the verge of developing AIDS, Nokwanda had been living with her grandmother for a year in Siphocosini, a village about 20km from Swaziland's capital Mbabane.
Following a neighbour's advice, Nokwanda's grandmother took her to get an HIV/AIDS test, and was left shattered by the result.
"How did this happen? What have you been doing? You're too young to have it!" she said.
Nokwanda was shocked by the news as well, but hid the truth about how she caught HIV from her grandmother - she had been raped by her uncle.
"I felt like I was lost," she told Al Jazeera. "I asked myself 'why me?'"
All too familiar stories HIV, or the human immunodeficiency virus, attacks the immune system weakening the body's ability to fight infections and disease.
Although there is no cure for the virus, specific treatments have been developed which allow people who have been infected to live a long and healthy life.
However, if left untreated, patients will likely develop AIDS (acquired immunodeficiency syndrome) when the body is left vulnerable to opportunistic infections.
Nokwanda's story is all too familiar in Swaziland, which has the world's highest HIV prevalence rate affecting 26 percent of the population.
While new HIV cases are declining overall, young women aged 24 and under are at least three times more likely to contract the disease than their male counterparts. This is attributed to high levels of sexual violence, widespread poverty and patriarchal norms that limit women's decision-making on their sexual health.
Now 21, Nokwanda volunteers once a month at an organisation that works with HIV-positive children and adolescents.
She said that working with this group gives her support that she doesn't get at home, where she doesn't speak about her condition with her family.
"She [grandmother] didn't believe that I had been raped," she said. "Today, I'm still not sure if she believes me."
Sexual violence
According to a UNICEF report, one in three Swazi girls experience sexual violence before age 18.
Nokwanda said that she sometimes sees the uncle who raped her in town. She said that her mother - with whom she was living at the time of the attack - "beat" her uncle when she found out, but did not go to the police.
Hleli Luhlanga of Swaziland Young Women's Network - an Mbabane-based organisation that advocates for young Swazi women's rights - said that sexual violence stems from Swaziland's deeply patriarchal culture, where women are viewed as being subordinate to men.
"It goes back to the patriarchal notion of women being looked at as owned objects and property," she said.
Critics say that while rape in Swaziland is illegal and technically punishable by up to 15 years in prison, in reality, acquittal rates are high and sentences light.
Current legislation is nearly 100 years old and activists have been calling for the "Sex Offences and Domestic Violence" bill - which defines rape and sexual harassment - to be enacted since 2006, without success.
Living with HIV
Nokwanda takes her antiretroviral medicine - which she receives for free from the clinic where she volunteers with the youth group - twice a day, in private, so that nobody sees her.
HIV in Swaziland is still very stigmatised and Nokwanda prefers as few people to know about her condition as possible. She said that having HIV complicates friendships and relationships.
"If a boy comes to you asking for a relationship, you have to say: 'How can you love me? I have HIV,'" she said.
New HIV infection rates have gradually fallen since 2010 thanks to increased access to testing and medicine from outreach work, as well as successful prevention of mother to child transmissions.
But critics say that Swaziland's HIV response is failing to address the epidemic's gender imbalance.
Young women are the most vulnerable to HIV, yet there are hardly any programmes aimed at girls and young women. The government is not doing enough to address structural and cultural causes like poverty and gender based violence.
Access to information is also a major obstacle as sex education for girls at school is restricted until they are in their teens, by which time they are often experimenting.
According to the 2011 Swaziland HIV Incidence Measurement Survey (SHIMS), the prevalence of HIV among Swazi women aged 18-19 is 14 percent and 31 percent for those aged 20-24, compared to just one percent and seven percent for men in the the same age bracket.
Poverty
According to World Bank figures, 63 percent of Swaziland's population lives below the poverty line, with unemployment at an estimated 40 percent.
Poverty drives the country's HIV gender disparity because without economic empowerment, young women are more likely to engage in transactional sex where condom use is compromised.
According to the latest UNAIDS report, young women frequently, and increasingly so, engage in sexual partnerships with older men who support them financially in exchange for sex. Whereas, the older men are more likely to have multiple sexual partners and therefore are more likely to have HIV.
Lindiwe Simelane, regional coordinator of Swaziland National Network of People Living with HIV and AIDS, said that a lot of girls and young women are heads of their households, often having already lost their parents to HIV. She said that many have transactional sex to provide for their siblings.
"They try to go out and have an affair with any man who is working to get money," she said.
http://allafrica.com/stories/201504081741.html
--------
Yazidi Girls 'Raped In Public' and Sold To Isis Fighters before Release
10 April, 2015
Yazidi girls were snatched from their mothers, sold to IS fighters, tortured and even raped in public by more than two or three jihadists at a time before being freed by the Islamic State (Isis) in northern Iraq, according to harrowing details recounted after their release.
IS released 216 members of the Yazidi minority who were captured by the extremist group in the dramatic Sinjar offensive of July 2014 and brought them to the border with Kurdish-held Kirkuk, in Humayria village. Most of the hostages were old women and men, but the group also included some middle-aged women and 55 male and female children.
According to Tom Robinson of the Rise Foundation, which works with refugees in Kurdistan, the hostages were released after their freedom was paid for.
"This is happening quite a lot. A great deal of money has gone into buying back captured women and children," Robinson said.
The Yazidis are considered "devil worshippers" by the Sunni extremist group, and have lived in small communities scattered throughout northwest Iraq, northwest Syria and southeast Turkey.
Ziyad Shammo Khalaf, who works with the local NGO Yazda to offer assistance and first aid to the persecuted Yazidis, exclusively told IBTimes UK that after their kidnapping in Sinjar, the boys and girls were taken away by force from the mothers and "distributed among houses" in Mosul and Tal Afar, where they stayed for five months.
"They were treated very badly, they were forced to convert to Islam and pray, and say the Shahada [Islamic creed professing belief in the oneness of God and its prophet Mohammed]. They also gave them lectures about Islam," he said.
Some were treated in a good way, but others were beaten and tortured for refusing to comply with the jihadist group.
Raped in public
"The girls were dragged away from their mothers. If the mothers pleaded them not to give away their daughters, they were beaten and tortured," Shammo, who is also Chairman of the Relief Committee within Initiative for Ezidis around the World, said. The girls were also given as prizes to IS fighters and Arab tribes loyal to IS in Ramadi after a military victory, such as the one in Sinjar.
The activist struggles to find the words to describe the horrific experience the Yazidi girls had to endure under IS captivity.
"If you come and sit with the girls you will find different stories from girl to girl. A lot of them have been sold to ISIS fighters, they have been raped in [...] public, and by more than two or three people at a time," Shammo said. "They were tortured, beaten and subject to any type of violence."
Another NGO worker who is offering assistance to the Yazidis, and has asked to remain anonymous, told IBTimes UK that their mental state is "unstable" after repeated rape and torture.
Tens of thousands of Yazidis were forced to flee to Iraqi Kurdistan or were stranded on the nearby Mount Sinjar when the jihadist group stormed the mostly Yazidi villages in northern Iraq in July last year. Those who stayed were given a simple option: convert to Islam or die.
Peshmerga forces retook Sinjar earlier in December 2014, after a long siege by jihadists.
Slave market
The Yazidi religion is a syncretic combination of Zoroastrianism with Sufi Islam, dating back to ancient Mesopotamia. They believe that God and seven angels protect the world. One of these angels, named Malak Tawus and believed to be embodied by a peacock on Earth, was thrown out of paradise for refusing to bow to Adam.
Muslim extremists view the figure as a "fallen angel" and consider Yazidis to be devil-worshippers and apostates.
Reports that hundreds of Yazidi women and girls from the Iraqi tribe were forced into slavery by ISIS emerged after their abduction. A video showing ISIS fighters laughing as they discuss the trade of Yazidi women emerged in November.
The jihadist group admitted in the English-language Dabiq magazine to enslaving and selling Yazidi women and children, claiming the horrifying trade are justifiable on religious grounds.
http://www.ibtimes.co.uk/iraq-yazidi-girls-raped-public-sold-isis-fighters-before-release-1495594?
--------
Victoria Council Slammed For Asking Non-Muslim Women to Wear Hijab to Raise Awareness
10 April, 2015
A local council has created controversy by asking non-Islamic women to wear Hijab in a 'social experiment' to increase awareness and education.
The City of Greater Dandenong Council in Victoria to wear the religious headdress for three hours today, as part of its plans to celebrate 'National Youth Week.'
The event, which will also be filmed, has been designed to 'provide awareness, insight and education' for the community.
However, critics of the plan said it will create further division in the community, according to the Herald Sun.
'If we're going to have people dressing up as Muslims for three hours, why doesn't the council encourage people to dress up as Christians,' Institute of Public Affairs executive director John Roskam said.
Mr Roskam also said recent events prove that Christians are the most persecuted religious group in the world, not Muslims.
'This doesn't encourage integration, this encourages separateness. This is not what multicultural Australia is all about,' he said.
'What the council should be encouraging is allowing people from any walk of life and any religion to integrate.'
Islamic Friendship Association president Keysar Trad said the project would be attacked, but it was a way for people to positively engage with the Muslim community and gain a different perspective.
The Greater Dandenong council has previously held public pool sessions for Muslim women.
The event follows ugly incidents last week that saw anti-Islamic protesters clash with anti-racism activists.
Police were forced separate Reclaim Australia supporters and opposing protesters by forming a wall at separate rallies in Melbourne.
A Federation Square spokesman estimated 3000 people went at it noisily for more than three hours. Two men and a woman were arrested during the protests. A small group of protesters burnt an Australian flag during the rally.
About 200 people turned up at the rally in Sydney, which was held in the pouring rain in Martin Place.
A rally in Brisbane was attended by controversial One Nation leader Pauline Hanson, who declared she was not a racist and that 'criticism is not racism'. She told the crowd she is a proud Australian fighting for the country's democracy and way of life.
Reclaim Australia organised a number of protests in cities across the country opposing 'sharia law, halal tax and Islamisation'.
http://www.dailymail.co.uk/news/article-3032357/This-doesn-t-encourage-integration-encourages-separateness-Local-council-slammed-asking-non-Muslim-women-wear-hijabs-raise-awareness-combat-Islamophobia.html
--------
Abortion Rates Going Up As Only 31% People Use Contraceptives in Pakistan
Apr 10, 2015
KARACHI: The abortion rate in Pakistan is increasing, said senior consultant and gynaecologist Dr Nighat Shah, adding that couples were opting for abortions instead of using safer methods of contraception.
While speaking at a seminar on family planning organised by the Pakistan Medical Association (PMA) for World Health Day, Dr Shah claimed that this was happening as there was a high demand for different kinds of contraceptive products but there was no supply. She said that most hospitals in rural areas had kept birth control pills and other medication in storage and were not distributing them to the public.
Addressing an audience at PMA House on Thursday, Dr Shah said that the family planning target set by the government back in 1994 had still not been met. Currently, she claimed, only 31 per cent of people in the country were using contraception. The remaining 70 per cent were not using anything to prevent unwanted pregnancies or sexually transmitted diseases. According to Shah, out of those using contraception only 6.8 per cent were using condoms while more traditional methods were popular in 7.9 per cent of families.
Explaining the consequences of frequent pregnancies and lack of awareness about contraceptives, Dr Shah said that it was the mothers and their newborns who suffered the most. "The mortality rate for mothers in Pakistan is 276 out of 100,000," she said. "I met a mother, her daughter and granddaughter — all three were pregnant at the same time."
Dr Sikandar Sohani, a public health specialist, urged the participants to understand the benefits of family planning and said that a proper family set-up ensures a secure life.
Dr Azmat, the deputy secretary of the provincial population department, said that her department had clinics across the province. "These clinics don't work round the clock," she said. "These clinics are not fully equipped to fulfill all requirements of pregnant women." She added that midwives should educate the community about health, vaccinations and family planning.
While talking about pre-marriage counselling, she said that people were still not ready for it. She added that it was time to make them aware of these things.
Other speakers at the seminar said that the right to a healthy family life was intrinsically linked to the recognition of women's rights.
Eat, pray, love
The finance secretary of the PMA, Dr Qaiser Sajjad, urged participants to keep an eye on the quality of food. "We are facing problem of substandard food items," he said, while announcing that the PMA had set up a complaint cell for food safety issues. He said anyone could lodge a complaint with them over the quality of food. He added that if the case was genuine, they would take it up with the relevant authorities.
http://tribune.com.pk/story/867264/family-planning-abortion-rates-going-up-as-only-31-people-use-contraceptives/
------------
Lahore gets first women-only auto-rickshaw to beat 'male pests'
Apr 10, 2015
LAHORE: An environmentalist, fed up with being groped and harassed by male auto-rickshaw drivers, has launched her own service exclusively for women passengers and drivers in her home city of Lahore - with just the one rickshaw on the road so far.
Zar Aslam, president of Pakistan's non-profit Environment Protection Fund, said she once narrowly escaped kidnapping by a rickshaw driver when she was a student, which triggered the idea of launching her "Pink Rickshaw" service.
Pakistan is notorious for sexual abuse of women, euphemistically known as "Eve-teasing". Offenders often go unpunished within a legal system that can treat the victims as the guilty party.
"This is another step towards women's financial and professional empowerment," Aslam told Reuters at her home in Lahore, showing off her first rickshaw.
"I and my co-workers face harassment by male auto drivers or by passersby while waiting for public transport."
The "rickshaws" are covered three-wheel motorcycles and Aslam bought one to start with, added fans, doors and headlights and painted it pink and white.
The plan is to have at least 25 up and running by the end of the year, with Aslam looking out for sponsors.
"One auto costs 300,000 rupees (about $3,000), therefore it cannot be done without sponsorship from donors," she said, adding that the government has not offered any assistance.
"We will lease out the autos to deserving females on easy instalment," Aslam said. "We will teach them driving and will also help them get the driving licence."
http://www.dawn.com/news/1175081/lahore-gets-first-women-only-auto-rickshaw-to-beat-male-pests
------------
Why divorce is complicated for Orthodox Jewish women
10 April, 2015
The often complicated spectre of divorce is being made even more difficult for one group of women: Orthodox Jews, whose faith requires not only a civil court divorce, but a religious decree from the husband granting his wife a divorce.
Without the decree, called a "get," neither husband nor wife can remarry within their faith, although there's been at least one widely publicized case of an Orthodox Jewish man claiming permission from 100 rabbis to remarry, despite denying his wife the decree.
Newsweek magazine reported this week on the issue in a story headlined, "In Orthodox Jewish Divorce, Men Hold All the Cards." The magazine began with the story of Rabbi Mendel Epstein, now on trial with several associates, for allegedly organizing a kidnap-and-torture ring that, for a fee, would pressure reluctant husbands to grant the get.
An Orthodox woman who doesn't receive her husband's consent by a rabbinical court to divorce "is an agunah, a 'chained' woman. If she falls in love and decides to remarry without the get, she would be considered an adulteress, and her children from that union would be shunned," the magazine said.
According to Newsweek, the notion of applying more than verbal pressure to obtain a get was an open secret in the community. "Beat-downs and kidnappings are a long-whispered-about last resort for agunot who face years chained to men who won't let them go. Controlled by husbands who manipulate their position, wield emotional and legal power, and leverage their marriages for their own gain, these women are a gruesome example of domestic abuse," the magazine reported.
Orthodox Jewish leaders — and others — are recognizing the continuing problem and are trying to find solutions, media reports indicate. In Israel, where there are many Orthodox marriages, NewsTalkFM radio reported that prenuptial agreements are coming into vogue as a way to avoid problems should a marriage fail.
"The proposed agreement would entitled engaged couples to outline divorce terms before their marriage, meaning that the issuing of a get is agreed in advance," the station reported. "If the male spouse refuses to commence divorce proceedings or drags it out over a long period of time, he could be fined up to half his salary every month."
In the United States, women from various religious traditions who are having difficulty ending religious or arranged marriages are coming together for support and assistance, The New York Times reported.
One group, Unchained at Last, "provides legal services because most of the women's cases involve divorce and child custody litigation, and some extend into immigration status and restraining orders against a violent spouse," the paper said. The organization is run by Fraidy Weiss, an Orthodox Jewish woman who struggled to get the religious divorce decree, and Shehnaz Abdeljaber, a woman of Palestinian Muslim descent who was able to break free of an arranged engagement.
Orthodox Judaism isn't the only faith tradition struggling with the issues involving divorce. Time magazine reported that the Roman Catholic Church is examining its practice of requiring divorced members to receive an annulment from the church of their previous marriage before they can receive communion or remarry within the church.
The matter may be decided by a Vatican synod this year, the article said. "In February 2013, the pontiff tapped (Cardinal Walter) Kasper to re-open a debate among cardinals about inviting the divorced and remarried back to the sacraments in at least some cases, but has also allowed several of his own aides to insist publicly that change is impossible."
While awaiting formal changes from the Vatican, one Roman Catholic diocese, the Archdiocese of Pittsburgh, is making the annulment process cost-free for its members, the Pittsburgh Tribune-Review reported.
And Saudi Arabia's Arab News reported in January on a "dramatic increase" in requests by women in the Muslim kingdom for a khula, or an Islamic religious divorce only a woman can request.
There have been delays in Saudi courts granting the request, but the newspaper said the situation is changing.
"If the court is convinced of the evidence, the judge can pronounce a khula order," Saudi News said. "The judge also examines whether the wife is financially sound enough to return the dowry in full or the amount she can return."
http://national.deseretnews.com/article/4016/Why-divorce-is-complicated-for-Orthodox-Jewish-women.html#MHKAkEiPXeLs4A1v.99
--------
Ahlam Ahmed determined to become New York's first female Muslim firefighter
10 April, 2015
NEW YORK: An eighteen-year-old Muslim girl of Yemeni descent is determined to become a New York City firefighter at just five feet tall and weighing just 105 pounds.
Despite the many physical challenges she could face, Ahlam Ahmed, is committed to join the force.
Ahmed attended the Fire Department New York's (FDNY) first-ever Women's History Month Female Outreach Event which was created to help inspire more women to join the department.
She has also taken the most recent examination organised by the department.
"I want to see what the FDNY has to offer," Ahmed said in a private interview.
She signed up for the event last year and at first she was reluctant due to her strict parents and being a girl as well as her petite frame.
There are more than 10,400 firefighters in the FDNY with only 44 of them women.
Ahmed said that she was concerned when she learned there were no Muslim female firefighters in the ranks. Greater concern was attributed to the uniform and dress code as Ahmed always likes to be covered, she revealed.
"We try to accommodate religious practices," said Elisheva Zakheim, an FDNY press officer who added that the department had never had an 'observant Muslim' in its ranks.
Of the long hours of training and the strenuous exercises that Ahmed would undergo to join the ranks of FDNY, she said she was determined to continue as she wants to save the lives of people. Her only concern would now be to convince her parents.
Many New Yorker's took to Twitter in support of the young teen and her aspirations to become New York's first Muslim firefighter.
http://tribune.com.pk/story/866889/ahlam-ahmed-determined-to-become-new-yorks-first-muslim-firefighter/
--------
Khap Panchayat Bans Army Jawan from Marriage over Dowry in UP, India
PTI | Apr 10, 2015
MUZAFFARNAGAR: In a novel move, a Khap Panchayat banned an army Jawan from marriage for two years after he demanded a dowry from the girl's family at Rasoolpur village in the district.
Balyan khap panchayatchief Naresh Tikait said the Panchayat banned the jawan from marrying for two years and also fined him Rs 81,000 last evening for demanding a car in dowry.
The jawan's marriage was fixed for April 24 but later his family demanded a car as dowry from the girl's family who are residents of Kasimpur village, he said.
Tikait said the Panchayat was convened following a request by the girl's family to decide the dispute and both parties attended the meeting, he said.
http://timesofindia.indiatimes.com/india/Khap-panchayat-bans-army-jawan-from-marriage-over-dowry/articleshow/46873269.cms
------------
URL: https://newageislam.com/islam-women-feminism/11,000-girls-odisha,-india,-mothers/d/102390