New Age Islam News Bureau
26 Apr 2012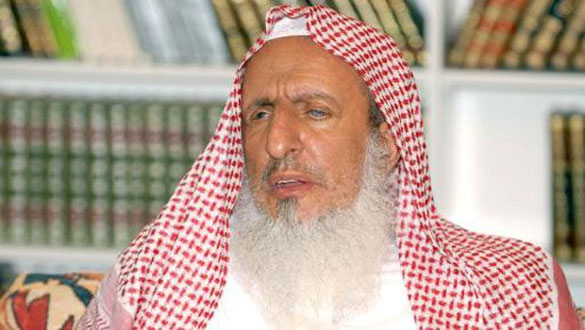 • Saudi Arabian girls' school defies basketball ban
• In Afghanistan, underground girls school defies Taliban edict, threats
• Converted Muslim sisters face the ire in Pakistan
• Veiled beauty: Turkish mag fuses fashion and tradition
• PATNA: City thumbs up to Deoband advice against polygamy
• Anger over female circumcision in a Muslim sub-sect in India
• 'Middle class Muslim women still victims of bias'
• Iraqis under threat, modern Indian women in focus at Tribeca
Photo: '10-year-old girls can marry,' says Saudi grand mufti
For more Headlines and Details, Please click, 'More'
URL: https://newageislam.com/islam,-women-and-feminism/new-age-islam-news-bureau/10-year-old-girls-can-marry,-says-saudi-grand-mufti/d/7152
----------
'10-year-old girls can marry,' says Saudi grand mufti
Apr 26, 2012
It is permissible for girls to get married at age 10, Saudi Arabia's grand mufti has said, criticizing those who want to raise the legal marriageable age, the World Observer reported on its website April 24.
A girl becomes ready for marriage at the age of 10 or 12 according to Islam, Grand Mufti Sheikh Abdul-Aziz al-Sheikh said while stressing that Islamic law did not oppress women.
"Those who call for raising the age of marriage to 25 are absolutely mistaken," al-Sheikh reportedly said in a lecture he gave at the faculty housing the mosque of Imam Mohamed bin Saud Islamic University in Riyadh.
"Our mothers and grandmothers got married when they were barely 12. Good upbringing makes a girl ready to perform all marital duties at that age," al-Sheikh said in response to a question raised by a female attendee on the practice of marrying minor girls without their consent.
The Saudi Nation Human Rights Association (NHRA) has criticized the marriage of minors in the kingdom, considering it to be a "violation of childhood."
NHRA said the practice of underage marriage was a breach of several U.N. treaties, including the Child Rights Treaty, which was signed by Saudi Arabia in 1996, and the Treaty for the Rights of Women, which the kingdom adopted in 2000.
http://www.hurriyetdailynews.com/10-year-old-girls-can-marry-says-saudi-grand-mufti-.aspx?pageID=238&nID=19321&NewsCatID=393
----------
Saudi Arabian girls' school defies basketball ban
Apr 26, 2012
Girls' school in Eastern province defies clerics by installing basketball hoops and allowing pupils to play at break-time
A girls' school in Saudi Arabia has defied a religious ban on female sports by erecting basketball hoops and allowing pupils to play at break-time, the daily al-Watan has reported.
Powerful clerics in the conservative Islamic kingdom have long spoken against permitting girls to play sports, with one senior figure saying in 2009 it might lead them to lose their virginity by tearing their hymens.
Saudi Arabia's austere interpretation of Islamic law prevents women from working, opening bank accounts or having some elective surgery without the permission of a male relative. They are not allowed to drive.
King Abdullah has pushed for women to have better opportunities in education and employment and last year said they could vote and run for office in municipal elections, the only official polls in the monarchy.
The school in Saudi Arabia's Eastern province has become the first state-run girls' school openly to encourage sports, Watan reported on Wednesday, quoting a supervisor as saying it would expend pupils' energy "in a positive way". Private girls' schools already offer sports classes.
In recent months Saudi Arabia has faced criticism for having never fielded a woman athlete at the Olympics, with Human Rights Watch calling for the kingdom be barred from this year's London games.
Amid mounting international scrutiny of the issue, local media reported this month that the deputy education minister for female student affairs, the kingdom's first woman minister, was considering setting up "a comprehensive physical education programme" for both sexes.
"The school administration is hoping to instil the importance of sports among the students and introduce them to its benefits, as well as allowing them to spend their spare time doing something beneficial," Amina Bu Bsheit, a school supervisor, was quoted as saying by Watan.
She added that the school, which was not named in Watan's report, still did not provide a physical education class but that the students play during weekly "activities classes".
http://www.guardian.co.uk/world/2012/apr/25/saudi-arabian-girls-school-basketball
----------

In Afghanistan, underground girls school defies Taliban edict, threats
By Kevin Sieff
Apr 26, 2012
SPINA, Afghanistan — Every morning in this mountain village in eastern Afghanistan, four dozen girls sneak through a square opening in a mud-baked wall, defying a Taliban edict.
A U.S.-funded girls school about a mile away was shuttered by insurgents in 2007, two years after it opened. They warned residents that despite a new government in Kabul and an international aid effort focused on female education, the daughters of Spina were to stay home. For a while, they all did.
Then two brothers, among the few literate men in the village, began quietly teaching math, reading and writing to their female relatives in a living room on the edge of town. They wanted to keep the classes small, they said, to stay off the Taliban's radar. That turned out to be impossible.
The United States and its allies have spent millions of dollars on female education in the past decade, and Afghan and Western officials have pointed to the issue as one of the most hopeful changes of the post-Taliban era. Female enrollment in public schools has risen from 5,000 under the Taliban to 2.5 million, according to the Afghan Education Ministry.
But Afghanistan is rife with places like Spina, where formal efforts to educate women and girls have crumbled. About 2 million Afghan girls do not attend school.
Those who do sometimes face threats. Last week, suspected militants poisoned more than 100 schoolgirls in northern Afghanistan, according to Amanullah Iman, a spokesman for the Education Ministry, who said an investigation into the incident was ongoing. The girls are recovering.
Because of threats, several schools in eastern Afghanistan have been closed in the past few months, reversing what had been a positive trend, said Vidhya Ganesh, the deputy country representative for UNICEF.
The insurgency had already forced the closure of dozens of girls schools beginning in the middle of past decade, when insurgents started to return to Afghanistan. Many of the schools were built and funded by the United States, and many never reopened. In some villages, the schools have gone underground, hidden in living rooms and guesthouses, as they were during the Taliban's reign.
"It's risky for the teachers and it's risky for the students, but these underground schools show the thirst people have for education under the Taliban," said Shukriya Barakzai, a parliamentarian who ran her own underground school when the Taliban held power in Kabul in the 1990s.
"It doesn't feel much different from those years," said one of the brothers in insurgent-infested Spina. "We live in a community very far from democracy and freedom."
'Something from nothing'
When the insurgency arrived in this patch of Paktika province in 2005, it did so with great force and little resistance. The absence of Afghan or American security forces meant fighters could wield weapons freely and threaten residents without consequence. The warning to girls went unchallenged.
But word soon spread about the underground girls school — part of a shadow education system developed in places such as Spina to elude the Taliban. The full extent of the system is not known, but American and Afghan officials say such underground networks are not uncommon in places with a large insurgent presence.
First, young students — between 5 and 12 years old — would trickle into the home of the two brothers, who for security reasons insisted that their names not be published. Then, teenagers started arriving, the brothers said, a particularly rare and controversial development in eastern Afghanistan, where females are expected to remain home upon reaching adolescence.
The brothers could hardly believe the turnout, which at once worried and excited them. They named the school after their great uncle, Namizad, a religious scholar.
"The girls just kept coming." one brother said. "They were so eager, like they were starving."
When a U.S. army platoon made a rare visit to Spina this month, soldiers saw the school as an example of resilience in the face of a failed development project, a sign of hope in a dismal place. In recent months, according to U.S. officials, the Taliban in Paktika have robbed teachers of their salaries to buy an 82mm mortar and shells.
"I want to thank you for your courage," U.S. Army Lt. Col. Curtis Taylor told the brothers and their students after ducking through the family's living room doorway.
The girls at the Namizad School sit on carpets, beginning each class with a recitation from the Koran. A chalkboard rests on the floor. Less than half the class has textbooks, which have made their way from Kabul. As in the rest of Spina, there is no electricity.
"These students are learning something from nothing," one of the brothers said.
The brothers have pleaded for more resources. They have prayed to remain outside the Taliban's reach. But the district's education director claimed he had no money for the education of girls, the brothers said, in an account confirmed by local officials. And the Taliban have crept ever closer.
A few months ago, insurgents posted a letter on the brothers' door. "We will not allow the education of girls," it read, calling the practice "un-Islamic." The letter warned of a violent punishment.
The brothers talked about what to do. Should they end the classes? Should they leave Spina?
The two willowy men in their early 30s have bright eyes and long brown beards and wear flowing white salwar-kameez, the traditional dress here. Their backgrounds are strikingly similar to those of the insurgents who threaten them. Like the Talibs of western Paktika, the brothers were educated in Pakistani madrassas, or religious schools. They, too, were raised to believe in a strict adherence to the Koran, Islam's holiest book.
"I was so close to joining the Taliban," one said. "The men haunting us, they are men we know well."
'I want to learn everything'
The brothers tried to make the case to the Taliban that they would teach only religious material to their students. They warned their students of the risk of attending classes, and they were surprised again when the girls kept coming. There's now a morning class for young children and an afternoon class for teenagers. The brothers beam when talking about recent graduates, eight of whom are now trained midwives.
"I liked the other school better. We had desks and books," said Baranah, 11, who was in first grade when the Taliban closed the U.S.-funded school. "But this place is still good. We still learn here. I want to learn everything."
The insurgency has not followed through with its threat. The brothers wonder if it ever will — if the Taliban's recent silence signifies its tacit approval or is merely a prelude to violence.
In some cases, the Afghan government and international organizations have been able to reach compromises with insurgents to keep schools open.
"We're beginning to find ways to negotiate with anti-government elements," said UNICEF's Ganesh.
Some here worry that women's rights are being sidelined as the United States prepares to leave and the Afghan government attempts to satisfy a hard-line constituency. In March, top religious leaders on the country's Ulema Council ruled that men are "fundamental" and women "secondary," barring women from interacting with their male counterparts in schools or the workplace.
In Spina, only boys are educated in the U.S.-funded, one-story yellow building constructed five years ago to educate girls. Most of the windows are broken, and the paint is chipping.
"That place seemed perfect," one brother said. "But we knew it wouldn't last long."
http://www.washingtonpost.com/world/in-afghanistan-underground-girls-school-defies-taliban-after-earlier-efforts-failed/2012/04/24/gIQALBOVfT_story_1.html
----------
Converted Muslim sisters face the ire in Pakistan
Apr 26, 2012
While the conversion of girls belonging to minority communities into Islam and their marriages with Muslim boys have been lauded in religious circles in Pakistan, two Muslim-turned-Christian girls and their husbands are on the run in Punjab [ Images ] province.
The conversion of two Muslims girls falls under the act of 'Murtad' and according to Islamic teaching the minimum punishment for such persons is lifetime imprisonment or simply the death penalty.
The conversion case took place in Narang Mandi Sheikhupura in Punjab province, where two Christian brothers -- Amin Masih and Qaisar Masih -- married Shehnaz and her sister Gulnaz respectively, after the sisters converted to Christianity.
The couple remained safe for more than two years, as they had not disclosed their previous religious background to neighbours. "But when it was disclosed that our wives were Muslim-turned-Christians, the local Muslims turned violent and asked us to return our wives to them," Amin Masih told rediff.com.
The couples were living happily until a quarrel broke out between Amin Masih and his wife Shehnaz, following which she ran to the street and shouted that she was a Muslim and that the Christians were torturing her.
The news spread like jungle fire in the neighbourhood. The brothers were asked to immediately leave their wives "as Muslims could not live with Christians".
The Masih brothers left the area. Interestingly, Shehnaz later termed her act of disclosing her religion in the neighbourhood as "irresponsible".
After escaping from Narang Mandi both the couples are living in Thokar Niaz Beg in Punjab with their relatives. But even the hosts have refused to keep them anymore as people of this locality have also started protesting.
Conversion or 'force conversion' of minorities has become a common practice in Pakistan, especially in Sindh province.
Last week a much highlighted case of 'forced conversion' of three Hindu girls -- Faryal (Rinkle Kumari), Hafsa Bibi (Dr Lata) and Haleema Bibi (Asha Kumari) -- was decided by the Pakistan Supreme Court which ordered that the girls should decide their own fate. The girls preferred to stay with their Muslim husbands rather with their families.
Although the decision was opposed by the families and rest of Hindu community in Pakistan, it was celebrated in Sindh.
Renowned Pakistani scholar Mufti Muhammad Naeem, the head of the Jamia Binoria International in Karachi, told rediff.com, "If it was a simple love marriage issue with no religious factor behind it, then these so-called human rights defender NGOs would not have raised their voice. We will not tolerate any technique of anyone intended to deter or dismay the newly converted Muslims by promoting propaganda against Islam."
In Islam one can easily be accepted, but when it comes to quit the religion and embrace another one, the person becomes 'Murtad', which describes a person who converted to another religion or to atheism after being a Muslim.
http://www.rediff.com/news/report/converted-muslim-sisters-face-the-ire-in-pakistan/20120425.htm
----------
Veiled beauty: Turkish mag fuses fashion and tradition
26 April, 2012
Arms and heads covered; tight trousers and skirts above the ankle a no-no. For many, this may not sound like a typical fashion glossy, and Ala - a new Turkish monthly for Muslim women who wear a veil – is not typical, but it is extremely successful.
The first issue of this so-called Vogue of the veiled hit the newsstands last summer, AFP reports. And it seems to have a market – after just a few months, it started selling just as many copies as Turkish Elle.
The mag was launched by two Turkish businessmen, both Muslims. Meaning "the most beautiful of the beautiful", the name Ala is meant to show that the veil and Islamic traditions are "perfectly compatible with style and femininity," AFP reports.
"We realized that there was a gap to be filled for conservative Muslim women in Turkey who have a different worldview," one of the founders, Ibrahim Burak Birer said.
Targeting working Muslim women, Ala offers a much-in-demand mix of Islamic values and high fashion. These ladies respect the Islamic tradition, yet don't mind sporting a Burberry trench or Chanel purse with 10-centimeter heels.
"Until now, most fashion magazines have offered a lifestyle centered on being sexy, being skinny and eating sushi. But not all women dress like those girls from Sex and the City," Birer said.
http://rt.com/art-and-culture/news/turkish-fashion-women-ala-014/
----------
PATNA: City thumbs up to Deoband advice against polygamy
Sana Fahim
Apr 26, 2012
PATNA: The recent fatwa, or decree, issued by the Darul Uloom at Deoband, advising against multiple marriages, has heralded a major ideological shift for the Islamic seminary, otherwise known for its strict interpretation of the 'Shariah', or Islamic law, and 'conservative' approach to social issues concerning the Muslim community.
The community in Bihar has welcomed the seminary's stand with enthusiasm. "There is a provision of second marriage in the Shariah, but that is subject to strict conditions," says Shafi Mashhadi, former member of Bihar Public Service Commission. The first wife's inability to bear children or being inflicted with serious physical or mental illness was among the reasons why the second marriage acquired religious sanction then, he says.
Or, as noted surgeon Dr Ahmad Abdul Hai puts it, "Polygyny was encouraged in the Islamic world as an exception, not the rule. During the time when second, third and even fourth marriages were common, the scenario was different. Females outnumbered males and, also, there were many war widows in the Islamic world. But that was never the case in India. Even in the Islamic countries, the situation is different now."
Darul Uloom's online fatwa department said recently it is lawful according to the Shariah to keep two wives at the same time but it is generally not acceptable in Indian customs. This was in response to a query of a father of two, who wanted to wed a second time. According to the institution, having one wife was "more Indian" as well as logical in modern times; a conclusion that has got the thumbs up from Patna's Muslim intelligentsia.
"The Shariah clearly stipulates that unless the husband can treat both his wives equally - as equally as his two eyes, it is not advisable to take on a second wife," Mashhadi says. Afzal Hussain, general secretary of Bihar State Rabita Committee, an NGO working for Muslim women empowerment, nods: "The provision for polygyny in Islam is conditional and should not be followed on a whim."
"The Darul Uloom's stance against second marriage while the first wife is alive comes as a pleasant surprise and points to a progressive outlook. Over the years, the Quran's meaning has been misconstrued. A layman is only told that Prophet Mohammed had multiple wives; what he is not told is that the Prophet took on these wives - old, young and widow alike - with a specific purpose, that of looking after them and providing for them when none would," says educationist Farhat Hassan.
Muslim clerics based in the state, however, were cautious in their response. "Marriage is a personal decision. Across the different cultures of the world, we find very few instances of second marriage and even fewer when the first spouse is living. But it is only in Islam that there's an upper limit on the number of wives. That too is conditional, aimed at protecting the modesty of women," Imarat Shariah general secretary Maulana Anisur Rahman Quasmi says and adds one should take on a second wife only when it is justifiable.
Mashhadi agrees with the Maulana. "In other communities, there's no upper limit on the number of wives - or even husbands. However, Islam has this upper limit; while it's four in case of polygyny, polyandry is strictly prohibited," he said.
Dr Hai explains though the Shariah sanctions it, the Quran actually dissuades people from resorting to polygyny as it is impossible for a man to mete out the exact degree of 'equality and justice', a prerequisite to multiple marriages, to all his wives. "The following verse from the Quran sheds light on what is permissible, and with what kind of riders: 'Marry woman of your choice in twos', threes' or fours' but if you fear that you shall not be able to deal justly (with them), then only one'," he says and adds the same chapter notes that it is very difficult to be just and fair between women.
http://timesofindia.indiatimes.com/articleshow/12875399.cms
----------

Anger over female circumcision in a Muslim sub-sect in India
Apr 26, 2012
Over 1,600 Bohra Muslim women in India have signed an online petition calling for an end to the practice of female circumcision in the community. The community's insistence on "Khatna" (the excision of the clitoris) sets it apart from other Muslims in the Indian subcontinent.
Eleven years ago, Farida Bano was circumcised by an aunt on a bunk bed in her family home at the end of her 10th birthday party.
The mutilation occurred not in Africa, where the practice is most prevalent, but in India where a small Muslim sub-sect known as the Dawoodi Bohra continues to believe that the removal of the clitoris is the will of God.
"We claim to be modern and different from other Muslim sects. We are different but not modern," Bano, a 21-year-old law graduate who is angry about what was done to her, told AFP in New Delhi. She vividly remembers the moment in the party when the aunt pounced with a razor blade and a pack of cotton wool.
The Bohra brand of Islam is followed by 1.2 million people worldwide and is a sect of Shia Islam that originated in Yemen. While the sect bars other Muslims from its mosques, it sees itself as more liberal, treating men and women equally in matters of education and marriage.
The community's insistence on "Khatna" (the excision of the clitoris) also sets it apart from others on the subcontinent. "If other Muslims are not doing it then why are we following it?" Bano says.
For generations, few women in the tightly-knit community have spoken out in opposition, fearing that to air their grievances would be seen as an act of revolt frowned upon by their elders. But an online campaign is now encouraging them to join hands to bury the custom.
The anti-Khatna movement gained momentum after Tasneem, a Bohra woman who goes by one name, posted an online petition at the social action platform Change.org in November last year. She requested their religious leader, the 101-year-old Syedna Mohammed Burhanuddin, ban female genital mutilation, the consequences of which afflict 140 million women worldwide according to the World Health Organization.
Syedna Mohammed Burhanuddin is the 52nd Dai-al Mutalaq (absolute missionary) of the community and has sole authority to decide on all spiritual and temporal matters. Every member of the sect takes an oath of allegiance to the leader, who lives in western city of Mumbai.
When contacted by AFP, Burhanuddin's spokesman, Qureshi Raghib, ruled out any change and said he had no interest in talking about the issue. "I have heard about the online campaign but Bohra women should understand that our religion advocates the procedure and they should follow it without any argument," he said.
But over 1,600 Bohra Muslim women have since signed the online petition. Many describe the pain they experienced after the procedure and urge their leader to impose a ban.
"The main motive behind Khatna is that women should never enjoy sexual intercourse. We are supposed to be like dolls for men," 34-year-old Tabassum Murtaza, who lives in the western city of Surat, told AFP by telephone.
The World Health Organization has campaigned against the practice, saying it exposes millions of girls to dangers ranging from infections, hemorrhaging, complicated child-birth, or hepatitis from unsterilized tools. In the Middle East, it is still practiced in Yemen, Saudi Arabia, Iraq, Jordan and Syria.
"It is an atrocity committed under the cloak of religion," says Murtaza, who along with her husband was asked to leave their family home when they refused to get their daughter circumcised. "My mother-in-law said there was no room for religious disobedience and we should move out if we cannot respect the custom," she explained.
"It is better to live on the street than humiliate your daughter's body." Asghar Ali Engineer, a Bohra Muslim and expert on Islamic jurisprudence, has known the dangers of fighting for reform. He has authored over 40 books proposing changes, particularly around the status of women, and has been attacked by hardliners inside a mosque in Egypt and had his house trashed by opponents.
While both France and the United States have laws enabling the prosecution of immigrants who perform female circumcisions, the practice remains legal in India and Engineer expects this to remain the case.
"Female circumcision is clearly a violation of human rights, the Indian government refuses to recognize it as a crime because the practice has full-fledged religious backing," he said. "No government has the courage to touch a religious issue in India even if the practice is a crime against humanity."
He says many fathers are simply unaware of the damage they are doing by following the custom. "I prevented my wife from getting our daughters circumcised but in many cases even fathers are not aware of the pain their daughters experience," he says.
http://india.nydailynews.com/newsarticle/4f96975cb7445c9d50000000/anger-over-female-circumcision-in-a-muslim-sub-sect-in-india
----------

'Middle class Muslim women still victims of bias'
Apr 26, 2012
New Delhi: Muslim women from middle class homes continue to battle discrimination despite efforts by the government and non-profit organisations to empower them, says veteran filmmaker-activist Rama Pandey, who is serialising her encounters with 26 women from the community in three volumes of stories.
Her book, "Begum Bano Aur Khatoon", a collection of seven plays in Hindi, was unveiled in the capital last week. The other two are "Faisle", which was serialised on television, and "Hum Hain". Pandey is also an eminent broadcaster, writer and theatre personality.
Pandey said "Begum Bano Aur Khatoon" has been "welcomed by the imams of mosques who have admitted there was a need to address social issues in Muslim society".
"I am a commentator of things of human interest. Any woman who fights injustice and triumphs over suffering attracts my attention. For 40 years of my life I have observed the incidents that I have described in my book. The book is a salutation to these women and my commitment to my cause of helping Muslim women in distress," Pandey told IANS.
"Every woman who lives behind the veil (in Muslim society) has deep lives - and those who have the desire and the courage to stand up for what they believe are winners," said Pandey, India's first producer-director at BBC Radio Service.
Pandey, who had married into a Muslim family, says "the women from poorer Muslim homes do not have the economic condition to protest injustice". "There is no social structure to support these women. Women with three to four children are often abandoned by their husbands. They are denied the right to decent lives. Women have suffered male egos because men from this society cannot tolerate women who have opinion and break out."
Pandey cited the example of a Muslim Indian Administrative Service (IAS) officer, who tried to misuse the position of his wife, also an IAS officer. "He would question her decisions and try to dictate the postings of collectors and cadre distribution.
"The men still oppose higher education in women. I know of pimps in Haryana who lure young Bengali (mostly Muslim) girls to marry old men. My literature is for such women and their mothers and fathers. My literature does a different activity - it raises awareness," Pandey said.
The author has been working with Muslim women - victims of social injustice - in the non-profit sector for several years, rehabilitating them with vocational skills. The seven stories in her collection are real life sagas of unusual grit shown by women.
Narrating a typical story of courage, Pandey said one of the plays in the anthology "Parinda" is the story of Nasreen, one of Srinagar's first para-gliders.
Nasreen was trained to be a professional after winning a para-jumping contest. When she returned home after training, the newspapers were full of her achievements. Proposals for wedding started pouring in and Nasreen married one 'Dr Farooq'.
A year after the wedding, Farooq left for Saudi Arabia to earn dollars and a lonely Nasreen took the job of a teacher in a local school.
When Farooq returned home after three years, he was angry with her job. Nasreen became a mother of two children and "asked Farooq to take her to Saudi Arabia". But she soon realised that women were 'prisoners' and she yearned for her freedom. She walked out on her husband when he refused to leave his job. Nasreen returned home to live the freedom that she had experienced as a para-jumper.
"After 'Faisle' (the first anthology) was released, hundreds of women befriended me and became my sisters. They handed me the stories of their lives and told me to lend voice to them because they did not have the courage to speak out...It was as if the dumb had been given the power of speech in the last two years," Pandey said.
http://www.ummid.com/news/2012/April/20.04.2012/middle_class_muslim_wome
----------
Iraqis under threat, modern Indian women in focus at Tribeca
Apr 26 2012
NEW YORK : Iraqis living in danger after working with US troops and diplomats and an examination of women in modern India are two subjects grabbing the attention of critics and audiences among documentaries showing at the Tribeca Film Festival this week.
Both films are part of a lineup of 32 documentaries at the New York festival, which runs through Sunday, that tell true tales from inside and outside the United States. Documentaries, which have become more stylized in recent years with inexpensive hi-tech cameras, have traditionally been a strength at Tribeca. This year is no exception, and many of these non-fiction movies will be seen in theaters and on TV throughout 2012.
The List tells of American Kirk Johnson's fight to save US-allied Iraqis who are at risk of being kidnapped and killed by militants that have marked them as traitors. The film argues that the Iraqis are trapped in bureaucratic red tape while waiting years for US visas.
He is an American hero, he represents what America thinks it is and wants to be overseas but is really not who we have been, director Beth Murphy said about Johnson. Murphy spent four years making the film and shooting footage in Iraq, Syria, Jordan, Egypt and the United States.
Johnson helped reconstruction efforts in Iraq, but returned to the United States and unexpectedly suffered post traumatic stress disorder, leading to a fall from a second floor window.
Since then, he has been lobbying politicians and compiling a thick dossier, known as The List, of thousands of US-affiliated Iraqis still waiting for visas, many of whom were forced to flee to surrounding countries.
Top US diplomats are shown in the film delaying aid and testifying in Washington that they don't know how many Iraqis who worked for them are under constant threat.
For his work, Johnson, 32, has been labeled a modern-day Oskar Schindler -- a German who helped save Jews during World War Two by keeping them working in his factories. His story was the focus of Steven Spielberg's film Schindler's List.
Showbiz publication Variety said in its glowing review of The List that it effectively traces Johnson's heroic actions by a lone American in a fight for justice, as well as the emotional stories of several US-allied Iraqis proud of their work for American troops and now desperate for help.
The film is a combination of Kirk's story to try and save them, combined with the stories of several Iraqis on his list, Murphy said. We can't ignore the reason they are in this horrible predicament. The reason is us.
After partnering with pro bono lawyers, Johnson has helped about 1500 Iraqis obtain visas, but there are thousands waiting. Similarly, thousands of Afghans who have worked in translator and other jobs with troops and diplomats still await visas and fear they will be further targeted when soldiers leave.
MODERN INDIAN WOMEN
Not far from those war-torn regions springs another film that has encouraged conversations at Tribeca, but this one centers on culture wars in modern India and the plight of women.
The World Before Her, which was chosen as the opening night documentary film, parallels the lives of women in the Miss India beauty pageant and a fundamentalist Hindu camp for girls.
The documentary, which also took four years to make, is yet to be screened in India and may prove controversial for its rare peek and footage of a Hindu fundamentalist camp. Canadian director Nisha Pahuja worked two years to gain access to it.
The Miss India pageant was a way to look at India as country in transition and also show how this new, modern-day India was being written on the bodies of women, said Pahuja who moved to Canada from India at an early age.
The two seemingly opposite Indian worlds showing capitalism versus fundamentalism capture a country that is divided and trying to figure out what it is, said Pahuja.
At the same time, she added that by addressing the complexities of modern Indian women, the film asks how different they really are. Ultimately, audiences are left to conclude women in India want the ability to choose the course of their life, whether fundamentalist or modern, rich or poor.
Elsewhere, several Tribeca documentaries have offered compelling portraits of people marginalized inside the United States, including Booker's Place: A Mississippi Story that tells of Booker Wright, a black waiter in a white-owned restaurant who was the subject of an NBC News piece in 1965.
Shot in black and white with a sometimes grainy, poetic style, director Raymond De Felitta recounts Wright's story and his own father's quandary in producing the NBC story that placed Wright's life in danger and symbolized the racial discrimination in the US south.
The Revisionaries spotlights a current battle in that same region over politicizing educational textbooks by focusing on the Texas State Board of Education's review of standards and conservatives' efforts to weaken the theory of evolution.
Finally, changes in US TV and politically conservative personalities are examined in Evocateur: The Morton Downey Jr.
Downey Jr. hosted a provocative, popular 1980s talk show that, the film argues, paved the way for the sort of aggressive behavior shown on today's TV programs like The Jerry Springer Show that win ratings but lower entertainment standards.
http://www.indianexpress.com/news/iraqis-under-threat-indian-women-in-focus-at-tribeca/941829/
--------
URL: https://newageislam.com/islam,-women-and-feminism/new-age-islam-news-bureau/10-year-old-girls-can-marry,-says-saudi-grand-mufti/d/7152