New Age Islam News Bureau
26 Jan 2015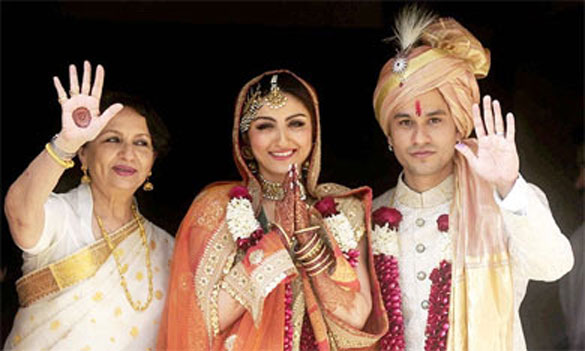 Indian Bollywood veteran actress Sharmila Tagore (L) poses during the wedding of Soha Ali Khan (C) and Kunal Khemu (R) in Mumbai on January 25, 2015. — AFP
------------
• 8-Year-Old Girl Who Saved Grandma's Life Gets Bravery Award
• Women Power to the Fore at Rajpath
• Yazidis Freed By Islamic State Enjoy Bittersweet Homecoming
• Failed Iraq Female Bomber Wanted By IS For Remaining Japan Hostage
• 14-Year-Old Girl Becomes Youngest Palestinian in Israeli Jails
• Egyptian Female Cyclists Pedal for Acceptance
• Saudi Women's Participation in National Development 'Steadily Emerging'
• Miss Indonesia Wins Best National Costume at Miss Universe Pageant
• World Fails to Protect Civilians in Iraq, Syria: US Actress Angelina Jolie
• Egypt Convicts Doctor, Father in First Ever FGM Trial
• World Bank to Lend $400m More For Primary Education's Uplift In Bangladesh
Compiled by New Age Islam News Bureau
URL: https://newageislam.com/islam-women-feminism/10-year-old-girl-forced/d/101200
----------
10-Year-Old Girl Forced For Suicide Bombing In Helmand
Jan 26 2015
A 10-year-old girl was forced to carry out suicide attack after she was abducted by Taliban group in southern Helmand province of Afghanistan.
The Afghan Intelligence – National Directorate of Security (NDS) said Sunday that the little girl was identified as Gulsoom who was abducted by a Taliban commanden Shujahuddin from Baba Jee area of Lashkargah city.
A statement by NDS said the Taliban group was looking to carry out a suicide attack on Afghan security forces by forcing the girl to carry a school bag full of explosives.
The statement further added Gulsoom managed to flee and surrender herself to Afghan security forces before Taliban militants manage to detonate the explosives.
This is not the first Taliban militants are using the children to carry out attacks terrorist activities.
A 15-year-old child was used to carry out a suicide attack in in French Institute at Estiqlal high school in capital Kabul earlier in the month of December last year.
While another 10-year-old girl was arrested in southern Helmand province of Afghanistan, before she manage to carry out suicide attack in this province last year.
The child identified as Spoghmai was reportedly forced by her brother who was a Taliban commander to attack the Afghan national security forces in Khanshin district of Helmand province.
http://www.khaama.com/10-year-old-girl-forced-for-suicide-bombing-in-helmand-9893
-----------
Bollywood Actress Soha Ali Khan Ties Knot with Long-time Love Kunal Khemu
26 January, 2015
Bollywood actor Soha Ali Khan tied the knot with her longtime boyfriend and actor Kunal Khemu in an intimate ceremony on Jan 25, attended by close family, Indian media reported.
The couple had been living in together for a long time in an apartment reportedly gifted by Khan's mother Sharmila Tagore. They got engaged last year in July 2014 in Paris.
The two have worked together in films like Dhoondte Reh Jaaoge and 99.
At the wedding, Soha donned an off-white lehenga-choli set paired with an orange dupatta while Khemu wore a white-gold sherwani and a silk safa. Soha' sister-in-law and superstar Kareena looked stunning in a powder pink Manish Malhotra sari.
Indian Bollywood actor Saif Ali Khan (L) with his wife Kareena Kapoor Khan (R) attend the wedding of Soha Ali Khan (2nd L) and Kunal Khemu (2nd R) in Mumbai on January 25, 2015. — AFP
Khan posted a picture of herself and the groom on Twitter, saying that, 'I married my best friend today.'
Kunal Khemu also took to Twitter to express his happiness and thank everyone for the wishes sent the couple's way.
Soha's wedding festivities commenced on January 22 with her girlfriends, which include actors Konkana Sen Sharma and Neha Dhupia, throwing a Bachelorette party for her.
This was followed by a mehendi ceremony where the Rang De Basanti actor wore a leheriya and gota-work outfit by Ritu Kumar.
The Pataudi family also hosted a nawabi-style dawaat for the newly married couple where Kareena stole the limelight with a stunning Manish Malhotra outfit while Saif looked every bit the Nawab in a blue bandhgala.
Kareena was also seen posing with her sister Karisma Kapoor and best friend Amrita Arora.
http://www.dawn.com/news/1159550/soha-ali-khan-ties-knot-with-longtime-love-kunal-khemu
-------
8-Year-Old Girl Who Saved Grandma's Life Gets Bravery Award
TNN | Jan 26, 2015
KOHIMA: Mhonbeni Ezung, 8, was among 24 children to receive the national bravery award on Sunday for rescuing her drowning grandmother from a river at Chudi village in Wokha district of Nagaland. She is the youngest recipient of the bravery awards this year.
The incident happened on January 28, 2014, when Mhonbeni had gone to her maternal grandmother's home in Chudi village. Her grandmother, Renthunglo Jungi, then 78, wife of late Limomo Jungi, had taken her out for fishing to Anunga Hayi stream, 4 to 5 km from Chudi.
While fishing the grandmother suffered sudden cramps, followed by a stroke and fell unconscious. Sensing trouble, Mhonbeni ran back 4-5 km through the thick forests all alone to the village to call for help. Renthunglo was rushed to Sanis PHC, under Wokha district and was later referred to Dimapur.
N Longtsubemo Lotha, the proud father of Mhonbeni, said they received the award from the Prime Minister in Delhi. Longtsubemo is a havaldar in Nagaland's Home Guards department.
Of the 24, four awards have been given posthumously. The coveted Bharat Award for exceptionally gallant deed has been conferred on Km. Resham Fatma, 16, of Uttar Pradesh, a victim of acid attack, for putting on a brave face while fighting off her tormentor.
The prestigious Geeta Chopra Award has been conferred on Km Gunjan Sharma, 13, of Assam who displayed exemplary valour in saving her friends from the clutches of an abductor. The Sanjay Chopra Award has been given to Master Devesh Kumar, 16, of Uttar Pradesh who displayed outstanding courage while confronting two chain-snatchers.
The National Bravery Award Scheme is an endeavour by the Indian Council for Child Welfare to give due recognition to the children who show exemplary courage and perform meritorious service to inspire others to emulate their example.
Children will get a medal, certificate and cash under the scheme and the awardees will be granted financial assistance until they complete their schooling. The Centre has reserved some seats for the awardees in medical and engineering colleges and polytechnics.
The President of India and several other dignitaries will also host receptions in their honour. Several states will organize functions to honour them at the state-level.
It was in 1957 that two children — a boy and a girl — were first rewarded for their presence of mind and courage. Since then ICCW decided to confer national awards on children every year.
In 1987-88 ICCW instituted the Bharat Award for an outstanding, meritorious and gallant deed. The other special awards include the Geeta Chopra and Sanjay Chopra awards (instituted by ICCW in 1978) and the Bapu Gaidhani Awards (instituted in 1988-89).
Since the inception of the scheme in 1957, the ICCW has given awards to 895 brave children — 634 boys and 261 girls.
http://timesofindia.indiatimes.com/india/8-year-old-girl-who-saved-grandmas-life-gets-bravery-award/articleshow/46016453.cms
----------
Women power to the fore at Rajpath
Jan 26 2015
This year's Republic Day parade for the first time featured all-women contingents of the three Services march across Rajpath.
The Navy focussed on nari shakti in its second tableau, titled Bharatiya Nau Sena aur Nari Shakti, which represented the four Navy women officers, who participated in an ocean voyage from Goa to Rio de Janeiro in Brazil on board naval vessel 'Mhadei'.
While Captain Divya Ajith of the Corps of Army Air Defence lead the Army contingent, the Navy contingent was led by Lieutenant Commander Sandhya Chauhan and Air Force contingent was led by Squadron Leader Sneha Shekhawat. The contingents each had 148 officers from the three Services.
http://www.thehindu.com/news/national/women-power-to-the-fore-at-rajpath/article6823826.ece
----------
Yazidis Freed By Islamic State Enjoy Bittersweet Homecoming
Jan 26 2015
LALESH: The Yazidi family mourned her death, assuming she had been killed by Islamic State militants or exposure to the blistering summer sun in northwest Iraq, but 15-year-old Suad Shaker Qassem was still alive.
Over the weekend, she was released along with around 200 elderly, disabled and infirm Yazidis after five months in Islamic State captivity.
"I couldn't believe it," said Kawal Shaker Qassem, 26, who found out his sister was among them when one of his friends recognised her in a photograph and called him. "I came straight here."
Suad, who is severely disabled, lay under a blanket in a reception hall in Lalesh, the most sacred place for the minority Yazidi faith. Here, far from the dangers of Islamic State, those released were reunited with relatives who had given them up for dead.
The homecoming was bittersweet. The released Yazidis said they could not be at peace knowing that many of their loved ones remained in Islamic State hands.
Last August, as Islamic State attacked parts of northern Nineveh province, long controlled by Kurdish security forces, and threatened to over-run the Kurdistan regional capital Arbil, the Yazidi minority fled their villages; thousands sought refuge on nearby Sinjar mountain.
Those too old or weak to get away were left behind. Fleeing their village of Tel Qasab, the Qassem family piled into a car but it broke down, so they were forced to continue on foot.
Suad, who is unable to walk alone, was carried on her brother's back. Their father, who had suffered a stroke, was falling behind.
"My brother called me and said I can't carry her any longer," said Qassem, who was in Kurdistan at the time. "He said I have two choices: either to save my sister, or my father. I am going to leave her here."
Suad cannot say what happened to her, but the other Yazidis said they had been shunted from place to place by the militants, resigned to the prospect each day might be their last.
Islamic State militants had caught up with them as they tried to get away and told them to return home, assuring them they would not be harmed.
Days later, they were rounded up into groups and taken to different villages, where they were kept under house arrest.
The militants brought them food, which they said was often too little, or expired. One man said he and around 570 others had been held for three months in the village of Kucho.
"We were just sitting around," he said. Others said they had stayed in the town of Sinjar itself.
Most of them lost track of time, but said they were eventually herded into empty schools and taken to Tel Afar, a city west of Mosul.
Young women were separated from old, and Islamic State emirs took the most attractive as trophies.
From there, some were moved on to Mosul and Badush jail, where 59-year-old Sahwa Iyas Hussein found Suad among hundreds of other imprisoned Yazidis and took care of her until they were freed: "I took pity on her."
When Islamic State militants ordered them onto buses early on Saturday, the Yazidis thought they were being led to their execution. Instead, they were dropped off at a bridge crossing into Kurdish-controlled territory.
None of them had expected to survive, let alone walk free. "We considered ourselves dead," said Mahal Fares Qassem, 35.
It is not clear why Islamic State, which considers Yazidis devil-worshippers, decided to release them.
Some said they had been told the extremist group's leader Abu Bakr al-Baghdadi himself had issued a pardon, and others speculated they had been part of a swap. "There are always people who have mercy, even in the Islamic State," said 45-year-old Khafshe Mrad Gernous, five of whose relatives are still unaccounted for.
"I'm glad to be free but as long as my family is captive, it's as though I'm not alive." Sitting beside her, Finale Hassan Haji, 15, said she had saved herself from a worse fate by following her mother's instructions to act dumb.
Rumours circulated they might have been infected with some kind of disease to transmit back to the Kurdish region. Hama Fares Khodeida Kheder, 59, concluded they were simply worthless.
"Look at us! We are all old and decrepit. We weren't of any value to them," said Kheder, who was sitting at home in his wheelchair when the militants arrived.
Paralysed from the waist down, he made no attempt to escape.
"They said convert to Islam or we will slaughter you, so we said the shahada," he smiled, referring to the Islamic declaration of faith. "What were we supposed to do?"
Many of them shrivelled with age and wrapped in blankets, the released Yazidis said they had not been abused.
Doctors wearing protective suits inserted syringes into spindly arms, taking samples of blood to test for HIV and Hepatitis.
One elderly woman died just hours after being released, and there are several suspected cases of Tuberculosis. A number are suffering from a skin condition known as "Baghdad Boil", which manifests as open sores on the body.
Others appeared to be psychologically scarred.
A dishevelled woman wandering around the hall yanked a mattress from beneath two other Yazidis and sat down on it herself. "Go and find Nawaf!" she said quietly and then shouted: "I am Nawaf!" A representative of the Yazidi spiritual leader Baba Sheikh said community leaders feared she had lost her mind and said they had no idea who the woman was or where her family might be.
Outside the hall, the conical domes of the Lalesh temple towered over tents housing more than 100 Yazidi families. Inside the temple, worshippers circled the grave of Sheikh Adi, one of the most revered figures in the Yazidi religion.
"Oh Sheikh Adi!" cried an elderly woman, throwing up her hands in supplication. "Take revenge against Islamic State for us."
http://www.dailytimes.com.pk/region/26-Jan-2015/yazidis-freed-by-islamic-state-enjoy-bittersweet-homecoming
-----------
Failed Iraq female bomber wanted by IS for remaining Japan hostage
Jan 26 2015
AMMAN: Sajida Al-Rishawi, whose release is demanded by the Islamic State group that claimed the murder of a Japanese hostage, is a would-be Iraqi female suicide bomber on death row in Jordan.
Rishawi was sentenced to death in 2006 for triple hotel bomb attacks in Amman that killed 60 people on Nov. 9. 2005, rocking one of the Middle East's most stable nations.
The 44-year-old woman was arrested four days after the attacks in which her husband Ali Hussein Al-Shammari and two other Iraqis, blew themselves up.
The heaviest casualties came when Shammari detonated his explosives belt at the Radisson SAS hotel as a wedding was in full swing.
Two other hotels were hit in the coordinated attacks and most of the dead were Jordanians.
After her arrest, Jordanian authorities paraded Rishawi on state television for her to confess that she had accompanied her husband to Jordan to carry out the attacks.
During her televised confession, Rishawi displayed an explosives belt strapped across her long black robe and spoke calmly about how the operation was to have been carried out.
Rishawi, who appeared with a white head scarf, said that at the last minute she had not managed to activate her belt to blow herself up.
She said her husband was one of the bombers, that they had traveled from Iraq using fake passports and he had shown her how to activate the explosives. Her trial opened in April 2006, with Abu Musab Al-Zarqawi, the Al-Qaeda leader in Iraq, also on the charge sheet.
Jordanian-born Zarqawi, who was killed in a US air raid in Iraq in June 2006, had claimed the triple bombings in Amman.
Rishawi, whose brother Samir Atruss Al-Rishawi, a Zarqawi lieutenant also killed in Iraq, was condemned to death three months later for conspiracy in a terrorist attack.
A video released Saturday by the Islamic State, of which Zarqawi's group was a precursor, shows images of Japanese hostage Kenji Goto holding what appears to be a photograph of the slain body of his compatriot Haruna Yukawa.
The video was released with an audio recording in which a man claiming to be Goto blames Japanese Prime Minister Shinzo Abe for his fellow captive's death because he failed to pay a $200 million ransom.
The voice also reveals a new demand for the release of Sajida Al-Rishawi, saying the militants are no longer demanding money to save his life, but want "their sister" to be freed.
"It is simple. You give them Sajida and I will be released," the voice says.
Japan dispatched a minister to Jordan earlier this week. Shinzo has declined to comment on whether he would ask Amman to release Sajida.
http://www.arabnews.com/middle-east/news/694761
-----------
14-Year-Old Girl Becomes Youngest Palestinian in Israeli Jails
Jan 26 2015
A 14-year-old Palestinian girl has become the youngest prisoner in Israeli jails after an Israeli court sentenced her to two months in jail and a fine of 6,000 Israeli shekels (roughly $1,500), a Palestinian NGO said.
The Ramallah-based Ahrar Centre for Prisoners' Studies and Human Rights said Malak al-Khatib, who was sentenced to prison by the court this week, was the youngest of around 280 Palestinian children in Israeli jails, the World Bulletin reported.
"Israel has been targeting Palestinian children for years," the centre director, Fouad Khuffash said.
"Israeli violence against Palestinians, in general, and children, in particular, should not remain without response," he added.
He said his centre had started a new campaign to pave the ground for al-Khatib's release.
The 14-year-old girl was detained by Israeli forces on December 31 of 2014 on her way back home from school in the West Bank city of Ramallah.
On Wednesday, an Israeli court convicted her of throwing stones at Israeli forces, blocking a main road in the West Bank and possessing a knife, according to her father.
Ali al-Khatib said his daughter was brought to the court with her hands and feet in handcuffs.
Israeli forces routinely launch arrest campaigns against Palestinians in the occupied West Bank on the pretext that they are wanted by Israeli authorities.
Over 7,000 Palestinians are currently languishing in prisons throughout Israel, according to the Palestinian Ministry of Prisoners' Affairs.
http://english.farsnews.com/newstext.aspx?nn=13931106000715
-----------
Egyptian female cyclists pedal for acceptance
Jan 26 2015
Yasmine Mahmoud cuts a defiant figure as she weaves her bicycle through the chaotic streets of Cairo, a place where few women dare to pedal.
Every day, like for the past four years, she takes her bicycle from her 10th floor apartment and rides through the Egyptian capital, to the astonishment of bystanders.
"Unfortunately, it's socially unacceptable in Egypt for a girl to ride a bicycle in the street," said the 31-year-old executive secretary, as she prepared to set off from the upscale Cairo neighbourhood where she lives.
Women enjoy more freedom in Egypt than in deeply conservative Muslim countries such as Saudi Arabia, but the most populous Sunni Arab country still considers it inappropriate for them to ride bicycles.
Unlike in many countries, the two-wheeler is considered unsafe for travelling in Cairo's traffic-clogged roads.
For Egyptian women it is all the more challenging given the city's notorious sexual violence, and female cyclists in particular are targeted by passers-by.
The majority of cyclists in Egypt are working class men, preferring two wheels for running daily errands.
Mahmoud's family objected to her cycling initially, but later started trusting her ability to cruise through the capital's traffic bottlenecks.
"I used to ride a bicycle when I was a kid, either near the beach where we went for holidays or in sports clubs," said Mahmoud, dressed in a yellow sweater and blue jeans, and wearing bicycle-shaped earrings.
"It took me a while to ride it again, but now it's my daily companion."
'Saving time and money'
Mahmoud now refuses to drive her car unless she has to travel far.
"A bicycle saves both time and the money required for gas," she said.
"This road would have taken at least half an hour," she said, pointing to a queue of crawling cars at a roundabout, which she quickly passes on her bicycle.
Mahmoud said Egyptian streets should have separate lanes for cyclists given the risk of being mowed down by "scary" microbuses breezing past recklessly.
In addition to traffic hazards, "verbal sexual harassments and cynical passers-by are big problems too," said Mahmoud, who still recalls how a young man once tried to forcefully jump behind her on her bicycle.
"I just ignore them and ride on," she said laughing.
Sexual assaults against women rose following the 2011 uprising that toppled president Hosni Mubarak, with hundreds of attacks reported, activists say.
But this does not deter Mahmoud, who has taken her passion to a new level. She is a member of Go Bike, a group that promotes cycling.
Every Friday morning, the group arranges cycling tours. Many participants are women keen to learn the sport and wanting to follow Mahmoud.
"I am ready for the challenge," said Shaimaa Ahmed, a veil-wearing 26-year-old pharmacist, as she brushed dust from her clothes after falling off her bicycle minutes into her first attempt at cycling.
Fifty-year-old amateur Wafaa Ahmed is proof that cycling is not just for the young.
"The only fear is harassment, more than the chaotic traffic and lack of security on the streets," said the mother-of-two, who wants to travel to her workplace by bicycle.
Go Bike founder Mohamed Samy wants bicycles to replace cars for travelling short distances.
"But what we need are separate lanes for cyclists," he said.
President Abdel Fattah al-Sisi threw his weight behind promoting cycling just days after coming to office.
In July last year, Sisi took part in a cycling marathon to encourage people to switch from automobiles.
Go Bike aims to "change society's perception" about girls riding bicycles, said the group's spokeswoman Hadeer Samy, wearing a bicycle-shaped necklace.
"We want bicycles to be a means for Egyptian girls to break the moulds of customs and traditions."
For women still hesitating to ride on their own on the streets, Mahmoud has some words of advice.
"Try not to be scared. Forget those around you, challenge yourself and just enjoy," she said, hopping onto her bicycle and pedalling off into Cairo's busy streets.
http://english.ahram.org.eg/NewsContent/6/56/121345/Sports/Omni-Sports/Egyptian-female-cyclists-pedal-for-acceptance.aspx
-----------
Saudi Women's Participation in National Development 'Steadily Emerging'
Jan 26 2015
JEDDAH — As family businesses in GCC specially Saudi Arabia seek to address new challenges and transition to future generations, women have the opportunity to take on more active roles than before, according to a new study.
The joint study undertaken by Al-Sayedah Khadijah Bint Khawilid Center (Jeddah Chamber) and Strategy& (formerly Booz & Company) investigates the role of women in family businesses across the GCC. The comprehensive study is based on insights from extensive client work, publicly available information, and interviews conducted with stakeholders in 30 leading family businesses based in Saudi Arabia and the rest of GCC in the past twelve months.
The study emphasizes that an environment empowering the increase of women's participation in national development is steadily emerging in Saudi Arabia which would lead to them playing a bigger role in family businesses.
Positive measures such as improved educational opportunities, provision of foreign scholarships in various fields, and state policies which strongly urge for women's participation in national economic development, are already underway. These factors make it conducive for women to take on more leadership roles within their family businesses.
According to the study, in the next five to 10 years, a large number of Saudi and GCC family businesses are expected to face a transition to the third generation. Succession planning is one of the most critical challenges that family businesses face but it can also be a great opportunity to draw from the entire talent pool, not only the male members of the family. As female family members become shareholders via inheritance, they tend to request a role in the governance and oversight of the business.
Dr. Basmah M. Omair, CEO of Al-Sayedah Khadijah Bint Khawilid Center, said: "This is a propitious time for family businesses as all of the GCC countries have made female economic inclusion a top priority. The value of diverse perspectives from all members of the family is gaining more widespread recognition as most family businesses in the GCC are facing transition from the second to the third generation of ownership. As a result, there is a supportive environment for family businesses to take advantage of the contribution that their women can make. GCC family businesses are also looking at global best practices and finding that female family members are increasingly becoming a vital force within their foreign counterparts."
"A number of other trends have contributed to women's growing leadership over the past two decades, which include changing social conditions, such as smaller family sizes and higher average age of marriage; increasing efforts from women to acquire the skills that would make them eligible for a wider spectrum of roles in business; and growing social acceptance that encourages women to be more involved in the family business," Dr. Omair added.
The study reveals the major obstacles to women's participation in family businesses, which include the cultural perceptions of a patriarchal society, misalignment between the requirements of the business and the extent of women's education or training, women's lack of interest or motivation to be active in the family business and fierce competition within large families for a limited number of senior roles, in which women are at a disadvantage as they must develop comparable skills to their male counterparts.
Ramy Sfeir, Partner with Strategy& leading the family business platform in the Middle East, said: "In order for these companies to access their female talent pool, there is an urgent need for male family members to understand women's aspirations and for female family members to calibrate the expectations of male members of the family. GCC women's roles in family businesses tend to exist in two spheres: core business activities, such as management and corporate governance, and enabling business activities, such as promoting family values and preparing the next generation to join the business. Within each of these spheres, women are already playing clearly defined roles."
Several GCC families have described their philanthropic activities as an ideal setting for women to be involved in the family. They expect women to benefit from more flexible hours than full-time employment allows and believe that women can play a better role in developing and executing the right programs to support those in need, building on their social connections and emotional intelligence, without the need for extensive financial literacy.
"Enacting a governance model and planning for succession require a carefully designed transfer of values to the next generation. Women are necessary to this intentional and essential transmission of family culture in two ways. First, women of the second and third generation must be recognized and mentored as strong contributors to the family's success. Second, they should be acknowledged for their role as the educators and influencers of future generations, and encouraged to take on roles as mentors themselves," added Sfeir.
In light of this broader impact, governments have a vested interest in promoting women's participation in family businesses. Governments should continue their efforts to empower more women to participate in national development and break down social obstacles to female involvement.
Governments need to lead, support, incentivize, and educate about how women's inclusion in family firms can help these enterprises through generational transitions and in a more competitive external environment. They can also help to ensure that women have access to appropriate education and training with a focus on management and finance, and potentially consider in some cases female quotas for businesses similar to existing nationalization quotas.
The study noted that women in the GCC have succeeded in overcoming the gender gap in both primary and secondary schools. In the UAE, where schooling is government-funded to the bachelor's degree level, the gender gap in enrolment in secondary schools is insignificant. In higher education, women outnumber men in percentage of graduates across the GCC, and they are beginning to venture into fields traditionally dominated by men. This will create better alignment with their family firms in the future. Contrary to stereotypes, women are increasingly choosing to pursue degrees in the sciences, business, law, and engineering fields. Their educational advancement is bolstered by scholarships to study abroad, which more women are receiving.
Although GCC countries have made significant strides in education for women, the participation in the labour force still lags behind developed countries at around 30 percent, compared to 70 to 80 percent for most Organization for Economic Co-operation and Development (OECD) countries. More importantly, according to a recent study conducted by the International Labour Organization, wide disparities in female workforce participation within the GCC exist, with 18.2 percent of women in Saudi Arabia entering the workforce, 28.6 percent in Oman, 39.4 percent in Bahrain, 46.6 percent in the UAE, 43.4 percent in Kuwait, and 50.8 percent in Qatar.
"Financial literacy has become an increasingly important skill, and perhaps nowhere is it more important than within a family business. However, nearly 50 percent of female interviewees cited a lack of financial skills as one of their key challenges. Accordingly, women need to focus more on developing their financial skills and business acumen so that they are able to make more informed decisions on the management of money. Family business leaders need to support this development by providing women with proper training which will prepare them for roles in the business. In addition, governments should take a step further by sponsoring and promoting training courses for women on relevant topics such as finance and management," added Dr. Omair.
The study also noted that the rationale for gender diversity in family businesses is often driven by the founder's objective of restricting the company's board seats to family members, including his sons and daughters. However, despite female family members' elections to boards, the research suggests that few women are actively participating or providing input during board meetings, which could be due to the lack of preparation for the role or their limited integration into the organization.
Taking into consideration these challenges, the study outlines three important trends that can support an increase in women's participation in GCC family businesses: (i) the high level of female education; (ii) the gradual growth in women's labour participation and entrepreneurship and (iii) family firms revisiting their governance and planning for succession. The study suggests that senior family members and more importantly, the government, will need to undertake initiatives for these three trends to have the desired impact in terms of giving family businesses the competitive edge that comes from incorporating women. Family business leaders can take advantage of these trends by ensuring that all members of the family supplement their formal education with the training that will prepare them for roles in the business.
"Governments' support of women's employment is critical and has had a positive impact on promoting a more active role for women in their family businesses. For example, women are expected to take on more senior roles at an early stage of their careers, or become entrepreneurs who develop new ventures within or outside their family businesses. When national economic trends became more supportive of women's employment, this reflects positively in the family business. Previously, there was no foresight to include or develop female members of the family," added Sfeir.
"Although the participation of women in family firms is a nascent trend in the GCC, the confluence of these trends will increase the likelihood of women becoming more involved in family businesses. Their interest, skills, energy, and enthusiasm — if properly channeled with training, mentorship, support, and good communication — will strengthen their businesses and their families," Dr. Omair pointed out.
http://www.saudigazette.com.sa/index.cfm?method=home.regcon&contentid=20150126231647
-----------
Miss Indonesia Wins Best National Costume at Miss Universe Pageant
Jan 26, 2015
Miss Indonesia Universe 2014 Elvira Devinamira has won the Best National Costume category at the 63rd Annual Miss Universe pageant, which took place in Miami on Sunday.
Elvira, 21, beat the 87 other contestants to the prize following three days of fan voting via Twitter, Detik.com reported.
Previously on Wednesday, the Miss Universe's organizers announced on their official Facebook page that Elvira's costume, titled "The Chronicles of Borobudur," was among the top five, along with those worn by the contestants from Argentina, Canada, Germany and India.
According to Kompas.com, Elvira's costume was inspired by Central Java's Borobudur Temple, a ninth-century Buddhist monument and Unesco heritage site.
The costume, which was said to weigh some 20 kilograms, was created by seven Indonesian designers, including Didit Maulana, Anne Avantie and Alleira, according to Putri Kuswisnu Wardani, chairwoman of Yayasan Putri Indonesia, the organizer of Miss Indonesia, as quoted by Okezone.com.
Elvira also made it into the top 15 of the main pageant itself before dropping out. The Miss Universe title this year went to Paulina Vega of Colombia.
http://thejakartaglobe.beritasatu.com/features/miss-indonesia-wins-best-national-costume-miss-universe-pageant/
-----------
World fails to protect civilians in Iraq, Syria: US actress Angelina Jolie
Jan 26 2015
KHANKE: The international community is failing in its duty to protect civilians affected by the conflict in Iraq and Syria, US actress Angelina Jolie said in northern Iraq.
In her capacity as special envoy for the UN's refugee agency (UNHCR), the Hollywood star visited Syrian refugees and displaced Iraqis near Dohuk, in the autonomous region of Kurdistan.
"I'm shocked by what I've seen today. This is my fifth visit to Iraq since 2007 and the suffering is worse than anything I've seen in that time," she told reporters at a camp in Khanke.
Jolie last visited Iraq in 2012, before the Islamic State jihadist group became a dominant force in large parts of Syria and launched a devastating offensive in Iraq last year.
More than two million people have been internally displaced in Iraq over the past year alone. Nearly half of them have found refuge in Kurdistan and the numbers continue to grow.
"UNHCR received only half of the funding it needed in 2014 for programmes in Iraq and Syria and is extremely concerned at the slow pace of pledges for this year. Without more assistance, the situation is unsustainable," Jolie added.
"We are being tested here as an international community and so far, for all the immense efforts and good intentions, the international community failed, "she said.
Neil Wright, the UNHCR representative in Iraq, deplored that world powers' financial pledges did not reflect the scope of a crisis that has forced more than 13 million people from their homes in Syria and Iraq.
"It is time to question whether the governments, whether the donors need to recalibrate the billions they are spending on military solutions and the millions that they are spending on relieving suffering amongst the displaced and amongst the communities who are so generously hosting them," he said.
http://www.dawn.com/news/1159446/world-fails-to-protect-civilians-in-iraq-syria-jolie
-----------
Egypt convicts doctor, father in first ever FGM trial
Jan 26 2015
A father and a doctor have been convicted over the death of a 13-year-old girl from female genital mutilation (FGM).
An appeal court sentenced the doctor to two years in prison with hard labour for involuntary manslaughter and a fine of LE500 (around $68).
While both the father and the doctor received a three-month prison sentence on FGM charges. The father's sentence is suspended for three years.
The doctor's clinic, in which he performed the FGM, was also ordered to close for one year.
This is the first FGM trial since a law banned the practice in 2008.
Soheir El-Bataa, from the Nile Delta's Daqahliya governorate, died while the doctor performed FGM on her in June 2013.
In November, a misdemeanor court acquitted both the father and doctor and said the criminal case had "expired" after "reconciliation," and ruled that the doctor must pay LE5, 000 as compensation to the mother, who is the plaintiff.
Although banned, female genital mutilation is still prevalent in Egypt, with 91 percent of women between the ages of 15 and 49 subjected to the practice, according to a 2008 study by the Egyptian Demographic Health Survey (EDHS), under the direct supervision of the health ministry.
The study showed that FGM was more prevalent in rural communities than in cities – 96 percent of girls in the countryside had undergone FGM, as opposed to 85 percent in urban environments.
http://english.ahram.org.eg/NewsContent/1/64/121362/Egypt/Politics-/BREAKING-Egypt-convicts-doctor,-father-in-first-ev.aspx
-----------
World Bank to lend $400m more for primary education's uplift in Bangladesh
Jan 26 2015
World Bank will lend additional $400m to improve quality of primary education in Bangladesh.
An agreement in this regard was signed with the International Development Association (IDA), the Bank's concessional arm, for additional financing of the ongoing Third Primary Education Development Program (PEDP3), says a WB press release yesterday.
The loan will benefit 19.5m children in primary schools by ensuring quality learning and completion of the primary school cycle.
The credit from the IDA has a 38-year maturity with a 6-year grace period and a service charge of 0.75%.
Economic Relations Division (ERD) senior secretary Mohammad Mejbahuddin and WB country director for Bangladesh Johannes Zutt inked the agreement on behalf of their respective sides at the ERD.
Under the additional financing, the World Bank will scale up support for improving primary education from grade 1 to grade 5.
PEDP-3 will also continue the roll-out of one year of pre-primary education with trained teachers and quality materials, with a focus on public primary schools in disadvantaged areas.
Additionally, the programme will expand efforts to bring out-of-school children into the school system.
"Today, nearly every child in Bangladesh attends primary school, thanks to successive government programmes to bring all boys and girls into the classroom," said Zutt.
PEDP-3 is considered a landmark programme globally, which along with its predecessor programmes has helped Bangladesh increase the primary education enrollment rate to over 97% and completion rate to about 79%.
The number of primary schools receiving textbooks within the first month of the school year has increased from 32% of total in 2010 to over 90% in 2014.
The programme has been supporting merit-based recruitment of teachers and filling of vacancies to reduce teacher-student ratio.
PEDP-3 also supports the development and expansion of an 18-month diploma for primary school teachers.
Facilitated by the programme, the Primary Education Completion Exam has been reformed to address testing competencies instead of rote learning.
The additional financing will continue to enhance the quality of school facilities and infrastructure, including use of information communication technology.
Mejbahuddin said: "The additional financing will ensure access and equity by bringing the poorest children into pre-primary education, enhancing their learning experience and boosting their earning potential as adults."
PEDP-3 is a government-led programme, supported by nine development partners.
The programme has introduced the use of country systems for financial management and audit, and harmonised external financing to primary education in Bangladesh under a single programme.
The World Bank is the largest external funding organisation in the education sector in Bangladesh.
The Bank's current commitment to the country's education sector is over $1.5bn, which covers primary, secondary, tertiary and vocational educations and also includes programmes for out-of school-children.
http://www.dhakatribune.com/development/2015/jan/26/wb-lend-400m-more-primary-education%E2%80%99s-uplift#sthash.f2sWrxlZ.dpuf
-----------
URL: https://newageislam.com/islam-women-feminism/10-year-old-girl-forced/d/101200