New Age Islam News Bureau
31 Dec 2013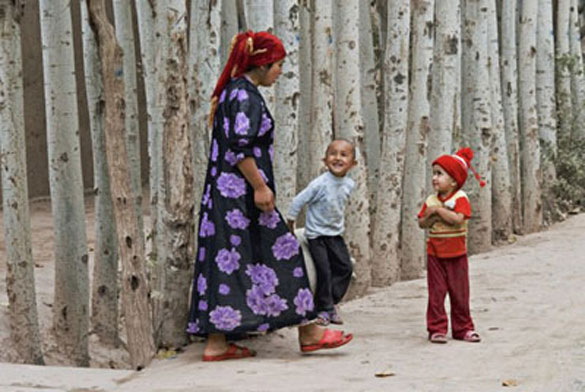 A Uyghur woman with her children in Kashgar, Xinjiang, July 1, 2012
------------
• No News Is the News for Woman in K-P, Balochistan
• Pakistan's Sharia Court Gets First Woman Judge in 33 Years
• Xinjiang Authorities Try to Force Six Women to Abort For Violating One-Child Policy
• This Egyptian Teen Is Rapping About Some Important Issues
• Integrated Efforts Stressed For Eradicating Child Marriage in Bangladesh
• French Mother Says Jihadist Ex Threatens To Take Toddler to Syria
• Saudi Shoura Names Four Women As Vice Chairs
• Saudi Female Saleswomen Demand English-Speaking Lessons
• Wife Says Al Qaeda Hostage Not Forgotten
• Tenacious Women, From Armed Struggle in Lebanon to the "Rubbles of the World"
• Saudi Man Gets Flogging for Doubting Wife's Virginity In front Of Her Dad
Compiled by New Age Islam News Bureau
URL: https://newageislam.com/islam-women-feminism/1-5-israeli-kids-suffers/d/35079
---------------
1 in 5 Israeli Kids Suffers Sex Abuse
Dec 31, 2013
TEHRAN (FNA)- A new report said one in every five children in Israel has suffered from some kind of sexual abuse.
According to the annual report released by the Israel National Council for the Child (NCC) on Sunday, in addition to the sexual abuse faced by the children, one in every three Israeli kids also lives in poverty, Islam Times reported.
The report also revealed that over the last thirty years, the number of poor kids in Israel has grown four-fold.
The picture is even grimmer for Arab children with nearly 68 percent of them living in poverty compared to nearly 23 percent of Jewish children.
Israeli President Shimon Peres has released a response to the report, saying that neglecting children today is a mistake "we will pay for in the future."
On December 18, a report showed that more than 1,700,000 Israelis are living below the poverty line.
According to the official data of Israel's annual poverty report published by the National Insurance Institute (NII) and the Central Bureau of Statistics (CBS), 439,500 families and 817,200 children, or 33 percent of minors in Israel, lived below the poverty line in 2012.
High taxes and low salaries have had adverse effects on the lives of Israelis, specifically the middle class, in recent years.
Discontented Israelis almost regularly take to the streets in Tel Aviv and other cities to protest against Tel Aviv's economic plans and the painful austerity measures, which have raised taxes and cut welfare benefits.
http://english.farsnews.com/newstext.aspx?nn=13921009000551
---------------
No news is the news for woman in K-P, Balochistan
Dec 31, 2013
KARACHI: This is the sound of a Baloch woman talking to a newspaper reporter.
If you can't hear anything, aside from the rustling of The Express Tribune's pages in between your hands, it's because Baloch women are so rarely interviewed for news that their presence barely shows up on the graph. It is much the same with women from Khyber-Pakhtunkhwa (K-P).
Out of 21,949 stories surveyed in six vernacular newspapers in the two provinces in three months, women were sources of information in just 74 articles. Media researcher Sadaf Baig went through copies of K-P's Mashriq in Urdu, Khabroona in Pashto and Wahdat in Pashto and Balochistan's Mashriq in Urdu, Talaar in Brahvi and Nawa-e-Watan in Balochi. She also trawled through 1,035 television news stories from Khyber TV and Vsh TV. The focus was not so much on credibility of news as regularity of publication as some newspapers never hit the market.
"The findings were expected but we had not imagined they would be so low," Baig said at the launch of the report 'Women's Voices in Media' on Saturday.
In the K-P newspapers, women were sources of information for just 0.1% or 24 out of a total of 14,761 stories. In 11,723 of these stories, though, gender was not indicated, or clear. Still, if you just counted the stories in which gender was clear (3,038), women were giving information in 0.7% of them.
In the Balochistan papers, women were cited in just 50 stories out of a total of 7,188. That is 0.69%. Gender was not clear in 6,853 stories.
"If we rounded them off then women would completely disappear from the equation," Baig said. And she was generous with the meaning of sources of information. It could have meant a woman giving a direct or indirect quote or to whom data or other information was attributed.
And when women were quoted, they were not necessarily even Baloch or from K-P, but were national leaders commenting on some issue via press releases. Also, the data was gathered at a time when the elections were hot (May 1 to July 31) and when agenda setting should have included their voices. "Women are at least if not half of the population of Pakistan," Baig said. Thus, news is as relevant to them as to men. By failing to include more women's voices in the news, the media have literally muted half of the population.
http://xpresstribune.files.wordpress.com/2013/12/table.jpg
When women were mentioned in crime reports it was only as victims and their perspective was not added. Stories on development and education had men talking about women or for them. Healthcare stories presented them as victims or the sick in need of help. On Vsh TV, women were only mentioned as victims of natural disasters or disease. In the Balochistan papers, if women were mentioned in sports, it was in international tournaments.
Women did not fare better on TV. Out of 864 news items broadcast on Khyber TV, only 13 included women as the source of information. On Vsh TV, it was six out of 171 news items.
Panellist Muneeza Hashmi was refreshingly honest after she saw the results. "I'm not surprised at all," she said. "I haven't seen any improvement in Balochistan for the last 25 years." Sometimes, the sun does break through the clouds, like in the 1970s and for a bit during the 1990s, but that is rare.
"We've been giving up space for money and for perks, for breaking news," she said, referring to editorial decision making. Indeed, just the other day, the head of the biggest television channel told her how he made choices about drama serials and women in them: Jab tak wo pittegi nahi, wo chalegi nahi. But her position was tempered by a global perspective. The numbers are probably the same in countries like Sudan and Afghanistan.
The consensus at the launch was that it wasn't enough for women to just be anchors or hosts on television, which some people argue means their voices are being heard. It was important for them to be content producers and not mouthpieces for stories men decide. "How many women have had the chance to become CEOs [of media houses]," asked Puruesh Chaudhary of the Agahi media awards.
The ground realities in Balochistan and K-P prevent the gathering of information. Shezad Baloch, The Express Tribune's reporter in Quetta, explained how he had a hard time talking to women for stories: "You cannot directly approach a woman, no matter how liberal she appears, in this society." Even when a woman's child has died, it is not considered appropriate to ever directly speak to her.
It certainly doesn't help that literacy rates and general exposure to public life are low for Baloch women. "If you want information or details, they don't know how to speak to you either," he said. "They will give you an answer in a 'yes' or a 'no' because they aren't used to speaking to men in public." And thus, a reporter's first port of call is a male bureaucrat or official, as they are by virtue of their jobs required to convey information.
There are just two female reporters in all of Balochistan at the last count. Reporting is hazardous even for men. If a woman is educated her preference will be to work in the non-government charity sector, added Baloch. "The salaries are better and you don't need to go out into the field."
Today there are just two girls and seven boys in the Mass Communication department of Balochistan University of Information Technology, Engineering and Management Sciences, according to Fizza Ansari, a lecturer. "The fear starts at home," she said at the launch, giving the chilling example of the murder of Assistant Professor Nazima Talib in 2010.
Among others, Sundus Rasheed of CityFM89, television producer Muneeza Hashmi, GeoTV's Sana Mirza, politician Sharmila Faruqi and documentary maker Aisha Gazdar attended the launch that was organised by the Pakistan Press Foundation and Intermedia.­
http://tribune.com.pk/story/652475/no-comment-no-news-is-the-news-for-woman-in-k-p-balochistan/
---------------
Pakistan's sharia court gets first woman judge in 33 years
PTI | Dec 31, 2013
KARACHI: For the first time in its history, a 56-year-old female judge was on Monday sworn in at Pakistan's national sharia court, which hears cases under the Islamic legislation.
Ashraf Jehan, who was serving as an additional judge at the Sindh high court, took oath, becoming the first female judge to be appointed in the court's 33-year history.
The court was established in 1980 during the rule of military dictator Ziaul Haq as part of his policy towards Islamisation of Pakistan's institutions.
The law is also known as known as the 'Hudood Laws', which run parallel to the penal code.
Chief Justice of the Shariat court Agha Rafiq Ahmed said, "I took the initiative as it would send the message in the world that we are enlightened people and would dispel many misconceptions."
http://timesofindia.indiatimes.com/world/pakistan/Pakistans-sharia-court-gets-first-woman-judge-in-33-years/articleshow/28185284.cms
----------
Xinjiang authorities try to force six women to abort for violating one-child policy
Dec 31, 2013
Beijing (AsiaNews) - The authorities in China's predominantly Muslim Uyghur northwestern province of Xinjiang planned to force six native women to undergo an abortion for "violating" the government's one-child policy.
Despite the new policy by the central government, easing the one-child policy, doctors in Hotan Prefecture injected the women with a drug to induce miscarriage.
"We had planned to perform forced abortions on six women. Four of them have already undergone the abortions," said Momin, deputy chief of Hotan's Arish Township.
"One more woman is waiting in hospital to undergo the abortion while another woman has escaped before undergoing the process," Momin added.
Awat Han, head of the family planning department in Arish Township, told RFA that four forced abortions were carried out over the last week, saying she was only following orders from higher authorities.
In November, the Plenum of the Communist Party announced reforms in family planning. Under the new rules, formally approved by the Standing Committee of the National People's Congress on 28 December, couples who are only children can have two children.
When it comes to national minorities, China's demographic policies has not changed; minority couples can have two children under certain circumstances.
Although "My wife was injected by a doctor," said Memettursun Kawul, the husband of one of the women forced to abort, "My son was crying when he was born."
When he heard the cries of his son and wife, Kawul then stormed into the delivery room, grabbed the baby and took him to a nearby hospital in a bid to save him.
"The doctors in the hospital tried to save him but they failed, citing the abortion drug that had already been injected. My son died an hour after he was born."
http://www.asianews.it/news-en/Xinjiang-authorities-try-to-force-six-women-to-abort-for-violating-one-child-policy-29925.html
---------------
This Egyptian teen is rapping about some important issues
By Staff, Associated Press
12/30/13
As soon as the beat started, the young woman bobbed her head to the rhythm, raised her hands to get the crowd clapping and then unleashed a flood of rap lyrics that tackled some of the biggest social challenges women face in the Arab world.
With the Middle East's hit TV show "Arabs Got Talent" as her stage, 18-year-old Myam Mahmoud rapped about sexual harassment, second-class treatment of women, and societal expectations of how a young religious woman should behave.
The Egyptian teenager didn't win the program — she crashed out in the semifinals — but she did succeed in throwing the spotlight on something bigger than herself.
"I wanted to tell girls in Egypt and everywhere else that they are not alone, we all have the same problems, but we cannot stay silent, we have to speak up," Mahmoud, who wears an Islamic headscarf but not a full-face veil, told The Associated Press.
In Egypt, a country where politics have grabbed most of the headlines for the past three years, little space has been dedicated to addressing social problems. So Mahmoud, who is a first-year student of politics and economics at the October 6 University in a western Cairo suburb, decided to draw attention to women's rights through rap.
"Everybody speaks about politics, but nobody tackles the topics that relate to me the most," Mahmoud said.
She said she gets the ideas for her songs from the surrounding community, and that sometimes girls send her their problems to write about and give them a voice.
"Many girls want to say what I rap about, but they cannot for many reasons," she said. "I speak for them."
One of the biggest problems for woman in Egypt is sexual harassment. A U.N. report released in April said the issue had reached "unprecedented levels," with 99.3 percent of women in the country reporting that they have been subjected to sexual harassment.
"There is no single female in Egypt that has not been harassed, regardless of her looks," Mahmoud said. "As soon as a girl is born in Egypt, she is repressed with many pressures."
Part of the problem, in Mahmoud's eyes, is that women don't speak out against harassment.
"I wish we would not be silent about our problems," she said. "We have to snatch our freedoms, nobody will just offer them."
Her lyrics take the issue head on.
"Some of us see the answer is to cover up, and if the girl is hidden she will not be assaulted," she raps in one song. "My body is only mine."
She said she received a flood of messages after her performance on TV accusing her of misrepresenting Islam with her look — read veil — and attitude. But she dismissed the criticism, saying "religion has never been a constraint — we put the curbs on."
"The veil was never a problem for me because it is my personal choice," she said. "If I'm going to add anything new to my life it has to go with my initial choices."
http://www.morningjournal.com/general-news/20131230/this-egyptian-teen-is-rapping-about-some-important-issues
---------------
Integrated Efforts Stressed For Eradicating Child Marriage in Bangladesh
Dec 31, 2013
Child marriage is increasing neonatal, maternal and children deaths in rural areas, say speakers
Comprehensive efforts of professional forums and groups, administrations and public representatives could eradicate child marriage and violence against women from the society, speakers told a discussion.
They were addressing a divisional workshop on 'Role of Professional Forums and Federations to Prevent Early Marriage and VAW' organised by the Women Rights Unit of Rangpur Dinajpur Rural Service Bangladesh at Begum Rokeya auditorium in Rangpur city yesterday.
Head of Programme Coordination of RDRS Bangladesh Monjusree Saha presided over the workshop while Assistant Coordinator of its Women Rights Unit Mezbahun Nahar delivered the keynote presentation.
A total of 105 participants including Presidents of district and upazila units of professional forums, youth forums, union federations, women community leaders, human rights activists and professionals from all eight districts in Rangpur division participated, reports BSS.
Secretary of Rangpur unit of Shushashoner Janno Nagorik Akbar Hossain, former Kurigram municipality Mayor Kaziul Islam, women community leaders Advocate Shameema Shirin and Ira Haq, Nilphamari Press Club President Tahmin Haque Bobby and Jatrapur union chairman Abdul Gafur addressed the programme.
Taking part in the open discussion, the participants blamed discriminatory attitude towards female children at the family levels, superstitions, religious misinterpretations, eve-teasing, illiteracy, dowry, poverty etc as the main reasons behind child marriage.
They suggested for proper implementation of the Child Marriage Prevention Act, increasing punishments and fines, creating social awareness, considering child marriage as offence, registering marriage through affidavits checking national identity cards etc for preventing child marriage.
The speakers narrated the grievous impacts of child marriage on the premature girls leading them to shattered and catastrophic lives destroying their future and increasing neonatal, maternal and children deaths in rural areas.
They suggested for rectifying previous mistakes through launching social movement involving people from all walks in the society to create renaissance against the curse that has engulfed the backward rural people creating unrest in family life and society.
They highly lauded the role of the professional groups, forums and federations of RDRS Bangladesh in preventing hundreds of child marriages, hilla marriages, violence against women, extending legal and social supports to such victims over the years.
http://www.dhakatribune.com/law-amp-rights/2013/dec/30/integrated-efforts-stressed-eradicating-child-marriage#sthash.DTO2Xc6M.dpuf
---------------
French mother says jihadist ex threatens to take toddler to Syria
Dec 31, 2013
For more than two months, Meriam Rhaiem was in a state of anguish after her estranged husband abducted their young daughter during a routine weekly outing.
But late last week, the Frenchwoman's distress turned to panic when her former partner called to tell her that he was ready to cross the border from Turkey to Syria to join a jihadist group – with the couple's 20-month-old toddler.
Rhaiem says she received a call on Friday from her estranged husband, Hamza Mandhouj – a French national of Tunisian origin – informing her that he was ready to cross into Syria from Turkey.
"He told me clearly that some men will take him to the Syrian border and he will cross the border with them and then the goal is to join the al-Nusra Front," the 25-year-old mother told a French radio station over the weekend.
The al-Nusra Front is an al Qaeda-affiliated group that has been designated a terrorist group by the UN and the US. Ever since it announced its existence in early 2012, the Salafist group has been attracting a number of foreign fighters.
Families on the jihadist home front in Syria
But it's not just radicalised adult males who have been responding to the call to join jihadist groups battling forces loyal to Syrian President Bashar al-Assad. In recent months, there have been several reports of families travelling to Syria to form a sort of home front for the cause.
Video clips posted on the Internet have featured interviews with European Muslim women – along with their children – joining their husbands in Syria. In July, a UK news channel broadcast a report of a British woman who travelled to Syria to meet and marry a Swedish national who was fighting with rebel groups in Syria's Aleppo province, where the couple had a child. In October, the hardline ISIL (Islamic State in Iraq and the Levant) posted a video of around 150 Kazakh nationals said to be from the same family – including children and women – who had come to Syria to "fulfill their Islamic duties".
Experts believe an increasing number of families are going to Syria to provide a support base for the foreign fighters. While the men fight on the battlefront, the women maintain the home front, feeding and looking after the fighters while indoctrinating their children in a jihadist ideology.
Given the security situation and the clandestine nature of such border crossings, estimates of the number of foreign fighters and their families in Syria are hard to arrive at. The Hague-based International Center for Counter-Terrorism estimates that between 1,100 to 1,700 Europeans have gone to fight in Syria since the conflict began in 2011. A substantial number are believed to hail from France, which is home to Europe's largest Muslim population.
Radicalised after a trip to Mecca
In Rhaiem's case, she claims she regularly received calls from her estranged husband in Turkey asking her to join him – despite the fact that the couple had been separated for over a year.
Married in September 2011 in the southern French city of Lyon, the couple separated in July 2012, when Rhaiem and her baby moved in with her parents in the eastern French city of Ain.
According to the attractive 25-year-old Frenchwoman, her husband got radicalised "after a trip to Mecca" and started demanding that she wear the veil, and prohibiting her from listening to music with their child, or even allowing the little girl to play with a doll.
In an interview with the local French daily, Le Progrès, Rhaiem said her husband began associating with Forsane Alizza, a French Islamist group that was founded around 2010 and outlawed in February 2012.
Rhaiem last saw her daughter, Assia, on October 14, when her estranged husband had arrived to pick the girl for the day – as he did every Monday. According to Rhaiem, Mandhouj said he was taking their daughter shopping, but the girl never returned home.
"The next day, he called to tell me he had changed his original plan and was leaving for [the southern French city of] Perpignan," Rhaiem told French news organisations. But she now believes Mandhouj had by then already left the country and was making his way to Turkey.
Shortly after the call, the young mother immediately filed a police complaint alleging that Mandhouj had "kidnapped" Assia. Rhaiem's lawyer, Gabriel Versini-Bullara, has told reporters that French investigators had traced Mandhouj's call to the Turkish border area and Turkish authorities have been alerted.
Speaking to FRANCE 24 on Monday, Versini-Bullara said there had been no word from Mandhouj since Friday.
"He was just two fingers away from crossing the border – if he hadn't crossed it already," said Versini-Bullara. "My client is very worried."
http://www.france24.com/en/20131223-france-syria-foreign-fighters-jihad-family-child-qaeda/
-----------
Saudi Shoura Names Four Women As Vice Chairs
Dec 31, 2013
The Shoura Council has appointed four women as vice chairpersons of committees.
They are Haya Al-Munea for the Social Affairs, Family and Youth Committee, Zainab Abu Taleb for the Cultural and Information Affairs Committee, Huda Al-Hulaisi for the Foreign Affairs Committee and Muna Al-Mushait for the Health Affairs and Environment Committee.
The council also approved a high council for Saudi youth to supervise the implementation of the strategy it had approved earlier at the session.
The council approved the annual reshuffle of 13 committees and named several new chairmen and vice chairpersons.
The council named Ibrahim Al-Ibrahim chairman and Faleh Al-Sugier vice chairman of the Islamic and Judicial Affairs Committee; Abdulaziz Al-Hadlaq chairman of the Social Affairs, Family and Youths Committee; Muhammad Al-Naji chairman and Ata Al-Sebti vice chairman of the Management and Human Resources Committee; Saleh Al-Husaini chairman and Fahad Al-Enizi vice chairman of the Economic Affairs and Energy Committee; Saud Al-Subaie chairman and Nawwaf Al-Fagham vice chairman of the Security Affairs Committee; and Prince Khaled Al-Saud chairman and Meshal Al-Sulami vice chairman of the Educational Affairs and Scientific Research Committee.
It also appointed Rashed Al-Kathiri chairman of the Cultural and Information Affairs Committee; Khidr Al-Qurashi chairman of the Foreign Affairs Committee; Huhsen Al-Hazmi chairman of the Health Affairs and Environment Committee; Saad Mariq chairman and Husam Al-Anqari vice chairman of the Financial Affairs Committee; Muhammad Al-Mutairi chairman and Ali Al-Tukhais vice chairman of the Housing, Water and Public Services Committee; Sadoun Al-Sadoun chairman and Jibreel Oraishi vice chairman of the Transport, Communication and Information Technology Committee; Abdullah Al-Dhufairi chairman and Naser Al-Shahrani vice chairman of the Human Rights and Petitions Committee.
http://www.arabnews.com/news/501131
---------------
Saudi female Saleswomen demand English-speaking lessons
Dec 31, 2013
Many Saudi female sales representatives working in shops across the Kingdom are demanding English-speaking courses, saying that they are facing communication difficulties when dealing with foreign customers.
Generally, companies operating in the Kingdom hire Saudis who can understand and speak English, particularly in jobs that involve interaction with expatriates. However, with the recent Saudization laws a large number of Saudi women were hired in an effort to comply with the new labor laws, without taking into consideration their qualifications and without providing them with prior training.
Najwa Janzier, a sales representative at Paris Gallery, said that many foreign women shop in the store. However, the sales women are reluctant to assist them since they cannot communicate with them.
She added that a saleswoman with English skills is at an advantage and more capable of selling products to foreigners.
"There is less misunderstanding if we are able to converse in English. We don't want to be embarrassed in front of our customers," she said.
Janzier's colleague Nadia Al-Zaid has taken a different approach to the matter, deciding to communicate with foreign customers, even in sign language if necessary.
"I'm not fluent in English, but I can manage with the basics and the rest of the conversation I usually conduct in sign language and hand gestures," laughed Al-Zaid. "It's difficult, but shying away from customers leaves a worse impression, as it might be interpreted as bad attitude or ignorance, and that reflects negatively on our work performance."
Janzier and Al-Zaid urged managers to provide Saudi sales women with free English-speaking courses within their job training process.
Eman Ashwami, a Saudi female working at a lingerie store pointed out that in many circumstances she was unable to assist expatriate customers because she could not communicate with them in English.
"Ultimately, I had to show them around the shop and let them help themselves with what they needed," she said.
Ashwami added that it is vital for people working in the field of sales to be bilingual, especially in a country like Saudi Arabia, which hosts one of the highest rates of foreigners.
"We deal with people from different countries, educational levels and backgrounds. We cannot expect them all to speak Arabic, but we should always be ready to serve on our part. Since English is an international language, I don't see why we shouldn't be given training to improve our English language skills," she noted.
But Kholoud Al-Asiri, a Saudi head saleswoman at a leading cosmetic brand store in Jeddah, expressed a different opinion. She asserted that even though local sales representatives should possess a basic knowledge of the English language, it is also important for foreigners to be able to speak some Arabic words.
"Living in an Arab country where on most occasions conversations are held in Arabic, I believe it is important that foreigners adapt to our style and speak our language," argued Al-Asiri. "Sure, I agree we as sales people have to be able to communicate with our customers and make them feel comfortable. But it is just as much important that they are able to converse in Arabic as it is the language they must communicate in wherever they go in the Kingdom."
Statistics from a recent survey revealed that the majority of Saudi managers asserted that they do not prefer hiring women to work in sales, stating that the job required sales people who are experienced enough to deal with customers of different nationalities.
In a related development, Prince Abdullah bin Saud bin Mohamed Al-Kabeer, chairman of the Institute of Creative Routes, and Shaf Hussain, director of Central College of Nottingham signed a memorandum of understanding, which provides 200 young Saudi women with English language courses. The agreement comes within the framework of a private partnership agreement between the Kingdom and the United Kingdom, inked earlier this year.
The main objective of the program according to Prince Abdullah, is to empower Saudi women to be qualified in various vocations, in line with the Kingdom's labor laws.
http://www.arabnews.com/news/501161
---------------
Wife says Al Qaeda hostage not forgotten
2013-12-31
WASHINGTON: Family members of an American development expert kidnapped in Pakistan by Al Qaeda more than two years ago say they're holding out hope he'll return safely home.
Warren Weinstein's wife, Elaine, told ABC News that it hurt to hear her 72-year-old husband say in a video released on Thursday that "it seems that I have been totally abandoned and forgotten" by the US government.
"I wanted to die right there on the spot because he has no idea how hard we've tried to get him back," she said in an interview that aired on Monday on Good Morning America.
"But there's nothing to do to get him back, because they don't really tell you what they want."
http://www.dawn.com/news/1077407/wife-says-al-qaeda-hostage-not-forgotten/print
-----------
Tenacious women, from armed struggle in Lebanon to the "rubbles of the World"
Dec 31, 2013
Rome (AsiaNews) - "I was born in Beirut in a practicing Maronite family. In 1975, war broke out between the PLO and Lebanon. On 6 May 1976, I and 12 other female soldiers held a front-line building. The oldest of us was 20. At one point, I heard the enemy sing. I felt a presence and knelt. I prayed to Our Lady and offered myself to be the first to be hit. We fought until we ran out of ammo defending the Christian Quarter," said Jocelyne Khoueiry, founder and leader of the Catholic movement La Libanaise-Femme du 31 Mai.
The testimony of the former female soldier is one of 12 found in Tenacemente donne (Tenaciously women, published by Edizioni Paoline), co-authored by journalists and Vatican experts Cristiana Caricato and Alessandra Buzzetti.
In telling her story, Jocelyne remembered the time when, not yet 18, she took up a Kalashnikov, thinking that "choosing Lebanon meant choosing Jesus."
After a long and arduous journey, she followed the path shown by John Paul II in his trip to Beirut in 1997, and converted, a process that culminated in the founding of a movement that seeks to "build bridges between people, families and communities."
The book tells stories of women "who are active amid the rubbles of the world, among refugees, AIDS patients, lepers, and outcasts; women willing to welcome suffering, stem devastation and devise treatments"; courageous women who "bear witness to the creative beauty of faith," whether acting "on the world stage or behind the scenes".
These 12 women, writes Focolare Movement president Maria Voce in the preface, are "very different from one another because of their different contexts, personal choices, or problems they they have tried to address." These women do share however the same "love, the love of a mother," with Mary as their role model, Mary who is "everyone's Mother".
Each woman has "a specific vocation to bear witness of God, of love, which is the greatest value and effective way to renew the Church and society."
http://www.asianews.it/news-en/Tenacious-women,-from-armed-struggle-in-Lebanon-to-the-rubbles-of-the-World-29924.html
---------------
Saudi man gets flogging for doubting wife's virginity in front of her dad
Dec 31 2013
A man has been sentenced to 20 lashes by a judge in the city of Mecca for falsely claiming that his wife was not a virgin at the time of marriage. The husband was sentenced to be flogged in one session for not providing evidence to back up the accusation.
The husband allegedly accused his wife in front of her father and other neighborhood elders of lying about her virginity, according to the Al-Sharq Online, a Saudi news website. He said she had been married and divorced before him. As is common in conservative parts of the Arab world, he says the marriage contract stipulated she was a virgin at the time of their wedding.
The marriage took place over a year ago. The wife, who has a baby with the husband, filed a case against him. When the judge asked him to prove his allegation, the husband could not do so. The judge decided the man was trying to defame his wife and sentenced him to 20 lashes.
Saudi Arabia has been facing international condemnation for barbaric punishments. Public beatings and executions are common place in the autocratic Kingdom.
http://voiceofrussia.com/news/2013_12_31/Saudi-man-gets-flogging-for-doubting-wife-s-virginity-in-front-of-her-dad-3298/
------------
URL: https://newageislam.com/islam-women-feminism/1-5-israeli-kids-suffers/d/35079