New Age Islam News Bureau
1 Jan 2020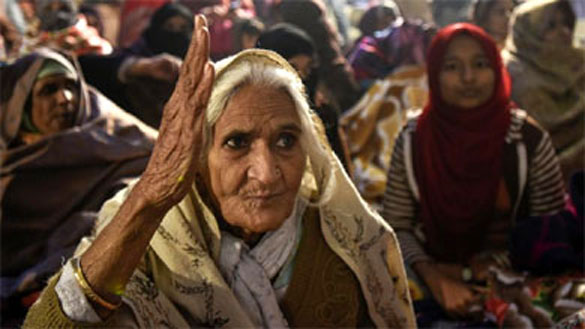 Women in New Delhi's Shaheen Bagh neighbourhood stand out for leading protest against 'anti-Muslim' citizenship law.
-------
• 'Won't Leave': Women Lead Protest in India Capital's Muslim Area
• Muslim Woman in Denmark Leads Challenge against Government's 'Ghetto List'
• 2019: When Women Leaders Left the Men Far Behind
• Muslim Fast Food Worker Says Boss Sent Her Home for Turning Up To Work In Hijab
• Islamic State Accused Lisa Smith Released From Prison on Bail
• Nashwa Al-Ruwaini named 'Business Woman of the Year' by Arabian Business Magazine
• Danielle Outlaw Was the First African American Woman to Be Portland's Police Chief, Now, She's Philadelphia's First Black Female Commissioner
• Kenya Hopes To Secure Africa Women's Volleyball Olympic Ticket In Cameroon
• Elevate: Sharjah's Answer to Women's Economic Empowerment
• Gory Tales of Women, Babies' Trafficking By Islamic State In Greater Sahara
Compiled By New Age Islam News Bureau
URL: https://www.newageislam.com/islam-women-feminism/leave-women-lead-protest-india/d/120681
------
'Won't Leave': Women Lead Protest In India Capital's Muslim Area
By Ashish Malhotra
New Delhi, India - As Shahin Kausar steps down from the makeshift stage set up in the Muslim enclave of Shaheen Bagh in the Indian capital of New Delhi, it is difficult to hear her speak.
Her words are no longer amplified through a sound system, and the man now holding the microphone is drowning her out with boisterous slogans.
It doesn't help that Kausar herself is also on the verge of losing her voice from weeks of shouting. But she is clear why she is in Shaheen Bagh.
"When I saw in front of my eyes, the passion in the people here, they were outraged... That's why I had to come and join," says the 44-year-old activist.
For more than two weeks now, protesters, such as the ones in Shaheen Bagh, have taken to the streets across India to oppose the passing of the contentious Citizenship Amendment Act (CAA), which critics say discriminates against Muslims and violates the country's secular constitution.
Protest led by women
In the Indian capital, the protesters of Shaheen Bagh - especially women such as Kausar - have stood out.
For 16 days now, these women have occupied a part of the main highway, blocking traffic between the capital and Noida, a satellite city. And they don't plan on going anywhere.
"We are here to fight for our rights, our concerns," says 53-year-old Tarannum Begum at the sit-in. "Until they take back their [policies], this will go on."
Away from the limelight of protests in Central Delhi - dominated largely by English-speaking protesters from higher socioeconomic backgrounds - Shaheen Bagh has become a symbol for more vulnerable communities on the fringes of the city.
Police have cracked down brutally on many protests, particularly in Muslim areas and universities, vandalising homes, using tear gas and batons even on children, and opening fire on peaceful protesters.
At least 26 people have been killed across India, with most deaths reported from Uttar Pradesh, India's most populous state governed by Prime Minister Narendra Modi's Bharatiya Janata Party (BJP).
The majority, if not all, of those killed were Muslim. Thousands have been detained, mostly in Uttar Pradesh, whose hardline chief minister had vowed revenge on the protesters.
But the demonstration at Shaheen Bagh has remained peaceful, even as protesters remain resolute in opposing Modi's Hindu nationalist government.
NRC fears
At the heart of the unrest is the CAA, which provides a path to citizenship to refugees who arrived in India before 2015 from three neighbouring countries, as long as they are not Muslim.
Muslims fear the CAA is a precursor to a nationwide National Register of Citizens (NRC), as repeatedly indicated by India's powerful Home Minister Amit Shah.
Recently, the NRC process in the northeastern state of Assam excluded 2 million people, many of them Muslims, effectively rendering them stateless. They now fear either detention or deportation.
Meanwhile, several detention centres operate and are in the works across Assam and in other parts of the country to detain undocumented migrants, triggering fears among Muslims of mass incarceration.
A nationwide NRC would force all Indians to prove their citizenship with documentation, something India's mostly impoverished people of all religions lack.
But women say they are particularly vulnerable.
"I don't have a husband, and us ladies don't even get property papers," says Begum, a widow. "Everything is in the name of the husband, so how will a woman prove [citizenship] through her papers?"
Violence at Jamia Millia Islamia
At Shaheen Bagh, the chilly air caused by New Delhi's record winter has a mix of both anxiety and determination.
For 16 days and despite biting cold, crowds have gathered here non-stop, with a legion of volunteers running the show. Protesters huddle over bonfires with free snacks and tea, while women sit in an enclosure next to the stage.
Evenings are particularly busy, with a variety of activities taking place - candlelight vigils, late-night singing, spirited slogans and speeches by activists.
Many women, mostly housewives such as Kausar and Begum, say they have not gone home for days.
"I've been wearing the same set of clothes for the past three days… I have only managed to go home once," says Begum.
Shaheen Bagh is barely 2km (1.2 miles) from Jamia Millia Islamia, a predominantly Muslim university, which was the site of a brutal police crackdown on December 15.
Over 100 students were injured when police stormed the campus with tear gas and batons following clashes at an area close to the university.
Police ransacked the campus, broke windows in the library and even fired tear gas inside a reading room. Many of the students injured and detained had not been involved in the protest.
The Jamia crackdown catalysed the protest at Shaheen Bagh, with a large number of its students having links to the community.
Daily protests also take place at Jamia, but they generally end up moving to Shaheen Bagh by the end of the day.
"The protest started the day female students at Jamia were brutally attacked and beaten up. Their hair was pulled," says Kausar.
In light of the Jamia crackdown and similar attacks in Muslim enclaves elsewhere, protesters in Shaheen Bagh worry that with every passing day that their sit-in might also get broken up.
"The authorities are rattled because they are facing problems because of us. Almost 150,000 cars [usually] pass through here every day," says Kausar. "They want us to give way to one side of the road."
'They woke us up, we were sleeping'
But with New Delhi currently in the midst of an unusually cold spell, Kausar has bigger worries.
"What I am concerned about are the women and children, they are on the road in this biting cold. Some have kids who are 2-3 months old. If something happens to them, who will take responsibility?"
"It's not a small thing to sit on these highway roads… [But] until someone comes and convinces us that our demands have been heard, we aren't going anywhere."
Begum is equally adamant. "They woke us up, we were sleeping," she says.
"It is better to die here [protesting] than be put in detention camps."
However, many in this Muslim neighbourhood remain fearful of what lies ahead.
As the night wears on, the crowd gathers around a projector to watch a documentary about what the government's citizenship policies mean for them.
A clip from one of Modi's recent speeches beams from the screen.
"Those who are creating violence can be identified by their clothes itself," says the prime minister, his voice booming across Shaheen Bagh through loudspeakers.
Many in the crowd are wearing traditional clothes - men in skullcaps, women in burkas. Modi is speaking in innuendo, but he is talking about people like them.
It is one of the many comments made by BJP leaders and government officials, suggesting Muslims do not belong.
For 48-year-old Maqsood Alam, it couldn't be further from the truth. "We were born in India. India is our soil. We love India," he says.
Yet, having to prove that he belongs is a frightening thought for Alam. Like many Muslims in this part of the capital, his status as a migrant worker only makes documentation more complex.
As a result, the father of five seems resigned to a fate of not passing a potential citizenship test.
"The future of our kids is at risk. We went to such lengths to allow them to study. Now where will they live, where will we live?" he asks.
"A child is like a tree, it takes time and effort to grow," says Alam, breaking down as he finishes his sentence.
"They are asking for papers that go back years. I have nothing to prove [my status], I am just a poor man."
https://www.aljazeera.com/news/2019/12/leave-women-lead-protest-india-capital-muslim-area-191230062707469.html
------
Muslim woman in Denmark leads challenge against government's 'ghetto list'
Callum Paton
Dec 31, 2019
A Muslim woman in Denmark and her three friends are spearheading a campaign to have their district removed from the country's so-called "ghetto list".
Amina Safi, a 19-year-old of Afghan origin, and her three friends from the Tingbjerg housing project on the outskirts of Copenhagen launched a petition to protest against the annual list, saying it discriminates against them.
"Remove the list," the Tingbjerg locals wrote in an open letter to Denmark's Housing Minister Kaare Dybvad. "Please do not tell us once again that we are a problem."
According to the German newspaper Deutches Welle, the petition against the list of underprivileged districts, which has so far gained over 9,000 signatures, was launched in conjunction with the NGO, ActionAid Denmark.
By highlighting Tingbjerg, it is the campaigners' hope that the list will be scrapped in its entirety.
"The ghetto list stigmatises us," Ms Safi said. "We feel like second-class citizens. Tingbjerg is such a great area, but we constantly have to defend ourselves because of our address."
To be included on the list, housing areas must have more than 1,000 residents and meet three out of five criteria. These include high levels of unemployment, low income, high conviction rates for violent and drug crimes and, controversially, more than 50 per cent of residents must be of non-western heritage.
"These criteria are discriminatory. Tingbjerg is also on the list because of the high proportion of non-western immigrants and descendants," Ms Safi, whose parents come from Afghanistan, said.
"But I feel more Danish than Afghan. I was born and raised in Denmark, and I think and dream in Danish. I am very ambitious with my studies and feel a huge responsibility to contribute to Danish society," she added.
In 2019 three districts were removed from the list, but Tingbjerg has remained and is categorised as a "hard-core ghetto" after appearing five years in a row.
The list was first introduced in 2010 but was criticised by experts as counterproductive.
Aydin Soei, a sociologist and author, has shown residents from Tingbjerg face negative and lower expectations from their surroundings compared to students from a neighbouring area. He fears that such designations by the government may simply continue the cycle of deprivation.
"I am worried that these negative expectations and prejudices turn into a self-fulfilling prophecy, and young people start to believe they are doomed to failure because they live in a so-called ghetto," he said.
In response to the letter from Ms Safi and her friends, Mr Dyvbad defended the list as a means to an end.
"The ghetto list is a tool to reduce the difference between the vulnerable residential areas and the more well-functioning residential areas. Therefore, we must create mixed cities and neighbourhoods throughout the country," he said.
https://www.thenational.ae/world/europe/muslim-woman-in-denmark-leads-challenge-against-government-s-ghetto-list-1.958242
------
2019: When women leaders left the men far behind
December 31, 2019
The year 2019 will generally be remembered for its supine political leadership, broken promises, compounded race/religion rhetoric, incitement and provocation, and shattered hopes.
Amid all this dust and depression, 2019 will surely be remembered as the year when women led the way — whether in sports, politics, administration of justice, law enforcement or national unity.
This year marked the graceful retirement of Nicol David from competitive squash. Her seamless transition from the world's greatest female squash player into the role of an enabler, motivator, ambassador and most of all, a young "elder stateswomen" of her sport may be taken as a guide for those who overstay their positions in the mistaken belief that they and only they can "do the job".
On the political front, female ministers have also shown the way. Teresa Kok showed the rest on how to focus on one's own ministry; to understand the challenges and to attempt to overcome the obstacles in its path.
Acquiring a home has been a great challenge to Malaysians generally. A roof over one's head is becoming increasingly unattainable while housing developers are making inordinate profits. For long, housing developers have been abusing the phrase "affordable housing".
That catch-phrase has been used even where prices were well out of the reach of the common man. I recall in one instance where houses costing RM600,000 were described as "affordable housing".
Into this scenario marched Zuraida Kamaruddin. In one fell swoop, the ceiling price on "affordable housing" was brought down to RM300,000. In fact, she caused shivers within the developers' community when she stated that it was possible to provide reasonable houses at not more than RM150,000.
Zuraida knew that most state governments owned tracts of land on which really affordable houses could be constructed. This would be possible if state governments took a more "egalitarian", rather than a "business-like", approach in their dealings. Lamentably, many state governments conduct their affairs as if they are profit-oriented bodies.
In May 2019, our first female chief justice was appointed. The legal fraternity welcomed her with joy and great relief; we just could not take any more of the "same old, same old". Even from her days in the High Court, Justice Tengku Maimun Tuan Mat had displayed the qualities of judicial courage and independence, reminiscent of a forgotten era in our administration of justice.
At her elevation, Tengku Maimun remarked that she wished to improve the image of the judiciary. Truth be told, she does not have much to do except to continue to be herself. As they say, morale filters from the top. It would surely take some time but given the probable length of her tenure, the administration of justice in our country is headed for better days.
To top it all, for the first time, we now have six women as judges in our apex court. They have already begun deciding cases without fear or favour; a clear example being Justice Nalini Pathmanathan's lucid judgment on the extent and ambit of "the public servant".
The appointment of Latheefa Koya as head of the Malaysian Anti-Corruption Commission was yet another high-water mark. Her detractors tried very hard to derail her: finding fault with the manner of her appointment right down to the manner she wore the rank badges and ribbon bars.
The nation was not impressed with her critics and the tough-as-nails Latheefa was undaunted. Her public pronouncements on the war on corruption sent shivers down the spines of the guilty.
However, it must be admitted that Latheefa has a most unenviable job. It is not easy to undo a culture of corruption that has ingrained itself into the national psyche over the last three decades. Despite the massive challenges and knowing that the ordinary reasonable Malaysian is with her, Latheefa has continued in her mission with fearless consistency, in a manner and style that has put other enforcement bodies in the shade.
Latheefa may want to persuade the government to pass legislation in the nature of the British-like Unexplained Wealth Order (UWO) to compel disclosure of unexplained wealth, where the issuance of such orders would have to be by the High Court and the subsequent seizure of the unexplained assets, if at all, would also have to be by way of a court order.
The UWO has two great advantages: the information obtained in the context of a UWO cannot be used in criminal proceedings and, in any event, at all stages, there would be judicial supervision.
I would be remiss if I fail to mention Dr Siti Hasmah Mohamad Ali in this appreciation of women leaders. Though she had served as wife of the prime minister before, some did not fully appreciate her role then. Our recent experiences have taught us well.
Siti Hasmah has reminded, indeed re-educated, everyone on the dignity and respect of the person (not "office") of the spouse, our prime minister. Her leadership lessons have not been lost on us.
Finally, the icing on the collective cake of all Malaysians must surely be our current Queen, Tunku Azizah Maimunah Iskandariah. In our country, over which the threat of being torn asunder by politicians hangs, she has been a beacon of hope.
Her frank sharing of her Chinese heritage, which was courageous, must have irked the political beings who seek to divide and rule. Her simple, down-to-earth style, from her dance moves through her Twitter to her train ride, have earned the affection and respect of most Malaysians.
This song of praise would not be complete if I did not address the leaders of my gender. Other than a few exceptions, our male leaders have failed our nation miserably. There is so much to be done to improve the state of our nation but positive energies seem to be expanded on negative undertakings. The real state of our nation needs no reminder or repetition.
While this is not designed to be a battle between the sexes, the men have to get their act together and show greater will, desire and gumption to keep up with the women.
Happy New Year Malaysia.
Watson Peters, a lawyer for more than three decades, is a reader of FMT.
https://www.freemalaysiatoday.com/category/opinion/2019/12/31/2019-when-women-leaders-left-the-men-far-behind/
------
Muslim fast food worker says boss sent her home for turning up to work in hijab
Jimmy McCloskey
Tuesday 31 Dec 2019
A Muslim fast food worker has shared a video she claims shows her boss sending her home for turning up to work in a hijab. Folake Adebola shared the 45 second clip on Twitter Monday of a confrontation with her boss at a Chicken Express restaurant in Fort Worth, Dallas. She can be heard remonstrating with her boss, saying: 'It's a part of my religion. 'I felt like if i work here y'all could be able to (accommodate) my religion.' But Adebola's unnamed boss answers by telling her the headscarf is 'a different thing…that's a part of your personal life out there.'
He insists that asking her not to wear her hijab is 'nothing to do with religion.' The clip ends with Adebola failing to reach a resolution with her boss, as she tells him that she will continue to wear the head covering. She later shared another, harder to hear, clip where a man can be heard insisting that the hijab is 'not part of the uniform.' Both videos have since been viewed tens of thousands of times. He adds: 'The job requires a specific uniform. That is not part of the specific uniform. 'You as a paid employee cannot wear it.' She later wrote: 'I converted to Islam not too long ago and I started wearing my hijab, I went to work today and was kicked out because my hijab was not apart the " dress code" apparently and I wasn't allowed to wear it. Don't come to the chicken express in Fort Worth!! 'This is discrimination at its finest ! I will not tolerate this at all.' Chicken Express refused to comment when contacted about the videos.
https://metro.co.uk/2019/12/31/muslim-fast-food-worker-says-boss-sent-home-turning-work-hijab-11983309/?ito=newsnow-feed
------
Islamic State accused Lisa Smith released from prison on bail
Connla Young
01 January, 2020
A former Irish soldier accused of membership of the so-called Islamic State group has been released on bail from prison in Limerick.
Lisa Smith, who is a convert to Islam, was located in a Syrian refugee camp and brought back to Ireland last month.
She was arrested and questioned for three days before being charged with membership of an unlawful organisation, which she denies.
The 38-year-old from Co Louth has been held in Limerick Prison while relatives have cared for her two-year-old daughter.
Her solicitor Darragh Mackin, of Belfast-based Phoenix Law, confirmed that Ms Smith was released from prison yesterday after a sitting at Dublin District Court during which a surety was accepted.
It is understood she was later met by relatives outside the prison.
Although bail was granted last month, a Co Louth man who offered the surety was rejected by the court after it emerged he had several convictions going back 40 years.
This included an assault on Tyrone referee Martin Sludden after the 2010 Leinster football final for which he was fined.
The media have been banned from publishing Ms Smith's address, but permitted to report she will reside at a location in the north east.
During last month's bail hearing Mr Justice Robert Eagar granted the request on strict conditions.
Bail was set in Ms Smith's own bond of €500 which has to be lodged and the judge required an independent surety of €5,000.
She must sign at a Garda station twice daily.
Mr Justice Eagar also told her she would have to remain indoors from 8pm until 7am.
She cannot leave the jurisdiction or apply for new travel documentation and must provide gardaí with a contact mobile phone number and answer if rung by officers.
He also banned her from accessing the internet or using any social media.
Ms Smith has been remanded to appear before Dublin District Court again on January 8.
http://www.irishnews.com/news/republicofirelandnews/2020/01/01/news/islamic-state-accused-lisa-smith-released-from-prison-on-bail-1803136/
------
Nashwa Al-Ruwaini named 'Business Woman of the Year' by Arabian Business Magazine
December 31, 2019
Nashwa Al-Ruwaini, CEO and board member of Pyramedia Group, was selected by Arabian Business Magazine as the Business Woman of the Year for 2019, during an event held on Thursday at the Ritz-Carlton hotel in Riyadh. The award ceremony was attended by a select group of Saudi businessmen, VIP personalities and company representatives. Receiving the award on behalf of Al-Ruwaini was journalist Seegha Al-Shamri.
Al-Ruwaini received the award for her success as an entrepreneur who has played a significant role in the advancement and empowerment of women, which has been highlighted in different projects done by Pyramedia Group and its multiple subsidiaries, including: Al-Joude Advertising Agency, Al-Joude Investment, Delma Medical Center, Nashwa Jewellery and Nashwa's Charity Foundation.
"I am extremely delighted to be chosen as a representative of Arab women who work hard and put in immense effort and determination despite difficult conditions, and continue playing an important role in contributing significantly to the world of entrepreneurship," Al-Ruwani said.
https://www.arabnews.com/node/1606676/corporate-news
------
Danielle Outlaw Was the First African American Woman to Be Portland's Police Chief, Now, She's Philadelphia's First Black Female Commissioner
December 31, 2019
By Elizabeth Wolfe and Saeed Ahmed, CNN
(CNN)The police chief of Portland, Oregon, Danielle Outlaw, has been announced as Philadelphia's next commissioner of the police department, the first African American woman to hold the position.
Outlaw has served as Portland's chief of police since 2017 and is the first African American woman to have acted in that role, as well.
Philadelphia Mayor Jim Kenney announced Outlaw's appointment Monday as the new head of the city's police department.
Kenney said he appointed Outlaw because he sees a need for change in the department.
"While I have tremendous respect for our officers, the Philadelphia Police Department needs reform," he said in a statement Monday. "I am appointing Danielle Outlaw because I am convinced she has the conviction, courage, and compassion needed to bring long-overdue reform to the department."
Speaking at Philadelphia City Hall on Monday, Outlaw acknowledged her position as the first female African American commissioner.
"I do not take lightly that I am a first here. I understand what I represent, I understand who opened the doors for me and I understand it's my obligation to hold the doors open behind me to ensure that we're not in 2020 still talking about firsts," she said.
What she will focus on as commissioner
The mayor said his office will support Outlaw in tackling "a host of difficult issues" including racism, gender discrimination and instances of sexual assault within the department.
"These are issues that too often negatively impact women -- especially women of color -- within the department," Kenney said. "Commissioner Outlaw will implement reforms with urgency, so that racial, ethnic, and gender discrimination are not tolerated."
Outlaw also expressed a pointed focus on reducing gun violence and supporting community members equitably.
"I will work relentlessly to reduce crime in Philadelphia -- particularly the insidious gun violence that plagues too many communities," she said. "And I will do so in a way that ensures all people are treated equitably regardless of their gender identity, race, ethnicity, or sexual orientation."
Her commitment to building community relationships
While speaking Monday, Outlaw emphasized the importance of rebuilding the relationship between Philadelphia police and the residents they serve.
"I am convinced there can be humanity in authority; they are not mutually exclusive," she said. "That was true in Oakland and in Portland, and I know it is true here in Philadelphia."
In her more than two decades serving on police forces, Outlaw has frequently advocated for her idea of humanity in authority. In 2018, she discussed the topics in a TEDxPortland talk, "Policing in America: The Road to Reconciliation."
She has also spoken at multiple venues about building community relationships after controversy, as well as topics such as investigating use of force, race and policing, and women in law enforcement.
Outlaw is a member of the International Association of Chiefs of Police Human and Civil Rights Committee, as well as the National Organization of Black Law Enforcement Executives.
She is expected to begin her new role with the Philadelphia Police Department in early February.
https://edition.cnn.com/2019/12/31/us/danielle-outlaw-first-african-american-woman-police-commissioner-trnd/index.html
------
Kenya hopes to secure Africa women's volleyball Olympic ticket in Cameroon
2020-01-01
NAIROBI, Jan. 1 (Xinhua) -- Kenya has settled on a young team to compete in the Africa women's volleyball Olympic qualifiers, which will be held in Yaounde, Cameroon from January 5 to 9.
The team is due to jet out on Friday with head coach Paul Bitok promising to end the country's 15-year jinx and reclaim the Africa ticket to the Tokyo Olympic Games.
A total of five teams have confirmed participation: host and African champion Cameroon, Kenya, Egypt, Botswana and Mauritius.
"Training scaled up over the past few weeks, getting more tactical and intensive by the day. Each player displayed great improvement in their respective roles. While improvement is greatly noticed in each player, only a 14-member squad shall be retained," said Bitok on Tuesday in Nairobi.
The coach has since axed Janet Wanja, Pamela Masasai, Caroline Serengo, Linsey Jeruto and Esther Mutinda.
"For the players that won't be selected, I urge them to keep their heads high and to continue working hard as they stand a great chance in future competitions like the Tokyo 2020," added Bitok.
Kenya had failed to win the International Olympic Qualifying tournament in Italy in September and has only the continental route to secure the ticket to Japan. The last time Kenya was at the Olympics was back in 2004 in Athens, Greece.
http://www.xinhuanet.com/english/2020-01/01/c_138671149.htm
------
Elevate: Sharjah's answer to women's economic empowerment
December 31, 2019
Sharjah: Shaikha Jawaher Bint Mohammed Al Qasimi, wife of the Ruler of Sharjah and Chairperson of NAMA Women Advancement Establishment (NAMA), has taken forward the global call to action for gender equity and women's economic empowerment with the launch of 'Elevate'.
It is a pioneering platform to support women in the low- and medium-income countries in Asia, Africa, South America, and the Caribbean, a press release said.
In a bid to accelerate progress and mobilise the global community to expand women's economic opportunities in these countries, 'Elevate' will draw upon the active contributions of the private sector, government entities, and non-profit organisations to achieve scalable and sustainable impact, in line with the directives of His Highness Shaikh Dr. Sultan bin Muhammad Al Qasimi, Member of the Supreme Council and Ruler of Sharjah.
The launch of Elevate comes in the backdrop of a pledge made by the Ruler of Sharjah at the opening ceremony of the 2019 Women's Economic Empowerment Global Summit (WEEGS) where Shaikh Sultan extended support for a programme that would help shift the needle on women's economic empowerment across Asia, Africa, South America and the Caribbean.
"Achieving gender equity and women's economic empowerment are at the heart of Elevate's core pillars," said Shaikha Jawaher Al Qasimi. "At NAMA, we believe that economic empowerment is a uniquely potent way to enable women to be dynamic actors in the real economy and is also key to achieving inclusive and sustainable growth."
"Elevate will carry forward its mission of providing technical, professional and knowledge-based support to female workers, women entrepreneurs, institutions and organisations by integrating its work with the established regional and international institutions in the field of women's empowerment, and addressing any gaps by working in close cooperation with them," she said.
Elevate is founded on six core pillars (CPs) namely, promote the implementation of effective laws and policies to promote gender equity; promote greater inclusion of women in leadership and supply chains; enhance women's access to finance and other productive assets; promote initiatives that enable education, training and capacity building for women; ensure regular measurement and public reporting on progress and challenges; and create inclusive societies.
"Launching Elevate reaffirms our belief in the skills and abilities of women and recognises the social and economic imperative of boosting their capacities to deliver better outcomes," added Shaikha Jawaher.
"Women and men are equal partners and contributors in the nation-building process; bridging the gender gap will enable them to stand shoulder-to-shoulder with their male counterparts. Achieving gender equity is therefore an economic necessity as it will boost productivity and growth while also supporting economic resilience."
NAMA will now take forward the overarching vision of WEEGS through the newly launched Elevate to advance women's economic agenda by their full inclusion in economic activity.
How will it work?
To ensure that the transformative vision enshrined within the core pillars of Elevate directly impacts the lives of women and helps in the building of stronger, more inclusive economies, the platform will bring together its strategic partners (SPs), chapter leaders (CLs) and chapter members (CMs) to take action in realising its key goals.
The advisory role of Elevate's strategic partners will lay the foundation for its regional and global strategies on women's empowerment. Chapter leaders, comprising of a network of policy makers, public and private sector entities, non-profit organisations, academia and civil society, will draw on the most robust evidence to create a positive impact in their respective communities through several integrated programmes.
Chapter leaders will induct CMs and facilitate their capacity building initiatives, while also exchanging learnings and practices, mapping progress and developing strategies to increase the impact of Elevate.
Elevate's head office led by NAMA will hold annual meetings with members and partners to discuss the successes and challenges in promoting the platform's core pillars and goals.
To meet these goals, Elevate will impart technical assistance to chapter leaders to enable them to provide education support to female employees, entrepreneurs, and women-led SMEs in the targeted countries with the support of chapter members.
The platform will also help create networking opportunities amongst target entities and international organisations with global industry leaders and policymakers.
"The pledge taken by His Highness, the Ruler of Sharjah to enable women achieve their aspirations will now be transformed into reality through Elevate as it works by unifying the concerted efforts of international organisations and engaging with them to usher in an economy rooted in the principles of gender equity and equal opportunities," concluded Her Highness Shaikha Jawaher.
https://gulfnews.com/uae/elevate-sharjahs-answer-to-womens-economic-empowerment-1.68746446
------
Gory Tales Of Women, Babies' Trafficking By Islamic State In Greater Sahara
DEC 31, 2019
BY PHILIP OBAJI JR
As Moussa prepared to hit the road for his Monday morning taxi business in the Nigerién capital city of Niamey, the smuggler's phone rang. The caller was Alhassane, a Fulani herder in Tongo Tongo in South-Western Niger, who knew Moussa during the days he did smuggling jobs for militants under the so-called Islamic State in the Greater Sahara, an ISIS affiliated group operating along Niger's South-West borders. Alhassane helps migrants—smuggled into Niger by ISGS militants—get on vehicles that will take them to Agadez in the central region of the impoverished country. He had called Moussa to find out if he was available to transport three Malian teenage girls from Tongo Tongo to the small mud-brick desert town where thousands of men, women and children from Sub-Saharan Africa seeking to reach Europe through the Mediterranean usually take off from.
I happened to contact Moussa in the same period to find out if he had any information regarding movement of migrants in and out of Niger that he could share with me. He quickly told me he was travelling the following week to Tongo Tongo to pick up migrants whom Fulani herdsmen wanted to send to Agadez. I then told him I was interested in visiting Tongo Tongo and asked if he would be willing to lead me there. The commercial driver reluctantly agreed.
Moussa's old Toyota Carina is registered with transport and government authorities in Niger, and he belongs to the transport union in the country. So, the fact that he's a legitimate transport operator means he's unlikely to face much security checks on the highway, and it's the reason why most people in the smuggling business are comfortable working with him.
We took off very early from Niamey on a Saturday morning and arrived Tongo Tongo before noon. While Moussa drove alone in his car, I followed closely behind in the vehicle of another commercial driver I had hired for the trip.
The village has virtually no government presence and is so remote, you can't easily find commercial transport vehicles plying the route. There are less than 200 huts and dwellings that inhabit about 2,300 people, many of whom make a living farming millet and sorghum. Among Tongo Tongo's very small population are nomadic Fulani herdsmen and Tuareg pastoralists who feed their cattle around the village's vast expanse of hills and plateaux.
Moussa drove straight into a busy settlement inside the village where he met two men waiting in a pickup vehicle that had three young girls sitting on the bed of the car. I told the driver who transported me to park 50 metres away, in a way that I could have a good view of Moussa and the herdsmen without being suspected by anyone.
One of the men Moussa met was Alhassane, the same man he had spoken with on the phone. The other was known as Ali, a young man who had cowries wrapped around his neck and a bullet scar on his right hand. They had a brief talk in the local Zarma language. When the conversation ended, the men handed some cash to Moussa and asked the three girls to move into his vehicle before driving off.
Transporting migrants from one location to another is something Moussa is accustomed to, and it was while in the act that I got to know him.
I first met Moussa in the North-Western Nigeria city of Kano in January in 2017 when he came in an old Volkswagen Passat to the city's main market to pick up four teenage boys who had left the northeast, where Boko Haram operates, and needed him to transport them—through smuggling routes—across the Nigerian border into Niger, from where they'll get into pickup vans and mini-trucks headed for Libya's coast.
Long before then, Moussa had built a rapport with militants in areas around Tongo Tongo. He had been hired by ISGS militants to drive prospective migrants from Mali into the village, from where they are transported in another vehicle to Agadez.
Most times these migrants travel with nicely wrapped parcels containing narcotics like cocaine and heroin which they deliver to militants on arrival in Tongo Tongo.
But Moussa's relationship with the militants turned sour one afternoon after he arrived with migrants from Mail. Both the driver and his passengers were asked by the jihadists for a parcel the militants said contained cocaine but they all denied they had seen anything like that. The ISGS fighters then beat up Moussa and his passengers with horsewhips after claiming they stole and sold the substance. The driver sustained injuries all over his body, including a cut just above his left eye. He then fled to Maimoujia, a village on the border with Nigeria, and began to transport traders and migrants travelling between the two countries.
Despite losing the trust of ISGS militants, Alhassane and Ali—both of whom had come in contact with Moussa when he did jobs for ISGS militants—saw him as an honest person they could count on when it came to transporting migrants.
"In the past, I took cows they had slaughtered to Markets in Niamey and brought back the monies to them once these cows have been sold," Moussa said. "I wasn't surprised when they called this time and asked if I was available to transport some persons."
Rokia, Ramata and Kandia—the three girls on the journey with Moussa to Agadez—served as maids to ISGS militants in a village called Akabar, located about 6 km inside the Malian border.
The girls used to live in the same compound just after Ansongo, a town in the Gao Region of eastern Mali. When jihadists invaded their compound, they fled the town by foot and hoped to get to Niger, but they ran into ISGS militants as they tried to cross the border.
The militants offered them a safe haven in Akabar and promised to pay them if they agreed to work for them as maids. But, in the long run, they began to witness the hostility of their hosts.
"They would shout at us and beat us with sticks if we woke up late or did something they didn't like," Ramata, one of the three travelling girls, told Moussa on their way to Agadez. "Some of them even forced us to have sex with them. We were like slaves in Akabar."
Even before jihadist groups sprung up, slavery was deeply rooted in the areas where ISGS militants operate today. In South-Western Niger and in some areas along Mali's South-Eastern border, where the Zarma people are predominantly found, slavery provided the main workforce in agriculture. At the start of the 20th century, about three-quarters of the population (PDF) in southwest Niger's most important Department of Say were slaves. The practise of hiring slaves—especially in farms—still continues till this day, and Rokia, Ramata and Kandia are happened to be among those at the receiving end of this practice.
In Akabar, the girls lived in a large compound alongside about 10 often armed militants, who looked after cattle and did business with Songhai tribesmen from northwest Mali. There were other girls in the compound but Rokia, Ramata and Kandia—along with two others—were the ones helping to feed livestock and doing most of the cooking.
Alhassane and Ali, the two men making sure the girls are transported to Agadez, are close friends of Doundou Chefou—code-named "Naylor Road" by U.S. intelligence—an ethnic Fulani herder who led dozens of ISGS militants in an assault against U.S. and Nigerién forces that led to the death of eight soldiers, including four American Green Berets in 2017. But neither of them has seen face to face with Chefou in more than three year.
"He's most often in Akabar," said Moussa, who has interacted with Chefou on numerous occasions in the past. "He doesn't come to Tongo Tongo as often as he did in the past."
Chefou is considered to be one of the leaders of ISGS. When he first acquired arms over a decade ago, his motive was to protect his cattle from thieves. Many of his tribesmen also saw the need to protect their livestock from rustlers, and they acted in the same way.
"Virtually every Fulani herdsman, including Alhassan and Ali, took up arms along with Chefou," Moussa said. "The rate of livestock theft was so high at the time."
But things changed in 2011 when Nigerién Tuareg tribesmen, who fought as mercenaries for Muammar Gaddafi during the Arab spring in Libya, returned to the country and began to target other ethnic groups including the Fulani.
In November 2013, a Tuareg chief was killed by a Fulani herdsman after both had engaged in a squabble. In revenge, Tuareg fighters murdered 46 Fulani herdsmen along the Mali-Niger border in what is, till date, the deadliest attack carried out by Tuaregs in the area. They then began to constantly steal camels and cows belonging to the Fulani.
"It made Chefou very angry," Moussa said. "He decided he was going to put a stop to it."
Chefou then began to build a force capable of fighting the Tuaregs, and many Fulanis in areas around the Mali-Niger border signed up.
In about the same period, the Movement for Oneness and Jihad in West Africa (MOJWA)—one of several insurgent groups fighting a campaign against the Malian government for independence or greater autonomy for northern Mali—seized several towns, including Ansongo and Ménaka, close to the Nigerién border, and had begun to advance into Niger when French forces pushed them back later in 2013.
"Fulanis didn't want to have anything to do with MOJWA because they were composed mostly of Tuareg fighters," Moussa, who is also a Fulani, said. "We were rather prepared to fight them."
MOJWA didn't quite succeed in its attempt to seize towns in Niger. Instead, it started becoming fractured, and a section of the group, led by Western Sahara-born Adnan al-Sahrawi, merged with al-Mulathameen—another al-Qaeda affiliate group founded by Mokhtar Belmokhtar—to form al-Mourabitoun.
Al-Mourabitoun was composed primarily of Tuaregs and Arabs, but Sahrawi wanted an expansion of the group to accommodate other local ethnic groups, including the Fulani, especially in Mali in Niger.
"Belmokhtar didn't want Fulanis in particular because he thought they would be hard to control," Moussa said. "Fulanis would not even have wanted to join them because they had mostly Tuareg fighters."
The faceoff between Sahrawi and Belmokhtar grew thereafter. In May 2015, Sahrawi declared al-Mourabitoun's allegiance to ISIS, but Belmokhtar insisted that the group was allied to AQIM. There were reports that Belmokhtar's followers tried to assassinate Sahwari after he pledged his loyalty to ISIS.
Sahrawi then left al-Mourabitoun to create ISGS (the Nigerien government rather refers to it as MOJWA), and began to show his affection for Fulanis. He had met a Fulani herder, popularly known as Petit Chapori, during his time at al-Mourabitoun, and became close friends with him. Chapori had also been close friends with Chefou since their youthful days—long before he met Sahwari.
"It was Chapori who introduced Chefou to Sahwari," Moussa said. "Sahwari has treated him [Chefou] like a brother since then."
Both Chapori and Chefou became Sahwari's lieutenants in areas around Mali and Niger, and, in the past year, began to recruit fighters and servants for ISGS. They equally have been portraying Sahwari to other Fulanis as "a man of great character."
"Fulanis now see him as one of them," Moussa said of Sahwari who is originally Arab. "His bond with Fulanis became stronger when he married a Fulani woman in 2016."
With less than 100 fighters, according to Moussa, and with not much finances, it is through businesses like drug trafficking and people-smuggling that ISGS uses to fund terror. While it often takes money from prospective migrants hoping to cross into Niger, it appeared as if the jihadists, on this occasion, were spending their own cash to ensure that Rokia, Ramata and Kandia reached Agadez.
The journey to central Niger took nearly 26 hours in total to complete, and was filled with the same events common in Sub-Saharan Africa travelling routes.
On the highways, policemen got what they wanted from commercial drivers. To avoid checks, drivers could either give money or something valuable. One driver in a vehicle overloaded with goods, gave T-shirts to officers to be able to proceed. Oil in liquor bottles, reportedly stolen from Libya, is sold by the roadside in areas close to Agadez, mostly at giveaway prizes.
In Agadez, migrants—mostly from Nigeria, Gambia, Ghana, Liberia, Malian, Senegal, and Guinea—arrive in a ghetto, a shabby cluster of buildings on the outskirts of the city known as "connection houses", guarded by men holding daggers and swords. Sometimes, the migrants had to wait for days until it gets to their turn to cross the desert.
Centuries ago, Caravans brought salt, gold, ivory, and slaves to Agadez. But in recent years, the ancient city—whose historic buildings are constructed from red earth—has become a centre for trading drugs, arms and humans. Following the overthrow of Gaddafi in 2011, men from the Tuareg and Toubou tribes in Niger crossed into Libya and raided abandoned weapons depots in the south of the country and sold stolen guns to insurgent groups in the Sahel. The smuggling routes between Niger and Libya then reopened, and Agadez—with just over a hundred thousand inhabitants in the desert city—became the hub of migration trade in Africa.
In May 2015, the Nigerién government criminalized the transporting of migrants after the European Union offered financial inducements. The development led to the police confiscating scores of pickup vehicles and arresting smugglers and drivers. The city's main source of revenue came under threat.
But the crackdown didn't end the trade. Many agents and drivers devised new ways of beating security. Others found ways of bribing authorities to be able to remain in the business. Regardless of efforts to put a stop to the migrant smuggling trade, Agadez's central location will always make it a transit point for foreign travellers.
Just outside the city is a connection house owned by Abu Umar, where Moussa usually drops migrants gotten from militants. Umar, a people-smuggling agent, has accommodated hundreds of migrants since he first got involved in the business in 2014 and continuing even after the government of Niger made the trade illegal a year later. It is only through his help that the three girls will reach Libya.
In the past, these migrants didn't need to work, because their travel had been paid for by militants. They were fed with good food and well protected until it was time to travel across the Ténéré desert to Libya. But in recent years that has changed. Jihadists no longer foot the travelling bills of migrants, rather, they—as we later found out—use them as tools for child trafficking.
We arrived on a Sunday, a day before drivers visited the ghettos to collect cash from the connection men and load the travelling migrants into their pickup trucks. Every Monday, a large number of migrants, in vehicles that carry between 25 and 30 people on their beds, leave Agadez for Libya, and are escorted by a Nigerién military convoy that ensures their safety until they get to North Africa. Rokia, Ramata and Kandia will not be part of those travelling the next day because ISGS militants had not paid their connection fees. Unknown to any of us, including Moussa, the jihadists were working with Abu to use them to do business.
Abu's connection house—located in the outskirts of city—is occupied by young girls, most of who are in their teens. Unlike in typical Agadez connection houses, where migrants—who have paid for their journey in full—only have to wait for days or weeks before there are transported to Libya, those being catered for by Abu have to wait for at least a year before making the journey north.
"I want them to first earn some money in Agadez before travelling so that they can transport themselves to Italy," Abu told me just in front of his own connection house, after the girls had been handed to him. "I will find them jobs here either as cleaners, hairdressers and salesgirls."
Most female migrants who have made it to Agadez on their own have to do sex work to cater for themselves and to be able to pay for the journey to Libya. They earn about three dollars per client but have to spend much on renting rooms from local madams and connection men.
Abu said the girls in his connection house do only "decent jobs" and are never exploited. But the more he painted his business in good light, the less convinced I was, moreso because I could hear the cry of babies from the building just metres away from where we stood.
The connection man rejected my request to get inside the building, and it made me more suspicious about what goes on in there. Even Moussa who, in the past, regularly took migrants to the connection man, has never been allowed access to the building.
"There are only women staying there," Abu emphasised. "You could get in there and meet some of them in a naked state."
The connection man then dismissed Moussa and I, and walked into the building. But as we headed towards the vehicle, the building's security guard walked up to us and offered to take us inside the connection house once Abu departed the building.
"He'll leave anytime soon for a meeting," Bello, as the security man is named, said to us. "I'll let you in so you can talk to the ladies."
Moussa and I waited in our respective vehicles which we had reparked about a hundred metres away from Abu's connection house, in a way that we could get a clear view of the entrance to the house.
After about an hour, a woman walked into the building and re-emerged minutes later with Abu, who walked beside her as they reached for the vehicle that had brought her to the connection house.
Once they departed, Moussa and I walked up to Bello who took us inside the building. The hot and crowded connection house contained a number of rooms. Each room accommodated at least three girls. There were two rooms reserved for anyone who brought a male client for sex.
The client pays around two dollars to the security man at the entrance (usually it is Bello who collects the cash), and another three dollars to the girl before sex.
In the entire house, there were at least nine girls—most of them below 17—under the care of Abu and his wife, Sonia, who had travelled earlier in the day to Niamey and was expected back the following day.
Most of the girls were brought in from Mali in the same way Rokia, Ramata and Kandia arrived Agadez. Three of them were visibly pregnant, and another three had given birth the previous month to male children.
To outsiders, Abu's connection house is a mere transit home for women hoping to reach the coast of Libya, but, in reality, he operates a baby factor where new born kids are sold mostly to parents in other urban cities.
"The amount is two million CFA francs (about $3,620) for a boy, while a girl usually goes for one million CFA francs (about $1,810)." Bello told me after I persuaded him to disclose how Abu carries out his activities. "The babies are mostly taken to cities like Niamey and Zinder."
Days or weeks after birth, the baby leaves the connection house with someone who works as a front for the child's new parents or who is a middleman in the baby trafficking trade.
It's not clear whether babies born in Abu's connection house are also trafficked to Libya, although his security guard suggested that may be the case for a few. But it's less likely children just a few days or weeks old will survive the extremely high temperatures and harsh conditions in the Sahara desert. That doesn't mean smugglers wouldn't try.
Monica Chirac, spokesperson for International Organization for Migration (IOM) in Niger told me that she has "seen babies among the migrants rescued, but I don't have the breakdown by age." She also mentioned that children rescued in the desert by the organization "are usually accompanied, whether by their mother or father, uncle, etc."
But it's in other urban cities in the West African nation that most of the children from Abu's connection house go to.
Reports of illegal adoption of children is rampant in Niger, where there is a stigma attached to childlessness. Beneficiaries of the baby trafficking trade have included persons highly influential in the country.
Two years ago, the country's opposition leader, Hama Amadou, was sentenced to jail after he and his wife were alleged to be part of a conspiracy whereby newly born babies were obtained from Nigeria and then sold to wealthy couples in Niger. Amadou, a two-time Prime Minister of Niger, was accused of falsely claiming the parenthood of around 30 children.
In Agadez, where the baby trafficking business is shrouded in secrecy, Abu encourages the girls in his connection house to talk to their clients against using condoms so as to create an opportunity to get pregnant. Most times the girls are successful in preventing the use of protection. Sometimes they are not, but that rarely happens.
"I've never used [a condom] before," Fatou, one of the three mothers in Abu's connection house, told me. "I've never even seen it since I got here."
Fatou gave birth to a baby boy—delivered by Sonia—right inside Abu's house in November. She isn't sure of who the baby's father is. In the month she took in, she had had unprotected sex with four different men. She hasn't come in contact with any of them again since then.
Her baby would eventually be transported to an urban city where his future parents have booked in advance and are expecting their new child to be delivered to them soon after birth.
"He will be the fourth child to leave [the connection house] this year," Bello told me. "Two left in February, while the last one travelled last month."
Since Fatou arrived Agadez from Tongo Tongo a year ago, she has seen three young girls give birth to babies in Abu's house, and their babies taken from them within a month at least. It is only after their babies have been handed to Abu and his wife that the girls can make the trip to Libya.
The ladies aren't sure of the exact place their children are taken to, and no one is obliged to explain anything to them. When it is time for the baby to be separated from his or her mother, Sonia would inform the child's mother a day or two before. Sometimes she would walk up to the nursing mother, pick up her child and ask her to prepare for her trip to Libya which could happen within two weeks.
"If you ask her where the baby will be staying she'll say 'it's not your business,'" said Fatou. "She'll then ask, 'Do you think you can successfully take care of a baby?'"
Just before Sonia travelled, she had informed Fatou that her baby would leave the house very early in the morning the next day. Fatou had been thinking about it since then. Not only was she worried that she may never see her son again, but was also concerned about his well-being.
"He has been taking only breast milk here," she said. "What if he becomes sick because he doesn't like the artificial food they are going to give to him?"
I returned with my driver very early to Abu's compound the next morning and waited inside the vehicle—parked 50 metres away—to see how Fatou's son would be taken out of the house. At about 7:15 a.m., a lady arrived at the compound in a Toyota Hilux pickup truck and waited in the car for the connection man to emerge.
A minute later, Abu come out of the building carrying Fatou's child. He had a brief conversation with the lady, who was seated just behind the driver, before handing the baby to her.
Fatou stepped out of the building and watched in sorrow as the vehicle drove off. Tears rolled out of her eyes. An excited Abu turned and looked at her but offered no consolation. He simply walked into the building. As the teenager saw me walking up to her, her tears increased. She became uncontrollable as she cried.
"It feels as if my life has ended," she said. "My baby was everything to me."
http://saharareporters.com/2019/12/31/gory-tales-women-babies%E2%80%99-trafficking-islamic-state-greater-sahara
------
URL: https://www.newageislam.com/islam-women-feminism/leave-women-lead-protest-india/d/120681
New Age Islam, Islam Online, Islamic Website, African Muslim News, Arab World News, South Asia News, Indian Muslim News, World Muslim News, Women in Islam, Islamic Feminism, Arab Women, Women In Arab, Islamophobia in America, Muslim Women in West, Islam Women and Feminism