Age Islam News Bureau
7 Dec 2012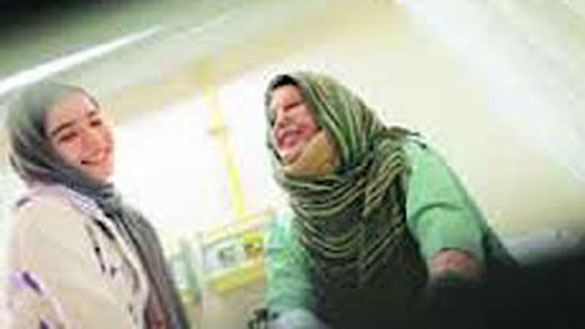 • UAE Expectant Moms Fancy 12.12.12 Babies
• Burnt and Beaten, 19-Yr-Old Afghan Girl Rebuilds Life in Delhi Hospital
• 4 Arab Women Arrested For Black Magic
• Beneath The Burqa: Afghan Women Opt For Cosmetic Surgery
• Doors Remain Closed For Women Victims of Violence in Khyber-Pakhtunkhwa
• Malaysia Women Praise Move That Bars Girls Forced To Wear Headscarf
• Stronger Legislation Demanded In Pakistan to Protect Women from Violence
• Libyan, Involved In Organising Aid for the Rebels Flees To UK as Revolution Sours for Women
• US Diplomat Writes and Sings Pashto Song for Malala
• Teachers in Saudi Arabia to Get an Hour for Breastfeeding Their Newly Born
• Burqa Escape Prompts Discussion in Indonesia
• Teen Marries 12-Year-Old Bride, Rights Groups in Malaysia for a Ban on Child Marriages
• Claiming Women's Space in the Mosques in China
• Thai Muslim dancers stay true to their roots
• Why Girls in Pakistan Fight To Go To School
• Islamic Countries Prioritize Gender Equality
Compiled by New Age Islam News Bureau
Photo: Mumtaz (right) with her sister Farhanas
URL: https://www.newageislam.com/islam,-women-and-feminism/new-age-islam-news-bureau/-women-hit-by-domestic-violence-often-use-dowry-law-to-strike-back-/d/9570
------------
'Women Hit By Domestic Violence Often Use Dowry Law to Strike Back'
Vijay Swaroop and Hussain Malvi, Hindustan Times
December 07, 2012
A probationary IAS officer might have been booked for allegedly demanding dowry, but more and more youngsters are getting averse to this social ill. And not just that, they want heavy punishments for the dowry-seekers. A survey carried out by Shaadi.com, a matrimonial portal, has revealed that 53% of Indians feel that those who demand dowry should be forced to pay twice the amount to the bride's family instead. Also, 56% of Indian men opine that those who demand dowry should be fired from their jobs while 44% of are of the view that dowry-seekers should be forced to pay five times their current income tax liability to the government.
IG, Indore Anuradha Shankar calls it a positive sign. "We all know that dowry is illegal and people take a big risk by practicing it. We have a very good law when it comes to curbing this menace from society and the groom's family can easily be taken to court if they commit this crime," she told HT.
The survey also reveals that 52% of Indian women believe that women often misuse anti-dowry laws. "Domestic violence is the biggest reason why women make the misuse of dowry law," said Savita Inamdar, former chairman of the Women's Right Commission. "Women often fall prey to domestic violence after marriage due to a number of reasons. Many a times the situation goes awry leaving them no option but to leave her in-laws and go back to parents' place," she said, adding: "The domestic violence law doesn't allow her to seek justice without presenting evidence -- which can be difficult in many cases. So many a times such women are advised by lawyers to take up the anti-dowry Act as a weapon to teach her oppressors a lesson."
Anjana Tiwari, assistant superintendent of police (traffic), feels that women put themselves in trouble by offering dowry to the groom's family before getting married. "There are strict laws in the Constitution by which people can seek justice if they are approached for dowry. But the sad part is that neither the affected persons make an effort to understand the law nor do they knock the doors of the court to take legal action," she said.
However, Shantla Jain, a city-based marketing executive feels that there are no parameters to find out that boy's family is the culprit. "It is not always that the boy's family demands dowry, but many a times the girl's family encourages this ill-practice," she said.
"The ground reality is different from what we hear," says Ramesh Saluja, a 31-year-old website designer. "Many a times, it can also be the girl who would threaten her in-laws with dowry laws. But the problem cannot be resolved without upgrading the law. The sad part is these cases take a lot of time to resolve, thereby affecting the life of people involved," he said.
http://www.hindustantimes.com/India-news/Bhopal/Women-hit-by-domestic-violence-often-use-dowry-law-to-strike-back/Article1-969605.aspx
---------------
UAE Expectant Moms Fancy 12.12.12 Babies
Mustafa Al Zarooni / 7 December 2012
12.12.12 is an auspicious date, but it seems women here are far more interested in babies than husbands on the day.
While the country's maternity hospitals are booked up with pregnant women wanting caesarean sections, there is not the same demand for wedding services.
Khaleej Times contacted a number of contractors of wedding parties and in charges of wedding banquet halls.
Mohammed Darwish, owner of Al Haan Company, who is also a wedding parties' contractor, said there was nothing in his schedule about any party on the date.
"Unlike the New Year festivities, whose arrangements will begin next week, and Singer Waleed Al Shami and artist Shams will perform, I have not heard of any party that will be held on this day," he said. Darwish said that there would be a big wedding ceremony on December 13, where a number of noted singers would perform. Musical concerts are increasingly held on weekends, and people do not seem to have the same fixation on special dates as there was in the past.
Tariq Al Toofi, assistant manager of the musical concerts department at the Grand Hyatt Hotel, said the banquet ballroom was booked on 12.12.12, not for holding a wedding ceremony, but for opening a big conference. He said the hotel management does not hike prices on special dates, though New Year would see big celebrations and parties.
Lateefa Hospital's Head of Obstetrics and Maternity Section Dr Mona Tahlak said no response would be made to expectant mothers who wanted to give birth as on 12.12.12, and she advised them to undergo a normal delivery.
"Normal delivery is a divine boon, which should not be missed," she said, noting that caesarean sections would be performed only in emergency cases for women who had given birth by c-section more than once.
Dr Mona said the many requests to have a caesarean section birth on the day were absolutely rejected.
"The complications of the caesarean section are more dangerous than the normal one, and the physician resorts to c-section to save the baby's life," she said.
malzarooni@khaleejtimes.com
http://www.khaleejtimes.com/kt-article-display-
------------
Burnt and beaten, 19-yr-old Afghan girl rebuilds life in Delhi hospital
Dec 07 2012
New Delhi: "What will urge you to live?" Mumtaz's surgeon asked her after she attempted suicide a few times. "A meeting with Akshay Kumar," said the 19-year-old Afghan girl, burnt in an acid attack, recovering from a series of facial and body reconstruction surgeries in a Delhi hospital.
On December 2, Mumtaz's wish was fulfilled when she and her 15-year-old sister, Farhanas, met the actor while he was in the capital to promote his upcoming film Khiladi 786. Mumtaz, who speaks Hindi fluently thanks to the popularity of Bollywood and Indian TV serials back home, was so star struck that she couldn't utter a word in Kumar's presence.
That she was there at all, sitting and smiling with the star, was a miracle enough.
Last year in November, a week before her wedding, seven men had barged into their village home in Kunduz in northern Afghanistan. They beat up her father, tied him in a bag and dumped him in a stable, and attacked her mother. When a scared Mumtaz covered herself with a blanket, the attackers went and got bottles of acid, emptying them upon her till her skin began to melt. Later, she was hit on the head and lost consciousness.
When she came to, she realised there was worse. Her frantic flailing of arms had splashed drops of acid on her two younger sisters, scarring them too.
As Mumtaz recounted her story, sitting on the hospital bed, Farhanas listened in absolute silence. She was discharged recently after a reconstruction surgery on an eyelid and re-grafting of skin on her arm.
Mumtaz was born and raised in a poor household as one of eight children — she has four sisters and three brothers. She dropped out of school early as studies didn't interest her, learning instead household chores, specifically how to cook rice. "An Afghani girl is never considered 'good' till she can make extraordinary rice," said Muzhgan Nuzhat. A final-year MBBS student in Kabul, Nuzhat is also a social worker with the Women for Afghan Women (WAW), a grassroots organisation working for child and human rights in the war-ravaged country.
When the long-haired and pretty Mumtaz turned 15, her father received a marriage proposal for her. He felt it was inappropriate and turned it down. She was later engaged to a 22-year-old youth working in the construction industry.
WAW workers believe that the armed attackers came that day to avenge the rejected proposal, deliberately waiting till Mumtaz's wedding was just a week away.
"The acid left a mass of scars," said her surgeon. "Her lower lip got stuck to her chin, upper lip stretched towards the nose, the neck was mangled, her scalp fell out in patches and her body was seriously burnt."
Mumtaz's was one of the first cases of acid attacks brought to WAW, said Nuzhat. Most crimes against women in Afghanistan involve honour killings within families, especially in case of love marriages, though attacks by outsiders such as on Mumtaz are on the rise, said WAW programme officer Huma Safi, speaking from Kabul.
Mumtaz was first taken to a hospital in Kunduz, then to Kabul by WAW, which has shelters in eight provinces in Afghanistan. That's where the plan for her surgical rehabilitation in India took shape.
The Indian connect wasn't incidental. WAW was founded in New York in 2001 by an Indian, Sunita Viswanath. Apart from medical expertise available in India, Safi said, the diplomatic goodwill between the two countries makes it easier to bring girls like Mumtaz for government-funded treatment.
Mumtaz began idolising Akshay Kumar after his 1999 film Jaanwar and remembers entire songs from his Khiladi series. When he died in his 2005 film Dosti, she shed copious tears. So when the actor personally called up to promise to meet her within minutes of being told of her wish, her surgeon promised to "prepare" her for the star appointment.
"I will rearrange the bandage beneath your lip so you can smile freely and fully," he told her. Her arms in a cast, her neck in an orthopaedic collar, an eyebrow yet not fully formed, Mumtaz never let that smile slip for the half-an-hour they spent with Akshay Kumar at his hotel. The actor ensured that it was a low-profile visit, without the usual media trappings.
"He asked us about the condition of Afghani women, our food and culture and invited us for a Mumbai trip paid for and hosted by him," said Nuzhat. On Wednesday, Mumtaz went out shopping to prepare for the visit to Mumbai this weekend.
What she yearns for though is to have her face reconstructed, go back home to her mother and lead a "normal" life. Her fiancé calls her once in a while, she said, but she instinctively feels he is no longer interested in her.
http://www.indianexpress.com/news/burnt-and-beaten-19yrold-afghan-girl-rebuilds-life-in-delhi-hospital/1041570/
------------
4 Arab Women Arrested For Black Magic
Afkar Abdullah / 7 December 2012
The Ras Al Khaimah Police have arrested four Arab women for allegedly engaging in black magic activities and drugging men to abuse them financially, in an apartment filled with sperm-laced tissues.
A top RAK Criminal Investigation Department (CID) officer said the offenders convinced women that they could solve their marital issues by using men's sperm to perform black magic.
The officer said police received information from a woman saying there were some women staying in her apartment who were conducting black magic activities.
Based on this information the police laid a trap to catch the women red-handed. They asked the same woman, who gave them the initial information, to go to the accused and tell them that her husband was cheating on her, and she wanted to control him. The woman, on the directions of the police, went to the accused who in turn asked her to pay DH, 5000, which she paid, and then they asked her to bring her husband's sperm.
While this transaction was taking place, the police entered the apartment where the activities were being performed and arrested four women, all involved in the same activity. All four women were from the same Arab nation, while an Emirati man who was also in the apartment as a customer was taken in for questioning.
Police said when they raided the apartment they found a lot of herbs, pesticides, cleaning chemicals, alcohol and a lot of tissue paper with different men's sperms.
During the investigation, the police learnt that the woman who had informed them about the black magic activities had known about the black magic practice for a long time, but because of some dispute with the women she informed the police about their activities.
During interrogation the four women confessed to their black magic practices, saying they had done it for a long time and made a lot of money from it.
The CID officer urged the public to be cautious and not to become a victim of people dealing with black magic. He beseeched members of the public to follow the word of God and use rationality in addressing their problems.
afkarali@khaleejtimes.com
http://www.khaleejtimes.com/nation/inside.asp?xfile=/data/crime/2012/December/crime_December17.xml&section=crime
------------
Beneath The Burqa: Afghan Women Opt For Cosmetic Surgery
December 07, 2012
Despite living much of their lives behind a veil, some Afghan women are feeling pressure to conform to ideals of female beauty and are lining up for cosmetic surgery at a handful of clinics in Kabul.
A few years ago, most operations would have been to repair war wounds or scars from family violence, acid attacks or attempts at self-immolation by women driven to despair by hard times in a male-dominated society.
Now, nose jobs are most popular, but facelifts, breast enhancement and tummy tucks are also sought after.
Full report at:
http://www.hindustantimes.com/world-news/Afghanistan/Beneath-the-burqa-Afghan-women-opt-for-cosmetic-surgery/Article1-969553.aspx
-------------
Doors Remain Closed For Women Victims of Violence in Khyber-Pakhtunkhwa
December 7, 2012
PESHAWAR: With the closure of Women Crisis Centres in Khyber-Pakhtunkhwa (K-P), more women victims of violence and abuse have been left abandoned.
In June, the provincial government said all centres in the province should stop their activities and withdrew financial assistance to them, citing a lack of funds.
The employees of the centres in Swat, Abbottabad, Peshawar and Kohat received their termination letters on June 14, following which Social Welfare, Special Education and Women Empowerment departments took to the courts to challenge the decision.
Full report at:
http://tribune.com.pk/story/476287/shelter-homes-doors-remain-closed-for-women-victims-of-violence/
------------
Malaysia women praise move that bars girls forced to wear headscarf
Alisha Hassan | 7 December 2012
KUALA LUMPUR: In a rare public display of support for recent government statements pertaining to women's rights in Malaysia, women here are praising the Education Ministry after it said that girls in the country cannot be forced to wear a headscarf, or tudung.
The statement comes on the heels of controversy over schools attempting to force non-Muslim students into wearing the headscarf.
But women had fought back and urged the government to intervene to uphold the rights of girls in Malaysia.
Full report at:
http://www.bikyamasr.com/82545/malaysia-women-praise-move-that-bars-girls-forced-to-wear-headscarf/
--------------
Stronger Legislation Demanded In Pakistan to Protect Women from Violence
07 December 2012
ISLAMABAD: A group of activists on Thursday participated in a 'mock court' trial to highlight the need for stronger legislation to protect women and girls from violence.
The event was organised by AAWAZ Voice and Accountability Programme in collaboration with other civil society organisations and networks, marking '16 Days of Activism for Ending Violence Against Women'.
Parliamentarians, civil society members and UK Deputy High Commissioner Alison Blake attended the 'Moot Court'.
Full report at:
http://www.dailytimes.com.pk/default.asp?page=2012\12\07\story_7-12-2012_pg11_1
------------
Libyan, Involved In Organising Aid for the Rebels Flees To UK as Revolution Sours for Women
December 7, 2012 in International
Sunderland, on England's north-east coast, is an unlikely refuge for a Libyan activist forced to flee the very revolution she helped bring about.
Report by BBC Online
Twenty-five-year-old Magdulien Abaida, who was involved in organising aid for the rebels fighting Colonel Muammar Gaddafi, has just been given asylum by the UK government.
Now the city on the edge of the North Sea, where she knows no-one, has become her temporary home.
Full report at:
http://www.theindependent.co.zw/2012/12/07/libya-rebel-flees-to-uk-as-revolution-sours-for-women/
--------------
US Diplomat Writes and Sings Pashto Song for Malala
December 7, 2012
ISLAMABAD: A US diplomacy official has written and sang a Pashto song "Jenaiy", which means "girl", as a tribute to Malala Yousufzai, the teenager who was shot in the head by the Taliban for promoting education for girls.
She has taken a novel approach to diplomacy in Pakistan – singing in a local language to build bridges, where anti-Americanism runs rampant.
Shayla Cram, a public diplomacy officer assigned to Peshawar, the gateway to al Qaeda and Taliban strongholds in the north-western tribal belt, has not only learnt Pashto but has penned her own Pashto-style song.
Full report at:
http://tribune.com.pk/story/476497/us-diplomat-writes-and-sings-pashto-song-for-malala/
------------
Teachers in Saudi Arabia to Get an Hour for Breastfeeding Their Newly Born
6 December 2012
The Ministry of Labour issued a binding order to all girls' private schools to allocate an hour for any teacher who is breastfeeding after resuming her work. This decision came as a step to meet the demands of a large number of nursing teachers and women's rights activists.
Full report at:
http://www.arabnews.com/teachers-get-hour-nursing
------------
Burqa escape prompts discussion in Indonesia
By Elizabeth Oktofani for Khabar Southeast Asia in Jakarta
December 06, 2012
A convicted terrorist's decision to escape by donning women's garb is "embarrassing" and disrespectful to Islam, scholars say. It has also led to new screening rules at prisons where militants are incarcerated.
Roki Aprisdianto, 29, was serving a six-year sentence for bombings in Central Java between December 2009 and January 2011. One of six men imprisoned for the blasts, he is considered the leader of the cell.
Full report at:
http://khabarsoutheastasia.com/en_GB/articles/apwi/articles/features/2012/12/06/feature-03
------------
Teen Marries 12-Year-Old Bride, Rights Groups in Malaysia for a Ban on Child Marriages
07 December 2012
MALAYSIA - Their marriage last month in Kedah made the headlines.
National and international newspapers, such as The New York Times and the International Herald Tribune, ran articles about their nuptials.
The reason for all the attention? The bride is 12 and the groom is 19.
Their union has led to rights groups in Malaysia calling for a ban on child marriages.
Yet the newly-weds - Mr Mohammad Fahmi Alias and Nor Fazira Saad - appear unfazed by the storm surrounding their marriage.
Full report at:
http://www.malaysia-chronicle.com/index.php?option=com_k2&view=item&id=44778:teen-marries-12-year-old-bride&Itemid=4
------------
Claiming Women's Space in the Mosques in China
December 6, 2012
Over the past few years, I have been quite interested in Chinese Islamic practices. Part of it comes from my own Chinese ancestry, which is often clouded by strong Mexican traditions and marital institutions. Although today my mother's family acknowledges that my great-great-grandfather was Chinese, a few decades back, no one was thrilled to admit that my great-great-grandmother engaged in an extra-marital affair with a man who "used to bow to pray," as my great-grandaunt says.
Full report at:
http://www.patheos.com/blogs/mmw/2012/12/chinas-womens-mosques-claiming-womens-space-in-the-mosque/
------------
Thai Muslim dancers stay true to their roots
By Samila Naranode for Khabar Southeast Asia in Phuket
December 04, 2012
Dressed in Islamic-inspired garb, students of a Satun school impressed crowds during a competition with an anti-drug message.
The Islamic dress code does not have to be a barrier to exercise and fun, as a group of teenage dancers from Thailand's Satun province demonstrated last month. They earned big applause from spectators at the regional finals of the Thailand Teen Dancercise Competition 2013 -- the country's only nationwide scholastic aerobic dance competition.
Full report at:
http://khabarsoutheastasia.com/en_GB/articles/apwi/articles/features/2012/12/04/feature-03
------------
Why girls in Pakistan fight to go to school
Education is still not a priority for the government and conservatism in the male-dominated society keeps schools out of the reach of its females
By Syed Hamad Ali
December 6, 2012
The school in Islamabad where Mohammad Ayub teaches is like no other. With no roof, no walls and no tuition fees, anyone who hears about it may be forgiven for thinking that the institution is a figment of the imagination. "Before I started teaching here, people from the surrounding areas used to come here and throw garbage," Ayub tells Weekend Review. "I cleaned this piece of land with my own hands so children could study here."
Full report at:
http://gulfnews.com/about-gulf-news/al-nisr-portfolio/weekend-review/why-girls-in-pakistan-fight-to-go-to-school-1.1115004
------------
Islamic Countries Prioritize Gender Equality
6 December 2012
United Nations, Dec 6 (Prensa Latina) The Organization of Islamic Cooperation (OIC) announced on Thursday its member countries'' decision to give priority to issues related to gender equality and justice and empowerment of women.
The decision is included in the final statement of the Fourth Ministerial Conference of that organization of states, devoted to the role of women in development, ending on Thursday in Jakarta, the Indonesian capital.
Full report at:
http://www.plenglish.com/index.php?option=com_content&task=view&id=780051&Itemid=1
--------------
URL: https://www.newageislam.com/islam,-women-and-feminism/new-age-islam-news-bureau/-women-hit-by-domestic-violence-often-use-dowry-law-to-strike-back-/d/9570