New Age Islam News Bureau
16 Jan 2020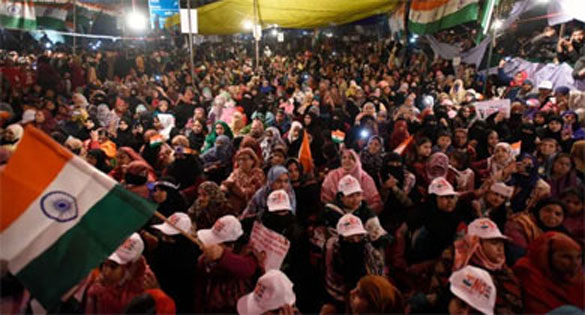 Women protesters who are on an indefinite sit-in against the Citizenship Amendment Act (CAA) and National Register of Citizens (NRC) seen at Shaheen Bagh, on January 12, 2020 in New Delhi, India. Burhaan Kinu/ Hindustan Times via Getty Images
------
• Protest against CAA, NRC and NPR in Kerala by Girls Islamic Organisation of India
• Muslim Women Start Stir In Rampur to Demand Release Of Anti-CAA Protesters
• Muslim Women in Steel City Demand Roll Back Of CAA, Plan Stir On January 31
• Now Rampur Women Join CAA Protests
• Columbus Police May Reconsider Hijab Ban
• Non-Muslim Teachers Wear Islamic Veil in Protest of Local 'Burqa Ban' In Sweden
• Christian Women Lured Into IS Trap, Alleges Kerala Church
• Zaira Wasim Molestation Case: Man jailed for 3 years
• Saudi Arabia Named World Leader for Reforms Advancing Economic Role For Women
• Saudi Arabia Leads in Women's Legal Gains At Work, World Bank Says
Compiled By New Age Islam News Bureau
URL: https://www.newageislam.com/islam-women-feminism/women-dont-give-up-fighting/d/120807
--------
'Women Don't Give Up': We Are Fighting For Our Rights, Our Children's Rights
JANUARY 15, 2020
Nusra Ara had only just fallen asleep when the phone rang. It was 10 a.m. on Tuesday and though she had returned home seven hours earlier, she stayed up cooking, cleaning, packing lunch boxes and then dropping her daughter to school. When she picked up the call, a fellow protester's voice rang out in panic and made her sit up. Soon she was rushing out of her home through the busy, narrow streets of Shaheen Bagh in South Delhi, toward the site where she and thousands of other protesters, mostly women, have gathered every evening for more than a month.
Making her way past shabby buildings alternating with newer apartment blocks, through alleyways filled with restaurants, car repair shops, schools and clinics, she reached just as the news she had heard on the phone was beginning to spread: the police were about to arrive. Within minutes, women streamed out of houses and alleyways and the relatively empty protest site began ringing with chants, poetry and the Indian national anthem. As the crowd surged, the police retreated from the gates of the protest. Meanwhile, at the site a 65-year-old grandmother, Shabnam, sits attentively listening to a speech. As the speaker begins chanting slogans of freedom and liberty, Shabnam joins in. "I have never been to a protest. I have never spoken at this pitch. I have never wanted to be heard or seen," she says. But now I say, let's march on Parliament. Let them see us."
Since December, crowds across India have mobilized to protest against the government of Indian Prime Minister Narendra Modi, after it passed a law that many see as discriminatory against Muslims. In Shaheen Bagh, a working-class, majority-Muslim neighbourhood, the protests began with a small, peaceful sit-in and candlelit vigil by local women, including Ara. For 32 days, the protesters have blocked the major highway connecting the Indian capital to Noida, a satellite town. Some 10,000 to 20,000 protesters gather here every evening from all over the city, while the local women take turns to keep the site—a marquee with a makeshift stage for speakers—occupied day and night. On Sunday, more than 150,000 gathered here.
"We have forgotten our homes, we have set aside our family obligations and responsibilities," Ara, a 43-year-old homemaker, says, wearing an embroidered black Burqa. "We are fighting for our rights, our children's rights. Our existence, their future." Nearby, another protester on a makeshift stage reads out the Preamble to the Indian Constitution, which declares the country a "secular, democratic republic." There is loud applause.
The protesters are fighting the Modi government's Dec. 11 introduction of the Citizenship Amendment Act, which would provide citizenship to all non-Muslim refugees from Bangladesh, Afghanistan and Pakistan who fled to India before 2015, and a National Register that would require Indians to provide documentary evidence of residence and Indian ancestry. Shortly after the Act was passed, the police began to clamp down heavily on protesters and dissident voices, including brutal crackdowns in three universities: Aligarh Muslim University, Jamia Millia University and Jawaharlal Nehru University. Many young men and women from Shaheen Bagh study in Jamia University, just a short drive away.
https://time.com/5765702/india-protests-women/
--------
Protest against CAA, NRC and NPR in Kerala by Girls Islamic Organisation of India
15-01-2020
AMuslim women's group named "Girls Islamic Organisation of India" here on Wednesday protested against Citizenship Amendment Act (CAA), National Register of Citizens (NRC) and National Population Register (NPR).
State president of Girls Islamic Organization of India, Afeeda Ahmed said, "The movement against CAA started as a student protest in Delhi. A large number of Muslim students were also present during the protest there. Here we are holding a three-day protest.''
The CAA grants citizenship to Hindus, Sikhs, Jains, Parsis, Buddhists and Christians fleeing religious persecution from Pakistan, Afghanistan and Bangladesh and who came to India on or before December 31, 2014. (ANI)
https://www.devdiscourse.com/article/politics/832256-protest-against-caa-nrc-and-npr-in-kerala-by-girls-islamic-organisation-of-india
--------
Muslim Women Start Stir In Rampur to Demand Release Of Anti-CAA Protesters
Jan 16, 2020
Rampur: Similar to several women-led anti-CAA protests across the country, around 200 Muslim women of UP's Rampur have now assembled at the city's historical Jama Masjid to protest against the local police and administrative officials.
The women have remained at the protest venue for over 48 hours. They are raising their voices against the alleged police atrocities and demanding an immediate release of their family members and the "innocent protesters" of the anti-CAA violence on December 21. The women protesters had also taken up the issue with the local imam and other ulemas.
Rampur district magistrate Aunjaneya Kumar Singh (DM) told TOI on Wednesday, "A protest is going on inside the Jama Masjid. The people are still being instigated by those who were behind the December 21 violence. We have collected enough materials as well as scientific evidence."
"When we had asked the Jama Masjid committee to send us a list of the innocent protesters, they had actually sent names of all those accused persons against whom we have evidence. The people were all involved in the crime. So, this makes the task of investigating officer difficult, especially to initiate the process under section 169 CrPC," added the DM.
The DM further said, "I am working around the clock with the police and other administrative officials so that the innocent people can be released from jail."
On registering section 302 (murder) and 307 (attempt to murder) against more than 2,000 protesters when the postmortem report of deceased's Faiz Khan, an alleged protester, revealed that he died due to gunshot injury, the DM said, "We have found evidence against some of the offenders who were involved in Faiz Khan's death. We have instructed police officials that murder charges should not be slapped against any innocent people. They should be granted bail. People should not be charged without any proof."
Rampur Jama Masjid committee secretary Mukarram Inayti said, "The police and the administrative officials had assured us that those who were found to be innocent during the probe will be released under section 169 CrPC after the application of release is produced by investigating officer."
He added that the matter related to the protesters' release is still pending.
One of the protesters, Soni, said, "My 20-year-old brother Rahil was arrested and sent to jail illegally by the police."
Social activist Faisal Khan Lala said, "A list of 13 people who were booked and sent to jail had been given to SP Rampur Santosh Kumar Mishra and he had assured that innocents will be released."
https://timesofindia.indiatimes.com/city/bareilly/muslim-women-start-stir-in-rampur-to-demand-release-of-anti-caa-protesters/articleshow/73280848.cms
--------
Muslim Women in Steel City Demand Roll Back Of CAA, Plan Stir On January 31
Jan 16, 2020
JAMSHEDPUR: Scores of Muslim women in Steel City came out on to the streets on Wednesday to raise their voices against the CAA and the proposed pan-India NRC exercise.
Organised by the All India Social Welfare Minority Front (AISWMF) at Idgah maidan in Azadnagar at Mango, the protest saw Muslim women, from all age groups, agitating against CAA and NRC .
"Had the government taken the people into confidence before enacting CAA, then perhaps the situation that we are witnessing today would not have happened," Zeba Qadri, who led the women's protest, said.
The women's group also took out a foot march from Zakirnagar Chowk to Old Purulia Road to spread awareness on CAA, NRC and NPR.
Another protester, Sara Parveen, appealed to the women to hit the streets in large numbers to pressurise the Union government to roll back the citizenship law. Attacking the BJP government, Parveen said, "The Modi-Shah government will not sit idle until a nationwide NRC exercise is implemented."
"The pan-India agitation from different religious communities has brought to the fore the concerns of the economically vulnerable sections of all castes and religious communities that are likely to face trouble if NRC is implemented," Savita Mumru, who was present at the protest to express her solidarity, said.
Demanding release of all the people who have been arrested countrywide for opposing the CAA, the speakers said they will not sit quiet till the innocent citizens are released. "On January 31, we will protest at the DC's office and demand to take back the CAA," Najma Khatoon said.
AISWMF functionary Babar Khan said the purpose behind organising the peaceful protest was to give a platform to the scores of women who wanted to voice their concerns on the citizenship law. "More such sit-ins will be organised in the days to come," he added.
https://timesofindia.indiatimes.com/city/jamshedpur/muslim-women-in-steel-city-demand-roll-back-of-caa-plan-stir-on-january-31/articleshow/73295683.cms
--------
Now Rampur Women Join CAA Protests
16 JANUARY 2020
Rampur, Jan 16 (IANS) After Shaheen Bagh in Delhi and Mansoor Ali Khan Park in Prayagraj, it is now the Jama Masjid in Rampur where women have joined the nation-wide stir against the citizenship law.
Around 200 Muslim women have assembled at the Jama Masjid here in Uttar Pradesh to protest against the police and administrative officials in this town.
The women have been at the protest venue for over 48 hours. They have raised slogans against the alleged police atrocities and demanded an immediate release of their family members and the "innocent protesters" of the anti-CAA violence on December 21 in the state.
"We are against the citizenship law and also against the district administration which has arrested innocent people who were protesting against the law. We have taken up this issue with the Imam and the clerics and now we are on this protest," said Shaheen, a protestor.
Another protester, Soni, said: "My 20-year-old brother Rahil was arrested and sent to jail illegally by the police."
Social activist Faisal Khan Lala said: "A list of 13 people who were booked and sent to jail had been given to SP Rampur Santosh Kumar Mishra and he had assured that innocents will be released."
Rampur District Magistrate Aunjaneya Kumar Singh said: "A protest is going on inside the Jama Masjid. The people are still being instigated by those who were behind the December 21 violence. We have collected enough materials as well as scientific evidence."
He further said: "When we had asked the Jama Masjid committee to send us a list of the innocent protesters, they had actually sent names of all those accused persons against whom we have evidence. The people were all involved in the crime."
The district magistrate said: "I am working around the clock with the police and other administrative officials so that the innocent people can be released from jail."
https://www.outlookindia.com/newsscroll/now-rampur-women-join-caa-protests/1709581
--------
Columbus Police May Reconsider Hijab Ban
January 16, 2020
Columbus Police Chief Thomas Quinlan said this week that he plans to take another look at the division's ban on hijabs and other head coverings. The ban made headlines in 2015 after a female recruit left the police academy when she was not permitted to wear a head scarf.
Columbus police Chief Thomas Quinlan said this week that he is open to taking another look at the division's ban on head coverings for religious reasons.
The ban made headlines in 2015 after a female police recruit left the Columbus police academy because she was not permitted to wear a hijab, or head scarf.
In 2015, the Police Division said the desire was to have officers look uniform and not have any outward appearance that could affect how they are received by the community. There also were concerns about head scarves potentially being used to strangle officers during a struggle.
Shortly after that recruit left the academy, the Ohio chapter of the Council on American-Islamic Relations filed an employment discrimination complaint over the hijab issue.
The group says the Ohio Constitution and Ohio civil-rights laws allow people to express their faith even if they are government employees.
In the Muslim faith, a hijab is worn by women as a show of modesty around any males that are not family members. This scarf is traditionally worn by women regardless of their marital status.
The ban effectively prevents practicing female Muslims from joining local law enforcement. With an estimated 40,000 Somali immigrants in Columbus and central Ohio — the second-largest population in the country — Quinlan said the city and the division should rethink the ban to better reflect the city that officers serve.
"The division has accepted the fact that we're better if we're more diverse," Quinlan said.
Romin Iqbal, executive director of CAIR-Columbus, said he is pleased to hear Quinlan is open to reconsidering the hijab issue.
"We continue to believe that this ban is not fair and it is clearly discriminatory and it makes it difficult for the Columbus police to represent everybody," Iqbal said.
There are companies that make athletic gear and equipment to accommodate hijabs and other head coverings that could provide options for female Muslim officers.
"There would still be uniformity," Quinlan said. "It would probably be it's option A and there's no option B."
He said there is some concern over whether an officer wearing a hijab would be fairly received by everyone within the community, but the chief said increasing cultural awareness warrants the discussion.
Quinlan said there is no definite timeline for revisiting the ban and that there are other priorities the division needs to address immediately, such as technology upgrades and redeployment of officers.
"It's something I want to do, but it isn't an immediate need as far as something that goes toward public safety and improving our service to the community," he said.
But, he added, "Now's the right time ... I've never seen a rank and file more open to change and that want to see some things done differently."
Iqbal said CAIR hopes to reach out to Quinlan this week.
https://www.dispatch.com/news/20200115/columbus-police-may-reconsider-hijab-ban
--------
Non-Muslim Teachers Wear Islamic Veil in Protest of Local 'Burqa Ban' In Sweden
January 16, 2020
After the Sweden Democrats proposed a bill in 2018 to go "against the full-covering Muslim veil in all public places", the local council in southern Sweden, Skurup, introduced a ban on "religious headgear" in primary schools and preschools.[1]
Following this decision, non-Muslim teachers and staff have adopted the headscarf and, in some cases, donned the whole face veil (also known as 'niqab') to show their support for their Muslim students.
Marit was one of six non-Muslim teachers to show their support, saying:
"The students get excited when they see that we also have veils. They feel that we support them."[2]
This action has been taken as a protest against the local council's decision, but also an objection to 'ban the burqa' all over the country.
The chair of Malmo's Young Muslims, Tasnim Raoof, argues that the ban denies "Muslim women's right to their…democratic freedom of choice." After the Skurup council implemented the ban, Raoof went on to say, "this criminalises Muslim girls."[3]
The burqa ban in Skurup has allowed a new ripple of racism and hate to take place, which in the wider scale will eventually become a wave that is spread across the whole of Sweden. This ban is not something new, as we have seen the same thing happening in many other countries across Europe such as Belgium, France, Denmark, and Austria.
Most notably, Non-Muslim women went out of their way and risked their safety to fight against this ongoing marginalisation of Muslim women.
Mattias Liedholm, the headmaster at Prästamosseskolan School, disagreed with the decision, stating that neither he nor his fellow colleagues will support the ban.
"Neither I nor any of my colleagues will enforce it. Then it becomes a matter of personnel for the municipality to handle."
Similarly, New Delhi, India, has seen the rise of a similar initiative, whereby women of different faiths wore the headscarf due to the citizenship law "singling out Muslim women." A demonstration took place at Jantar Mantar where all women came out peacefully in solidarity with Muslim women, many of whom were specifically being targeted by the police, sending a clear message to both the police and government that it is not acceptable to specifically target Muslim women who are peacefully protesting the Citizenship Amendment Act 2019.[4]
In light of these events, it is important for Muslim women all over the world to stay strong in their faith at a time where their home and neighbouring countries are legislating the removal of that which promotes their identity as Muslims.
As Allah says in the Qur'ān:
"And we will surely test you with something of fear and hunger and a loss of wealth and lives and fruits, but give good tidings to the patient, who, when disaster strikes they say, 'indeed we belong to Allah, and indeed to Him we will return.' Those are the ones upon whom are blessings from their Lord and mercy. And it is those who are [rightly] guided."[5]
Thus, have patience and know that this suffering is a trial, have complete faith in your Lord and know that He will grant you ease in your difficulties.
https://www.islam21c.com/news-views/non-muslim-teachers-wear-islamic-veil-in-protest-of-local-burqa-ban-in-sweden/?__cf_chl_jschl_tk__=8dabc60fd257c29c299ade4141eb41da8a6be1cd-1579152055-0-AYCXRnln12Dtr3moIvyzgO81UJXiDbj9IvNYA86gDChgd4-hcm3_nRFF-CIHWUta4cPQXsOAvMV_zHnJeB7B2lSSXajDS8mCeB2qHvG2gBxJq11cRC6LYtRpE1NGnOM5twq_Elg7aWWX7rHfVA1nww0xC01L_zmphu6eactqywHaRQdsbuSPAYAQC7AcPg_3-Pmv-umdTL70Ek1Q0Vp9S8gdtjqR6GsFLCoKqvsNajA-NLu4qY7PVqQp6Xi3enT4RLk85MFHoAALX9S6msavULGXdSCr0v43aIVGO637Ai26qKEIVbsyqA9d60y0TEyXN51WNAOBvxXK6Oeiw4I8ANY3GVdR7Dgc8f09JD-rwWlHA2joelmLwpFwJZDC7N0JDlEvumM4JZNTGVxFkkfFaOljYbIzmyUBoHBqZAQWKWP6L2-UYmsvkTMPKbJvi3_KDg
--------
Christian Women Lured Into IS Trap, Alleges Kerala Church
January 16, 2020
Kicking up a debate, an influential Catholic Church in Kerala has said "Love Jihad is a reality" and alleged that scores of women from Christian community from the southern state were being lured into the trap of Islamic State and used in terror activities.
The synod of Syro-Malabar Church, an apex body of Catholic Bishops chaired by Cardinal George Alencherry, also accused the state police of not viewing the matter cautiously and taking timely action in 'Love Jihad' cases.
Denying the charges, the Popular Front of India (PFI), an Islamic outfit, questioned the "timing" of the statement and urged the Church to withdraw it immediately "as it would only help create division amid growing unity among various sections of society against Hindutva Fascism."
The Viswa Hindu Parishad (VHP) welcomed the Church statement and called for a united fight against 'Love Jihad' in Kerala Society.
An official of the Kerala State Women's Commission refused to comment, considering the sensitivity involved in the matter.
There was no immediate reaction from the police and government as well.
"There are circumstances in which Christian girls are killed in the name of Love Jihad in Kerala," the Synod has alleged in a statement issued through Syro-Malabar Media Commission here on Tuesday night, referring to the attacks against Christians across the world.
The Synod has termed as "shocking" the killing of Christians in Nigeria on Christmas day.
It is a matter of concern that Love Jihad is gaining grounds in Kerala putting in danger its social peace and communal harmony, the Synod said.
"It is a reality that 'Love Jihad' is happening in Kerala in a planned manner targeting Christian girls," it said.
The Synod, referring to a police record, said out of 21 people who were recruited into Islamic State terror outfit, half of them were converted from Christian faith and it should be an eye opener for the community.
Noting that unofficial accounts say many girls were being used in terror activities through Love Jihad, the Synod said it was a serious matter and such accounts state that Love Jihad is not only "in the imagination".
The Synod, however, said it was not assessing the 'Love Jihad' as an issue affecting the friendship between religions and urged the government to treat it as one related to law and order and not as a religious matter.
The Church demanded speedy action against the culprits involved in the 'Love Jihad.'
It also called for efforts to sensitise parents and children about the dangers of Love Jihad.
The PFI, often being accused of playing key roles in alleged 'Love Jihad' cases in Kerala, claimed that the state police, after conducting a thorough probe, had earlier submitted a report in the Kerala High Court, stating that there was no cases of 'Love Jihad' in the state.
"The Church is raising such a baseless allegation at a time when the minorities including Muslims and Christians and the people of Hindu community are in a joint fight against the Fascist government at the Centre.
Their untimely statement would only help divert the people's attention from the key issues that society is facing at present", Elamaram told PTI.
Urging the Bishops to immediately withdraw the statement, he said, "I don't know what is their interest in making such a statement at this juncture."
Not a single Muslim community is holding 'Love Jihad' to increase the number of Muslims here, claimed Elamaram.
He, however, said there were instance of inter-religious marriages in Kerala in which Muslim girls marrying Hindu and Christian boys and Hindu and Christian girls selecting partners from the religions of their choice.
Such marriages cannot be termed as 'Love Jihad', he said.
Asked about the Bishops' allegations that Christian girls are targeted and recruited to Islamic State terror outift, the PFI leader said not a single Muslim organisation in India have recognised the Islamic State and such recruitments should not be seen as part of a 'jihad' as doubts prevail in minds on who created the IS.
Former president of the VHP, SJR Kumar claimed that 'Love Jihad' exists in Kerala society.
He alleged that there were centres in Kerala to "convert Hindu and Christian girls who are being lured into the trap of love by youths with criminal backgrounds".
"We have brought this issue into the attention of the Kerala society much earlier. But nobody listened to us.
Now, we are happy that the Bishops have realised the threat of Love Jihad. It is the time of a joint fight against this menace," Kumar told PTI.
He also alleged that Muslim men trap Hindu and Christian women into marriage and forcing them to convert to Islam.
"The converted Hindu and Christian girls are being used in drug trafficking and terrorism," Kumar said.—PTI
https://www.tribuneindia.com/news/christian-women-lured-into-is-trap-alleges-kerala-church-26606
--------
Zaira Wasim Molestation Case: Man jailed for 3 years
January 16, 2020
Mumbai: Dangal Actress, Zaira Wasim who had quit the acting career in the month of June is back in news.
A 41-year-old man, Vikas Sachdeva who had misbehaved with the actress in December 2017 was found guilty. Mumbai Special Court sent him to jail for three years.
The man had molested the actress on a Delhi-Mumbai flight in December 2017.
Zaira shared horrible experience
It may be mentioned that the actress had shared her horrible experience on Air Vistara Delhi to Mumbai flight in the Instagram Live video.
While speaking about the incident, she had broken down multiple times narrating her mid-air suffering.
She is heard saying, "This is not done, I am disturbed". She added, "Is this how you're going to take care of girls?"
Later the man was booked under the relevant sections of the POCSO Act and Indian Penal Code.
Actress quit Bollywood
On June 30, the actress shared a detailed post on her social media pages, including Facebook, Twitter, and Instagram.
In the post, the actor stated that her work damaged her "peace, imaan and relationship with Allah."
https://www.siasat.com/zaira-wasim-molestation-case-man-jailed-3-years-1793861/
--------
Saudi Arabia Named World Leader for Reforms Advancing Economic Role For Women
January 16, 2020
RIYADH: Saudi Arabia has been named as one of the world's most transformative nations for advancing the economic role of women in society.
The World Bank's annual "Women, Business, and the Law" report has ranked the Kingdom top among 190 countries for its progress in bringing about reforms related to female involvement in economic development and entrepreneurship.
And Saudi women in business have lauded the Vision 2030 strategy for being the key driver in helping them to realize their ambitions.
According to the bank's figures for 2020, the Kingdom scored 70.6 out of 100 for progress achieved in the integration of women into the labor market. The report's findings also placed the country first among Gulf states, and second in the Arab world for meeting the criteria.
The study revealed that Saudi Arabia made significant improvements on six out of eight indicators, namely mobility, workplace, marriage, childcare, entrepreneurship, and retirement, while maintaining its rank in the asset and property index.
The Kingdom made the biggest improvement globally in enacting reforms in six out of eight areas including women's mobility, sexual harassment, retirement age, and economic activity.
On the number of women applying and being accepted into the Saudi workforce, Wadha Bin Zarah, the women empowerment director at the Saudi Ministry of Communications and Information Technology (MCIT), said: "The number has increased sufficiently with rapid growth. I believe that inclusiveness and diversity are two key factors to any successful entity.
"Among the G20 countries, Saudi Arabia has scored the highest growth in the participation of women in the workforce. Moreover, recruitment and human resources practices have never shown any discrimination against women when it comes to wages. One scale is used for all, and any benefits are calculated on merit, not sex."
Zarah added: "Vision 2030 targets stated a specific quota for female participation in the workforce, which is to rise from 22 percent to 30 percent by 2030, with all sectors aligning their key performance indicators and goals to achieve that target."
In addition, Saudi Arabia received a maximum score of 100 in the categories of mobility, workplace, entrepreneurship, and retirement. This achievement was due to changes in laws and regulations related to women aimed at enhancing their role in economic development and boosting the Kingdom's competitiveness at regional and international levels.
Included among reforms highlighted in the Kingdom were the granting of travel rights for women aged over 21, the renewal of documents for all family members, unifying the retirement age between men and women and aligning them with the work system, and new rules to protect women from discrimination in workplace, especially with regard to employment and salaries.
Bayan Barry, partner account manager at Cisco Systems, said: "In 2006 we started with the first batch (of female employees) which was limited to two or three. That number has increased to around 44 women, working alongside 170 male colleagues, with different experiences from technical, sales, operations, project management and marketing.
"Currently, we are having a phase of internship within our company locally in Saudi and are proud to say that 12 female interns have shown their outstanding skills, including nine technical and three project managers.
"Women have been striving to expand their growth and show their value but in the past, it was not always been that easy. Many were lucky to have a supportive family, but chances were minimal," added Barry.
"It is a moment of pride being in the right era, where we have the great support of Crown Prince Mohammed bin Salman in promoting more women in the labor force and believing in us to show our utmost value.
"Companies have started to race toward the national transformation aligning with Vision 2030. We are at a pace like never before of women empowerment, with many role models nationwide. We have started to penetrate more into segments we never thought of being in, while showing our impact and driving organizations onto more success.
"Percentage has shown how diversity has created new ideas and successful business results, and a high return on investments where inclusion and collaboration of both genders has been working hand in hand," said Barry.
The bank's report pointed out that Vision 2030 had contributed to boosting the implementation of these reforms, as it emphasized the importance of the role of women in ambitious plans to develop the country.
These have included the adoption of a range of initiatives and goals to support the empowerment of women, including raising the percentage of female participation in the labor market from 22 percent to 30 percent.
Nora Al-Kordi, a VAT manager with professional services firm Ernst & Young, said: "Every woman has the right to think that they are of value, to believe in themselves, and deserve every possible opportunity to achieve their dreams.
"Vision 2030 has turned dreams into reality, through empowering women and making what once was deemed impossible easy to reach through hard work and perseverance."
The World Bank's "Women, Business, and the Law" report is issued annually and aims at evaluating the level of gender discrimination in regulations related to economic development and entrepreneurship in 190 countries around the globe.
https://www.arabnews.com/node/1613871/saudi-arabia
--------
Saudi Arabia Leads in Women's Legal Gains At Work, World Bank Says
January 15, 2020
Women's rights at work have improved globally since 2017, the World Bank said on Tuesday, with 40 countries introducing rules such as longer paid maternity leave and protection from violence on the job.
Saudi Arabia made the biggest improvement globally, enacting reforms that affected women's mobility, sexual harassment and retirement age, it said, although the Middle East and North Africa was the region still most in need of legal reforms.
"There's reason for optimism," World Bank President David Malpass wrote in a foreword to the report, which assessed laws and regulations in 190 countries affecting women at work, including restrictions on jobs and permitted working hours.
"When women can move more freely, work outside the home and manage assets, they're more likely to join the workforce and strengthen the economy."
Counting 62 reforms in 40 economies between mid-2017 and mid-2019, the report said the average global score for laws affecting women working was 75.2 out of 100, up from 73.9 two years earlier.
Countries with the best regulatory environments for women in the economy and scores of 100 were Canada, Belgium, Denmark, France, Iceland, Latvia, Luxembourg and Sweden.
Elsewhere, Fiji lengthened paid maternity leave and introduced paid leave for fathers, Cyprus also introduced paid paternity leave and Barbados passed laws governing sexual harassment in the workplace.
Reforms were needed particularly in the area of parental leave, the Bank said. In nearly half of the economies that provided paid maternity leave, employers bore the cost, making it more expensive to hire women, it said.
https://www.khaleejtimes.com/business/global/saudi-arabia-leads-in-womens-legal-gains-at-work-world-bank-says
--------
URL: https://www.newageislam.com/islam-women-feminism/women-dont-give-up-fighting/d/120807
New Age Islam, Islam Online, Islamic Website, African Muslim News, Arab World News, South Asia News, Indian Muslim News, World Muslim News, Women in Islam, Islamic Feminism, Arab Women, Women In Arab, Islamophobia in America, Muslim Women in West, Islam Women and Feminism