New Age Islam News Bureau
20 Dec 2018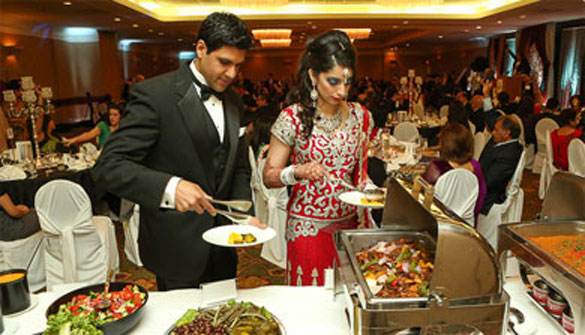 Darul Uloom Deoband has issued a decree on Tuesday declaring eating of men and women together at functions as un-Islamic
------
• Afghan Women Officers Train at OTA
• 'Women Voters Be Given Right of Double Voting': Pakistan
• Muslim Woman Alleges Discrimination over Wearing Hijab in Goa, Not Allowed To Write NET Exam
• Greece Violated Muslim Woman's Rights: ECHR
• Combat Dreams of Afghan Women Take Wings at Chennai's Officers Training Academy
• Oman Post Issues Stamp on Women Empowerment
• Iraqi Kurdistan Struggles to End Violence against Women
Compiled by New Age Islam News Bureau
URL: https://www.newageislam.com/islam-women-feminism/women-men-eating-together-un/d/117211
--------
'Women and Men Eating Together Is Un-Islamic' Decree Issued By Darul Uloom
Dec 20, 2018
Renowned Islamic seminary Darul Uloom Deoband, situated in Uttar Pradesh's Saharanpur, has added another to its list of absurd Fatwas when it recently said that women and men eating together was un-Islamic. In a fresh edict issued on late Tuesday, the seminary has also said that it was in fact 'illegitimate' to eat food while standing, according to a report by The Times of India. The fatwa was issued following a query by a resident of Deoband town who sought to know the proper way, under Islamic rules, of having food at wedding functions and other events. The edict has created a flutter on Twitter with people questioning the rationality of such a law.
The seminary, one of the country's largest, often hits the headlines with its rather absurd decrees. Here is a look at some of the bizarre ones:
In November, 2018, the seminary issued a fatwa against Muslim women wearing nail polish while offering Namaaz or prayers, calling the practice un-Islamic. A cleric at Darul Uloom, Mufti Ishrar Gaura, had argued that a layer of nail paint hinders the "wudu water" (ritual purification) from washing their nails completely.
The same month also saw Darul Uloom stating that the tradition of carrying a bride to her palanquin by the male members of her maternal family can lead to 'birth of lust' and had issued a fatwa against it. A report by The Times of India quoted a bench of high-ranking clerics saying, "Relations between a woman and her maternal uncle are very sacred. A man cannot lift his fully grown niece; it is certainly not acceptable in the eyes of Muslim law. There is always a danger of destruction of such relationship if this activity leads to the birth of lust in either of the two."
In July, 2018, the fatwa department of the seminary, while replying to a query by another Deoband resident, had said that waxing and shaving are not considered good under the Sharia law. The department said, "Removing hair through waxing or shaving from other parts of the body is Khilaf-E-Adab (against the culture)," reported by The Times of India.
In response to yet another query by a Maharashtra-based Muslim man, a three-cleric panel of the seminary in May, 2018 had issued a fatwa on installing CCTVs in a shop or place where there is movement of a lot of people.
In April, 2018 the Darul Uloom said that it will not conduct Muslim marriages where music and dance are part of the wedding, saying that these are against Islam. ANI had quoted the city qazi for Saharanpur, Mufti Azhar Hussain, saying, "We will not conduct 'nikah' in weddings where music and dance are happening and a DJ is there. This is against Islam; (we) will boycott such weddings." He added that if the music and dancing happened before the nikah ceremony and the qazi did not know "then it is different."
In February, 2018, the Islamic seminary stated that Muslim women must not wear bangles from men at shops. They had called this age-old tradition "wrong and a big sin," said a report by The Times of India.
Darul Uloom had also extended its support to the fatwa issued by Saudi Arabian clerics against using Quran verses as ringtones on mobile phones.
In January, the influential seminary had issued a fatwa stating that Islam does not allow women to wear designer or body-hugging burqas. "The veil and burqa are supposed to protect a woman from prying eyes. So a woman wearing a designer burqa or body-hugging outfit is strictly not allowed in Islam," members of the seminary had reportedly said. The Darul Uloom had also issued a fatwa against celebrating New Year's, observing that it was un-Islamic as the Islamic calendar year starts from Muharram.
The seminary had also issued a fatwa in 2017 prohibiting Muslim men and women from posting their or their families' photographs on social media sites. "There are many other ways to ensure safety of a commercial establishment or a home. In Shariat, it is un-Islamic to shoot a picture. Consequently even the CCTV is un-Islamic," a report by The Times of India had quoted the panel as saying.
https://www.firstpost.com/india/women-and-men-eating-together-is-un-islamic-and-other-decrees-issued-by-influential-up-seminary-darul-uloom-5763201.html
--------
Afghan Women Officers Train at OTA
DECEMBER 20, 2018
The shooting range at the Officers Training Academy (OTA) near Alandur boomed with the sound of gunfire, triggered following commands in Dari, a language spoken in Afghanistan. A group of women cadets from the Afghan National Army was participating in a rifle shooting show at the OTA on Wednesday.
The group of 19 women officers successfully has undergone four weeks of military training at the OTA. They have been training since November 26.
Zohra Nabizada, a Second Lieutenant, said her training experience at the OTA was one of the best. Ms. Nabizada, one of the few women pilot trainees in the Afghan defence forces, said she had gained a lot of self-confidence after undergoing training at the premier academy. Captain Sirajdullah Safi, who accompanied the contingent, said the women officers selected for the training at the OTA were drawn from the army, air force and police.
A training officer said this is the second year in a row that women officers from the Afghan defence forces had undergone training at the academy. Last year saw 19 women army officers from Afghanistan taking part in a three-week programme. Admitting that language was the only barrier that they had anticipated, the officer said they were prepared this year. "We brought a few Indian women officers who knew Dari and Pashto, which are commonly spoken in Afghanistan."
The Afghan women went through a regimen which included physical training, drills, weapons training, tactical training and English communication.
https://www.thehindu.com/news/cities/chennai/afghan-women-officers-train-at-ota/article25784916.ece
--------
'Women Voters Be Given Right of Double Voting': Pakistan
Myra Imran
December 20, 2018
Islamabad: For genuine women political participation and their role in decision making, former Senator Farhatullah Babur on Thursday suggested direct elections on reserved seats for women by giving women voters the right of double voting so that they can elect candidates of their choice in the Parliament.
He was speaking at the second 'National Dialogue on Gender Gap in Electoral Rolls' organised by National Commission on the Status of Women (NCSW) in collaboration with DAI-Tabeer programme. Moderated by Dr. Attiya Inayatullah, the discussion session highlighted potential strategies and policy recommendations to address the impediments to women's computerised national identity card (CNIC) registration. The speakers highlighted the urgency to ensure universal registration to close the gender gap in the electoral rolls.
The dialogue featured comprehensive presentations from the commission, Tabeer team and Election Commission of Pakistan (ECP) on steps taken and challenges met in ensuring women political participation in Elections 2018. The speakers said that things improved in terms of women political participation both as candidates and voters in the previous elections but a lot more needs to be done for
Farhatullah Babur was of the opinion since the year 2002, reserved seats for women had served as the extension of male power in politics. He also suggested giving extra credit to the candidates who receive high percentage of women votes in their constituencies and recommended Special Public Prosecutor on issues of violence against women and urged right activists to review FATA Regulation Act to ensure protection of women rights in FATA region.
Eminent activist Tahira Abdullah said that the gender gap in electoral roll would keep on increasing with increasing population. "There are around 3,500 girls that turn 18 years of age every day in the country. Even If we partially cover the past gap, the gender gap will keep on increasing every day," she pointed out. She stressed for affirmative actions for women empowerment unless level playing field is available for women.
Dr. Inayatullah emphasized that since it is mandatory to have a CNIC to appear on the voter's list, it is binding on government institutions to ensure a universal list of voters through proactive CNIC registration. She also called for the ECP to develop a gender inclusion strategy to streamline and priorities future efforts.
NCSW Chairperson Khawar Mumtaz called for the ECP, NADRA, political parties and the government to work together to facilitate the CNIC registration of millions of women of voting age missing from the electoral rolls. She acknowledged efforts made to register women voters for the 2018 General Election, but stressed the need to continue to make electoral processes more inclusive.
In his opening remarks, Secretary, ECP Babar Yaqoob Fateh Muhammad said one of the organisation's key priorities was to ensure the inclusive electoral participation of women, transgender persons, persons with disabilities and members of minority groups. He was of the opinion that the non-acquisition of CNICs was the single greatest impediment to excluded groups' right to vote.
Additional Director General (Gender Affairs), ECP Nighat Siddique stressed upon the urgency to close the gender gap in the electoral rolls to ensure that no voice is left out of the electoral process. The ECP's voter registration campaign supported by DAI-Tabeer and the United Nations Development Programme (UNDP) in 2017 registered some 4.3 million women prior to the General Election in 2018.
DAI-Tabeer senior advisor Mukhtar Ahmed Ali and Sector Expert Adnan Rafiq presented a study on the institutional barriers to women's CNIC registration, explaining that women face systemic impediments in the process of getting their names on the electoral rolls due to the legal requirement of CNIC possession for voter eligibility. They said proactive implementation of gender-sensitive legislation governing electoral assistance was integral to the meaningful participation of women in democratic processes.
Director, NADRA Ali Javed, said that NADRA was open to recommendations raised in the discussion to increase women's voter registration. He requested the ECP to share block-wise electoral rolls data with NADRA so it may compare with census data to identify target area for registration campaigns. The event was closed by Team Leader, DAI-Tabeer Amir Khan Goraya.
https://www.thenews.com.pk/print/408294-women-voters-be-given-right-of-double-voting
--------
Muslim Woman Alleges Discrimination over Wearing Hijab in Goa, Not Allowed To Write NET Exam
Dec 20, 2018
Panaji: A 24-year-old Muslim woman took to social media to raise her voice against discrimination over choosing to wear a hijab. She was allegedly asked to take off her hijab in Goa to meet the National Eligibility Test (NET) rules. She also claimed that nuns were allowed to keep their headgears on.
Safina Khan Soudagar, who is a writer and a postgraduate in psychology, said that she was scheduled to appear for the NET exam. She went to the examination centre to write the paper but she was refused to give the exam because she had to show her ears for the photograph. After having a debate with the authorities, she agreed to re-tie her hijab so as to show her ears and asked them for the way to a washroom. The authorities refused and asked her to re-tie it in presence of non-mahrems (men who aren't family) which was against Islamic beliefs. After she denied from doing so, the authorities told her to sit through the exam without her hijab, otherwise she would not be allowed to write the test. She decided to keep her faith above the test rules and refused to remove her hijab.
She claimed to have faced similar discrimination at a passport office.
Soudagar told The Times of India that she was stopped from entering a ward in Goa Medical College, where her father's friend was admitted, in July. She claimed that there were incidents in the past when women were allowed to enter wearing hijab. After arguing with the staff, she was finally allowed to enter.
She appealed to her 'hijabi sisters, my sisters and brothers in Islam, friends who have family or friends who observe hijab' to raise their voice against the alleged injustice in the secular country.
NET officials could not be reached for their comment on the allegations by Soudagar. However, an education official said that candidates are requested to undergo security checking and remove headgears to prevent cheating.
https://www.timesnownews.com/mirror-now/society/article/muslim-woman-alleges-discrimination-over-hijab-in-goa-not-allowed-to-write-net-exam/334078
--------
Greece Violated Muslim Woman's Rights: ECHR
December 19 2018
Top European rights court ruled on Dec. 19 that Greece violated basic rights of a Muslim woman, Chatitze Molla Sali, who did not want the application of Sharia (Islamic religious law) to her inheritance case, but domestic courts did so.
In the case Molla Sali v. Greece, the will of the testator, who is Molla Sali's deceased husband, was to inherit whole estate to his wife in accordance with Greek civil law. But the domestic court instead applied Sharia law and thus Sali was deprived of three-quarters of her inheritance.
The domestic courts considered the will devoid of effect because the law applicable to the case was Islamic inheritance law. Greece applies Islamic religious law to Greek nationals of Muslim faith according to the 1920 Treaty of Sèvres and the 1923 Treaty of Lausanne.
68-year-old Sali brought the case to European Court of Human Rights that she had suffered a difference in treatment on grounds of religion because had her husband not been of Muslim faith, she would have inherited the whole estate after his death in 2008. The Grand Chamber of the Court found that the difference in treatment was not been objectively and reasonably justified.
Thus the Chamber ruled that there had been a violation of Article 14 (prohibition of discrimination) of the European Convention on Human Rights.
The Court also noted that Greece was the only country in Europe which had applied Sharia law to a section of its citizens against their wishes.
"That was particularly problematic in the present case because the application of Sharia law had led to a situation that was detrimental to the individual rights of a widow who had inherited her husband's estate in accordance with the rules of civil law but who had then found herself in a legal situation which neither she nor her husband had intended," it said in its ruling.
http://www.hurriyetdailynews.com/greece-violated-muslim-womans-rights-echr-139865
--------
Combat Dreams of Afghan Women Take Wings at Chennai's Officers Training Academy
20th December 2018
CHENNAI: Second Lieutenant Hassiana Najibi, a trainee pilot of the Afghan Air Force, is confident of making a mark. With her hair covered and sporting the Afghan uniform at the Officers Training Academy, one of India's premier institutes, Najibi has the confidence of conquering the male bastion with the words 'I Can."
Interestingly, she is not the lone Afghan trainee pilot who is trained on war tactics and leadership in OTA. She is accompanied by Zuhra Nabizadi and Nassema, who is a flight engineer. They are among the batch of 19 Afghan women who are being trained in combat, leadership and other aspects.
The influence of the Taliban in the Afghan society, could be felt as both women didn't want to reveal more details about the family.
"It is a totally well-knit society and women have to adhere to the tenets of Islam. As such, they don't want to reveal any more details," says Captain Sirajulhaq Safi. However, women like Zuhra and Hassiana have overcome the fear of not joining the military despite facing restrictions which pertain to religion and culture.
However, the Afghan women envy the freedom given to Indian women army officers.
"They have more facilities and freedom," says Zuhra when queried about how they feel about Indian women in Army.
The trainee pilots take pride that they are among the five selected for becoming pilots in the Indian Air Force among the 3,000 girls, who wrote the exam.
They have also faith that the society is changing as women are being given opportunities.
Interestingly, the Officers Training Academy has become the hub for training women and men officers from various countries. This year, lady cadets from Bhutan, Uganda, Seychelles, Maldives and other countries, are undergoing training in the academy.
http://www.newindianexpress.com/cities/chennai/2018/dec/20/combat-dreams--of-afghan-women--take-wings-at-ota-1913865.html
--------
Oman Post Issues Stamp on Women Empowerment
December 19, 2018
Muscat: Under the patronage of Sheikh Mohammed bin Said bin Saif Al Kalbani, Minister of Social Development, Oman Post has issued a striking new commemorative postal stamp celebrating Oman's presidency of the Arab Women Organisation (AWO).
Unveiled on the occasion of the Sultanate hosting the 7th AWO Conference, the new stamp portrays the organisation's logo along with the words 'Oman's Chairmanship of the Arab Women Organisation', recognising the contributions women have made to the social and economic development across the Arab world.
Abdulmalik Al Balushi, Chief Executive Officer of Oman Post said, "Women in Oman have gone from strength to strength, guided by the wise vision of His Majesty Sultan Qaboos bin Said to empower them with the opportunity to achieve their aspirations. At Oman Post, commemorative stamps such as this latest one constitutes a significant part of our strategy to tell the story of key milestones and achievements that are paramount to the building and prosperity of the nation."
As a pioneer in women empowerment, Oman is hosting the 7th edition of the AWO Conference between 18-19 December 2018. The two-day conference was hosted by the Sultanate under the theme 'Women's Economic Empowerment and the Consolidation of Peace and Justice'. In line with the AWO's mandate, the conference focused on strengthening women role in consolidating the values of peace and citizenship. It also aimed to have participants share success stories and share experiences pertaining to economic and social liberation of women.
Oman Post continues to release commemorative stamps that mark significant occasions in Oman's history, present and future.
It recently issued two new interactive stamps offering an augmented reality experience through the Oman Stamp App. of Muscat International Airport. For the first time, Oman stamp collectors were able to experience different aspects of the airport, including a video showcasing many of its features and facilities. This innovative approach was part of Oman Post's transformation journey towards a new age of postal services. Other stamps recently issued marked Oman's 48th National Day and Shell's 60th Anniversary in Oman.
https://timesofoman.com/article/625325/Oman/Oman-Post-issues-stamp-on-women-empowerment
--------
Iraqi Kurdistan Struggles to End Violence against Women
Fazel Hawramy
December 18, 2018
Shaima was 17 years old and entering her junior year in school in Erbil. Her mother, who was worried about family "honor," often challenged her daughter in heated discussions. Eventually, Shaima's family barred her from going to school. Around 4 p.m. on Oct. 30, the neighbors heard gunshots coming from Shaima's house. "This is not your business," Shaima's mother, who was outside the house, told concerned neighbors. The family claimed that Shaima had committed suicide, but it soon became evident that her younger brother had murdered her with an AK-47, allegedly over possession of a mobile phone. When her body was examined, there were gunshots to her hands, head and chest, and it appeared to Erbil police spokesman Maj. Hoger Aziz that, out of her innocence, Shaima had covered her face with her hands thinking that she could protect herself against the bullets from the barrel of her brother's weapon.
Shaima is but one of many girls and women who often die in "mysterious circumstances": They are burned alive in an "accidental fire," savagely stabbed with a knife, killed by a bullet or simply thrown off of a cliff. The faces of the murdered women are often disfigured so that the police cannot track the murderers down. But even those killers who are caught by police sometimes go free if they are influential or know people who are influential.
The Kurdistan Regional Government (KRG) and international organizations such as the United Nations have poured millions of dollars into raising awareness about the plight of women in Kurdistan. But the data shows the situation is only getting worse. Outgoing UN special representative to Iraq Jan Kubis acknowledged the KRG's efforts to end so-called honor killings and other forms of violence against women, including amending national laws regarding honor killings, setting up more women's shelters, restricting the practice of polygamy and bringing KRG law on combating violence up to international standards. "Despite increased awareness of sexual and gender-based violence and important efforts to combat it, there is still an alarming number of women and girls who continue to face this horrific violation of their rights," Kubis said Nov. 25.
The KRG set up the High Council of Women's Affairs in 2009 to address entrenched concerns that exist in Kurdish society. The council spearheaded a 16-day campaign that began Nov. 25 to end violence against women.
Head of the General Directorate of Combating Violence Against Women Kurda Omar told NRT channel on Nov. 6 that in the first 10 months of 2018, violence against women has increased both at home and at work, particularly sexual violence. In the first nine months of this year, 91 women were killed or "committed suicide" in the Kurdistan region, 203 women either "burned themselves" or were burned, 87 sexual assault cases were recorded, and 7,191 women complained about being subjected to violent acts, according to official statistics quoted by NRT.
"The data shows that the violence is increasing every year," Shokhan Hama Rashid, a lawyer who specializes in cases of violence against women, told Al-Monitor. Hama Rashid, who has worked in this field for the last 14 years, believes there has been progress in raising awareness, and the increase in statistics could partly be explained by the fact that more and more women are coming forward to be heard — but he says there are fundamental reasons why the violence is so entrenched. "We encourage people to go to court, but there is huge bureaucracy … sometimes the cases are politicized or political parties interfere," Hama Rashid said, adding, "Some people prefer to resolve their issues through tribal councils." Tribal councils often refer to the social offices of the two ruling parties, the Kurdistan Democratic Party (KDP) and the Patriotic Union of Kurdistan (PUK), where disputes between families and tribes are resolved outside the boundaries of the court system with the participation of tribal chiefs.
Historically, the Kurdish parties have justified violence against women perceived to be "immoral" as a way of preventing the corruption of youths and thus weakening the Kurdish liberation movement. There are many tales of how women were gunned down in the streets of Sulaimaniyah, Erbil and in the countryside throughout the second half of the 20th century because the armed men in the mountains believed these women were immoral.
Others, like Kurdish intellectual Mariwan Kanie who teaches at Amsterdam University, believe that following the establishment of the Kurdistan government in 1992 under the protection of the international community, the new rulers who were former selfless peshmerga commanders became too greedy and corrupt and turned the whole Kurdish society upside down. "The transformation of the ex-peshmerga into corrupt tycoons has changed the class structure of society and resulted in a social, political and cultural crisis," Kanie wrote in April 2015. "Coercion and force have become crucial in protecting the dominant power relations in Kurdistan. Violence against women is part of this newly emerged context and is related to this crucial transformation in the governing practices since the 1990s."
Nyaz Abdullah, an independent journalist with a particular focus on women issues, also believes that — post-1991 — violence against women has increased under the Kurdish rule. "The statistics show that since 1991, thousands of women have been killed. I personally believe that the number of women killed in the name of 'honor' is no less in number than the victims of Halabja," Abdullah told Al-Monitor in reference to the 5,000 people who were murdered during the gassing of the city of Halabja in March 1988 by Saddam Hussein's Baath Regime.
On Nov. 28, three days after the recent campaign to combat violence against women started, the main office of the KRG directorate dealing with violence against women in Sulaimaniyah came under attack — those responsible were not identified. Meanwhile, as the debate about violence against women continues in the Kurdish media, the number of victims continues to rise.
https://www.al-monitor.com/pulse/originals/2018/12/iraq-kurdistan-violence-women.html
--------
URL: https://www.newageislam.com/islam-women-feminism/women-men-eating-together-un/d/117211
New Age Islam, Islam Online, Islamic Website, African Muslim News, Arab World News, South Asia News, Indian Muslim News, World Muslim News, Women in Islam, Islamic Feminism, Arab Women, Women In Arab, Islamophobia in America, Muslim Women in West, Islam Women and Feminism