New Age Islam News Bureau
22 March 2019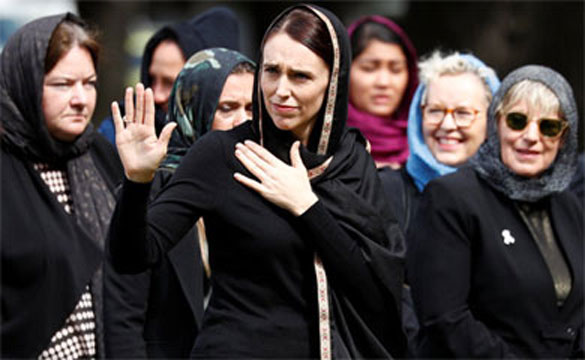 New Zealand PM Jacinda Ardern leaves after Friday prayers at Hagley Park in Christchurch. (Reuters)
-----
• Sheikh Khalifa Issues Decree Appointing Two Female Judges
• EU Denies Afghan Women A Place at Peace Talks
• Women in Iraq Push to Criminalise Domestic Violence
• France Urges Iran to Free Human Rights Lawyer Nasrin Sotoudeh
• First Saudi Female Air Traffic Controllers Begin Work
• Women, Children Leaving IS Stronghold Overwhelm Syrian Camp
Compiled by New Age Islam News Bureau
URL: https://www.newageislam.com/islam-women-feminism/we-with-new-zealand/d/118096
--------
'We Are With You': New Zealand Women Wear Headscarves To Show Solidarity With Muslims
22/03/2019
CHRISTCHURCH — Women all over New Zealand put on headscarves on Friday to show solidarity with Muslims a week after 50 people were killed at two mosques in the city of Christchurch.
A doctor in Auckland, Thaya Ashman, came up with the idea to encourage people to wear a headscarf after hearing about a woman who was too scared to go out as she felt her headscarf would make her a target for terrorism.
"I wanted to say: 'We are with you, we want you to feel at home on your own streets, we love, support and respect you'," Ashman said.
As Christchurch geared up for prayers at a park in front of the Al Noor mosque, where most of the victims were killed last week, women in Auckland, Wellington and Christchurch posted pictures of themselves in headscarves, some with children in headscarves, too.
"Why am I wearing a headscarf today? Well, my primary reason was that if anybody else turns up waving a gun, I want to stand between him and anybody he might be pointing it at. And I don't want him to be able to tell the difference, because there is no difference," said Bell Sibly, in Christchurch.
Many Muslim women cover their heads in public with the hijab as a sign of modesty, although some critics see it as a sign of female oppression.
New Zealand Prime Minister Jacinda Ardern won widespread praise last week for putting on a black headscarf when meeting members of the Muslim community after the shootings.
A woman police officer kept guard at a Christchurch cemetery, where shooting victims were buried on Thursday, with a scarf over her head and an automatic weapon in her hands.
'DERAILING THE EXAMINATION'
Rachel MacGregor, who is involved in the Head Scarf for Harmony campaign, said she had felt anxious going out with her head covered, with people staring when she entered her office building.
"It's given me for the first time an appreciation for what it must be like to be a minority and to wear clothing that perhaps the majority don't normally wear," she said by telephone from Auckland.
Both headscarves and the niqab, the full-face Islamic veil, have stirred debate in countries around the world. Some have tried to restrict the items, the niqab in particular, others have called for women to wear them.
While the New Zealand campaign won support and appreciation from the Islamic Women's Council of New Zealand and the NZ Muslim Association, it has opponents in New Zealand and beyond.
In an unsigned opinion piece on Stuff.co.nz, a Muslim woman called the movement "cheap tokenism".
"The attack in Christchurch was not just about Muslims, it was against any person of colour in a 'white' country so this focus on hijabs is derailing the examination of white supremacy, systematic racism, Orientalism and bigotry," she said.
A professor and former journalist, Asra Nomani, in Washington, who has campaigned for Muslim reform, urged women not to wear a headscarf for harmony.
"It is a symbol of purity culture antithetical to feminist values. We have women in jail and dead, for refusing the interpretation of Islam you promote," Nomani said on Twitter.
https://www.huffingtonpost.in/entry/we-are-with-you-new-zealand-women-wear-headscarves-to-show-solidarity-with-muslims_in_5c94a9fde4b01ebeef0dcadb?utm_hp_ref=in-news
--------
Sheikh Khalifa Issues Decree Appointing Two Female Judges
March 20, 2019
President His Highness Sheikh Khalifa bin Zayed Al Nahyan, has issued Federal Decree No. 27 of 2019 appointing two female judges at the Federal Judiciary.
The new judges Khadeeja Khamis Khalifa Al Malas and Salamah Rashid Salem Al Ketbi are the first two Emirati women to hold judicial positions at the Federal level in the UAE.
This latest appointment reflects the UAE government's stance to ensure that women are empowered in their line of work, playing an integral role in the development and progress of the nation.
It highlights the achievements obtained by Emirati women, as well as the directives of His Highness Sheikh Mohammed bin Rashid Al Maktoum, Vice President, Prime Minister and Ruler of Dubai, to ensure females have an increased presence and role in the country's federal courts system.
The appointment of Al Malas and Al Ketbi also represents the initiatives and policies undertaken by the UAE Cabinet to further empower Emirati women in their community, including President Khalifa's decision to increase Emirati women's representation in the Federal National Council, FNC, to 50 percent in the upcoming parliamentary term.
https://www.khaleejtimes.com/news/government/sheikh-khalifa-takes-historic-decision-a-first-for-uae-
--------
EU Denies Afghan Women A Place at Peace Talks
March 21, 2019
The European Union's partnership with Afghanistan hinges on its desire to see Afghanistan stabilise, and advance, in both social and economic development. A strong Afghanistan is desirable in and of itself, but could also be a pivotal force in the greater security and stability of the Central Asia region as a whole.
The EU-Afghanistan Cooperation Agreement on Partnership and Development (CAPD)—clearly recognising the key role a strong Afghanistan would play—affirms the EU's desire to establish regular political dialogue with Afghanistan in a number of arenas: human rights issues (particularly regarding women and children), rule of law, public health, rural development, education, science, and technology. January of this year saw the European Parliament "expressing support for the Afghan government," and suggesting specific strategic and political objectives to be implemented by the Afghani state. Many of those objectives centred around security, peace-building, human rights, and development.
Research into the peace building process has shown that cases where women apply powerful influence on a negotiation process, there was a higher chance of reaching an agreement. Under the same conditions, women's involvement has also been found to create more favourable chances for successful implementation of specific stipulations.
Yet, from 1990 to 2017, women represented only a mere two percent of mediators, eight percent of negotiators, and five percent of witnesses and signatories in all major peace processes. Of all peace agreements signed worldwide between 2000 and 2016, only seven percent clearly outlined gender-equal directives.
Peace negotiations are often broad and basic out of necessity. Still, they tend to at least partially uncover the deeply embedded root causes of conflict(s). Many times, formal peace talks then provide platforms from which to discuss and devise durable solutions to those underlying issues—.
Afghanistan's current peace process is feeble and insufficient at best. The recent peace talks have not only excluded the democratically elected government (a Taliban requirement); they have also failed to include even one single woman in the processes.
As far back as 1996, the exclusion of women from Afghan state and local affairs has had a destructive, lasting effect on the country. When the Taliban took control in the mid-90s they banned women from attending school and deprived them of their basic human rights, namely access to health, education, political engagement, and economic and social participation. It is important to note that Afghan women have achieved gradual recoveries and gains in these areas since 2001, but they fought long and hard to do so. The political, economic, and social presence of women and girls in Afghanistan has strengthened, with girls mostly able to—at least in principle—attend school again. It is still difficult to classify girls' education in Afghanistan as a normative practice, as only 1 out of every 3 girls is currently attending school. Over the past decade, women have also held key roles as members of the Afghan parliament, as governors, and as police. Yet, Afghanistan still ranks as the most dangerous country for women in three prominent areas: prevalence of non-sexual violence (namely, domestic physical and mental abuse), lack of access to healthcare, and lack of access to economic resources.
It is imperative for the EU to recognise that, in its attempt to increase gender parity in peace processes, the global community as a whole cannot simply "add women and stir." Instead, the focus has to shift from solely involving women in formal negotiations, to ensuring that they hold valuable, effectual positions in what must become a broader, more inclusive peace process from the very beginning.
In January of this year, the Afghan Women's Network (AWN) released a statement demanding the equal participation of the Afghan people in Afghan peace processes, which necessarily must include both women and men. Afghan women have been clear in their assertion that any coordination between the EU or other global actors and the Taliban will be imperfect "in the absence of half of Afghanistan's population (women)."
Women possess critical knowledge and experience that enables them to offer community- and family-based solutions to problems at each and every level: from the home, to the neighbourhood, to the village, city, and country as a whole. Women must be at the peace talk tables from start to finish. They must be included in pre-negotiation consultations and planning sessions; they must be directly represented at the official negotiations; and they must be integral actors in all post-agreement endeavours.
The EU has every right to proceed in its partnership with Afghanistan. But to do so without the expertise and input of women is unacceptable. Any part of the Afghan peace process that does not include women—or directly bars them from participating—unfortunately translates as an EU-sanctioned, continued denial of Afghan women's rights.
https://www.newdelhitimes.com/eu-denies-afghan-women-a-place-at-peace-talks/
--------
Women in Iraq Push to Criminalise Domestic Violence
by Natasha Ghoneim
March 22, 2019
Domestic violence has been on the rise in Iraq, with women's groups blaming instability and the break down of law and order.
However, there has been a growing awareness of the issue at the highest levels of government and the women's rights groups are hopeful that the legislature will finally pass a law criminalising what they see as a "national crisis".
The penal code currently has a provision allowing husbands to discipline their wives and does not criminalise domestic violence.
https://www.aljazeera.com/news/2019/03/women-iraq-push-criminalise-domestic-violence-190321175540021.html
--------
France Urges Iran to Free Human Rights Lawyer Nasrin Sotoudeh
March 21, 2019
PARIS: France on Thursday called for Iranian human rights lawyer Nasrin Sotoudeh to be released and warned Tehran that its adherence to a nuclear accord does not give it a blank cheque on human rights.
"We will do all we can to secure the release of Mrs.Sotoudeh," French Foreign Minister Jean-Yves Le Drian told the upper chamber Senate.
"She was condemned under astonishing conditions," for "defending the rights of women, in particular those who contest the obligation to wear the Islamic veil," he added.
Sotoudeh's husband Reza Khandan told AFP on Sunday that his wife had been sentenced to a total of 33 years in prison over a case with seven charges, but she is to only serve the longest sentence, 12 years imposed on Sunday for "encouraging corruption and debauchery."
She has also been convicted of espionage.
Sotoudeh has also been sentenced to a total of 148 lashes for appearing in court without the hijab head covering and for another offense.
According to Khandan, Sotoudeh has refrained from choosing a lawyer as attorneys on her previous cases have faced prosecution for representing her.
"We have been making considerable efforts in recent months to preserve the (Iranian) nuclear accord, despite America's withdrawal," said Le Drian.
"We are doing so because we respect our signature, but Iran must also respect its obligations in particular those international agreements relating to civil and political rights," he added.
Last month the UN atomic watchdog said that Iran has been adhering to its deal with world powers on limiting its nuclear program, as diplomatic wrangling continues over the future of the accord.
The latest report from the International Atomic Energy Agency confirmed that Iran was still complying with the 2015 Joint Comprehensive Plan of Action (JCPOA) with global powers under which Tehran drastically scaled back its nuclear program in return for sanctions relief.
Last week, European nations rejected a call from US Vice President Mike Pence to follow the US lead in withdrawing from the Iranian nuclear deal.
Le Drian said Thursday: "Our wish to preserve the Vienna accord does not grant carte-blanche to Iran and certainly not in the matter of human rights."
Before her arrest, Sotoudeh, 55, had taken on the cases of several women arrested for appearing in public without headscarves in protest at the mandatory dress code in force in Iran.
Sotoudeh won the European Parliament's prestigious Sakharov Prize in 2012 for her work on high-profile cases, including those of convicts on death row for offenses committed as minors.
She spent three years in prison after representing dissidents arrested during mass protests in 2009 against the disputed re-election of ultra-conservative president Mahmoud Ahmadinejad.
http://www.arabnews.com/node/1470556/middle-east
--------
First Saudi female air traffic controllers begin work
March 22, 2019
JEDDAH: Saudi Air Navigation Services (SANS) on Wednesday celebrated the appointment and start of work of the first batch of Saudi female air traffic controllers at an air traffic control center in Jeddah.
Eleven women completed a one-year program conducted by SANS in cooperation with the Saudi Academy of Civil Aviation. This is the first program to qualify women to work as air traffic controllers.
The academy initiative, in collaboration with SANS, seeks to create more jobs for women as part of a reform push to wean the economy off oil. Vision 2030 plan aims to increase employment and diversify revenue sources.
Earlier, SANS CEO Ryyan Tarabzoni said the state-owned company was prioritizing the hiring of women in the profession, as the country pushes to extend women's rights in the country and also recruit more nationals as part of the "Saudization" project.
http://www.arabnews.com/node/1470646/saudi-arabia
--------
Women, Children Leaving IS Stronghold Overwhelm Syrian Camp
Amberin Zaman
March 19, 2019
AL-HOL, Syria — Like a flock of ravens, the women hover around the food supplies, their black burqas fluttering in the breeze. But even through the narrowest of eye slits, their origins can be distinguished. Africans, Asians, Europeans and Arabs, they span the continents. The ethnic constellation of children around them might offer further clues, but these are the wives and widows of Islamic State fighters now sheltering at the al-Hol camp in northeastern Syria. Some have borne offspring from multiple husbands from multiple countries, and now they are on their own.
"My identity card was stolen by the other women. My children will starve. We don't have a tent," quavers a slight female with slanted dark eyes. "Please help me explain my situation to the camp authorities, I don't know how to communicate with them," she begs as a little girl with thick brown lashes and cherry lips clings to her side. She is 30-year-old Mahina Muradaleva from the former Soviet republic of Tajikistan. Muradaleva was married to two Islamic State fighters. "The first was killed in an airstrike. The second one disappeared," she told Al-Monitor through a Russian interpreter. Both men were Tajiks.
As the Kurdish-led Syrian Democratic Forces press their final ground offensive against the jihadis making their last stand in Baghuz, a steady stream of so-called Islamic State "brides" and their children continue to arrive at the sprawling desert camp close to the Iraqi border. "There is enormous pressure on us, we can barely cope," Nabil Hassan, a spokesman for al-Hol, told Al Monitor in an interview on March 12. "75 Syrians, 13 Iraqis, 14 foreigners came today," Hassan said.
As of this week, the total population has ballooned to 67,000, most of them women and children. The camp was built in April 2016 for Iraqis fleeing the Islamic State and was designed to accommodate no more than 10,000. Now it has five separate blocks for Syrians and Iraqis, and a special "transit wing" for the foreign IS families, Hassan explained.
Hypothermia and dysentery are among the biggest health hazards affecting newly arrived children. Severe malnutrition is common among mothers and children alike, many of them having been forced to subsist on boiled weeds in Baghuz since its besiegement by the SDF.
According to the United Nations Office for the Coordination of Humanitarian Affairs (OCHA), as of March 14, 120 deaths had been recorded at the camp. Children under five years of age accounted for 80% of the fatalities. They had died either en route or after arrival.
The World Health Organization has airlifted 65 tons of medical supplies into the camp so far and supports several mobile medical units that provide an average 1,300 consultations per day. OCHA noted in a recent update that despite the "massive relief effort" underway, "the most pressing needs remain shelter, health, protection … — particularly sanitation and waste management — and education." There are around 25,000 school-age children at the camp.
Still Hassan bemoans the lack of international support, saying, "They are doing very little." He added, "Our greatest problem is feeding these people."
Hassan's complaints are echoed throughout the Kurdish-dominated administration in northeastern Syria, where the swelling number of captive jihadis and their families rejected by their own countries is a growing headache in both financial and security terms.
"The international community is not lifting a finger for us. How are we supposed to manage this burden on our own?" asked Fawza Yusuf, a senior administration official, in an interview with Al-Monitor. "First we defeated IS, and now we are expected to feed and clothe them," she fumed.
The camp has been off limits to the Western media for unspecified security reasons since March 12. But Syrian Kurdish sources familiar with the camp's operations say the decision may have been sparked in part by the furor surrounding the case of Shamima Begum, the UK citizen of Bangladeshi origin who was stripped of her citizenship by the British authorities and lost her three-week-old infant soon after. Begum was transferred from al-Hol to the Roj camp in Derik, which is also no longer open to the media. Another reason may be the violence unleashed by some of the more radical women internees against those who dare to openly criticize the Islamic State during interviews. Several journalists were also allegedly harassed by the women as well.
A local fixer speaking on condition of anonymity aired little sympathy for the press. "Few of the Western journalists seem interested in the Filipinos, Indonesians and Africans here. They only care about people from their own countries and writing sensationalist stories," the fixer groused to Al-Monitor. Some can also sound like self-appointed prosecutors in their interviews, with the guilt of the subject predetermined.
Hassan declined to respond when asked whether any of the Islamic State women here had engaged in violence or held an official role in the "caliphate."
At the gates of the camp proper, armed women guards brandishing thin black plastic sticks pat down women and children as they re-enter. A small boy rushes around with a toy pistol, firing randomly and shouting "pkooh, pkooh." A group of toddlers frolic in a pile of sand. Their laughter ought to be uplifting, but it's not.
Boys of various ages push metal carts laden with water and assorted supplies with an air of purpose. They are the men now guarding over the women. But they don't labor solely for their own families. They earn money doing it for others, part of the burgeoning informal economy that has sprung up in al-Hol.
Tents reportedly sell for $100 a piece. Iraqis, who prefer to live in larger tents with extended family, do brisk business selling their own smaller allocated ones to newcomers.
Muradaleva ekes out a meager income making Russian-style buns or piroshkis for fellow post-Soviet citizens. She feeds her own children only rice for the moment because she doesn't trust the food being distributed at the camp.
Kibar Bayed is an ethnic Kurd from Turkey's southeastern province of Bingol who has sheltered at al-Hol with her five children for the past four months. One of her sons, Ahmed, a wan five-year-old with anxious eyes, was present at the interview. One wonders what horrors he may have witnessed. Beheadings? Coalition airstrikes?
Speaking in thickly accented Turkish, Bayed said she was moved here from a prison where she was held by Syrian Kurdish authorities since April 2016, when she and her husband, an Islamic State militant — he never fought but was merely trained to, she claimed — turned themselves in.
She said she had moved to the caliphate in early 2016 "because in Turkey I couldn't wear my burqa freely. Women would pull it off me." It's an odd claim, given that Turkey's Islamist Justice and Development Party, which lifted all formal bans on veiling, had been in power for nearly 14 years.
Her story is riddled with contradictions. Life in Mayadeen, where she and her husband moved, "was very pleasant." If so, why did they decide to leave within three months of getting there? She said only, "It didn't prove to be as we imagined."
Bayed said that the some $4,100 she was carrying in cash had been confiscated by the SDF so she washes other families' laundry to make ends meet. She gets paid 500 Syrian pounds (about $0.50) per load. "I don't know why they won't give back my money. If they would, I wouldn't have to wash other people's dirty clothes," she said. Were there other Turks in the camp? "Many, many" from across the country, she replied.
Hassan, the camp spokesman, confirmed that there are many Turkish families at the camp, though he was unable to provide a precise figure.
Khadija Bouznif, a 30-year-old Berber from Tunisia's Djerba, said there are "many" Tunisians as well. Clutching a frail baby to her bosom, she raised her head to the sky. "Oh God, what will happen to us here? I want to go back to my village, my sheep, my garden," she wailed. Her husband is in jail.
Another woman slipped out of the camp through a breach in the chain link fence. She had a baby in her arms. It's ill, she said, and in urgent need of help. A guard whisked her away, promising help will arrive. A pair of twin African boys walk past. Are they Bouznif's? "No, we are Moroccan," one pipes up.
The Russian translator relayed Muradaleva's plight and a female camp official promised to deal with it the next day. "I am so tired, so very tired," the Tajik said in a flat voice. All she wants now is "to go back home and to melt into my mother's arms." The translator, who had come to al-Hol insisting all the Islamic State women "deserved to be punished," left with wet eyes.
https://www.al-monitor.com/pulse/originals/2019/03/syria-camp-islamic-state-women-children-displaced.html
--------
URL: https://www.newageislam.com/islam-women-feminism/we-with-new-zealand/d/118096
New Age Islam, Islam Online, Islamic Website, African Muslim News, Arab World News, South Asia News, Indian Muslim News, World Muslim News, Women in Islam, Islamic Feminism, Arab Women, Women In Arab, Islamophobia in America, Muslim Women in West, Islam Women and Feminism