New Age Islam News Bureau
11 Oct 2017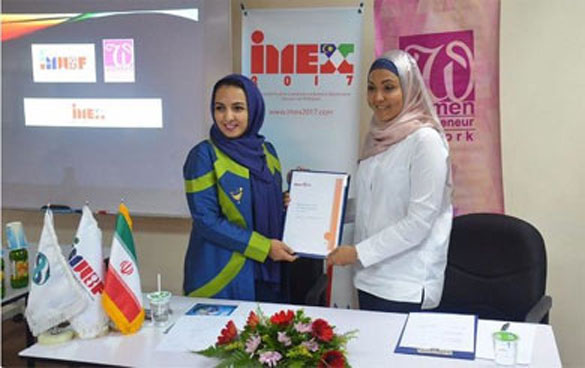 A Memorandum of Understanding (MoU) was inked between Iran Malaysia Women Business Forum (IMWBF) and Women Entrepreneur Network of Malaysia (WENA) to elevate bilateral trade ties and boost investment opportunities.
-----
• Iranian, Malaysian Women to Bolster Trade Relations
• Jihadi Brides, Dating and Identity: British Muslim Women Speak Out
• Hadiya 'Love Jihad' Probe: 'Two Hindu Women Said Were Lured To Islam, But Not Forced'
• 3 Saudi Women Get Top Positions in Tawafa Firm
• Pakistan Returns Woman Who Crossed LoC Erroneously
• 87,575 Business Licenses Issued For Saudi Women
• SR40 an Hour to Teach Driving To Women
Compiled by New Age Islam News Bureau
URL: https://www.newageislam.com/islam-women-feminism/want-equality-women-get-men/d/112845
--------
'Want Equality for Women, Get Men to Carry Baby for 4.5 Months', Says Muslim Clerics' Body
Oct 10, 2017
NEW DELHI: A prominent Muslim cleric's body today implied that women are lesser than men because men can't bear children.
"If you want equality why don't men and women carry pregnancy for 4.5 months each?" asked the (male) secretary of the Jamiat Ulema.
He was speaking in the context of a government proposal to "allow" women over the age of 45 to go on the Haj pilgrimage without a male member, if they travel in groups of four. This was a suggestion in a proposed Haj policy drafted by a committee appointed by the Centre.
The draft was submitted to Union minority affairs minister Mukhtar Abbas Naqvi two days ago. Since then, a fusillade of protests has erupted from Muslim clerics of all stripes.
Sunni Barelvi clerics criticised the move, calling it "un-Islamic". They said that the motive of the authorities was to "make women work against Sharia (Islamic law)".
A spokesperson of Dargah Aala Hazrat said it is a "sin" for women to go to Haj without a male relative.
"It is mandatory for women to be accompanied by the husband or any other male blood relation. If women go alone on Haj, they will end up committing a sin, which is the motive of the authorities. As Haj is one of the five pillars of Islam, it should be done according to Sharia and women cannot go without mehram (close male blood relation)," said Mufti Mohammed Salim Noori of the Dargah Aala Hazrat.
Another cleric said Muslim women should follow Islamic rules not laws laid down by politicians. And yet another cleric said he would write to minister Naqvi.
"We will write to Naqvi and ask him not to give permission to women to go on Haj alone," said Shahbudin Razvi of the Jamat Raza-e-Mustafa.
https://timesofindia.indiatimes.com/india/want-equality-for-women-get-men-to-carry-baby-for-4-5-months-says-muslim-clerics-body/articleshow/61019625.cms
--------
Iranian, Malaysian women to bolster trade relations
10 October 2017
The cooperation agreement was endorsed on Monday evening in the Malaysian capital of Kuala Lumpur by IMWBF's Secretary, Elham Amini and Ms. Nadira Yusoff, President of WENA president.
Ms. Amini underlined that participation of women is prerequisite to exploiting all capacities to increase amount of collaborations between the two Muslim countries.
The official further urged WENA members to visit Iran and stressed the need to foster friendly cooperation between businesswomen and entrepreneurs of the two sides.
Also the signing ceremony, Malaysia's Yusoff voiced satisfaction over increasing trade transactions between Iranian and Malaysian women and attached great significance to cooperation and signing MoUs for making presence in Iran's mega and outstanding market.
Tehran is expected to host a meeting on November 01-02 on investment opportunities in Iran and Malaysia for women.
Later at the session, Mohammad Hafez Hakami, who heads Iran-Malaysia Trade and Exhibition Opportunities, noted that there exited proper grounds for various activities that entrepreneur Muslim women from the two countries could use, and the cooperation between IMWBF and WENA could mark an emblem for women in other Muslim countries.
http://en.mehrnews.com/news/128482/Iranian-Malaysian-women-to-bolster-trade-relations
--------
Jihadi brides, dating and identity: British Muslim women speak out
October 10, 2017
From a jaded TV chat show host to a Middle Eastern actress who longs to be cast as a ghostbuster, not endless jihadi brides, the stories in Sabrina Mahfouz's anthology of British Muslim women all do one thing: challenge stereotypes. Mahfouz, a poet and playwright, brought together 22 women, with roots ranging from Pakistan to Palestine, to lift the lid on their minds and lives, which are often invisible in Britain.
"There is such a narrow perception in the UK of who a person of Muslim heritage can be, act, think or look like and I wanted to challenge that in any way that I could," London-born Mahfouz told the Thomson Reuters Foundation.
"At a time of such extreme Islamophobia, the more literature can do to challenge this destructive narrative, the better. More than three percent of Britain's 65 million population are Muslim, with the highest proportion living in London, government data shows. Police said hate crimes against Muslims rose after a series of Islamist militant attacks, including an attack on London Bridge and during a music concert by U.S. singer Ariana Grande in Manchester in northern England.
The Things I Would Tell You includes poetry, essays and short stories from award-winning novelists, such as Leila Aboulela and Kamila Shamsie, emerging talents and new writers. Journalist Triska Hamid describes the frustrations young Muslim women have finding love via Islamic dating apps that allow them to swipe through photos, chat online and meet up.
The poems of Sudanese-born Asma Elbadawi, 27, who successfully lobbied the International Basketball Federation to allow players to compete in hijab, reflect on the dual identities of many immigrants in Britain. "Our parents picked a better life for us over being with our families," she told the Thomson Reuters Foundation, describing how her parents moved from Khartoum to Bradford when she was just one-year-old.
While most British Muslims were born overseas, the majority identify as British, according to the Muslim Council of Britain, the country's largest umbrella Islamic organisation. Women are the main targets of anti-Muslim prejudice, accounting for six out of ten complainants, according to Iman Atta, director of Tell MAMA, a British organisation that monitors such incidents. In addition to enduring abuse for wearing Islamic clothing like headscarves and face veils, Muslim women often face a triple economic disadvantage, according to a 2016 parliamentary report, being female, Muslim and from an ethnic minority group.
The anthology confronts taboos, such as Shaista Aziz's hard-hitting essay on "honour" killings in Pakistan, including that of Qandeel Baloch, who was strangled by her brother in 2016 for her risqué social media posts.
More than 500 people – almost all women – die in Pakistan each year in such killings, usually carried out by members of the victim's family for bringing "shame" on the community.
"It is profoundly shocking that young women's lives can be taken with such breathtaking ease and with no justice, no redress for them," the British-Pakistani journalist and stand-up comedian told the Thomson Reuters Foundation.
Aziz said the book's inclusion in the ongoing Cheltenham Literature Festival in the west of England highlighted its broad popularity and that the British public are keen to hear more Muslim women's voices.
"It just shows you, this is Britain," she said. (Reporting by Adela Suliman; Editing by Katy Migiro. Please credit the Thomson Reuters Foundation, the charitable arm of Thomson Reuters, that covers humanitarian news, women's rights, trafficking, property rights, climate change and resilience.
http://indianexpress.com/article/lifestyle/books/jihadi-brides-dating-and-identity-british-muslim-women-speak-out-4884111/
--------
Hadiya 'love jihad' probe: 'two Hindu women said were lured to Islam, but not forced'
October 11, 2017
The National Investigation Agency (NIA) has examined two Hindu women from Kerala who reportedly said they were lured to convert to Islam but were not forced, said officials from the agency.
The two were examined as part of the probe into the case of Akhila Asokan alias Hadiya, a 24-year-old Hindu girl who converted to Islam and later married a Muslim man. Akhila's parents had moved the Kerala High Court, alleging that she was radicalised and converted to Islam and was forcibly married to a Muslim man. The High Court annulled the marriage and Akhila's husband Shafin Jahan moved the Supreme Court, which asked the NIA to investigate the case.
NIA officials said that the agency had asked Kerala Police for details of alleged forced conversions at Therbiyathul Islam Sabha in Kozhikode, a religious centre authorised by the Kerala government where Akhila is learnt to have converted.
A senior NIA official said the two women, both named Athira, were examined at Kochi last week. "They claimed that they were lured to convert to Islam but no one forced them. We are corroborating their statements," said an NIA official.
According to NIA officials, one of the women Athira Nambiar who was earlier examined in 2016, wanted to convert to Islam to marry a Muslim man. The agency had first examined Athira Nambiar in 2016 when her parents moved a habeas corpus petition in Kerala High Court against the conversion and the court asked the NIA to probe the matter, they said.
http://indianexpress.com/article/india/hadiya-love-jihad-probe-2-hindu-women-said-were-lured-to-islam-but-not-forced-4884343/
--------
3 Saudi Women Get Top Positions in Tawafa Firm
By Ashwaq Al-Tuwairgi
October 11, 2017
MAKKAH — Three Saudi women are now occupying leading positions in the Unified Zamazma Office, a tawafa establishment in charge of providing Zamzam water to the pilgrims. A fourth woman one will soon be appointed, according to the office chairman Abdul Hadi Abdul Jaleel Zamzami.
He said three departments in the organization have been restructured with a view to activate women's contribution in the tawafa activities.
The chairman said Sabah Hussain Bousi was appointed at the head of the department of the shareholders. She will be liaising with the stakeholders in the Ministry of Haj and Umrah, deal with internal administrative files, update data, document death cases, call for the meetings of the general assembly and register any new developments.
Nawal Abdullah Abdou has been appointed at the head of the public and government relations. She will be dealing with the media in all its forms and will coordinate the participation of the establishment in the official events.
Reem Zakaria Zamzami has been assigned administrative communications and will be responsible for internal communications and will reply to messages addressed to the establishment.
Zamzami said a fourth woman will be appointed in the coming few months to lead the the department of quality and control.
"The women have proved themselves in the tawafa activities and are performing their duties perfectly," he said.
The chairman said the establishment is determined to make the women work on a permanent basis instead of a seasonal one especially after they have displayed high quality and competence in their work.
According to him, the three women were holding administrative positions in the establishment and have progressed in their field and management work.
He said the women will be provided with all the resources and potential that will help them discharge their duties professionally.
The women, on their part, expressed happiness over the confidence vested on them by the chairman and said the establishment was keen to include women in the process of decision-making.
http://saudigazette.com.sa/article/519135/SAUDI-ARABIA/3-Saudi-women-get-top-positions-in-tawafa-firm
--------
Pakistan returns woman who crossed LoC erroneously
October 11, 2017
RAWALPINDI - As a goodwill gesture and continuation of efforts to maintain peace and tranquility along the Line of Control (LoC), Pakistan on Tuesday handed over a woman, who inadvertently crossed over LoC to Indian authorities.
According to Inter Services Public Relations, "As a gesture of goodwill and in continuation of Pakistan Army's efforts to maintain peace and tranquility along
Line of Control (LOC), Azmat Jan wife of Muhammad Shakeel resident of 'Degwar Maldialan' (IoK), who inadvertently crossed over LoC at Chirikot Sector, has been returned to IOK on Tuesday at Rawalakot -Poonch crossing Point on humanitarian grounds." The ISPR said civil and military officials of both sides were present on the occasion. In January, Pakistan had also returned one Indian solder, who crossed the LoC as a "goodwill gesture." Pakistan had handed over an Indian soldier, Chandu Babulal Chohan, to Indian authorities through Wagah border, the Foreign Office had said in a statement.
http://nation.com.pk/national/11-Oct-2017/pakistan-returns-woman-who-crossed-loc-erroneously
--------
87,575 business licenses issued for Saudi women
MOHAMMED RASOOLDEEN
11 October 2017
RIYADH: The Ministry of Commerce and Investment issued 87,575 commercial registrations for women at the end of the Hijra year 1438.
Licenses were issued throughout the Kingdom, with the highest number in Riyadh with 20,086, followed by Jeddah (13,826), Makkah (5,098), Madinah (4,400) and Taif (3,861), a ministry official said.
They were issued for businesses in various fields, including trade, manufacturing, communications, information technology, real estate, cleaning, tourism, restaurants and exhibitions.
Measures and programs have recently been implemented to give women opportunities to participate in various business activities throughout the Kingdom, the ministry said in a report.
"These programs for women were sponsored by the Ministry of Commerce and Investment in line with the goals of Vision 2030, which is geared to develop the Saudi economy with the active participation of local men and women," the report said.
The ministry has set up centers in regions such as Riyadh, Jeddah, Makkah, Dammam and Madinah to provide business assistance to women.
http://www.arabnews.com/node/1175771/saudi-arabia
--------
SR40 an hour to teach driving to women
October 11, 2017
RIYADH — The implementation of the Royal decree allowing women to drive is still eight months away, yet social media is flooded with advertisements from driving instructors offering to teach women how to drive cars.
Advertisements are appearing on social media despite warning by the Traffic Department that women will not be allowed to drive before June 2018.
"Giving driving lessons on the streets and public places is forbidden for both men and women," according to Traffic Department spokesman Col. Tariq Al-Rubaian.
He said a special committee is studying the modalities to implement the Royal decree.
The rules and regulations for issuing driving licenses to women are still being drafted, he added.
However, a driving instructor told local daily Al-Watan on Tuesday that he was offering driving lessons to woman for SR40 an hour.
The instructor said he will provide cars to those who don't own vehicles.
"We will first assess if a woman has any knowledge or driving experience before formulating a special teaching program for her," he said.
"Teaching program includes training on the skills of safe driving, how to avoid reckless drivers on the streets and the risks on the road," he said.
He said women will be taught traffic rules and regulations, how to deal with common car faults, and lessons in first.
Some women recently took to the wheels flouting traffic rules.
A woman trainee died in Riyadh when she ran into a cement barrier. Her husband, who was accompanying her, was seriously injured.
Another woman on Huda Al-Sham road between Makkah and Jeddah seriously injured herself when she hit a truck while driving her car.
A young Jordanian companion lost his life in the accident.
http://saudigazette.com.sa/article/519148/SAUDI-ARABIA/SR40-an-hour-to-teach-driving-to-women
--------
URL: https://www.newageislam.com/islam-women-feminism/want-equality-women-get-men/d/112845
New Age Islam, Islam Online, Islamic Website, African Muslim News, Arab World News, South Asia News, Indian Muslim News, World Muslim News, Women in Islam, Islamic Feminism, Arab Women, Women In Arab, Islamophobia in America, Muslim Women in West, Islam Women and Feminism