New Age Islam News Bureau
13 March 2020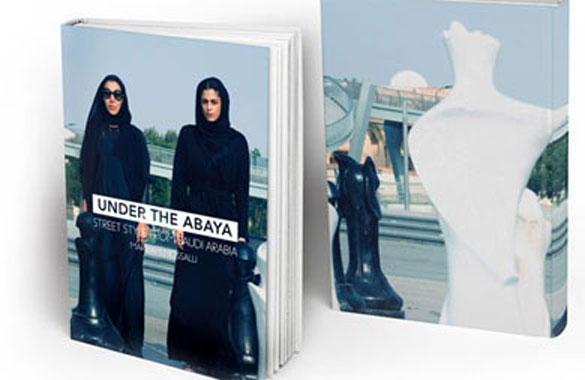 Saudi fashion entrepreneur, Marriam Mossalli, celebrates the diverse Saudi female and reveals that she is more than her Western media avatar.
------
• Deoband Madrasa Women Show Way; They Are On Dharna For 43 Days
• 'One Day, Women Wearing Hijab Will Become a Common Sight in the Knesset'
• Saudi Female Artists Debut in Pakistan Exhibition
• Iranian Woman Beaten For Wearing Loose Hijab, Fights Back and Goes Viral
• Turkish Women Engineering A Better World
• Four Women at Forefront of Israel's Arab Political Surge
• 'Got Married!' Rep. Ilhan Omar Says In Announcing Wedding to Political Consultant
• To Stop Deoband Women's Protest, UP Police Target the Men in Their Families
• Woman Gives Birth to Quintuplets in Nangarhar Province of Afghanistan
• Nissan KSA Highlights Importance of Diversity and Female Empowerment in Saudi Automotive Market
• KT For Good: Inspiring Stories of Women from the Subcontinent
• Pakistani Activist Marvi Sirmed: 'I Provoke Toxic Masculinity'
• Pakistan: Brother Kills Sister and Her Newborn Son for Marrying Man Of Her Choice, Netizens Outraged
Compiled By New Age Islam News Bureau
URL: https://www.newageislam.com/islam-women-feminism/under-abaya-portrays-unique-diverse/d/121296
--------
'Under the Abaya' Portrays Unique, Diverse Images of Saudi Arabia's Women
12 March, 2020
Saudi Arabia has been under the spotlight since the announcement of the Saudi Vision 2030 which holds between its folds social change with a future vision.
Journalist Marriam Mossalli was aware of this change and published her "Under the Abaya book - Street Style from Saudi Arabia", in which she highlights Saudi women's fashion and how it reflects their personality.
Today, Mossali is issuing the second edition of her book in an initiative to reflect the Saudi women's unique versatility.
Speaking to Asharq-Al Awsat, Mossali said the new edition, which is supplied by photos sent from Saudi women, will thoroughly touch on the image of strong Saudi women under the 2030 Vision and put their achievements under the spotlight.
Mossali further asserts that her book is more than a street-style book, it is a platform for women of the Kingdom to show the world how they want to be portrayed on their own terms.
"I wanted the world to know that the diverse and unique Saudi women cannot be stereotyped under a single category. I succeeded in bringing females from all around the Kingdom together so they could transparently speak to the world about their hobbies and ambitions."
100% of the book proceeds will be used to grant scholarships for Saudi women to pursue higher education, according to Mossali.
"This is the least I could do for my country's females. I am proud of this initiative."
The sequel, "Under the Abaya: Saudi Women Who Inspire," has a foreword by Princess Reema bint Bandar bin Sultan bin Abdulaziz Al Saud, the Saudi ambassador to the US, in an expression of support of this initiative, stressing the importance of investing to empower Saudi women.
https://aawsat.com/english/home/article/2176371/under-abaya-portrays-unique-diverse-images-saudi-arabias-women
--------
Deoband Madrasa Women Show Way; They Are On Dharna For 43 Days
MARCH 10, 2020
By M Ghazali Khan
The successful women-only demonstrations against the ignoble CAA and NPR, or Shaheen Baghs, as they are being symbolically referred to, should serve as eye-openers for those whose ability to think positively and analyse things intelligently has been destroyed by bigotry and prejudice. These Shaheen Baghs should leave no doubt in anybody's mind about how persecuted, oppressed or independent; informed or uninformed Indian Muslim women are about their roles, rights and duties. These Shaheen Baghs have been going on since January, not only in big cities like Delhi and Lucknow but also in small but renowned town of Deoband. It is also witnessing one of the rarest phenomena where women have been holding an impressive sit-in protest since 27 January in the vicinity of and very close to world-famous Islamic seminary Darul Uloom Deoband.
This protest has been led by three women—two sisters and one sister-in-law. In my recent visit to Deoband, my hometown, I had a chance to talk to these courageous young women. Below is the translation of a brief conversation with them.
Question: In a town like Deoband this was almost unthinkable that women would stay outside their houses for days and nights and hold such a successful sit-in protest. As a matter of fact, Prime Minister Narendra Modi has been trying to convince the world that Indian Muslim women were the most persecuted creatures and by passing the Triple Talaq Bill he has put an end to the oppression that they were being subjected to. What was it that has made you take such an extraordinary step?
Amna Arooshi: Oh! Surely it is because of the liberation, bestowed upon us by Modiji through Triple Talaq Bill, that we are able to organise this protest. Now this liberation of ours is bothering him. Having been liberated we are now using our independence to fight Modiji's attempt to declare us as foreigners.
But let it be clear that it's not they who will deport and exile us but we will do it to these RSS guys.
Question: A good sarcasm! Please give an un-sarcastic response.
Amna Arooshi: He has linked citizenship to religion which is against the secular character of the country. Then there are plans to introduce NRC and NRP, declare us as foreigners and put us in detention centres. The constitution given by Dr Ambedkar provides equal opportunities to all Indian citizens but some elements are unable to digest this fact. One wonders which world do they live in and dream of eliminating us. Therefore, we are sitting here against CAA and, God willing, will go from here only after having this black act withdrawn.
Question: What many are surprised at is that the women who started Shaheen Bagh protest in Delhi are the students of Jamia Millia Islamia or have been exposed to higher education. Some of them come from a big city like Delhi. But what was it that has given such courage to women of a small and rather conservative town of Deoband to come out of their homes and organise such a successful sit-in protest?
Amna Rooshi: People have a very wrong perception of Muslim women, especially of women from Deoband. They think we are imprisoned in our homes, have no clue what is going on in the world and have no sense of what our rights and roles are. Yes we do observe Purdah but also keep ourselves abreast of current affairs and political and social developments. In our protests, we have women from all backgrounds, educated and uneducated. We are not sitting here out of some greed. We have not sacrificed our comforts at homes and are not facing severe cold weather and rain because of political ambitions. All these women have been reading and listening about CAA and NPR on their mobiles. The spirit they have been demonstrating here cannot be created by someone provoking and misguiding them. It comes from the clarity of purpose and commitment to a cause. Observing Purdah does not mean that having educated ourselves in Shari'ah we have locked ourselves in our homes and have locked our brains as well. What option you are left with when your very existence and the existence of your future generations is in danger? We know our religion, we are conscious of our traditions and are equally aware of what is going on around us.
Question: Before the Shaheen Bagh protest and ensuing sit-ins in the country, especially in UP, an atmosphere of fear was created and it seemed that Muslims will never have the courage to speak and stand against the injustices meted out to them. But you have shown extraordinary courage and because of this, you must be facing lot of pressures to end this sit-in.
Amna Rooshi: Yes, the District Administration has used pressure and has tried to make us end our protest. Since 27 January, when we started this sit-in, our families are being pressurised and 105 of our colleagues have been issued notices accusing us of sedition and militancy. One of our brothers, a journalist who works for a Hindi daily, has been pressurised and asked to make us go back and end the protest. But he has asked us not to worry about what happens to his job and remain steadfast on what we think is right. We were not shaken when, on 27th January, the day when we came here and started the protest, we had to face an extremely cold weather and heavy rains, along with notices from the administration, surely nothing can make us change us our stand now. That was the time when no one was coming forward and raise voice against this unjust act. So, we thought we should stand up to protect our constitutional rights and raise our voices against this injustice. Someone had to do this. So I talked to my sister and together we went door to door telling and educating women about the danger and seriousness of the issue.
Question: Are you two real sisters?
Amna Rooshi: Yes we are real sisters and this is our sister-in-law. Thus three of us from the same family started this protest.
Question: Did you have any experience in public life before. Did you have any connection with a social or political group?
Amna Rooshi: No, this is the first time we have come out of our houses to organise a campaign like this. Neither we had any connection with any social or political organisation before nor do we have it now; and nor do we have such ambitions for future. What prompted us to organise this sit-in is the seriousness of the issue, the zeal to stand up against injustice and protect our identity as a religious community.
Are we supposed to watch in silence programmes being chalked out to eliminate us and our future generations? What our future generations are going to face as a result of these unjust pieces of legislations. They will ask us, 'What were you doing when these laws were being enacted?' What answer would we have to their questions?
Question: Today I saw tractor-trollies full of women going to the protest site. Are you getting support from women from adjoining villages as well?
Amna Rooshi: Praise be to God, now our voice is reaching far and wide and wherever women are learning about us they are coming to join and support us, not only from adjoining villages but from cities like Meerut, Muzaffarnagar, Bijnore and Nanauta. However, the majority of our supporters are from Deoband.
Question: A petrol pump, a Bhatta (brick kiln) and some other businesses in the town are reported to have been closed down by the administration. Were the owners of these businesses associated with your protest?
Amna Rooshi: People who sympathise with such causes are often harassed. The government is trying to use them to pressurise us. But we are not going to succumb to these tactics. We will go home only after having these cursed laws rolled back. God forbid, if anything worse happens to us we will have the satisfaction of facing it while fighting for the right and just cause.
Question: At one stage some respectable personalities from the town, including the rector of Darul Uloom, came to you to convince you to end the protest but you have thrown your bangles at them.
Iram Usmani: No, the rector of Darul Uloom was not among them. We respect him. Had he come with them we would have never acted in this fashion. Those who came included a former MLA and the present Chairman of Nagar Palika (Municipal Board). What made us upset was the fact that on that day it had been 13 days since we had been sitting here. From severe cold weather, heavy rain and pressures, what was it that we had not faced during that time? But none of them bothered to come and ask us if we needed any help and support. Their audacity enraged and impelled us to take off our bangles and threw at them. We are sitting here to protect our rights. These 'Respectable' people should have supported us and should have given us strength. But they came to make us go home.
Question: You are holding this protest in the vicinity of Darul Uloom Deoband. As I can also see at some distance madarsa students raising anti-CAA slogans. Does the Darul Uloom support your campaign?
Salma Ehsan: Neither, they have openly supported us nor have they opposed us. As you can see this is a women-only protest and we cannot expect the rector of Darul Uloom to come and sit here. However, because he has said that to protest is the right of every Indian citizen, we assume that he supports us morally.
Question: Big protests like this incur big expenses. How are you managing these costs?
Salma Ehsan: We are not doing any fundraising nor are we asking anyone to help us. People are helping us out of their free will. Some sisters bring food to share with the protestors.
Question: For how long will you continue your protest?
Amna Rooshi, Iram Usmani and Salma Ehsan, all in one voice: We are with the Shaheen Bagh protestors. Whenever they call their protest off, we will end ours as well. We are with them whatever decision they make.'
Share this: Original article viewable at The Story of Determined Organisers of Deoband's Shaheen Bagh – M. Ghazali Khan https://www.ghazalikhan.com/the-story-of-determined-organisers-of-deobands-shaheen-bagh/
https://www.siasat.com/deoband-madrasa-women-show-way-they-are-dharna-43-days-1851243/
--------
Saudi Female Artists Debut in Pakistan Exhibition
March 13, 2020
ISLAMABAD: The National Art Gallery in Islamabad presented works by Saudi textile artists on Tuesday, at an exhibition held in commemoration of International Women's Day.
The exhibition, "Weaving Threads," features Nouf Beydoun, Raeda Ashour, Nojoud Al-Sudairi and Nora Al-Issa, whose works are being showcased for the first time in Pakistan.
The exhibition was inaugurated by Saudi Ambassador to Pakistan Nawaf bin Said Al-Malki and Dr. Fouzia Saeed, director general of the Pakistan National Council of the Arts (PNCA).
Organized by the PNCA and the Saudi Culture Ministry, the exhibition represents emerging freedoms for Saudi women, and aims to help women develop new links with the global art world.
Al-Malki and Saeed highlighted the importance and historical strength of Saudi-Pakistani cultural relations, and the role of artists in building the social fabric of societies and bridging cultures.
Bilateral cultural exchanges have been sought lately by both countries. During a visit to Saudi Arabia in March 2019, Pakistan's then-Information Minister Fawad Hussain Chaudhry highlighted the importance of strengthening cultural ties between the two countries.
In September 2018, Saudi Arabia's then-Information Minister Dr. Awwad bin Saleh Al-Awwad visited Pakistan to discuss cooperation in the fields of media and culture.
https://www.arabnews.com/node/1640776/saudi-arabia
--------

Iranian Woman Beaten For Wearing Loose Hijab, Fights Back and Goes Viral
Aya Iskandarani
March 12, 2020
A video of an unknown Iranian woman defending herself against a man who attacked her on the streets has gone viral. She has allegedly been assaulted by a vigilante for wearing a loose hijab.
The footage shows a woman crossing path with a man, who then follows her down the street and appears to threaten her. He then grabs her by the arm and kicks her in the stomach twice, propelling her onto the road.
During the remaining minute and a half of the video, the woman fights back against her assailant, throwing punches and kicks his way, before walkers-by intervene.
The footage has garnered 2.6 million views in less than 24 hours.
Masih Alinejad 🏳️
✔
@AlinejadMasih
Watching this video makes one very angry.
In broad daylight in Iran, a woman walking in the street is physically harassed by a pro-regime vigilante due to her hijab.
Next time they tell you compulsory hijab is a small issue, show them this video.
Many Iranian women face this
Embedded video
36.5K
6:31 PM - Mar 11, 2020
Twitter Ads info and privacy
24.8K people are talking about this
US-based Iranian journalist and political activist Masih Alinejad tweeted that she has been in touch with the 42-year-old woman in the video. Alinejad, who last month wrote a column in The National about a boycott movement in Iran ahead of the parliamentary elections, says the police refused to arrest the attacker as he claimed to be "voluntarily enforcing morality codes".
Wearing a hijab in public is mandatory in Iran. Women who fail to cover their hair can face up to 10 years in prison, on charges of "inciting corruption and prostitution".
The country's dresscode law has been decried by women's rights activists for providing legal justification to take away the rights of women, and subjecting them to constant harassment. Yet authorities have maintained that the hijab should be compulsory, even for non-Muslim and non-practising women. Iran's supreme leader Ayatollah Ali Khamenei has even insisted that the hijab is the answer to end sexual violence against women.
In January, Iranian chess referee Shohreh Bayat faced an intimidation campaign after photographs of her taken at the Women's World Chess Championship in China appeared to show her without a veil. The 32-year-old decided to flee her home country and seek asylum in London.
Ms Bayat is not the only woman whose life and career were on the line because of clothing preferences.
Kimia Alizadeh, Iran's only female Olympic medallist, defected from her country in January. In an Instagram post, she criticised prevalent sexism in Iran and spoke out against compulsory hijab. The 22-year-old said she was "one of the millions of oppressed women in Iran".
In the summer of 2017, Ms Alinejad launched the White Wednesday Campaign to protest against compulsory hijab. Iranian women posted pictures of themselves wearing white headscarves or pieces of white clothing online under the hashtag #WhiteWednesday to make their voices heard. But instead of engaging with them, authorities clamped down on the peaceful activists.
According to Human Rights' Watch, Iranian courts have given harsh sentences to dozens of women who peacefully demonstrated for their right to take off the veil.
In August, 22-year-old Saba Kordafshari was sentenced to 15 years in prison for removing her scarf in public. The following month, 29-year old Sahar Khodayari, who came to be known as Iran's "Blue Girl", set herself on fire in court, where she faced imprisonment for trying to attend a football match in March. Her death triggered international outcry.
"Next time they tell you compulsory hijab is a small issue, show them this video," Ms Alinejad tweeted. "Many Iranian women face this."
Aya Iskandarani is a staff Comment writer at The National
https://www.thenational.ae/opinion/comment/iranian-woman-beaten-for-wearing-loose-hijab-fights-back-and-goes-viral-1.991834
--------
Turkish Women Engineering A Better World
Innes Welbourne
March 13, 2020
Engineering touches almost every aspect of our contemporary lives. But for the greater part of human history, the industry has been dominated by one gender. Despite women arguably playing an outsized role in advancing the technology we take for granted today, female engineers have long operated in the minority.
Take Hedy Lamarr, perhaps better known for her work on the silver screen back in the 1930s and 1940s, who invented a remote-controlled communications system for the US military which assisted the Allies in winning World War II. Her invention is the foundation for the Bluetooth and Wifi technology we now use on a daily basis. There are countless other examples of pioneering women engineers who have struggled for visibility.
Today, efforts are well underway to correct the longstanding gender imbalance and get more female talent into the industry. Turkey is taking a leading role by developing innovative programmes aimed at educating and cultivating more young women engineers to become industry leaders. In Istanbul last week, I visited one such programme in action: Turkiye'nin Muhendis Kizlari (Turkey's Engineer Girls).
Founded by Ebru Ozdemir, chair of Limak Investments, a major Turkish conglomerate, the programme sponsored by Limak, the United Nations Development Programme (UNDP) and the Turkish Ministry for Family, Work and Social Service provides scholarships and mentoring for young women studying to become engineers.
An engineer herself like her mother before her, Ms Ozdemir is no stranger to the scale of the challenge facing women in engineering and the need to create more opportunities for budding female engineers.
"Equality in the workplace is especially relevant for the construction and engineering sectors," she said in a recent interview. "Men dominate the executive ranks, and women face disproportionate challenges in their efforts to rise to the top. At every level of the workforce, women's salaries lag behind those of men."
Ms Ozdemir takes a hands-on role in the project and was in attendance last week as over 100 female scholarship students gathered from all over Turkey at Limak's Eurasia Hotel for a weekend of seminars and workshops on topics such as stress management, interview etiquette and gender equality. All are geared towards teaching students how to succeed in such a male-dominated field like engineering. The event also offered a sprinkling of glamour and sage advice from one of Turkey's leading actors, Belcim Bilgin, who spoke about the difficulty of balancing work-life pressures as a woman.
Overall, the mood was buoyant and highly supportive. The young women taking part showed little regard to the restrictive identities imposed on them by previous generations of both men and women. Turkey's often talked about polarisation – either side of the secular and religious divide – was not in evidence at the event. Instead, sisterhood and a sense of belonging came to the fore.
While many of the young women spoke of the challenges they faced from their own families, those challenges were not always what one might have expected. Families weren't concerned that their daughters wanted to be working professionals; it was that they wanted to be engineers, rather than doctors or other medical professionals, which top the list of most women's family's ambitions.
For 19-year-old Fatma Sena Kekic, who is enrolled in Yildiz Technical University's Industrial Engineering Programme and who has designed and built robots for Turkey's first robot wars association, this was the case.
"My family were worried that I might find this environment too hard and wanted me to be a teacher or a pharmacist," she explained. But Fatma is adamant that engineering is for her – even if she's still deciding which path to pursue. In the meantime, she is organising a robot wars for this month.
The project, now in its fifth year, is not just significant for Turkey or Turkish women. According to Sukhrob Khojimatov, deputy resident representative of the UNDP in Turkey, "Turkey's Engineer Girls programme should be an example for the whole world. The impact of this project goes well beyond Turkey's borders."
As we move deeper into what might prove to be the most challenging century in human history so far, engineering can serve as an example to other historically male-dominated industries of how to maximise the talents of all genders and cultivate a new generation of women leaders. Turkish women are showing how a new spirit of collaboration can guide the path to a more inclusive future.
https://emerging-europe.com/voices/turkish-women-engineering-a-better-world/
--------
Four Women at Forefront of Israel's Arab Political Surge
March 13, 2020
Majeda El-Batsh
Newly elected Israeli MP Iman al-Khatib, greeting supporters in Nazareth, shook hands with women but tapped her heart with her right hand for men.
The gestures signaled the Muslim identity of the woman who is about to become Israel's first hijab-wearing MP and part of a group of Arab women poised to expand their voice in Israel's male-dominated politics.
All major parties in the Jewish state are led by men, with women making up only 25 percent of lawmakers in the Knesset, or parliament.
But in March 2 elections, one party managed to double its female representation, albeit from a low base.
The predominantly Arab Joint List won 15 of the Knesset's 120-seats, the alliance's best-ever performance and up from 13 during stalemate election last September.
The List also counts four women among its incoming MPs, up from two in September.
Khatib will be part of the Knesset's largest ever contingent of Arab women, including three Joint List colleagues and a Druze woman from the centrist Blue and White party.
The List draws most of its support from Israel's roughly 20-percent Arab minority -- who have Israeli citizenship but are Palestinian by heritage.
Israel's Arab minority complain of discrimination and accuse Prime Minister Benjamin Netanyahu of treating them as second-class citizens.
Netanyahu counters that his government has invested more in Arab neighborhoods than any in the history of the Jewish state.
The List's elected women told AFP that while they will focus on their constituent's concerns, they also care about wider issues in Israeli society.
"Do not make the veil a barrier. Look at the capabilities of the veil's wearer -- their ethics, work, skills and attitudes," said Khatib, a 54-year-old mother of four.
There are "religious Jewish women in the Knesset", she added. "We didn't hear any comment about them."
"We must deal with people first as human beings."
'Lack of options'
Like other Arab-Israeli MPs, Khatib speaks fluent Hebrew.
She studied social services at Tel Aviv University, specializing in women's support. In parliament, she wants to tackle issues ranging from violence in Arab neighborhoods to poverty and housing.
"Sixty-four percent of women are excluded from work, not because they don't want to work but due to conditions and lack of travel options," she said, referring to the Arab population.
Inflexible hours mean Arab women often need to leave for work before their children go to school, she said.
"These issues must be put on the table at the Knesset."
The new parliament will be sworn in next week but some fear it will last only a few months.
No bloc has a 61-seat majority, a repeat of inconclusive polls in April and September 2019.
Netanyahu's right-wing Likud won 36 seats and controls a total of 58, counting its allies.
Netanyahu's main rival Benny Gantz, who heads Blue and White, needs the Joint List's support to even consider forming a government.
The List's head Ayman Odeh has indicated he could back Gantz under certain conditions.
Israel's youngest lawmaker
Aida Touma, a Christian Arab-Israeli re-elected on March 2, is on the List's four-person team negotiating with Gantz.
A women's activist before entering parliament in 2015, Touma stressed that the List's incoming female MPs "are from all walks of life and are capable and serious representatives of the whole of society".
The Joint List is an alliance of parties representing both Muslim and Christian Arab Israelis, as well as some Jewish leftists.
Its members range from Islamists to communists.
One member, Sundus Salih, is at 34 about to become Israel's youngest lawmaker.
The mother of three is from Al-Mashhad town near Nazareth and has a masters in science and technology.
"There are differences between the [List's] parties... but we four women unite and agree on most things," Salih told AFP.
"As a mother and a teacher I am worried by the proliferation of violence and guns."
The fourth member of the quartet almost didn't make it on the ballot.
Hiba Yazbek, also from Nazareth, was blocked as a candidate by the Central Elections Committee over Facebook posts allegedly supporting terrorism.
She denied the charges and won an appeal. Now she is determined to use her Knesset seat to fight for Arab rights.
"We intend to translate our great electoral strength into political positions that reinforce our position as Arabs in this country and confront the right wing and its agendas," she told AFP.
https://www.thejakartapost.com/news/2020/03/13/four-women-at-forefront-of-israels-arab-political-surge.html
--------
'Got Married!' Rep. Ilhan Omar Says In Announcing Wedding to Political Consultant
March 12, 2020
By Phil Helsel
"Got married!" the lawmaker announced on social media Wednesday evening. Jeremy Slevin, a spokesman for Omar, confirmed that she wed Tim Mynett, a Washington political consultant.
"From partners in politics to life partners, so blessed. Alhamdulillah," Omar posted on Instagram, along with a heart emoji.
"Alhamdulillah" is an Arabic expression used to praise God.
In August, Beth Mynett filed for divorce from Tim Mynett, whom she accused of having had an affair with Omar, according to court documents.
Beth Mynett alleged in the documents that Tim Mynett had earlier confessed his "devastating and shocking declaration of love" for Omar, which led to the split.
Tim Mynett's company, the political consulting firm E Street Group, has worked with Omar's campaign.
Slevin had no further comment Wednesday night. The pair were "married Islamically and legally," he said in an email.
Omar in November officially divorced Ahmed Hirsi in Minnesota, The Associated Press reported at the time. They were married in January 2018 but were longtime partners.
Omar, one of the first two Muslim women elected to Congress, won her seat in November 2018.
https://www.nbcnews.com/politics/politics-news/got-married-u-s-rep-ilhan-omar-says-announcing-wedding-n1156221
--------
To Stop Deoband Women's Protest, UP Police Target the Men in Their Families
Sukanya Shantha
March 13, 2020
Mumbai: The Uttar Pradesh police have systematically begun identifying and targeting the male relatives and friends of the women protestors of Deoband in Saharanpur district. To stop the women from continuing their ongoing protest – styled around the famous Shaheen Bagh protest in Delhi – the UP police have begun mass booking men from the village. This, the protestors say, is only done to wield pressure on the women and force them to end their 46-day protest.
The women here, like in several other parts of the country, have gathered against the Citizenship (Amendment) Act and the impending implementation of the National Register of Citizens and National Population Register.
The charges, however, are as bizarre as the police tactics. In one of the three FIRs that The Wire has accessed, the men have been accused of attempting to "spread the infection of any disease dangerous to life". They have been booked under Sections 269, 270, 278 and 290 of the Indian Penal Code.
In another FIR, the person is accused of "mobilising young kids" and persuading them to participate in the protest. The person here is booked under sections of the Juvenile Justice Act. Another case of unlawful assembly has also been registered, in which nearly 40 persons have been named.
The first FIR was registered within days after the protests began. The others were registered in the next few days, says Deoband-based senior journalist Musharaff Usmani, who too has been named in one of the FIRs. Usmani works with the national media outlet Hindustan. "We were not told about these FIRs until a notice was issued from the court. We have been told several other cases have been registered but the police aren't revealing any information," Usmani says.
The protest began as four women from Deoband came together and started to mobilise others through a door-to-door campaign. Among them is Amna Roshi, who has been appointed as the director of the 'Murtahida Khawatin Committee' (MKC), which loosely translates to 'Women's Unity Committee'. Usmani is Roshi's brother. "They looked at all the names, identified their relatives, looked at the professions they are engaged in and went after them one by one," Usmani says.
Like Usmani, there are at least four other journalists from the town who have been booked under one of the three FIRs. "Most of us were here doing our job. But the police have named us in the FIR for unlawful assembly. The protest is led and organised by the women. Men, although in complete solidarity, have stayed away from the protest site. But the police still decided to go after the men," said another journalist named in the FIR. He also added that he has been facing problems at his workplace and has been asked not tp report on the ongoing protest.
Residents claim it is not the police alone but also other administrative departments that have been used to "teach them a lesson". The education department, for instance, has begun inspecting documents of and raising "frivolous complaints" against schools run by one of the protesters. "Since the women of this family have been at the forefront of the protest, the education department has started sending notices and asking explanations over random things. We also had to cough up a huge sum," one of the trustees of a private school says.
The Regional Transport Office (RTO) has also been activated, and over 100 hundred e-rickshaw drivers have been fined for ferrying protesters from across town to the Idgah ground. One of the rickshaw owners told The Wire that he has been slapped with three challans over the past one month. "While the fine might not be a lot, the RTO officials have also been demanding bribe to get them off our backs," he said.
Similar experiences were shared by several people belonging to the Qureshi community involved in the meat business. "For several days we were not allowed to sell gosht, and both the police and food department have been raiding our shops over and over again. These attacks have made us all very vulnerable," said an elderly man who runs a meat shop in the locality. The man, afraid of police backlash, requested not be identified. "The police have told us that they will get us booked for selling beef if we don't persuade the women to take their protest back," he claimed.
The Wire had reported on the protest soon after it had begun. Several women, mostly belonging to the Muslim community and several other Bahujan women, have been participating in the protest. The protest has since grown manifold and the women had to defy the world-renowned Islamic seminary, Darul Uloom, and continue with the protest.
Also read: 'There Is No Going Back': Women Lead Shaheen Bagh-Style Protest in UP's Deoband
Iram Usmani, one of the main organisers of the protest and also the secretary of the MKC, said that the condition of the protesters and their families is precarious. "We have ensured our protest remains peaceful. But the state has been finding newer ways to bother us every day. They could have engaged with us and found ways to assure its citizens. Instead, they are hellbent on criminalising us," says Iram. She further adds that such police action has only made the women more resolute, and more and more women from Deoband and nearby towns have joined the protest.
In several places across the state, protests have simmered against the Centre's decision to pass the CAA. The BJP-led state government under the leadership of chief minister Adityanath has resorted to violent means to quell the protests, killing over 23 persons and injuring several others in police firing in December 2019.
Along with violent attacks, the government also erected huge hoardings of those who have participated in the December 2019 protest in Lucknow against the CAA. This move seems to be taken to publicly name and shame the participants and possibly jeopardise their lives at the hands of miscreants. Even after the Allahabad high court's order to remove the hoardings, the government has stood by its position and appealed the decision in the Supreme Court.
https://thewire.in/rights/deoband-anti-caa-protest-up-police
--------
Woman Gives Birth to Quintuplets in Nangarhar Province of Afghanistan
12 Mar 2020
A woman has given birth to quintuplets in eastern Nangarhar province of Afghanistan, the provincial public health officials said.
Dr. Roshan Ahmadi, the head of the maternity division of Nangarhar region hospital said a woman has given birth to quintuplets, including four baby girls and a baby boy.
According to Dr. Ahmadi, the babies are in good health condition and are under supervision in pediatric division of the hospital to receive necessary care.
This is the first time that a woman has given birth to quintuplets in eastern Nangarhar province of Afghanistan.
The provincial public health officials said a woman had earlier given birth to quadruplets in the maternity division of Nangarhar regional hospital.
https://www.khaama.com/woman-gives-birth-to-quintuplets-in-nangarhar-province-of-afghanistan-04506/
--------
Nissan KSA Highlights Importance of Diversity and Female Empowerment in Saudi Automotive Market
March 12, 2020
JEDDAH — Nissan Saudi Arabia hosted an exclusive brunch event in celebration of international women's day on Sunday at TAWA restaurant here. The event was attended by some of KSA's leading female journalists, influencers and thought leaders to discuss topics pertaining to Nissan KSA's efforts to empower females in the local automotive sector.
The event celebrated international women's day by highlighting the efforts of Nissan KSA's female employees, as well as Petromin Nissan female employees, in elevating Nissan KSA's standing in the market. Nissan KSA's leadership team attended the event including Managing Director Bader El Houssami, Sales Director Albert Khreiche, Aftersales Director Ahmad Taha, and General Manager of Corporate Communication Hatoon Bushnaq.
Nissan KSA aims to ensure diversity in the workplace, as it is committed to appointing women to all positions equally as men, and considers professional advancement without discrimination based on the belief in women's ability to excel in every field they engage in. A prime example of diversity at the workplace is Nissan Saudi Arabia's newly appointed General Manager of Corporate Communications, Hatoon Bushnaq. Her appointment is the first step among many aiming to promote diversity within leadership positions at Nissan KSA.
El Houssami addressed the attendees at the event, saying: "It is a great honor for me to represent a brand that gives women the status they deserve and utilizes their capabilities in various aspects of the business. At Nissan KSA, we ensure that we provide customized services for our female customers to empower them on the road. We also believe our female counterparts are natural leaders, and we are committed to ensuring our female employees' career progression to leadership positions in the company, as it is a key contributor to advancing the company's business and ensuring its growth, as well as achieving workplace diversity."
Bushnaq said: "I am proud to be a key player in a company that focuses on integrating and empowering women and giving them the tools they need to excel in the workplace. Therefore, I would like to thank Nissan Saudi Arabia for its trust in me and its faith in what I can add as a female to a sector that is predominantly male-oriented. On the occasion of International Women's Day, I encourage all women to trust their abilities and seize the opportunities available to them, so that we can rise together in a society where everyone is equal."
Over the past years, Nissan Saudi Arabia launched a series of initiatives that empower women and help them explore their full potential on the road. Among the most prominent of these initiatives is the #SheDrives campaign, which allowed a group of women to experience driving for the first time after the driving ban was lifted in the Kingdom.
Nissan KSA has also launched the first female RSA (road side assistance) application, "Sanadek", which is the only RSA application in the Kingdom that's tailor made to fit the needs of female Nissan drivers, to empower them and give them peace of mind on the road. The application provides comprehensive solutions with various services such as towing, fuel delivery, battery charging and car maintenance.
In line with Nissan KSA's continued efforts to acknowledge fresh local talent in the Kingdom, the company has recognized two young Saudi female graduates and have enrolled them in Nissan Saudi Arabia's bespoke two-year GT-R training program. This is in addition to the several other females that Nissan KSA has working across different departments, which is testament to their workplace diversity focus.
Nissan KSA is also keen to support local talents in motorsport, as it seeks to encourage and develop the capabilities of local motorsport enthusiasts and harness their skills by providing support for competitions at the highest levels. Reem Al-Aboud, the first and youngest Saudi woman to drive a Formula E car in the race's fifth season was trained and sponsored by Nissan KSA.
Nissan Saudi Arabia will remain an active brand that is committed to maintaining diversity in the workplace and is continuously exploring innovative ways to empower women and increase their involvement in the local automotive sector, to cater to all the needs of the market. — SG
http://www.saudigazette.com.sa/article/590861/BUSINESS/Nissan-KSA-highlights-importance-of-diversity-and-female-empowerment-in-Saudi-automotive-market
--------
KT For Good: Inspiring Stories of Women from the Subcontinent
Nandini Sircar
March 12, 2020
What does it take to overcome adversities and uncover the essential "you-ness" - values, interests and passions that define a human being?
Societies can be impediments but caring fathers and husbands can change outlook. What does it take to overcome adversities and uncover the essential "you-ness" - values, interests and passions that define a human being?
Fifty-year-old Indian expat Shilpa Bhasin Mehra who lives in Dubai, has seen it all.
Her life was picture perfect, hailing from a well- to-do family in Delhi, married with two children and pursuing a successful legal career. Until one day everything came crashing down. She had a near death experience. Shilpa had been diagnosed with viral meningitis.
"I had a flourishing legal career and one day, everything turned upside down. I had gone to watch a tennis match with a friend in Dubai. I was experiencing a throbbing headache that day and took the usual medicines. But soon after, I slipped into coma for 40 days and when I woke up I was paralysed waist down for two-and-half years."
That is when she realised being strong is the only choice she had, maximising personal growth and being the best version of herself.
Refusing to succumb to the blows that life was throwing at her, like a phoenix rising from its tears, she reclaimed life with the help of her husband and father, the two people who never left her side.
"During the course of the long rehabilitation my husband stood by me through thick and thin and so did my father, who was like the Rock of Gibraltar. My three elder sisters were my pillars of strength and godmothers to my children. The sister bonding never wanes but gets stronger with time", recalled the fighter.
Being confined to the bed for two-and-half years, with only her upper body working and her mind switched on, she reminisced how her mother's face continued to inspire her, although she was long gone after a tough battle with cancer. "She had lung cancer but she never complained. Her resilient face was always in front of my eyes. She smiled through her illness, so why couldn't I?"
Attributing her strength to the upbringing that she received from a family of strong, emancipated women, she found writing liberating despite being bed-ridden for long.
"I wanted to regain control of my life, and my family immensely helped me to shed my apprehensions and start penning my thoughts. Even my doctor encouraged me a lot in that direction. That's when I started expressing my deep emotions in a book 'All Battles are Not Legal'," said the lawyer.
Consequently, her life has been on an uphill again. She eventually founded 'Legal Connect', a venture delivering solutions to diverse legal situations. She was also featured in the coffee table publication 100 Young Indian Visionaries in UAE and has been the recipient of the Legendary Lioness award.
Today, she is filled with an immense sense of gratitude for life, urging everyone to stop complaining and taking things for granted.
A tale of resillience
Equally moving, is the story of Pakistani expat Uzma Tabassum who is a successful educationist in Abu Dhabi today. Her determination and perseverance to study in the face of all odds, where books were considered to be a privilege and women were marginalised, her story may seem revolutionary to many.
Originally, hailing from Gujranwala, a small city in Pakistan about one-and-half hours from Lahore, her conservative family started forcing her to get married early.
"When I was in grade 7 in Pakistan, my family started pressuring me to get married. I used to go to a government school, so they hardly had to spend any money on my education. Despite that, they wanted to stop my education and marry me off," said Uzma.
"I had no books. I used to sometimes borrow books from my friends but the elders in the family didn't like the idea of me stepping out of the house," added the Pakistani expat.
She, somehow, finished 12th grade in private, mostly from the confines of the house. "I was immediately married off after finishing school. But, I realised my husband was a nice man, so after four years of our marriage, I gathered courage to approach him and told him that I want to pursue my bachelors," she recalled.
Being deprived of higher education himself, her husband seemed accepting of the idea. But he was wary of his ultra-conventional family and their reaction. "Fighting all odds, my husband supported me and got me enrolled in a correspondence programme, as at that time in Gujranwala there were only two women's colleges.
They refused admission in the middle of the session, especially after a gap of four years", says Uzma.
But her challenges didn't end here as by then, she was already a mother of two toddlers. While she spent the mornings fulfilling household responsibilities like cooking, cleaning and childcare, she decided to utilise the nights effectively. "I used to think the night is mine. Life without education is dark. I used to spend the entire night studying for several days and months at a stretch.
"When the morning alarm went off at 5am and I had to stop studying, I used to ask God, why couldn't he make the night longer", recalled the Tabassum, who is now a teacher in Al Basma British School in Abu Dhabi.
Although, many sneered at her efforts, her resolve for higher education helped her attain a Master's in Islamic Education from Punjab University in Lahore and a near Master's Degree in English, with one paper left to clear, as her daughter fell severely ill, during the exams.
After her arrival in in the UAE, life had new challenges and milestones for her. It was equally an "eye-opener".
Single-handedly supporting a family of four in the UAE, that includes her two children and husband, Uzma's undying resilience and quest for knowledge has kept her afloat. "In the last five years, I have worked in three different schools. Initially, I used to be so overwhelmed by the smart expat population and advanced technology here that I often felt like a misfit".
But her trials and exposure has helped her emerge into a more confident person now. "A woman can do multiple tasks in life. She can play different roles equally well if she puts her head and heart to it", she reiterated.
While her children study in an English-medium school where she herself is a teacher, Uzma feels she is living her dream through her kids.
"I fought so much for education, all my life. I want my kids to achieve greater heights using education as a weapon".
Meanwhile, her journey as an educator post her struggles, has taught her that trying times are the biggest learning experiences in one's life.
Promoting education all her life, Uzma has also become a philanthropic educator where she doesn't miss a single opportunity to teach underprivileged children in her neighbourhood or back home whenever she visits her home country.
She feels women and men are equal, not same. So, any differences between men and women are not in their brains or capacities to learn or gain education.
https://www.khaleejtimes.com/kt-for-good/kt-for-good-inspiring-stories-of-women-from-the-subcontinent
--------
Pakistani Activist Marvi Sirmed: 'I Provoke Toxic Masculinity'
12.03.2020
Shamil Shams
DW: Ahead of the March 8 International Women's Day demonstrations in Pakistan, popular playwright Khalil-ur-Rehman Qamar used abusive language against you on a live TV show in reaction to your feminist stance. It was not the first time that you ticked off conservative Pakistanis. Why are they against you?
Marvi Sirmed: After the TV show that you mentioned, Qamar was invited to another live program in which famous televangelist Aamir Liaquat Hussain also participated. There, Hussain was very critical of Qamar, so much so that he called Qamar a "sociopath," who needed to be kept away from society. But we saw that Qamar kept silent and did not attack Hussain. So it shows that it is actually about power relations. Men like Qamar consider women inferior. They can't accept that a woman refuses to bow down.
This has been happening to me for a long time. When I put across my point of view and challenge masculinity and patriarchy, men feel threatened.
So you are saying that if you were a man, you would have been treated differently in Pakistan…
I think so. But again, it is about power relations. There was another viral video clip on social media involving Qamar. In that interview, he attacked a junior male anchor. So the fact that Qamar chose to remain silent when Hussain criticized him but went after a junior male reporter reveals power and gender dynamics.
I am a strong critic of the Pakistani military establishment and the religious right, and that is why I don't enjoy the same status in the country as a televangelist like Hussain does.
But many people accuse you of liking to "provoke" right-wing participants on TV. How would you respond to this criticism?
It is not an accusation; I do provoke toxic masculinity in people. By provoking these people, I bring the gender topics to the fore and generate a debate. All TV channels debate the topics for days. The same thing happened with the "my body, my choice" slogan that offended playwright Qamar so much.
o you're saying that the right to offend is also a human right…
I do. You see, Qamar's diatribe against me was not the main problem. I didn't take it personally. He has the right to offend too. What is not right is that these people think they have the right to objectify women.
Some people say that the feminist movement in Pakistan only caters to an affluent class of Pakistanis and is disconnected to the real issues of working class women. How do you respond to this criticism?
"My body, my choice" is an issue that is relevant to Pakistani women across all classes. When a woman is killed in the name of "honor," her body is attacked; when a woman is denied the right to choose her partner, her body and her choice are compromised; and when a woman faces domestic violence, her body is attacked. All other issues that our "Aurat March" (women's march) raised are equally important, but they all emanate from a deep-rooted misogyny in our society. Women do not have the agency over their own bodies and that is the main issue, in my opinion.
Is the women's rights movement gaining momentum in Pakistan?
It is definitely gaining strength. We should not be afraid of controversies. You cannot challenge the status-quo without being controversial. For the past few days, so many TV personalities have been "advising" us how to develop our communication strategy in order to reach out to the masses. They accuse us of being "exclusive." We are not being exclusive; we are saying what we need to say.
How would you respond to the term "liberal extremist" that is often used in Pakistan to malign rights activists?
The term doesn't make any sense to me because it is an oxymoron. I am a social democrat and I can tell you that liberalism teaches you to be tolerant to all ideas and ideologies. Liberals thus cannot be extremists. These kinds of labels are used by those who think that the demand for our right to participation in politics and the economy is an extreme demand. These people think that those who demand equality are extremists.
Marvi Sirmed is a renowned Pakistani political commentator, journalist, and human rights activist.
The interview was conducted by Shamil Shams.
https://www.dw.com/en/pakistani-activist-marvi-sirmed-i-provoke-toxic-masculinity/a-52735164
--------
Pakistan: Brother Kills Sister and Her Newborn Son for Marrying Man Of Her Choice, Netizens Outraged
March 12, 2020
Falah Gulzar
Last month, In Pakistan, a 21-year-old woman and her one-month-old baby were brutally killed by her brother for marrying someone they disapproved of. Now, the accused has been arrested and netizens are outraged at the incident.
The victims, identified by their first names, Aimen and Hussain, were murdered and buried on February 9 in the city of Muzaffargarh, Punjab province. The woman is believed to be fatally shot and the infant was supposedly strangled to death.
Although there were reports of the victims being buried alive, according to a report by Pakistani newspaper Dawn News, a police officer said that cops were unable to determine whether that happened looking at the available details.
Aimen's mother-in-law, Sughra Bibi, said that the two lived with her husband, identified by his first name, Tariq, as well as her in laws.
Nadia Jamil
✔
@NJLahori
Mother & baby murdered in the name of honour.Her brothers slammed her 1 month old baby on the floor & shot their sister.They were both buried while still breathing,Aiman holding baby Hussain Ali 2 herself tightly.
Speak up 4 her.Stop crimes against women!https://youtu.be/cFnn4nntUrs
View image on TwitterView image on TwitterView image on Twitter
1,338
2:30 PM - Mar 10, 2020
Twitter Ads info and privacy
1,144 people are talking about this
According to Pakistani media outlets, Aimen's brothers kidnapped her and her child and took her to their district of Ali Pur, where they were brutally killed.
According to reports, two of Aimen's brothers were allegedly invloved with the murders and they have been identified as Owais and Farooq. They were against Aimen marrying Tariq.
According to Dawn News, the brothers wanted her to file a kidnapping case against her husband, whom she had married approximately a year-and-a-half ago.
Police told Dawn News that one of the brothers confessed to killing his sister and her son, before disposing of their bodies by burying them in a deserted area.
'My body, my will'
As the news of brutal murder surfaced online, social media users expressed their outraged. Many referenced the slogan 'Mera Jism, Meri Marzi' (My body, my will) which was at the centre of the recently held Women's march in the country.
The march that was held in major cities in Pakistan on International Women's Day, focused on women's rights and violence against females.
Many criticised the slogan to be "vulgar" and against social and religious norms of the country. Now, after Aimen's case emerged, people are highlighting why such movements are necessary.
Twitter user, @sabahbanomalik, reacted to the incident and wrote: "They killed their own sister and her baby because she had a child with her body with someone she wanted and that's exactly why I will scream until the skin melts off the faces of you insecure, arrogant cowards #merejismmerimarzi."
Sabah Malik
@sabahbanomalik
they killed their own sister and her BABY because she had a child with HER BODY with someone SHE WANTED and that's exactly why I will scream until the skin melts off the faces of you INSECURE, ARROGANT COWARDS #MEREJISMMERIMARZI #MEREJISMMERIMARZI https://twitter.com/njlahori/status/1237302346897674241 …
Nadia Jamil
✔
@NJLahori
Mother & baby murdered in the name of honour.Her brothers slammed her 1 month old baby on the floor & shot their sister.They were both buried while still breathing,Aiman holding baby Hussain Ali 2 herself tightly.
Speak up 4 her.Stop crimes against women!https://youtu.be/cFnn4nntUrs
View image on TwitterView image on TwitterView image on Twitter
528
4:14 PM - Mar 11, 2020
Twitter Ads info and privacy
276 people are talking about this
User @ADChanna tweeted: "I highly condemn this act of heinous crime. The culprits must be punished as per the law. The perception of male members of the family needs to be changed from the childhood. Needs a lot efforts to change it in the society."
Honour killings in Pakistan
According to the Human Rights Commission of Pakistan, almost 300 women were victims of such killings in the first half of 2016. In a 2015 report by the World Economic Forum.
Honour killings were outlawed by Pakistan's legal system but there were loopholes that perpetrators often depended on.
In 2016, Pakistan's government closed a loophole allowing those behind honour killings to go free. The New legislation means killers will get a mandatory life sentence.
https://gulfnews.com/world/asia/pakistan/pakistan-brother-kills-sister-and-her-newborn-son-for-marrying-man-of-her-choice-netizens-outraged-1.1584006775257
--------
URL: https://www.newageislam.com/islam-women-feminism/under-abaya-portrays-unique-diverse/d/121296
New Age Islam, Islam Online, Islamic Website, African Muslim News, Arab World News, South Asia News, Indian Muslim News, World Muslim News, Women in Islam, Islamic Feminism, Arab Women, Women In Arab, Islamophobia in America, Muslim Women in West, Islam Women and Feminism