• 'This Is Not A Headscarf' — Artist Asma Aiad Challenges Narrative Regarding The Headscarf In Austrian Society
• Don't Ruin Religious Peace In Oyo State, Muslim Women Warn Christian Missionaries, TESCOM
• 'Very Excited And Happy': Padma Shri Recipient OinamBembem Devi On India Hosting The AFC Women's Asian Cup
Compiled By New Age Islam News Bureau
URL: https://www.newageislam.com/islam-women-feminism/austrian-society-headscarf-narrative/d/125763
------
'This Is Not A Headscarf' — Artist Asma Aiad Challenges Narrative Regarding The Headscarf In Austrian Society
With her project 'This is not a headscarf,' artist Asma Aiad challenges the tired narrative regarding the headscarf in Austrian society.

Austrian artist Asma Aiad says right now the issue is not just about Muslim women wearing headscarves, but the broader idea of Muslims being active in society. (Courtesy of: Asma Aiad)
-----
Asma Aiad's artwork is informed by her Muslim identity. An Austrian artist and activist who has devoted herself to the fight against Islamophobia and racism, hijab-wearing Asma seeks to challenge those who conform to the stereotype of a hijabi Muslim woman in Austria.
Instead of explaining, she asks questions, like what is a headscarf and what is not? Who defines it? How does a hijabi woman see the headscarf? And how do others in Austrian society view it?
"I took pictures of women wearing things on their heads which look like headscarves but in reality, they are not headscarves," she explains. "When you see it, you think it's not a headscarf, but when you forbid wearing a headscarf in Austria maybe we can go around with things like these. Would it still be forbidden? Or would it be okay?"
Explaining to TRT World the rationale behind her latest exhibition - "This is not a headscarf," which is inspired by Belgian surrealist painter Rene Magritte's well-known "The Treachery of Images" - Aiad asked: "If it's okay, why is this okay and a headscarf is not okay?"
In 1929, Magritte painted an image of a pipe with the subtitle "This is not a pipe," which subverted conventions of language and visual representation and cast doubt on the nature of appearances - both in the paintings and in reality itself.
Aiad's artistic work is currently being displayed at the Academy of Fine Arts Vienna as part of the Muslim* Contemporary exhibition. She has curated the show with the help of 11 other artists. The exhibition, she said: "Reflects Muslim life in Austria, with its good sides like diversity but also with bad sides like discrimination against Muslims and anti-Muslim politics."
Muslim*Contemporary includes workshops and lectures and features artwork and installations from several other artists. It aims to "open spaces for discussion and debate through different formats." Aiad defines the exhibition as "a multidisciplinary, participatory and dialogical project reflecting on the place of participation of Muslim communities in Austrian society through education, art, dialogue, activism and culture."
Operation Luxor
In 2019, the far-right government passed a law prohibiting primary school children from wearing the Islamic headscarf. Later, in November 2020, the Constitutional Court decided this violated religious-freedom rights and could lead to the marginalisation of Muslim girls. It then annulled the headscarf ban on primary schools, declaring it "unconstitutional".
"People think it is oppression - it is something bad, so on and so forth - but this is what the people see in it, these are not the things that Muslim women attribute to it. For them it is something important," Aiad said.
With her work, she highlights the objectification of Muslim women, who face daily challenges simply for wearing the headscarf. They are often pre-judged and misinterpreted as societal elements impose biases on their customs and dictate how they should act. Aiad challenges this narrative on behalf of all Muslim women.
But Aiad says right now the issue is not just about Muslim women wearing headscarves, but the broader idea of Muslims being active in society. It's particularly relevant in the aftermath of the raids that took place last year amid the "political Islam" narrative constructed by the government.
November 9, 2021 marks one year since 'Operation Luxor' took place. During this event, the Austrian government targeted the homes of 70 Muslims in the largest-ever peacetime police raid operation in Austrian history. British-based human rights group CAGE published a report in collaboration with ACT-P (Assisting Children Traumatised by Police), revealing that the 'Operation Luxor' was unlawful and ideologically driven. The report offers insight into the impact of Operation Luxor by revealing "documents that include testimony from those targeted in the operation and detailing the violations they experienced."
During interrogations, Muslims were asked questions such as whether they pray five times a day. Asma says ever since that raid, ordinary Muslims live in fear of being targeted by police because of their adherence to prayer, which is obligatory in Islam. If today a police officer asks a Muslim whether they pray, and they respond that they do, then they are framed as "radical Muslims." For this reason, many in the community have been left frightened by policing.
"A year after the raids, individuals still find it difficult and deeply emotional to speak about their experiences. They have seen the dark side of Austria, and view it as reminiscent of a dictatorship," says Nura Al-Izzedin, an Austrian researcher at ACT-P who interviewed survivors of the raid and took witness testimonies.
The aforementioned raid took place exactly one week after the fatal shooting attacks in Vienna on November 2nd, 2010. The aftermath involved police statements, media prejudice and a number of false reports in the Austrian mainstream media that gave the public the impression the subsequent house searches were related to the attack.
Asma says the constant Islamophobic messages in the media result in hate crimes against Muslims, especially visibly Muslim women. Last September, BaraaBolat, a hijabi digital creator, was verbally harassed and spat on after she got off a city bus in Vienna. Bolat shared her experience on social media to raise awareness.
Operation Luxor left many Muslims without financial means due to lost jobs, the freezing of bank accounts, and the loss of trust in the community. Furthermore, many families are traumatized, including minors and children.
The events of Operation Luxor unfolded thusly: At around 5 a.m. on Nov.9, 2020, officers used a coordinated action to forcibly gain access to offices, residential buildings and family apartments. Men, women and children were roused from their sleep by heavily armed officers and accused of being members of a terrorist group.
One of Aiad's other art installations at the exhibition depicts a raided apartment shown from the perspective of those affected. Through this work, viewers can personally glimpse how children and families experienced state authority.
Ten months after the raids, the Operation Luxor home searches were declared unlawful by the Graz Higher Regional Court. Moreover, none of the victims, whose lives were turned upside down because of the operation have been charged with any crime.
https://www.trtworld.com/magazine/this-is-not-a-headscarf-the-objectification-of-muslim-women-in-austria-51585
------
Don't Ruin Religious Peace In Oyo State, Muslim Women Warn Christian Missionaries, TESCOM
By KazeemAwojoodu
Nov 13, 2021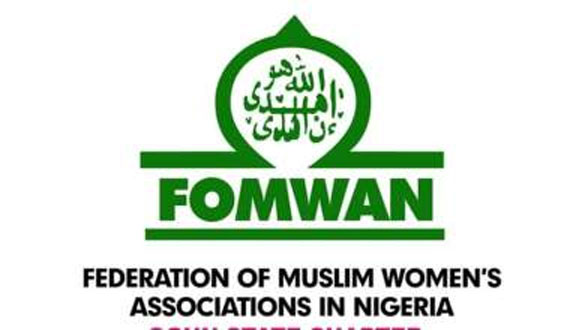 IBADAN – The Federation of Muslim Women's Associations in Nigeria, FOMWAN Oyo State chapter has warned Christian Missionaries and the entire Christian Community in the State to avoid religious activities or programmes capable of ruining the peace and peaceful coexistence being enjoyed in every nook and cranny of the State.
The Association made the appeal while reacting to the visit of some for­eign missionaries led by one Evangelist Daniel Ko­lenda to public secondary schools in the State ahead of their planned Ibadan crusade.
The team was in Yejide Girls Grammar School, Sasa Community High School, Gbekuba Com­munity School, St' Anne's School Molete, Methodists Grammar School, Bodija among others.
A statement by the Oyo State Amirah of FO­MWAN, Alhaja (Dr) B.B Oloso described the action as capable of igniting reli­gious conflict in Oyo State, adding that Oyo State Christian Community or Christian Association of Nigeria, CAN would spit fire and brimstone and al­lege Islamisation agenda if Muslims were the ones go­ing to public schools with Islamic foreign preachers or clerics to invite students to an open-air program.
"This is an act of reli­gious intolerance. Why would Principals in public Schools allow Christian Foreign Evangelists in their Schools if they were not part of plans to win souls for Christ as they usually say? It was a gross infringement on the funda­mental right to religion of the teeming Muslims in the Schools visited.
"Oyo FOMWAN con­demns this action in total­ity and warns the Orga­nizers and their cohorts especially the School heads and principals to desist from attempting to coerce and force Muslim children into Christiani­ty. Don't ruin the religious harmony already existing in Oyo State," Oyo FOM­WAN Amirah warned.
https://independent.ng/dont-ruin-religious-peace-in-oyo-state-muslim-women-warn-christian-missionaries-tescom/
------
'Very excited and happy': Padma Shri recipient OinamBembem Devi on India hosting the AFC Women's Asian Cup
Written By: Srishti Singh Sisodia WION Web Team
Nov 12, 2021
Padma Shri recipient OinamBembem Devi said she is very excited as India will be hosting the AFC Women's Asian Cup 2022. She also gave her valuable opinion on what needs to be done to promote the sport in India at the grassroots level
OinamBembem Devi, the first Indian woman footballer to have received the prestigious Padma Shri Award, said that she is excited for AFC Women's Asian Cup 2022 being hosted in India, as players will get a golden opportunity to play in front of the home crowd, a proud moment for their families as well.
AFC Women's Asian Cup 2022 is scheduled to commence on January 20 next year and the qualified teams include reigning champions Japan, Australia, China PR, hosts India, Indonesia, the Islamic Republic of Iran, Korea Republic, Philippines, Thailand and Vietnam.
During a virtual interaction, Bembem Devi replied to WION's question over her excitement about the tournament being held in India. She said, "I am very excited as I have played for 21 years, but didn't get a chance to play AFC in India. All the players in the women's team are so excited as their families and relatives can watch their daughters play."
"Playing in our own country and in our own ground give a massive boost. When we go to other countries, we don't get many supporters. Playing in India means, the family can watch, the relative can watch and supporters will be a motivational factor."
Bembem Devi, who has been a flagbearer of promoting football in India over the years, also said that she is also very excited because hosting the tournament will be a great opportunity to promote women's football across India, adding that she is "very happy".
The 41-year-old Bembem Devi became the seventh overall to receive the Padma Shri Award, joining the elite club of Late Gostho Paul, Late Sailen Manna, Chuni Goswami, PK Banerjee, BhaichungBhutia and current Indian Men's National Team captain Sunil Chhetri as Indian footballers who won the prestigious award.
Padma Shri is the fourth-highest civilian award given by the Government of India, after the Bharat Ratna, the Padma Vibhushan and the Padma Bhushan.
Bembem Devi has been a role model for Indian football, who is doing her bit in promoting the sport throughout the country. Winning Padma Shri will boost her efforts to take Indian Women's football to greater heights as she will get recognition and more girls draw inspiration from her.
While replying to WION's question, Bembem Devi gave her valuable opinion on what needs to be done to bring about considerable changes in terms of promoting the sport to the grassroots level and encouraging women participation.
She said, "In India, the Grassroots Football Development programme is already underway." Giving an example Manipur, from where she hails, the veteran footballer said, "In my state, a six-month-long Grassroots Football Development was scheduled. Young boys and girls participated."
In India, Grassroots Football aim is to increase participation for children, youth, amateurs, veterans in the sport. The programme is also meant for those with physical disabilities, cerebral palsy, visually impaired and even the socially disadvantaged.
The AIFF Grassroots programme also looks after improving the quality and quantity of football and popularising it through grassroots. AIFF's Grassroots Development programme was kicked-off in December 2012 and ever since it has seen a rapid expansion.
https://www.wionews.com/sports/very-excited-and-happy-padma-shri-recipient-oinam-bembem-devi-on-india-hosting-the-afc-womens-asian-cup-428891
------
URL: https://www.newageislam.com/islam-women-feminism/austrian-society-headscarf-narrative/d/125763
New Age Islam, Islam Online, Islamic Website, African Muslim News, Arab World News, South Asia News, Indian Muslim News, World Muslim News, Women in Islam, Islamic Feminism, Arab Women, Women In Arab, Islamophobia in America, Muslim Women in West, Islam Women and Feminism