New Age Islam News Bureau
10 Oct 2019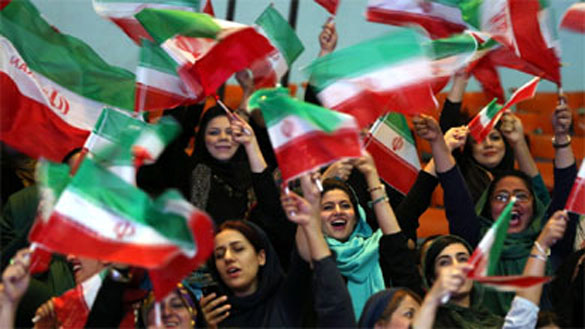 Iranian women wave Iranian flags during a ceremony of farewell for their national football team ahead of the 2014 World Cup in Brazil, at the hall of Azadi (freedom) sports compound in Tehran, Iran. [File: Ebrahim Noroozi/AP Photo]
------
• In Latest Social Reform, Saudi Arabia Rules Women Can Join Armed Forces
• Schizophrenic Woman Of West Java Stands Trial For Blasphemy
• Angered Bangladeshi Man Took A Blade And Forcibly Shaved The Head Of His 23-Year-Old Wife, After Finding Hair In Food
• Dutch Told Burqa Ban Discriminates Against Muslim Women
• The Wire Journalist Arfa Khanum Sherwani Gets Attacked On Twitter By Islamists For Uploading Durga Puja Picture
• Pakistan Makes Uneven Progress In The Fight For Gender Equality
• Married Women, Single Men Under 30 Most Likely To Commit Suicide In Pakistan: Experts
Compiled by New Age Islam News Bureau
URL: https://www.newageislam.com/islam-women-feminism/taking-back-ours-iran-women/d/119962
--------
'Taking Back What's Ours': Iran's Women To Attend Historic Match
by Virginia Pietromarchi
October 10, 2019
Armed with a flag and a horn, Niloufar* is about to do something she has never done.
Come Thursday afternoon, the 36-year-old translator will be setting foot on Tehran's Azadi Stadium – but she will not be there for the football. Instead, her goal is to claim a "simple and basic right" as for the first time since the establishment of the Islamic republic in 1979, Iranian authorities have allowed women to buy tickets to attend a men's football match.
"I can't deny how happy I am to finally be able to go to the stadium, and I know I will be very emotional once there," she said.
"It feels great to take back what's yours."
Along with Niloufar, segregated from a usually loud male crowd that has long monopolised the 79-000-capacity venue, more than 3,000 other women will be cheering on as the Iranian national team takes on Cambodia for the World Cup qualifier.
The first 850 tickets allocated to women were sold out in "a few minutes", leading the Iranian football authorities last week to put more on sale.
'Blue Girl'
Pressure on Iran to allow women to attend men's football matches increased last month following the death of Sahar Khodayari, which sparked widespread outrage. The 29-year-old, dubbed "Blue Girl" online due to the colour of her team's jersey, died of her wounds after setting herself on fire outside a Tehran court upon learning she could be imprisoned for attempting to sneak into a stadium disguised as a man.
"What happenned really hurts the hearts of all Iranians," Voria Ghafouri, the captain of the Esteghlal team, told Al Jazeera, adding that by paving the way for women to enter stadiums Blue Girl "will be remembered for ever."
While it has never been a law, the ban on women attending men's football matches has been enforced since 1981 as part of a set of rules that discipline women's dress and presence in public spaces, according to the Iranian authorities' interpretation of Islam. The country's conservative leaders have also pointed to sports facilities not being appropriated for women as part of their reasoning for the move, citing the lack of female restrooms.
The ban, which also extends to volleyball and basketball matches, has been momentarily relaxed in the past, but activists concur that the match on Thursday is a "first official step forward".
Their enthusiasm, however, of women being allowed to buy tickets just like men was swiftly tempered by the imposition of a cap limiting their attendance to just five percent of the venue's capacity.
"As a matter of human rights and according to FIFA's own statues, the cap must not be in place," Minky Worden, director of global initiative at Human Rights Watch, said.
"That is gender discrimination which creates risks."
Meanwhile, questions loom over what will happen to those women who are expected to show up at the stadium, even without a ticket.
"I prefer to be realistic because we have already been through a lot - from beatings, to arrests, to self-immolations," Niloufar said. "So why not be worried?"
Years-long fight
Often coming at a high cost, the women's fight against the ban - one of many undertaken in recent years by activists defying such practices or laws with acts of civil disobedience - stretches back many years.
"We would go to protest at every single national match," recalled Sara, a member of the OpenStadiums network of feminists, activists and journalists, who began demonstrating in front of Azadi Stadium in 2005. "Sometimes they [the authorities] would beat us, throw us punches, kicks or arrest us."
In 2006, after top clerics adopted a harsher rhetoric over the ban and the authorities' response became more violent, OpenStadiums began documenting police behaviour, sending recorded materials and signed petitions to FIFA, the world football's governing body, and the Asian Football Confederation (AFC).
"It was hard to put our voice out there because there were no social media," Sara said.
In 2013, she decided to create the OpenStadiums Twitter account to attract the attention of former FIFA President Sepp Blatter before his arrival in the Iranian capital for a game.
Blatter later said that in a meeting with Iranian President Hassan Rouhani during his Tehran visit, he urged him "to consider that half of the nation who can't attend the match". Blatter's successor, Gianni Infantino, has also mentioned the ban during talks with Rouhani.
'FIFA is responsible'
But Iranian activists have long expressed disappointment with FIFA over their perceived failure to force change despite a number of petitions. And now, some fear the Iran-Cambodia match could turn into a publicity stunt to sedate international pressure in the wake of Khodayari's death before the ban is introduced again.
In June 2018, following the detention of several female fans at a game between Iran and Syria, Infantino wrote a letter to Iran's football authorities giving them a July 15 deadline to take "concrete steps to ensure that all Iranian women will be allowed to buy tickets".
Yet no concrete action followed. Then in November 2018, Infantino flew to Tehran for the AFC tournament final where some 800 women were selectively invited to attend the match. The FIFA president described their presence as "great progress", but activists decried it as a "show" to please the international guest as the ban was reimposed straight after his departure.
Meanwhile, Infantino's reaction to Khodayari's death - a statement affirming the institution's "clear and firm" position that "women have to be allowed into football stadiums in Iran …for all football matches" - left activists expecting tougher action unimpressed.
"FIFA is responsible for Sahar's death. They are responsible for the fact that I don't feel secure in my own country," OpenStadiums said. "They could have taken serious actions years ago, but they never did".
The world body has never penalised Iran, despite its own statutes and human rights policy stating that any discrimination against women "is strictly prohibited and punished by suspension or expulsion".
"They should have simply followed their own rules" says Maryam Shojaei, a women's rights campaigner and the sister of the captain of the Iranian national team Masoud Shojaei. "They should have suspended the Iranian Football Federation as this is the only option they would have taken seriously."
FIFA did not respond when asked about its readiness to sanction Iran if the country fails to lift the ban beyond Thursday's match, pointing to a statement it released following accusations by Iranian activists of lack of proper action.
"FIFA announced that it will, based on the operational plans and results of the 10 October 2019 game, collaborate with the FFIRI in developing an operational protocol and related requirements for matches in the Iranian football league to be opened for women as well,'' the statement said, referring to the Football Federation of the Islamic Republic of Iran.
'We are moving ahead'
Amid increasing international attention before Thursday's match, the current administration led by Rouhani, the Iranian president, appears to be in favour of the ban being lifted.
"I think we are moving ahead," Masoumeh Ebtekar, Iran's vice president of family and women's affairs, told Al Jazeera. "I think the government has made serious efforts to that end and now we hope to see a game where we have women sitting in the stadium."
But the government has to deal with the opposition "from conservatives, hardliners and some religious groups that are strong enough to create many problems along the way", Saeid Jafari, a political analyst, said.
On Monday, about 50 religious hardliners demonstrated outside Iran's parliament, chanting slogans against the lifting of the ban.
Yet their opposition does not seem to deter the women who will attend Thursday's match - and also plan to chant their own slogans in support of their favourite team.
"The poor Cambodian team," Niloufar says jokingly. "How unfortunate for them to have to face not only the Iranian footballers, but thousands of impassioned Iranian women."
https://www.aljazeera.com/news/2019/10/iran-women-attend-historic-match-191009090321072.html
--------
In Latest Social Reform, Saudi Arabia Rules Women Can Join Armed Forces
October 10, 2019
Riyadh: Saudi Arabia announced Wednesday it will allow women in the ultra-conservative kingdom to serve in the armed forces as it embarks on a broad programme of economic and social reforms.
The move is the latest in a series of measures aimed at increasing the rights of women in the kingdom, even as rights groups accuse Riyadh of cracking down on women activists.
"Another step to empowerment," the foreign ministry wrote on Twitter, adding that women would be able to serve as private first class, corporal or sergeant.
Last year, Saudi Arabia authorised women to join its security forces.
Crown Prince Mohammed bin Salman, the kingdom's de facto ruler, has approved a handful of reforms aimed at widening women's rights, including allowing them to drive and to travel abroad without consent from a male "guardian".
But he has at the same time overseen the arrest of several prominent women's rights campaigners, including activist Loujain al-Hathloul.
Saudi Arabia, the world's largest crude exporter, is pushing to improve its image and attract tourists as part of a plan to diversify its economy away from oil.
https://www.news18.com/news/world/saudi-arabia-rules-women-can-join-armed-forces-2339905.html
--------
Schizophrenic Woman Of West Java Stands Trial For Blasphemy
October 9, 2019
Cibinong District Court in Bogor, West Java, held the second hearing on Wednesday in the trial of Suzethe Margaret, a schizophrenic woman who has been charged with blasphemy. A video purporting to show her in an altercation in Al Munawaroh Mosque in Sentul, West Java, in which she is accompanied by her dog and is wearing shoes went viral in June. The incident sparked anger among Muslims, who regard dogs as impure and who are strict about removing shoes before entering mosques. A legal report accusing Suzethe of blasphemy was filed with the police shortly after the incident. The police processed the report and submitted the dossier to the court, even though Suzethe's children have provided evidence that their mother has mental health issues. The panel of judges presided over by Judge Indra Meinantha Vidi and judges Ben Ronald Situmorang and Firman Khadafi Tjandrabumi questi...
https://www.thejakartapost.com/news/2019/10/09/schizophrenic-woman-stands-trial-for-blasphemy.html
--------
Angered Bangladeshi Man Took A Blade And Forcibly Shaved The Head Of His 23-Year-Old Wife, After Finding Hair In Food
October 8, 2019
DHAKA: A Bangladeshi who forcibly shaved his wife's head after finding a hair in his breakfast has been arrested, police said Tuesday, as rights groups warned violence against women was rising in the conservative Muslim nation.
Police raided a village in the north-western district of Joypurhat and arrested Bab lu Mondal, 35, after villagers told officers about the incident.
"He found a human hair on the rice-and-milk breakfast his wife prepared for him," local police chief Shahriar Khan said.
"He became angry seeing the hair and blamed the wife. He then took a blade and forcibly shaved the head of the wife," he said.
Khan said Bablu was charged with "voluntarily causing grievous hurt", an offence that carries a maximum sentence of 14 years in jail, and also for "outraging the modesty" of his 23-year-old wife.
Activists say the incident highlights growing repression of women in Bangladesh despite laws to protect them from abuse and sexual assault.
According to local rights group Ain o Salish Kendra, there were an average three rapes a day in the first six months of the year.
The organisation said of the 630 women raped between January and June, 37 were killed after the assault while seven others took their own life.
There were also 105 instances of attempted rape.
In April, massive protests broke out after a 19-year-old schoolgirl was burned to death on the orders of her headteacher after she reported him for sexually harassing her.
https://www.freemalaysiatoday.com/category/world/2019/10/08/bangladeshi-finds-hair-in-meal-shaves-wifes-head/
--------
Dutch Told Burqa Ban Discriminates Against Muslim Women
Peter Cluskey
October 10, 2019
The Dutch government has been warned that its Burqa ban, which came into effect at the start of August, discriminates against Muslim women and has "no place" in a country that claims to promote equality between the sexes.
In a scathing report, the UN special rapporteur on racism, Prof Tendayi Achiume, questions the perception that the Netherlands is socially inclusive and tolerant, and says that in reality it "treats racial and ethnic minorities as perpetually foreign".
The Dutch ban – less strict than in some other EU countries – is partial in that it applies only on public transport and in public buildings, such as schools and hospitals, and not in other public spaces, such as in the street or in the vicinity of public offices.
Police rejection
It became virtually ineffective before it even began when police said they would not treat calls to enforce it on public transport as a priority, and transport companies responded by pointing out that it was not their job to apply the law, especially if it meant disrupting services.
Prof Achiume, a law professor at the University of California, paid an official visit to the Netherlands last week and published her preliminary findings on Wednesday – praising the Dutch for their "formal commitments" to equality, non-discrimination, and inclusiveness.
However, she said that while the new law was "carefully worded" to include all face coverings and so be "ostensibly neutral", it was "shaped by a political climate of hostility to Islamic forms of dress such as the niqab".
'Targeting' and 'effect'
The "highly polarised" political debate which had surrounded the adoption of the new law, she said, made plain "its intended targeting of Muslim women", adding: "Even if such targeting was not its intent, it has certainly been its effect."
The problem in the Netherlands, she said, "is that insistence that equality and tolerance already exist actually operates as a barrier to achieving that equality and tolerance in fact".
This criticism is certain to be embarrassing for prime minister Mark Rutte's government, especially since the presentation of her report in The Hague was coupled with an appeal to politicians to "show more leadership".
To add insult to injury, Prof Achiume also referred to a whistleblower row in The Hague's police department which she said raised concerns about "a culture" of racial discrimination. It was "not the first case" and the government needed to "deal decisively with it".
https://www.irishtimes.com/news/world/europe/dutch-told-Burqa-ban-discriminates-against-muslim-women-1.4045396
--------
The Wire Journalist Arfa Khanum Sherwani Gets Attacked On Twitter By Islamists For Uploading Durga Puja Picture
OCTOBER 9, 2019
The Wire journalist Arfa Khanum, who has often taken up the cudgels for radical Islamists, found herself under the firing line of the same zealots after she uploaded a picture of herself wearing a Bengali saree on the occasion of Dussehra.
Arfa Khanum Sherwani
✔
@khanumarfa
"The greatest jihad (struggle) is to battle your own soul, to fight the evil within yourself."
Prophet Muhammad
PBUH
Dussehra is a celebration of victory of the good over the evil.
Let's continue with the same spirit. #HappyDussehra #VijayaDashami
Two years ago with @sonia_26
View image on TwitterView image on Twitter
5,029
20:08 - 8 Oct 2019 • New Delhi, India
Twitter Ads information and privacy
1,157 people are talking about this
Yesterday, Khanum shared two-year-old pictures of her with her fellow colleague with a caption-"The greatest Jihad is to battle your own soul, to fight the evil within yourself", attributed to Prophet Muhammad. She further added that Dussehra is a celebration of the good over the evil. No sooner did she upload the pictures on her Twitter page that scores of online jihadis descended upon her post, reminding her of 'actual' jihad and making derogatory remarks about her appearance.
One of the abusive radical Islamist, apparently a female Twitter user, commented "Chakka(Eunuch)" on Arfa's Dussehra greetings post.
One Twitter user mocked traditional Bengali attire and appearance of the ladies in the pictures, apparently quoting Prophet Muhammad to say that destiny of such women would be hell because of their sins.
However, this is not the first time that a certain section of society took umbrage over calling for celebrations of Hindu festival by Arfa. Earlier this year, on the occasion of Holi, Arfa Khanum had shared stating that she would play Holi saying "Bismillah". This tweet did not sit well with enraged fundamental Muslims online who got triggered into posting objectionable replies to Khanum's tweet. Not only was she slammed for allegedly insulting Islam but some rabid Islamists even wished death upon her.
Recently, TMC MP Nusrat Jahan was also censured by fundamentalist elements for partaking in celebrations of Durga festivities. One Assam Congress supporter had said that he wants to 'quickly' kill Nusrat Jahan for being a bad Muslim. A Muslim cleric from Darul Uloom Deoband issued a fatwa against the TMC MP for attending Durga Puja and grimly suggested her to convert her religion and name.
Though some journalists such as Rajdeep Sardesai proposed that such religious hatred peddled by 'unknown' personalities should be brushed aside, the obnoxious responses to Arfa's tweet underline the growing intolerance of Islamists and their utter contempt of Hindu festivals. However, ironically often Arfa is been seen passionately defending regressive Islamist practices such as nikah-halala.
Arfa had also demonised Hindus by giving credence to the fake news of a teenager being set on fire on his refusal to chant "Jai Shri Ram". Here, Sherwani had displayed a total disregard of journalistic ethics of verifying the news with the particular police station before putting out her tweet.
https://www.opindia.com/2019/10/the-wire-arfa-khanum-sherwami-attacked-by-islamists-for-uploading-durga-puja-picture/
--------
Pakistan Makes Uneven Progress In The Fight For Gender Equality
By David Browne
10 October 2019
In Pakistan women don't just have to contend with glass ceilings. They are hemmed-in by walls and barriers of every construction. Look at most international indicators across the social, educational and economic spectrum and Pakistan will be, statistically, struggling somewhere close to the bottom.
Yet, despite this, significant gains have recently been made in the fight for gender equality in this south Asian nation.
In Pakistan's ultra-conservative north-western province of Khyber Pakhtunkhwa (KPK), for example, in January this year, the local government hired its very first female ombudsperson with the aim of reducing harassment of women in the workplace. This appointment came six months before the International Labour Organization (ILO) adopted a new global labour standard on violence and harassment in the world of work.
"We have sent a notification to every government department, asking them to follow and display anti-harassment guidelines, to promptly report cases and warned them that failure to comply can result in fines of up to Rs100,000 (around US$670)," said KPK ombudsperson Rakhshanda Naz.
And in Pakistan's July 2018 general elections there were more female candidates than in any previous election. For the first time, five transgender candidates contested the polls. Krishna Kumari Kohli became Pakistan's first female senator from the Hindu Dalit community, while Tanzeela Qambrani became the first Pakistani of African descent (from the Sheedi community) elected to the Sindh Assembly.
In fact, more than any of the country's other provincial lawmakers, the Sindh government produced a record number of progressive labour-related legislation, including the first-ever law in Pakistan to protect the rights of home-based workers (the Sindh Home-Based Workers Act, 2018).
"It's a complicated scenario but two things will be the accelerators of change. One is the economy: because of the cost of living most families need two earners. Now it's a necessity, an economic necessity, that women go out to work. Once a woman starts to work, she is bound to increase in her autonomy and her agency," says Viqar, who until recently headed the Punjab Commission on the Status of Women.
"Then there's the internet and social media. This has definitely led to greater empowerment, knowledge and opportunity. Even women in remote areas can now also access information," says Viqar.
Legislative progress
Although advances in the area of gender equality has been "very slow from many perspectives, in terms of legislation in Pakistan we have done extraordinarily well. The political commitment is there," believes Hadia Nusrat, a top Pakistani academic and gender expert working in Pakistan and Afghanistan.
"But monetisation has been extremely poor. Political will has to be backed by budgets with accountability," says Nusrat, who spoke to Equal Times from Mazar-i-Sharif in northern Afghanistan, where she was working on the 25th Anniversary Report of the UN Women's Beijing Declaration and Platform for Action, which is scheduled for publication in March 2020.
This major gender equality initiative was launched in Beijing in 1995 with the aim of alleviating female poverty and improving women's access to education, health care, political participation, protecting the girl child and promoting a full range of essential laws, legislation and human rights globally.
According to World Bank data, the literacy rate of adult females (those aged 15 and above) increased year-on-year between 2005 and 2014, growing from 35.368 per cent in 2005 to 44.283 per cent in 2015.
In another significant indicator, there has also been a big improvement in maternal care. According to UNICEF statistics, maternal mortality (per 100,000 live births) has fallen from 431 in the year 1990 to 178 in 2015.
In education, too, there have been some impressive advances. For example, in the Punjab, Pakistan's richest province, young women now make up 50 per cent of students at university and higher education colleges. However, less than 10 per cent of women with degrees and qualifications transition to the workforce.
"The notion that women's primary responsibility is marriage and child-rearing makes the transition a problem," explains Viqar. But on the plus side women are now employed in a broader spectrum of jobs. "More and more women are now working in the service sector and not just the so-called 'noble' professions like medicine and teaching. I think this is a real marker of progress," she says.
Gender-based violence
Nevertheless, Pakistan's women still have a long way to travel before they can enjoy full social and economic equity.
According to the World Economic Forum and their 2018 Global Gender Gap Index, Pakistan was once again the second worst country in terms of gender equality.
The country still has a massive problem with gender-based violence, which takes place in the form of rape, forced marriage, child marriage, acid attacks and so-called 'honour killings'. And, while growing awareness and sensitisation has led to an increase in reporting, the figures are still significantly under-reported.
In its latest annual report, titled State of Human Rights in 2018, the Human Rights Commission of Pakistan (HRCP), an independent watchdog, noted that its own monitoring data showed 845 incidents of sexual violence against women and 316 crimes in the name of honour perpetrated against both men and women. However, the HRCP stressed that it believed these to be "minimum figures".
Educational opportunities also remain sharply differentiated on socio-economic and class lines. Labouring work – not education – is the reality for most females in this conservative society, where according to the World Bank, 31.3 per cent of the population live under the poverty line (of US$3.20 a day).
In Pakistan's hitherto semi-autonomous tribal districts, bordering Afghanistan and Iran, nearly 80 per cent of girl children quit education at primary level and around half drop out at middle and high school levels.
HRCP research found that around 75 per cent of women and girls in Pakistan were involved in agricultural work in 2018. And the human rights body estimates that 60 per cent of this work, much of it conducted under the ubiquitous system of debt bondage, was effectively unpaid.
For Nusrat, the path to gender equality remains a bumpy one: "In certain areas progress has been much better than expected. There are women in parliament, women in discourse. There have been some remarkable achievements. But we are still lagging behind in health, in primary and secondary education. Women continue to be ghettoised. There are still social shackles, barriers, ceilings and walls against the advancement of women."
https://www.equaltimes.org/pakistan-makes-uneven-progress-in#.XZ70JdIzbIU
--------
Married Women, Single Men Under 30 Most Likely To Commit Suicide In Pakistan: Experts
M. Waqar Bhatti
Oct 10 2019
Mental health experts on Wednesday said that married women and single men under the age of 30 in Pakistan are among groups most likely to commit suicide.
Research showed that Pakistan's highest-risk groups for suicide were different to those in other parts of the world. In the West, single men between the age of 50 and 60 are most likely to take their own lives.
Speaking at various awareness activities in connection with World Mental Health Day 2019, leading psychiatrists of the country said the number of people with depression and anxiety stands at 33 percent in Pakistan.
Thousands of people, including men, women and teenagers, commit suicide in Pakistan every year, and the ratio of depression and anxiety is four to five times higher in Pakistan as compared to the rest of the world.
Terming depression the main cause of suicide, the experts urged people to seek medical assistance from trained and qualified mental health experts, help others in living a happy life to enjoy their own lives.
The experts were speaking at a seminar organised by the Department of Psychiatry, Jinnah Postgraduate Medical Centre. It was addressed by IGP Gilgit Baltistan Dr Sanaullah Abbasi and eminent psychiatrist Prof Haroon Ahmed, among others.
Thousands of people, including men, women and teenagers, commit suicide in Pakistan every year, and the ratio of depression and anxiety is four to five times higher in Pakistan as compared to the rest of the world.
Prof Iqbal Afridi, head of the JPMC's Department of Psychiatry and president of the Pakistan Psychiatric Society, said that although medication and psychotherapy are necessary for mentally ill-patients with suicidal behaviour, folk wisdom can play a vital role.
"We listen to many songs which are pro-suicide, we should discourage such songs, because a person facing a depression-like situation and listening to such songs may become emotional and reach a high level of anxiety."
Over the course of the week, students and staff at the university participated in support group sessions and wellness camps designed to promote mental wellbeing.
https://www.geo.tv/latest/250704-married-women-single-men-under-30-most-likely-to-commit-suicide-in-pakistan-experts
--------
URL: https://www.newageislam.com/islam-women-feminism/taking-back-ours-iran-women/d/119962
New Age Islam, Islam Online, Islamic Website, African Muslim News, Arab World News, South Asia News, Indian Muslim News, World Muslim News, Women in Islam, Islamic Feminism, Arab Women, Women In Arab, Islamophobia in America, Muslim Women in West, Islam Women and Feminism