New Age Islam News Bureau
11 Oct 2018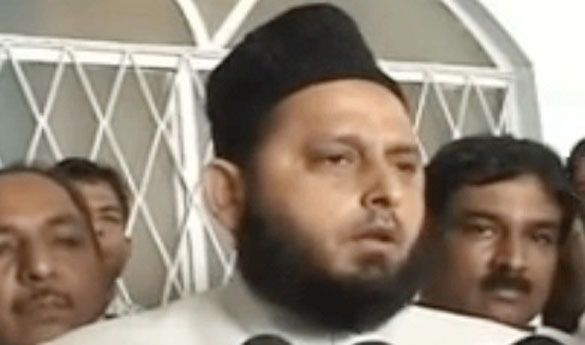 Photo: AIMPLB executive member Khalid Rasheed Farangi Mahali. (File photo)
----------
• After Sabarimala Verdict Muslim Women's Group to Move Supreme Court to Seek Entry Into Sunni Mosques
• Kerala Muslim women seek SC intervention for permission to pray in mosques
• Nadia Murad: 'I was a Daesh sex slave. I tell my story because it is the best weapon I have'
• San Francisco museum shows off modern Muslim women's fashion
• Malaysia must protect girls by ending child marriage, FGM
• Three women found dead on Greece-Turkey border
• Moroccan girl tells judge about alleged gang rape, torture
• Saudi director Haifaa Al Mansour on the unfair beauty standards young Arab women face
• 5,446 firms run by women in Jeddah
• Encouraging response for women fencing
• Palestinian champions 'drift' car racing for women
• World's first female-only trampoline park set to bounce into Riyadh
• Buzdar lauds women's role in improving police image
• Mina Rad disappeared after reporting in to the Intelligence Department
• Donya Veisi, 7, was raped, murdered, and buried under rubbles
• What is behind the plight of Iraqi women?
Compiled by New Age Islam News Bureau
URL: https://www.newageislam.com/islam-women-feminism/top-spreading-misinformation-aimplb-member/d/116604
--------
'Stop Spreading Misinformation': AIMPLB Member on Row Over Entry of Women in Mosques
Qazi Faraz Ahmad
October 11, 2018
Lucknow: A day after a Kerala-based Muslim women's outfit decided to move the top court for getting entry into Sunni mosques, AIMPLB member and Aishbagh Eidgah Imam Khalid Rasheed Farangi Mahali on Thursday hit out at the body, clarifying that woman are allowed in mosques. He said that some people were trying to spread misinformation, which is not good.
"Islam allows both men and women to offer namaz in mosques. Some people are spreading misinformation that women are prohibited from offering namaz in mosques, which is not good. Spreading such misinformation about the basics of any religion, be it Islam or Hinduism is wrong. It has become a fashion nowadays to raise irrelevant questions on basics of any religion and then drag it to court, this should be stopped," he said while speaking to News18.
Earlier in January, a Muslim woman in Kerala, associated with a progressive religious organisation, had created a history of sorts by leading Friday namaz at a mosque in Kerala's Malappuram district.
"The Quran does not differentiate between man and woman. It speaks only about the faithful. But Islam has become a religion in which women are being oppressed. By leading the namaz, I wanted to fight against the dominance of priesthood in the community," 34-year-old K Jamitha, who had led the prayer, said.
Social Activist VP Zuhra, President of Kozhikode-based progressive Muslim women's forum NISA, had reportedly decided to petition the Supreme Court, praying that Sunni mosques across the country must allow entry to women.
Speaking to News18 from Kozhikode, Zuhra said that the prime reason for her decision to move court is the "apparent gender discrimination" at mosques. She added that the move will help the cause of "equality". "I am doing this for equality. Women are never allowed inside Sunni mosques to pray and they, too, have the right. Women were allowed to enter mosques even during the time of the Prophet," said Zuhra.
The NISA chief on Wednesday said that Advocate Venkita Subramoniam will be filing the Muslim women's plea in the top court this week itself or by next week. The Supreme Court had on September 28 opened the doors of Sabarimala temple to women of all age groups. The court called the practice a form of discrimination, smacking of gender bias and prejudice against a natural biological process that every woman has to go through.
https://www.news18.com/news/india/stop-spreading-misinformation-aimplb-member-on-row-over-entry-of-women-in-mosques-1905731.html
--------
After Sabarimala Verdict Muslim Women's Group to Move Supreme Court to Seek Entry Into Sunni Mosques
October 10, 2018
New Delhi: Days after Supreme Court lifted the ban on entry of menstruating women in the Sabarimala temple, a Kerala-based Muslim women's outfit is now all set to approach the top court to gain entry in Sunni temples.
Social Activist VP Zuhra, President of Kozhikode-based progressive Muslim women's forum NISA, has decided to petition the Supreme Court, praying that Sunni mosques across the country must allow entry to women.
Speaking to News18 from Kozhikode, Zuhra said that the prime reason for her decision to move court is the "apparent gender discrimination" at mosques. She added that the move will help the cause of "equality".
"I am doing this for equality. Women are never allowed inside Sunni mosques to pray and they, too, have the right. Women were allowed to enter mosques even during the time of the Prophet," said Zuhra.
The Supreme Court had on September 28 opened the doors of Sabarimala temple to women of all age groups. The court called the practice a form of discrimination, smacking of gender bias and prejudice against a natural biological process that every woman has to go through.
The NISA chief on Wednesday said that Advocate Venkita Subramoniam will be filing the Muslim women's plea in the top court this week itself or by next week.
Recently, CPI(M) state secretary Kodiyeri Balakrishnan had also questioned why do Sunni mosques continue to restrict women's entry.
"There should be no discrimination against women in any place, this is the stance that [the party] is taking," Kodiyeri had said.
"There are women going to some mosques, right? There is entry for women at the Beemapally mosque in Thiruvananthapuram. So many mosques allow women to enter. Women are even going on Hajj. If that's the case, Mecca should also not have allowed women, right? Be it a Sunni or anybody else, our stance is the same for everyone," Kodiyeri said.
Muslim League State General Secretary KPA Majeed, however, dismissed Kodiyeri's statements, saying he was a "non-believer".
The decision to move Supreme Court is likely to gain a strong footing in law especially after the Sabarimala verdict where a CJI-led five judge Constitution bench ruled that no religion can discriminate between genders.
In India, women are allowed to enter mosques, including the Jama Masjid in Delhi, but are not permitted to sit in the same congregation along with men to offer prayers. They are often designated a separate space with certain restrictions on praying after evening (maghrib).
In 2016, in a big win for women devotees, the Bombay High Court allowed women's entry into the Haji Ali Dargah's inner sanctum. The court added that it will give "necessary protection" to the respondents.
The decision came after a PIL challenging the ban stated that gender justice is inherent in the Quran and the decision contravenes the Hadith, which says that there is no prohibition on women visiting graves.
https://www.news18.com/news/india/after-sabarimala-verdict-muslim-womens-group-to-move-sc-to-seek-entry-into-sunni-mosques-1905145.html
--------
Kerala Muslim women seek SC intervention for permission to pray in mosques
October 10, 2018
Kozhikode: In what could be another blow to All India Muslim Personal Law Board (AIMPLB) after instant Triple Talaq, NISA - a forum of Muslim women in Kerala, has decided to approach the Supreme Court of India next week seeking its intervention for permission to pray in mosques across India.
VP Zuhra, Social Activist and President of NISA, said the forum was holding discussion with its lawyers on the issue and will move to the Apex Court next week. The move came days after SC allowed women in the age group of 10 to 50 years to enter the Sabarimala temple in Kerala
"Women are not at all allowed to enter mosques for prayers. In the present scenario, when the apex court has granted permission for Hindu women to enter the Sabarimala shrine, why Muslim women have been barred from the entry?" she asked.
Like instant talaq which is illegal as per the Islamic Sharia and hence banned in most of the Islamic countries, women are allowed, as per the tradition of Prophet Muhammed (peace be upon him), to pray in mosques almost everywhere including Makkah, Madinah and Al-Aqsa - three most holy places for Muslims. But, clerics in countries like India, Pakistan and Bangladesh do not allow women to pray in mosques.
"Even during the times of Prophet Muhammed (peace be upon him), women who are in their menstruating age were allowed to pray in the mosques. When the Prophet (peace be upon him) himself advocated such things, why are women in India suffering", asked Zuhra?
Interestingly, some clerics who have of late joined politics invite Muslim women to their rallies. Even All India Muslim Personal Law Board (AIMPLB) recently organised rallies and processions of women all across India. But, they refuse to permit them entry into mosques for prayers.
Yet there are some mosques in every city of the subcontinent that have suitable arrangement for women worshippers like other parts of the world.
It will now be interesting to see how the Supreme Court of India, which recently banned instant talaq calling it against the Holy Quran, will deal with the petition of NISA seeking permission to pray in mosques - a practice common since the times of Prophet Muhammed (peace be upon him) everyhwere in the world except India, Pakistan and Bangladesh.
http://www.ummid.com/news/2018/October/10.10.2018/kerala-muslim-women-seeks-sc-intervention-for-permission-to-pray-in-mosques.html
--------
Nadia Murad: 'I was a Daesh sex slave. I tell my story because it is the best weapon I have'
October 10, 2018
London: The slave market opened at night. We could hear the commotion downstairs where militants were registering and organising, and when the first man entered the room, all the girls started screaming. It was like the scene of an explosion. We moaned as though wounded, doubling over and vomiting on the floor, but none of it stopped the militants.
They paced around the room, staring at us, while we screamed and begged. They gravitated toward the most beautiful girls first, asking, "How old are you?" and examining their hair and mouths. "They are virgins, right?" they asked a guard, who nodded and said, "Of course!" like a shopkeeper taking pride in his product. Now the militants touched us anywhere they wanted, running their hands over our breasts and our legs, as if we were animals.
It was chaos while the militants paced the room, scanning girls and asking questions in Arabic or the Turkmen language.
"Calm down!" militants kept shouting at us. "Be quiet!" But their orders only made us scream louder. If it was inevitable that a militant would take me, I wouldn't make it easy for him. I howled and screamed, slapping away hands that reached out to grope me. Other girls were doing the same, curling their bodies into balls on the floor or throwing themselves across their sisters and friends to try to protect them.
While I lay there, another militant stopped in front of us. He was a high-ranking militant named Salwan who had come with another girl, another young Yazidi from Hardan, who he planned to drop off at the house while he shopped for her replacement. "Stand up," he said. When I didn't, he kicked me. "You! The girl with the pink jacket! I said, stand up!"
His eyes were sunk deep into the flesh of his wide face, which seemed to be nearly entirely covered in hair. He didn't look like a man — he looked like a monster.
Attacking Sinjar [in northern Iraq] and taking girls to use as sex slaves wasn't a spontaneous decision made on the battlefield by a greedy soldier.
Daesh planned it all: how they would come into our homes, what made a girl more or less valuable, which militants deserved a sabaya [sex slave] as incentive and which should pay. They even discussed sabaya in their glossy propaganda magazine, Dabiq, in an attempt to draw new recruits. But Daesh is not as original as its members think it is.
Rape has been used throughout history as a weapon of war. I never thought I would have something in common with women in Rwanda — before all this, I didn't know that a country called Rwanda existed — and now I am linked to them in the worst possible way, as a victim of a war crime that is so hard to talk about that no one in the world was prosecuted for committing it until just 16 years before Daesh came to Sinjar.
On the lower floor, a militant was registering the transactions in a book, writing down our names and the names of the militants who took us. I thought about being taken by Salwan, how strong he looked and how easily he could crush me with his bare hands. No matter what he did, and no matter how much I resisted, I would never be able to fight him off. He smelled of rotten eggs and cologne.
I was looking at the floor, at the feet and ankles of the militants and girls who walked by me. In the crowd, I saw a pair of men's sandals and ankles that were skinny, almost womanly, and before I could think about what I was doing, I flung myself toward those feet. I started begging. "Please, take me with you," I said.
"Do whatever you want, I just can't go with this giant." I don't know why the thin guy agreed, but taking one look at me, he turned to Salwan and said, "She's mine." Salwan didn't argue. The skinny man was a judge in Mosul, and no one disobeyed him. I followed the thin man to the desk. "What's your name?" he asked me. He spoke in a soft but unkind voice.
"Nadia," I said, and he turned to the registrar. The man seemed to recognise the militant right away and began recording our information. He said our names as he wrote them down — "Nadia, Hajji Salman" — and when he spoke the name of my captor, I thought I heard his voice waver a bit, as if he were scared, and I wondered if I had made a huge mistake.
Nadia Murad eventually escaped her Daesh captors. She was smuggled out of Iraq and in early 2015 went as a refugee to Germany. Later that year she began to campaign to raise awareness of human trafficking.
In November 2015, a year and three months after Daesh came to [my hometown] Kocho, I left Germany for Switzerland to speak to a UN forum on minority issues. It was the first time I would tell my story in front of a large audience. I wanted to talk about everything — the children who died of dehydration fleeing Daesh, the families still stranded on the mountain, the thousands of women and children who remained in captivity, and what my brothers saw at the site of the massacre.
I was only one of hundreds of thousands of Yazidi victims. My community was scattered, living as refugees inside and outside of Iraq, and Kocho was still occupied by Daesh. There was so much the world needed to hear about what was happening to Yazidis.
I wanted to tell them that so much more needed to be done. We needed to establish a safe zone for religious minorities in Iraq; to prosecute Daesh — from the leaders down to the citizens who had supported their atrocities — for genocide and crimes against humanity; and to liberate all of Sinjar. I would have to tell the audience about Hajji Salman and the times he raped me and all the abuse I witnessed. Deciding to be honest was one of the hardest decisions I have ever made, and also the most important.
I shook as I read my speech. As calmly as I could, I talked about how Kocho had been taken over and girls like me had been taken as sabaya. I told them about how I had been raped and beaten repeatedly and how I eventually escaped. I told them about my brothers who had been killed. It never gets easier to tell your story.
Each time you speak it, you relive it. When I tell someone about the checkpoint where the men raped me, or the feeling of Hajji Salman's whip across the blanket as I lay under it, or the darkening Mosul sky while I searched the neighbourhood for some sign of help, I am transported back to those moments and all their terror. Other Yazidis are pulled back into these memories, too.
My story, told honestly and matter-of-factly, is the best weapon I have against terrorism, and I plan on using it until those terrorists are put on trial. There is still so much that needs to be done. World leaders and particularly Muslim religious leaders need to stand up and protect the oppressed.
I gave my brief address. When I finished telling my story, I continued to talk. I told them I wasn't raised to give speeches. I told them that every Yazidi wants Daesh prosecuted for genocide, and that it was in their power to help protect vulnerable people all over the world. I told them that I wanted to look the men who raped me in the eye and see them brought to justice. More than anything else, I said, I want to be the last girl in the world with a story like mine.
https://gulfnews.com/news/mena/iraq/nadia-murad-i-was-a-daesh-sex-slave-i-tell-my-story-because-it-is-the-best-weapon-i-have-1.2288348
--------
San Francisco museum shows off modern Muslim women's fashion
OCTOBER 10, 2018
BY JANIE HAR
SAN FRANCISCO - The head covering is among the most identifiable elements of Muslim women's dress and most likely to be portrayed as drab and restrictive to the Western eye.
But a new exhibition in San Francisco shows that the covering used by some Muslim women can be a bright yellow head wrap or a loose drape of rose; a black silk and lace scarf by Dolce & Gabbana; or a hood attached to an extra-long girls' dress.
"Contemporary Muslim Fashions" is on view at the de Young Museum with about 80 ensembles by nearly 60 designers from around the world, including the Middle East and Southeast Asia. The clothes are vibrant, elegant and playful, ranging from high-end couture to sassy streetwear.
The people behind the installation, which is the first major museum exhibition of its kind, hope to spark a deeper understanding of the women who are part of the second-largest religion in the world.
"At a time when Muslim women are being increasingly targeted for using their fashion choices to assert their independence and identity, we hope that this exhibition will allow a positive review and examination of a community that's often talked about, but rarely given the chance to speak and present itself," said Gisue Hariri, one of two Iranian-born sisters whose architecture firm designed the galleries.
The exhibit comes amid conflicts in Western countries over Muslim clothing.
Denmark recently banned face veils in public, saying the move was critical to ensure public safety and uphold Danish values. Austria, Belgium and France have similar laws. In the U.S., President Donald Trump issued a controversial ban on travel from several majority-Muslim countries.
But the idea for the exhibition predated Trump's election, said Jill D'Alessandro, curator in charge of costume and textile arts for the Fine Arts Museums of San Francisco, which includes the de Young Museum.
She said the seed was planted in 2016, when France was in an uproar over a ban on "burkini" swimsuits worn by some Muslim beachgoers. At the same time, D'Alessandro was seeing examples of chic "modest fashion" embraced by young Muslim women who wanted to express their religious piety.
"It was the dichotomy we were interested in," she said. "That was the kernel. It was like, 'Look at this. Isn't this so funny? They're so fashionable and yet people want to discuss what they can wear at the beach.' "
Modest fashion has become a $44 billion industry, with more Western fashion houses catering to Muslim consumers.
Last year, Nike introduced a headscarf made of high-tech fabrics. A Max Mara fashion show in 2017 featured a model in a hijab, her body wrapped in one of the company's long tailored coats - a common look among wealthier Muslim shoppers.
The Institute for Social Policy and Understanding, an organization that studies American Muslims, released a poll that showed most women said they wear a hijab for religious reasons. Only 1 percent said they were required to do so by family.
Dalia Mogahed, the institute's research director, is delighted that de Young has taken on the topic. Mogahed, who is not affiliated with the show, balks at governments that force Muslim women to cover themselves in a certain way and those that won't let women cover up as they wish.
"The perception that people have of Muslims in America or Muslims globally is often shaped by sensational headlines that ignore and minimize what the majority is all about," she said.
Designers featured hail from Saudi Arabia, Turkey, Malaysia, Singapore, Iran and other countries.
One of D'Alessandro's treasured finds is a 2012 "Hoody Dress" by British designer Sarah Elenany. She created long-sleeve, knee-length dresses for the Scout Association in the United Kingdom so Muslim girls could rappel and climb comfortably. The dresses were worn over trousers or leggings.
Also among the pieces is a traditional Pakistani wedding ensemble of red silk and chiffon, with metallic embroidery and glass beads. It is on loan from Saba Ali, a San Francisco-area stylist who served as adviser to the exhibition and styled the head coverings.
She is thrilled to be part of the show, which ends in January and then moves to Frankfurt's Museum Angewandte Kunst.
"I feel it's so important in this day and age and the climate we live in; a lot of people don't know Muslims," Ali said. "Art is a means to a conversation for people to get to know a culture or people better."
https://readingeagle.com/life/article/san-francisco-museum-shows-off-modern-muslim-womens-fashion
--------
Malaysia must protect girls by ending child marriage, FGM
11 Oct 2018
TODAY, on the International Day of the Girl Child themed, "With Her: A Skilled Girl Force", we urge the government of Malaysia to ban child marriage, end female genital mutilation (FGM), and uphold the rights of the girl child as required by international conventions ratified by Malaysia.
Globally, one in five girls are said to be married before the age of 18, and if this number isn't reduced, there will be 1.2 billion girls who will be married as children by 2050, according to UN agencies. FGM, on the other hand, threatens about three million girls annually and at least 200 million girls and women have been cut in 30 countries, according to Unicef.
"To realise the Sustainable Development Goals (SDGs), Malaysia must end harmful practices such as child, early and forced marriages, and eliminate FGM by 2030," said Sivananthi Thanenthiran, executive director of the Asian Pacific Resource and Research Centre for Women (ARROW), a regional NGO that champions sexual and reproductive health and rights of women and young people.
"This is a critical part of the SDG 5 of achieving gender equality and empower all women and girls."
Despite being a signatory to both the Convention on Elimination of All Forms of Discrimination of Women (CEDAW) and the Convention on the Rights of the Child (CRC), both these practices have high prevalence in Malaysia. Earlier this year, Sisters in Islam (SIS) and ARROW released a study, "Child Marriage: Its Relationship with Religion, Culture and Patriarchy, a National Report on Malaysia".
The report found that nearly 153,000 (152, 835) persons below the age of 19 were married, and were mostly from the Malay Muslim community. Of this, 80,000 were girls and the remaining were boys. The study, however, relied on government data from 2010.
Similarly, on FGM, few and far studies have been done in Malaysia. The practice is shrouded in silence as it is intermingled with cultural and ethnic demands alongside bodily autonomy – the right to control one's own body, and bodily integrity – the right to autonomy and self-determination over one's own body – of children and women.
Thanenthiran added: "FGM has long lasting physical and psychological effects on girls. Similarly, child brides are neither physically nor emotionally ready to become wives and mothers.
"We need to protect the girl child so she can go on to freely decide on matters of sexuality and reproduction, to have the right to consent and bodily integrity, in the future.
"We strongly urge the government of Malaysia to uphold gender equality and empower all women and girls in the country by ending both these practices immediately." – October 11, 2018.
https://www.themalaysianinsight.com/s/102708
--------
Three women found dead on Greece-Turkey border
October 10, 2018
THESSALONIKI, Greece: Three women of unknown origin were found dead, presumably murdered, on Wednesday on the Greek side of the river border between Turkey and Greece, police sources said, an area known for illegal migrant crossings.
The bodies, found in a field by a passerby, lay a short distance from each other near a migration route from Turkey over the Evros River frontier to northeastern Greece, though it was not yet known whether the women were migrants.
Police said they suspected foul play. All three had stab wounds, the semi-official Athens News Agency (ANA) reported.
"They were found 50 meters away from the river," a police official told Reuters. Two of the victims were believed to be aged between 15 and 18 and it was possible they were related, ANA said.
The Evros border area straddles an old people smuggling corridor that regained popularity after European Union and Turkish authorities in 2016 sealed off sea routes in the Aegean used by hundreds of thousands of migrants in 2015.
In the first half of 2018, more than 10,000 migrants and refugees arrived in Greece from Turkey by crossing the Evros, a non-governmental aid agency said in August.
http://www.arabnews.com/node/1385721/world
--------
Moroccan girl tells judge about alleged gang rape, torture
October 10, 2018
BENI MELLAL: A 17-year-old Moroccan girl whose alleged gang rape and forcible tattooing sparked a public outcry has confronted in court the only minor among the 12 suspects accused of assaulting and torturing her.
The girl, identified only as Khadija, was brought in through a backdoor for the court hearing Wednesday out of concern relatives of the suspects might attempt to attack her.
Recounting her ordeal to the investigating judge, Khadija alleged that the suspect, also 17-years-old, was among the people who abused and held her captive for two months, according to her lawyer, Brahim Hashane.
Because of his age, the teenager will have a separate trial on charges of human trafficking, abuse and rape, Hashane said.
His mother spoke outside of the court, where dozens of relatives cried for the release of the suspects. She claimed her son had never met Khadija.
The judge scheduled a third hearing for Oct.24.
Khadija's case generated a large public reaction in Morocco. Violence against women is widespread in the North African kingdom, but largely ignored. More than 116,600 people signed a petition urging action to end a culture that turns a blind eye to such violence.
Twelve suspects were initially detained after Khadija was freed from the alleged captivity in mid-August, while three more were thought to be on the run. The young men face charges ranging from failure to report a crime to abduction, rape, abuse and human trafficking.
The girl has said two men kidnapped her at knifepoint when she was visiting her aunt during the May-June holy month of Ramadan. She said they sold her to other men in exchange for money and drugs. She claimed her captors gave her drugs that knocked her out for days at a time.
Reflecting the stigma associated with sexual abuse in this Muslim nation, the girl's parents initially refused to report her case to authorities.
http://www.arabnews.com/node/1385711/middle-east
--------
Saudi director Haifaa Al Mansour on the unfair beauty standards young Arab women face
11 October 2018
From a young age, Arab women are taught that hair matters, and, often, that they were born with the wrong kind. In their formative years, when they are still calibrating their sense of self worth, young girls are instructed by their aunts and mothers to rid themselves of their curls—to get keratin treatments to straighten it all away permanently. Girls are told they are told that only straight hair is beautiful, and to be beautiful, they will have to change.
It's no wonder, then, that when Netflix was looking for a director for its film Nappily Ever After, based on the bestselling book about the hair struggles of a black woman in America, the producers behind the project approached the groundbreaking Saudi Arabian director Haifaa Al Mansour.
"When they sent it to me, I fell in love with the story. I love that it is very entertaining, it is a romantic comedy—a genre that, as women, we're very nostalgic for, as we haven't seen it for a while. But it has a strong message about race and social commentary at the heart of it that is done in such a sweet way and an empowering way. Right after I read the script I decided to make it," Mansour tells me.
In the film, a woman named Violet (Sanaa Lathan), frustrated that she spends her life trying to fit other people's ideas of who she should be, shaves her head in an act of defiance, embracing her natural hairstyle for the first time in her life—with transformative results.
"My hair is curly, but it is a different kind of curly. Still, I understood what it means for women to always have to have a perfect look. You always need to straighten your hair, you always need to fill an image. All Arab girls do with their hair. We don't always have Bollywood hair, we all go and straighten it—every day maybe. I understood what it means to not be satisfied with who you are and want to fit a different image," Mansour says.
Director's background
Growing up, Mansour did not have the same pressure that Violet in Nappily Ever After does from her own mother, but she still felt the need to conform.
"My mom was very relaxed. She didn't ask me to do my hair. I come from a really fun family. At school, I didn't want to go with my hair all frizzy, no way! It's not the culture. I wanted to look nice. Especially in middle school—that's where it starts. I didn't have a lot of pressure at home, but from the bigger society, it's a different story," says Mansour.
Director's message
Mansour hopes that young women in the Middle East can break out of the cycle, spend less time feeling that they have to change themselves to be beautiful.
"I think it is very important for women to be who they are. Also, for young girls, they need to invest their energy in something that builds their character. When I was 10 years old, I was really professional at using the blow-dryer. I used to blow-dry my hair and so was everyone else around the house. Why was I so skilled in that? Why? I was so proud of myself that I could do it. I was young, and I could do it really well! But why? I felt like I should have invested all my energy in playing basketball—something that develops me as a person rather than a skill like that," says Mansour.
"I think young girls in the Middle East need to be given the opportunity to grow in a healthier way, where they can go play and they don't care about their hair, or their dresses, or their image, and how people will view them. "
Working with the actress
Mansour was struck by the ability of Sanaa Lathan, famous for films such as The Best Man and Love & Basketball, to show the complicated layers of emotions her character needed to portray in the film's most pivotal scene—when she finally sheds her straightened hair.
"She's such an amazing actress; she has such amazing muscles when it comes to acting. The scene where she cut her hair, we had three cameras mounted. We knew we could only do it once, and we trained and everything. You feel removed as a director because you cannot call cut. You can't go adjust the lights, get a different angle," says Mansour.
"Once it starts, it starts, and you lose your power at that moment—you're just there to witness it and hope for the best. It was a nerve-racking moment, but she was amazing. She gave me so much feeling, and everything that I wanted from that scene—joy, conflict, emotions, sadness, a person who is shedding everything that has been installed in her head. It was amazing to witness."
Next projects
Currently, Mansour is nearing production of her next film The Perfect Candidate, which will mark her return to Saudi Arabia after two major features in the West.
"We're gearing to go. We've got finance and we're ready. I'm very excited about that project, and I'm really excited about going back to Saudi Arabia to shoot. Especially as Saudi Arabia is now open for cinema, it is such a wonderful time. I can't wait to be there."
https://english.alarabiya.net/en/life-style/2018/10/11/Saudi-director-Haifaa-Al-Mansour-on-the-unfair-beauty-standards-young-Arab-women-face-.html
--------
5,446 firms run by women in Jeddah
2018-10-10
By Fauz Al-Ghamdi
JEDDAH — Mariyam Abu Al-Ainain, chairperson of the women's wing at Jeddah Mayoralty, said that the Kingdom is witnessing an economic transformation with a thrust on women's involvement in almost all key economic activities.
The number of women's firms in the city shot up to 5,446 and these include many new areas of economic activities such as laundries, women's sports clubs, restaurants, studios, she said.
Al-Ainain said that her branch is striving to extend the best possible services to women clients, mainly investors.
"We eased the procedures for rendering services to clients such as the issuance of licenses by starting online services under the system of 'Mayoralty without papers'."
This was instrumental in bringing down the number of women visitors to the mayoralty office from 70-80 to 13 in a month as most of them rely on online services," she said.
Al-Ainain said there are 30 women inspectors at the mayoralty who are actively involved in carrying out raids and detecting violations on a daily basis.
There has been a sharp decline in the number of violations, such as failure in renewal of licenses or registration of entities or keeping health cards, she said.
Holder of a bachelor's degree from King Abdulaziz University, Al-Ainain joined the mayoralty as a supervisor at customer service.
She was promoted as deputy supervisor at the women's section and then supervisor of the women's inspection division before being appointed as the director general of the wing of the women's services.
http://saudigazette.com.sa/article/545339/SAUDI-ARABIA/5446-firms-run-by-women-in-Jeddah
--------
Encouraging response for women fencing
2018-10-10
RIYADH — About 30 female fencers are set to undergo intensive training before participating in the first round of the Saudi Women's Fencing Championship for under-13, 15 and 20 years, from Friday.
This will be the first championship for the women's local season in the three divisions — foil, epee and sabre. Twenty-two of the female fencers have participated in the Olympic Fencing Program, which was held last summer for three months.
The championship, which will be held at the Dar Al-Uloom Girls' University Indoor Stadium in Riyadh, will be supervised by the Deputy Chairperson of the Saudi Fencing Federation for Women's Affairs, Princess Haifa Bint Muhammad Bin Saud.
There will be a number of female volunteers from the Saudi Federation for Community Sports and an integrated women's medical team to assist Princess Haifa in her supervisory task.
This will be the first women's fencing championship in the Kingdom. It has been approved by the Saudi Arabian Olympic Committee and will be included in the internal season program, with direct support from the General Sports Authority (GSA).
http://saudigazette.com.sa/article/545299/Sports/Encouraging-response-for-women-fencing
--------
Palestinian champions 'drift' car racing for women
2018-10-10
By Aziz El Massassi
NOOR DAOUD was the only woman to take to the track in Egypt's Red Sea resort of Sharm El-Sheikh, where the Palestinian racer impressed the crowds with her "drift" driving skills.
Daoud has mastered the art of drift — deliberately oversteering to make the rear wheels skid — and traveled to Sharm El-Sheikh for a regional competition.
"Since I was little I've become used to meeting up with the guys to play football or tennis," said the 27-year-old on the sidelines of the competition.
Racing now dominates her life, evident from Instagram where she often poses with her thick wavy hair falling over driving leathers.
"When I was little, I loved cars and I had a collection of them to play with," said Daoud, a polyglot who was born in the US state of Texas and went to a French school in occupied Jerusalem.
In Sharm El-Sheikh, she zigzagged around the tarmac track and dodged obstacles as thick white smoke and sparks came off her car.
"There's only one girl!" said a young enthusiast of drift, which emerged in Japan in the 1970s.
Competitors were judged by a professional panel on their style and their driving skills, which count as much as their speed.
Daoud had to abandon the second round of the competition due to engine failure, but nonetheless picked up a trophy for her participation as the sole woman.
She wishes other Arab women would take part in professional competitions. "Let Arab girls show the world that we also follow our dreams," she said.
There are however more women racing cars in the region, including four other Palestinians who featured alongside Daoud in a "Speed Sisters" documentary.
Driving 'to feel free'
It has been more than a decade since Daoud first raced, borrowing a car from her mother who she credits as being the sole supporter of her ambitions.
She learnt drifting "on the streets of Palestine" in 2010, before moving to Dubai where she now lives.
"At first, in Palestine, people would say to me: 'But what are you doing? The sport is for the guys!'" she said.
"I went for what I want I didn't listen to anyone... When I got successful people started to respect me (and say) 'wow, she did it!'" added Daoud, who regularly takes part in international competitions.
But drifting is more than just sport and spectacle for Daoud.
"We are under occupation so this helps us, it helps me to drive to feel free," she said.
East Jerusalem, seen by Palestinians as the capital of their future state, and the West Bank have been occupied by Israel since 1967. "I want to show the world that just because we are under occupation, it doesn't mean we will stay holed up in our homes," Daoud said. — AFP
http://www.saudigazette.com.sa/article/545285/World/Mena/Palestinian-champions-drift-car-racing-for-women
--------
World's first female-only trampoline park set to bounce into Riyadh
2018-10-10
RIYADH — After its successful opening in Jeddah, BOUNCE Middle East is all set to open the world's first female-only trampoline park in Riyadh.
BOUNCE will be bringing its high-energy trampoline park and X-Park adventure challenge course to the Saudi capital allowing the female residents to literally fly through the air and bounce off the walls.
The 3,000-sq. meter warehouse on Riyadh's main East-West Road will offer wall-to-wall activities for women of all ages and abilities and will be the largest in the capital.
The venue will be packed with over 80 interconnected trampolines, a dodgeball arena, slam dunk, huge inflatable air bag and the famous X-Park. The venue will feature plenty of other entertainment options for the women of Riyadh.
Mashael Attieh, managing partner of BOUNCE Saudi Arabia, said: "Our first trampoline park in Saudi opened last year in Jeddah and the response has been electrifying. Thousands of families in the city are enjoying this new way to have fun and stay active.
"With the opening of BOUNCE in Riyadh, we will provide ladies of all ages and abilities with one of the newest and most popular entertainment options in the market, as well as a training ground for all things aerial sports.
"Did you know that 10 minutes of jumping on a trampoline burns the same number of calories as 30 minutes of running; that's not from me, just ask the guys from NASA. The beauty of this is that it's a lot of fun and you don't even realize you're getting an amazing full body workout."
BOUNCE recently held a recruitment drive in Riyadh and were overwhelmed with the response receiving over 5,000 registrations. Interviews were held in the format of the X-Factor auditions where the candidates were asked to demonstrate tricks and impress the BOUNCE panel with their amazing personalities.
Doran Davies, CEO of BOUNCE Middle East, said: "We are off to a great start in Riyadh with more than 5,000 ladies applying to be part of the BOUNCE Tribe and we've been blown away by the talent within the local community. We are always looking for good talent and we look forward to adding more people to our tribe."— SG
http://saudigazette.com.sa/article/545331/SAUDI-ARABIA/Worlds-first-female-only-trampoline-park-set-to-bounce-into-Riyadh
--------
Buzdar lauds women's role in improving police image
October 11, 2018
Chief Minister (CM) Punjab Sardar Usman Buzdar on Wednesday said women police played a pivotal role in improving image of this department among masses.
Addressing a passing out parade of Women Police Officers at Chung headquarters, he said Pakistan Tehreek-e-Insaf (PTI) government attached high significance to women's role in national development and would ensure jobs to women in every department.
He cited that the PTI government appointed women as District Police Officers (DPOs) for the first time.
CM said the foundation of 'New Pakistan' has already been laid by the PTI government and called upon the people to contribute their part in order to translate the dream of Prime Minister Imran Khan into reality.
Earlier, the chief minister inspected the guard of honour and the passing out parade of women police officers. Out of 424 passing out women police officers about 315 would be deputed in different districts, while the rest would be deputed at highways.
Punjab chief minister Sardar Usman Buzdar has said that PTI government inherited sagging economy. Regrettably, the past government devastated the national institutions because of its incompetence. Due to the wrong policies of the previous government, problems of the people were compounded and public interest was badly ignored.
He was talking to the MNAs and MPAs of the PTI from different districts who called on him at his office. The chief minister said that prime minister Imran Khan is compelled to make difficult decisions to improve the economic conditions and these decisions will become the foundation of the bright future of the country.
The prime minister's vision of Pakistan is a guarantor to the bright future of the country, he added. Our every moment is dedicated to give better future to the people and they will soon perceive positive changes around them. We will transform the country as a new Pakistan. He said that decisions are being made for public welfare by rising above the political interest and effects of ostensible difficult decisions will be durable and positive.
No other friendly government could come into power in Pakistan than the PTI, he added. My doors are always open to the assembly members and their respect is very dear to me. Decisions are being made in punjab in consultation with the assembly members and the consultation process is bearing positive effects, he concluded.
Those who called on him included MNAs namely Zahoor Hussain Qureshi, Muhammad Afzal Khan Dhandla, Ahmed Hussain Deher, Malik Muhammad Aamir Dogar, Mian Muhammad Shafique, Sahibzada Muhammad Mehboob Sultan, Muhammad Ahmer Sultan, Ghulam Bibi Bharwana, Khurram Shahzad, Raza Nasrullah, Sardar Talib Nakai, Umer Aslam Khan, Amjad Ali Khan, Raja Riaz, Faiz Ullah, Shaneela Ruth, provincial minister Muhammad Asif Nakai, Special assistant Umer Farooq and MPAs namely Ghazanfer Abbas, Latif Nazar, Shakeel Shahid, Syed Abbas Ali Shah and PTI leader Firdous Ashiq Awan.
https://pakobserver.net/buzdar-lauds-womens-role-in-improving-police-image/
--------
Mina Rad disappeared after reporting in to the Intelligence Department
10 October 2018
Mina Rad has disappeared after she reported in to the Department of Intelligence which had summoned her. No one has any information about her whereabouts.
Mina Rad is a young poet from Doroud, in Lorestan Province, western Iran. She had been previously summoned three times and interrogated by the Intelligence Department. She was constantly called by intelligence agents and threatened on the phone.
Finally, on Saturday, October 6, 2018, she was summoned to the Department of Intelligence in the city of Doroud. She reported in and never returned home.
Mina Rad was among those arrested during the uprisings in Doroud, one of the hotbeds of protests in January 2018. She was interrogated and subsequently released, however, agents of the Ministry of Intelligence continuously called her on the phone and made threats.
Mina Rad was summoned to the Department of Intelligence on July 14, 2018, where she was questioned, intimidated and insulted by the interrogators, but she was released on the same day. The last time Mina Rad was summoned was on October 6, 2018, when she did not return.
The Iranian regime has recently stepped up its campaign of arresting human rights activists and issuing heavy verdicts for those arrested in the December-January protests.
Just in the past two months, Hoda Amid, lawyer, Najmeh Vahedi and Rezvaneh Mohammadi, women's rights activists; the regime has arrested Zahra Modarreszadeh, civil rights activist; Hajar Saeedi, Sorayya Khedri, Afsaneh Khorsandi, Negisa Shahbazi, and Sahar Kazemi, Kurd activists; Sousan Mehrani, 55, Mohaddeseh Mehrani, 50, and Elnaz, 28, relatives of the victims of the 1988 massacre.
They have also issued sentences from 9 months and 74 lashes to 7 years for student activists Parisa Rafii, Roya Saghiri, Soha Mortezaii, and Maryam (Massoumeh) Mohammadi; retired teacher Aliyeh Eghdam-Doost; Mahin Taj Ahmadpour, a street vendor; and Neda Yousefi.
https://women.ncr-iran.org/iran-women-news/5515-mina-rad-disappeared-after-reporting-in-to-the-intelligence-department
--------
Donya Veisi, 7, was raped, murdered, and buried under rubbles
10 October 2018
Examinations by the Coroner's Office revealed that a seven-year-old girl child, Donya Veisi, who had apparently died when the school wall crumbled on her, had been actually raped and murdered, and the wall collapse was a set up to cover up the heinous crime.
Rashid Ghorbani, general director of the Department of Education in Kurdistan Province, announced that Donya Veisi, a first grade student of the elementary school of Garmash village, had been severely injured on Monday, October 8, 2018, when an old wall in the school yard collapsed.
Donya Veisi was immediately taken to the Be'ssat Hospital of Sanandaj, by her father, teacher and the school principal, but lost her life to serious injuries.
Ghorbani said the school had 13 students of different levels who studied in the same class. He had reported several times on the worn-out infrastructure of the school without Education Ministry officials heeding his warnings. Consequently, the collapse of the school wall took the life of a girl student, Ghorbani said. (The state-run Tasnim news agency – October 8, 2018)
On Wednesday, October 10, 2018, however, news leaked out of the Coroner's Office of Sanandaj that their examinations revealed that Donya Veisi, the seven-year-old girl student who was experiencing her first days in school, had been raped and then killed by a direct strike on her head.
The people of Iranian Kurdistan have declared that they will hold a protest demonstration on Saturday, October 13, 2018, against the violence committed against the innocent girl, Donya Veisi.
This is not the first time that such crimes victimize innocent and defenseless girl children. Unfortunately, despite public opinion pressure and repeated appeals by human rights and women's rights activists to pass a law on violence against women and criminalize its perpetrators, no such bill has been adopted by the mullahs' parliament.
The bill on elimination of violence against women was first renamed as "Provision of Security for Women" bill, many of its articles were subsequently deleted, and it remains stuck in the labyrinths of law and decision making after some 10 years.
https://women.ncr-iran.org/iran-women-news/5516-donya-veisi-7-was-raped-murdered-and-buried-under-rubbles
--------
What is behind the plight of Iraqi women?
by Zaid al-Ali
October 11, 2018
Women are bearing the brunt of Iraq's disastrous modern history.
Despite early advances in women's rights, including the fact that Iraq was the first country in the Arab world to have a woman serve as cabinet minister back in 1959, and that Iraqi women have been allowed to train as doctors for almost 100 years, society has taken a number of steps backwards in gender equality and women's rights in recent decades.
Today, many Iraqi women try to meet overwhelming work and family obligations with little assistance from men. Some are forced to care for their children, parents and siblings all by themselves, as men in their lives continue to fight and die on ever-shifting military fronts. To make matters worse, most extreme forms of gender-based violence are also prevalent in Iraq. In recent years, religious militias massacred dozens of sex workers and tortured journalists in Baghdad. Meanwhile, ISIL enslaved thousands of Yazidi women, many of whom are still missing today.
In the last couple of months, another worrying trend has emerged. Between August and September, four high-profile women have been assassinated. They lived in different cities and had different occupations. They only had two common traits: They were all women and they were all successful in their respective fields.
Tara Fares, one of Iraq's most prominent social media stars, was assassinated in broad daylight on September 28; Suad al-Ali, a human rights activist (to whom I do not have the honour of being related), was killed on September 25; Rasha al-Hassan, a plastic surgeon and public figure, was killed on August 23; and Rafeef al-Yassiri, also a plastic surgeon with her own clinic, died under mysterious circumstances on August 16. Authorities initially called al-Yassiri's death "a drug overdose", but have not offered an update, leading to rumours that she might have been poisoned.
On October 7, two more women, one an owner of a beauty parlour and the other an activist, were killed in Basra. In all of these cases, the assassins appeared to be highly trained, leading security forces to believe that these were not random attacks. A number of other high-profile women have also received death threats.
Social response
It is still unclear whether these killings were part of a single conspiracy, but together they sent Iraqi women an undeniable message: "You should not seek to break out of society's traditional limitations."
To this day, many Iraqi men suffer from fragile masculinity and view women's professional success as a threat. This may translate into physical threats and attacks in certain cases. The fact that Iraq is awash in weapons as well as regular and irregular armed groups adds to the volatility of the situation. This makes some Iraqi women reluctant to pursue their professional ambitions. This is why it is reasonable to assume that the latest wave of femicides will add to these worries and make some women reconsider their career aspirations.
Nevertheless, there is some cause for optimism, as the killings provoked a promising social response. Iraqi society has widely condemned the murders and rounded on the few commentators who tried to brush them off. Haider Zaweer, a TV presenter, tweeted that people should stop worrying about Ms Fares, describing her as a "prostitute who was killed" (implying first that she deserved to be murdered and second that it was not worth investigating). The response was fast and furious, especially on social media. His remarks were condemned by thousands and eventually, his employer was forced to pull him off the air. High profile figures, including some of the country's most popular social media personalities, have stated that any attempt to justify the murders is tantamount to complicity.
These reactions demonstrated that attitudes towards women are starting to change in Iraq and larger segments of society are refusing to tolerate violence against successful women. This is an important if small, step; a larger effort will be required to make further progress. Iraqi society is awash with hard barriers for women, and subtle and unsubtle gender-based discrimination. The men and women of Iraq are scarred by conflict and close to no effort has been made to study the effects this has had on women's rights. Moreover, nobody has attempted to outline, let alone implement, a convincing strategy that could improve women's rights in the country.
Rule of law
One obvious, partial remedy to gender-based violence in Iraq would be to improve the rule of law. Iraq's human rights situation is notoriously fragile. Dozens, if not hundreds, of reports detail how ineffectual the police, prosecutors and judges have been in prosecuting criminal behaviour. Investigatory methods remain limited, prosecutions still rely heavily on forced confessions and allegations of torture are generally not investigated by the authorities.
Just as importantly, however, is the sense of impunity that dominates Iraq's political class. Hardly any action has been taken to address the questionable actions of armed groups that are connected with the country's main political powers. Following the most recent round of protests in Basra, a lawyer who offered to defend protesters and protest leaders (of whom Ms al-Ali was one) was killed. After each high profile assassination, government officials invariably announce that investigations have been launched, almost all of which fizzle with the passage of time. Even investigations that are concluded hardly ever lead to any form of political accountability.
Iraq's current government-formation process is an opportunity to move state institutions in the right direction. Iraqi women from all levels of society are in desperate need of protection, and the state now has an opportunity to kick-start a necessary process of change by reforming judicial institutions and improving the rule of law. None of Iraq's previous governments have ever committed to a coherent strategy to improve women's rights, so if there is one thing that the next government can do it is to prioritise this one area, for the benefit of Iraqi women.
Zaid al-Ali is an Iraqi lawyer who has published widely on Iraq and on constitutional law.
https://www.aljazeera.com/indepth/opinion/plight-iraqi-women-181010132232807.html
--------
URL: https://www.newageislam.com/islam-women-feminism/top-spreading-misinformation-aimplb-member/d/116604
New Age Islam, Islam Online, Islamic Website, African Muslim News, Arab World News, South Asia News, Indian Muslim News, World Muslim News, Women in Islam, Islamic Feminism, Arab Women, Women In Arab, Islamophobia in America, Muslim Women in West, Islam Women and Feminism