New Age Islam News Bureau
27 May 2019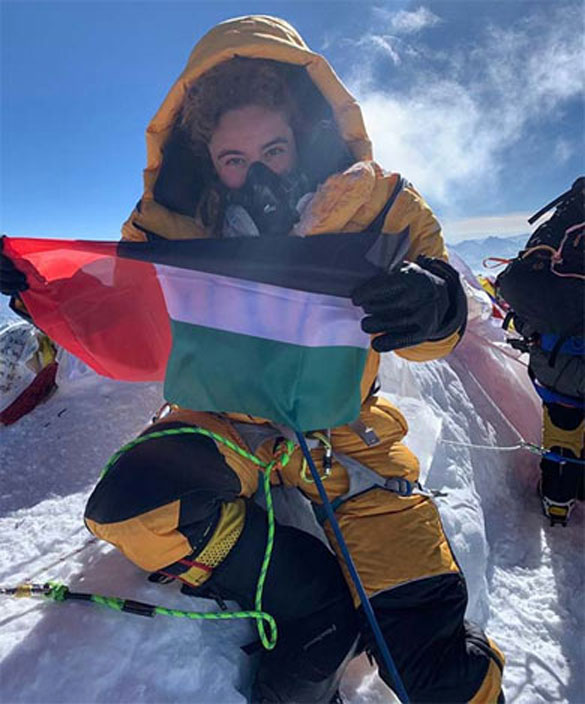 Fatima Deryan on top of Mt. Everest holding the UAE flag
Image Credit: SUPPLIED
-----------
• Meet Saudi Arabia's Female Horse Whisperer
• Ramadan 2019: 30 Blue Collar Female Workers in Abu Dhabi Get A Free Makeover from Residents
• British Company Spends Millions in Promoting Hijab and Sharia
• Tents to Be Used In Burying Women in Abu Dhabi
• Ameneh Zahersari Denied Medical Care Despite Dire Condition In Prison
Compiled by New Age Islam News Bureau
URL: https://www.newageislam.com/islam-women-feminism/no-mountain-too-high-uae/d/118718
--------
'No Mountain Too High' For These UAE Women Who Successfully Climb Mt. Everest
May 26, 2019
Anjana Kumar
Three women from the UAE decided to scale the highest peak in the world: Mt. Everest. Two of these adventurers succeded; the third, an Emirati, made it all the way to Camp 4, the last stop before reaching the summit.
On May 22, 26-year-old Fatima Deryan made history as she became the first woman from the UAE to summit the 8,848-metre Everest peak from the South Col terrain (from Nepal). She is also the first Lebanese to accomplish the feat.
Another Dubai-based mountaineer, Dolores Shelleh, meanwhile became the first Arab woman to scale Mt. Everest from the North Col terrain (from China). (She also becomes the first Jordanian and the second Serbian, to successfully climb the mountain top.)
For the women, the drive neither came solely from the thought of breathing cool air on a mountain top nor from the idea of making history: they both had personal missions. Deryan, who owns a UAE-based cleaning company, wanted to do her bit to make Everest - which is fast-becoming an ugly example of tourism costs on the enviornment - cleaner. She spent her time taking notes for the mammoth task that lies ahead. For Shelleh, the aim was to spread a 'message to embrace more sustainable practices'.
Speaking to Gulf News from Kathmandu on Sunday (May 26), Deryan could not contain her excitement about successfully completing the world's hardest summit.
"It took me two months to do it. But I am so happy that I have successfully climbed the Everest. It has been my dream to tackle the Everest ever since I was 14 years old. My parents had taken me on a holiday to Nepal and when I saw this beautiful mountain, I told myself I will scale it one day," said Deryan.
Her real training, to walk atop the powdered hills, began at age 18. Since then, Deryan has found herself faced with stunning vistas.
She has tackled Mount Elbrus, in the Caucasus Mountains of Southern Russia; Mount Kilimanjaro, in Tanzania; Aconcagua Mountain, in Argentina; and Nevada Ojos del Salado, in Argentina. In Chile, she became the first Arab on the highest active volcano, the Carstensz-Pyramide. This is besides summiting Mont Blanc, the highest mountain in Europe.
This year, it was time for her to realise her childhood dream; it was time to climb Everest.
"It took me two months to tackle Everest. It was a very tough journey. The weather did not help the situation much either. But [at the] end of the day I was determined to complete the goal I had set for myself. I set off on the journey on March 23 and reached the peak on May 22," said the Lebanese expat who gave up a full-time career in Dubai to dedicate time for fitness and mountaineering training.
She said she would not have been able to achieve this if it was not for the immense support she has received from the UAE. "If I was in any other part of the world, I don't think I would have been this motivated. As expats living in the UAE, we are accustomed to meeting people from different walks of life. During our stay in the UAE my parents took me on holidays to different parts of the world. It was during one of my holidays to Nepal which was completely life-changing and which pushed me to get interested in scaling the mountain."
Jordanian Shelleh also said she was elated after her trip. "I took the northern Col route to Mt. Everest. Typically, there are several altitude issues for climbers in this path. Several fatalities have been recorded on this route and I am happy to make it back safely," said the expat.
"By scaling Mt. Everest from the North Col, I intended to highlight the message of embracing more sustainable practices and to promote the use of renewable energy as well as reinforce the need to follow healthy lifestyles in harmony with nature. The challenge I undertook was arduous as the North Col of Mt. Everest route called for more technical climbing and the weather conditions were windier and chillier. With the support and blessings of my family, friends and my co-residents in The Sustainable City, I was able to accomplish the task."
She hoped her successful climb would inspire the younger generation to take up personal challenges.
Shellah has previously climbed Mount Manaslu, the eighth highest mountain in the world, which is part of the Himalayas. It is regarded as the fourth most dangerous for climbers, due to the risk of avalanches. She has also scaled Mera Peak in Nepal, which stands at 6,476 metres; Mt. Kilimanjaro, Africa's highest peak at 5,895 metres above sea level; and Mt. Elbrus, the highest mountain in Europe, towering at 5,642 metres above sea level.
She works closely with The Sustainable City to raise awareness for the United Nation Sustainable Development Goals on climate change, sustainable cities and communities, and gender equality.
Commenting on her achievement, Faris Saeed, CEO of Diamond Developers, said: "Dolores Shelleh has pushed the boundaries and broken all stereotypical notions with her quest for adventure. Focused on promoting environmental sustainability through her feats, she also symbolises the wave of Arab women empowerment that is transforming our region. Now, by scaling the top of the world, Mt. Everest, and that too from the challenging Northern Col, she has proved to the world that with determination we can overcome any challenge, including the impact of climate change. Through our support to her, we are further underlining our commitment to promoting women and youth empowerment as well as women education and rights while highlighting the message of sustainable communities."
Khadija's determination and self-confidence have proved her greatest asset on her steep climb.
The link between thought and deed is made solid on a mountain - and by that logic, these three have earned themselves the moniker 'women of steel'.
https://gulfnews.com/uae/no-mountain-too-high-for-these-uae-women-who-successfully-climb-mt-everest-1.1558874170594
--------
Meet Saudi Arabia's Female Horse Whisperer
May 27, 2019
DUBAI: "The horse whisperer" is what Dana Algosaibi aspires to be. As one of Saudi Arabia's first female horse trainers, the 39-year-old is breaking taboos by taming and training animals as part of a trailblazing career in the Kingdom.
Originally from Alkhobar, she has made it her life's mission to care for animals in Jeddah. Along the way, Algosaibi hopes to change attitudes toward animals in Saudi Arabia and the region as whole.
"I'm not expecting or trying to get all people to love animals, or have animals, or take care of them," she said.
"I am just trying to raise awareness so that people become at least kind toward animals and do not try to hurt them. We have so many stray cats and dogs, and in our religion, this is something very important. I don't know why some people don't see this aspect at all. It's very strange."
Algosabi has no doubt who she inherited this quality from — her father, whom she describes as an animal lover.
"We had a lot of animals in the house and the garden, from dogs, cats and monkeys to parrots, sheep, falcons, deer and horses," she recalled. "We had exotic animals. I remember when I was a child, people thought our house was a zoo. They would come to look at the animals.
"It was a pretty interesting childhood, I loved growing up with animals and it was one of the best things I had as a child because I was around them all the time."
As she got older, it took Algosaibi years to find her true calling. Discovering the purpose of education took some time.
"For me, school was not a happy moment," Algosaibi said. "I went to seven different schools, and changed majors many times in many countries. It was always a roller coaster."
A four-year degree in education in the UK allowed her to explore the subject in depth and find out whether she was cut out for a career in the arts. That was quickly followed by 13 years of traveling between Europe and North America, where she started working with horses and dabbling in the performing arts.
After moving back to the Kingdom in 2013, Algosaibi started teaching people what she calls "horse therapy" — communicating with the animals — and riding them at the Ancient Arabians stable in Jeddah.
"I am not a therapist but the work I do, which is natural horsemanship, is almost like meditation," she said. "I do yoga around the horses as I'm also a yoga instructor. I have created my own cocoon."
Ancient Arabians had contacted her in its quest for Saudi horse trainers. Algosaibi was delighted with the stable's work ethic and approach to horses. "They gave me the green light to do anything I wanted to do," she said. "It's my own place."
She describes her work with horses as unconventional, hoping more people will learn how to treat the animals better. "I don't know anyone in Saudi Arabia who understands the work I do with horses," she said.
"The horses trust me, and I enjoy this fact. I don't feel restricted like I do in other places. (People) look at me as if I am crazy but what I do is very simple. We have not been educated to actually listen and understand the language of horses."
According to Algosaibi, one has to be in tune with a horse to understand its language. "It's not rocket science," she said. "Once you have mastered this skill, the horse will trust you, you will deliver your message easily to the horse and it will be easier to train the horse. I'd love to be like the horse whisperer."
Algosaibi is a strong believer in the theory that animals, horses and dolphins in particular, have a natural healing power. According to her, horses played a crucial role in her own recovery from severe depression. "I used to take a lot of medication, which had made my situation worse," she said.
"I had to find my way through food, through animals and nature, to heal myself. This is one of those things that (taught me) how to accept (the circumstances of life) and live with (the circumstances)."
As her life shifted toward finding happiness in helping others, Algosaibi began volunteering for cat and dog shelters in Jeddah. But it was the plight of a donkey that was to prove an eye-opener.
Murphy had been beaten and tortured and left with a broken leg in the desert. "The place was very far away in the desert and, when I first reached the location, I couldn't believe there would be a donkey there," she said. "I went down a hill and found a tunnel where I found Murphy, with a broken leg, all alone."
Finding Murphy was not the end but the beginning of a long process. "No one wanted to take him in and everyone said 'just put him down'," Algosaibi recalled. "People said 'throw him to the lions in the zoo.' I couldn't believe the level of reluctance to help just because of Murphy's condition and the fact that he was a donkey."
A few months later, with the help of a friend, Algosaibi found a place for Murphy, before she decided to move him to Ancient Arabians. The need to find Murphy a home, as well as information from Saudis about other injured donkeys, prompted her to think of building a shelter for equines.
"I learnt a lot about donkeys," Algosaibi said. "They are at once very similar to, and different from, horses. However, I needed help in launching the construction of the shelter, which currently houses a lot of abused horses. It's like a sanctuary for these equines." She expects work on the structure to be completed within the coming month.
Looking back on her life so far, Algosaibi is pleased that she has been able to follow her passion. "I remember, while growing up, my family used to tell me, 'working with horses is great but it's a hobby. What's your career?' But I used to think, it's both."
Algosaibi's hope is that in the future more people in the Middle East will start treating animals with love and respect. "If you're already an animal lover, then you're lucky and you're blessed," she said.
"If you're not or if you're afraid, then you should give yourself a chance. I'm not asking people to be obsessed by animals but to not miss out on a whole different level of love and communication. It's simply out of this world."
http://www.arabnews.com/node/1502426/saudi-arabia
--------
Ramadan 2019: 30 Blue Collar Female Workers in Abu Dhabi Get A Free Makeover from Residents
May 27, 2019
ABU DHABI: A Random act of Kindness goes a long way and these women living in Abu Dhabi know how to do it well.
In keeping with the spirit of Ramadan – a month of sharing love and care - Egyptian expat Nermeen Selim, 37, decided to do something for blue collar workers in the capital and how.
Selim, an IT professional, who recently quit her job to tend to her seven-month old child, organised an evening with 30 women workers at her building in Meena Road close to the Corniche, and gave them a full pampering session including a hand massage, manicure and pedicure.
She (Selim) gathered her son, neighbours and friends in the building, their children to be volunteers and organise the events for the evening.
The attendees were 26 women workers from a nearby labour accomodation. Four women who work as domestic workers in the building were also invited to join the Iftar evening organised by Nermeen and her friends. "I spoke to their accomodation
manager and took the necessary permission to get these women to our building and enjoy an evening with us. Two buses with the women and their supervisors arrived at 5 pm on Thursday," said Selim.
The agenda
"We started with a couple of games just to break the ice between the workers and us. At first when they arrived, they were shy and hesitant to talk to us or mingle with us. So we started playing a game 'Passing the Parcel'. We had prepared 30 gifts and this was given away during the game."
One of the residents in the building who is a Zumba instructor decided to bring in some entertainment for the evening with some dancing.
But the high light for the evening was a free make over given by the volunteers to the workers. From hand massages to mani-cure, pedi-cure, the volunteers decided to give the workers the time of their lives – all in the spirit of Ramadan.
"The month of Ramadan is very special as it gets all of us to think about sharing and caring. It is equally important for our children to get involved in the celebration and so the mums living in the building decided to let the children be actively involved that day. For example, my son Hamza Khaled who is just five years old was given the charge of the painting station. Another eight-year-old girl, Sara Khaled from Morocco was leading the massage station. Basically she was in charge of giving a hand massage to all the workers. The manicure station was looked after by Egyptian expat, Yasmin Sadek, all of just eight years."
A Filipina worker, Hara Deen, who was invited to the Iftar do said: "These women and children made my day. I have never visited a salon in my life. And these children painted my nails and gave me a hand massage. I felt loved and respected. It was a great gesture."
Another Filipina at the Iftar evening, Angeline Pernas said: "It was a very emotional day for me. These children touched my heart. I will not forget this day ever. The whole event brought a smile to my face and the next evening I woke up feeling very good."
Making a difference in her own little way
Selim and her friends have also initiated a community effort from the start of the month of Ramadan to deliver food packets to security guards in six towers located in Meena road, Abu Dhabi. "A week before the Ramadan started, my friends and I organised daily delivery of food packets to workers in the buildings from a restaurant nearby. The idea of our efforts is to bring a smile to people who work hard for a living but have little support system here in the UAE. They leave their homes, families and come here to earn a living just so they can support their families back home. We are more privileged than them and the least we can do is make that small difference in people's lives," said Selim.
https://gulfnews.com/uae/ramadan-2019-30-blue-collar-female-workers-in-abu-dhabi-get-a-free-makeover-from-residents-1.1558938297406
--------
British Company Spends Millions in Promoting Hijab and Sharia
May 27, 2019
Salah Uddin Shoaib Choudhury
Britain clearly is going into the grips of radical Islam and Sharia! During the month of Ramadan, this company is spending millions in promoting it new brand of shampoo named 'Sunsilk Hijab Wash' to earn sympathy of the radical Muslims and women wearing hijab. Possibly their next brand in waiting in 'Burqa Wash' shampoo. Such madness towards radical Islam by Unilever even crosses those Muslim companies producing toiletries.
Unilever's over-enthusiasm in promoting hijab and sharia is continuing almost in all the Muslim nations. These advertisements clearly are encouraging young females in putting on hijab and even in some of the advertisements, Unilever even is encouraging Muslim girls and females in becoming more Islamic, meaning totally radicalized.
Does a multinational company of Unilever's stature at least realize the ultimate consequence of such madness? Doesn't it go against our battle against radical Islam and Sharia?
People may ask, who are behind such audacious act of Unilever. Is that someone in the Middle Eastern countries or even outfits like Muslim Brotherhood or Hamas? Or, can we assume, Univeler has advisers from within the rogue mullahs of Iran?
Being a journalist who has been fighting radical Islam and jihad for almost two decades, it is impossible on my part to accept such attempt by a multinational company, which is making profit by selling it products to non-Muslims as well. Are those non-Muslims, more precisely, Jews, Christians, Hindus, Sikhs and others are buying Unilever products simply for the cause of helping this company is making profit for spending in promoting radical Islam?
We are fully aware of the rise of anti-Semitism throughout Europe and the West and of course the United Kingdom. On May 26th Britain's largest daily The Sunday Times published a report titled 'Tory donor charged with arms dealing and funding terrorism' about a person, who is living in Britain under 'Golden Visa' scheme and has been bribing the to political parties under the garb of donation.
Md. Shahid Uddin Khan, a sacked-military officer from Bangladesh invested £12 million in the United Kingdom and the authorities even did not ask how the money was brought into that country, because the man is patronizing and funding the British politicians and political parties. Most alarming fact is, this ex-military officer is using British soil in continuing his activities as a funder of Islamic State and other militancy groups.
This man also is a business associate of Dawood Ibrahim's D-Company, where he has invested millions of dollars. According to Asian Tribune, he has been operating businesses in Dubai under the patronization of Pakistani intelligence agency ISI.
In the recent report, The Sunday Times states "Khan, who lives in Wimbledon, Southwest London, with his family after buying a multimillion-pound "golden visa" to the UK in 2009, has donated £20,000 to the constituency party of his MP Stephen Hammond, a health minister".
According to reports published in the international media, Shahid Uddin Khan is a funder of Islamic State (ISIS) and he is facing charges of terrorism and dealing in arms in Bangladesh.
According to Asian Tribune, he has been operating businesses in Dubai under the patronization of Pakistani intelligence agency ISI.
According to reports published in Blitz, The Daily Sun, Asian Tribune, Eastern Herald, Afternoon Voice, The World News, News Ghana and many other newspapers around the world, Md. Shahid Uddin Khan and his family are funding Islamic State and other militancy groups while they also are having business relations with Dawood Ibarhim's D-Company in Dubai (United Arab Emirates).
On January 17, 2019, the Dhaka (Bangladesh) residence of this family was raided by the members of Counter Terrorism and Transnational Crime (CTTC) unit of Bangladesh Police. During this raid, huge volume of arms, ammunition, detonators, explosives, counterfeit currency note, Islamic State propaganda materials and recruitment tools. In the seized documents, CTTC also found evidence of the Khan family's involvement in terror financing.
Three separate cases were lodged on the same day with the Cantonment Police Station in this regard against Md. Shahid Uddin Khan, Farjana Anjum Khan, Shehtaz Munasi Khan and Parisa Pinaz Khan.
In London, a company was formed by few Bangladeshi nationals named Md. Shahid Uddin Khan, his wife Farjana Anjum Khan and daughters Shehtaz Munasi Khan, Parisa Pinaz Khan and Zumana Fiza Khan. On October 23, 2010, this company named Zumana Investment & Properties Limited was incorporated in London under registration number 747417. Earlier, members of this family had obtained immigrant status under Visa Tier 1, VAF Number 511702, by showing two million pounds as investment in properties. The National Crime Agency (NCA) or MI5 do not know, the entire amount of money had been brought into Britain through illegal channels via Dubai (United Arab Emirates), where Md. Shahid Uddin Khan and his family are owning businesses with notorious terrorist Dawood Ibrahim's D-Company.
https://www.weeklyblitz.net/news/british-company-spends-millions-in-promoting-hijab-and-sharia/
--------
Tents to Be Used In Burying Women in Abu Dhabi
May 27, 2019
The tent will cover the entire area of the grave, and it is equipped with adequate lighting and ventilation.
A tent-like cover can now be used in burying Muslim women at Abu Dhabi cemeteries as a sign of respect, authorities have announced.
Officials of the Abu Dhabi Municipality said the tent would cover the deceased throughout the burial process, in order to respect a woman's sanctity and privacy.
"The dignity of women has to be preserved, whether they are alive or dead," they said.
Saeed Al Ameri, head of cemetery services at Abu Dhabi Municipality, said: "This step embodies the lofty values that underpin our wise leadership in dealing with humans and preserving their dignity. These values stem from the top ideals of humanity."
The tent will cover the entire area of the grave, and it is equipped with adequate lighting and ventilation.
"It is placed over the grave during the burial of the woman's body and it is wide enough to accommodate the people laying down the body," said Al Ameri.
He noted that the concept of a tomb cover is already being implemented by other civic bodies in the UAE, such as the Ajman Municipality, which initiated the idea.
Recognising its importance, the Abu Dhabi Municipality decided to introduce the initiative for the Capital's graveyards, including the Bani Yas, Al Bateen and Samha cemeteries.
The municipality provides free maintenance services in the cemeteries to keep them clean and preserve the sanctity of the dead.
https://www.khaleejtimes.com/nation/abu-dhabi/tents-to-be-used-in-burying-women-in-abu-dhabi
--------
Ameneh Zahersari Denied Medical Care Despite Dire Condition In Prison
May 26, 2019
The legal and security officials of the Sepidar Prison of Ahvaz have prevented dispatch of political prisoner Ameneh Zahersari to hospital.
Political prisoner Ameneh Zahersari, 20 and a graduate of accounting, is incarcerated in the Sepidar Prison of Ahvaz.
She has been suffering from acute swelling of various parts of her body. The physician of the prison's dispensary has not been able to diagnose the reason for the acute swelling and illness of Ameneh Zahersari and she must be dispatched to hospital as soon as possible for diagnosis and treatment.
Ms. Zahersari's family have managed to receive a 300-million-toman bail bond from the 12th interrogation branch of the Court of Ahvaz to facilitate her transfer to hospital, but the legal and security officials in Sepidar Prison have been preventing the transfer of this political prisoner to hospital.
The family says, "Her health condition is deteriorating every day and she needs to receive emergency care and medical treatment in hospital."
Political prisoner Ameneh Zahersari was arrested on November 6, 2018, one day after her father and brother were apprehended by the Intelligence Department of Ahvaz. The 12th Inspection Branch of the Court of Ahvaz has set a 300-million-toman bail for this political prisoner but prison officials have so far refrained from releasing her.
Denial of medical treatment to political prisoners is one of the most common methods the Iranian regime uses to bring double pressure on political prisoners.
Kurdish political prisoner Zeinab Jalalian who is incarcerated in the Prison of Khoy, has been suffering from various diseases and illness for a long time. However, she has been denied from receiving medical treatment despite deterioration of her health condition. Prison officials are in this way putting pressure on her to force her into making false confessions against herself.
In a call for urgent action on June 15, 2018, Amnesty International said Zeinab Jalalian is being subjected to torture by blocking her access to medical care.
https://women.ncr-iran.org/2019/05/26/ameneh-zahersari-denied-medical-care-despite-dire-condition-in-prison/
--------
URL: https://www.newageislam.com/islam-women-feminism/no-mountain-too-high-uae/d/118718
New Age Islam, Islam Online, Islamic Website, African Muslim News, Arab World News, South Asia News, Indian Muslim News, World Muslim News, Women in Islam, Islamic Feminism, Arab Women, Women In Arab, Islamophobia in America, Muslim Women in West, Islam Women and Feminism